25 Fall Decor & Craft Ideas
Can you believe it? It's time for the cool Fall weather, Apple Cider and warm donuts! Oh and let's not forget the Chili!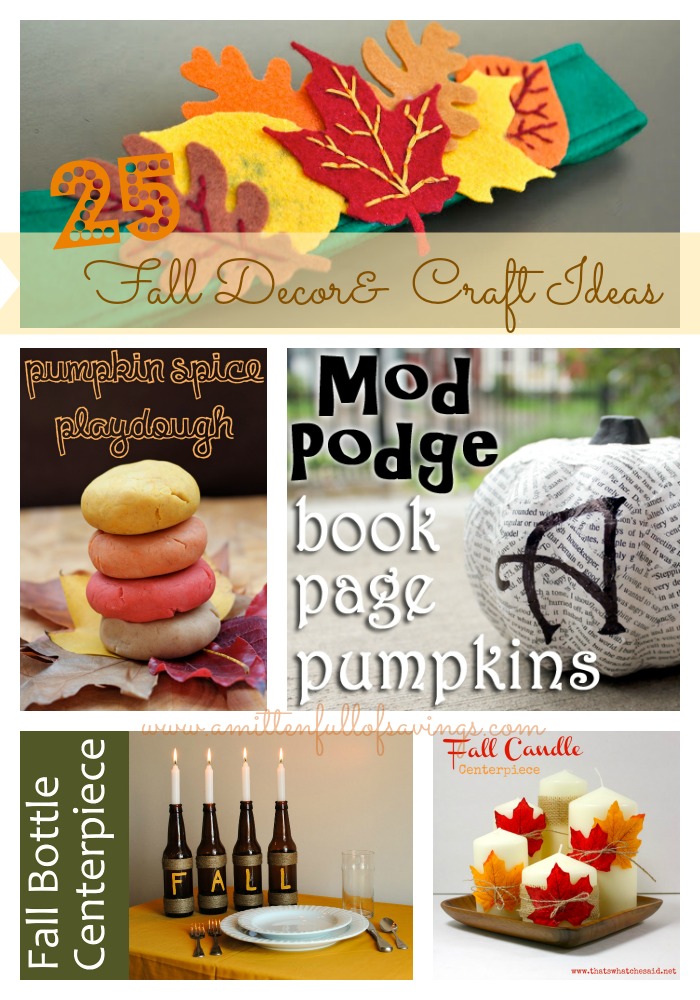 25 Fall Decor & Craft Ideas
Fall is almost here! Fall is one of my favorite times of year! I am looking forward to pulling out my fall decor and getting started on turning everything around my house in fall colors. If you're looking for some inspiration, be sure to check out my It's Fall pinterest board!
Plus here's more inspiration! 25 different fall decor and craft ideas that you can check out and try this year! Many of these tips will help you save on fall decor instead of going out and buying a ton of stuff! Enjoy!
1. Burlap Bowl DIY Project
2. Gorgeous Fall Bottles
3. Glowing Leaves Centerpiece
4. Golden Acorns
5. Mini Cornucopias
6. DIY Fall Feather Wreath
7. Autumn Leaves Door Garland
8. Pumpkin Spice Playdough
9. Walnut Shell Mayflower Place Cards
10. Turkey Napkin Rings
11. Simple Candle and Coffee Bean Centerpiece
12. DIY Tassel Necklace
13. Fall Candle Centerpiece
14. Clay Pot Pumpkins
15. Easy DIY Fall Headband
16. Monogram Cord Place Cards
17. Book Page Pumpkins
18. Cute Harvest Centerpiece Display
19. Needle Felted Acorns
20. Fall Leaf Ornaments
21. Wood Wax and Aluminum Cake Pan
22. Falling Leaves Home Decor
23. Fabric Artichoke DIY
24. Red Autumn Circle Scarf
25. Corn Husk Luminaries