Gifts don't always come wrapped up. Here's 25 Ways to Show Your Love at Christmas Besides Gifts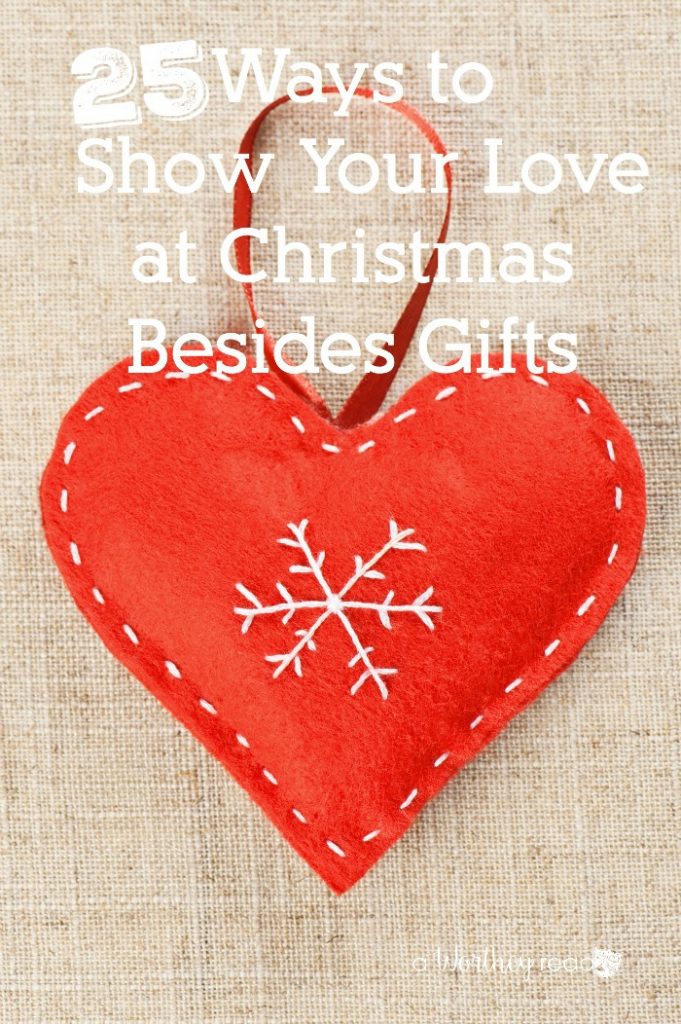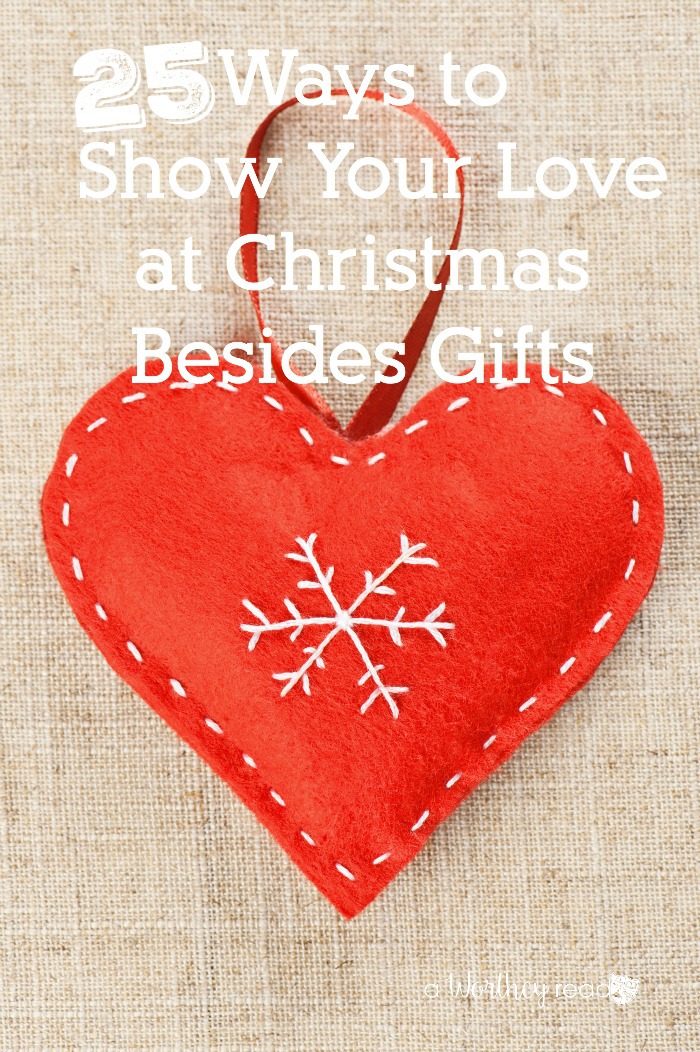 In a world that is so enamored of material things sometimes it is nice to put our efforts ahead of our wallets. There are so many ways to make those we care about feel loved and appreciated besides material things. Be it your spouse, child, parent, a neighbor, or whomever is special in your life that you want to show affection for besides or beyond a gift here are some ideas to get you started.
25 Ways to Show Your Love at Christmas Besides Gifts
Hang mistletoe everywhere in the house, make it a point to land under it often.

Write a poem- silly, romantic, or loving.

Clean your spouse's car, inside and out.

Serve breakfast in bed for your spouse or child.

Make Dinner, if you are not the one that usually makes it, do the dishes too!

Hold hands in public, if you are not typically affectionate in public this will be extra special.

Snuggle up and read a book together

Make a special ornament out of items on hand.

Draw a bath for your tired spouse, add some holiday scented bubble bath.

Turn car on to heat it up- If you live somewhere that is cold, slip out to turn on the heat in the car 5 minutes before they head out so it is toasty when they climb in.

Create a mix cd, it's cheesy but it has stood the test of time for a reason.

Send a sweet text to your honey during the workday to let them know you are thinking of them, or even while they are at the other end of the couch!

Bake holiday treats for a neighbor,coworker, or sick family member.

Take a walk to enjoy the stars, holiday lights, and each other. Great for couples or families

Brag about them to friends, coworkers, and family while they are there to hear it.

Write a letter/love note to spouse, child, parent, or a friend.

Run a dreaded errand for your spouse.

Turn off tv/computer/phone and give them your undivided attention.

Make a list of all the things you love about that person.

Shovel the walk, especially if this is usually your spouse's chore.

Plan a free date with your spouse, mommy/son, or daddy/daughter.

Throw together a simple picnic- grab a blanket, a bottle of wine, fresh fruit and head to the backyard.

Eat on the special dishes, the ones you only pull out for Christmas Eve. Add some candles and enjoy your spouse or the whole family.

Fill the car with red and green balloons, leave a thoughtful card on the seat.

Watch a movie or TV show that they love and you normally avoid.
As you can see, it's easy to give a gift from the heart and it doesn't have to cost you one penny. Giving gifts from where it matters most is what Christmas is all about, since we were given the ultimate gift of a lifetime.
What are some ways you plan to show your love this Christmas besides buying gifts? Leave me a comment below! I would love to hear from you!
And Merry Christmas!