5 Reasons Michigan Children Shouldn't Be OSU Fans!
 Disclaimer: The following post was written by the OSU Hater- D. Durand Worthey. Our house is split since I am an avid Buckeye Fan and our kids have donned OSU Gear. He is a hater of all things Ohio State. So now, since he wants to play dirty already, be sure to check back for my counter post on this issue!
The college football season is fast approaching and why not stir up a bit of trouble before the first pigskin is tossed into the end zone? I love all things Michigan My philosophy is I am going to root for any team playing against OSU. Sounds just about right to me. However, my better half has been swayed by unnatural forces and is an ardent fan of our sworn enemy, the Ohio State Buckeyes. Even typing the name makes me want to take a hot shower.  Anyway I am posting 5 Reasons Michigan Children Shouldn't Be OSU Fans just to keep the rivalry fresh. And please I implore every Michigan resident to share this with any misguided OSU fans you may have the misfortune of knowing. Let the trash talking begin!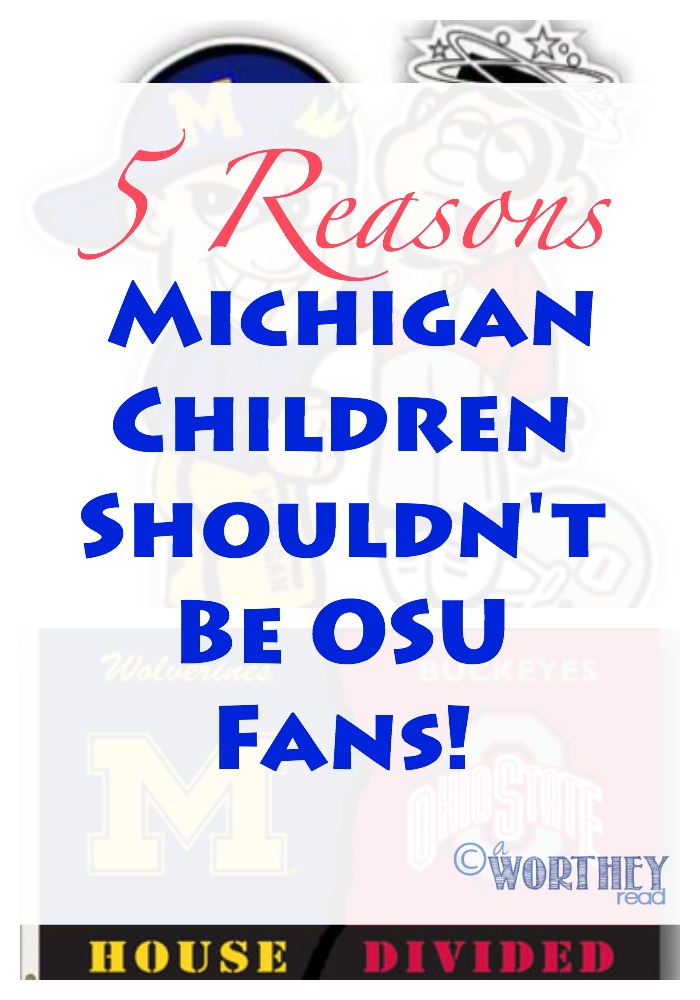 1. It has been scientifically proven OSU colors cause a rare case of childhood dementia called AFS or Arrogant Fan Syndrome.
2. OSU fans are offensive to the olfactory system. Scientist at the prestigious U of M hospital have conducted studies in which people wearing OSU colors where placed into a room filled with U of M fans and the Maize and Blue fans immediately held their noses.
3. OSU fans cause nausea. In a world famous 2013 study conducted at MSU the OSU football squad was introduced to Spartan Stadium. The horrid stench emanating from the OSU squad was so offensive the MSU football team was compelled to beat them triumphantly and send them back to Ohio ASAP with their tails between their legs.
4. Children wearing OSU colors are more likely to be bullied in Michigan schools. In an in-depth Psychology Today article doctors warned Michigan parents not to send their children to school wearing red and gray because it causes other school children to pick on them insistently.
5. In a ongoing case now in the Michigan Supreme Court, arguments are being heard as to whether or not it s a criminal offense to traffic OSU teams across  Michigan borders. Based on game footage obtained from MSU archives it has been surmised that trouncing OSU football players may be too traumatizing to OSU players, student body and OSU alumni and may leave them with long term PTSD (Post Traumatic Stress Disorder) leaving them unfit to be productive citizens.
Note from T. Worthey– here's proof of our children in OSU Gear and they have turned out just fine 😉
We are definitely a house divided!