5 Ways You Can Stop Siblings From Bickering
You sigh as you hear the kids yelling again. BUT—you think, summer has just begun. How can I deal with this ALL summer long?  I know with my boys this is a constant issue. I mean, they bicker about the dumbest stuff. Here's an example: they argue about how has worlds in minecraft! Give me a break!
Well, have no fear because here are 5 ways you can stop siblings from bickering this summer. I'm not a Fairy Godmother, but hopefully these tips will help you as they have helped me!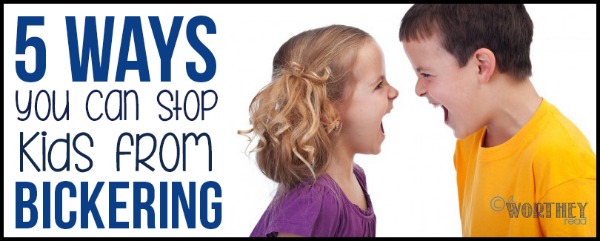 #1. Chore Time
Idle hands won't have time to get into trouble if they are busy. If your children can't get along then, it's time to get a little creative in the chore department. Make a list that states something like this at the top: "Since you can't get along with your sibling, it's time to do a few chores." Keep it simple and maybe a little fun, after all it is summer.
#2. Pay Up
If you have a lot of money lying around, you might enjoy this next tip, just kidding. Kids love to be rewarded in some way. If you are dealing with older children, then paying in smaller amounts is still okay. How else would they earn money anyways? Make a small chart that tells them how much $ they get for getting along with their brothers and sisters for the day. The key to a reward system is being consistent. You have to stick to your word.
#3. Rules & Expectations
Maybe your kids forgot what life at home is like. They are used to being at school with their friends and now they are at home with you and their siblings. Well, maybe it's time to sit down the children and discuss a little thing called "expectations." What do you expect from this summer? Now is your chance to make it as clear as water.
#4. Let the Kids Lead
This might sound like a crazy idea coming from a parent, but to reduce siblings fighting let the kids lead. Talk to the kids about what will make their lives a little easier and help reduce the tension between them and their siblings. Maybe there is some underlying issue you do not know about. Maybe the fighting is just a call out for a bigger issue. Maybe they just do it to get under your skin, but either way—give the kids a chance to talk and explain.
#5. Make Nutrition a Factor
Staying up late and eating junk food is not going to help the siblings get on each other's good side this summer. Consider making healthier choices and getting the whole family exercising. If the kids aren't loaded down with extra sugar, maybe their brain can make better choices (a mom can dream, right)? Biking, skateboarding, swimming, dancing, running, and tennis are all great ways to keep the kids active and BUSY this summer.
Need a few other ideas to keep the kids from bickering this summer? Here are some ideas:
-make a chore box, if they fight, they have to pick a chore out of the box
-if you fight with a sibling, you have to do a random act of kindness for them that day
-fighting will result in no Internet for 10 minutes (you can assign this in 10 minute increments)
-fighting will result in having to complete a teamwork activity
Getting along with others is a part of life and a skill that needs addressed. You could ignore the fighting this summer, or you could do something positive with it. Life lessons need to happen at an early age, so kids can learn to deal with "life" as they grow older.
How do you keep your kids from fighting during those summer months?