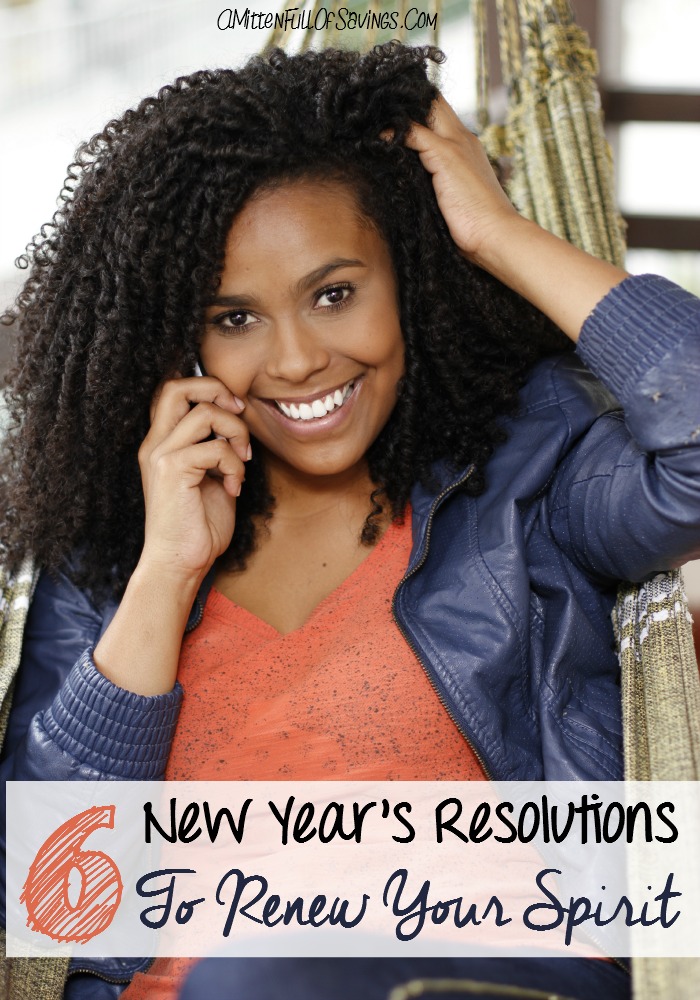 When most people think of making New Year's resolutions, it's the typical "lose weight", "quit smoking", "get more organized" and so on. While all of these are achievable and great, sometimes, you want something that will renew your soul and be long lasting long after the ball drops on New Year's eve. Here are some New Year's Resolutions that will renew your spirit.
6 New Year's Resolutions to Renew your Spirit
1. Get on board with RAOK. RAOK stands for "Random Acts Of Kindness" and it can totally make your spirit shine. If you don't know what this is, it's very simple; just do one random thing for a perfect stranger once in a while on a schedule. Some people do it daily, but even weekly is great. Doing something to brighten someone's day is food for your soul. If you need some ideas, check out this list of Random Acts of Kindness.
2. Stop negative self-talk. You know, that nagging voice inside you that tells you you can't do it, you aren't pretty/handsome enough, you aren't smart enough..stop all of that! Make a pact with yourself this year to stop all negative self-talk.
3. Examine the people in your life and find one thing you can do to help them. I think we often get so busy that we forget that part of loving people is just helping them. Offer to babysit once in a while for a friend with little ones. Bring a dish to eat for s friend that has a chronic illness. Send a card to an amazing co-worker. Call a long distance relative. Do one nice thing for a person in your life once per month. When we show love to others, it makes our hearts glow.
4. Take up an easy hobby. With the constant stress and business of our everyday lives, it's easy to forget that we have things we enjoy and to make time to do them. Start a new hobby or take up an old one this year. This year I plan to get more in the spirit of DIY! I don't consider myself as creative person, but I do enjoy creating decor ideas based around the dining room table. You can check out some of my work HERE.
5. Make it a point to pamper yourself once in a while. This doesn't have to cost a lot of time or money. Simply making the time to indulge in a bath once in a while can be refreshing for your soul. I used to do this all the time (before I became a work at home Mom). I do plan to take time out for myself at least once every two weeks. This not only helps me become a better person, but a better Mom, wife, Friend, etc.
6. Unplug once in a while. As a blogger, this one can be very hard, but it is vital for my spirit. Make a promise to unplug for even just an hour a week. No checking phones for alerts. No checking emails. No checking Facebook. Log off and unplug. Spend this time relaxing or playing with your kids or grand-kids. Take a walk and leave your phone behind.
Before you go, be sure to check out some fantastic tips on how to keep your New Year's resolutions:
How do you renew your spirit? I would love to know in the comments!