7 Great Re-Uses for Small Glass Candle Jars
If you are like me, you hate to throw away something that may be perfectly good still. This stems from the fact that I am somewhat of a green living junkie, but also very frugal minded and if I can use something for more than one purpose, I do it! Here are 7 great re-uses for small glass candle jars (you can also use baby food jars as well for many of these suggestions. )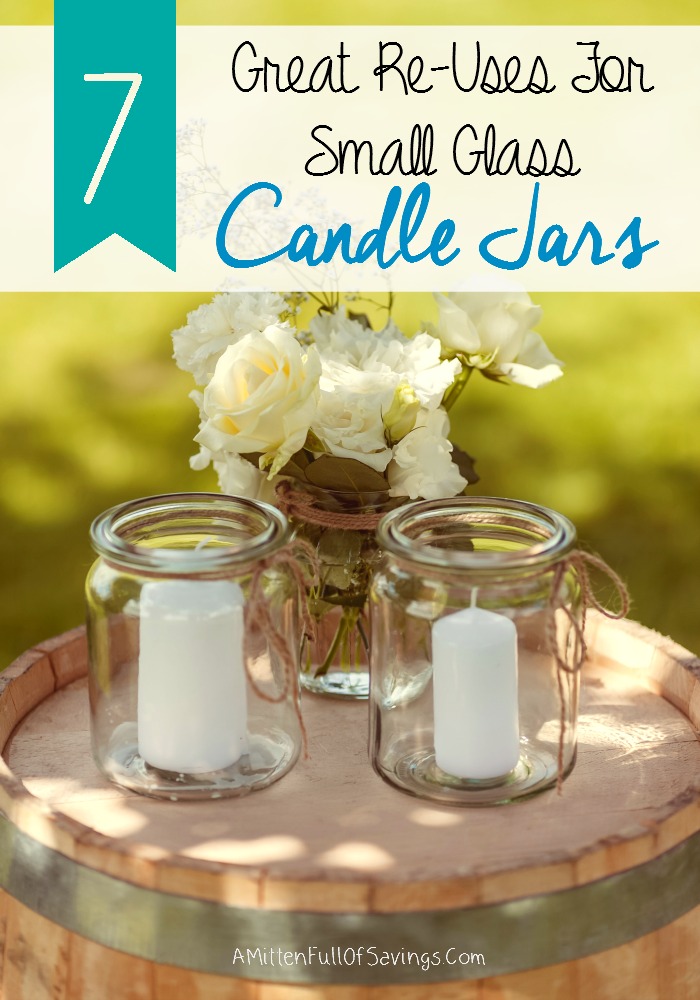 Paint touch-ups– If you have some small glass candle jars or baby food jars with tight fitting lids, and you will be re-painting your interior walls or some furniture, you can keep some leftover paint in then for touching up scuffs or areas that need it over time.
Bathroom organization– Use the small jars for storing things on your counter or organizing your medicine cabinet. They are ideal for storing cotton swabs, cotton balls, dental floss picks, band-aids, alcohol wipes, makeup sponges and even makeup brushes.  You can also organize your makeup collection by placing individual small stuff like lipstick in them.
Kitchen organization– Use small glass candle jars to place things like sweetner packets, 1 serving drink mix packets or even instant coffee packets in. You can also use them for storing cat or dog treats in. I love using these in the kitchen, especially when it comes to organization. I listed several ways jars can be used in the kitchen over here.
Apothecary Jar Craft– Make your own simple apothecary jars buy heading to the local thrift store or dollar store and buying candle sticks. Paint them with the color you desire and using a glue gun, glue a small glass candle jar on top. Paint the lid of the jar to match the candle stick and you have a nice apothecary jar for candies and such for the holidays!
Illuminate your holiday– Just clean out the jar well and add in small strings of lights that you can get at the dollar store. With the lid on, these will look beautiful displayed on a table or mantle. Simple yet sophisticated!
Air Fresheners/Odor reducers– You can fill old small glass candle jars with citronella oil, lemon slices and fresh herbs and make air fresheners that also keep bugs away in the summer. For odor elimination, place about an inch of white vinegar in one and place it in your fridge as a way to soak up odors. You can also use some apple cider vinegar in one for a fruit fly trap.
Votive Holders– Use your small glass candle jars as decorative votive holders with ribbons and craft sand in them to match your decor.
Do you use small glass candle jars for anything not listed here? I would love to hear about it in the comments!
 Other uses for jars:
10 Mason Jars Recipes & Crafts
And if you have a ton of baby jars laying around at home, I have 25 ideas that will get your creative juices flowing!!