7 Ways To Save On Last Minute Vacations
This year you didn't think you would get the chance to go for a vacation with the family, but suddenly the tides have turned and you have time off and a small budget. Here are 7 Ways To Save On Last Minute Vacations. Not only can you go to great locations on a low budget, you can do so at the last minute as well. These tips will help you make an impromptu vacation affordable and fun. Be sure to check our travel section of the blog for more tips, deals and last minute ideas!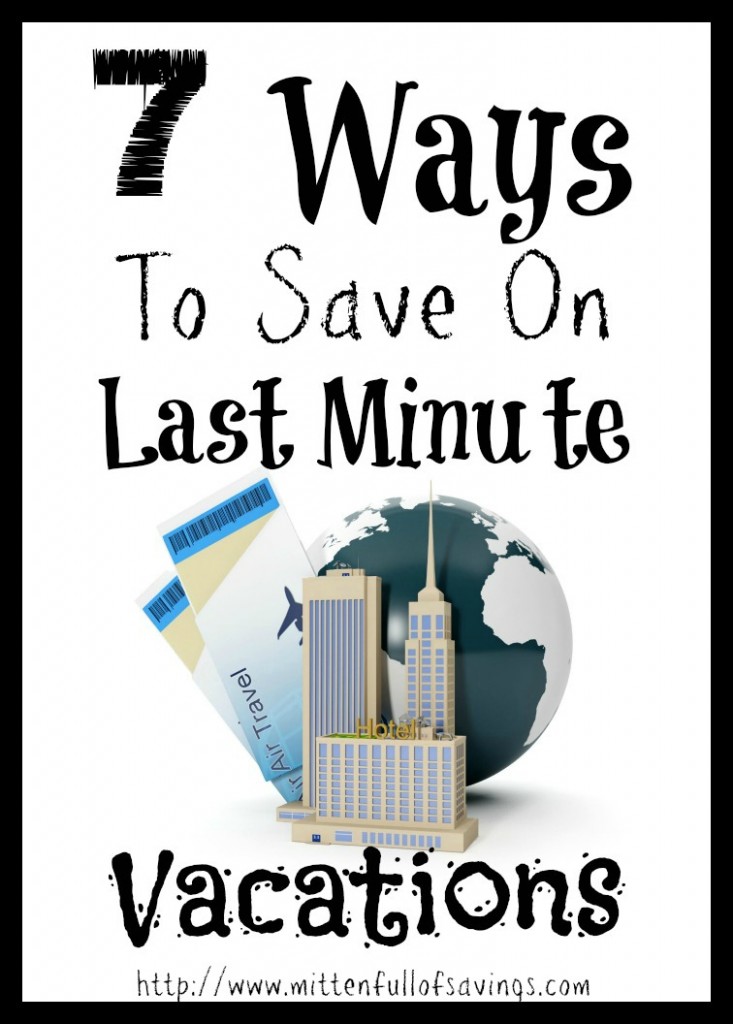 7 WAYS TO SAVE ON LAST MINUTE VACATIONS
CHECK WITH AIRLINE FOR LAST MINUTE DEALS ON CANCELLATIONS: Check at the airport airline office or give them a call and check for deals on last minute ticket cancellations. You can often find a great deal on a first class ticket when grabbing it at the last minute.

AVOID TOURIST TOWNS AND GO OFF THE BEATEN PATH: While tourist destinations are typically ideal for family vacations you can also avoid high prices at last minute by going off the beaten path for a more adventurous vacation with museums, parks, local historical landmarks and more. If the tourist town is still your destination you may find better deals on hotels and lodging 30-45 minutes away from the destination that will be more than enough of a discount to make up for traveling farther to your theme park, etc.




PACK YOUR OWN GROCERIES: If going for a last minute road trip packing your own drinks, snacks and easy breakfast items like granola bars, pastries or yogurts will save a lot of money and come in handy when the kids get hungry and it's not quite time to head to the restaurant.

GRAB COUPONS FROM ONLINE SOURCES: Check out Groupon, Living Social, Amazon Local, Deal Chicken and Restaurant.com for tons of great gift certificates and deals for local to your destination discounts. Just search for the zip code or city you will be vacationing in and grab deals to save money on meals, lodging or entertainment.

CALL THE SOURCE INSTEAD OF BOOKING ONLINE: A lot of hotels and motels will discount your room rate even more if you book directly through them rather than online. Before hitting that commit button on a popular savings site give the actual hotel location a call to see what in house deals they are currently running.

STAY CLOSE TO HOME: Instead of a long flight or drive check out your states well known attractions. Stay within 4-5 hours of home and save not only on travel, but also learn something new about your homestate.

GO CAMPING INSTEAD: Check out RV parks and State Parks nationwide for great deals on tent and RV camping. Not only will you have a beautiful view, you will have the chance to save money on lodging and food by camping out and cooking all of your meals at the campsite.
Last minute vacations can be fun, rewarding, relaxing and affordable when you apply these 7 ways to save on last minute vacations tips. The important part of the vacation is relaxation and time with those you love. Cherish the time and make memories instead of worrying about doing every little thing on your list.