7 Ways to Display Dollar Tree Bats
If you have a Dollar Tree nearby, then you have all you need for creating some fun décor with their die cut bats! These are sold in their Halloween décor area in packs on ten, and you will be amazed at all of the places you can stick them. Take a look below at 7 ways we found they could be used.
1. Kitchen Cabinets
Apply a piece of tape and give your kitchen cabinets a howling new look.
2. Picture frames.
Stick a bat or two right on the corners of your picture frames and turn them frightful! You can even frame the bats themselves if you wish.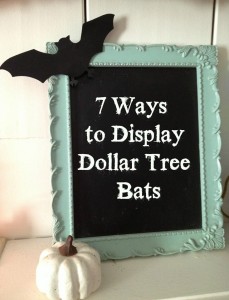 3. Bathroom Mirrors.
Make mirrors extra spooky when you add a bat or two. No one ever decorates their bathroom for Halloween, so be the first!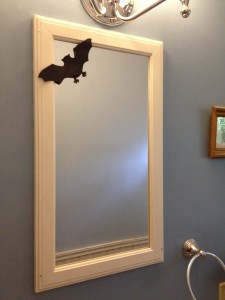 4. Hallway Décor
We stuck a bat on this white metal hallway décor piece for an unexpected pop of Halloween charm.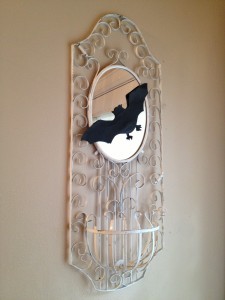 5. Make a simple jar décor piece.
Fill a glass jar with glowing twinkle lights (also available at dollar tree) and add a bat to the front. Nothing like some cheap Halloween décor that looks fantastic!


6. In a window.
Add a family of bats or a solo flier to your window panes. Not only will you be able to enjoy them, but passerby's will be able to as well.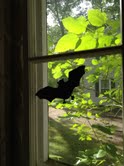 7. On a light fixture.
Add a bat or two to the outside of your lamp shade. They will truly give your house a "haunted house" effect!
See how easy it is to use these little guys in fun and unexpected ways? Grab a package and see how easy it is to use them in your own home! Get creative, and enjoy some fun Halloween décor on a dime.
Here's a few posts we've recently posted in preparation for Halloween: