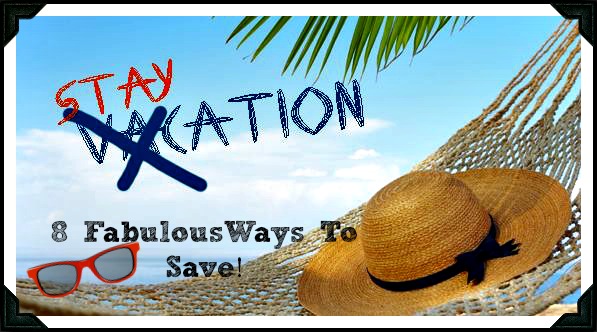 8 Fabulous Ways To Save on Your Staycation
Budgets are extremely tight for a lot of families right now and the Staycation has been a popular choice for many budget conscious people for years now. While Staycations can be a lot cheaper than taking a few weeks somewhere else, paying for hotels, flight or car rentals, they can also be spendy in their own right. How can a family on a very tight budget afford to do a staycation?
In this post, I will show you 8 simple ways to save on your staycation that will leave some money in your pocket and help you make the most of it. You may even forget you didn't leave home!
1. Make freezer meals ahead of time so during your staycation, you don't have to do any heavy cooking. This will help you feel relaxed and you won't have to worry about spending money on groceries during this time.
2. If you are going to eat out, decide as a family where you want to splurge. Go to places you don't really ever get to go to. Maybe some great steakhouse just outside town or a place that has a lot of fun kid's meals and activities? Plant to only eat out a couple times during your staycation.
3. Treat your staycation time as if you were leaving. Don't spend any of your budget (barring emergencies) on non-vacation fun.
4. If you want to stay in a hotel locally just for the vacation experience, try to find out if they offer any other extras such as discounts at restaurants in the area or family fun centers for those that stay at their hotel. Also, try to go for a hotel in the area that offers things like a pool, waterslide or spa for hotel patrons. This will get you more bang for your buck.
5. Come up with "destinations" that aren't such as your backyard. Do a family campout for instance in the backyard. Make it authentic as possible. No going inside unless it's to use the bathroom and roast hotdogs over an open grill.
6. Research places in town and the surrounding areas that you would like to experience. Check out the local tourist destinations for ideas. Play ignorant and ask around the tourist areas for ideas and if there are any special deals for tourists.
7. Consider buying a discount book for your area. Many cities and towns have their own discount membership cards that get cardholders up to 50% admission or more to attractions, restaurants, services and more. Plan your fun around these discounts.
8. If you are lucky enough to live close to the beach, the lake or river, make sure you include a day trip to one of these places, even if all you do is dip your feet in and have a picnic. Getting out of town is still possible if the distance is not too far.
For more tips, there are some GREAT ebooks that you can download for free or cheap that will help give you more fabulous tips on planning a staycation!
And if you're local, look for my upcoming posts on our staycation! Plus local fans you can check out these deals: