ABC has a new show on the block! It's called Deception, airing on Sunday nights. We sat down with the creator and producers of Deception to talk about how this idea turned into an action-packed, entertaining, show about magic, crime, and deception.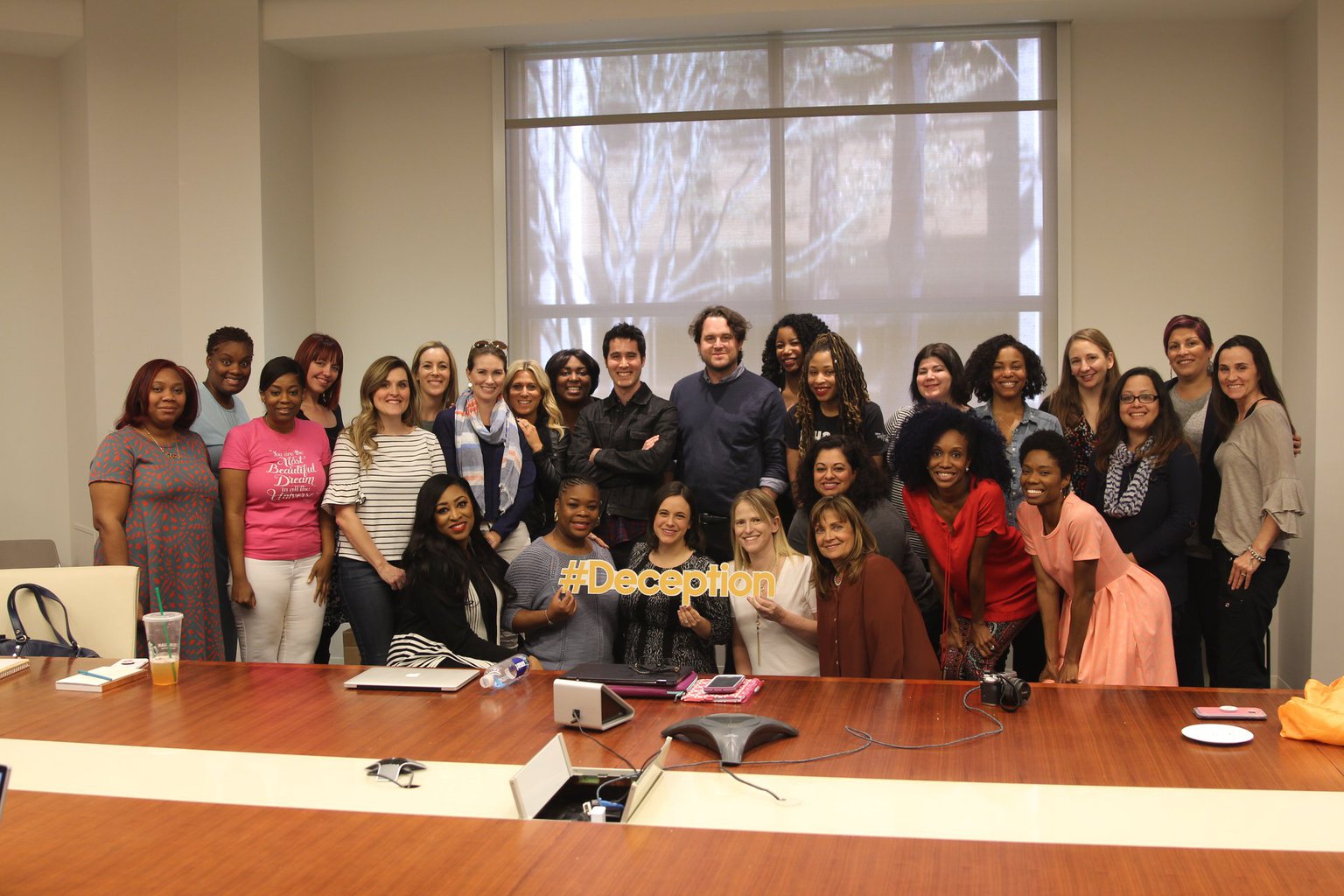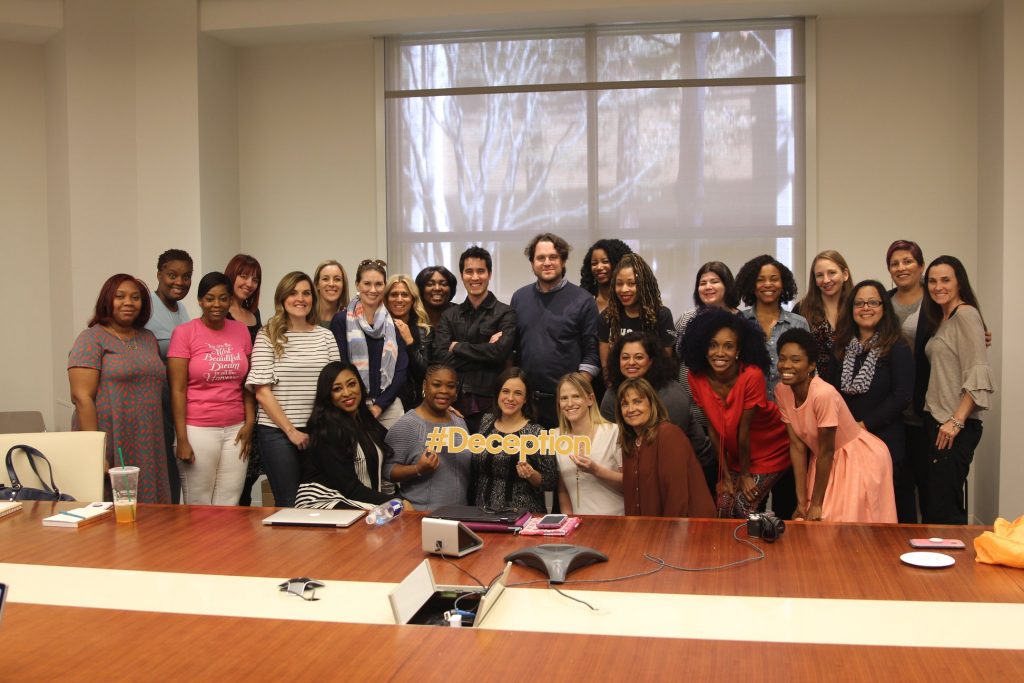 Learn About ABC's New T.V. Show- Deception: Filled With Action, Crime + Magic
Have you heard the news? ABC has some great new shows coming out this spring. While in L.A. for the A Wrinkle In Time press junket, myself and 24 of my blogging friends screened several pilots of ABC's latest projects. First up, we have a show called Deception.
What is ABC's show Deception about?
When his career is ruined by scandal, superstar magician Cameron Black has only one place to turn to practice his art of deception, influence, and illusion – the FBI. Using every trick in the book and inventing new ones, he will help the government catch the world's most elusive criminals while staging the biggest illusions of his career. The series is from writer/executive producer Chris Fedak ("Chuck") and executive producers Greg Berlanti, Martin Gero and Sarah Schechter. Illusionist David Kwong ("Now You See Me") will co-produce.
Cast of Deception
"Deception" stars Jack Cutmore-Scott as Cameron Black, Ilfenesh Hadera as Kay Daniels, Lenora Crichlow as Dina Clark, Amaury Nolasco as Mike Alvarez, Justin Chon as Jordan Kwon, Laila Robins as FBI Agent Deakins and Vinnie Jones as Gunter Gustafsen.

We sat down with Chris Fedak, the creator and executive producer of the show, as well as David Kwong, co-producer and Illusionist to talk about how this idea evolved into a T.V. show.
Chris: "I sat down with Greg Berlanti and he's like, I want to do a show about Magic. I said I don't know, I didn't have any magic show ideas. And then the more I thought about it, the more I thought about the fact that if you're a magician or if you're an illusionist like Copperfield or David Blaine, it's like you have a team, and I love shows about teams and I love shows about teams because they're shows about family, in a way. And so for me, that was a great opportunity to kind of think about like I hadn't seen a show about a group of people putting together deceptions like this, and I thought that could be cool. And then the other part of it that I liked is that I thought, this is Magician Impossible. What we're going to be doing every week is essentially an action show with mystery and deceptions and all that cool stuff.
But instead of it being every episode has to end with a gunfight or a big fight, is that every episode would have a big deception at the heart of it. So I'm glad you guys are here, we're excited to talk about it. And the neatest thing for me too was, in the beginning, I got to sit down with this guy (talking about David). So if you ever really wonder how magic works, and he's not going to tell you he's not going to give away any of his secrets, because he doesn't even give me that much. But it's like I got to watch every favorite, all my favorite illusions all my favorite specials when I was a kid and David and I would go through them.
Did Cameron (Jack Cutmore-Scott) have skills as a magician?
David: "Well we got very lucky that Jack Cutmore-Scott is very dexterous and loves magic. And he didn't have the skills already but he worked very hard and continues to work with me and our New York magician Francis Menotti. And he's always got a deck of cards on him, he's always got a pocketful of coins. And it becomes an obsession, it's like a practice hobby, you just keep at it and keep at it."
Chris: "It was crazy, it was like when we cast the show, we always assumed, it would be, oh we'll just this (actor) and we'll have David's hands doing all the magic. But then as we got closer and we cast Jack and we were lucky to get him, we had charming, we had handsome. And the thing is is that he's also an obsessive. So as we were walking around the production offices in New York getting ready for the shoot, I'd see Jack working on a trick, and I just thought, I'll just tell him we'll just use effects. And it's like that's not okay for him, he is a perfectionist.
And he would be out there, again there's a scene from the hangar. And it was twenty degrees that day and so like everybody is wearing their regular outfits, but like off camera we're all in giant space suits because it's so cold. And so Jack was doing a trick and he does it on screen, but I asked Francis our New York Magician, I said, how hard is this trick right now and he's just like, it's impossible, that's a brick, it's like that's how cold it is. But Jack is that passionate."
Chris talks about the process of putting together a show that was about magic, but also about entertainment
Chris: "I really wanted to make a fun network show, I wanted to make a show that was like you're going to sit down, and I'm going to entertain you, and this is going to be the most fun you could possibly have. And that's where this show comes from, it was designed to be a network TV show and that's why ABC was the perfect home for it. But to your- too what you're saying, it's like for me, I love when shows take other shows and- you sort of mush them together and you get something special out of that, so there's definitely elements of this show that have a bit of- like Castle elements or Sherlock.
I'd love for those comparisons and essentially that's a big part of Deception because that's what I watch. But the other thing too is I also like romance and I like comedy. And since this is ABC, it's like I want those elements to be a part of the show too because we're not making like, I don't imagine it'll last and last long this show. It's like he is not going to be solved you can't- crimes- that guy is great- he's funny, he's hilarious, so we want to also explore those characters and those relationships. My cast is wonderful. And so we want to have- this will be a much more emotional cop show with bad guys than you could- than even I knew I was going to have."
On what real magicians will think of this show
The question was asked if Deception has been screened by magicians, and how will they receive it?
David: "We don't know at large, but we were very careful and my partner in crime Francis and I, we would show our friends and call people up and run things by them. And it's these are people build their careers on these trade secrets, so we had to be very careful to stay away from anything that would ruin anyone's magic show. So there's a couple of rules. If something is a hundred years old, and no one is doing that anymore, you can usually put that on screen. But that's an important caveat. If someone has resurrected something from a hundred years ago and they're now doing it and they're making a career out of it, like leave it alone. The other fun thing is if we just come up with it on the spot and we invent our own new method, new trick, we can put that on screen because it's our own thing."
Will we see real magicians as guest stars on the show?
David: "We hope so. We have Penn and Teller in this one. And we want this to be something that magicians love and respect and they're going to pop up in it."
What comes first- the magic tricks or writing the script?
Chris: "It was cool, at the beginning David essentially stepped out with all the writers and like we sit in the writers room and our writers room is a little bit different because there's this one whole board where it's like he did a class where he essentially went through different theories of magic, put them up on the board, then we talked about them. And then on all the other boards, we'd talk about the story and what we want to do and how we're going to break down the season and all the mystery stuff. And each individual episode and like what we're excited about. And then we merged the two together, said which thing goes with this. Because the better the deception, it the illusion matches up with the emotions that we're doing in that episode, that's when we're really kind of hitting that sweet spot. And I think what we've learned over the course of the season is that we can do a lot. It's like, you know. We do a lot of- we have cases, we have those elements of the story, we have like some great guest stars coming in this season. But we can also go big there are lots of crazy things that we do and that was fun to see."
Empowering girls to be magicians
In the world of magic, you don't find a lot of magicians that are women. The creators of this show are hoping to change that with the characters in their show.
David: "I'd say one thing that when we sat down first we got the show, we came up with a mystery woman character. One thing we were excited about was having a female magician because there had been some in the past, but always in very few numbers. And I do think that there is some fourteen-year-old girl right now who's going to be an international superstar in ten years."
Will there be any dangerous elements to this show?
David: "I personally don't really dabble in the dangerous stuff, because I'm like a like a nerdy magician and I do things with like Scrabble tiles but there has been a lot of crossover throughout the last century of those feats of strength and endurance starting with Houdini who was really the one that pushed that first. And continues today with David Blaine and Criss Angel and usually, sometimes it's fake danger but sometimes it's really danger. Some of the stuff Blaine does is real. I don't know how he does it."
Chris: "Well here's the crazy thing like we did a lot of it for real, I mean look at the opening sequence, when Jack is hanging upside down thirty feet above a stage, we built that whole thing in New York and it was like it was Jack upside down above a- it's like- it seems like someone should have stopped this. But we have one of the great things about our show is that we have an amazing stunt crew and an amazing pilot shop and an incredible director named David Vetter and Amy Winter and so like anything.
And even though- and what I thought was cool was that once you're on the other side of a trick, it's like you really hope that thing works. Because like on a stage, for the most part, it's fine because if it doesn't work, you play around with it. And also it's like and David can speak to the idea of like sometimes if a magician has a problem like they come up with a different solution as they go, they always have other outs out of the trick. But for Cameron, he messes up he's dead if the illusion doesn't work he's dead and those stakes are real."
At the heart of Deception, here's the message they want people to get
David: "Magic is fun!"
Chris: "You know, it's funny because there's whole different come at it. I mean I think we live in a day and age of deception and illusion isn't exactly- you can make a political thing about it but for the most part I love these characters. And so I think that as you get into the show and you see what we're going to do it's like Jonathan is a big part of the show, Cameron's brother. You know, we really kind of get into that relationship. But that's the fun of it, it's like for me it's like I always think that these shows are like each individual episode kind of gets at that particular thing, and allows us to explore these characters. And so for me at the heart of it at the beginning, is that Jonathan and Cameron relationship which is can these brothers mend something that was so built into the relationship. Because if you think about it, you know, going back to the hour-long streaming show about the two screwed up brothers. But there is like Cameron and his brother get back together and they find something after so many years of having this weird thing that was placed upon them by their father, the Sebastian Black character."
There are a lot of twists and plots going on through Deception. I do love that this show shows diversity, women in high-powered positions, and keeps you entertained with magic tricks and action throughout the entire episode.
While this show touts it is a family friendly show, I would say it's safe for kids that are 13 and up. If your kids are into magic, they may get a kick out of watching the show just for the magic and deception tricks. You can catch it tonight on ABC!
The pilot airs tonight, SUNDAY, MARCH 11 (10:01–11:00 p.m. EDT), on The ABC Television Network, streaming and on demand.
You can learn more about the show Deception and follow along on social media:
Facebook
Twitter
Instagram
Hashtag: #deception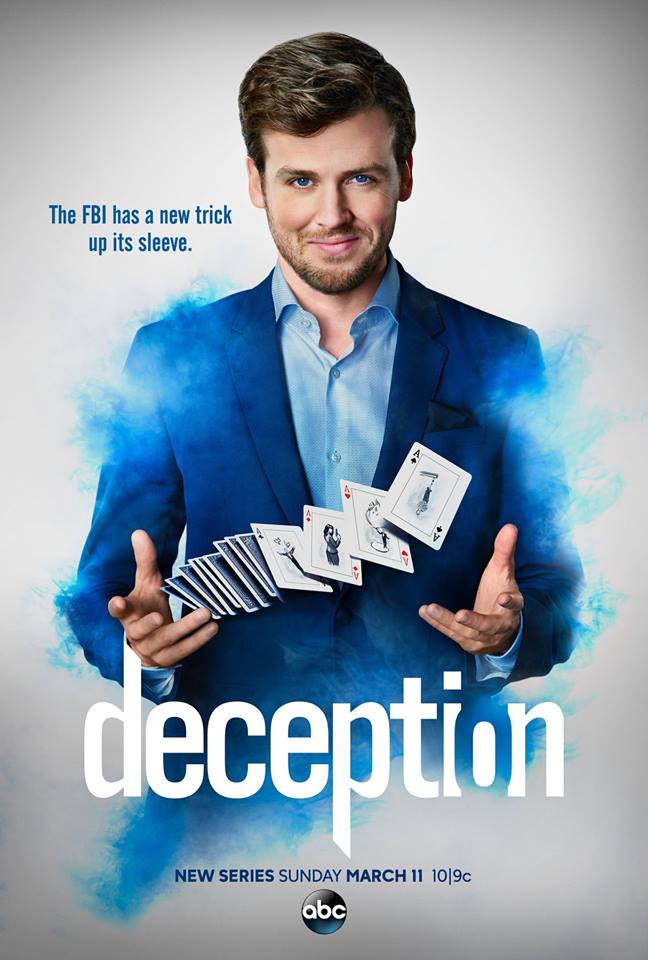 At the end of our interview, David wowed us with some of his magic tricks. I'm still trying to figure out how he got a dollar into a kiwi! It was pretty cool!
Here's a look at the magic show with David Kwong (thank you, Vera!)