With the holidays quickly approaching I know a lot of us are pressed for time.
Between running the kids around, work and other daily activities it's hard to even think about gift ideas.
This yummy white chocolate peppermint bark is super easy to make – it takes less than 30 minutes from start to finish and it's so good. You'll want to keep it for yourself.
Even better, it won't break the bank, so feel free to make up multiple jars to give to friends, family and co-workers. You can probably tell by now that I have a thing for peppermint recipes!
I like peppermint, I cannot lie. Here's a few of my other favorite peppermint recipes:
White Chocolate Peppermint Bark Recipe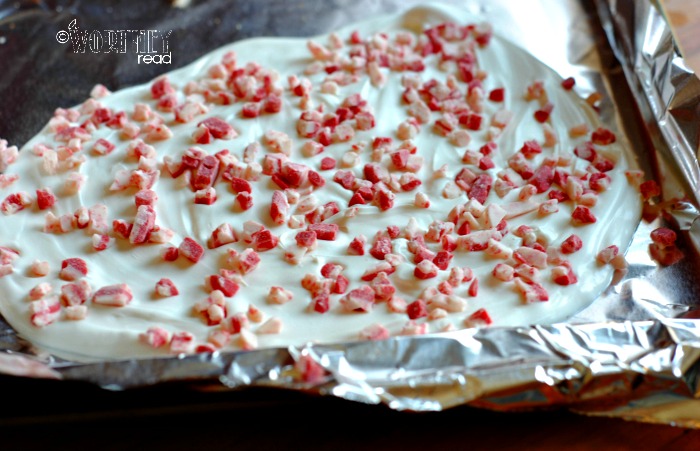 1 12 oz. package of Wilton white candy melts
½ tsp. peppermint extract (this stuff packs a punch so go light)
1 package of Andes Peppermint Baking Bits (located in the baking section near the chocolate chips at major retailers)
8 oz. or 16 oz. mason jar
ribbon or twine to tie around the jar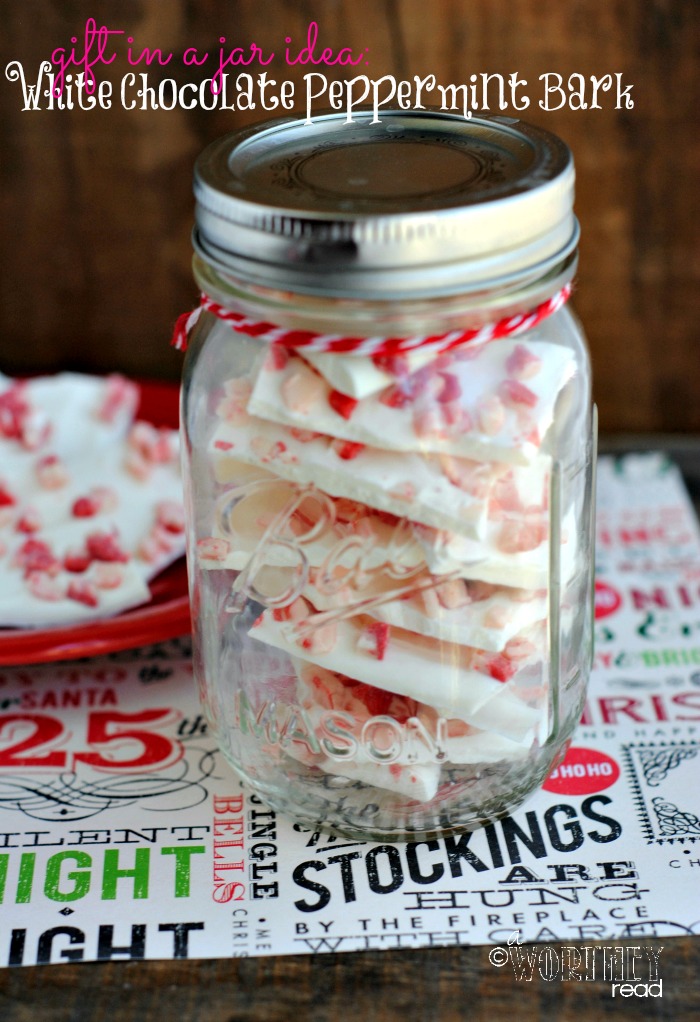 Directions for White Chocolate Peppermint Bark
1. Line a rimmed baking sheet with foil.
2. Next, pour our the bag of white candy melts into a microwaveable safe dish. Heat in 30 second increments, stirring every seconds until melted. This should take more than 3-4 minutes. Allow the chocolate to cool a few minutes prior to making the bark.
3. Evenly pour the melted white chocolate out onto the baking sheet. Use the back of the spoon to evenly spread the chocolate out – about 1/8-1/4" thick.
4. Sprinkle the Andes Peppermint Baking Bits on top (see photo).
5. Place the baking sheet in the fridge to set for 10-15 minutes.
That's it! Remove from the fridge, break into smaller pieces and stack them in the mason jar and add a personal touch with some cute holiday ribbon and a handwritten gift tag.
*(1) 12 oz. bag of chocolate makes enough to fill approximately (2) 16 oz. mason jars or (3) 8 oz. jars depending on how bit you make the chocolate pieces.