We're sharing a few ways to make a butter board, the viral trend from Tik Tok.
We include an herb butter recipe too!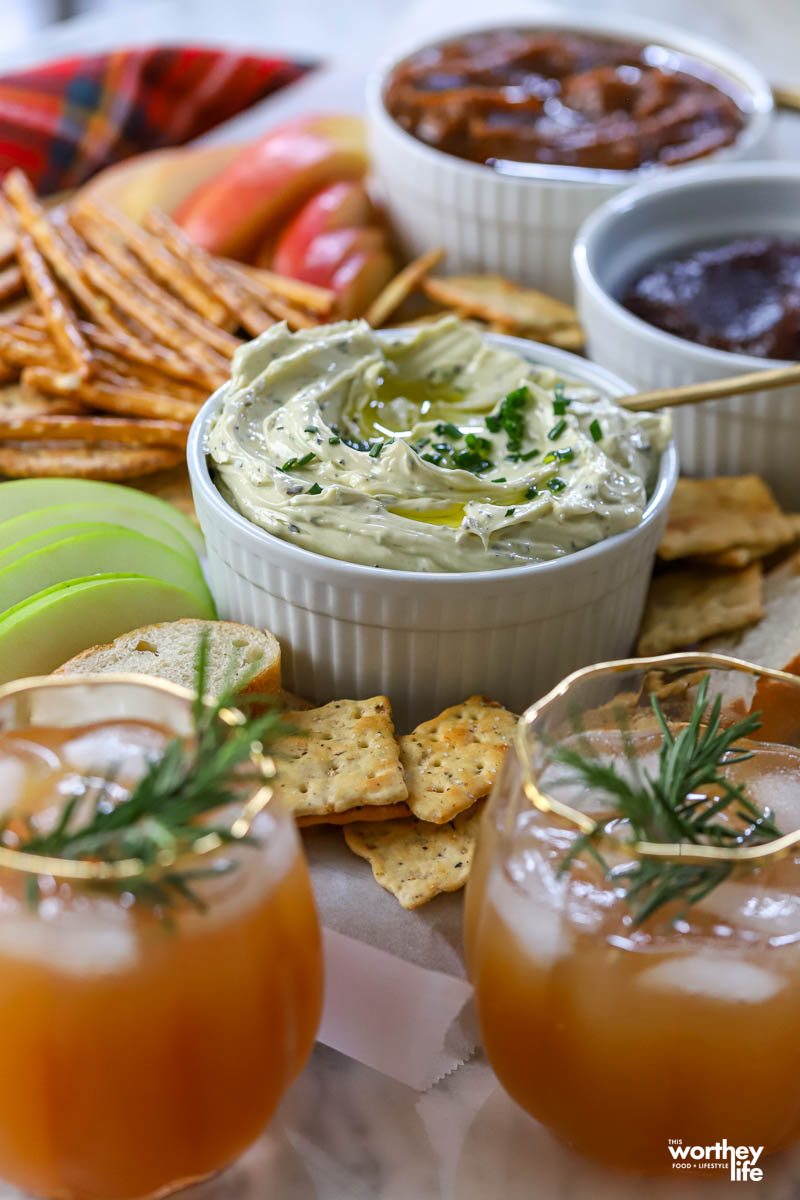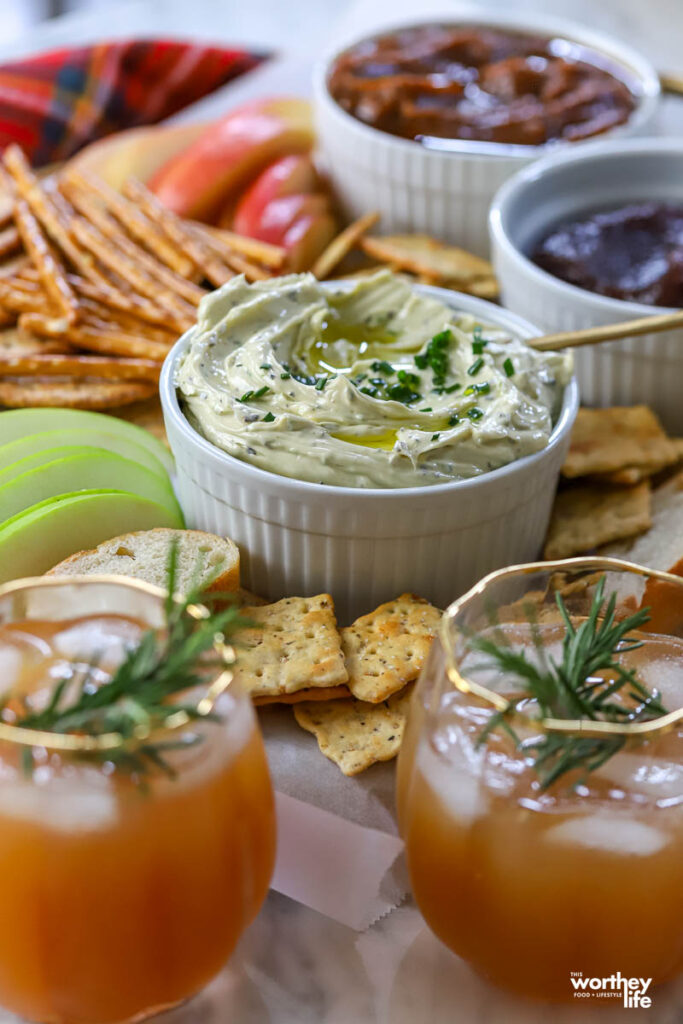 How To Make A Butter Board
We got a butter board! With all the dip-worthy goodies! It's a bit fancy.
But it's not just butter; we made herb butter!
We invited homemade pumpkin butter along for the ride.
Plus, we added apple butter because what's Fall without apple butter?
So, if you like a little variety when it comes to butter, then our Butter Board is for you!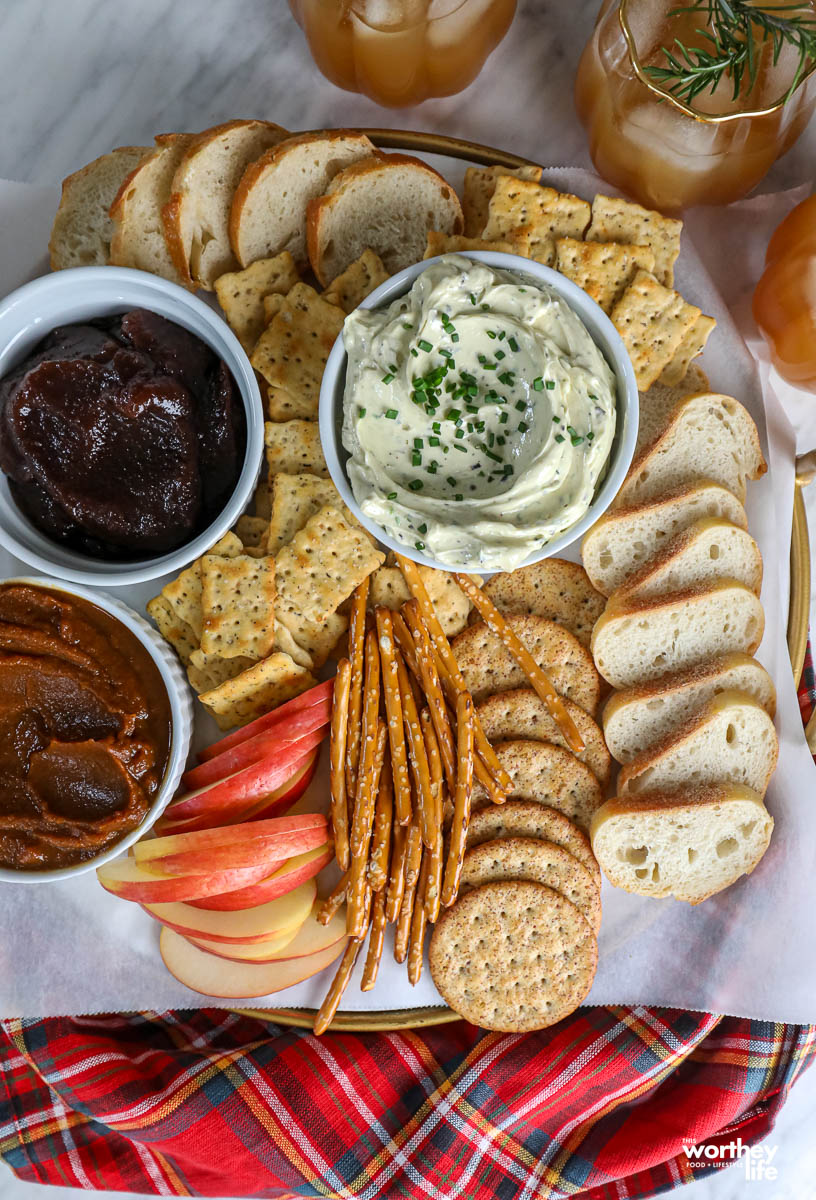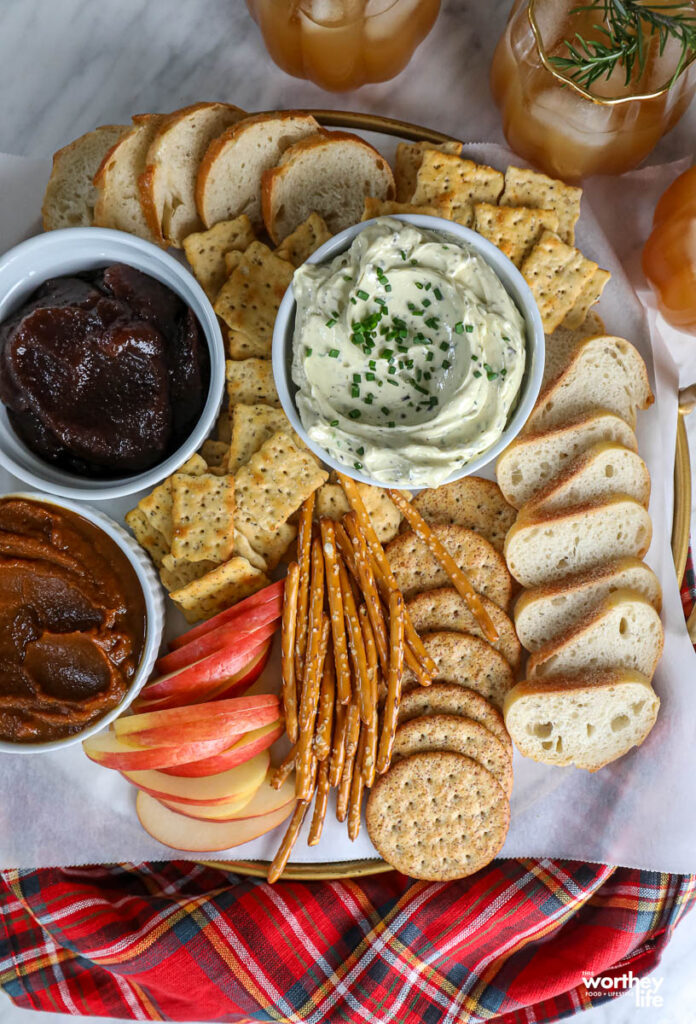 Why Make This Board
Okay, so hear us out. We love making charcuterie boards. We typically don't try many viral trends, but with this board, it's different.
They are fun, an easy appetizer idea, and also perfect for themed food (Like our Toy Story, Minions, Hot Cocoa Boards, Holidays,)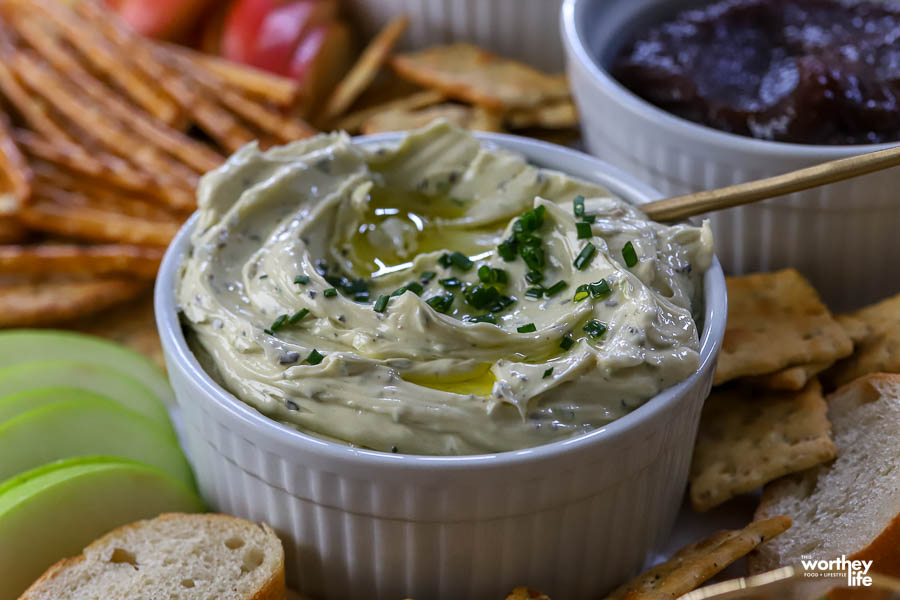 We also LOVE butter.
But we understand some people's concerns about eating butter; what do you think?
Our inspired butter board showcases herb butter and pumpkin butter recipe—the apple butter was store-bought.
You're not just going to eat butter and crackers because that doesn't sound so appetizing, does it?
We put our butter recipes in ramekins because it's an easier serving clean-up option.
But, if you're going to make a butter board right on the board, we recommend using parchment baking sheets. (Thanks, Rosalyn, for the tip.)
The parchment acts as a barrier and will prevent the butter from ruining your wood or marble cutting board; plus, when you are finished, it makes clean-up a lot easier.
You can use a porcelain board to help with an easier clean-up and won't leave a stain on your board.

What You Will Need
Butter. Of course, you will need butter to make a butter board. So, grab your favorite butter; unsalted is best because you will add flaky sea salt to your room temperature and spreadable butter, and a few other toppings.
Pumpkin Butter & Apple Butter. We added a little oomph to our butter board by adding pumpkin and apple butter. You can also add your favorite nut butter too! We think the idea of a plain old butter; butter board was a tad unexciting.
Bread, Crackers & Pretzels. With so much butter, it is nice to have something to spread the butter on, and the pretzels make an appearance because they are great for dipping into the fruit butter—you know about the joy of eating salty and sweet things together, don't you? Of course, you do!
Honeycrisp & Granny Smith Apples. I added apples to dip into the pumpkin and apple butter, but if you are feeling adventurous, go ahead and try a little herb butter on your apple slices. No judgment here!
You can also try mixing it up by adding pears like Anjou, Barlett, Bosc, or Comice to your butter board. Pears are typically in season in the Fall, just like apples, so they are easy to find at your local grocery store or farmers market.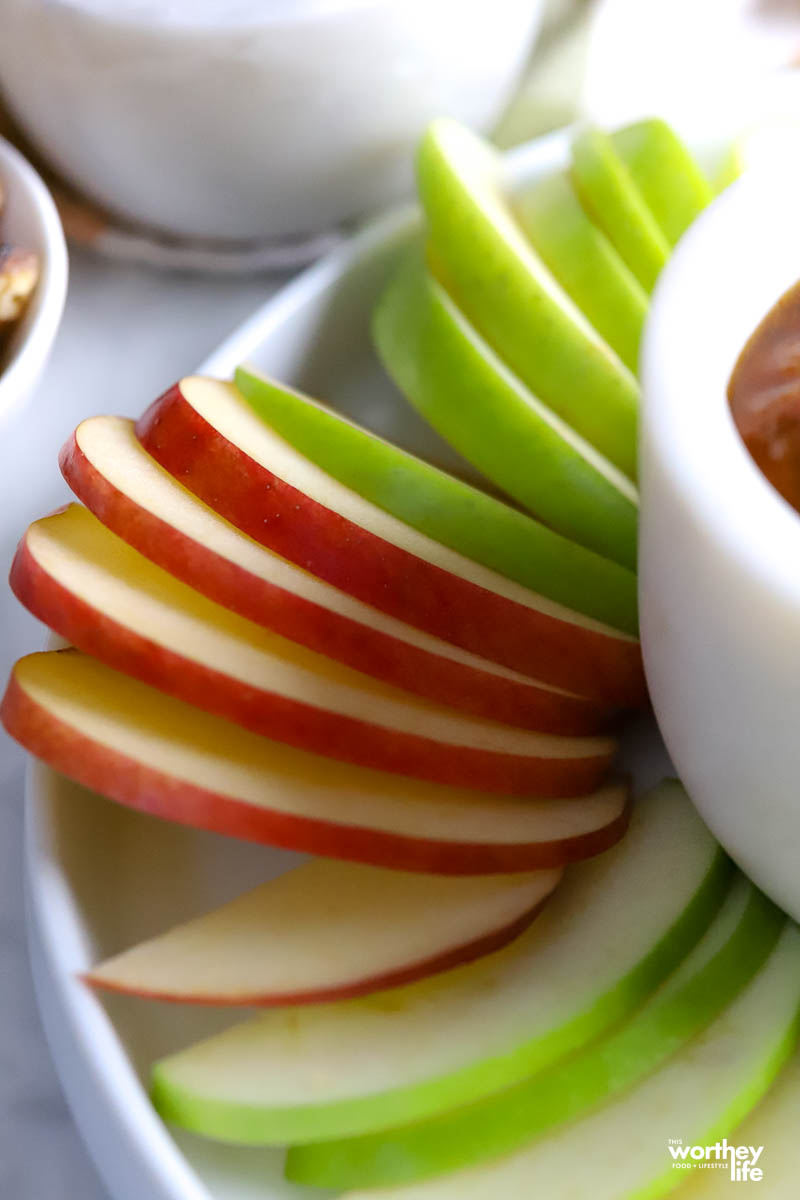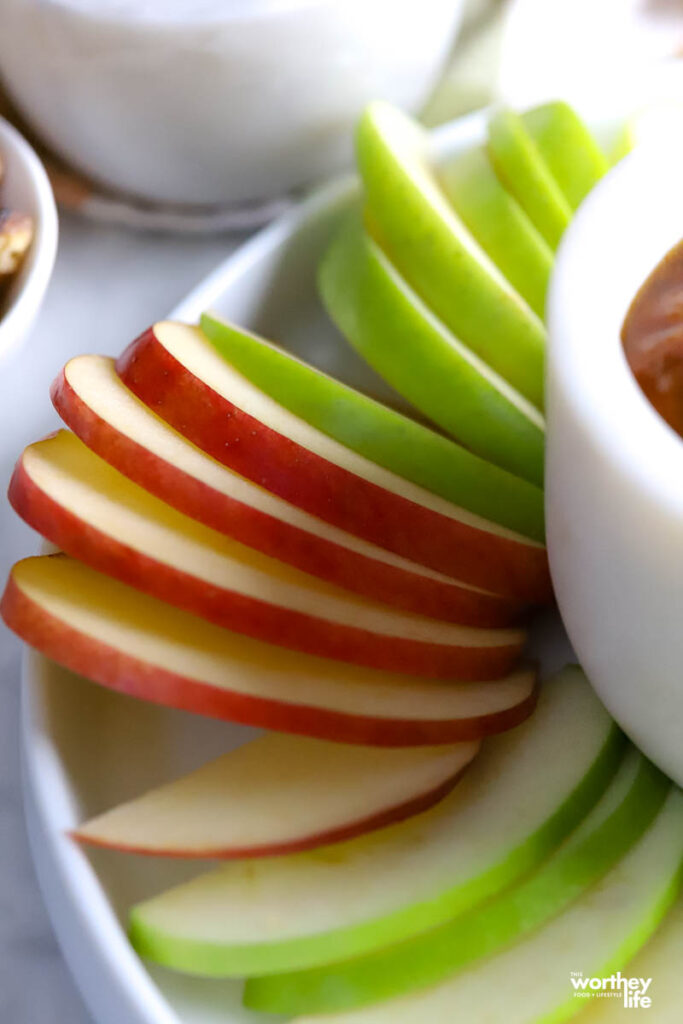 These apples are good choices too:
Gala
Pink Lady
McIntosh
Fuji
Red Delicious
Fresh Thyme, Basil & Chives. When making herb butter, you are going to need some fresh herbs.
But, you can use a herb combo that makes your taste buds do a little dance. So, go ahead and do you! I grabbed fresh thyme, sweet and opal basil, and several chives.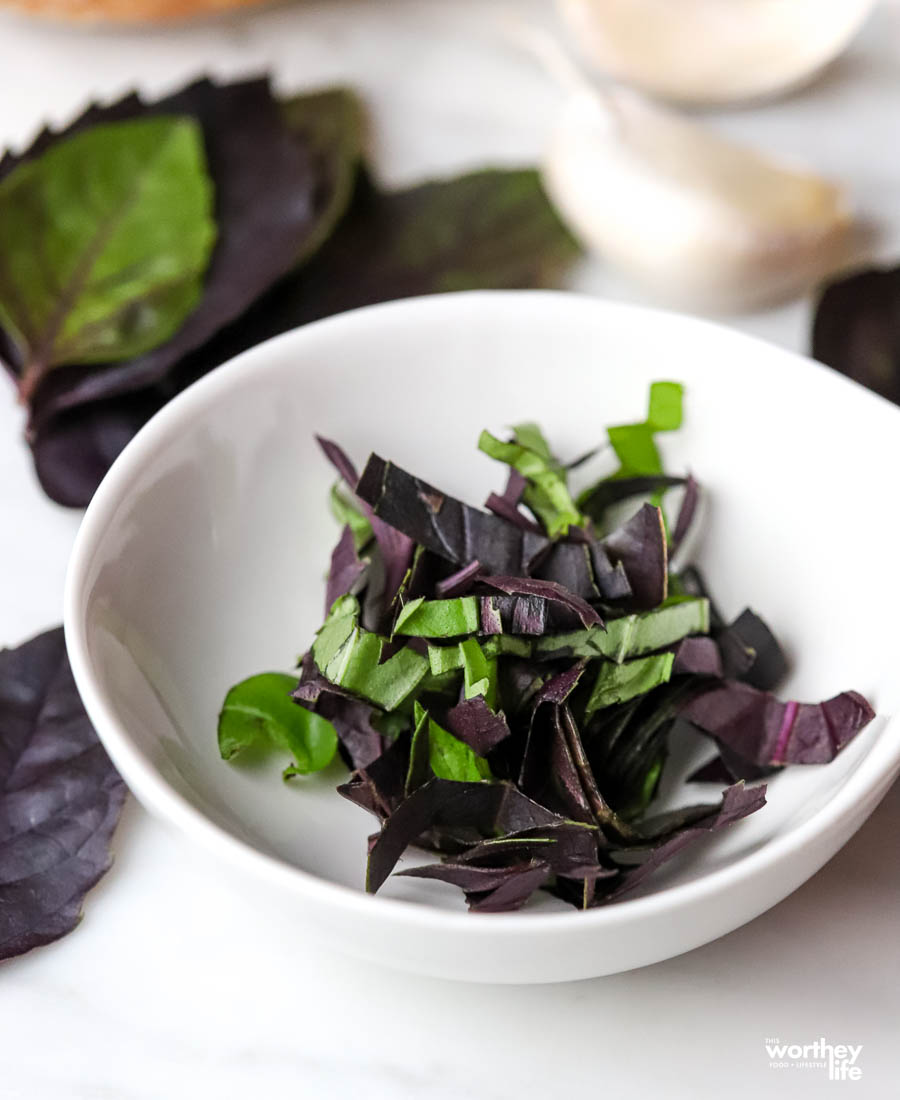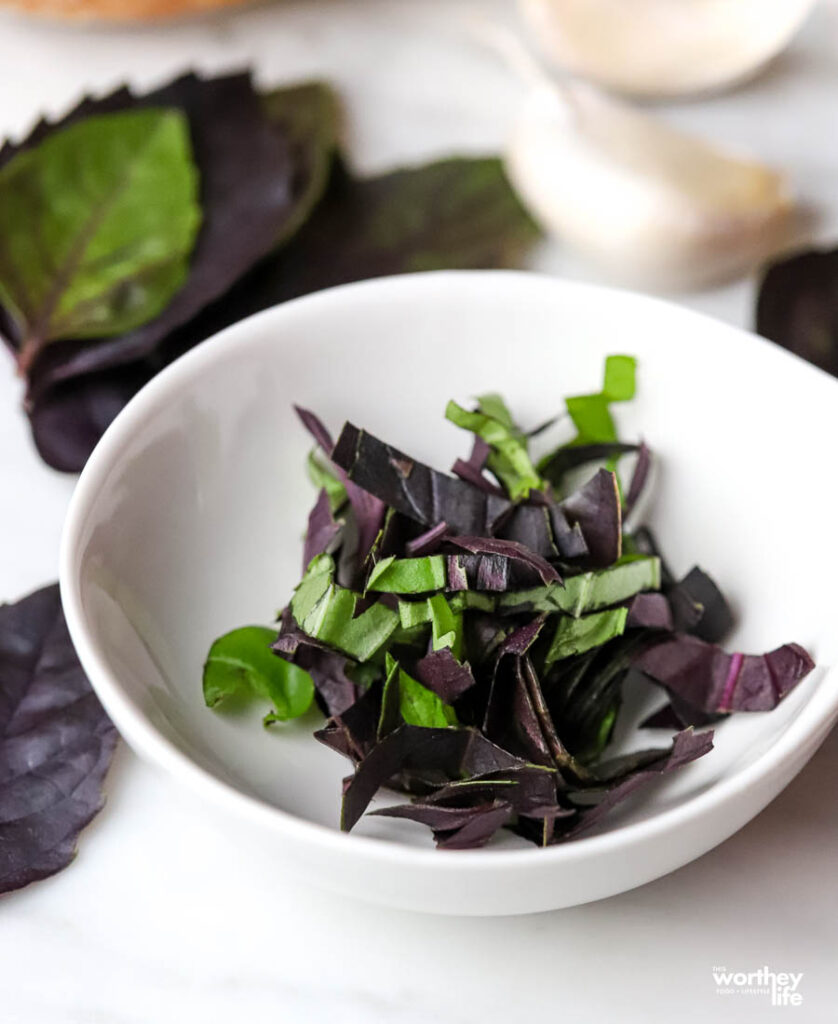 Here are a few other herbs to use when making herb butter:
basil
fresh oregano
marjoram
tarragon
savory
cilantro
dill
Olive Oil, Flaky Sea Salt, Cracked Black Peppercorns. Of course, herb butter is good, but why not bump it up a notch with a few savory toppings?
I topped our finished herb butter with a drizzle of good olive oil, flaky sea salt, and freshly cracked black peppercorns.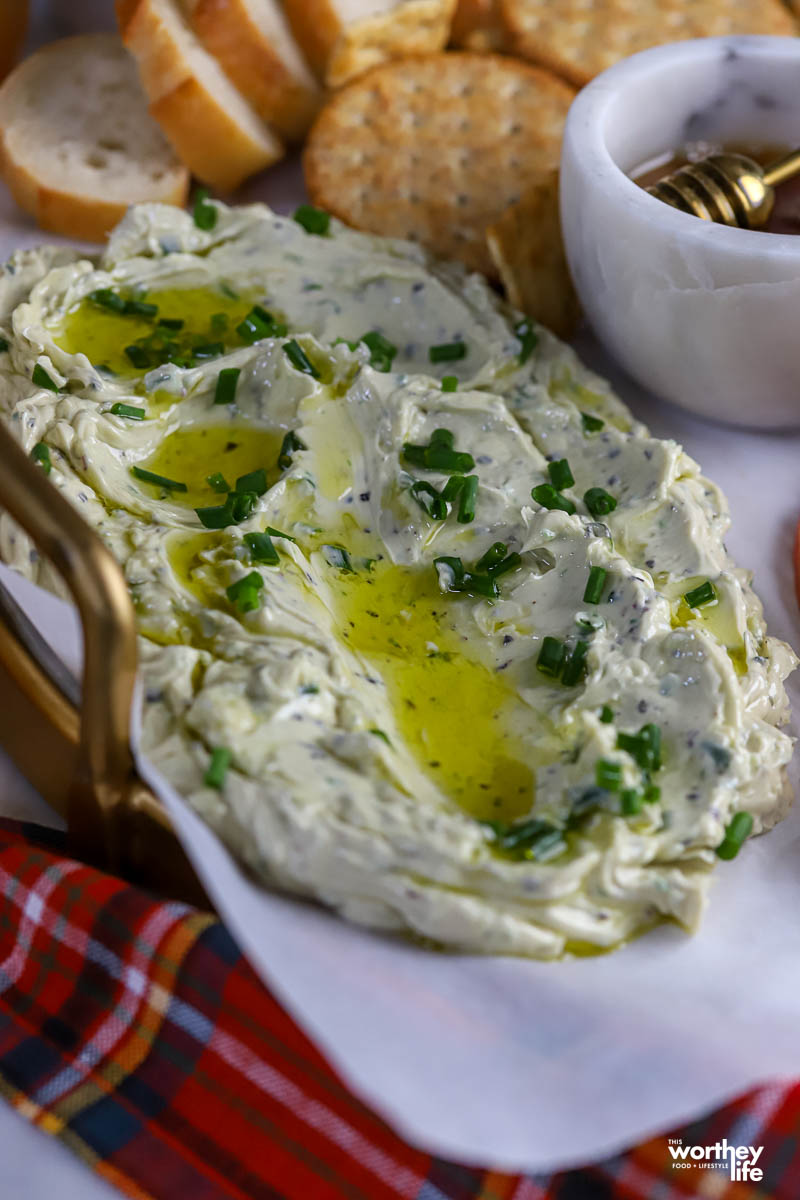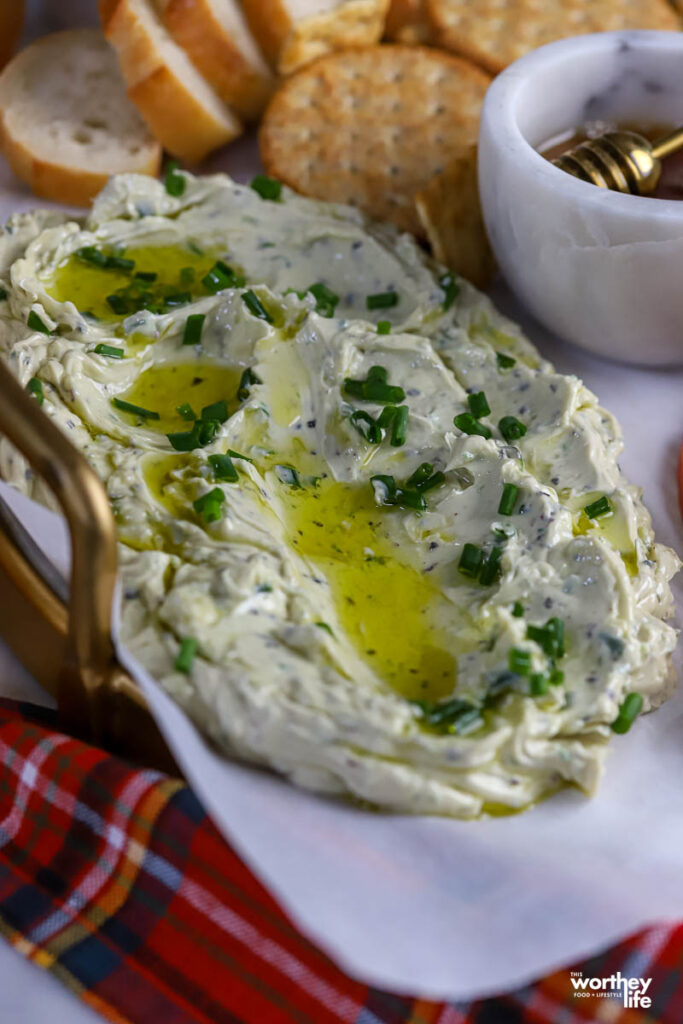 We got a few additional topping options for you:
everything bagel seasoning
truffle oil
balsamic glaze
red pepper flakes
lemon zest
finely grated parmesan cheese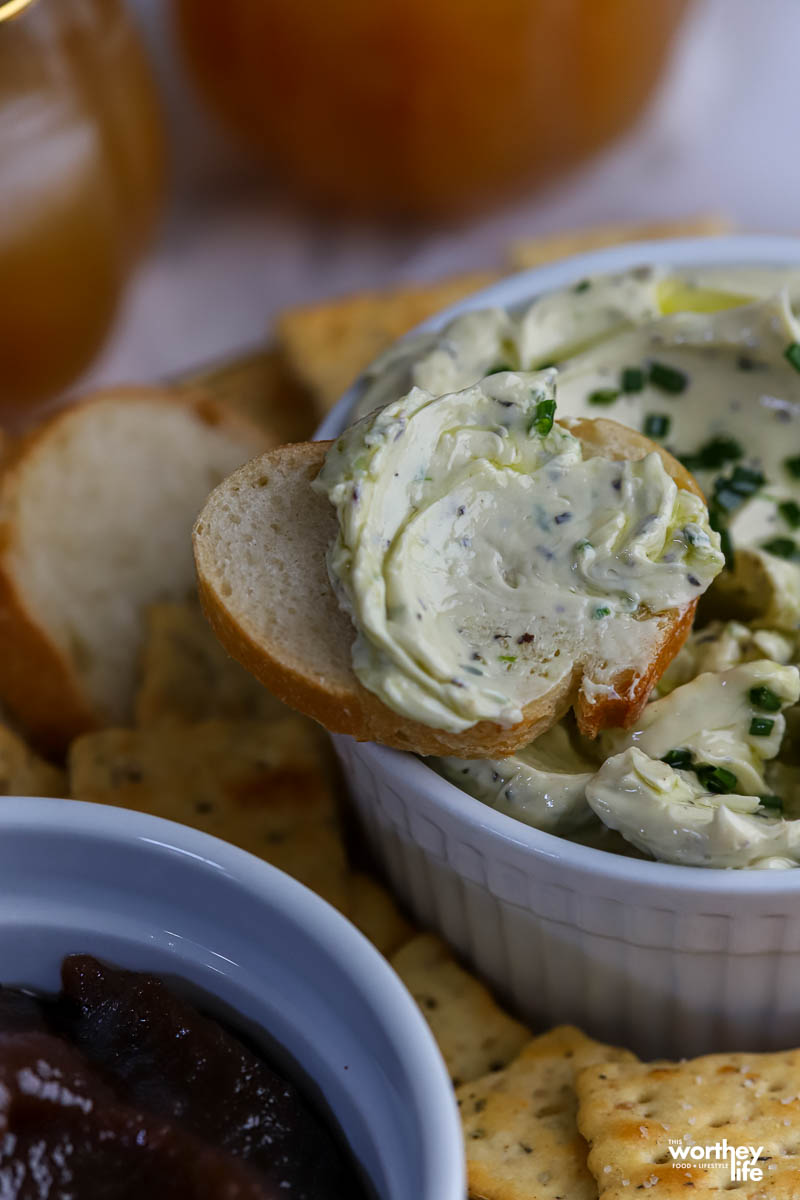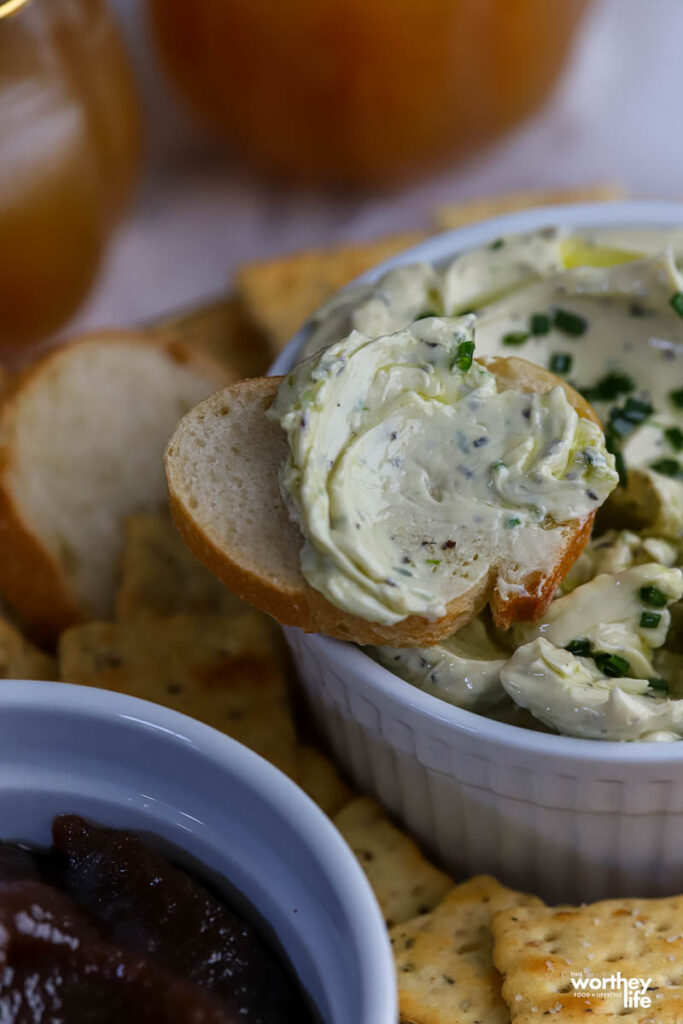 Herb Butter Recipe
Makes 2 cup
Ingredients:
3 sticks of softened unsalted butter
1/4 cup chopped sweet basil leaves
4-6 sprigs of fresh thyme; use lemon thyme if you can find it
2 large cloves of garlic
5 fresh chives reserved for topping
2-3 tbsps extra virgin olive oil for drizzling
1 tsp flakey sea salt or, to taste, reserved for topping
1/2 tsp of cracked black peppercorns or to taste
Directions:
Add the softened butter, chopped basil, or your herbs of choice, thyme, or garlic, into a stand mixer or food processor.
Mix until the herbs are incorporated into the whipped butter.

How To Make The Butter Board
Spoon the whipped herb butter into a serving dish or ramekin and arrange it on a cutting board with the ramekins filled with pumpkin and apple butter.
You can also put the butter directly onto the cutting board and top it with chives, flaky sea salt, and a drizzle of EVOO or your favorite honey.
Arrange various slices of crusty bread, crackers, pretzels, and apple slices.
Serve as an appetizer, enjoy a light lunch, or place it on the table for your next weekend brunch get-together.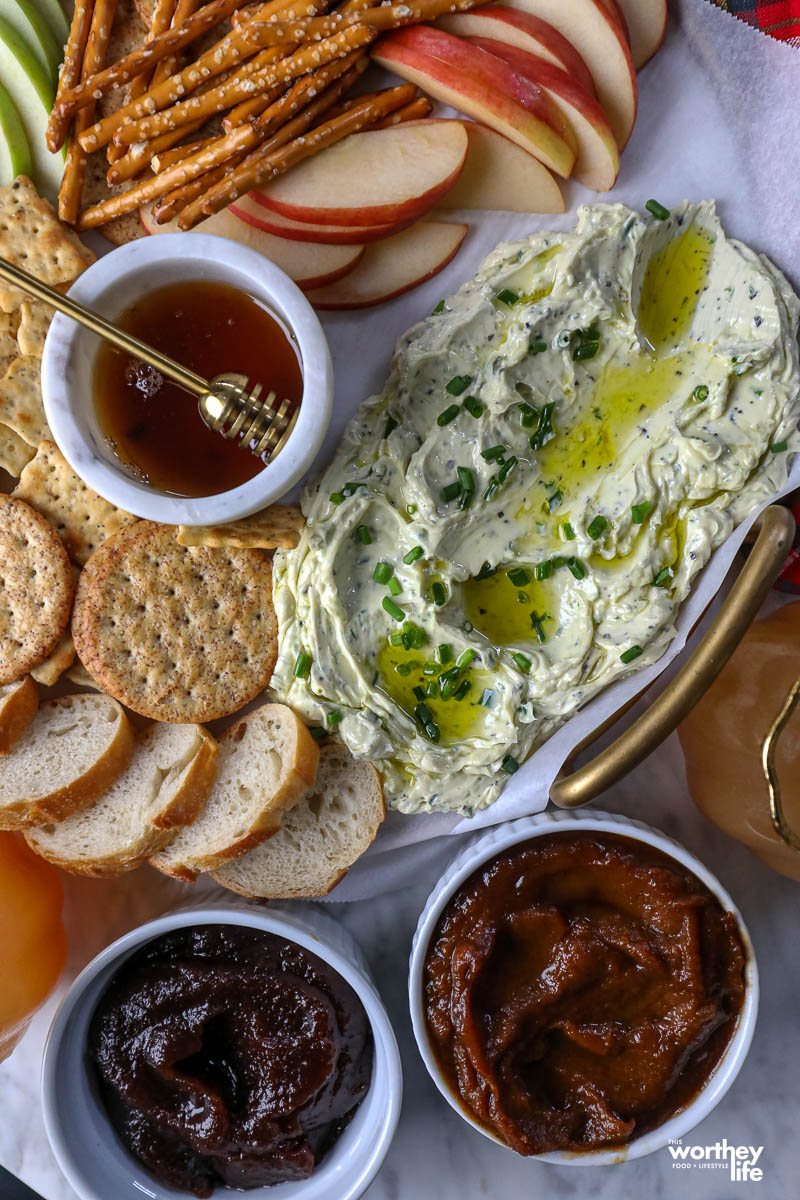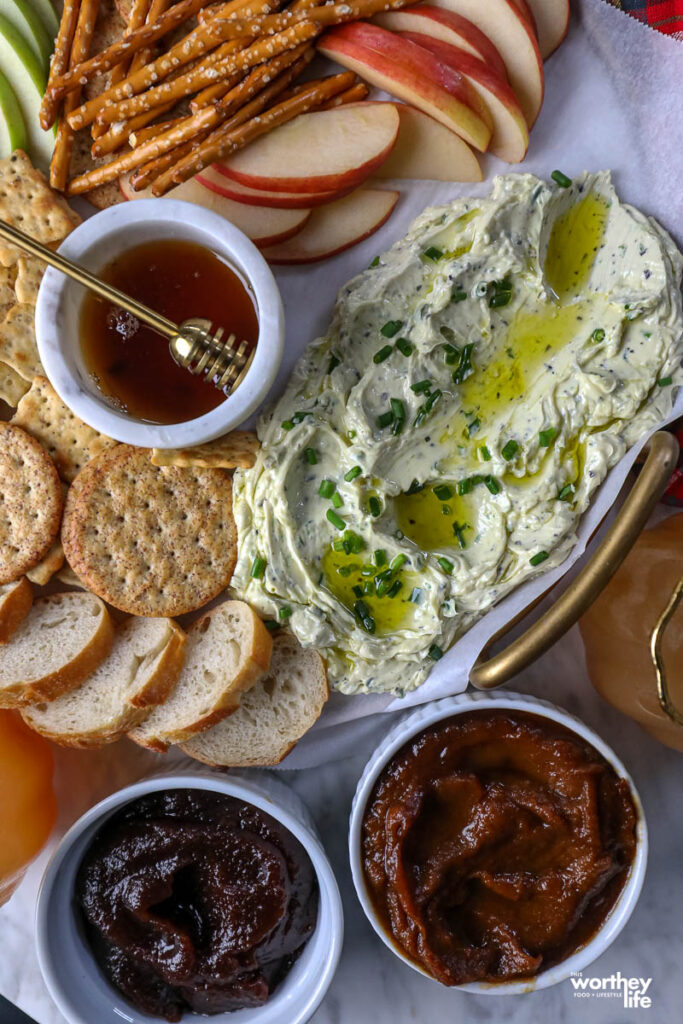 Can I make this a day ahead?
Yes. Make your herb butter a day ahead and place it in an airtight container; storing it in the fridge without a lid will allow other flavors to absorb into the butter and may give the butter an off taste when served.
How long will it last in the fridge?
Your herb butter will last in the fridge for up to 5-days.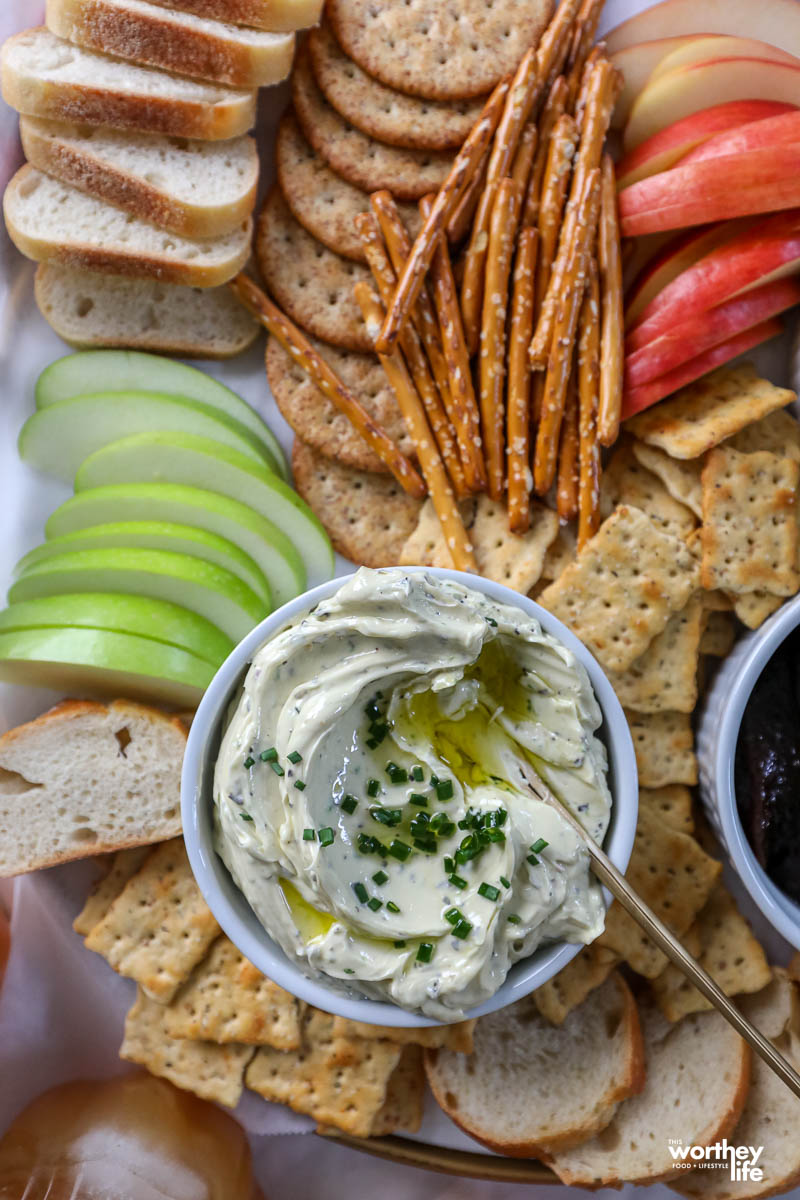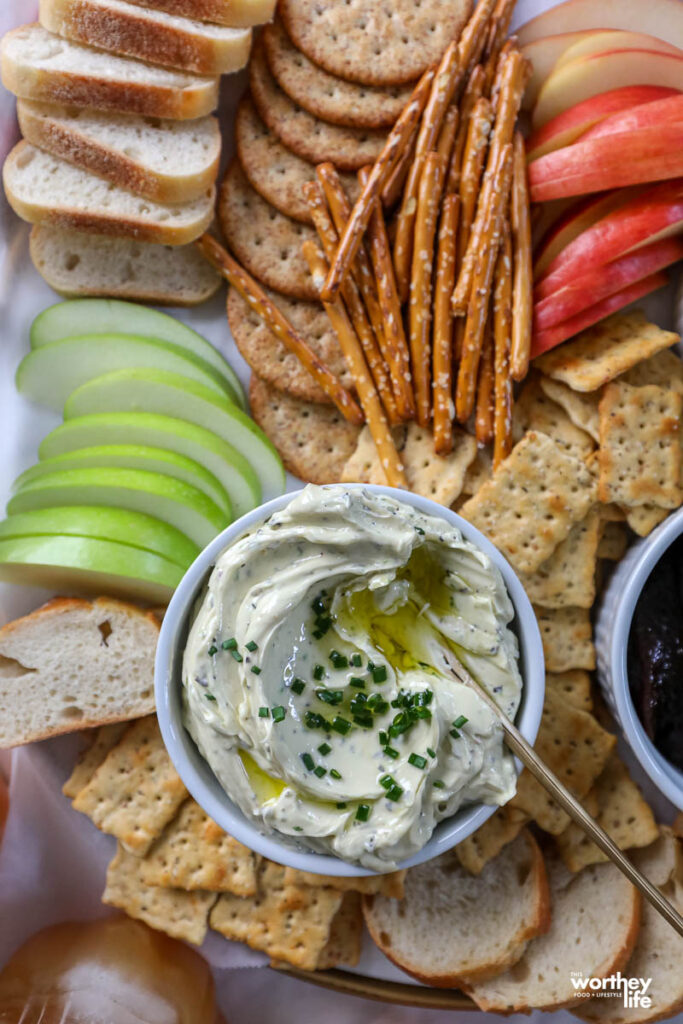 Can I freeze herb butter?
Absolutely. Herb butter stored in an airtight bag or container will last 5-6 weeks in the freezer.
Okay, you have our Herb Butter recipe; now, all you have to do is gather the ingredients and get busy in the kitchen.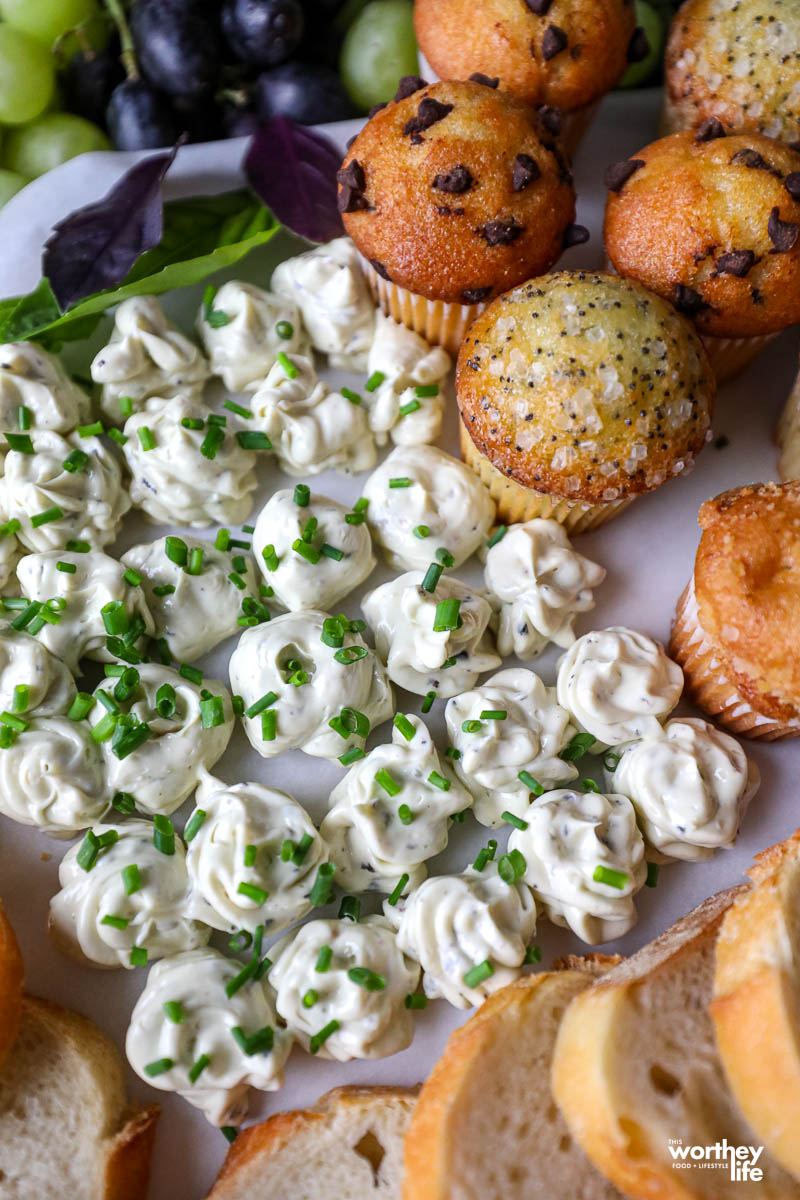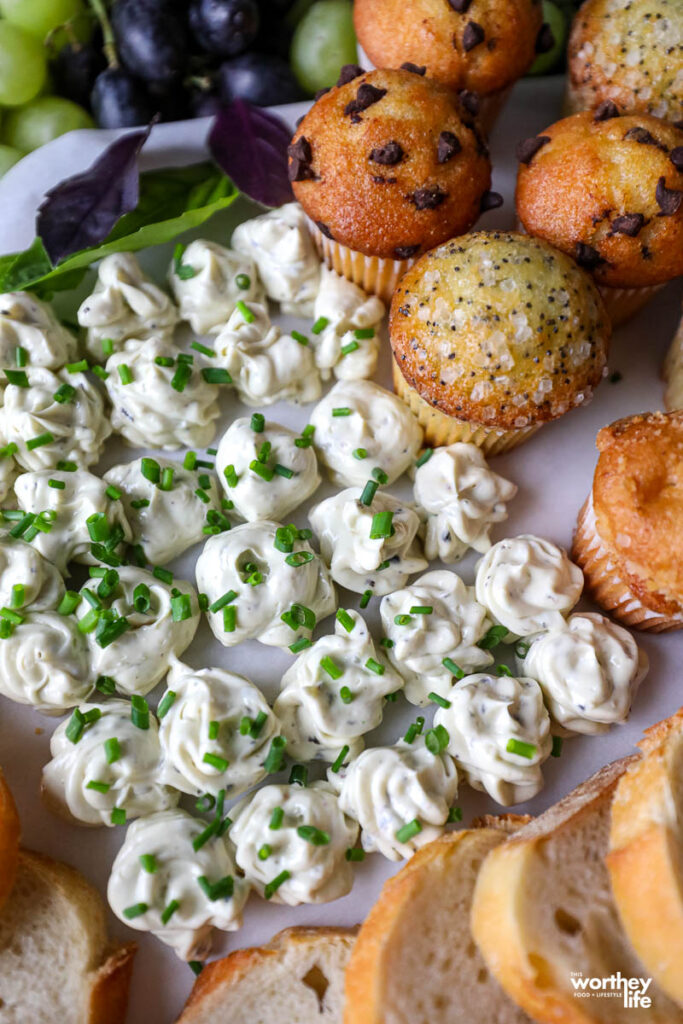 Pipe Your Herb Butter
Another option for your butter board is to make the herb butter and place it in a pastry or piping bag.
Then pick the pipping nozzle you want to use, and have fun pipping your herb butter into pretty designs.
You can also style your butter onto your butter board like the original idea started by Chef Joshua McFadden in his book, Six Seasons A New Way With Vegetables, and picked up by Justine Snacks.
What Drinks To Serve
Here are a few drink recipe ideas to pair with your butter board.
Sparkling Apple Cider Potion Mocktail
Fall Margarita Idea | Pumpkin Spice Margarita
So, do you plan to make a butter board?
If you try this, be sure to tag us on social @thiswortheylife
If you have questions, drop us a line in the comments section.