Cupcake Brownie with Funnel Cake & Caramel Sauce
At times to make a good dessert you gotta think outside the box. For me this meant no box anything. This was going to be homemade everything. Because sometimes I feel to really experience baking you have to return to the way things used to be made, from scratch. Just like my Grandma used to make using precise measurements of flour, sugar and a little bit of this and a little bit of that. And out of her small kitchen came some pretty amazing and delicious food.
And so, after I did my due diligence I created a brownie recipe from scratch. It was good as is, but it needed something else. Homemade brownies can stand on their own but I wanted to take this one over and beyond good. I wanted this dessert to leave an impression. Then it came to me like a vision out of swirling all-purpose flour and the dazzle of crystallized sugar. How about I top it with some homemade Funnel Cake. And if that isn't enough let's drizzle the whole thing with, of course, homemade Caramel Sauce. Sound good? I think so too. Check out the recipe below and make this decadent creation for your loved ones. I have a feeling they"re gonna like it.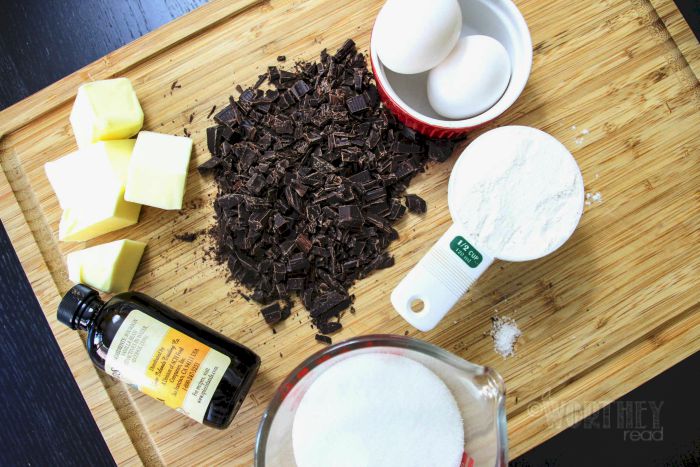 Cupcake Brownie Ingredients:
8 tablespoons (1 stick) unsalted sweet cream butter, plus a little more for buttering the pan
3 ounces unsweetened chocolate, roughly chopped
1 cup Granulated Sugar
2 Eggs
1 Egg Yolk
1/2 cup all-purpose flour
1/4 Kosher salt
1/2 teaspoon pure vanilla extract
1. Pre-heat the oven to 350 degrees
2. Combine the stick of butter and the chocolate in a small saucepan over very low heat, stirring occasionally
3.  Remove saucepan from heat, add flour and stir until well mixed
4. Add two eggs and mix well, add additional egg yolk and mix until well incorporated
5. Add Kosher salt and pure vanilla extract
6. Spoon brownie batter into cupcake cups about 3/4 of the way
7. Bake for 15 – 20 minutes until cooked through, test with toothpick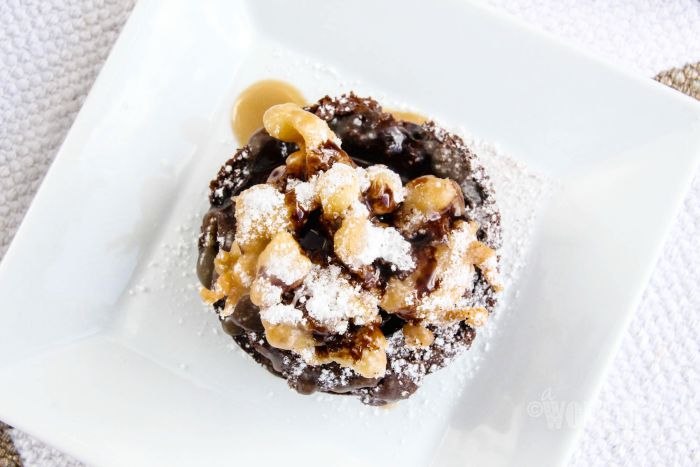 Funnel Cake Recipe:
3 Eggs
3 1/3 Flour
2 Cups Whole Milk
1/4 Cup Sugar
1/2 Teaspoon Kosher Salt
2 Teaspoons Baking Powder
Vegetable Oil, for frying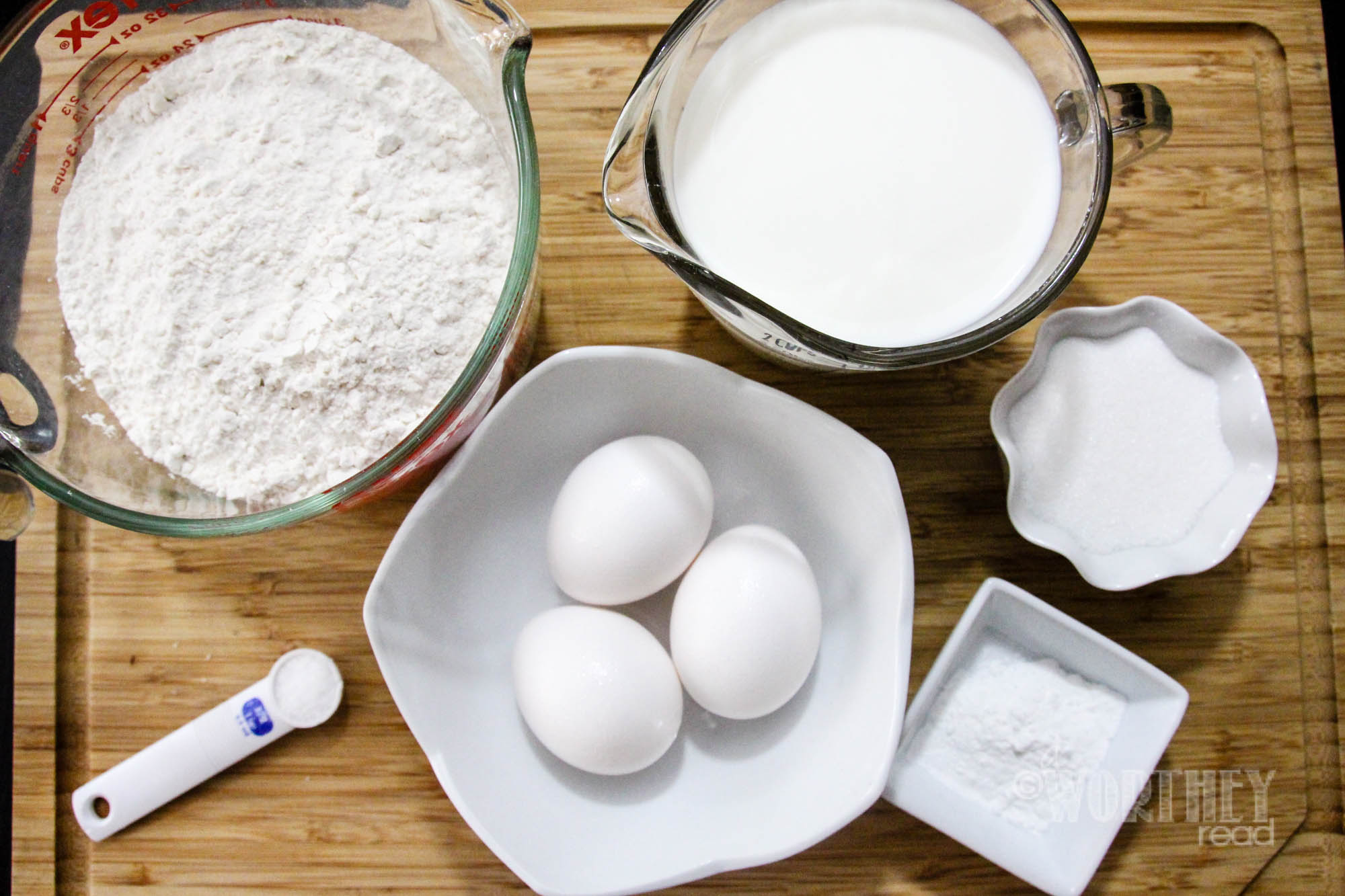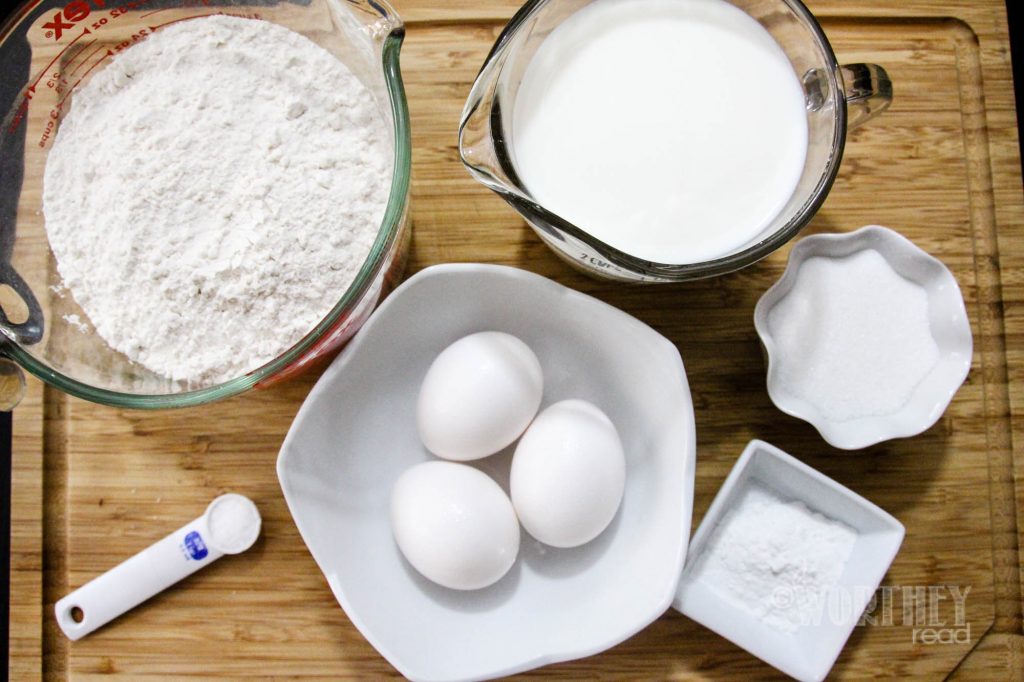 Equipment:
Funnel Pitcher or Pancake Dispenser
Directions:
1. Mix flour and sugar until incorporated.
2.  Add flour, Kosher salt and baking powder and mix well.
3. Slowly pour in milk a little at a time and mix well until all milk is added.
4. Pour batter into a Funnel Pitcher or Pancake Dispenser
5. Heat vegetable oil, when oil is hot hold Funnel Pitcher over hot oil and begin drizzling batter into hot oil making zigzagging and overlapping patterns.
6. Allow batter to brown then scoop out with a large slotted spoon
7. Top with powdered sugar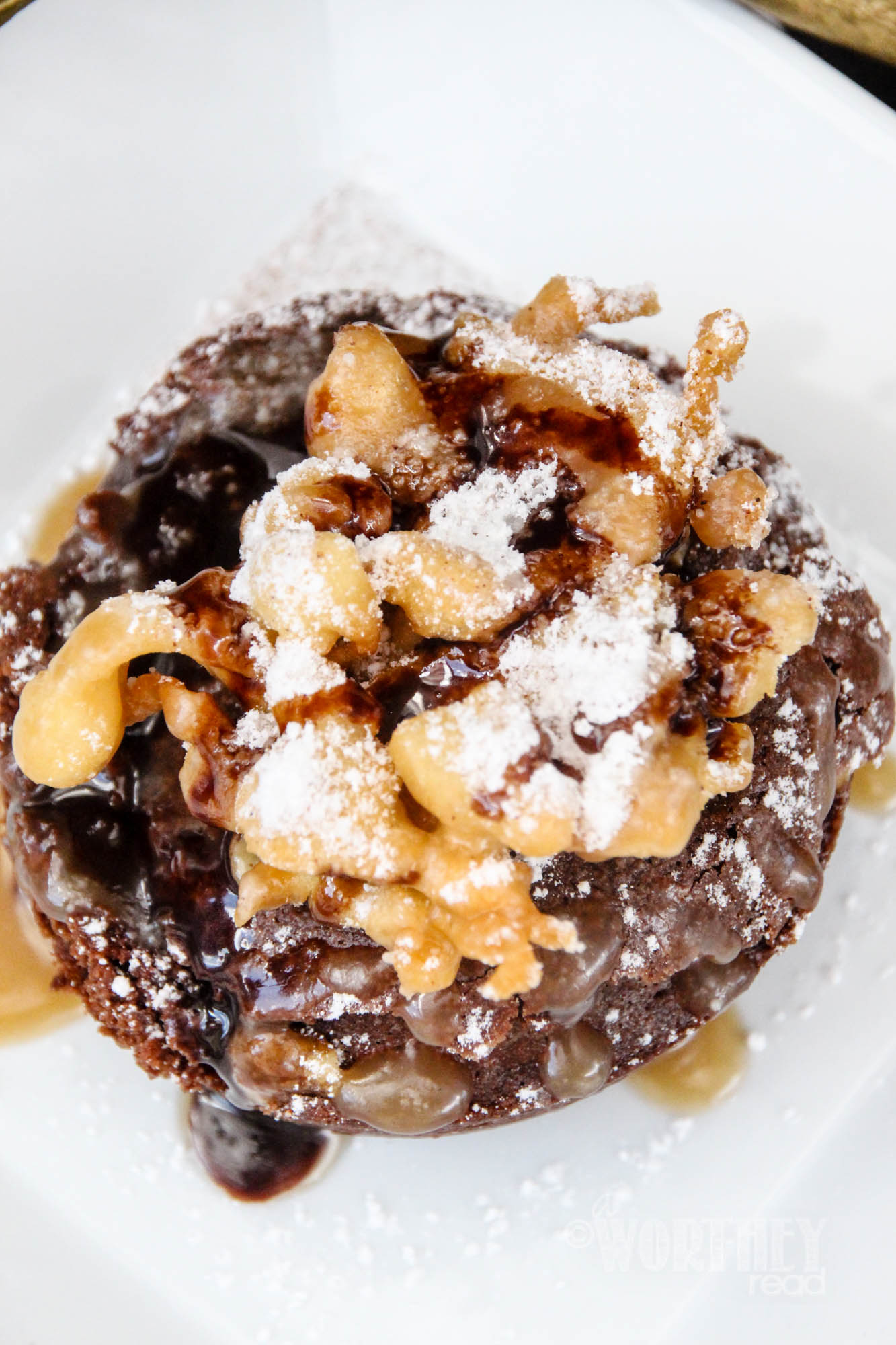 Homemade Caramel Sauce
Ingredients:
1 Cup Light Brown Sugar, packed
1/2 Cup Heavy Cream
5 Tablespoons of Sweet Cream Unsalted Butter
1 Tablespoon of Pure Vanilla Extract
Pinch of Kosher Salt
Another alternative recipe for Homemade Sauce:
Salted Caramel Whiskey Sauce
Ingredients:
1 Cup Packed Brown Sugar
1/2 Cup Heavy Cream
4 Tablespoons
1 Tablespoon Pure Vanilla Extract
2 Tablespoon Whiskey
1/2 Table salt
Pinch of Coarse Sea Salt
Directions:
1. Mix the brown sugar, heavy cream, butter and salt in a saucepan over medium-low heat. Cook while whisking gently for 5 to 7 minutes, until it gets thicker.
2. Add the vanilla and cook another minute to thicken further.
3. Remove from heat, add whiskey and stir several more times.
4. Allow to cool slightly and pour the sauce into a jar and place in the fridge.
5. Just before serving sprinkle a pinch of coarse sea salt after pouring over brownie cupcake and funnel cake dessert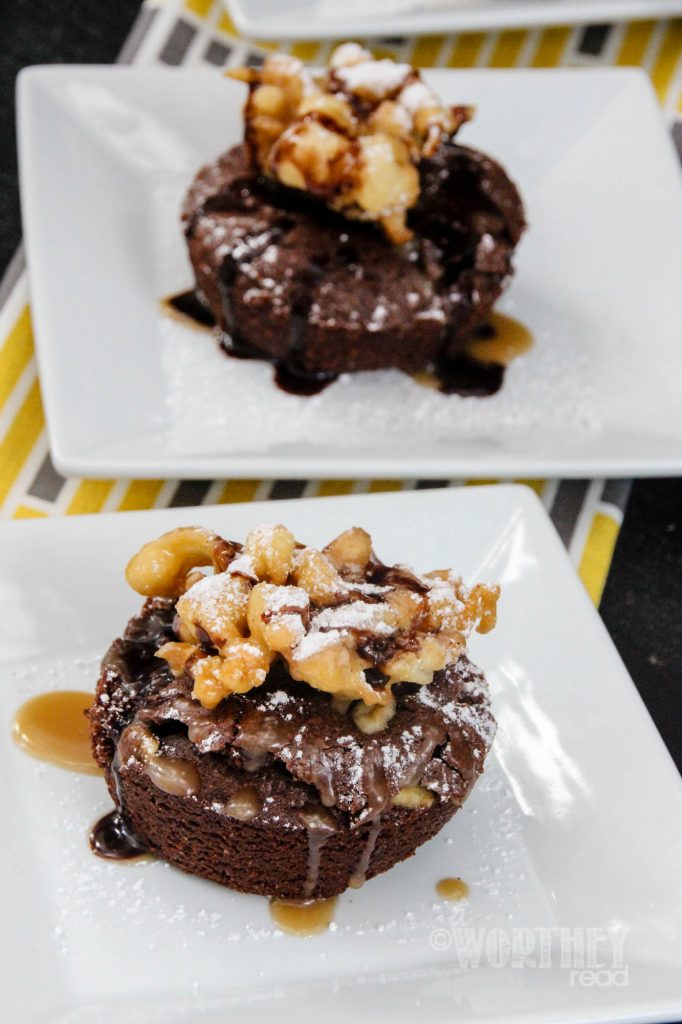 Directions:
In a medium sauce pan over medium heat, mix brown sugar, heavy cream,  butter and salt. Stir until mixture starts to thicken about 5-8 minutes. Add vanilla, stir until well mixed and remove caramel from heat.  Set aside
Assemble dessert. On a small plate add one brownie cupcake, top with a section of funnel cake, drizzle with warm gooey caramel and dust with powdered sugar. Now, call a friend and tell them you're eating a delicious slice of heaven.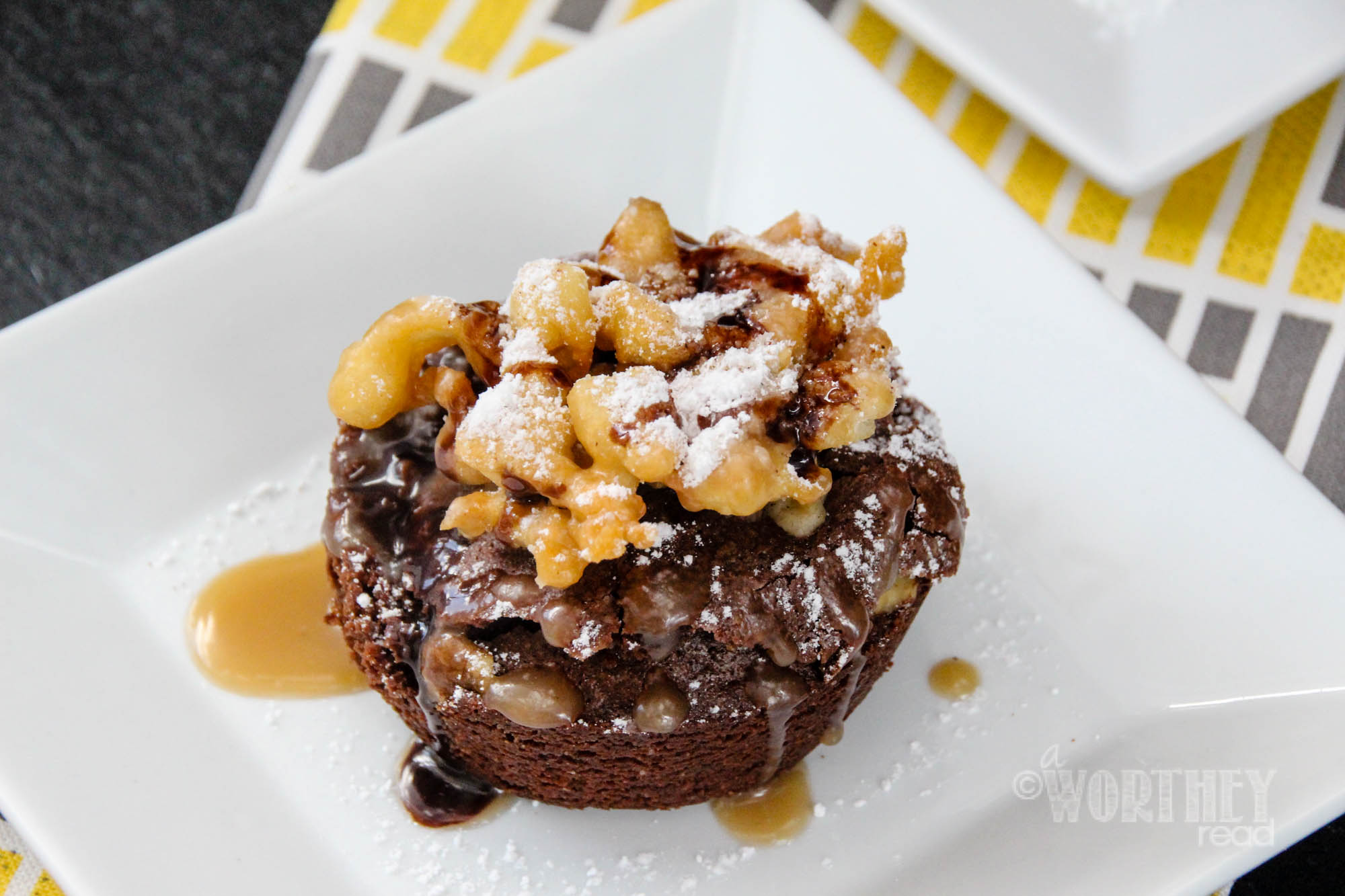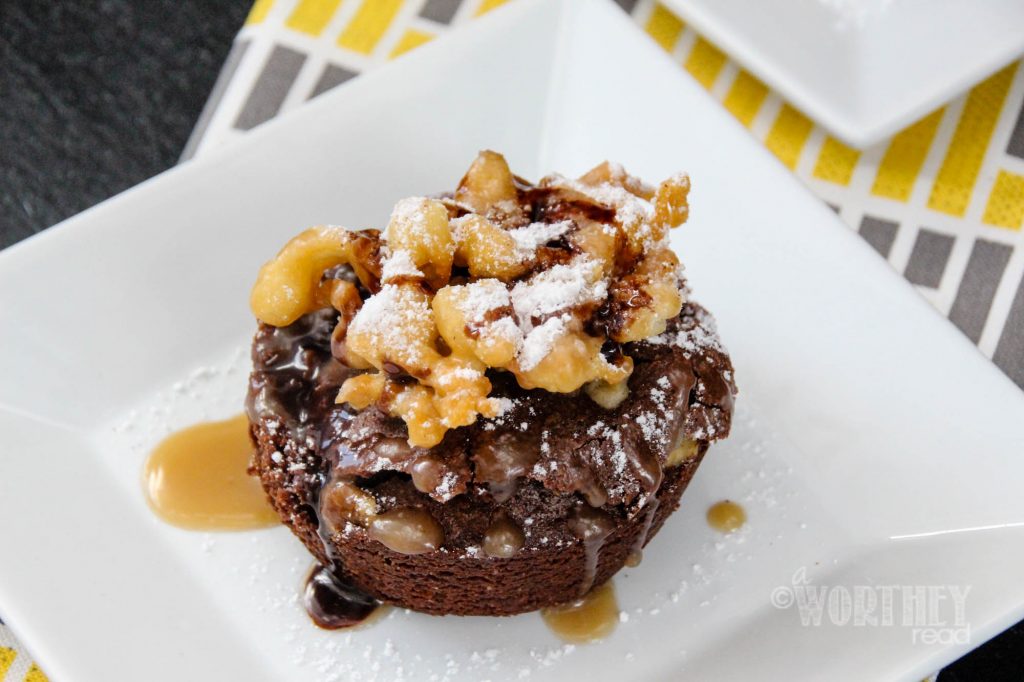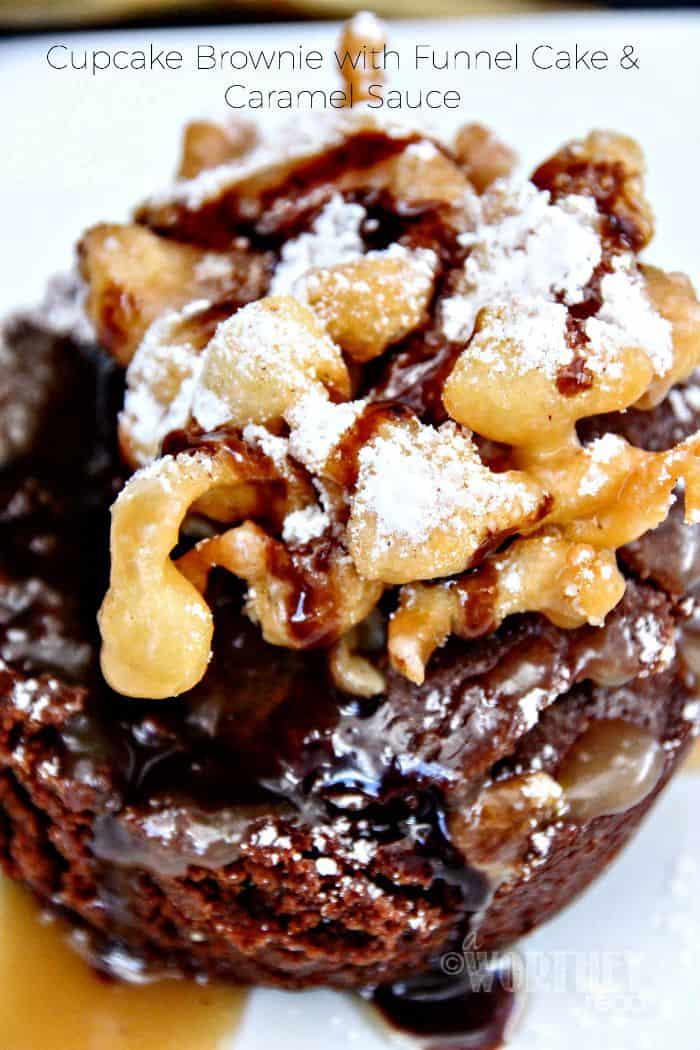 Cupcake Brownie with Funnel Cake & Caramel Sauce
Ingredients
Cupcake Brownie Ingredients:
8 tablespoons (1 stick) unsalted sweet cream butter, plus a little more for buttering the pan
3 ounces unsweetened chocolate, roughly chopped
1 cup Granulated Sugar
2 Eggs
1 Egg Yolk
1/2 cup all-purpose flour
1/4 Kosher salt
1/2 teaspoon pure vanilla extract,
Funnel Cake Recipe:
3 Eggs
3 1/3 Flour
2 Cups Whole Milk
1/4 Cup Sugar
1/2 Teaspoon Kosher Salt
2 Teaspoons Baking Powder
Vegetable Oil, for frying
Equipment:
Funnel Pitcher or Pancake Dispenser
Homemade Caramel Sauce Ingredients:
1 Cup Light Brown Sugar, packed
1/2 Cup Heavy Cream
5 Tablespoons of Sweet Cream Unsalted Butter
1 Tablespoon of Pure Vanilla Extract
Pinch of Kosher Salt
Instructions
Cupcake Brownie Directions:
Pre-heat the oven to 350 degrees
Combine the stick of butter and the chocolate in a small saucepan over very low heat, stirring occasionally
Remove saucepan from heat, add flour and stir until well mixed
Add two eggs and mix well, add additional egg yolk and mix until well incorporated
Add Kosher salt and pure vanilla extract
Spoon brownie batter into cupcake cups about 3/4 of the way
Bake for 15 - 20 minutes until cooked through, test with toothpick
Funnel Cake Recipe: Directions:
Mix flour and sugar until incorporated.
Add flour, Kosher salt and baking powder and mix well.
Slowly pour in milk a little at a time and mix well until all milk is added.
Pour batter into a Funnel Pitcher or Pancake Dispenser
Heat vegetable oil, when oil is hot hold Funnel Pitcher over hot oil and begin drizzling batter into hot oil making zigzagging and overlapping patterns.
Allow batter to brown then scoop out with a large slotted spoon
Top with powdered sugar
Homemade Caramel Sauce Directions:
In a medium sauce pan over medium heat, mix brown sugar, heavy cream, butter and salt. Stir until mixture starts to thicken about 5-8 minutes. Add vanilla, stir until well mixed and remove caramel from heat. Set aside
Assemble dessert. One a small plate add one brownie cupcake, top with a section of funnel cake, drizzle with caramel and dust with powdered sugar


Be sure to pin this for later: