Easy Christmas Gift Ideas that Kids can make on their own! Come check them out and try a few this year- Gifts Kids Can Make.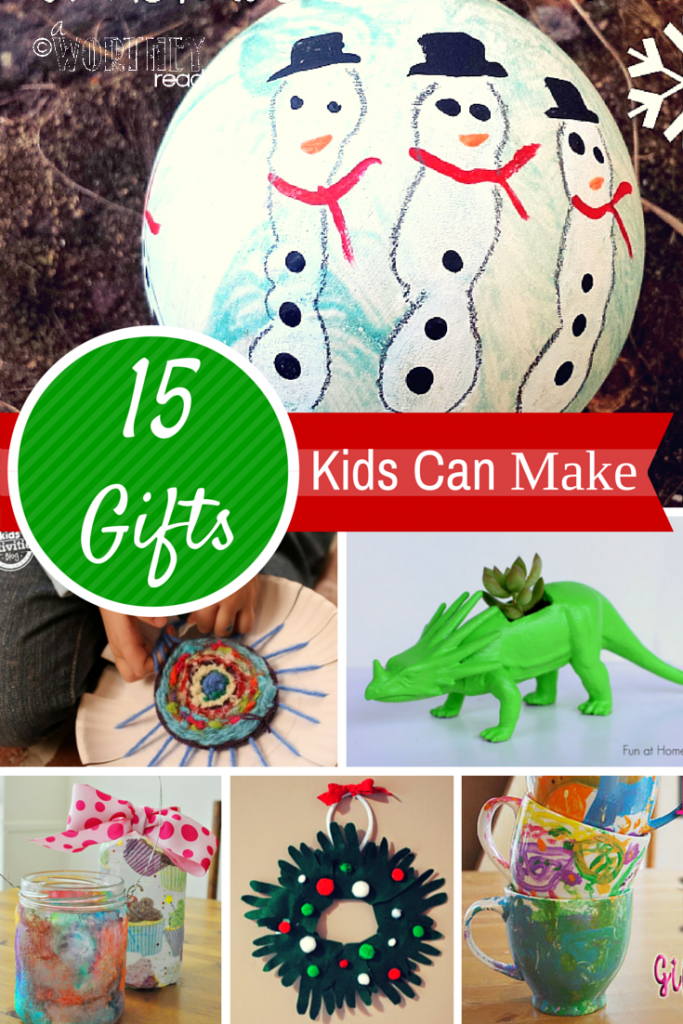 15 EASY Gifts Kids Can Make
Although your kids love getting gifts, they probably love giving gifts as well. If you'd like to get your kids involved in the giving spirit, help them make these kid-friendly DIY gifts. They'll have a blast making a scented candle in a teacup or weaving their very own homemade coasters.
1. DIY Cork Keychains ~View from the Fridge
2. DIY Handprint Snowmen Family Christmas Ornament ~Probably Crafting
3. Gifts from Kids Handpainted Mugs ~Clumsy Crafter
4. DIY Dinosaur Planters ~Fun at Home with Kids
5. DIY Christmas Gifts Kids Can Make ~Ed Snapshots
6. Coaster Homemade Gift ~Kids Activities Blog
7. How to Make Scented Candles in a Teacup ~Hodgepodge Craft
8. DIY Vacation Memory Jar ~A Dose of Paige
9. Marshmallow Apple Treats ~JA Monkey
10. DIY Christmas Felt Handprint Wreath ~Director Jewels
11. Kids in the Kitchen Pumpkin Bread ~Enchanted Homeschooling Mom
12. Old Fashioned Hard Candy Holiday Ornament ~Thrifty Jinxy
13. Easy DIY Gift Reindeer Hot Chocolate Recipe ~Everyday Savvy
14. Mas Jar Luminaries ~Clumsy Crafter
15. Easy 3 Ingredient Cinnamon Ornaments ~The Kitchen is my Playground