So we did a thing. We created our yummy Gingerbread Hot Chocolate Board, and we think it's perfect for the holidays. That's right, don't mind us; we're just over here dipping gingerbread everything into steaming mugs of Gingerbread Hot Chocolate. Check out how we put it all together down below!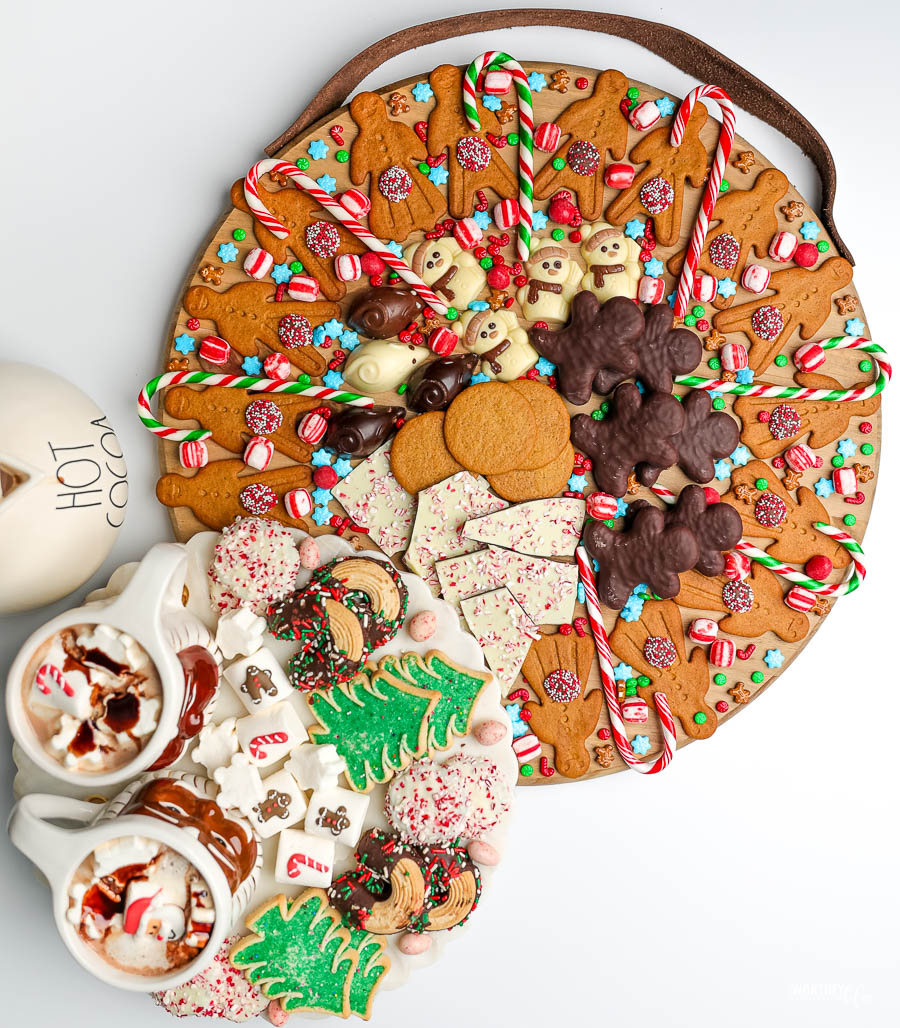 Gingerbread Hot Chocolate Board
It is a good thing the Christmas holiday season only comes around once a year because I don't want to normalize hot chocolate. Is that crazy? My thinking is, if we normalize hot chocolate, it will get lame, and I kind of like that hot chocolate is reserved for certain times of the year. I haven't conducted an official (or unofficial ) survey, but one of the reasons we love certain holiday traditions so much is the infrequency in which we indulge in them. These are the rituals that make the holidays so special. Hot Cocoa Charcuterie Boards are trending!
So with a thoughtful and appreciative nod to tradition, we have created this fun Gingerbread Hot Chocolate Board designed to be shared with your friends and family. There's lots of gingerbread, but seasonal treats such as candy canes, festive shaped chocolates, and other sweet doodads.
Pro-tip: if you're doing Elf on the Shelf with your kids this year, here's a fun Gingerbread house idea you can do. What You Will Need To Make Our Gingerbread Hot Chocolate Board:
If you are thinking about holiday entertaining, here's an idea. Try your hand at building a grazing board with tons of the favorite flavors you know your family is going to love. We love grazing boards because they're fancy but not overly so. We love the fact that grazing boards are 100% customizable, which means you can load them up however you want. Grazing boards can be savory or sweet, even a combination of savory and sweet. Here is a list of all the sweet treats we used for our Gingerbread Hot Chocolate Board and where we got them. Of course, and needless to say, you can use whatever yummy treats you fancy. Custom the flavors to reflect whatever you and your family love to munch on. Except for fruitcake, you can't use fruitcake. You gotta promise? 'Cause fruitcake is just wrong.
What's on our Gingerbread Hot Cocoa Board
Nyakers Holiday Gingersnaps Assorted Shapes
Nyakers Gingersnaps Round
Fortwenger Small Gingerbread Men Dark Chocolate Coated
Home Goods:
Belgian White Chocolate Solid Snowmen
F.A.O Schweetz Snowflake Marshmallows
Costco:
World Market:
Santa's Cookie Collection Three Saint's Baking Co.
William-Sonoma:
Holiday Favorites Marshmallows
Chocolate Mice Chocolat Belge
Target:
Wondershop Candy Cane Indulgent Snack Mix
Meijer: Gingerbread Hot Cocoa Recipe
2 Servings
Ingredients:
1 3/4 cup heavy cream
1 cup whole milk
2 tablespoons unsweetened cocoa
2 tablespoon gingerbread syrup
1 tablespoon dark brown sugar
1 tablespoon pure vanilla extract or maple syrup
marshmallows
chocolate syrup
ground gingerbread powder for dusting Directions:
Pour the heavy cream and whole milk into a saucepan and place over med-high heat.
When the milk begins to steam, whisk the milk as you add the unsweetened cocoa, gingerbread syrup, dark brown sugar, and pure vanilla extract.
Continue to stir until the ingredients are thoroughly mixed. Taste and adjust the flavor to your liking.
Pour the hot cocoa into serving mugs, add marshmallows, drizzle with chocolate syrup, and dust with gingerbread powder.
Serve.

Love all these gingerbread? Try these recipes:
Iced Gingerbread Coffee Recipe
Dark Chocolate Glazed Homemade Gingerbread Donuts
The Perfect Gingerbread Cheesecake Recipe Can I make hot chocolate without using dairy?
Sure can. Most, if not all, unsweetened cocoa powder is vegan. Just add the unsweetened powder to steaming non-dairy milk like coconut, almond, soy, or cashew milk. Then stir in one of these vegan sweeteners like powdered monk fruit, raw sugar, date syrup, agave, stevia, and one of my favorites, maple syrup. Then top with vegan whipped cream. So good! Can I make hot chocolate ahead?
Absolutely. Make your hot chocolate a day or hours ahead, then chilled it in the fridge. Then when ready to use, warm the hot chocolate in a large stockpot over medium heat. Is hot chocolate keto?
Yes! Hot chocolate is keto but make sure you use dark chocolate with at least 70 percent cocoa solids. Instead of using whole milk, use heavy cream and a low-carb sweetener like stevia, yacon syrup, maple syrup, erythritol, and Sucraloses, to name a few. Are hot cocoa and hot chocolate the same thing?
They both may look the same, but they are completely different; for one, hot cocoa is prepared using cocoa powder and is more than likely vegan. However, on the other hand, hot chocolate is made by using chocolate syrup, which is typically not vegan. You now have the blueprint, and I hope we have inspired you to create your own holiday snack grazing board; and as always, if you have additional questions, please feel free to drop us a line in the comments below!
Find more fun hot chocolate recipes below:
Peppermint White Hot Chocolate Recipe + Peppermint Board
Rae Dunn Hot Cocoa Bar Idea with Valentine's Day theme
Frozen Inspired Easy Frozen Hot Cocoa Recipe
Rye + RumChata Hot Chocolate Cocktail with Snicker Marshmallows