Let's Go Places: The #Momlife's Best Friend
When you become a Mom you take on a lot of additional duties and you also become the wearer of many, many hats. Some hats you never ever, ever thought you would wear. Apparently though I am a chef, life coach, referee, counselor, teacher and a chauffeur, just to name a few.
Recently our boys started back to school and boy oh boy have we been busy. Getting the kids (and myself) back into school mode is a challenge. But little by ever so little we're getting there.
Question. Do you ever just stop and think about all the ripping and running around you do in a single day? I usually don't, but I decided to document all the things I did in one day of the life of me.
So here's my Let's Go Places: The #Momlife's Best Friend story:
My day starts with getting the boys up, preparing breakfast, making and packing lunches and getting the boys dropped off at school by 7:50 a.m. WHEW!
Then I like to treat myself to a little pick-me-up, so I stop by Starbucks for a sweet treat. Okay, now I am finally awake. Believe me I am not fully functional until COFFEE!
Since I am a work at home Mom my schedule will always vary. Today, I'm running errands, and my first stop is at Target! Oh, my favorite store. But how is it that I go into Target for a specific item, yet somehow I come out with ten different things? Does this happen to you too? There is just something about shopping at Target that makes me lose my mind a little bit and I spend MONEY!
After spending way too much time deciding what I can logically leave behind at Target (don't worry thing I didn't buy today, I'll be back for you soon) I head over to Meijer to do some grocery shopping.
I also make a quick pit stop at my Horrock's (local Farmer's Market) before dropping by and putting away all of the groceries at home. Then I am right back out of the door.
Next, I'm off to Hobby Lobby. Over in the DIY section of this blog, you will find some of my latest tablescape creations. At Hobby Lobby I'm in brainstorm mode and I'm getting a bit of inspiration for my next project. While I am here I also check out and pick up a few Christmas decorations. Yes, Christmas stuff is up already! And this lady here is a sucker for anything Christmas.
And since Hobby Lobby is close to our local mall, I decide to drop in and do a little more school shopping. Old Navy always has a great sale on boys khakis and polo shirts, these are the items which make up the boy's school uniforms and I like to stock up on them during sales. I also visit a few more stores along the way! See, the Toyota Camry loves to shop too! And he doesn't even complain. Definitely a girl's best friend kinda thing!
[Tweet "The @Toyota Camry can definitely be a Mom's best friend! #toyota #driveshop"]
It's great that the trunk of the all new 2015 Toyota Camry XLE is pretty big! Spacious and deep enough to haul all of my retail therapy purchases home with room enough to spare.
And before you know it, it's three p.m., time to pick up the boys. I must admit I take the long route to the boy's school just because it's such a pleasure to drive these new wheels.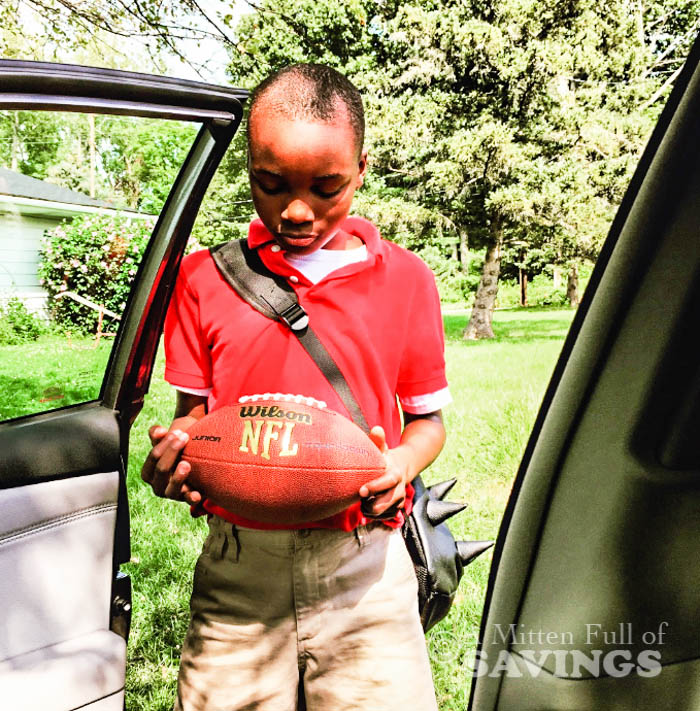 I pull to the school and just as Zaydn, my youngest son, is getting into the Toyota Camry a young girl calls to him, "Zayd'n call me!" I give him a look like who is that? And he replies, "Girls, they just love me, but I'm already taken!" What am I going to do with this one?

On the way home, I like to use this time to check in with them. We talk about how their day went and if they have any homework. I double check and make sure they have all of their books and supplies, etc. Back home the boys help me bring in my shopping bounty, but I'm not home for long. Shortly after 5:00 p.m., the youngest and I are out of the door and back into the Toyota Camry and heading to football practice.
After dropping Zayd'n off at football practice (his best friend is on the team too and his mom is bringing him home), I drive down to Jackson (about 30 minutes) to have dinner with one of my closet girlfriends. Klavon's is a local pizza joint in Jackson. They have an incredible deep dish pizza and it's deliciously AH-Mazing!
After catching up with her, I head home. I am exhausted! Ripping and running all day can wear this mom out! I am appreciative of the 28.4 mpg I was able to get in this 2015 Toyota Camry, definitely a gas saver for sure. I don't always think about all of the places I go in just a day or a week, but having a dependable and comfortable vehicle with excellent gas mileage is crucial.
If you're not familiar with the new 2015 Toyota Camry, here's a few specs I'd like to share with you:
The Size: It's quite roomy for a car (and this is coming from a woman that is almost 6 feet tall!). The boys were able to stretch out and didn't complain about leg room. Since there are five people in our family and with growing boys, it wouldn't be the best primary vehicle for us. However, it would make a great secondary car for our family.
The Gas Mileage: This spec is always important to me. Especially since I play chauffeur to the boys and do a lot of running around both locally and on the highway. So, it's important to have a vehicle that will match my need to go with my need to save some dollars. In the city, the Toyota Camry gets an average of 28 MPG, and on the highway it performs at an impressive at 35 MPG. Talk about going places! I could zoom around all over the place, and not have to fill up for a while.
The Design: With it's striking lines and a beautiful interior, this car gets my full attention and speaks my car love language. I also love that it has a sports-like feel to it. I had to keep reminding myself, slow down Tat; this is not a sports car and you don't want to get a speeding ticket! Yes, I have a serious need for speed, and this Camry gives me just what I'm craving.
And of course, the safety features on this Camry XLE brings a sigh of relief and no worries. From the backup camera to the blind spot monitor, you are covered. And since I was doing quite a bit of highway driving this week, I discovered the Dynamic Radar Cruise Control. When you have the cruise on, this feature will automatically adjust the vehicle speed between you and the car in front of you. You also have ten airbags positioned strategically all over the Camry. See, I told you! No worries, you're covered. The front seats are engineered to yield in a controlled fashion in certain rear-end collisions. Thankfully, I didn't have to test this feature out.
Be sure to get more information from Toyota on why the Camry demands respect at every corner.
Overall, I had a great time driving the Toyota Camry XLE. And now you can see why this is definitely a #Momlife's best friend! This is a great vehicle for small families, students, couples, commuters, or those looking for a reliable vehicle with all the extras.
For my Autism Community: I would recommend a Camry as a car to consider for you and your child(ren). With all of the safety features, latest technology benefits, and overall comfort, this car will give it to you.
The #Momlife keeps me busy, but I wouldn't trade it for anything in the world. Being a Mom to the #zzzboys is a joy and an honor, even if they literally "drive me crazy!"
Who does all of the driving in your house? What are your thoughts on the latest Toyota Camry? Leave me a comment below, I would love to hear what you have to say!