Did you watch the 50th Annual NAACP Image Awards? Check out some of my favorite moments in my sponsored post by AT&T.
How The NAACP Image Awards Dreams In Black
As an African-American and as a consumer I gravitate towards companies and brands who share my values but not by giving lip service alone. AT&T is one of those companies I admire as they demonstrate with actionable pursuits quite successfully with their Dream in Black platform. AT&T proactively celebrates black culture and the creators who shape it, and through the Dream In Black medium AT&T joins the NAACP to celebrate the 50th Annual NAACP Image Awards. This past Sunday the NAACP Image Awards paid tribute to the rich heritage of urban culture and to celebrate multi-generations of artisans, entertainers and the passionate and talented advocates who dare to Dream in Black.
Last night's 50th NAACP Image Awards hosted by none other than Anthony Anderson was filled to the top with incredible Dream In Black moments! So many feels! So many highs! But this is what happens when you assemble some of the very best representations of black excellence. And can you believe this is just the tip of the iceberg? Because black excellence is all-encompassing, not just here in the states, but worldwide across the diaspora. However, more importantly, those examples begin in our communities, within our homes, and are cast back at us in our mirrors. Read on as I share with you some of the highlights from the 50th Annual NAACP Image Awards.
Outstanding Motion Picture
Let's start with the coup d'état that is the groundbreaking and record grossing Black Panther movie directed by the supremely talented Ryan K. Coogler and co-written by Ryan K. Coogler and Joe Robert Cole (based on the Marvel comics by Stan Lee and Jack Kirby. Here is a film that did the most in 2018. So let's bask collectively in the moment because this is OUR film and an exemplary example of what it means to #DreamInBlack. Black Panther will always exist as a work of art so representative of our struggle. We deserve this, and it don't it feel good to finally receive our just desserts? In so many ways Black Panther stands for so many things all at once. Last night, after the award show we put Black Panther on and let it wash over us as we watched ourselves up on the screen speaking both in code and overtly, and giving a legitimate voice to our past, present day, and future struggle and making it look good! But isn't that what we have always done, smile in the face of our pain?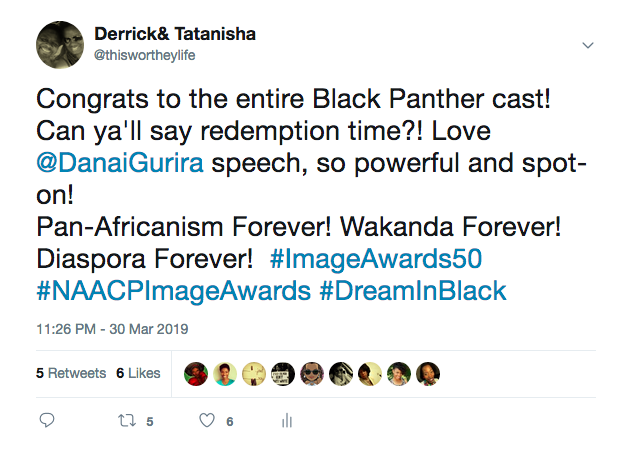 The nominees for Outstanding Motion Picture were quite amazing, and in my humble opinion, there are never really any losers. Image courtesy of NAACP.com
Cool Fact!
One of the most incredible moments last night was learning about the NAACP Image Awards origin story and the incredible creator Toni Vaz and co-founder Maggie Hathaway. Go to NAACP.ORG to learn all about it. And did you know the inaugural NAACP Image Awards was held Feb. 4, 1967, in the International Ballroom at the Beverly Hilton? Black History month is a year-long thing, right?
Outstanding Actor in a Motion Picture
Like so many, it was almost impossible to pick from the 50th NAACP Image Award nominees, and I was conflicted because it's hard to look at all of the beautiful, powerful, and well-directed films and pick just one. Case in point, for the Outstanding Actor in a Motion Picture, I was really pulling for Micheal B. Jordan because let's face it his performance of his character Erik Killmonger, literally stole the show. But I got to give Mr. Chadwick Boseman mad props because he personified the Black Panther's King T'Challa regally. So, congrats bruh! Mr. Boseman and Micheal B. Jordan are both winners and without a doubt two young black actors to pay close attention to in the years to come. Wakanda Forever! Forever!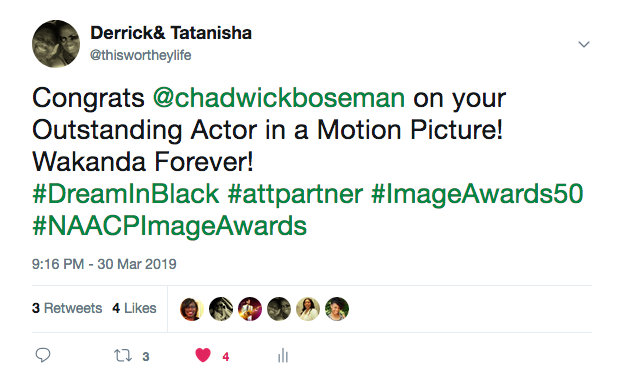 Outstanding Actress in a Motion Picture
I am not going to lie, I didn't watch all of the nominated films in this category, but our family did watch The Hate You Give, and it was an alright film. But to be honest, I was pulling for Viola Davis and Sanaa Lathan and their respective performances. Also, If Beale Street Could Talk and Crazy Rich Asians are both on my must-see movie bucket list. But it's nice to see Amandla Stenberg get her win just the same and I applaud her performance in this film. Congrats!
Outstanding Supporting Actor in a Motion Picture
I couldn't imagine anyone else playing the role of Erik Killmonger so convincingly and with so much unbridled passion and intensity. Michael B. Jordan did incredible justice to his role, and his demonstrative and unbridled performance will forever be remembered as the unsung hero (anti-hero?) of the movie Black Panther. Remember this; it's so important that we seek validation through our own eyes without seeking it outside of our institutions and organizations. Congratulations Mr. Jordan! Image courtesy of NAACP.com
Outstanding Supporting Actress in a Motion Picture
This was another tough category to call, and choosing a single winner was made even more difficult with three of the nominees all appearing in the Black Panther film. So, I wouldn't honestly have been mad if Lupita Nyong'o or Letitia Wright took home the award. In the end, it was the very talented Danai Gurira, and both I and the Mrs. cheered like the black groupie nerds that we are. Congratulations Ms. Gurira.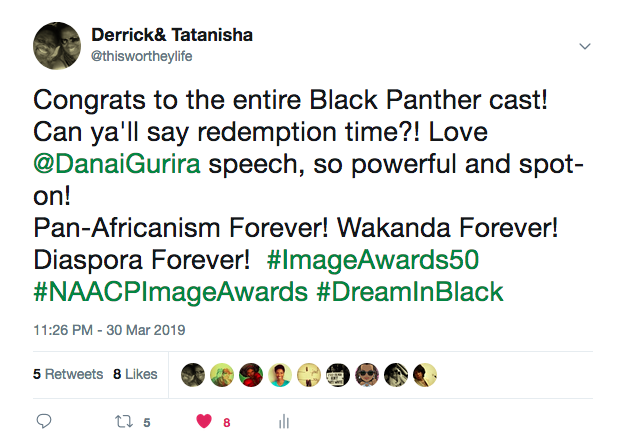 Outstanding Comedy Series
If you are of a certain age, it's easy to see ABC's Black-ish has the new Cosby Show. The Huxtables are now the Johnsons. We see bits and pieces of ourselves in this relatable ensemble cast with so many interesting characters. Each Black-ish family member has a realness dissimilar to the elitism of the Cosbys, but rife with the complexities of what it means to embody our blackness in regards to our unique experience with coping with a myriad of social situations dealing with overt and subtle racism. And the humor is perhaps in the shows ability to reflect a mirror image of ourselves with levity, self-deprecation, as well as a self-effacing approach to solving and working through the obstacles of being black in America. Congratulations to the entire Black-ish cast.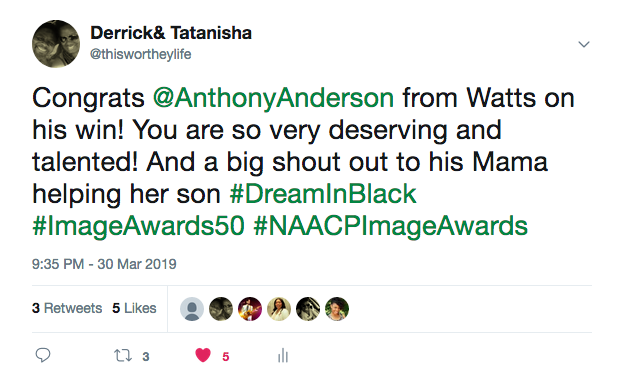 Entertainer of the Year
Beyoncé seems to defy all expectations or exceed them all while navigating the ups and downs of international stardom, marriage, motherhood, and seemingly holding it down as the literal personification of R&B's reigning Queen B. Congrats, Bey! Keep doing what brings you happiness mainly because it makes us happy too.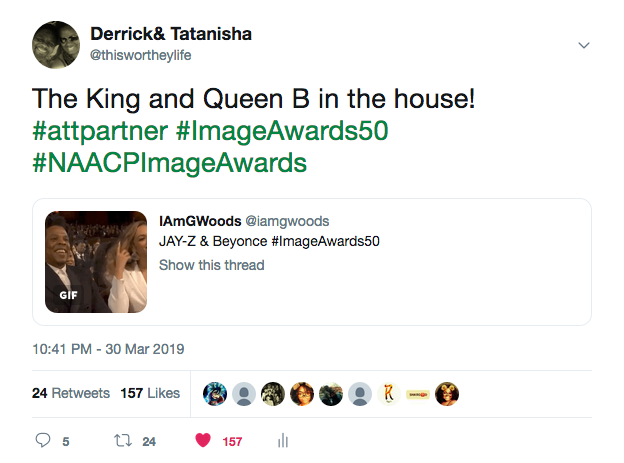 President's Award
It's so fitting to present Shawn "Jay-Z" Carter with NAACP's President's Award in the here and now. At a time when we need a little taste of what it means to succeed. In part, a young Shawn Carter was given the license to #DreamInBlack by his mother and grandmother, taught that he could exceed all expectations in spite of where he came from and the obstacles which all but assured his projected destruction. But Hova beat the odds, didn't he? Mr. Carter wasn't supposed to make it out of the hood, but he did, and that's exactly what it means to #DreamInBlack even when we believe dreams are nothing but dreams. #NAACPImageAwards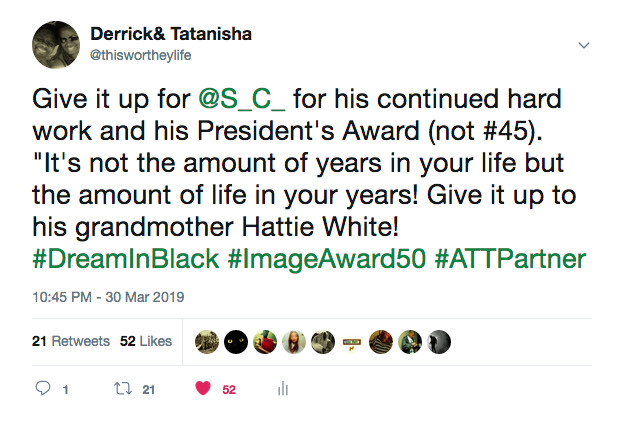 Chairman's Award
What would we do without Congresswoman Maxine Waters? There's no question that Auntie Maxine has been a force to be reckoned with for well over 45 years! Now, that's a lot of Dream In Black going on. Mrs. Waters has been speaking truth to power for decades and holding her fellow politicians from both sides of the political aisle accountable. She is such a positive personality and I am beyond happy to see her receive the Chairman's Award! Congratulations and continue to use that gavel as you see fit!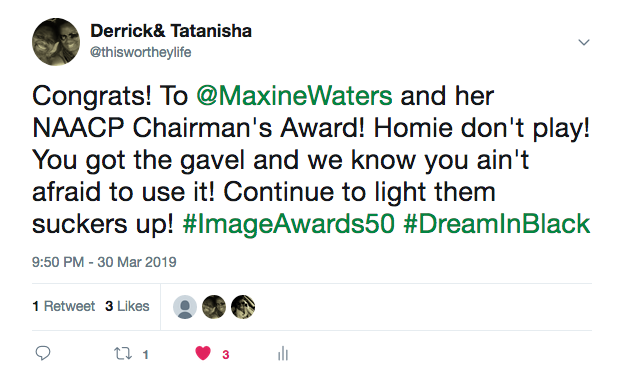 Thank you for spending your time with me, and hopefully, you and I will continue to appreciate our culture and continue to Dream In Black and thank you AT&T for providing such a powerful platform to continue to showcase our unique representations of black excellence.