This purple cocktail idea is great to make this summer. Filled with fresh strawberries, rhubarb, lavender syrup, and gin, this refreshing summer drink is pretty and delicious. Grab the ingredients and try our Lavender + Rhubarb Gin Drink!
Purple Cocktail | Lavender + Rhubarb Gin Drink
Along came a spider… wait? Wrong story. Well, maybe not. Here's why. Spring is upon us and with the warmer weather along comes the creepy crawlies. The bugs, flying critters, and inevitably the spiders. But spring isn't just about the things that live under a rock, under the floorboards, and in the dark and dank places of hearth and home. Spring is also about renewal, rebirth, and because we're talking about cocktails, refills. So, after all of that spring cleaning, how about putting your weary feet up on the freshly polished living room coffee table and enjoy our delicious and refreshing Lavender + Rhubarb Gin cocktail? You've earned it! You deserve it!
And if you ask me, after you try it, you will more than likely crave another and another.
You get the idea don't you?
And what signals spring like the smell of dew-wet lavender drying in the warm sun? I honestly can't think of a more pleasing purple fragrance, can you? The purple gem of spring is what I call it. And I personally think lavender should be the official flower mascot of spring. This blooming bush which envokes so much magic and delight is an obvious sign that warmer weather is here to stay for awhile I mean, who doesn't love the floral and pleasantly sweet smell of blossoming lavender wafting on the cool springtime breeze? I know I do! And to pay homage to this springtime favorite follow along as I reduce springtime into the delicious liquid dimensions befitting a chilled cocktail glass. Sounds quite delightful wouldn't you say? Let me show you how below.
Can't you just taste how good this cocktail is going to be?
Gin is making a comeback, but my question is, when did it ever leave. I am big time Gin fan, so there, trendsetters take that!
How to make a Rhubarb Gin Drink:
Ingredients:
1 1/2 ounce Gin
1/2 tablespoon lavender syrup
1/2 teaspoon creme de Violette
3 1/2 ounces tonic water
ice
rhubarb stalk for garnish
strawberry slices for garnish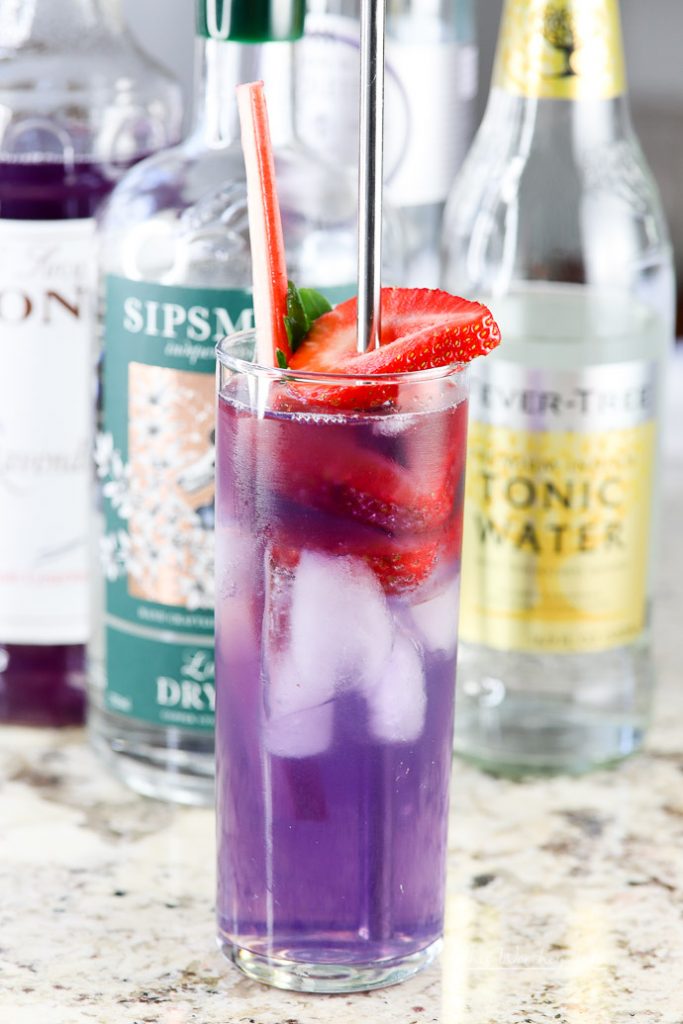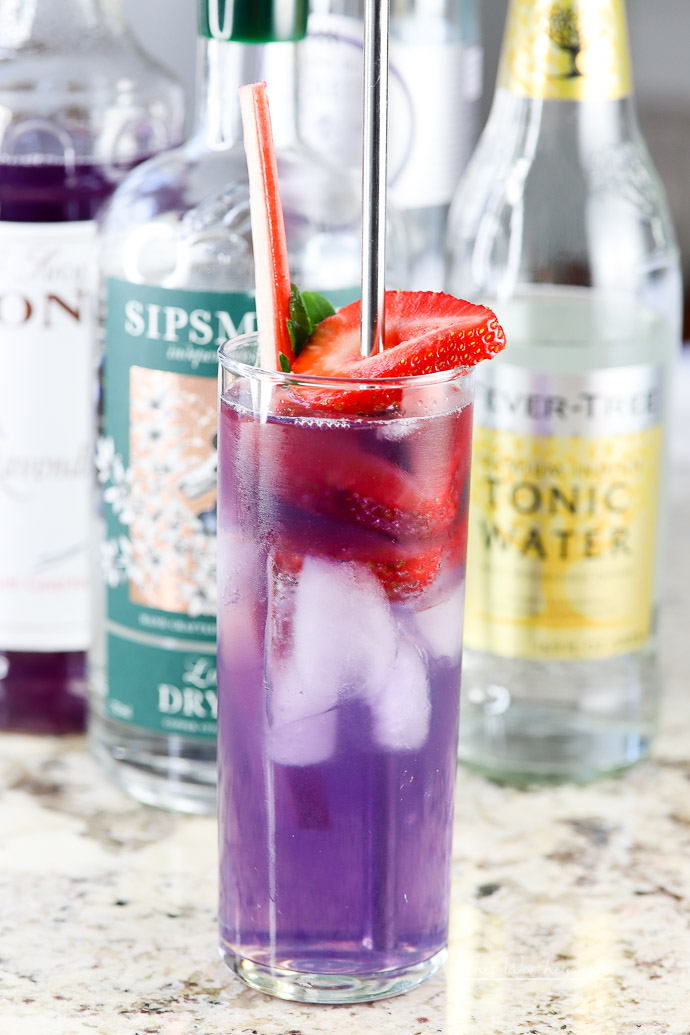 Directions:
Into a cocktail mixing glass add a single plump ripe strawberry and two one-inch pieces of fresh rhubarb.
Using a muddler mash the strawberry and pieces of rhubarb to release the juices.
Add 1 cup of ice.
Add gin, laveneder syrup, and the creme de violette.
Using a long-handled cocktail bar spoon give the mixture several turns.
Add the tonic water.
Strain the mixture into a chilled mojito style glass filled with fresh ice.
Garnish with stalks of rhubarb and slices of strawberry.
Serve.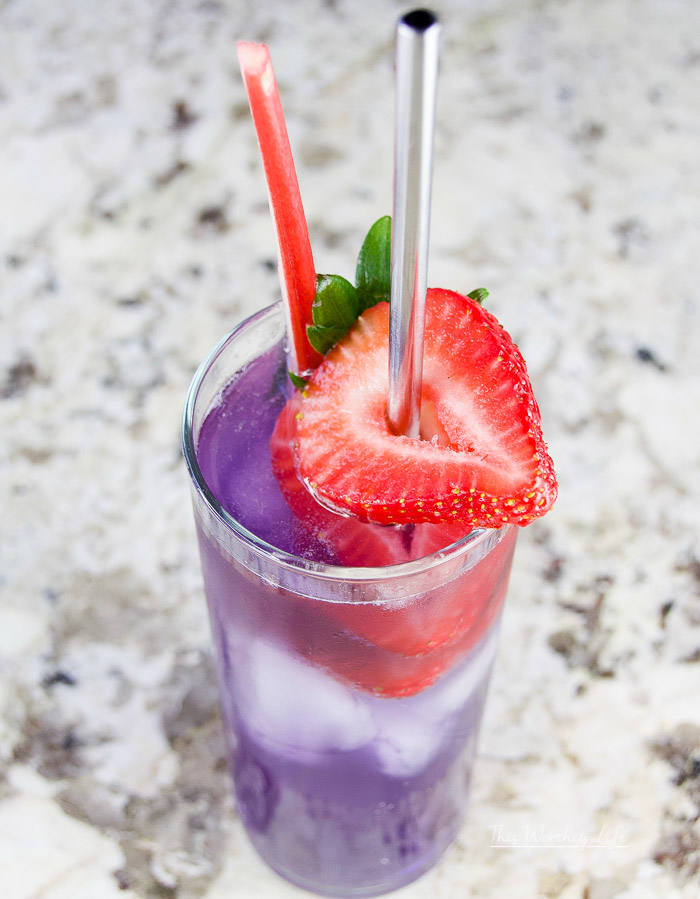 Love purple cocktails? Check this out:
Limoncello + Lavender Frosted Cocktail
Black Panther Cocktail |The Heart-Shaped Herb Cocktail
Guava + Violet Champagne Punch
Share + pin it below! Give this drink a try and come back and let us know how you like it!