Looking for a good BBQ Restaurant in Lansing? Check out The Saddleback BBQ Restaurant located in REO town. Get a taste of southern BBQ, locally inspired Vernors Sweet Potatoes and more! Read about our experience at one of Lansing's best BBQ joints below!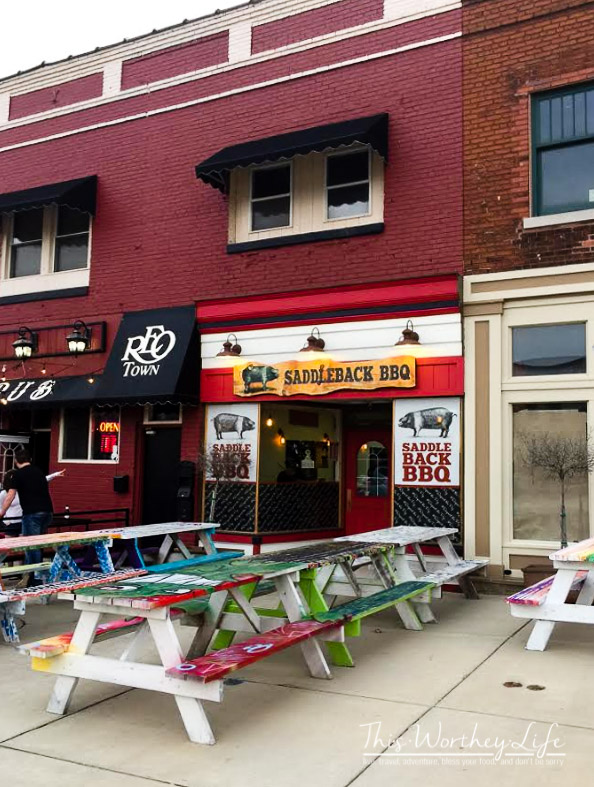 When you first walk into Saddleback BBQ it is best to have no expectations. Leave them at the door! Free your mind! Take a deep breath and exhale. Live in the moment, it'll be a blessed moment. Promise.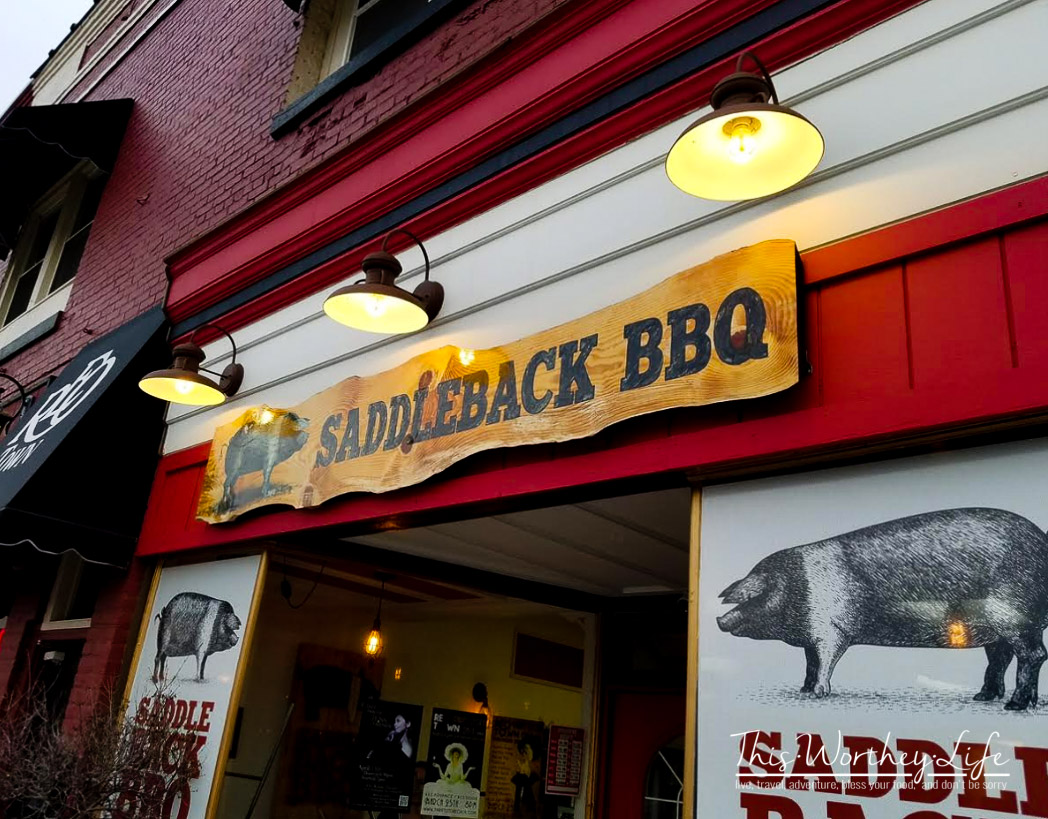 On the corner of the 1100 block of Washington and State, there's a place…

If you are driving to Saddleback BBQ for the first time you may miss it, even with the GPS assist. Saddleback BBQ is nestled right next to a pub and the signage isn't over the top, nor does it proclaim it's presence in garish neon-splashed puffery at times associated with rib joints across the nation. The sign is of a simple design and the lighting is practical and not in any way pretentious or showy. It doesn't have to be because the wonderfully homey good food coming out of the kitchen speaks plenty on its own.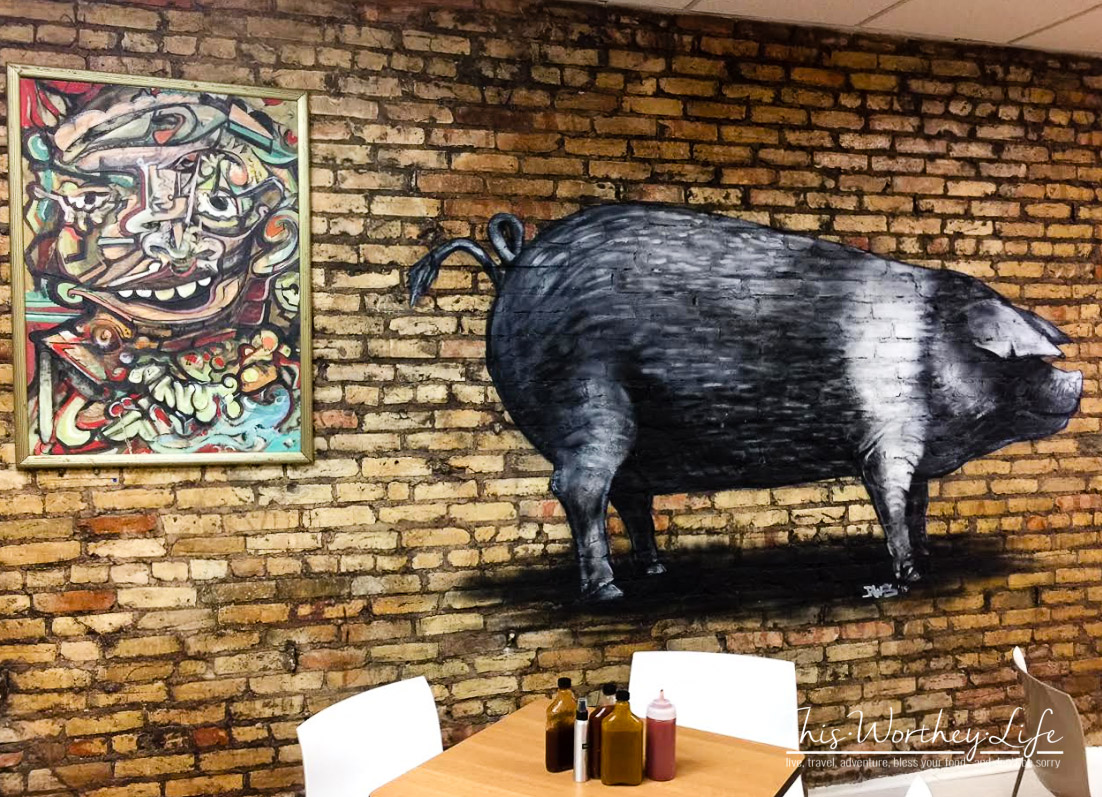 Why? The pig is the why

Inside of this near shotgun-style space is a smattering of seats, clean tables, a slight countertop floating above a cold case, and to the right a ginormous mural depicting the star of the whole darn show, a large pig. And of course, it is fitting because the pig is what Saddleback BBQ is all about. The Pig is the "why" in why you come here in the first place. The Pig is the mascot. The main menu item and the patron saint of sticky fingers. The Pig is the grand teaser of noses and the succulent substance of full bellies! But recall my earlier admonition? No expectations! But it is hard to "free or clear your mind," when the smells wafting all about are messing with you to no end! You can always tell a good place to eat by the silence, because although there are patrons slightly hunched over the tables. You'll notice they aren't talking much, they're too busy eating.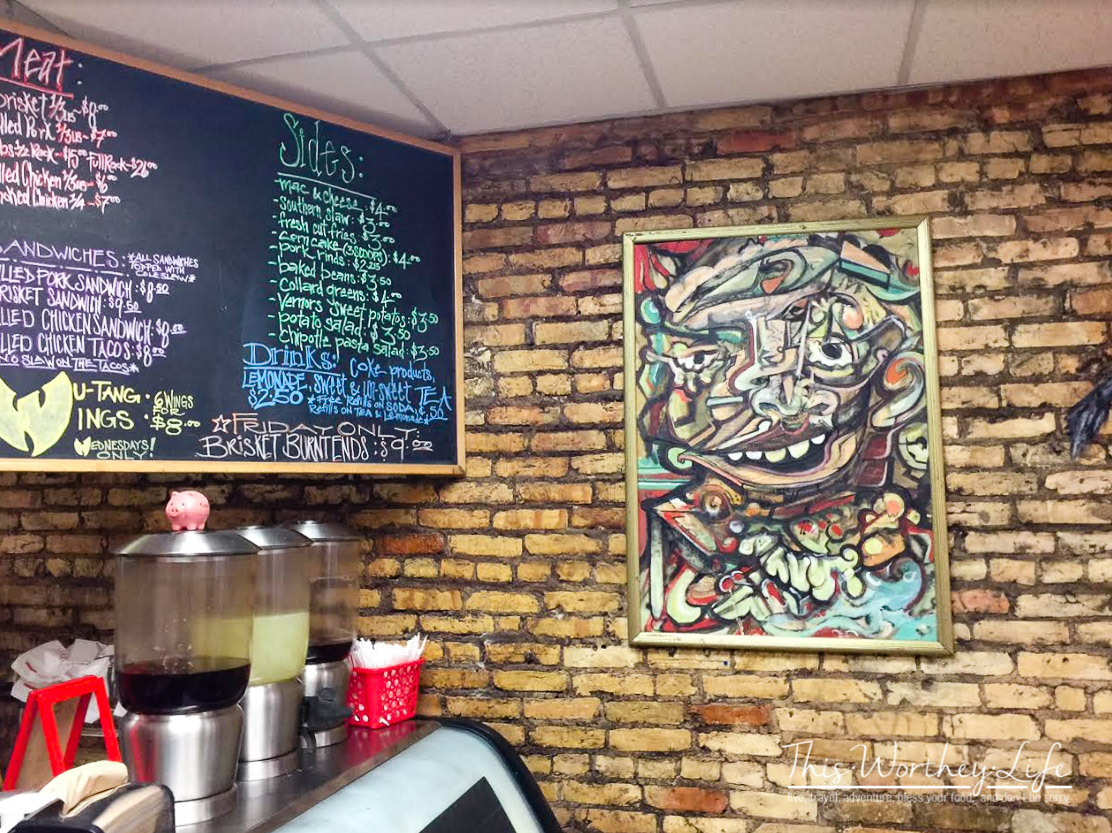 The scuttlebutt, the brouhaha
Saddleback BBQ has held court in REOtown for almost two years now. And like any new eatery in town at times you have to wait it out and let the smoke clear. You, like me, may have heard the scuttlebutt, the brouhaha, and the dirty low down which consists of everyone's opinion, so there's that. But if you like barbecue there is only one person's opinion, which always without fail, reigns supreme, your own opinion, right? So, forget about what Tom, Dick, and Harry (Sarah, Marguerite, and Diana too) said because you're here to find out what "you" think about it. Period. This is your experience. Okay? Now, let's order some food!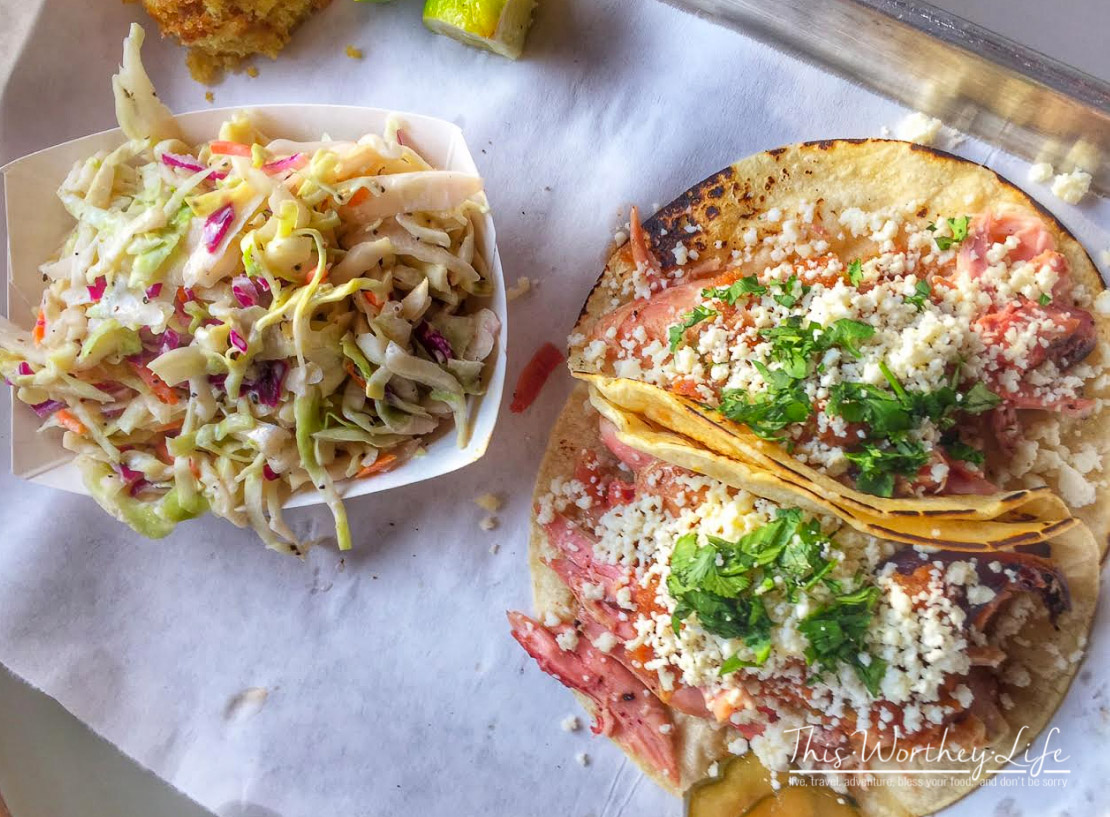 It's rude not to order sides
Standing at the counter and suspended from the ceiling is a large chalkboard. Upon this chalkboard is multicolored scribbles written in English but each and every word really means "try me", it's the best advertising ever! We place our order. This is a rib joint so the decision is pretty straightforward, we order ribs. But we venture elsewhere too on this culinary barbecue feast. We also snag an order of brisket, the burnt ends (or tips) were already sold out for the day. Bummer. But we regrouped and decided to eat the sadness away. So we order Pulled Chicken Tacos. And then because it's rude not to, we order sides as well. Since Mac & Cheese is in the offing I got that too. We also order the Southern Slaw and Vernors Sweet Potatoes 'cause Vernors! Yes, you guessed it our collective eyes are once again (this always happens) bigger than our stomachs. But that's okay too because leftovers is seldom a bad thing.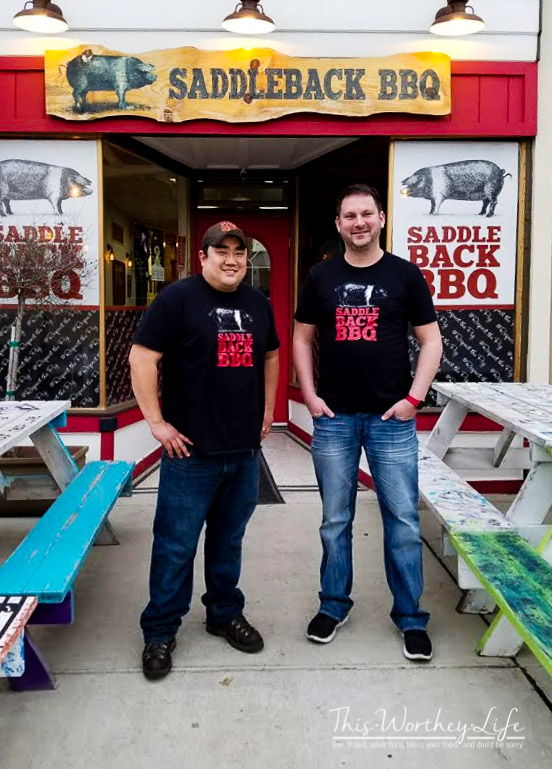 As we waited
We chatted up co-owner Travis S. while waiting for our food to arrive. He's an authentic soul with a ready smile, and he takes a few moments to talk about the place. It is now that we learn they have been here for almost two years now, and how fast the time has gone by. We talk styles of barbecue, and how Saddleback leans towards a southern approach, yet they are still very much a Michigan smokehouse, meaning they're not trying to mimic Texas, Carolina, Kansas City or anyone else's barbecue. And it's not because they can't, but they don't want to simply because their barbecue is a shared vision of what Matt (owner operator) and Travis (co-owner) continue to craft and refine here in Michigan. What they're doing is establishing a Michigan barbecue culture that will be able to stand shoulder to shoulder to the best barbecues made anywhere else. And because they're in Michigan it means locally sourced meat, apple and cherry wood along with the traditional hickory and mesquite. In short, this is bbq for Michiganders, and for us to be proud of. You can check out their blog to learn more about them and their top-notch staff.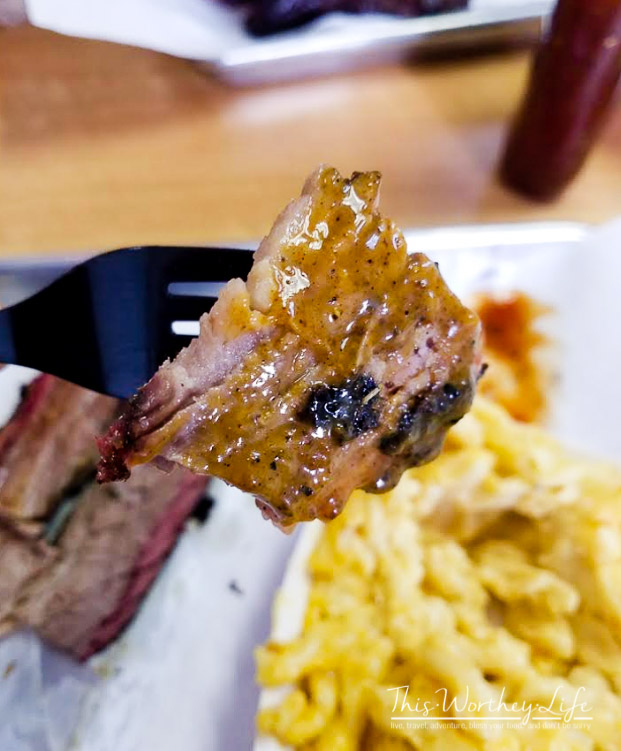 We attack the brisket first
Visually, I like the way the brisket looks. It has all of the characteristics I look for in a good brisket; there's a nice char, a deep smoke ring, and pinkness. But truth be told, the measure of any good barbecue is its ability to stand alone without sauce, and our serving of brisket does that quite well. The meat is tender and has terrific smoke flavor. And after several bites, I finally tried it with a bit of Saddleback Yellow sauce. Perfect. The Yellow sauce has a mustard base, so it pairs wonderfully with the brisket. If you like brisket, you're sure to enjoy this entree a lot.
Saddleback BBQ has developed three sauces, and I try the Saddleback Red on the ribs.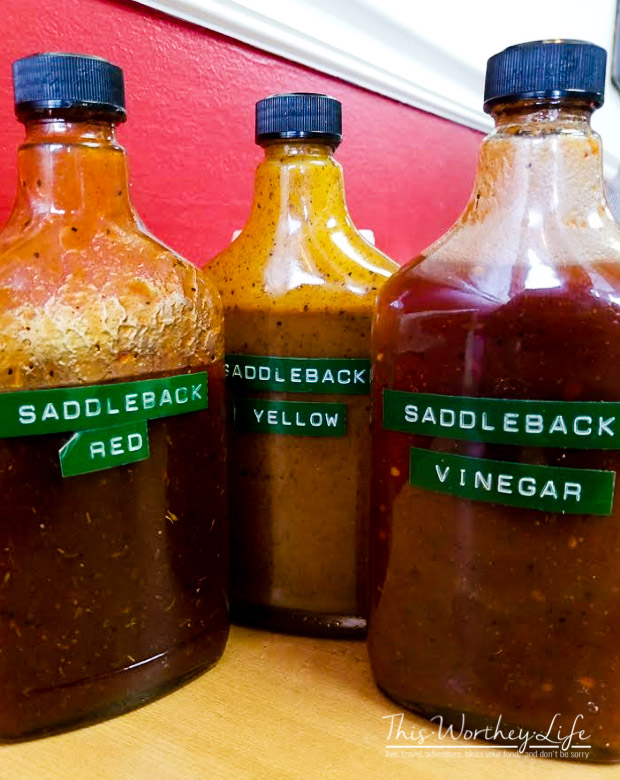 But first I take a bite without any sauce and once again I am impressed by the smokiness and how tender the rib meat is. Now, here's where things get interesting. Matt has managed to smoke ribs and get tons of flavor into them, and the ribs are still tender without falling off of the bone. Cooking smoked ribs is a tricky science but these guys have managed to pull it off, and the results are superb. I am no newbie to smoke houses, I've eaten at some exquisite ones from Texas, North Carolina, Iowa, and Kansas City and I can with confidence say this, Saddleback holds it's own. This is splendid award-winning 'cue right here!
Related: 100+ Summer Bucket List of Things To do in Michigan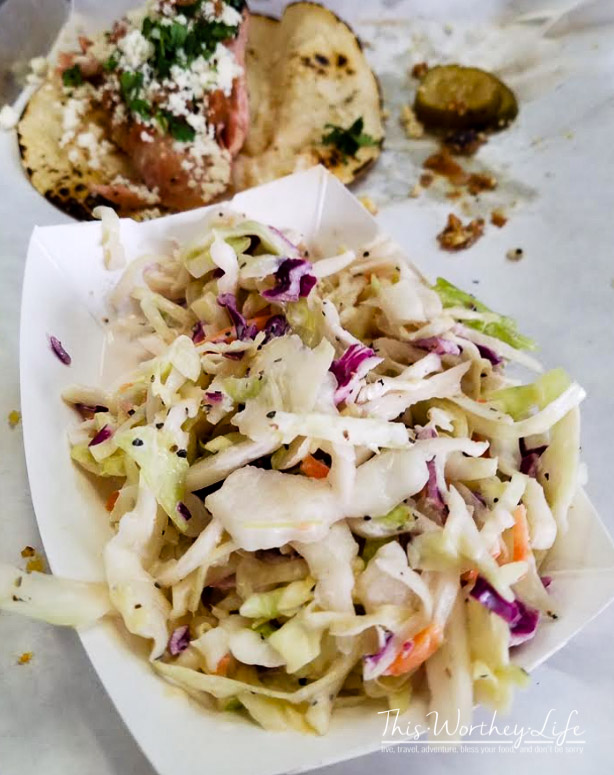 The sides and nothing but the sides
The sides were solid. I liked the Southern Slaw mainly because it was savory and not sweet. Most slaws have a sweetness to them that takes away from the flavor of the cabbage. I for one am a die hard foodist, so I love when the natural flavor of the main ingredients shines through and doesn't get covered up with other overpowering ingredients. I like the taste of cabbage, and although I could discern the celery seed, carrots, mayo, and vinegar individually, all of these components together complimented the cabbage. I like that. The Mac & Cheese was okay, almost too cheesy in my opinion, but if you love super cheesy Mac, then you'll more than likely enjoy Saddleback BBQ's version.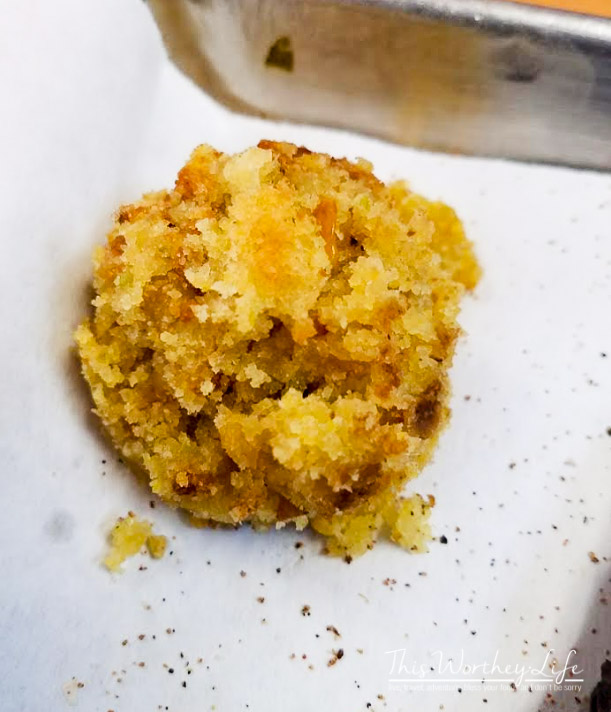 The Corn Cake Scoop is a deliciously different take on cornbread; it is without a doubt unique among cornbreads for certain, it's a kinda-sorta mashup between traditional cornbread and a hushpuppy. It's soft and delicate and tastes more like authentic cornbread versus the sweetened flavor of a Yankee made Johnnycake.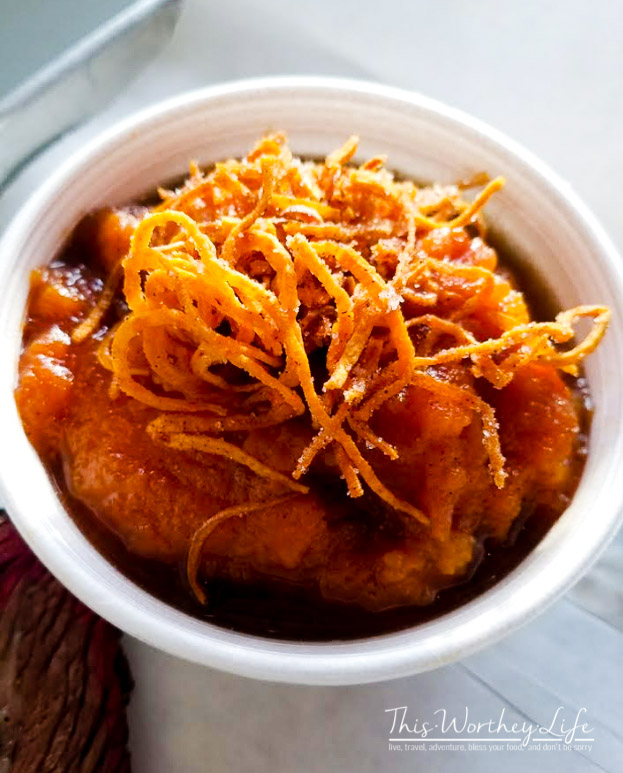 Now, how about those Vernors Sweet Potatoes? Okay, I may be a bit biased here because sweet potatoes are one of my favorite tubers to eat. Saddleback BBQ's sweet taters are one of my new favorite thing to eat. Unfortunately, most sweet potatoes recipes call for tons of brown sugar, butter, cinnamon, or marshmallows. Not so with Saddleback, yes, they're sweet but not too sweet. And like the Southern Slaw, there's no masking of flavor. I enjoyed this side very much, and guess what? These babies are sweetened with a Vernors soda reduction. Yes, that Vernors! The very same Detroit pharmacist James Vernors to be exact. Anyway, I believe this is a great way to tie your menu, and identity to the geography and pay homage to its Michigan roots.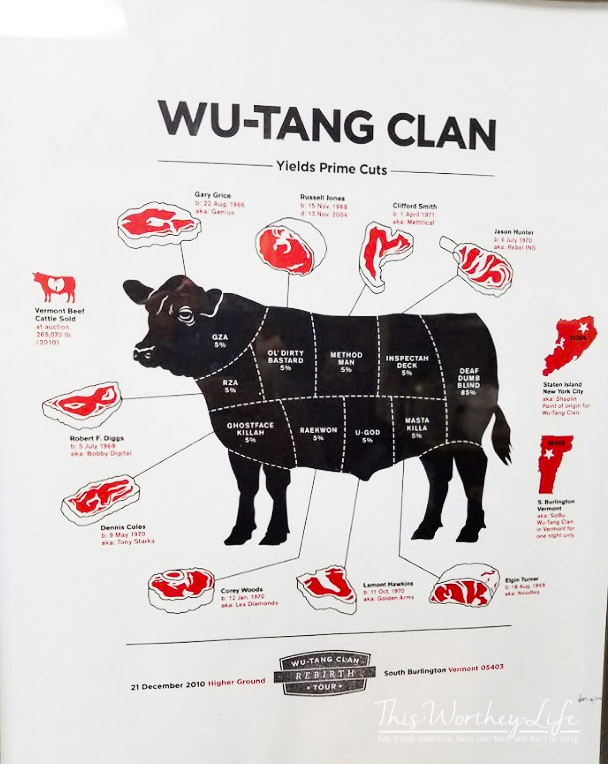 The north will rise again, and we'll be known for great barbecue too
We're heading out back, Matt and Travis are giving us a mini-tour of the set-up. We walk past a cuts-of-meat cow sign with a Wu-Tang Clan header and although I asked why Wu-Tang Clan? The answer I got came amid smiles and was vague. I suspect there's a story there. I'll investigate. Maybe they'll let me in on it. We also strode past old photos of REO Speedwagon, the namesake vehicle from which this neck of the city takes its moniker. We then exit out of the back door and into the out of doors, we inhale smoke-tinged air, and here is where the magic lives. We view The Beast which is a custom made smoker that shares space with a couple of comrades. The smokers are impressive no doubt. Matt also points out heaping stacks of wood for smoking; it is easy to pick up on the passion as Matt and Travis talk about what they do day in, day out. It is clear they're doing what they have made up their minds to do, what they love to do.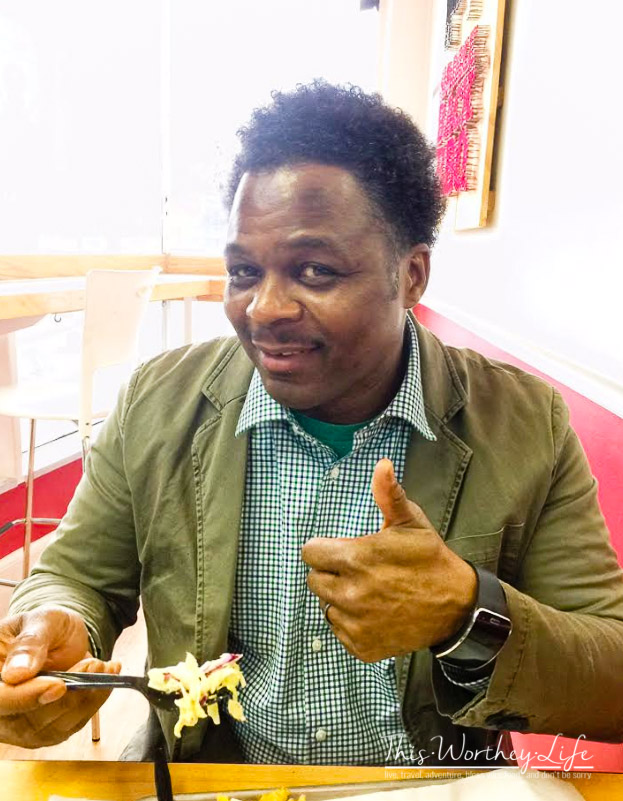 So in the end, making great barbecue is not work at all. Because when you find a favorable calling everything kinda just falls into place, and their place is called Saddleback BBQ. Do give them a visit. Our verdict? We'll be back, and sooner rather than later. Two thumbs up! Way up!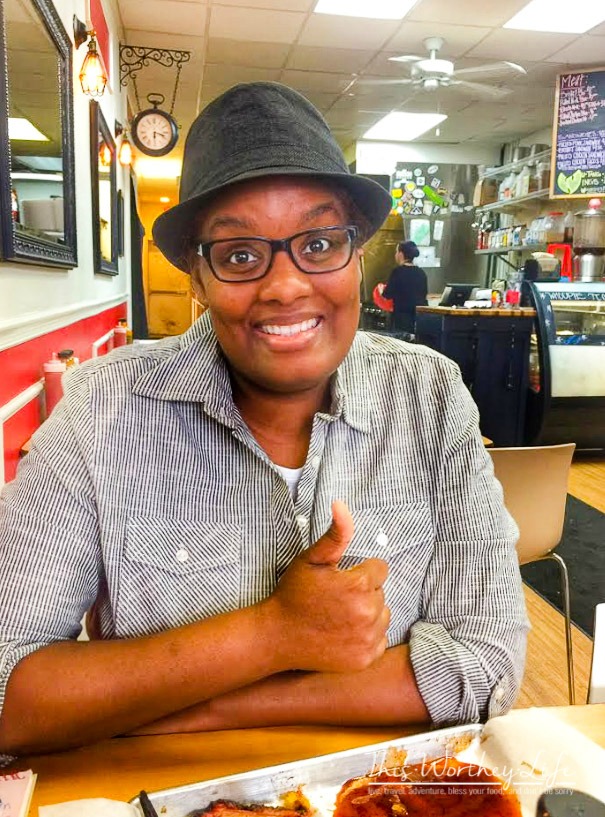 Find out more about Saddleback BBQ Restaurant in REO town by checking out their Facebook page and website.
Disclosure: We received a comped meal for this review. However, we gave our 100% and our carefully chewed opinion regarding this restaurant and our delicious take no prisoners meal.
Find out what else is happening in Michigan:
{Mid-Michigan} Date Night Ideas in Lansing
48 Hours In Lansing: What To Do, Where To Stay & Where To Eat
Over 150 Free/Cheap Things To Do in Lansing
100+ Summer Bucket List of Things To do in Michigan
Free Summer Family Movies in Michigan