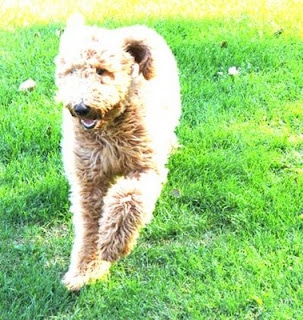 Labradoodle | Saying Goodbye To Jeffers
This summer we said goodbye to our lovely labradoodle Jeffers!
We purchased Jeffers back in 2010 when he was just a puppy. Our family, including friends and family, fell in love with this adorable labradoodle.
Jeffers was smart. He was obedient. He was lovable. He was fluffy.
He was also high maintenance and required constant walking, brushing off his fluffy mane and in need of attention.
We did that. All of us. At first…
Then Derrick did most of it. When Derrick took a different job, it was left on my shoulders and I could not keep up with him. Between working full-time, blogging, and running with the boys, my attention and energy was all over the place. The boys also didn't do their part in helping out as well.
When we initially purchased Jeffers our goal was to breed him. However it just didn't happen due to our lack of time and dedication to even take care of one dog (well, at least my dedication).
So we agreed this summer that we would find Jeffers a wonderful new home that would be able to finish what we started.
We discussed this decision as a family and it was decided that we were all okay with this. After talking to many potential owners we found one, or one found us that we felt would be the perfect match.
And the rest is history! We get updates occasionally about how Jeffers is doing and he sends us postcards. The boys do miss him, but they also learned that having a dog comes responsibility.
We told them we would try again in the future, but it would be something the whole family would have to be in it for the long haul.
And that' s the story of Jeffers our family pet.
Until next time……..
New update: Go read about our newest member of the family, Chance the Chocolate Labradoodle!