Spectacular Fall Travel Destinations To Visit Soon
There is nothing more fun than loading up the car and taking a fun trip for a fall weekend getaway. With the changing of colors, cooler temperatures and tons of festivals happening all over the place, this is the premier time of year to travel. Having been all over the states the last few years during this season, we have come to be experts on Spectacular Fall Travel Destinations. Not only are these locations that provide beautiful scenery, but also great things to do for the whole family.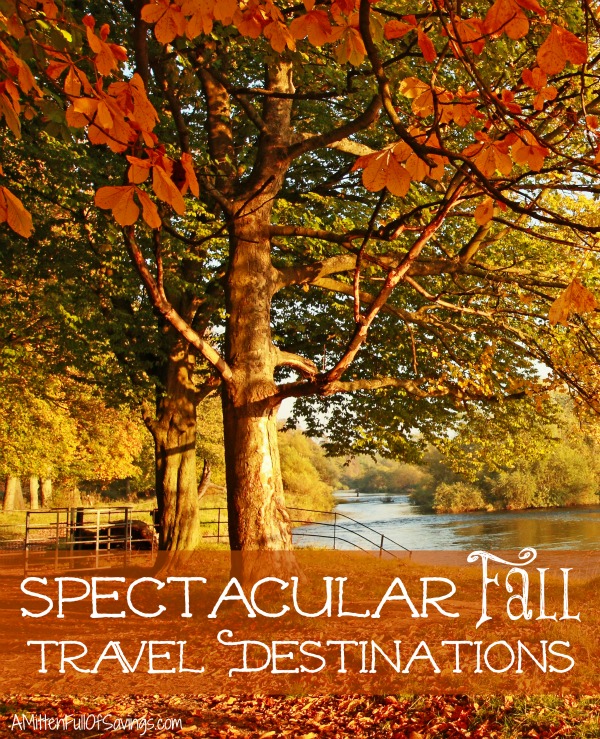 SPECTACULAR FALL TRAVEL DESTINATIONS
Mackinaw City, Michigan: On the water, yet surrounded by foliage and beauty this is a great location to plan your fall vacation or weekend away. With great Fall Fireworks shows, special shopping events and lake front activities happening in the early Fall weeks there is plenty for everyone in your family to enjoy. The beauty of fall is stunning against the backdrop of this city. Since Michigan is my home state, I have a few extra tips you can read about going to Mackinaw City on a budget!
Eureka Springs, Arkansas: This quaint artists village nestled in the Ozark mountains is a great little getaway experience. Void of your typical retail stores, shopping centers, and malls, this community thrives on local artistry and foods. Whether you want to stay in a cabin, bed & breakfast or traditional hotel, they have you covered. Walk around downtown and visit the local woodworking, glass or antique shops. The changing seasons allow you to enjoy the beautiful splendor of the mountains around you.
Nashville, Tennessee: The home of country music packs a punch this time of year. Not only do you have gorgeous landscape and foliage, but there are also dozens of musical performances, epic events, and festivals all within an hour or two. Within a reasonable distance, you also have theme parks and museums for the entire family.
Corning, New York: Only a few hours from the big city, Corning is a great location to visit for a quiet weekend away. Not only will the New York state beauty in the Fall astound you, but you'll also love the local attractions. Museums and great food are everywhere in this city making it a perfect romantic weekend getaway.
Eugene, Oregon: This college town nestled in the mountains of Oregon is a destination often overlooked. With artists at every corner, coffee brewing in every shop and beautiful hiking and scenery surrounding the little town it is indeed a place to visit. Great food, great people and tons of fun local entertainment make this a must visit Fall travel destination.
No matter which of these destinations you choose, you are sure to be pleased with the fun and beauty of fall. Not only will you have beautiful foliage to take in, but fun festivals, great food and amazing atmosphere that will please the whole family. Check out our favorite spectacular fall travel destinations this year with your family.
More Fall Ideas:
99 Free or Cheap Fall Date Night Ideas!