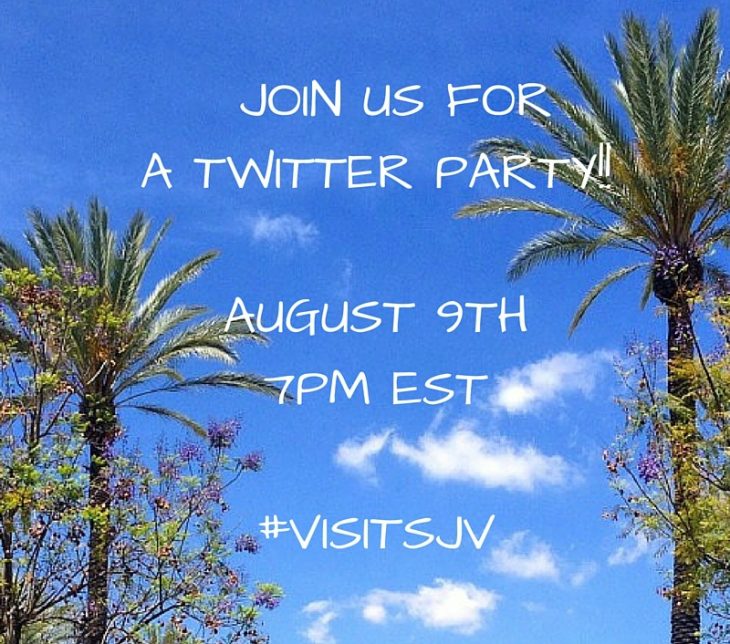 San Jacinto Valley, conveniently located between Los Angeles and Palm Springs, is an outdoor lovers paradise. Bike trails, hiking trails, paragliding, fishing, and birding are just a few of the sports you'll find in this hidden valley. In addition to all the outdoor fun one can have, there is a plethora of history and culture. San Jacinto Valley is home to California's longest running outdoor play, Ramona, has SoCal's only Victorian Bridal museum and is fortunate enough to have Max the Mastodon residing in its valley.
I have been able to experience all the San Jacinto Valley has to offer first hand and I'll be sharing everything you need to know about the area during the San Jacinto Valley Twitter Party. You won't want to miss it! This will be a great time with incredible prizes including a 3-night stay in a cottage at Golden Village Palms RV Resort (travel not included), THE place to stay when you visit the valley! We'll tell you why during the Twitter party.
Related: Visit Hemet: It's More Than Just A Little Town In The Valley
Participating is easy. All you need is a Twitter account, RSVP and show up and tweet. This is your chance to learn more about San Jacinto Valley, ask questions and possibly win one of the prizes! So grab your favorite beverage and grab a seat behind your computer or mobile device and join the conversation.
SAN JACINTO VALLEY TWITTER PARTY DETAILS
WHEN: August 9th
TIME: 7pm-8pm EST
HASHTAG: #VisitSJV
FOLLOW SPONSOR & COHOSTS
SPONSOR: @VisitSJV
CO-HOSTS: @debthompson, @traverlermom, @tatanishapw, @trailmixedmom, @dangercupcake, @TravelWell4Less, @BabyToBoomer, @pure_wander
WIN A 3-NIGHT STAY IN SAN JACINTO VALLEY
PRIZES: SJV Gift Basket, $100 Ramona Bowl Gift Certificate, $50 VISA gift card, 3-night stay at Golden Village Palms RV Resort.
Winners will be randomly selected from the RSVPs. Be sure to use the #VisitSJV hashtag and interact with us like crazy!
RSVP FOR THE SAN JACINTO VALLEY TWITTER PARTY
ENTER YOUR TWITTER HANDLE IN THE LINKY BELOW FOR A CHANCE TO WIN ONE OF THE GREAT PRIZES!
It's as easy as 1-2-3. Simply put your twitter name in the name field and your twitter link in the URL field and you have a chance to WIN!