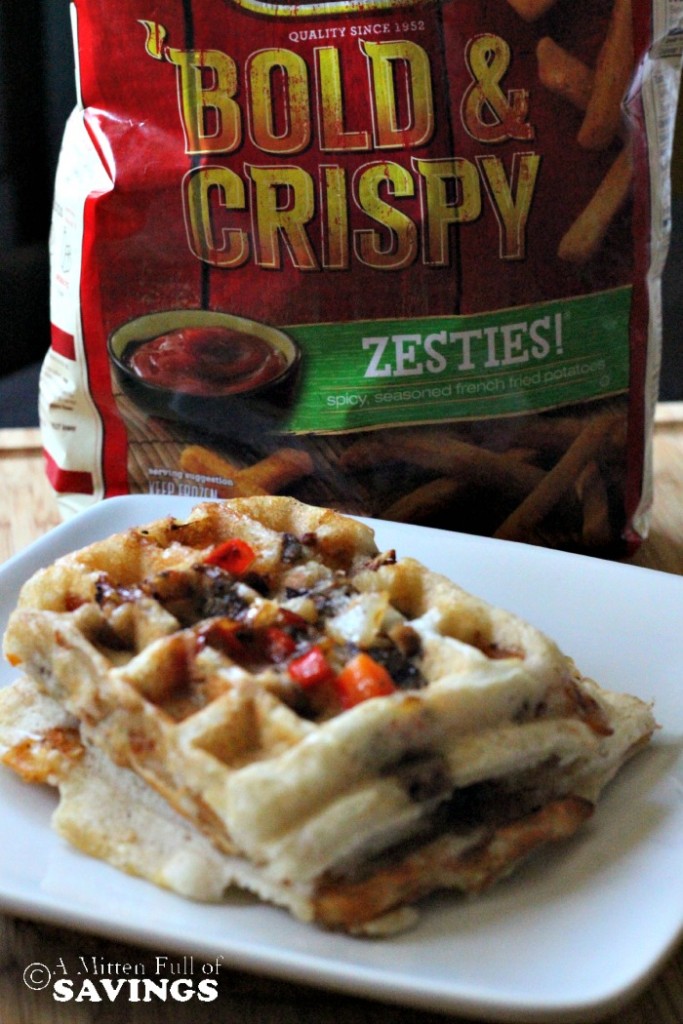 Thee Ultimate Loaded Waffle Fries featuring: Ore-Ida® Bold & Crispy Fries
In our kitchen there is nothing more my husband and I like to do than expand our culinary horizons and experiment with a variety of new and old tastes. And this weekend we came up with something we think is an original take of the term "waffle fries". Now, our boys are picky eaters in that they like good food and they don't do boring. So, we decided to put something bold and deliciously sassy onto their dinner plates.
Around our house having breakfast for dinner is a surefire way to put a smile on the faces of our boys.  Plus, dinner time is one of the only times of day we're all here and accounted for, so it is doubly special for us. The last thing we want to struggle with is coming up with a dinner menu that will satisfy everyone's unique tastes. Ore-Ida® Bold & Crispy Zesties fries was a great ingredient to build dinner around and shake things up.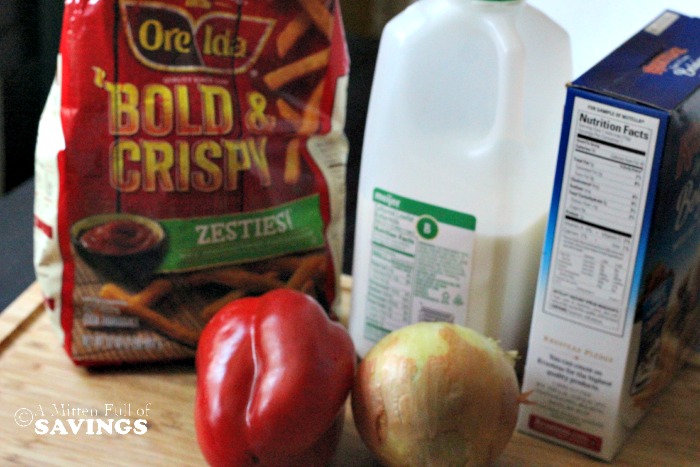 We took great liberty and put a unique foodie spin on "waffle fries" and turned Belgian Waffles on its ear. Here's what we did. We used Ore-Ida® Bold & Crispy Zesties fries and made them our secret weapon to a Saturday evening breakfast for dinner. Here's how you can #FindYourBOLD and make Thee Ultimate Loaded Waffle Fries too.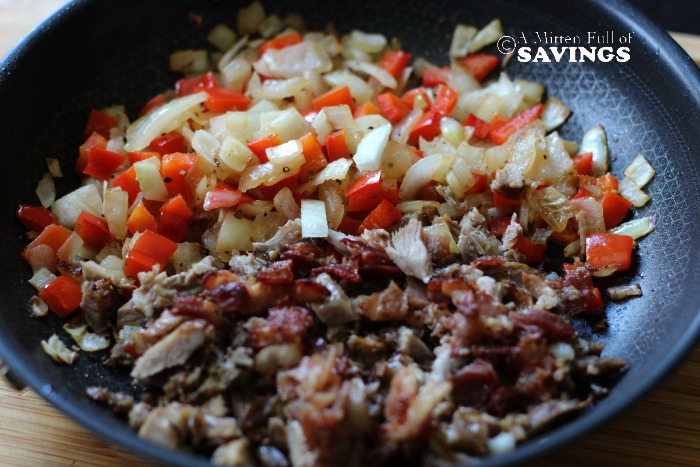 First, we sautéed 1 chopped medium sweet (1 cup) Valdia onion and 1 large chopped Red Bell Pepper (1 cup) over medium heat in a skillet, and when finished we sat them aside. Next, we fried up a mess of crispy bacon. After the bacon was cooked we placed the slices on paper towels to absorb the excess grease. Then after the bacon was cool enough to handle safely we crumbled about 1 cup worth of bacon and sat it aside too.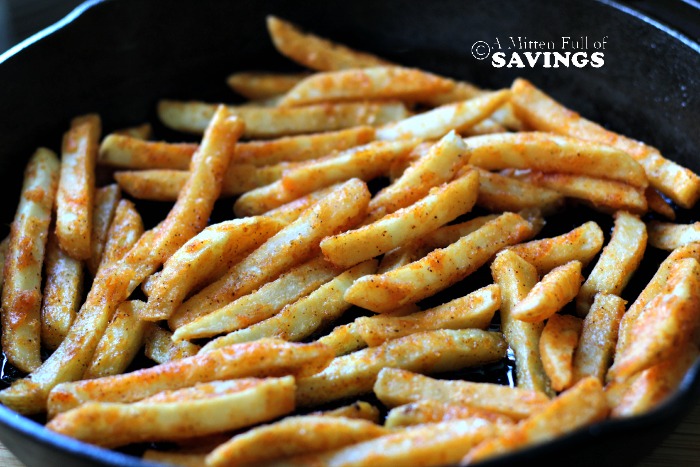 Next, we poured off most of the bacon grease and used the remaining amount (about 2 tablespoons) to skillet fry the Ore-Ida® Bold & Crispy Zesties fries. After the fries took on a nice brown and crispy texture it was time to get down to brass tacks.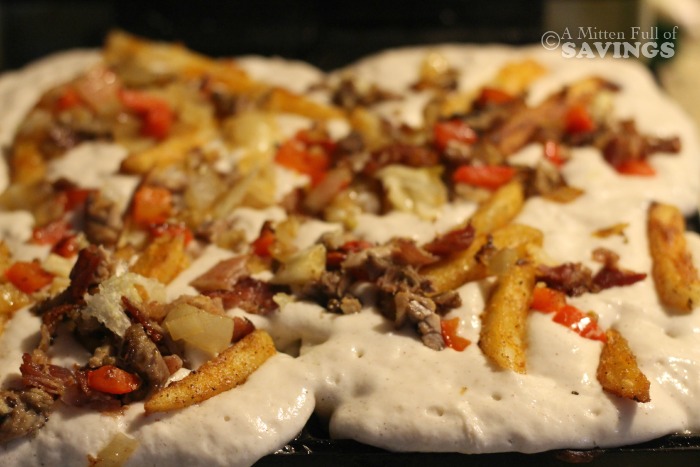 Using a box waffle mix we made the batter using buttermilk: this is a surefire cheat, instead of using water or regular milk the buttermilk makes for better tasting pancakes. After pre-heating the waffle iron we brushed on melted butter. This keeps the waffles from sticking, but also aids in browning the waffles and gives them an extra buttery taste. Then we ladled the batter into the waffle iron and loaded the batter with Ore-Ida® Bold & Crispy Zesties fries, loads of crispy crumbled bacon and loving spoonfuls of sautéed sweet onion and red bell peppers. After the Thee Ultimate Loaded Waffle Fries were done we ladled on more melted sweet cream butter and a drizzle of homemade syrup and let our boys dig in.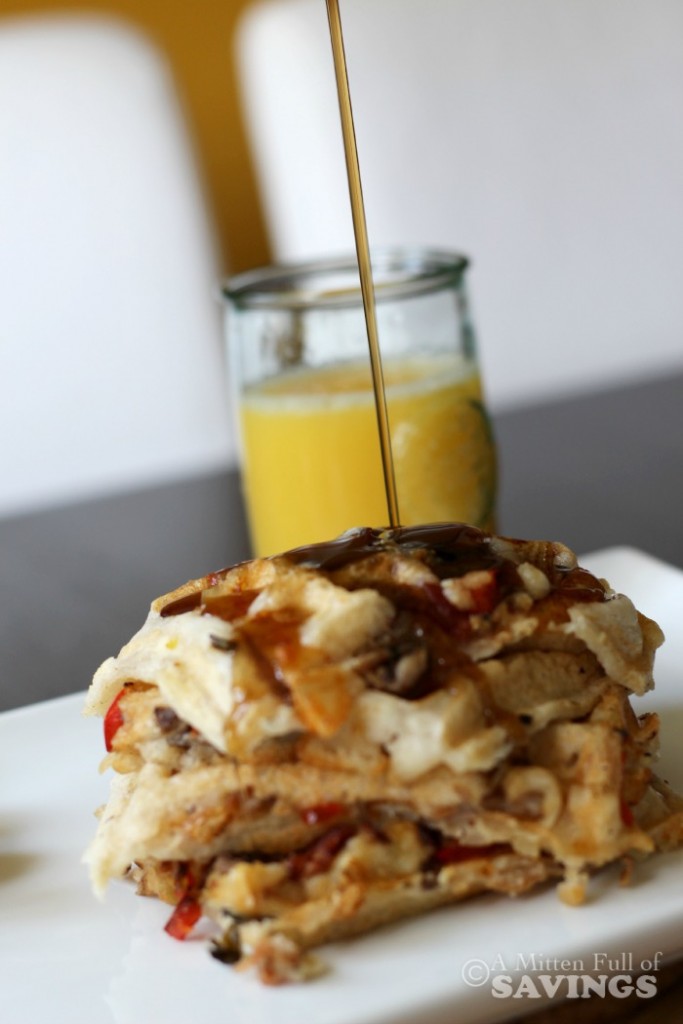 This is an easy and fun interpretation on plain-old-Jane waffles, but by using our imagination and with the help of Ore-Ida® Bold & Crispy Zesties fries we were able to add a bit of pizazz to Saturday breakfast dinner.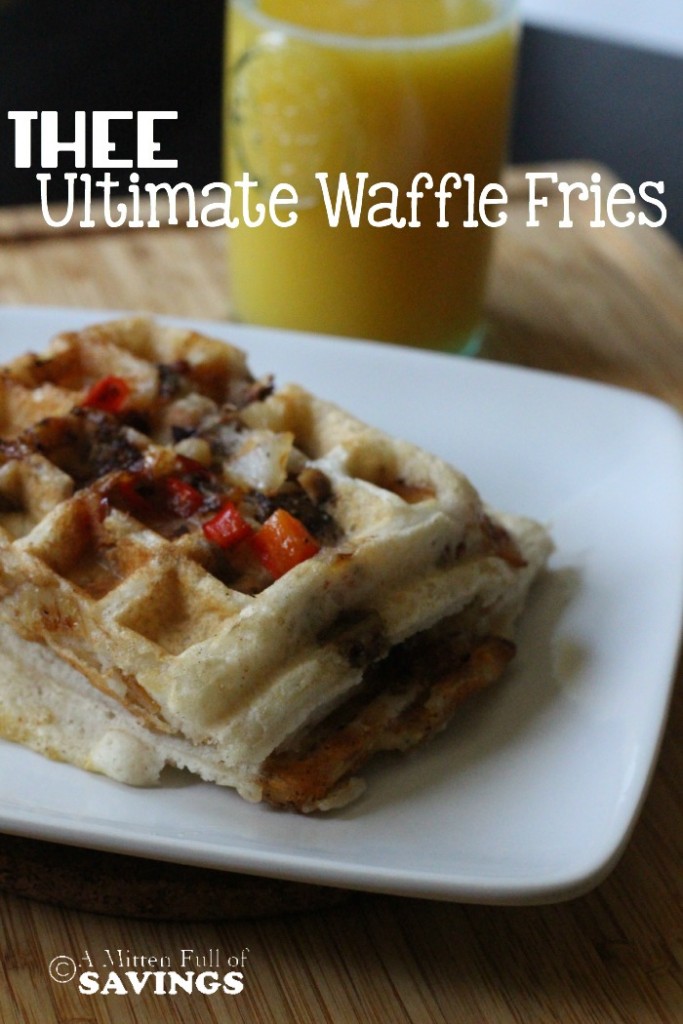 Also, the cool thing about making this recipe is that even though you can keep the base the same (waffle batter and the Ore-Ida® Bold & Crispy Zesties fries) you can switch up the other ingredients. For instance you can use diced ham, chicken or even an all veggie line-up to create your own version of Thee Ultimate Loaded Waffle Fries recipe. You can also switch up the fries and try some of the other Ore-Ida® varieties, like Garlic and Pepper Steakhouse fries, Spicy Sriracha Fries, Smoky BBQ Oven Chips, or Zesty Twirls®.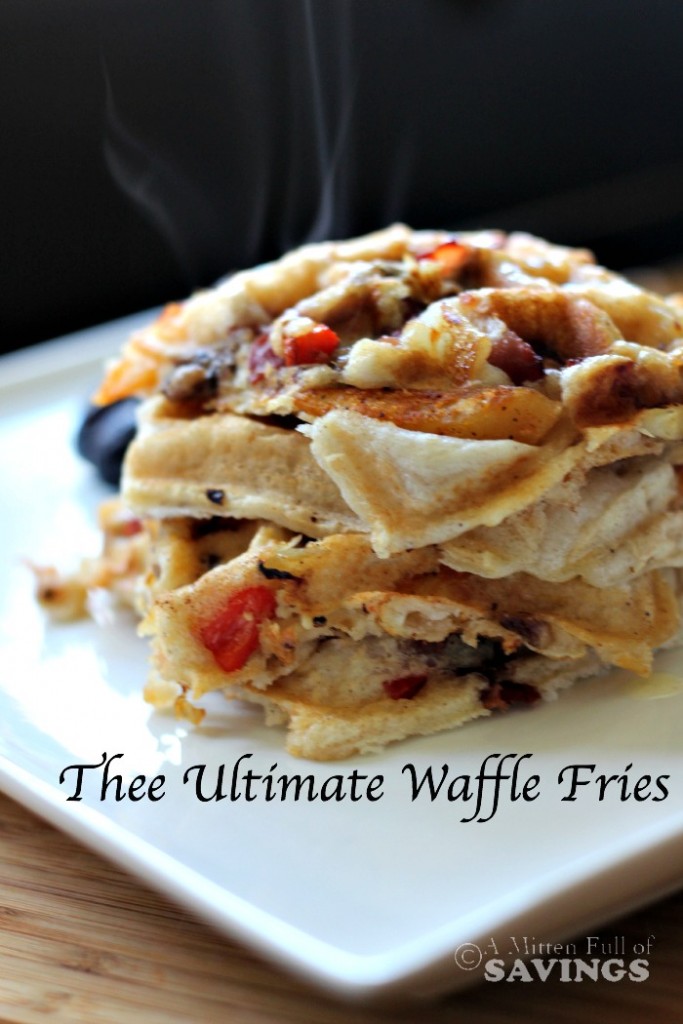 The verdict…. The boys absolutely loved Thee Ultimate Loaded Waffle Fries. Sometimes our dinner recipe ideas can be a hit or miss with the boys, but using a bold new twist definitely paid off.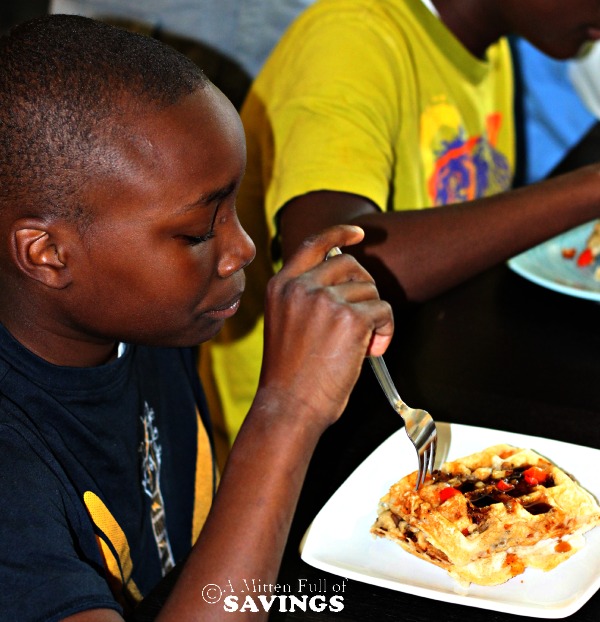 Dinner time is the only time during the week where our whole family can gather together around the dinner table and share events about our day. With the twins entering into the tween years, I am definitely starting to see the "teen differences.".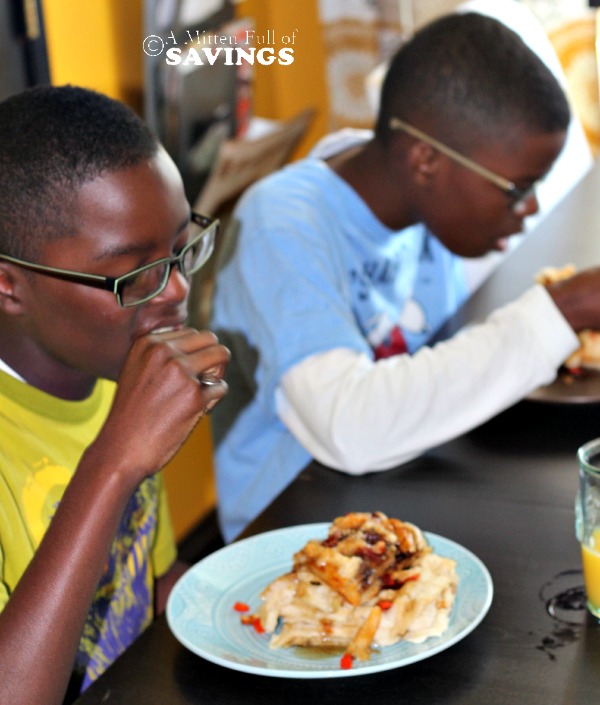 Usually the twins want to eat their food and rush back to their room to get on their phones and iPads. A few years ago, I established a rule at supper time, no gadgets at the dinner table. This is the one time per day where we can sit and focus on each other. I believe in the tradition of gathering at the dinner table. If you are struggling with getting everyone to the table, then try establishing a rule like this one. Or pull the plug on the WiFi during dinner time. Trust me, it works! For us it's important to slow things down at home in this fast-paced era flush with technology, because we don't want to lose those cherished family values about what's important. Family time gathered around good food is precious and priceless.
Tell me, what are some ways you ensure family time is front and center in your home? What are some of your favorite dinner recipes or dinner table talk topics?  Find more #FindYourBold ideas on the Pinterest board.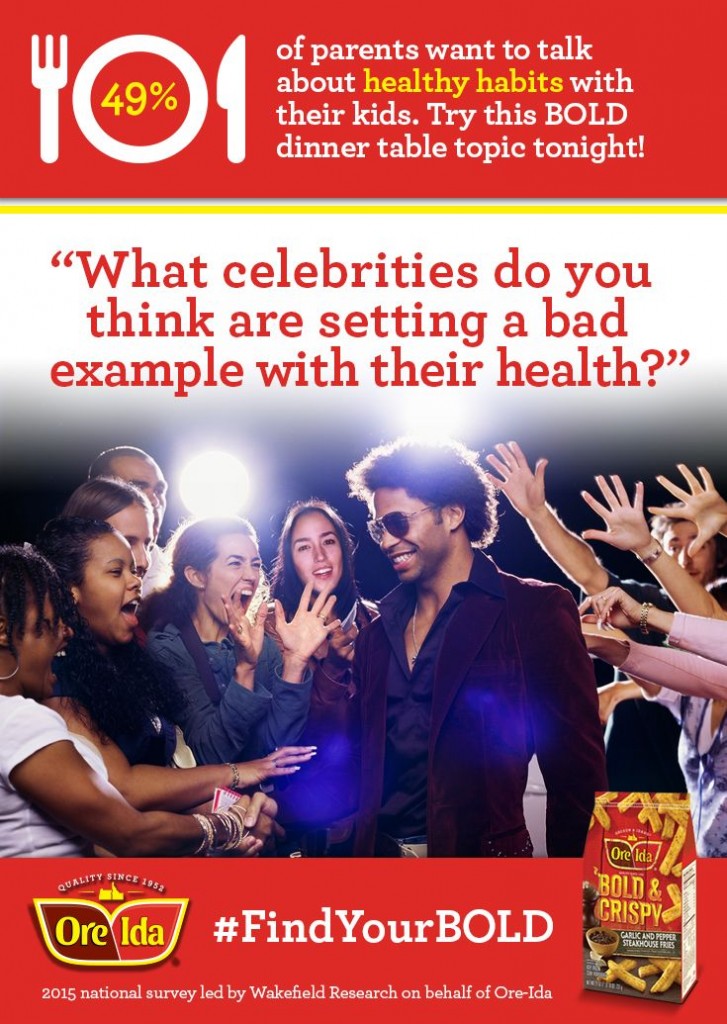 Leave me a comment below and let me know!
I received compensation in exchange for writing this review.  However, 100% of this recipe creation is my own, as well as my thoughts on this brand!