Tips For Packing For Travel With Kids
If you have ever headed out on a weekend or week long trip with your kids, you know that getting their needed items packed, in the car and to your destination can actually be quite the challenge. Here are some great Tips For Packing For Travel With Kids. This will help you make the packing and travel so easy giving you a chance to enjoy your vacation without the stress you might have otherwise!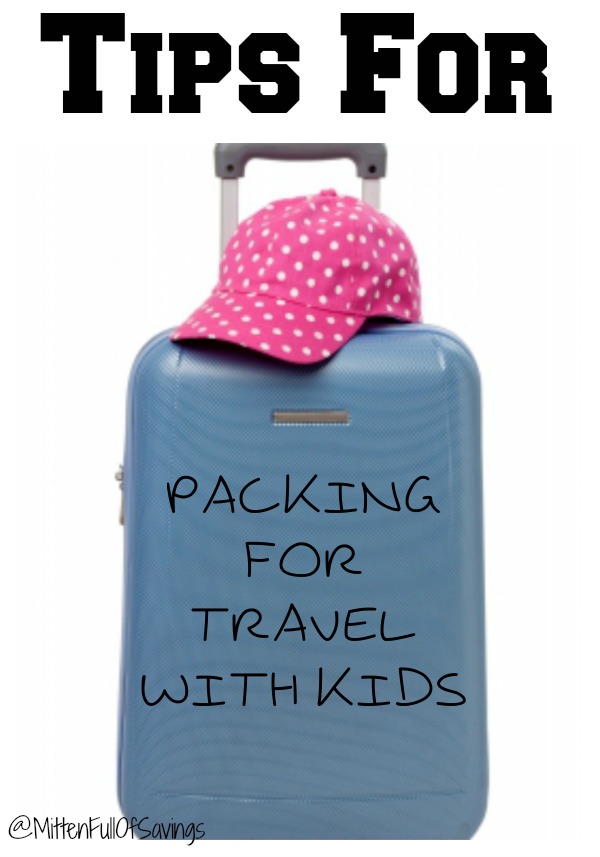 Tips For Packing For Travel With Kids
Pack In "Kits": This is one of my favorite methods of packing with kids. It requires using multiple gallon sized plastic storage bags but is worth it for the ease while on the road. We pack an outfit including pant, shirt, socks, and underwear in each bag. You can even use a vacuum to remove extra air and make them smaller for packing. This means there is no fuss of "what do I wear" each day. We also use the same bags to pack all beach gear (trunks, suit or cover up), toiletries (all bathroom needs) and any medications that are daily use. That way everything stays together and is easy to pack and unpack as needed.
Pack At Least One Extra: Even when you think you have enough, pack just one more. An extra outfit, pair of shoes or pillow can all come in handy. Pack for the chance there will be a need or an emergency. This also includes things like electronics chargers. Don't forget to bring an extra phone, game system or tablet charger just in case too.
Bring Snacks For Travel: Whether you are driving, taking a bus, a train or a plane snacks for the kids is necessary. The cost of snacks on the road can be insanely overpriced, but there is also the need to stop you have to figure into that. Bring non-perishable things like trail mix, granola bars, crackers, fruit strips, fruit snacks, dried fruits, beef jerky and other similar kid friendly snacks.
Don't Forget Electronics & Their Chargers: While you want this to be a time where you are focused on each other, it can be a plus to bring the electronics. Make sure to pack extra batteries, chargers and game selections together in a separate bag from clothes and toiletries. This can go in a small backpack or travel tote bag and easily be kept as a carry on n or put in the back seat with the kids for easy access.
Packing for travel with kids doesn't have to be a difficult thing. Preparing their luggage can be a simple matter of using our kit system. Adding a few extras into the packing list to help save your sanity is important too. Make sure to pack a good attitude and willingness to adapt.
What are some tips that you can offer for traveling with kids??
Get more travel tips below:
What To Pack In Your Travel First Aid Kit
Travel Tips For Staying Healthy On The Road
Tips On How To Travel in Style With JustFab
Tips For Packing For Travel With Kids