This shop has been compensated by Collective Bias, Inc. and its advertiser. All opinions are mine alone. #NaturalGoodness #CollectiveBias

Tom's

of

Maine

: Our Journey To A New Beginning

Our journey to Tom's of Maine® products was born, literally, into the world as a squalling 6.5 pounds baby boy. I was hoping our last child would be a girl, but we had another boy!

Moms of all boys, you feel my pain don't you? But despite that small slight, and just barely there disappointment, I still love him to pieces. Like most babies they can come with all sorts of surprises and, unfortunately, they don't come with a set of instructions either.

Our Zayd'n was born with mild eczema, and of course again like most young parents I didn't know what that meant or how to properly deal with it. My pediatrician strongly recommended Tom's of Maine® Baby Shampoo & Wash and I shot back with…"Tom's of Who?" We both laughed. But honestly I had never heard of it and, therefore, I was a little skeptical.

My doctor reassured me; she said that it was a great product and more than likely it would work for my little boy, and if not we would try something else. But we never got a chance to try something else because we didn't need to. Our baby's dry skin cleared up and breakouts seemed not to be a problem anymore. All was well in the Worthey household.

But a funny thing happened. I was so pleased with the results that I started using other Tom's of Maine® products, like the Tom's of Maine® toothbrush and mouthwash. My husband and I love the Tom's of Maine® Simply White® Clean Mint Cavity Protection Toothpaste and our boys, especially our oldest boy loves the Tom's of Maine® Silly Strawberry® Anticavity Toothpaste. According to Zayd'n apparently the Silly Strawberry tastes great. I haven't tried it, but I am going to take his word. And because of the "taste" great factor, our boys don't complain about brushing their teeth. And as a parent that's a good feeling, knowing your kids enjoy taking care of their teeth all because they enjoy the product. Major points.

Here's a list of the thing you won't find in Tom's of Maine® products:
No Artificial Colors
No Artificial Flavors or Fragrances
No Artificial Preservatives (EDTA, Formaldehyde or Parabens, etc.)
No Animal Ingredients
No Animal Testing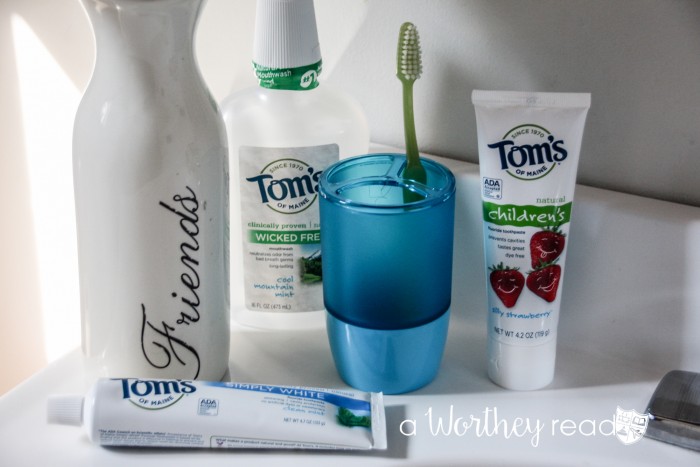 But for us there's something bigger in play as to why Tom's of Maine® is a good fit for our family. Our twins are on the autism spectrum, and with that punch in the gut diagnosis came the heightened concern, awareness and mission to use more naturally made, sourced and produced products. Yes, this was major. but in the end our families health and safety is priceless.
We're able to stop by our local Walmart and pick up all of our Tom's of Maine® products:
Tom's

of

Maine

® Simply White® Clean Mint Cavity Protection Toothpaste, 4.7oz

Tom's

of

Maine

® Silly Strawberry® Anticavity Toothpaste, 4.2oz
You can head over to the Personal Care section of Walmart to find these products as well:
If you would like to learn more about Tom's of Maine® products, they're having roaming demos at select Neighborhood Walmart stores this Saturday, September 19th! To see if your store is participating in these fun and informative demo, you can check and see if your local area Walmart is participating. Check list here.
Want to find out more? You can also get additional information by visiting the Tom's of Maine® website.
What type of toothpaste do you and your family use? And more importantly do you know what's in it? What are some of your healthy habits to ensure that your kids brush thoroughly? We'd love to hear them. Leave me a comment below and let me know!