It's time to get your hands into some dirt and get your garden ready! Here's 15 FREE Gardening Resources to get you started!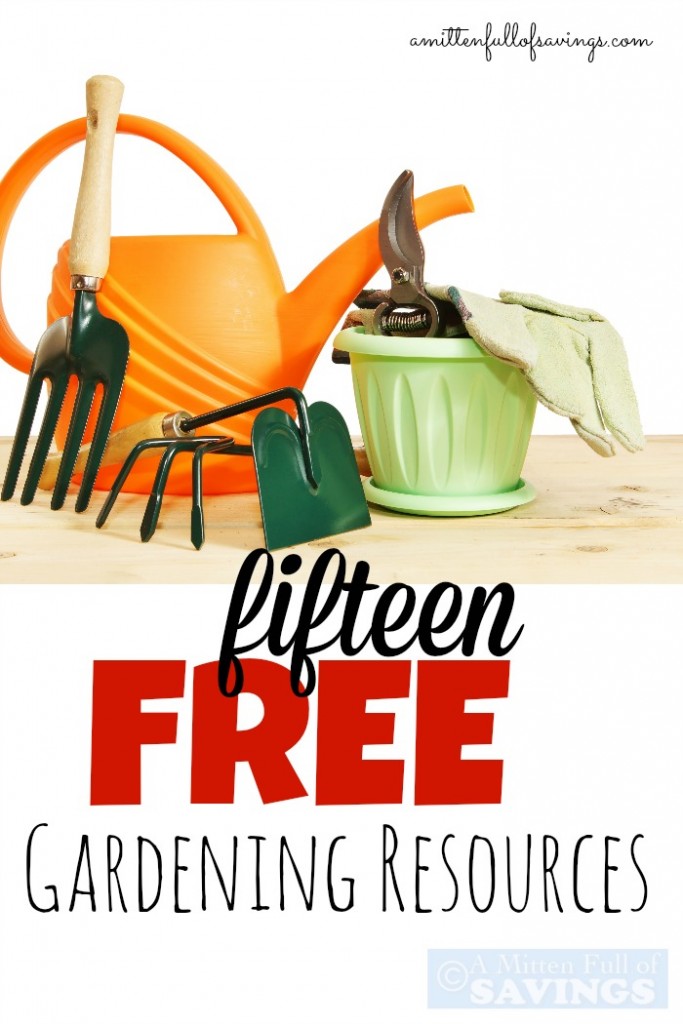 It's time to start getting your garden together! While I don't have the best green thumb, I'm excited about digging my hands into some soil and seeing the outcome of our endeavors. If you're ready to dig your hands into some dirt and need some gardening resources, here's a list of 15 freebies to check out!
15 FREE Gardening Resources
1. Burpee
Burpee is one of the oldest companies in the business. Request your free colorful catalog that includes over 100 new products, gardening tips, and great deals. Don't forget to sign up for the money-saving email list while you are there too.
www.burpee.com
2. Annie's Annuals
Annie's carries some of the rarest annuals around. Request a free catalog and discover a plant you haven't tried before. You can also watch free instructional videos on the website as well!
www.anniesannuals.com
3. Territorial Seed Company
Territorial ships live plants right to your door. Request their colorful catalog so you can enjoy all of the varieties they have to offer and enjoy a 100% money-back promise on your purchase.
www.territorialseed.com
4. Gardens Alive
Gardens Alive is an excellent source for seeds, fresh plants, fertilizer, and other gardening supplies. Request a free catalog which also comes with a coupon good for $25 off your $50 order.
www.gardensalive.com
5. RH Shumway
RH Shumway is also one of the older names in the gardening business. Request a free catalog and when you order, they will treat you to two free packs of seeds. They also offer a free online garden planner.
www.rhshumway.com
6. Burgess Seed Co.
www.eburgess.com
Request your free catalog and when you order you get a variety of free gifts! Depending on how much you spend you can get free huckleberry, cherry tomatoes, ranunculus, or windflowers!
7. Park Seed
www.parkseed.com
Check out a free Park Seed catalog and find a variety of flowers and produce seeds sure to excite you. You will also be treated to a $10 off coupon when you sign up! Sign up for their newsletter while you are there to get a free shipping coupon.
8. Prairie Nursery
www.prairienursery.com
Prairie Nursery is perfect for the person looking for grasses, wildflowers, and native plants. Head to their site to learn more about these products and request a free catalog.
9. White Flower Farm
www.whiteflowerfarm.com
Check out White Flower Farm for seeds, bulbs, live plants, flower arrangements and more. Sign up for their free newsletter while there and get free gardening tips and advice. Also, don't forget to request a free catalog.
10. Pine Tree Garden
www. superseeds.com
Head over to Pine Tree Garden to request a free catalog, shop organic products, and even find plant-based cosmetics. This is a unique gardening company that offers plant-based items for all areas of life.
11. Bountiful Gardens
www.bountifulgardens.org
Head over to Bountiful Gardens to request a free catalog as well as take advantage of the free seed calculator they offer on the site!
12. The Online Greenhouse
www.theonlinegreenhouse.com
Head over to The Online Greenhouse where you can request a free catalog as well as sign up for loyalty rewards. They even offer fundraising opportunities.
13. Raintree Nursery
www.raintreenursery.com
Head over to Raintree Nursery where all 4-inch pots are on sale, you can get plenty of free gardening advice, and request a free catalog too.
14. Sow True Seed
www.sowtrueseed.com
Sow True Seed company offers a beautiful free catalog as well as 15% off your purchase when you sign up for their free e-newsletter.
15. Wayside Gardens
www.waysidegardens.com
Check out Wayside Gardens for all of your planting needs. You can request a free catalog when there as well as sign up for their e-newsletter. When you sign up, you will also receive money-saving coupons good on your first order.
Find more gardening tips below:
10 Reasons Gardening is Good for Your Health