25 Homemade Halloween Costumes
Can you believe it's THAT time of year again! Time for Halloween! As a Mom of three boys, I am always looking for ways to save money on Costumes. Now.. I'm going to be honest. I can't sew worth a lick. (I know, I know!) But that's okay because this list is creative with a variety of ways for you to make your own Halloween Costumes this year!
Keep reading for more….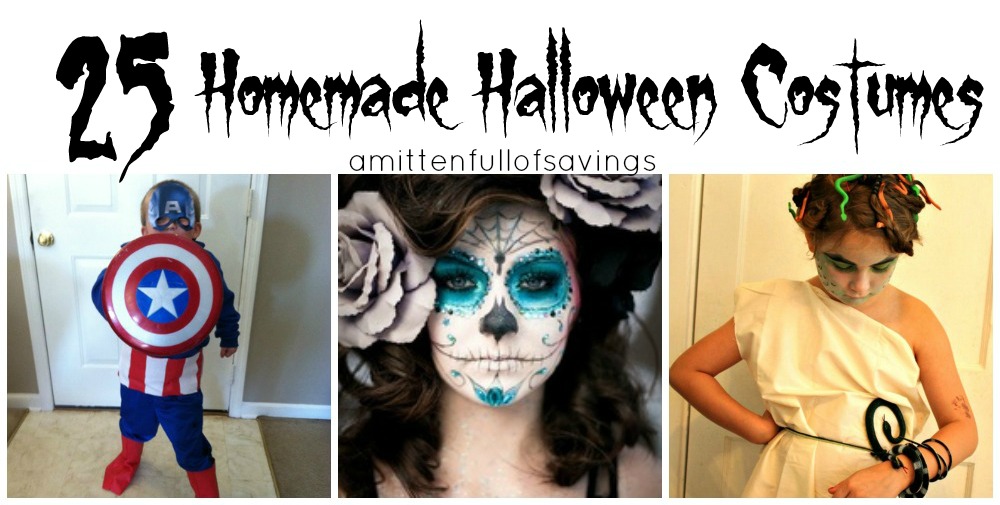 Are you on a budget this Halloween? Love to do DIY stuff and making your statement? Check out this list of 25 Homemade Halloween costumes that you can try out this year. Whether it's as easy as a Medusa Costume, a Pig in the Blanket or the popular theme this year- Minecraft Costume. Isn't that face WICKED? 🙂
This year my 9 year old, Zayd'n is going as a Ninja. We found some black clothes to make his outfit and picked up the Ninja Sword set for $6 bucks at Target. Score!!
So browse through our awesome list of Homemade Halloween Costumes and pick out your favorite one! Save a few bucks this Halloween by making your own costume!
25 Homemade Halloween Costumes
1. Chocolate Chip Cookie
2. Medusa Costume
3. Ash Ketchum Pokemon Costume
4. Sunflower
5. Giraffe
6. Peacock
7. Pig in a Blanket
8. Beauty Queen
9. Sugar Skull Makeup Inspiration
10. Captain America
11. Sttue of Liberty
12. Owl Costume
13. Moth
14. Angry Birds
15. Robot Costume
16. Queen of Hearts
17. Can of Soup
18. Muscle Man
19. Super Heroes
20. Audrey Hepburn Turned Zombie
21. Minecraft Costume
22. Fun Pom Pom Clown Wig
23. Easy Butterfly Wings
24. The Big Lebowski
25. Madeline
You can find some pretty cool Halloween treats to make as well:
Blood-Clot Shots Halloween Drink
Halloween Kitty S'more Trifle
Recipe Idea for Halloween: Body Parts Parfait
Easy Halloween Treat: Pretzel Bones
Easy Halloween Treat: Witch's Brooms