All Star Vacation Homes Review: Vacation Rentals Can Save You Money
Our Home Away From Home
When life throws you an opportunity you take it. Recently, I was offered an irresistible perspective-changing occasion. To stay at a beautiful vacation home from All Star Vacation Homes located in sunny Kissimmee, Florida.
Talk about a no-brainer.
So, I loaded up the family, grabbed a few items and punched in the address on my GPS, and the A Worthey Family Road Trip of 2014 began.
Some 19+ hours later as our car pulled into the driveway of our newly borrowed vacation home away from home, our collective mouths dropped. This is ours for a week? It stood before us like a green apparition, for we had been victims of the beyond frigid Arctic Vortex of a Michigan winter for far too long. Were we dreaming? I entered the code to the door lock, and we stepped into Paradise Lost.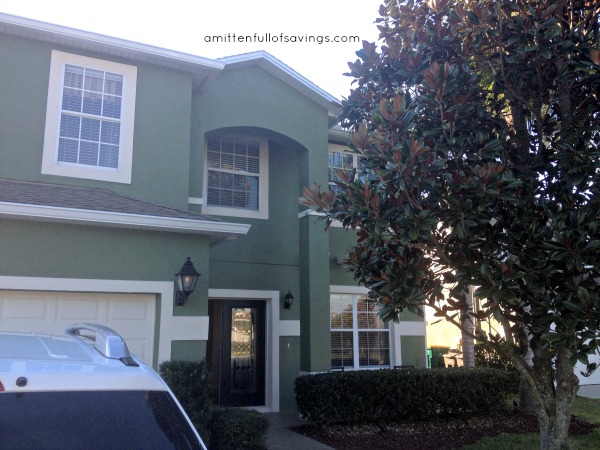 Let me tell you about this over 3,000-square feet, 5-bedrooms, 4.5 baths, private pool & spa, home theater dream space. Oh, I kinda just did. Ok, the long version. If space is the final frontier, then call me Mrs. Neil Armstrong. This All Star Vacation Homes if nothing else, gave us a healthy abundance of space. Space to spread out, space to relax, space for my husband to cook for me in a gourmet kitchen, space for my crazy 3 boys to run wild, space to dive into a warm sun-dappled private pool, space to do everything a vacation is supposed to do, take you away from an otherwise hectic cold existence.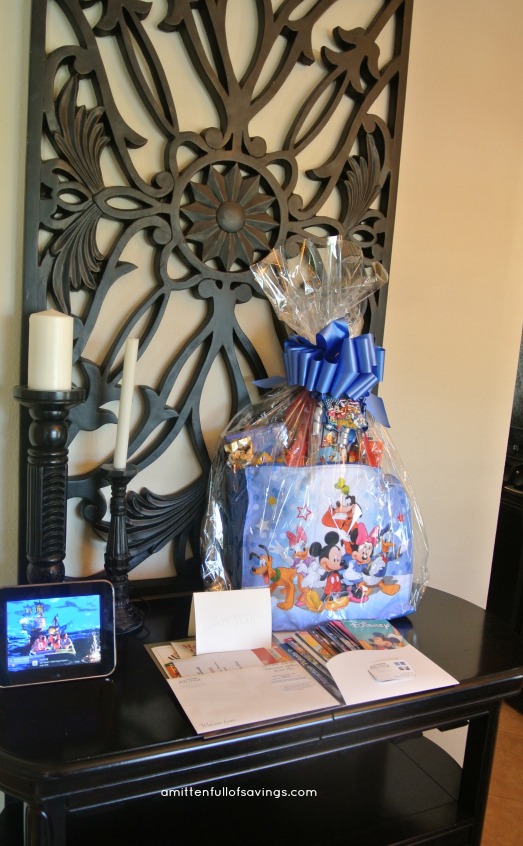 I loved the Welcome package featured at the entrance of the home from All-Star Vacation Homes. And let me be the first to tell you– their customer service and staff were superb. When I first got to the home, I wondered how it would work if you needed something. When you stay at a hotel or resort, you can just call down to the front desk, and they send up whatever you need. Well… it works the same way in All-Star Vacation Rentals. We needed a spatula, and a guest service representative was at our home within 15 minutes.
How's that for great customer service!
So let's talk about the property:
5 Bedrooms meant that we all could have our own room. The twins were not 100% gung-ho about this idea since they are used to sleeping together. I told them- "we're on vacation, it's time to try something different!"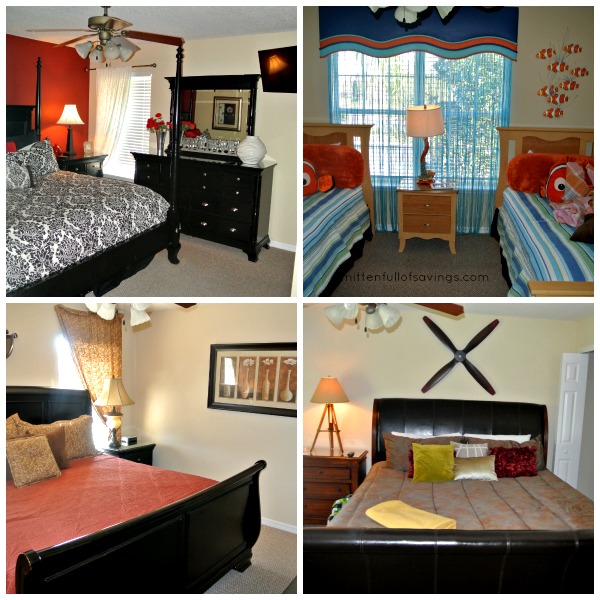 And of course.. yours truly took the best bedroom in the house. My bedroom was more like a suite. It had it's own bathroom with a jacuzzi tub. There were also patio doors that led to the patio and the pool.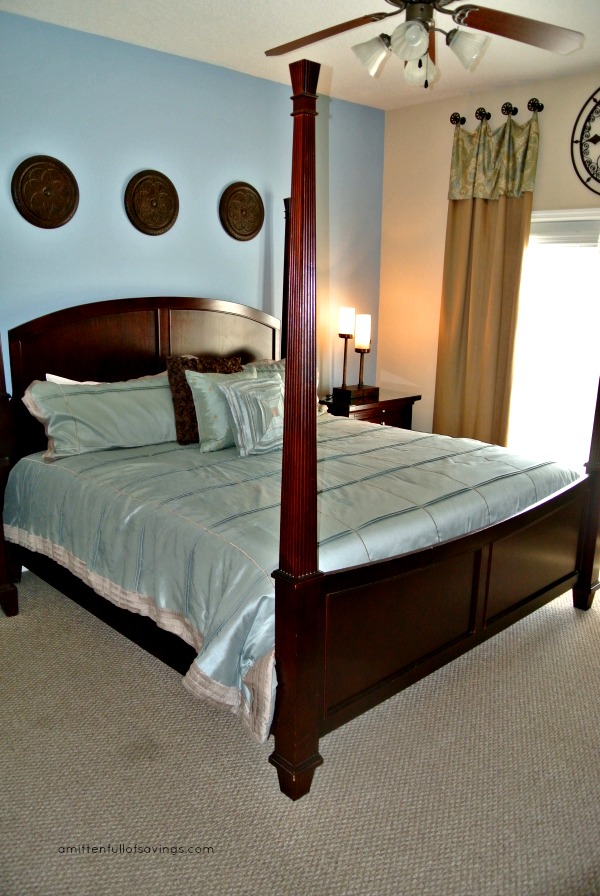 Our vacation home included 4.5 bathrooms. Three on the upper floor. Ziah was able to score his own bathroom as well as Zion. Derrick (hubby) and Zayd'n shared a shared bathroom. On the lower floor, this home featured a 1/2 bath which led right to the patio. So if you were having a pool party or the kids needed to use the restroom they had easy access instead of coming all the way into the house.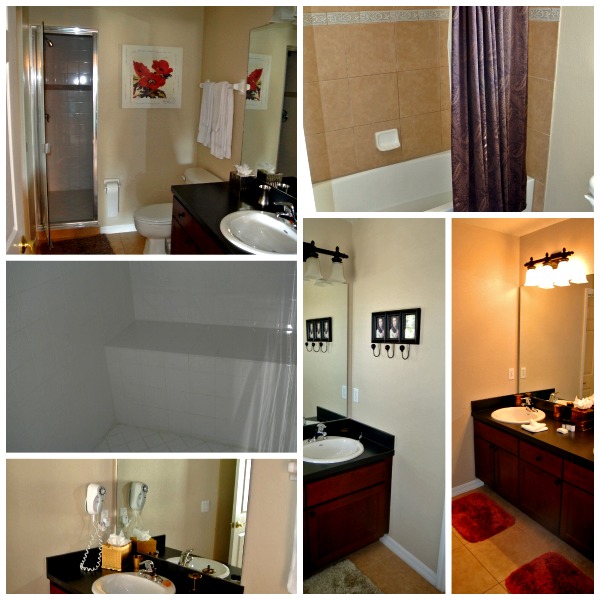 I stand, no I sit before (who stands and writes?) you, and I am sold on the idea of staying at a vacation home. There I said it, and it is worth every red penny. All Star Vacation Homes is an ideal option for longer vacations. It is simple. It has value and if you know me it all comes down to saving those dollars baby! Although, I love staying at resorts, the idea of having my own "everything" and the level of privacy my family experienced with All-Star Vacation Homes just made me value the vacation home option so much more.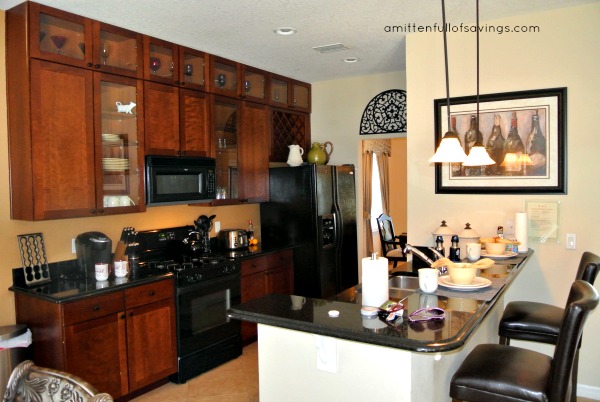 The kitchen was beautiful. All-Star Vacation Homes kitchens come fully equipped with all of your cooking needs and utensils. All you have to do is provide the food 😉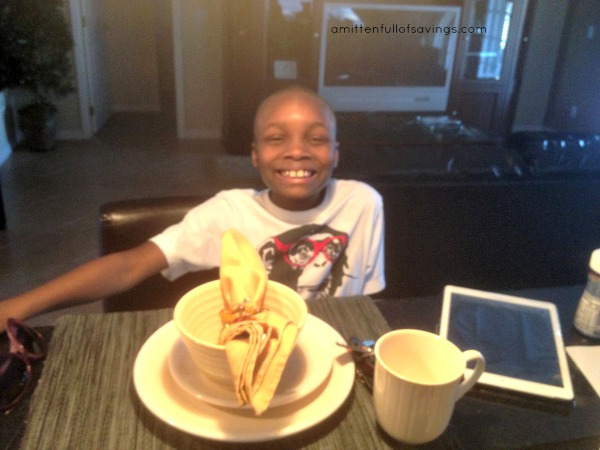 The boys spent the majority of their time in 3 places: the pool, the game room, and the movie theater. Yes, FREE entertainment. Which to me is a huge value. Entertainment and paying for a ton of park tickets will eat up your budget as fast as food.

I loved the features around the pool and hot tub. Great safety net- so if you have little ones… you're covered!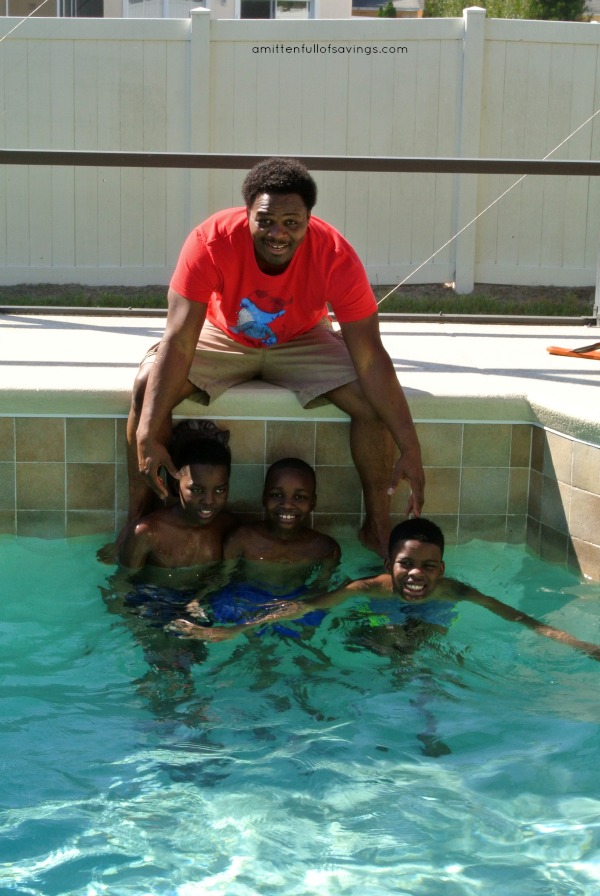 And unlike at a resort, here in the Vacation Home, you can swim as late or early as you want to. I mean you're on vacation.. you should not be told when you have to be out of the pool.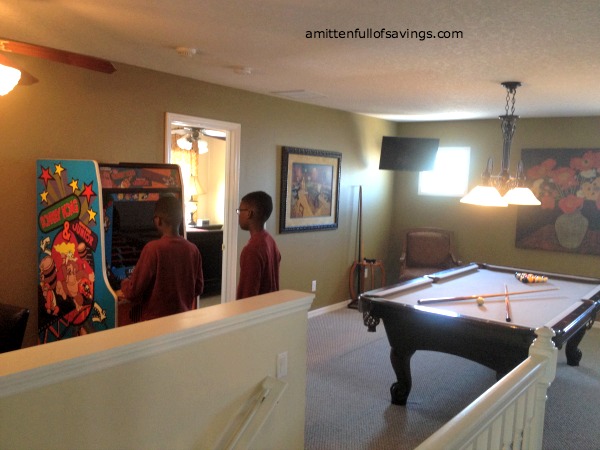 The boys loved learning how to play pool and having fun with the old school video system!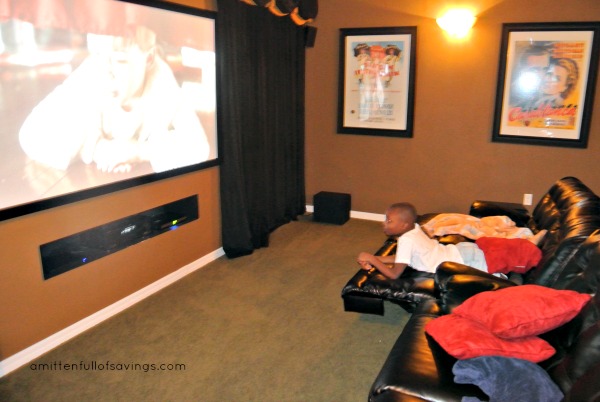 Zayd'n our movie expert was just in HEAVEN with this room. He told me he felt like Zuri (from the Hey Jessie Disney show). He loved having a BIG screen to watch some of his favorite movies and TV Channels.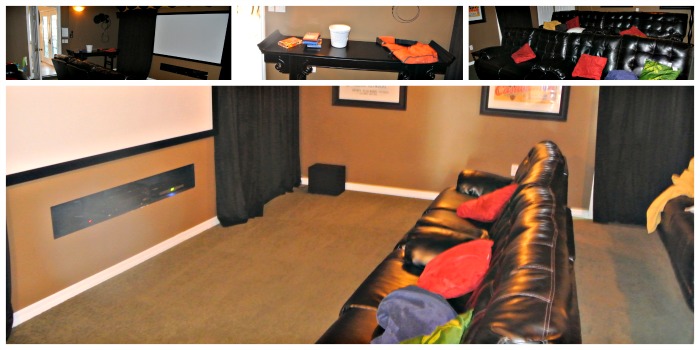 This is such a great feature to have. If you've been to the Orlando area before you know that it can rain as fast as it snows in Michigan. So having a movie theater can be a fun activity to do on a rainy or just-too-hot to be outside day.
So how does this save me money?
Hold up; I know what you're thinking, and I did my due diligence. Yes, I do see great Groupon and Living Social deals for vacation home properties. When you weigh the pros and cons, you may pay a little more than a regular hotel, but the pros translate into HUGE savings. I am a couponer and therefore you all know I maintain a respectable stockpile. So, I loaded up the majority of the foodstuffs we would need and brought them along for the ride. Once there the only food items we purchased were fresh produce and a few dairy items (I shopped mainly at Target using the Cartwheel app and a few coupons in my purse). We saved hundreds of dollars just be cooking the vast majority of our meals. We're on vacation so of course, we ate out, we just had the option not to have to and for me, there is a huge value in that.
So let me break this down for you:
A family of 5 on the average will spend about $50 bucks per meal (that's about $10 per person) x 3 times per day= $150.

We were on vacation for a total of 8 days. $150 x 8 day= $1200. Gasp! Yes. When you're on vacation you will spend the most money on the 2 E's= Eating & Entertainment.

The All Star Vacation Home Rentals (based on the prices online) start at around $200 per day= $1600.

If you stayed in a regular hotel that would be about $800 ($100 per day).

So if you stayed in an All Star Vacation Home for about $1600, you can get by on the food budget for around $400 with eating most of your meals in, PLUS you have a ton of entertainment (which is another HUGE savings).
*And if you can find a Groupon or Living Social deal on a vacation home rental, you will save a little bit more!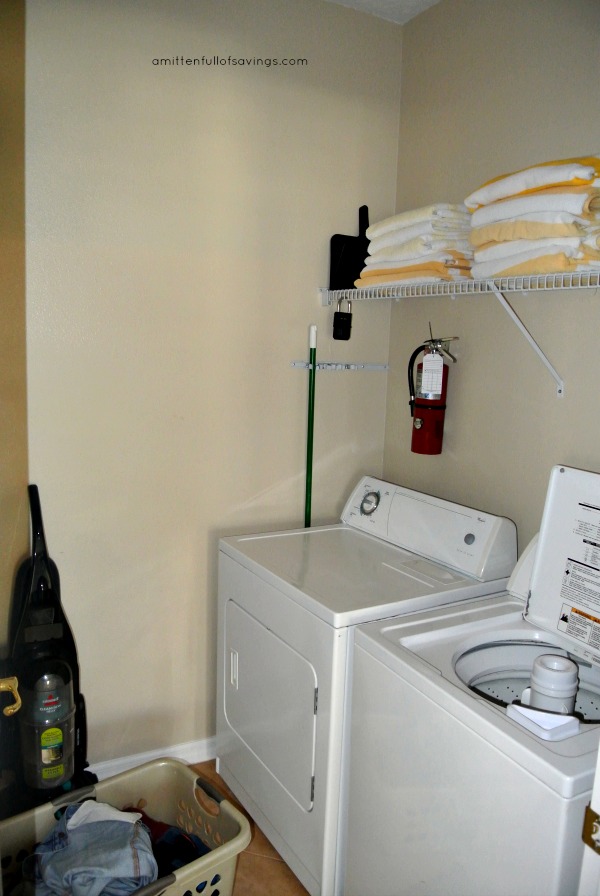 Another way you can save money when staying in a vacation home is the luxury of having your own washer and dryer. By having access to washing/drying your clothes you pack less. If you're flying that means fewer fees to pay (since the majority of the airlines charge for baggage fees). Or if you're traveling by car you save more on gas with less baggage in your car. So a GREAT way to save.
Plus you wash all of your clothes before leaving your vacation and guess what? When you get home all you have to do is put everything away- already clean! I love this feature!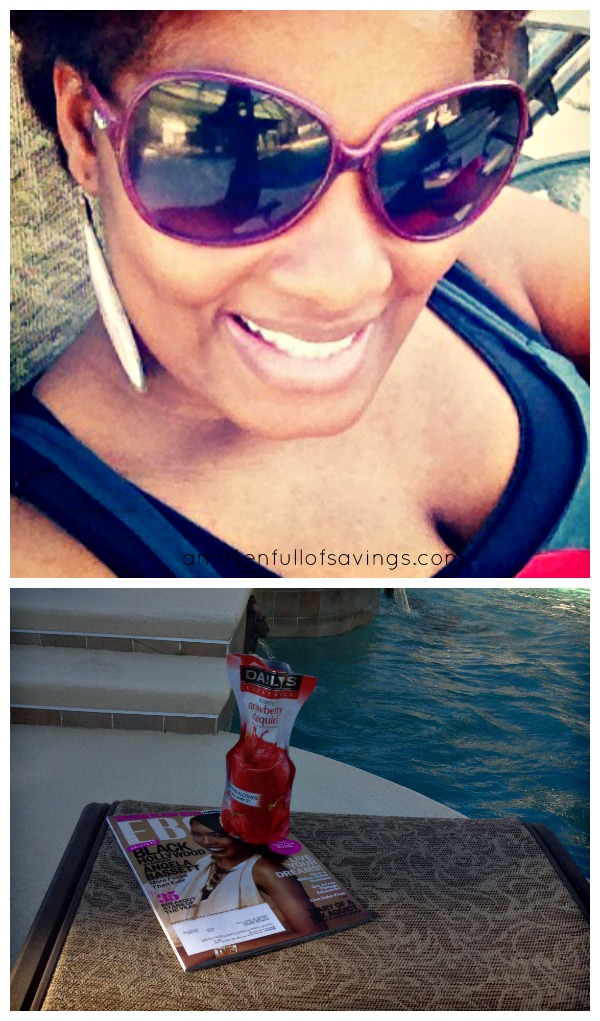 Being able to get away for several days was a wonderful vacation and break from our crazy Michigan weather! The best part of this vacation…. staying with All-Star Vacation Homes. This was the vacation. The majority of the time when I go on a vacation I want time to relax. Yes, it's fun to head to the parks and go check out all of the attractions. But sometimes, just sometimes.. you want to c-h-i-l-l. I am thankful for the chance to review this All-Star Vacation Home and be able to have a vacation where I could just relax. We had several attractions right on our property for the family to do and to be continual entertained.
THAT is the vacation. You get luxury. You get convenience. You get savings. You get your home away from home. This is all wrapped in a home provided for you by All Star Vacation Homes.
So what do you think? Are you sold on the idea of staying in a Vacation Rental Home (or even a resort, a condo that offers amenities and a full kitchen to cook most of your meals) for your next vacation?
If so, please do me a favor and check out All Star Vacation Homes! We were blown away by our vacation home, the amenities, their wonderful customer service, easy access to tourist attractions and more! I can guarantee you that you will not be disappointed with your next home… away from home!
Thank you All Star Vacation Homes- we had a blast!
Disclosure: All my opinions are my own and not influenced by this Company. Complimentary accommodations were provided by All Star Vacation Homes in exchange for my honest review. Please refer to this site's Disclaimer for more information.