"This post has been sponsored by P&G Fabric Care. All thoughts and opinions are my own."
Amazon Prime is an essential part of the way we parent our three boys. We're sharing how we use Amazon Prime to order everyday laundry essentials plus upcoming information about Amazon Prime Day. I'll also be talking about the benefits of Subscribe & Save for staying stocked up on the laundry care products that this family can't live without. Keep reading to see how you can save 20% on your first Subscribe & Save order on all of the top laundry products mentioned in this post between July 1st and Amazon Prime Day!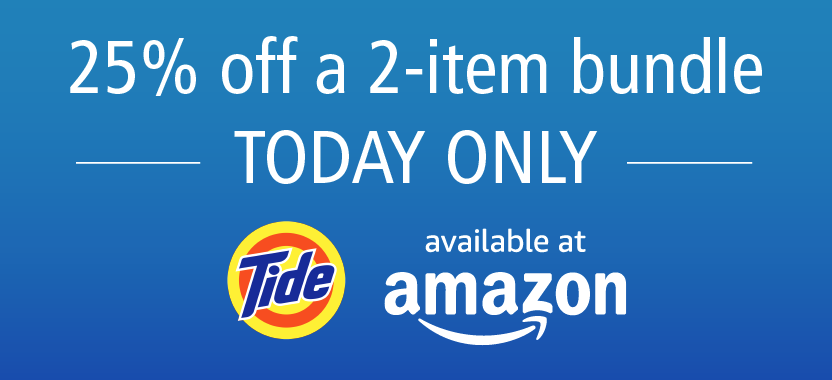 Today, Amazon Prime Day, you can see why we love P&G Fabric Care products by taking advantage of this Subscribe & Save offer:
You can get 25% off your first Subscribe & Save order OR 25% off a 2-item bundle (like Tide PODS + Bounce Sheets). That's the lowest price that you're going to find for these products all year! Order Here!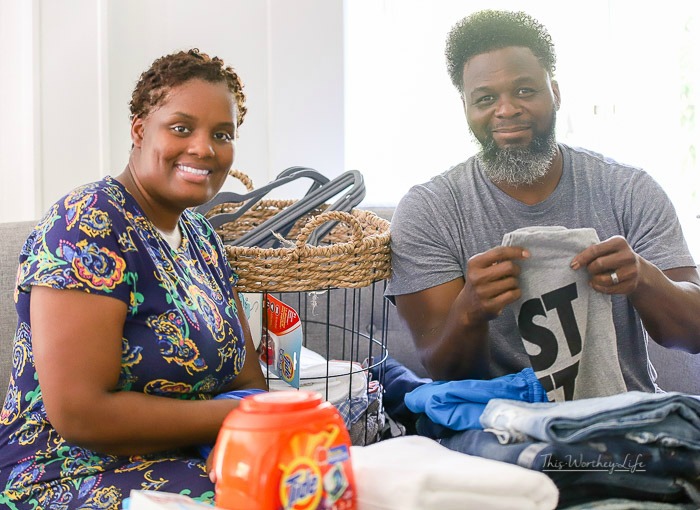 How We Tackle Laundry As Parents With Amazon Prime + Our Tide Experience
Since Derrick and I both love P&G products, we're sharing how we first started using Tide®.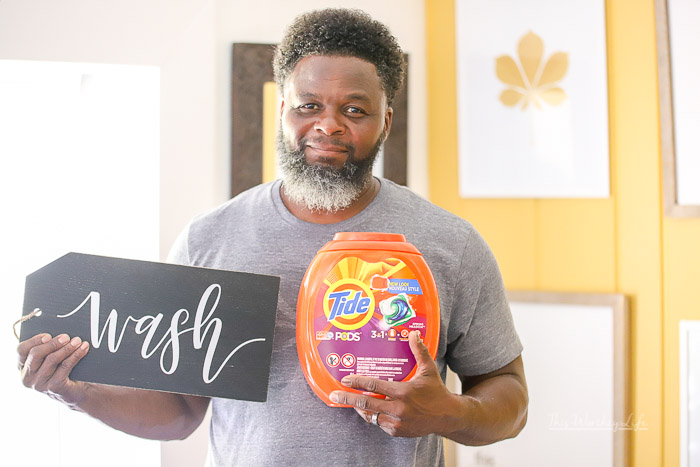 He said:
For me, using Tide is something I learned from my mom years ago. Helping her do the laundry, along with so many other things, it came down to results. Mrs. Worthey did not play.
One of my mom's favorite lines was, "Either it works, or it doesn't work!" Period. And with eight kids, Ma Dukes didn't have time to waste. And Mrs. Worthy had zero tolerance for substandard laundry detergent. Household chores were best executed on a one and done basis because do-overs were a waste of resources and time.
So when I became an adult, using Tide was a no-brainer. My wife and I have three very active boys, and Tide handles everything they can dish out. Turns out, mom was right about so many things—and using Tide is at the top of the list.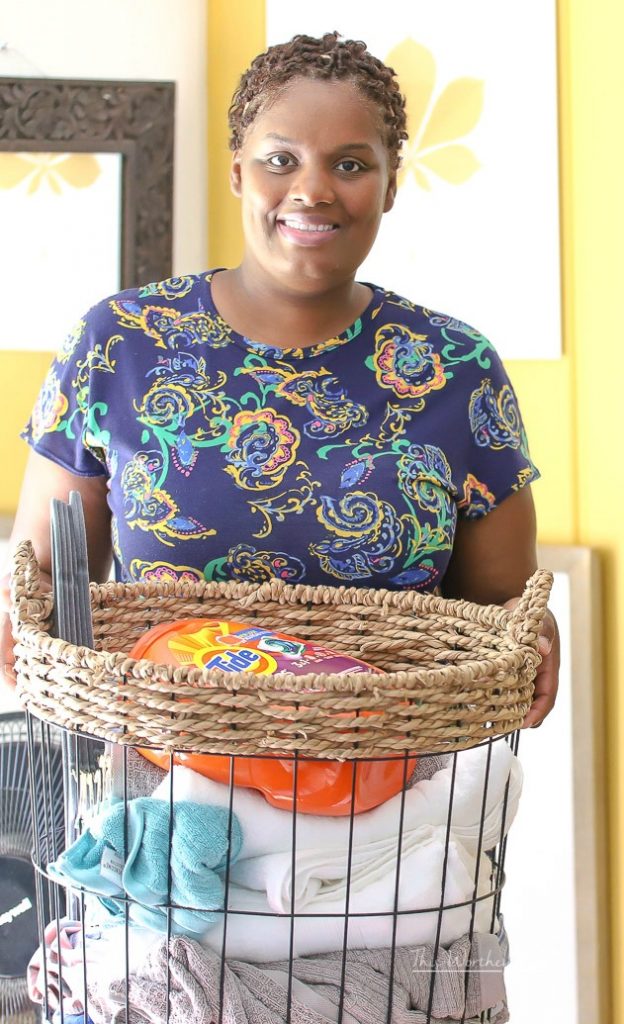 She said:
Growing up, my mom used whatever detergent was on sale. I knew about Tide but didn't understand the importance of using the right laundry detergent until I got married. When I was pregnant with the twins, I learned from other mothers that the only baby detergent to use was Dreft®. I fell in love with Dreft. I knew the twins' blankets, sleepers, and clothes were safe with Dreft, and they smelled just like a baby. From that moment, using quality products mattered to me.
I started using Tide and other top laundry care items exclusively. Yes, I followed my mom's mantra of buying detergent that was on sale, but it was always Tide. I learned how to look for deals, clip coupons, and I kept a stockpile of Tide.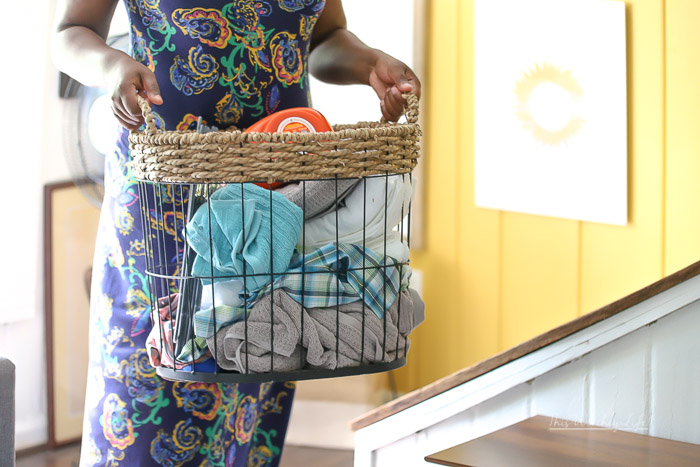 She said:
Raising boys who play sports plus one adorable labradoodle running all over the muddy yard means we go through a lot of laundry detergent. Using
Tide PODS®
versus liquid detergent allows me to get more bang for my buck. And with the boys helping out with laundry, I've noticed they can pour way too much detergent into the washing machine. Having them drop Tide PODS® into the washing machine is a lot easier and controllable.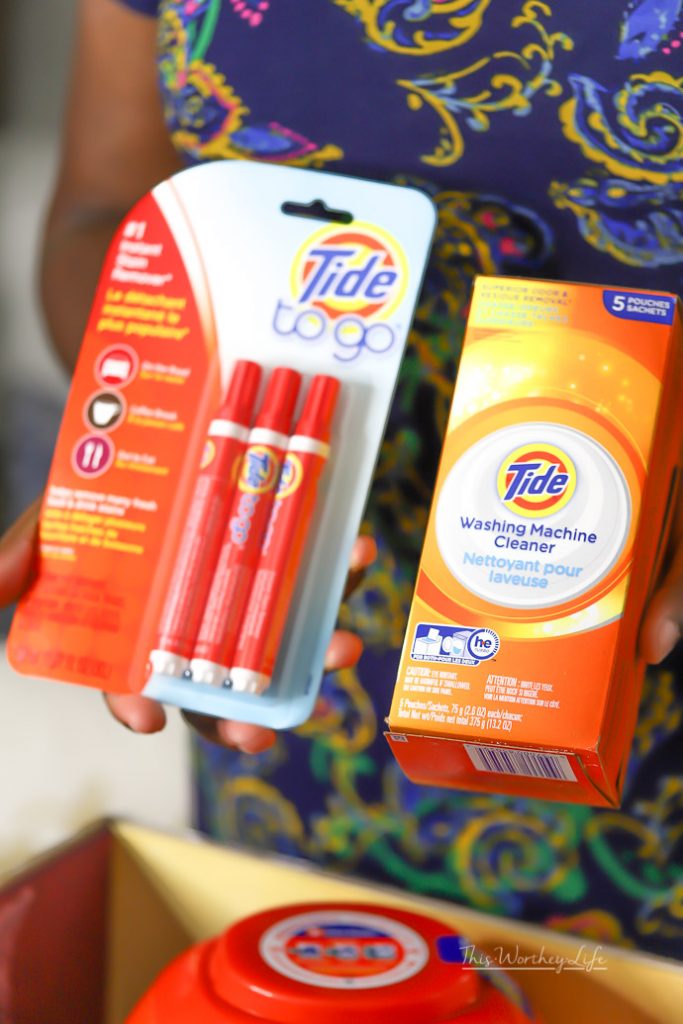 I also like having the
Tide To Go Instant Stain Remover Liquid Pens
on handy. Derrick takes one with him on the road, and I have one in my purse. Those little oops moments of spilling coffee on myself happen more often than I want to admit.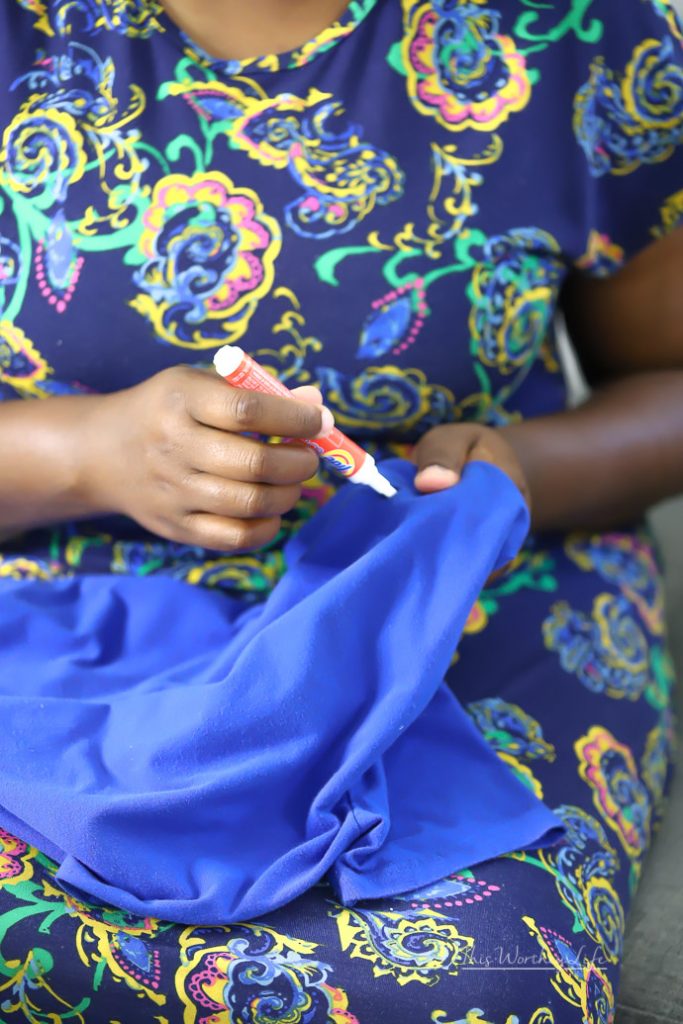 And with our youngest son constantly into everything, I like to have one of these pens handy to help get stains out of his clothes.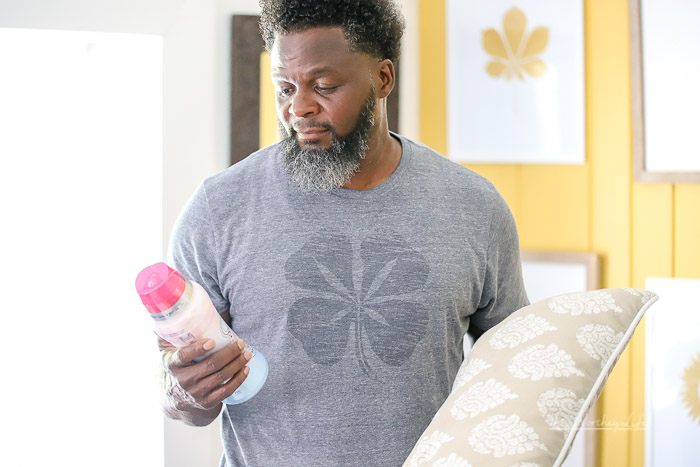 He said:
And with having a puppy, we're still working out the kinks on potty training. Knowing Chance's dog bed is washed with quality and safe ingredients is important. Our puppy is part of the family; if something is not safe for us, it's not safe for him. Using products to help with puppy odor is essential. Thankfully, the Downy® Fresh Protect April-In Wash Odor Shield has got us covered! I also like that I can use Amazon Prime to find subscription deals on food and home decor magazines.
How we use Amazon Prime as Parents
It's common around the Worthey house for random boxes to be dropped off by my favorite UPS or FedEx drivers. Many of those brown boxes are coming from Amazon. I can't tell you how many times Amazon Prime has saved my life! I started using Amazon Prime when I was a college student. It was easy to order items I needed, not have to worry about taking time out to go shopping and have it delivered to me. When I became a mom, my need for Amazon Prime increased. The difficulty of trying to get two babies dressed, in their car seats, to the car, and then to the store was quite a challenge. I think this is why we see so many stores trying to up their game to compete with Amazon Prime. Amazon has known for years the value of having everything you need to be delivered to you.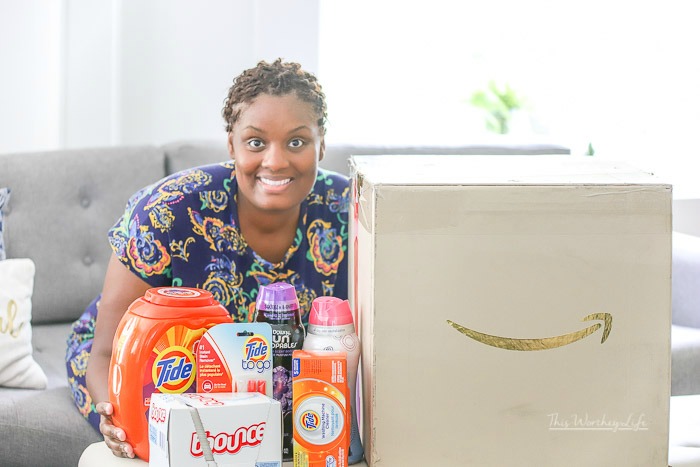 Benefits of Amazon Prime
And with the many benefits of Amazon Prime, my annual membership pays for itself. One of the perks of using Amazon Prime is the Subscribe & Save option. As the boys turn into young men and with one hyper labradoodle running around this house, Amazon Prime is life! With the Subscribe & Save option, I not only save money by buying in bulk, but I also save time. I can set up my subscription with the specific items our family needs, adjust how often I want to receive my items, and never have to worry about running out of our household essentials.
Another benefit of having an Amazon Prime account is taking advantage of Amazon Prime Day. Think of it like a "Christmas in July." Once a year, Amazon puts on a fantastic sale in July.
This upcoming Prime Day will take place soon (be sure to check back for updated information), and we will see some amazing deals with top laundry essentials combined with Subscribe & Save.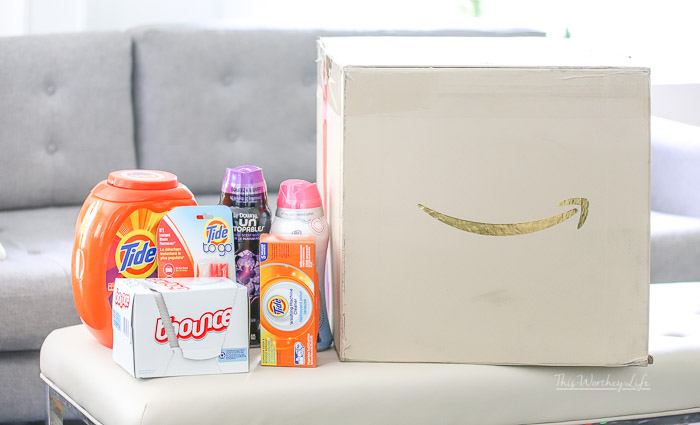 Benefits of Subscribe & Save
When I first started using Amazon Prime many years ago, I didn't use Subscribe & Save. I thought it was too much money, and I found better deals in the stores around me. But, I've had an epiphany in the last few years when it comes to Amazon Subscribe & Save. I've learned to value my time. I still look for ways to save money, and after comparing the cost, I'm finding better deals by buying in bulk using Subscribe & Save (typically saves up to 15%. And I often find coupons to clip to use with Subscribe & Save). And, it's saving me time. Time is money.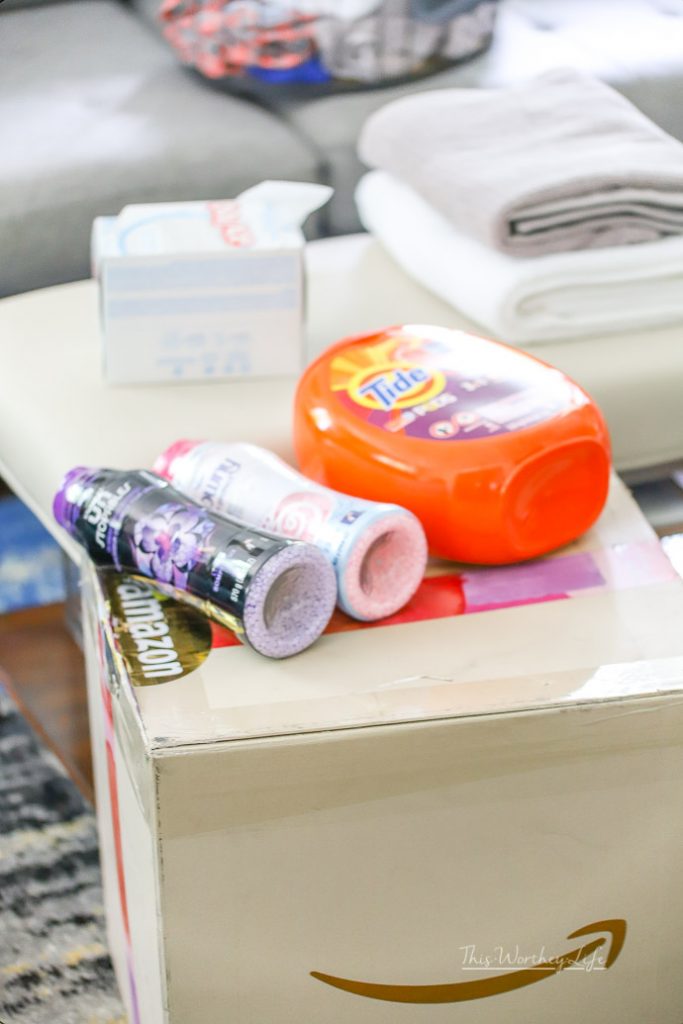 Traveling with Amazon Prime
Another important benefit of having an Amazon Prime account and using Subscribe & Save option is our travel schedule. Lately, I've been traveling a lot, and I've relied on the convenience of Amazon Prime and grocery delivery services to help me out. Derrick works on the road 90% of the time, so our schedules are hectic. There were a few times while out of town, the boys called and needed something. I was able to order it quickly on Amazon Prime, and they had it within a day or two.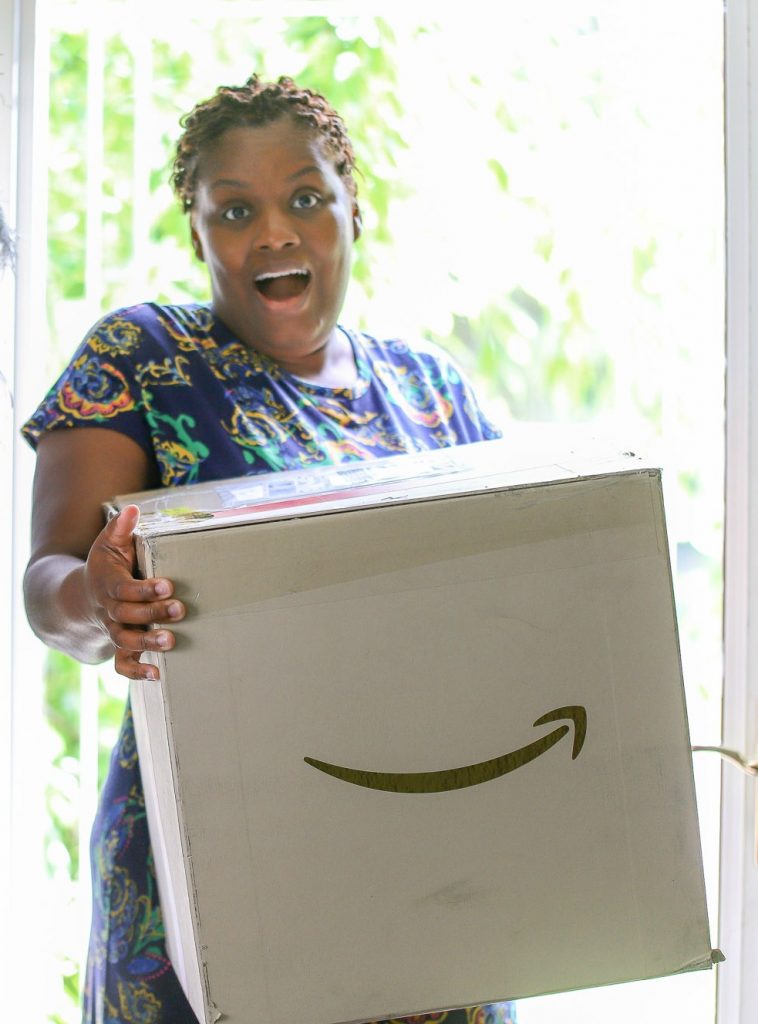 And isn't it the worst feeling, when you are exhausted from your vacation, you come home and realize you need to go to the store? Oh man, that's a bad feeling. With Subscribe & Save, we don't have to worry about it stocking up on essentials. It's delivered to our doorsteps like clockwork.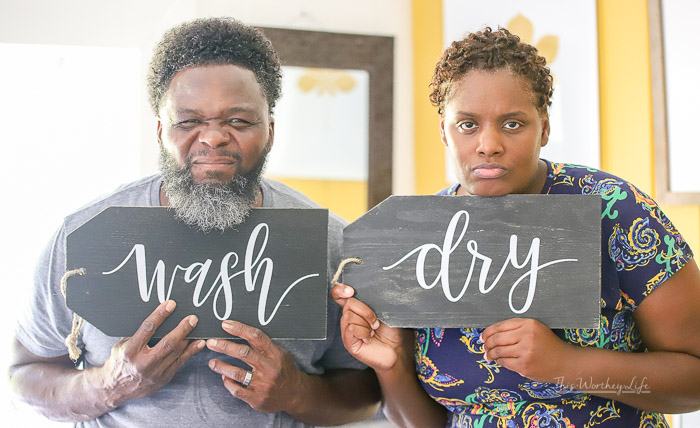 Parenting with Amazon Prime
In the spirit of keeping it real, no one wants to do laundry, but we attempt to make it fun. Sitting down and folding clothes is a great way to catch up on what's going on, the boys' schedules, our upcoming events, and even planning out our week. You could even call it a mini-date night with laundry. Blah, right? But we've found ways to make it fun!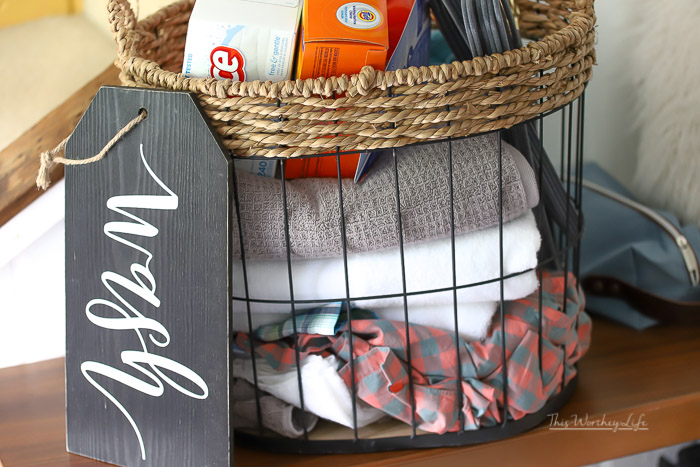 Our boys are growing up, and it's important we spend as much time with them as possible. Using services like Subscribe & Save and ordering essentials with Amazon Prime is one way we save on time—valuable time we want to spend with our boys. This is the real benefit, parents.
Upcoming Amazon Prime Day Sale
Amazon Prime Day will be happening soon! We will see great deals on a variety of products. We are both looking forward to finding deals on kitchen accessories and equipment, clothes and shoes for our boys, travel gear, and new Subscribe & Save essentials. I live for Amazon Prime Day, and every year find great deals for my family. Keep in mind, we will start to see sales leading up to Amazon Prime Day, starting the week of 7/1, then a full 36 hours this year of great deals on Amazon Prime Day.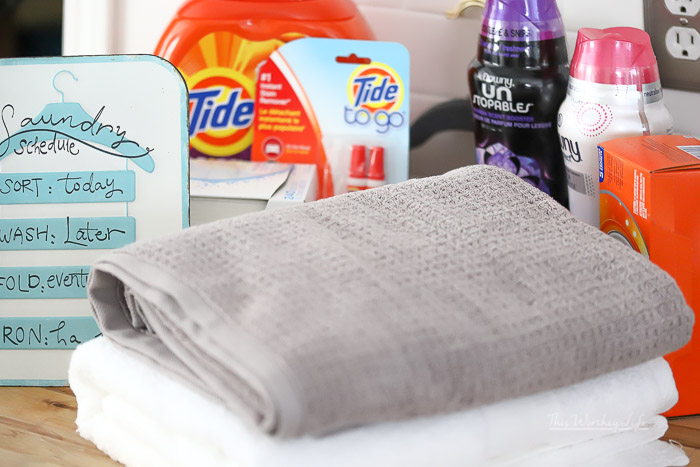 For example, during the lead-up to Amazon Prime Day, we will see 20% off your first Subscribe & Save order on all of our favorite laundry care items! Knowing you can get a great value on quality items is another benefit of being an Amazon Prime member.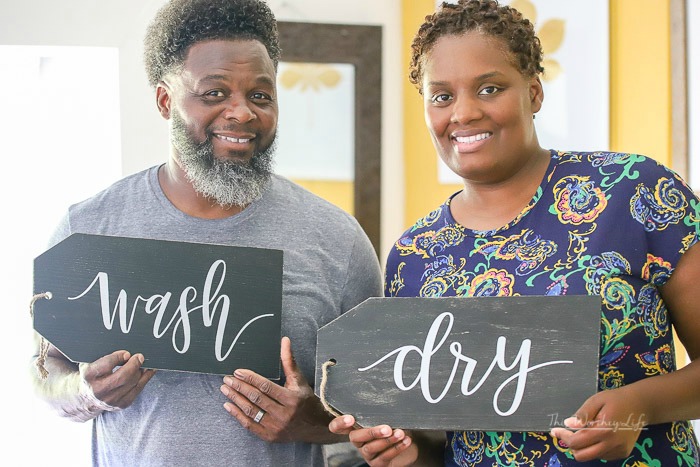 We're so excited; we can't wait to see how we can save money and time with Amazon Prime Day this year!
What's on your Amazon Prime Day sale list? If you're not an Amazon Prime member, we highly encourage you to sign up now! Amazon Prime membership offers many benefits and will pay for itself.