Planning a trip to Anaheim, California? Staying in a vacation house is the best way to go!
Plus, it's close to Disneyland (Universal Studios is not too far away) and has many additional must-see vacation hotspots.
Read on and discover why an Anaheim vacation house rental for your next California vacation is the perfect home away from home!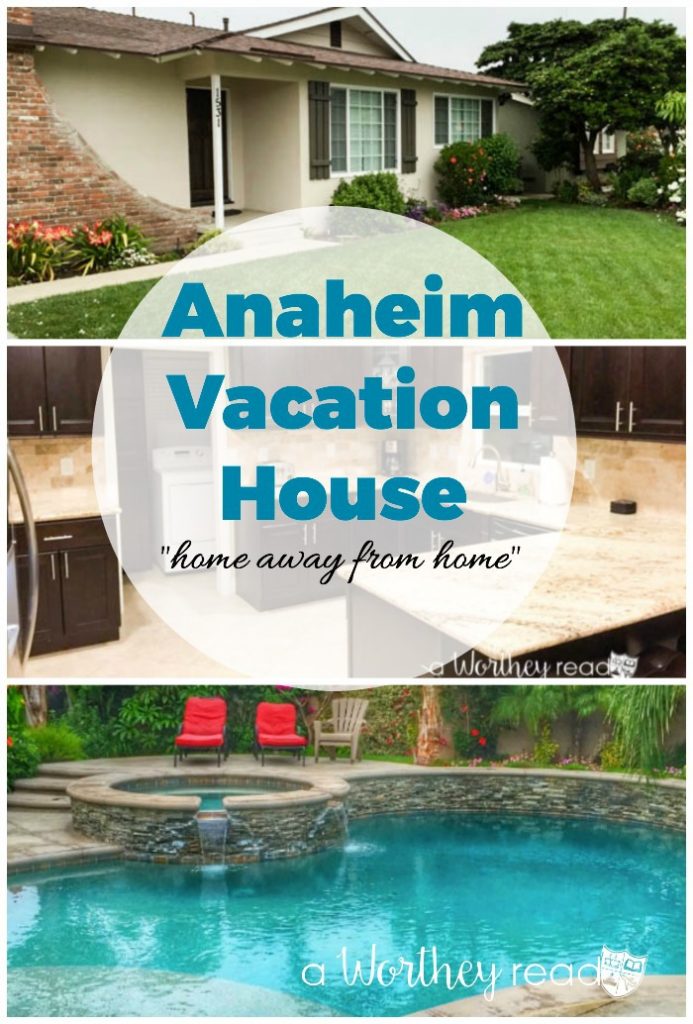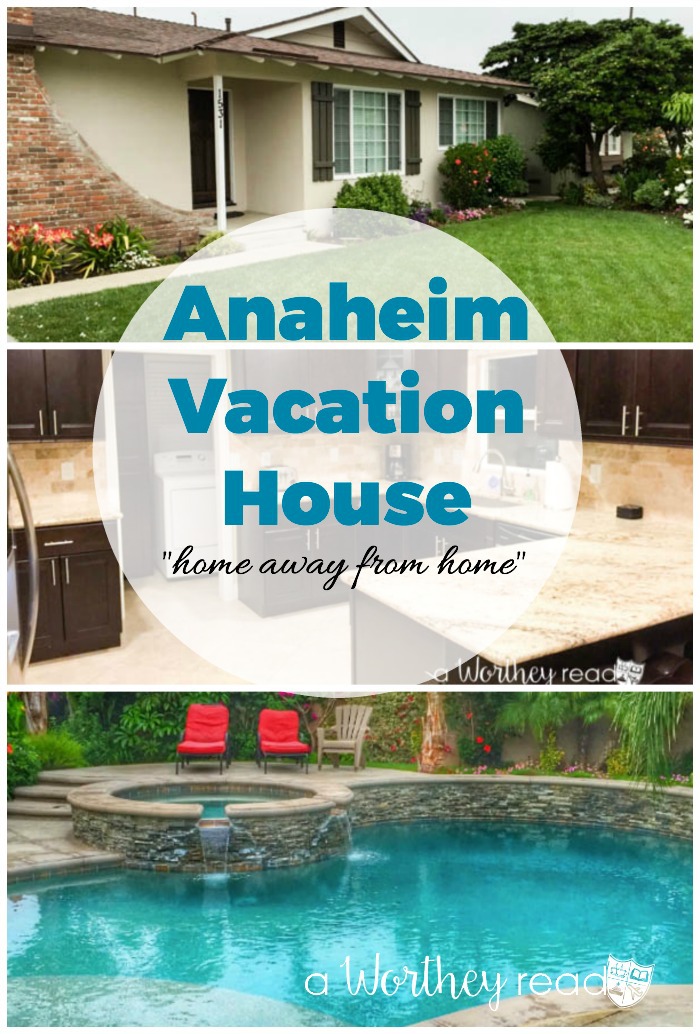 Why Anaheim Vacation House Rentals For Your California Vacations Is The Perfect Place
A vacation house to remember
We recently went on an eight-day vacation to California.
Many who have known me for years know I LOVE California! I call the Golden State my second home away from home.
I've taken at least one trip out west to the Golden State every year since I was a kid. And it is only right that I keep this exciting family tradition with our boys.
For our 2016 Spring Break vacation, we asked the boys where they wanted to go.
CALIFORNIA! I guess that was a no-brainer.
So with the help of the kids (mostly Zayd'n), we put together our itinerary. And after much discussion, we decided Anaheim was the best place to stay.
Here's why:
It's only about 20 minutes (depending on traffic) from LAX and the Los Angeles area.
It's home to Disneyland and many tourist (family-friendly and fun) attractions (dinner shows, Downtown Disney, Knotts Berry Farm, and more).
Beaches surround the area! You can typically get to a beach within 20-30 minutes (again, depending on traffic).
It's centrally located, with easy access to San Diego (about 90 minutes) and other popular California cities.
It's only about 30 minutes from Universal Studios.
Planning a trip to Anaheim starts with finding the right place to stay.
Of course, there are many hotels to stay near Disneyland.
However, when you're going somewhere for more than 3-4 days, you need more than just a regular hotel.
Can you imagine a family of five all piled into a regular hotel for eight days? It isn't happening! Been there, done that, and it just doesn't work.
I would rather stay home rather than deal with too many people cramped inside too small accommodations.
For families of almost any size, we believe the best option for staying in Anaheim is a vacation home.
It's easier than you think. As with hotels and resorts, finding the perfect vacation home is just a click away.
Just type Airbnb into Google or Bing and look at the many incredible options available: rent a studio, apartment, or home for your vacation. It is that easy.
Or you can take it a step further. Over the years, I have become hip to vacation homes.
Here's why vacation homes are your best place to stay when going on vacation.
They are intended for long-term stays. Most vacation rentals require a three-day minimum stay.
You save money by having a kitchen. You can find local grocery stores and stock up on your needs. Yes, you can still eat out while on vacation, but cooking most of your meals will save you a load of money on food. Food and attractions are the two biggest expenditures while you're on vacation, and if you can save money by cooking, who not?
Location. Most vacation rentals are located near amusement parks, beaches, etc. The Anaheim Vacation rentals within minutes of Disneyland and Downtown Disney. Our particular unit was just about 5 minutes from Disneyland.
You don't pay for things you won't use. You often pay resort or convenience fees when staying at a hotel or resort. When staying at a vacation rental, you will not see those excess charges on your bill.
Privacy. I have stayed at many resorts, and don't get me wrong; we enjoy them. However, when you don't want to share the pool with 100 people, staying in a vacation property seals the deal! So, if you want to skinny dip at midnight or enjoy the pool without a bunch of "lookie-loos", you can do so right in the privacy of your vacation home's backyard.
Have an epic family vacation or reunion. If you have plans to take your whole family, including your extended family on vacation, a big rental house will probably be enough room for everyone. Talk about an EPIC family vacation. And you can split the cost of the rental property and groceries if you have questions or other concerns like Whether pets are allowed, wheelchair accessibility, etc., just them up and ask.
Pack Less. Since you have on-site laundry facilities, you don't have to pack many clothes. Traveling light will also save you money because lighter luggage means cheaper luggage fees. No more paying those outrageous baggage fees at the airport for heavy luggage. And if you wash, dry, and fold before you depart, you have less to put away when you get home. Double win!
So let me tell you about our Anaheim Vacation Rentals: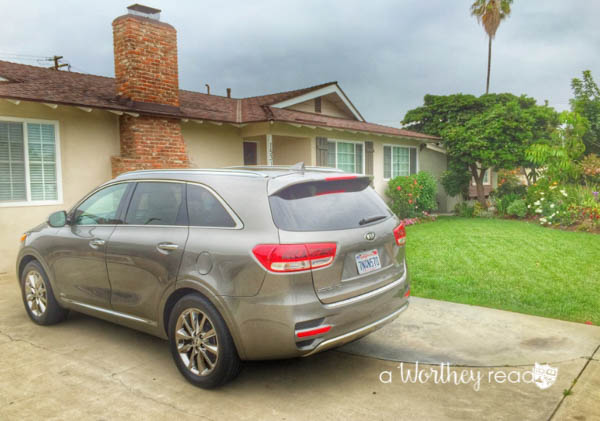 After unlocking the front door, the door swung open.
This space opens up to the living room on the left with a couch long and big enough to sit the entire House of Representatives!
Well, maybe not, but according to our information sheet, this particular vacation home can accommodate up to fourteen guests.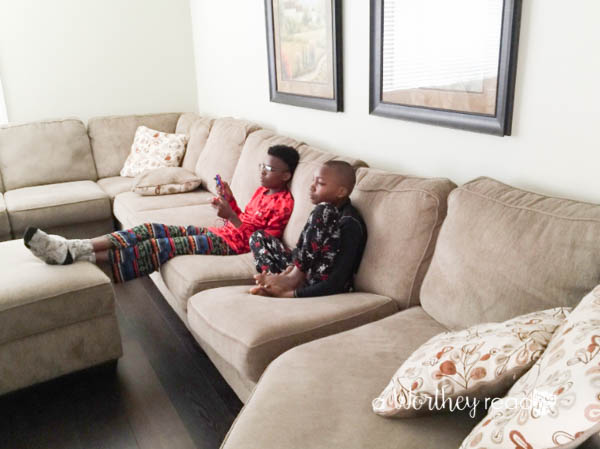 This vacation home also has four very spacious bedrooms: two of the bedrooms have large bunk beds, and the other two bedrooms have a queen and king-size bed, respectively, and there are three and one-half bathrooms.
Each boy had their own room! Zayd'n grabbed the room with an attached bathroom.
Let me tell you; he LOVED it. His room also has a door leading out to a beautiful patio area and pool.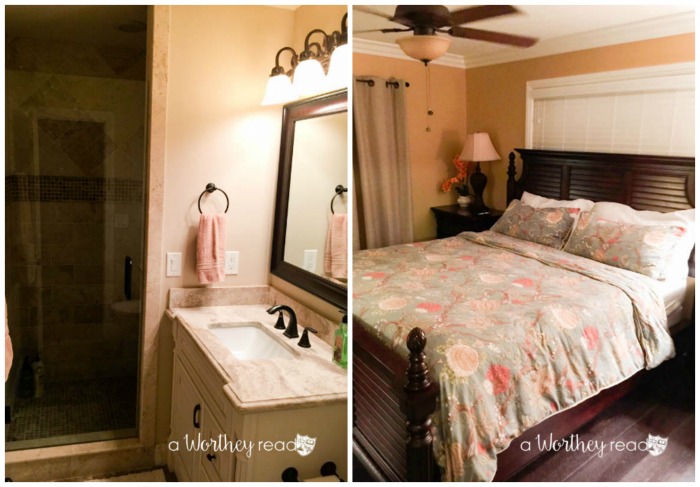 The twins each took a room with bunk beds in it.
And they shared a bathroom right across the hall from their rooms.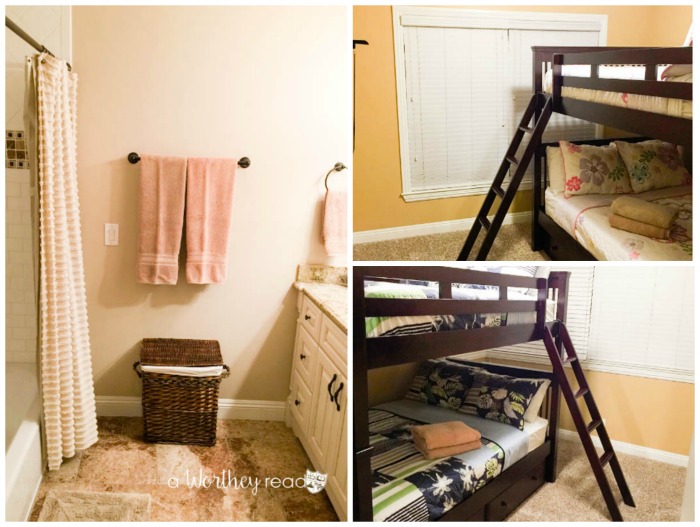 We took the room towards the back of the house; the master suite with a huge closet, big bathroom, and king-size bed! And did I mention it was AWAY from the rest of the bedrooms? #nuffsaid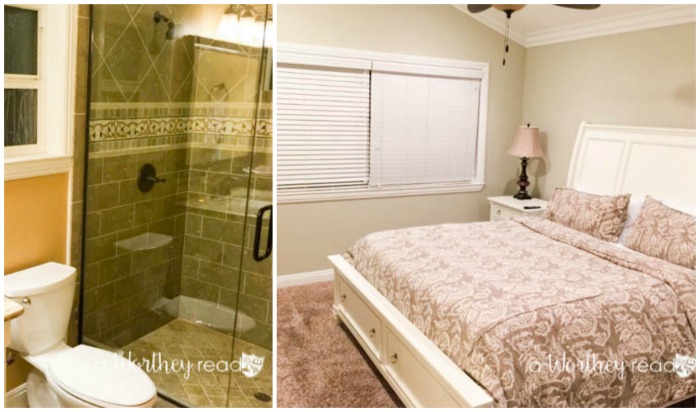 A large gourmet kitchen, two eating areas, and laundry facilities exist.
We LOVE this kitchen. Not only did we have room to cook and store our stuff, but also a space to work.
And each vacation house comes equipped with essential utensils, cookware, tableware, spices, and cleaning supplies.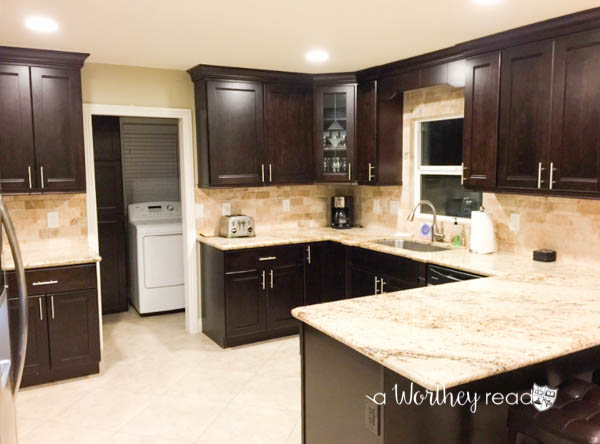 Off the back of the kitchen is a small 1/2 bath and a washer and dryer.
Another bonus of staying in a vacation home vs. a hotel, you have laundry facilities.
So while you're out at the parks or relaxing by the pool, your laundry is quietly churning away.
No worry about a laundry mat or bringing home dirty clothes for this Mom!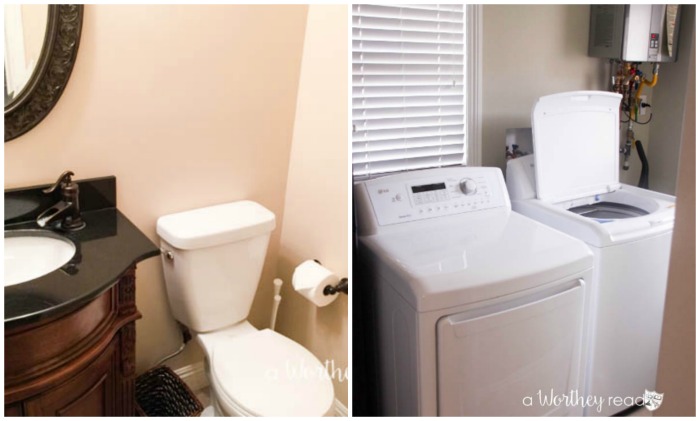 This is a clean and spacious house.
And even if there were nothing else to point out, we would have been very pleased.
We head out back, and we can't believe it.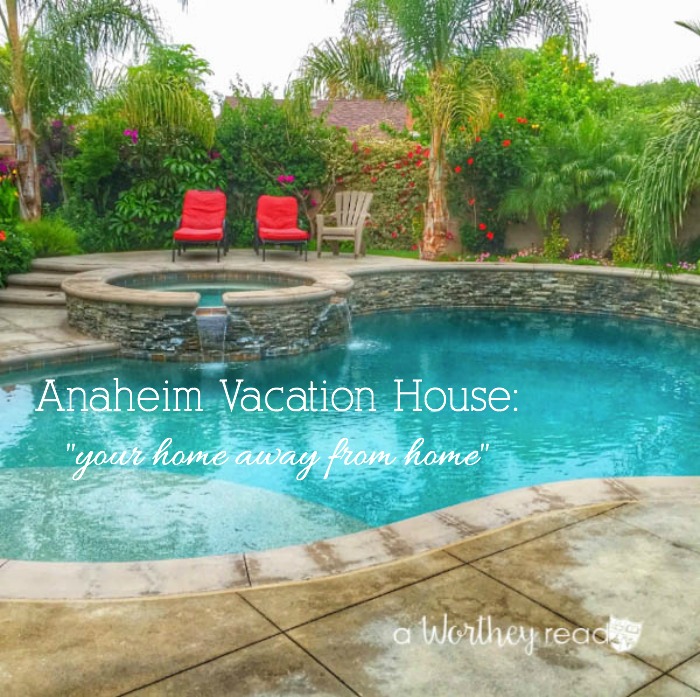 There is a large tiled patio area, and beyond that is a shimmering swimming pool and a large heated Jacuzzi!
Just WOW! What a gorgeous area, with lots of greenery and bright, fragrant flowers.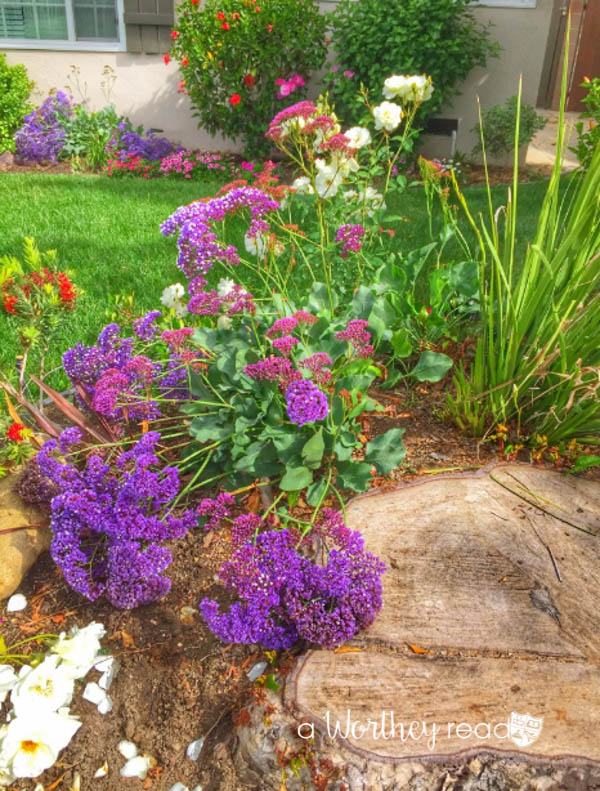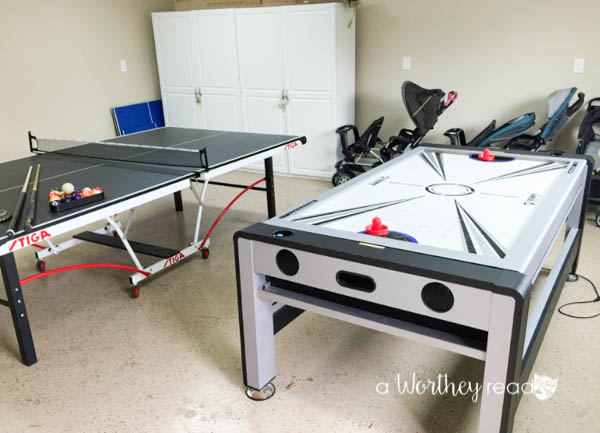 The garage, upon closer inspection, has been converted into a game room, replete with fuzzball, a ping-pong table, and lots of board games, etc.
A vacation home to remember
A vacation house is undoubtedly the best option if you plan a family vacation for over a week.
You get privacy, and it is like having your home right there with you in more ways than one.
You'll save money on meals. You, too, can cook your meals, maybe not all of your meals, but if you prepare breakfast and lunch, there will be more money to spend on dinner, or that's extra money to spend on something else that catches your eye.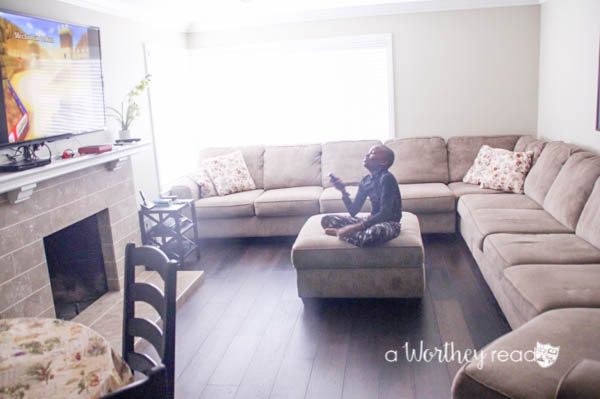 Most hotels only serve breakfast until 10:00 a.m., but with a vacation home, the kitchen is always open, as is the pool area and Jacuzzi.
And your family won't have to worry about other guests or staff.
We had access to a private fenced-in backyard with gorgeous landscaping and a fully-furnished patio area with a grill.

Two large bamboo bins were filled with clean fluffy and large beach/pool towels.
And with the new washer and dryer, you can wash whatever and whenever we need to, and guess what?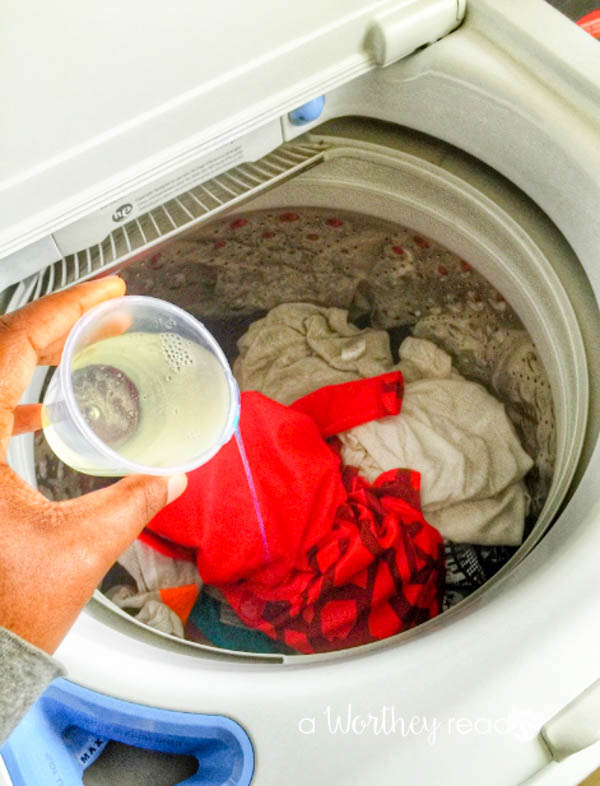 The laundry facilities weren't coin-operated!
Yes! So, when you run the numbers and factor in the money, you'll save on food, laundry, and some forms of hotel entertainment; Anaheim Vacation House is waiting for you to book it already.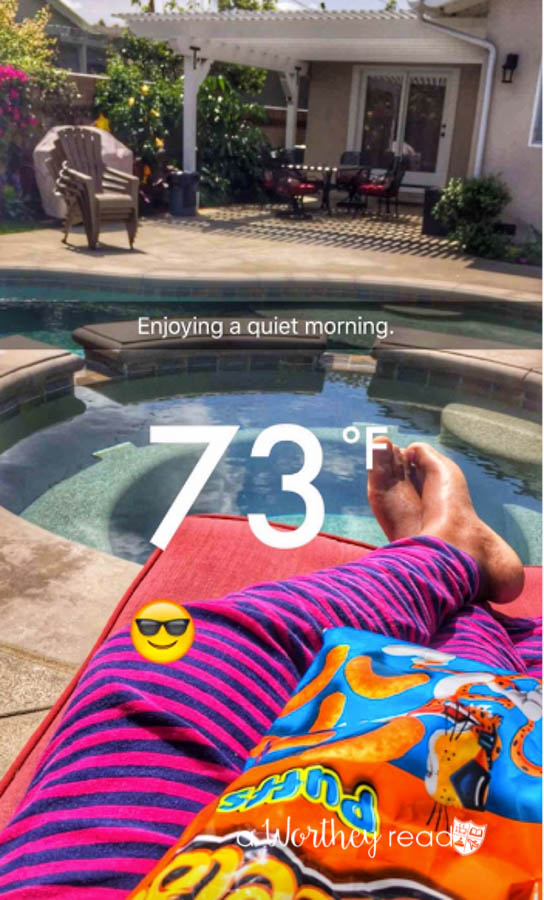 Benefits of staying at Anaheim Vacation House Rentals:
Excellent Customer Service. LaDonna was more than helpful when booking our stay to pick the right rental property for us. We told her we wanted to go to Disneyland, and she set us up with a property just five minutes from Disneyland. Shortly before our stay, I was emailed last-minute instructions, including the nearest places to eat, grocery stores, and local attractions.
Beautiful properties. I've only stayed at house #23, but after looking at the properties on their website, they have stunning homes with beautiful views.
Great availability. Sometimes things happen when you're staying in a rental property. Their staff is available 24/7 to take care of emergencies and last-minute situations.
Quality Vacation. With Anaheim Vacation House Rentals, you will feel at home. They provide you with all the necessities and essentials in the home. All you have to do is come and relax.
All in all, we had a wonderful time during our eight-day vacation in Anaheim. Over the next few weeks, we will share more in-depth of our adventures in California, Disneyland Tips and tricks, and more. So, be sure to stay tuned.
In the meantime, if you plan to head to Anaheim and look for the best places to stay in this area, check out Anaheim Vacation House.
You can also use this unique coupon code to help you save on your nightly rate.
Find more information on Anaheim Vacation House: Facebook | Twitter| Pinterest |Instagram|
You can get $25 off per night on rental homes (use coupon code Amitten25 ) and $10 off per night on condos #20 and #24 (use coupon code Amitten10)
And let's not forget all the memories you will create by having your space!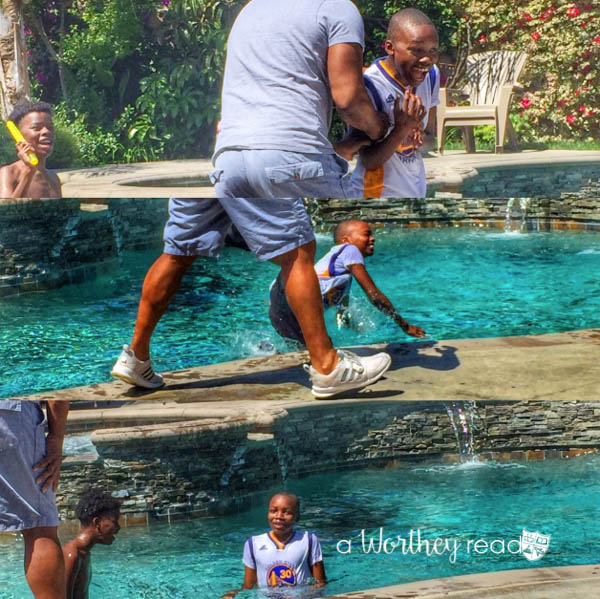 It's safe to say we all had a wonderful time and can't wait to go back!
Have you been to California before? What are some of your favorite things to do there?
Have you ever stayed in a vacation house?
Hopefully, our story has enticed you to consider thinking outside the box when booking your next stay!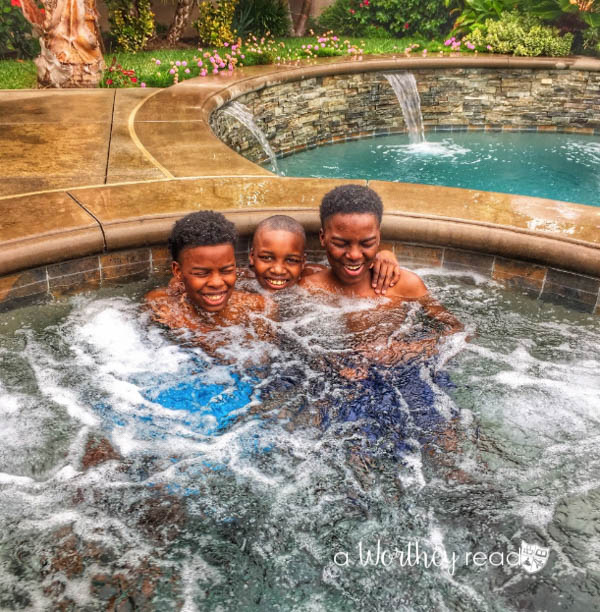 Disclosure: I received a complimentary stay to facilitate this review. However, this post contains nothing but my 100% honest opinion!