Get the 411 and a behind the scenes look at the Black Panther Red Carpet. See photos of the royal attire and why The Black Panther Red Carpet Was The Blackest Reunion ever!
The Black Panther Red Carpet Was The Blackest Reunion
It's the night after the Black Panther World Premiere, and I'm sitting here trying to grasp what just happened. I got my first red carpet experience last year for Marvel's Thor Ragnarok event, which was pretty cool.
However, I said nothing could have compared to the Black Panther red carpet experience (or, in this case, a purple carpet).
The dress code was royal attire
It was THEE blackest, dope red carpet experience Hollywood has ever seen. The dress code wasn't your regular Oscar-type gown or party dress.
Oh yes, there was a dress code, and mannnnn did people deliver!
People have been planning for this premiere since they heard about Marvel making the Black Panther movie. And they did not disappoint.
The Black Panther premiere was like watching a live fashion show. The purple carpet was the runaway, and people walked, strutted, and showed OUT!
Take a look:
When I received my invitation to this prestigious event, I immediately went into panic mode.
I'm not a fashionista. However, I knew I had to find something to fit the royal attire theme.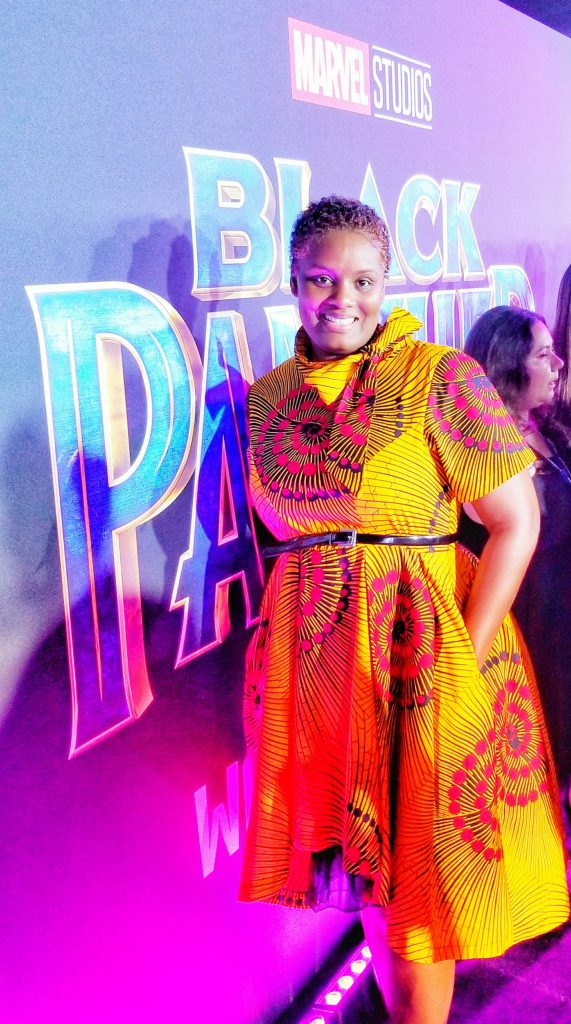 Thankfully, a few weeks before leaving for L.A. I found a dress by Yetunde Olukoya, a medical doctor turned designer, from her shop Ray Darten.
This dress was out of my comfort zone, but I pulled it off.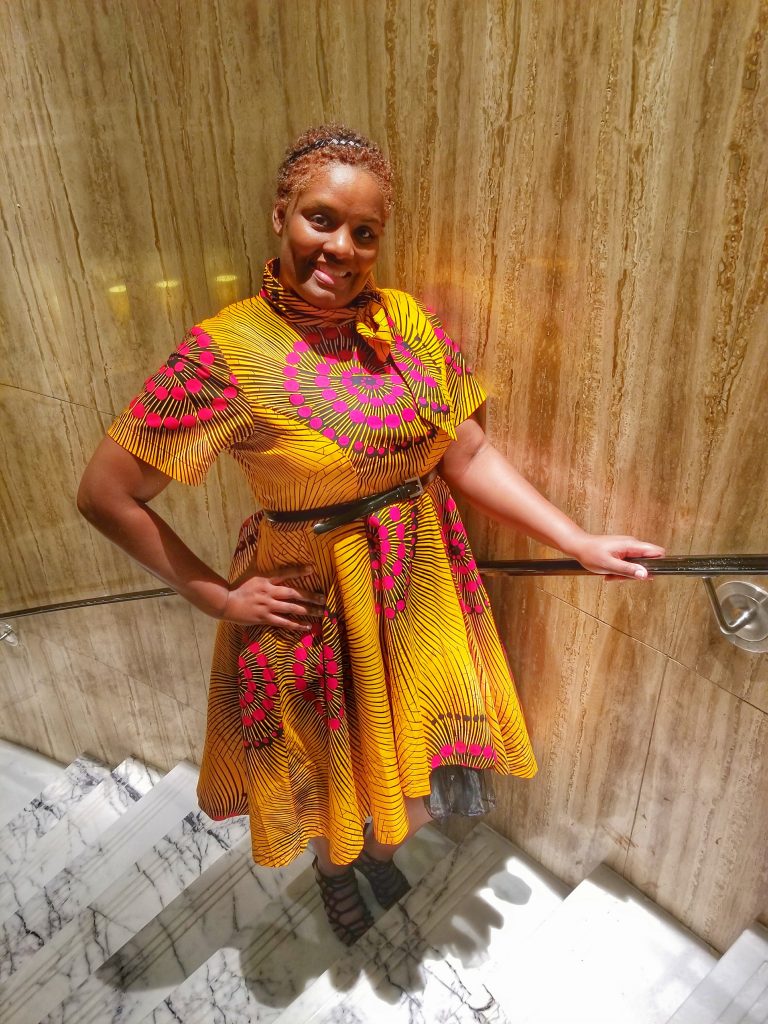 The blackest reunion
Black Hollywood came out in droves to attend the world premiere of Black Panther. It was like a family reunion on the red/purple carpet.
When you're on the red carpet, it's a totally different experience than watching it on T.V.
It goes by fast, and unless you're a star, you're expected to keep moving down the carpet into the theater. Inside the Dolby Theater, the melanin just kept poppin'.
As different stars greeted one another, and we (myself and other bloggers) quietly squealed about seeing this person and that person, the vibe was, "we here!"
There was anticipation and excitement as people took their seats, only to get up again to greet someone else that walked into the theater.
Once you enter the theater, your phone is put into a locked case. So, you can imagine the ugh moments we all had when we passed different celebrities.
I'm not one to go nuts over celebs (well, I have a small list), but it is a pretty unique experience to be in the same room with Hollywood's elite. And, surrounded by a sea of melanin– no words can describe that particular moment. It was priceless!
Here are a few people we spotted on our way in and out of the theater:
Jamie Foxx (who came by and shook our hands and told us how we beautiful we looked)
Jill Scott
Usher
Garcelle Beauvais
Martin Lawrence
Yara Shahidi
George Lucas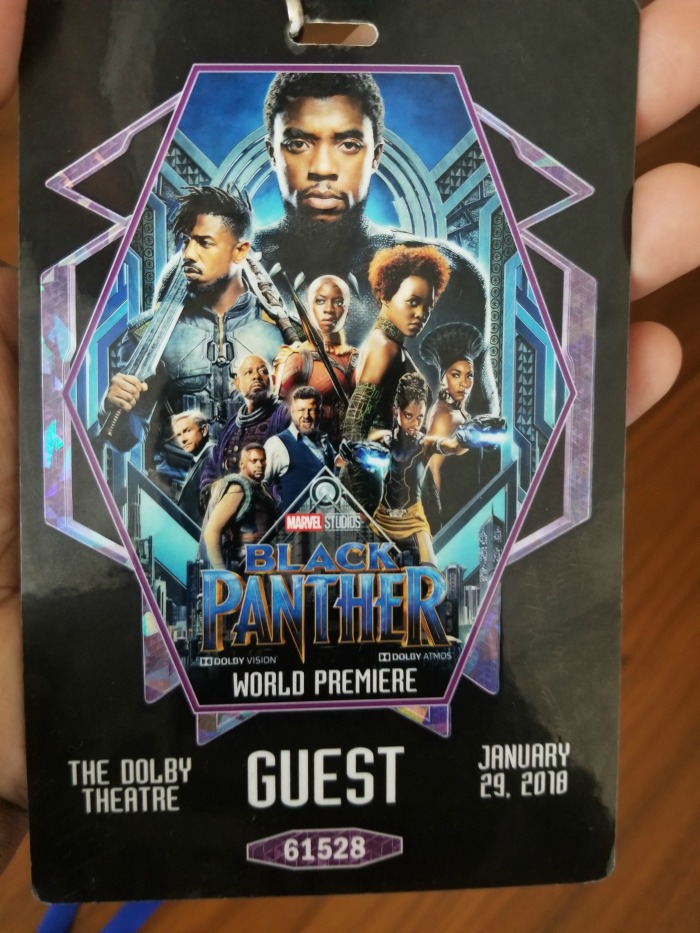 The Dolby Theater
Attending the world premiere of Black Panther in The Dolby Theater was an experience within itself.
It was my first time walking inside, and this place is HUGE! And it was packed with a little bit of everyone. Our seats were located in the front, center stage. Behind us were the women of the Dora Milaje, along with a few other members of the cast.
You could hear their excitement when their scenes rolled across the screen.
The Cast of Black Panther
Close to 8 p.m., the event got underway.
After the president and producer Kevin Feige (along with the other producers) and director Ryan Coogler was introduced, it was time to bring in the cast of Marvel's Black Panther.
The crowd went wild as each actor and actress was introduced to the stage.
But honey, let me tell you. When Angela Bassett walked across the stage, EVERYONE was on their feet! I mean, how could you not stand up and give her a standing ovation? She sashayed onto that stage soaking it all up, looking like she just used up a fresh jar of cocoa butter. I mean, the saying, "black don't crack," was created by her!
The crowd continues to go crazy as Lupita, Daina, Forest Whittaker, Michael B Jordan (women were swooning), Chadwick, and the rest of the cast was introduced.
After we gave another standing ovation to the whole cast, they were escorted off the stage and into their seats. Showtime!
After the movie, everyone rose to their feet to give another thundering standing ovation.
We all shared the same sentiments- man, this movie made us PROUD! Marvel exceeded our expectations.
The cast delivered, slayed, tore it up.. all the feels. Stay tuned for my review of Black Panther coming next week!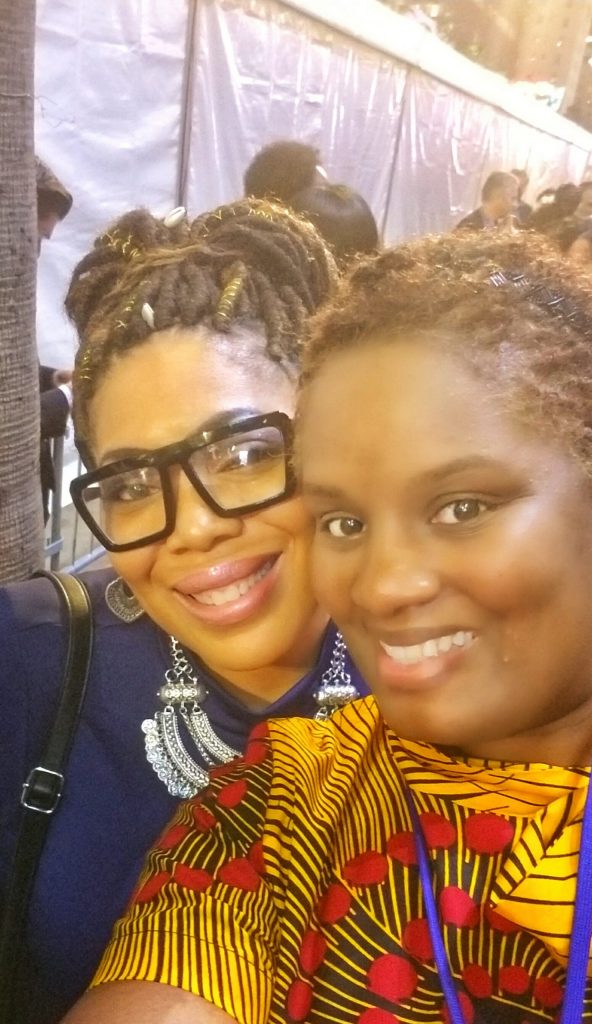 Black Panther will be in theaters on 2/16. This is one film you do not want to miss, and I highly encourage you to get your tickets now (if you haven't already).
And while you may not have attended the world premiere, there will be many fashion statements made on 2/16 as people make their way to see Black Panther!
What are you wearing? Drop me a line below and let me know!
Get more Black Panther news here:
Why Black Panther Is Going To Be LIT
Black Panther Character Meet And Greet | Everything You Need To Know
A Look At Black Panther's Design + Production with Hannah Beachler + Ruth E. Carter
Marvel's Black Panther Movie Review