Are you looking for an African American Santa Claus Mug? This post shares a list of the best places to find Black Santa Mugs, just in time for the holidays.
We're sharing various places where you can find a Black Santa Claus Mug, including a Black-Owned Business. Keep reading!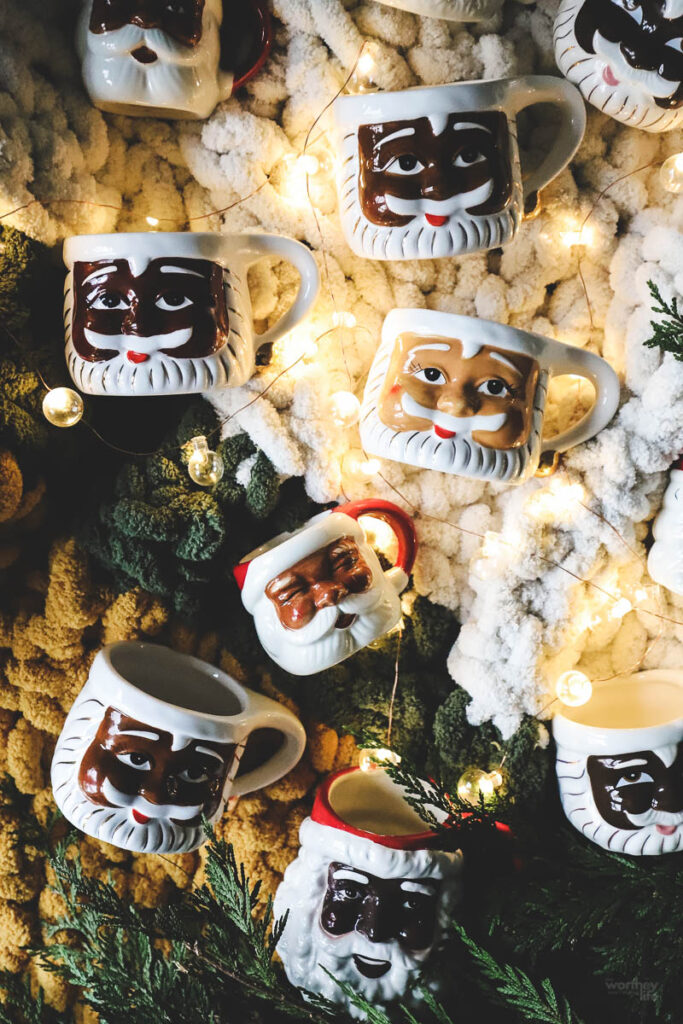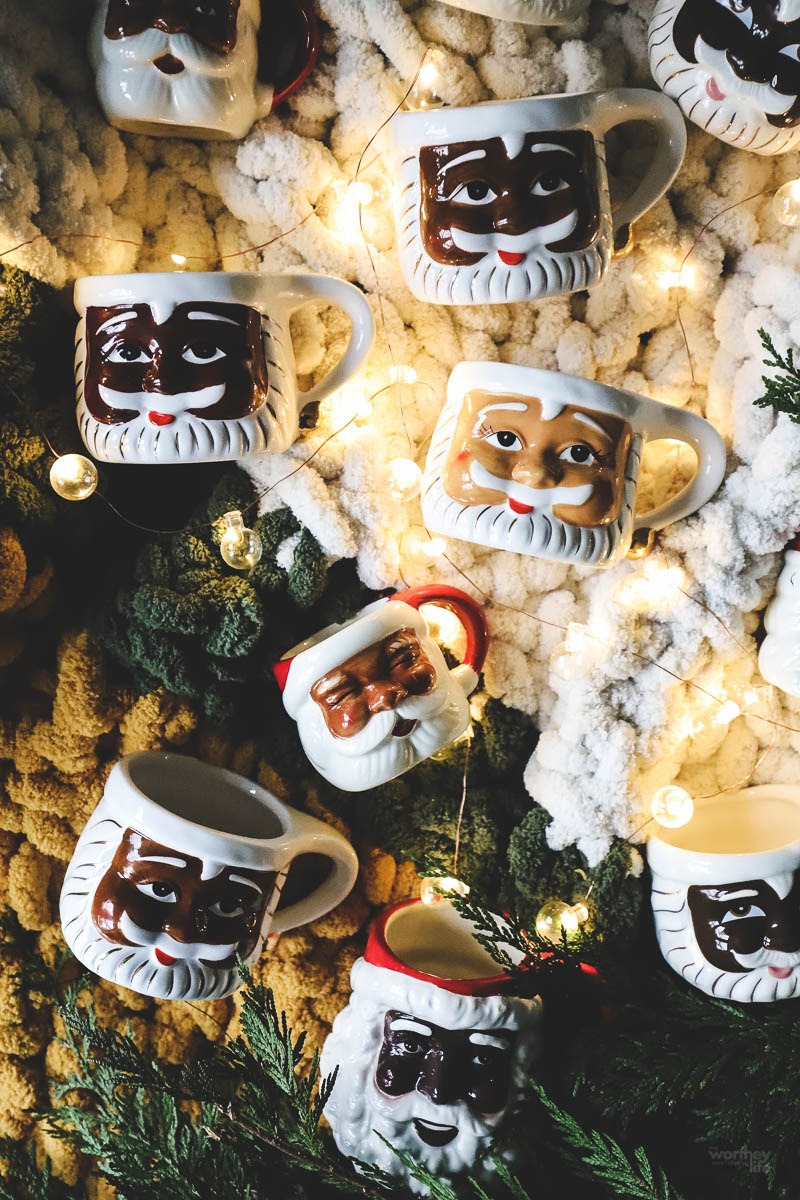 Best Places To Find Black Santa Mugs
Christmas is my favorite holiday! I've been intentional about finding holiday items that represent myself and my family.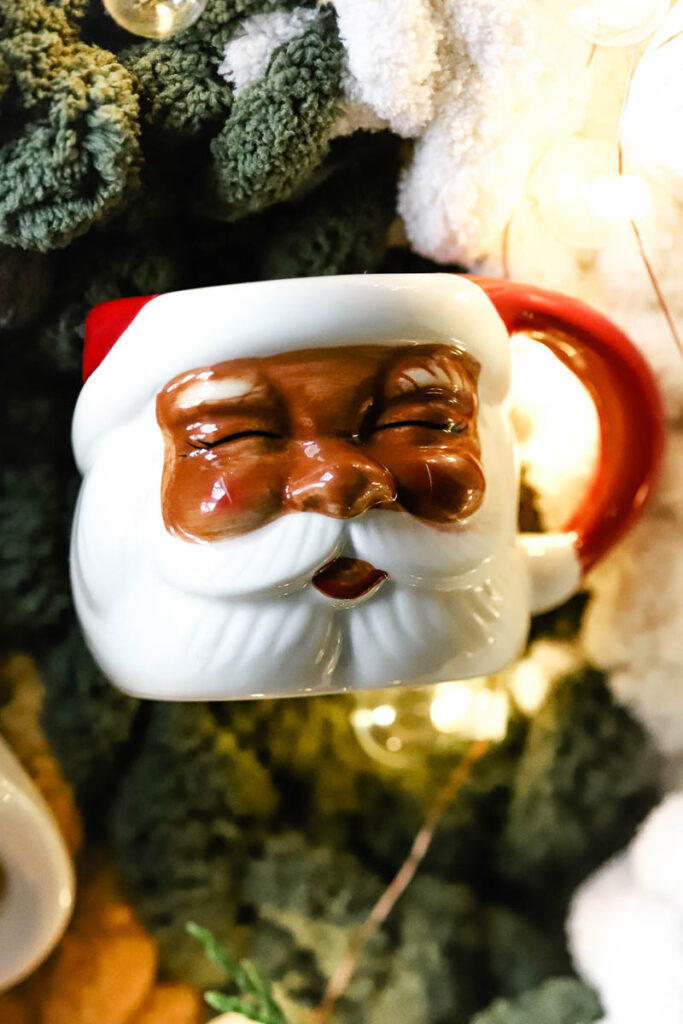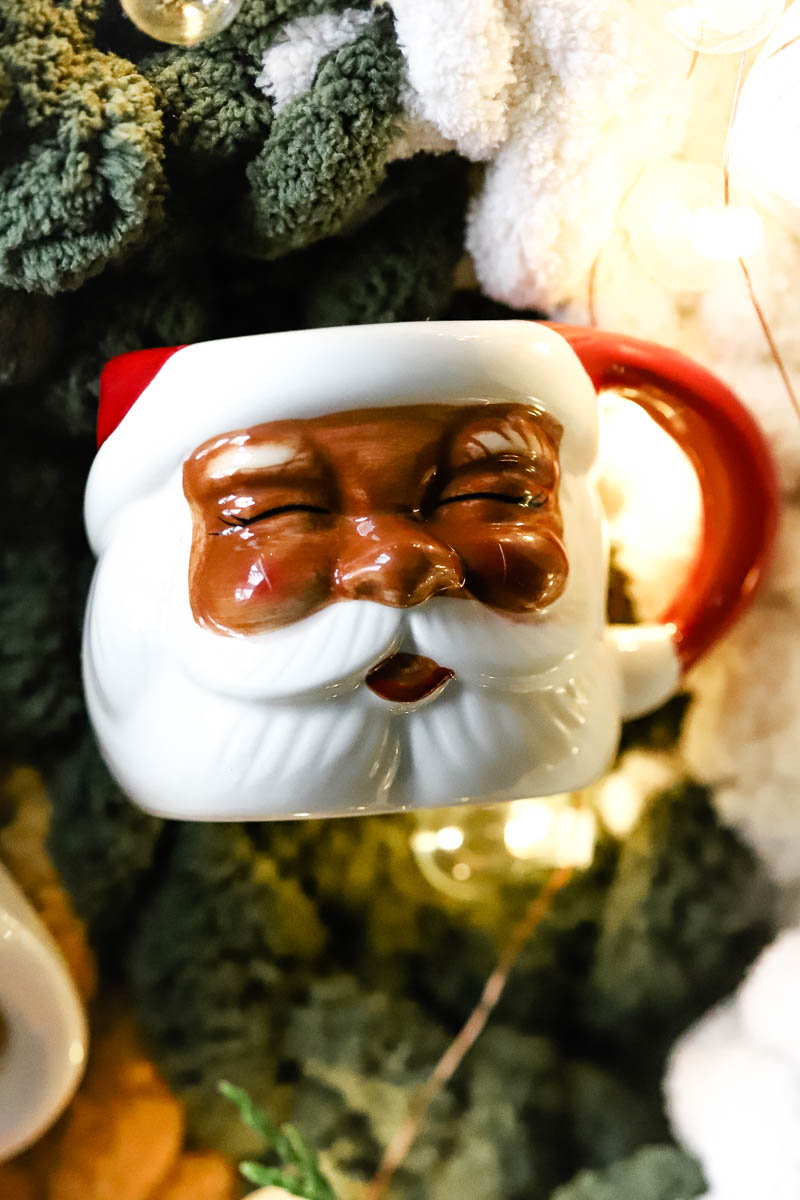 I purchased my first Black Santa mug two years ago, and every year I've added to our growing collection.
I'm sharing a list of places where you can buy an African-American Santa Mug down below. These mugs would be a great gift idea or to diversify your collection.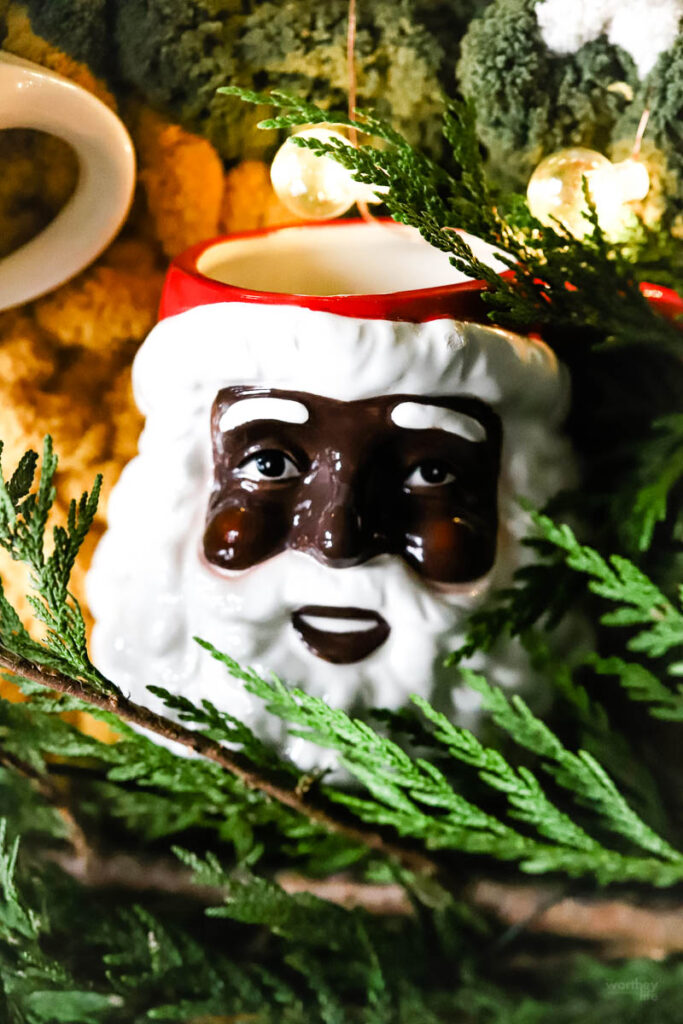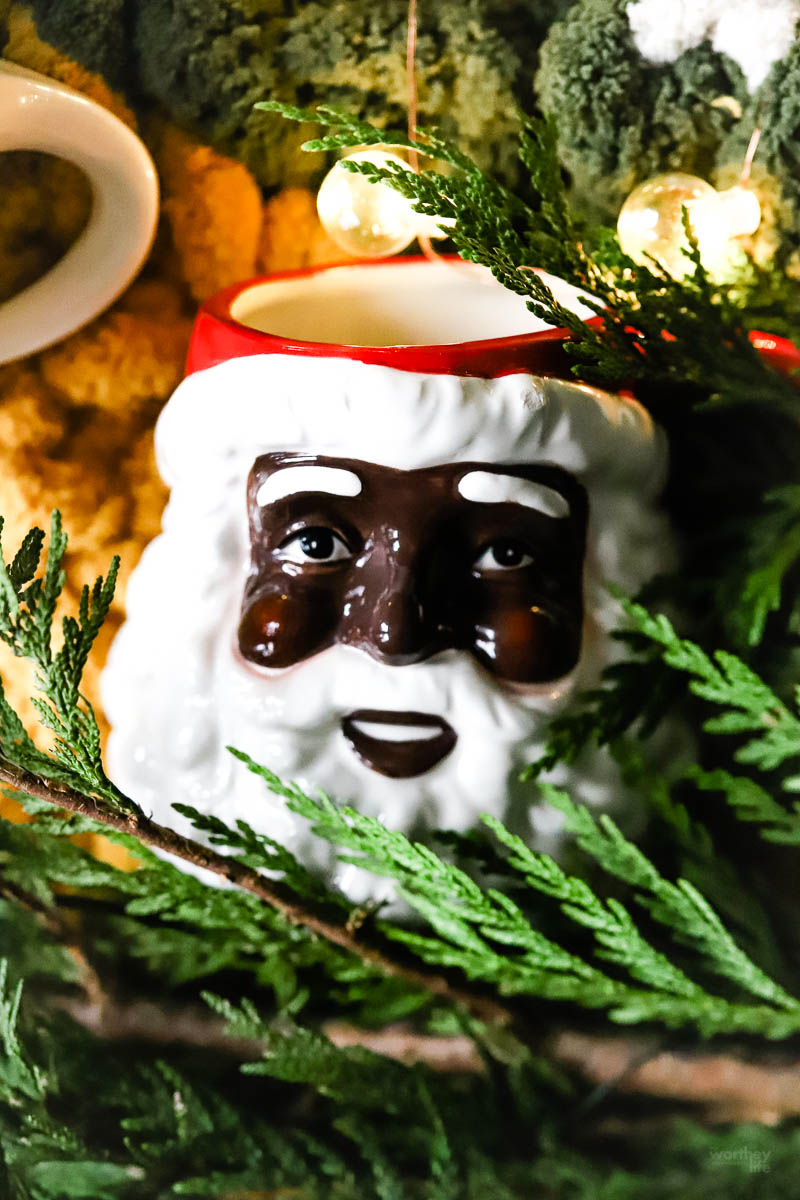 My first Black Santa Claus mug can be purchased from Black Art Depot. If you're looking for a Mrs. Claus, they carry a Black Mrs. Claus Mug. Black Art Depot has a variety of ethnic holiday decor, so be sure to browse around!
The perfect mug for the upcoming Christmas season! Our high-quality ceramic mug depicts a jolly African American Santa Claus. We are proud to present one of the first and only African American Santa Claus that you will find on the market today.

This hand-painted mug holds 16 ounces of coffee or tea, measures 4 inches (Height) x 6 inches (Width) x 4 inches (Length). The diameter of the opening of the mug is 3 inches. It weighs 14 ounces.
Note: Walmart carries these mugs in a set of 4.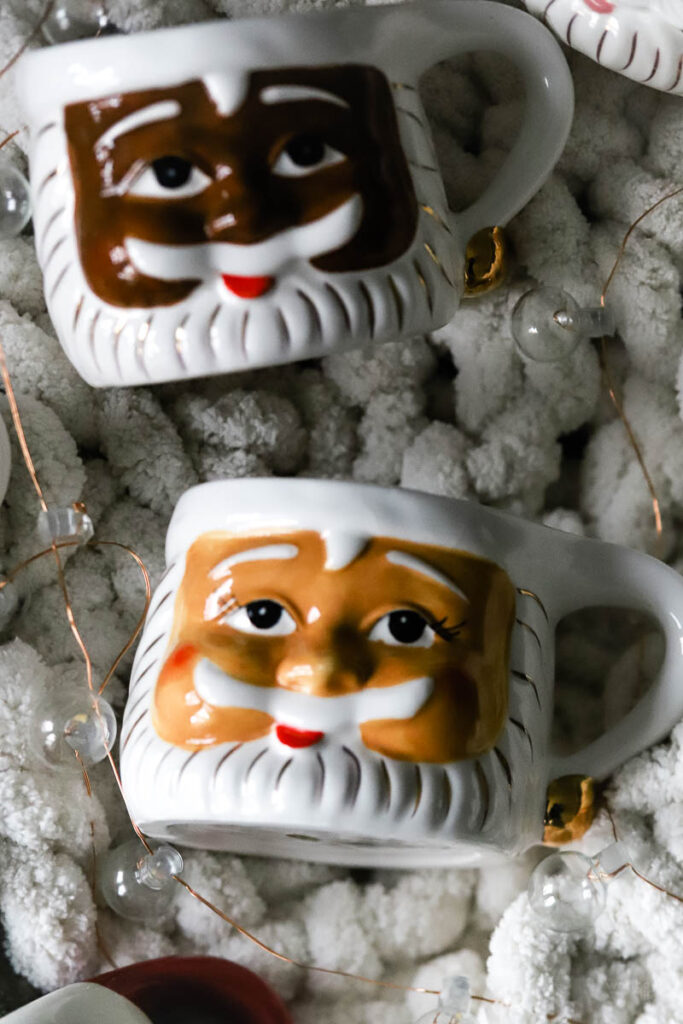 Black Santa Hot Cocoa Mug from Black-Owned Businesses
Last year, I ordered this gorgeous mug and enough mugs for every family member from Sunny & Ted (Black-Owned Business).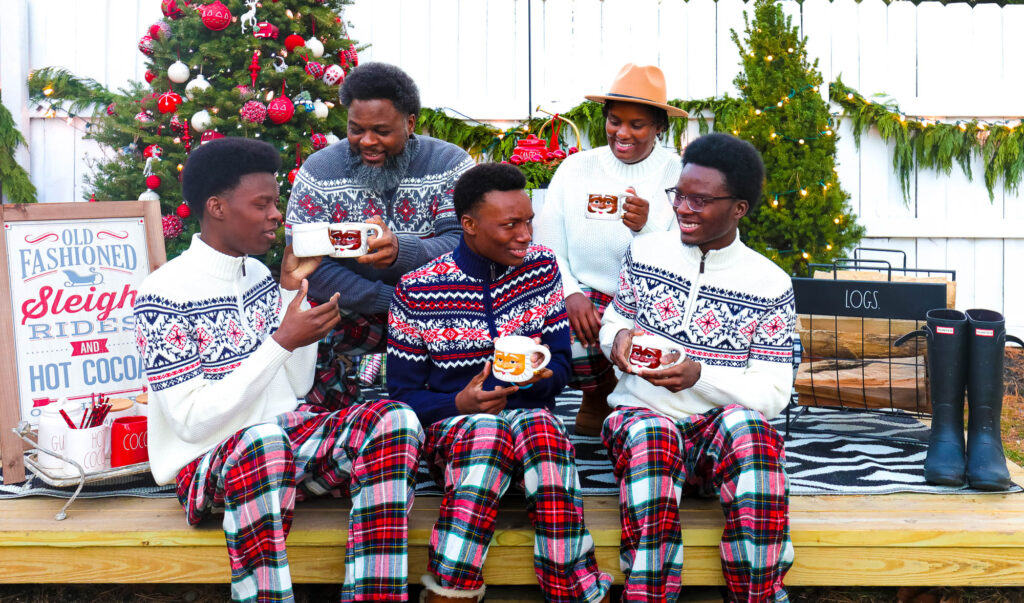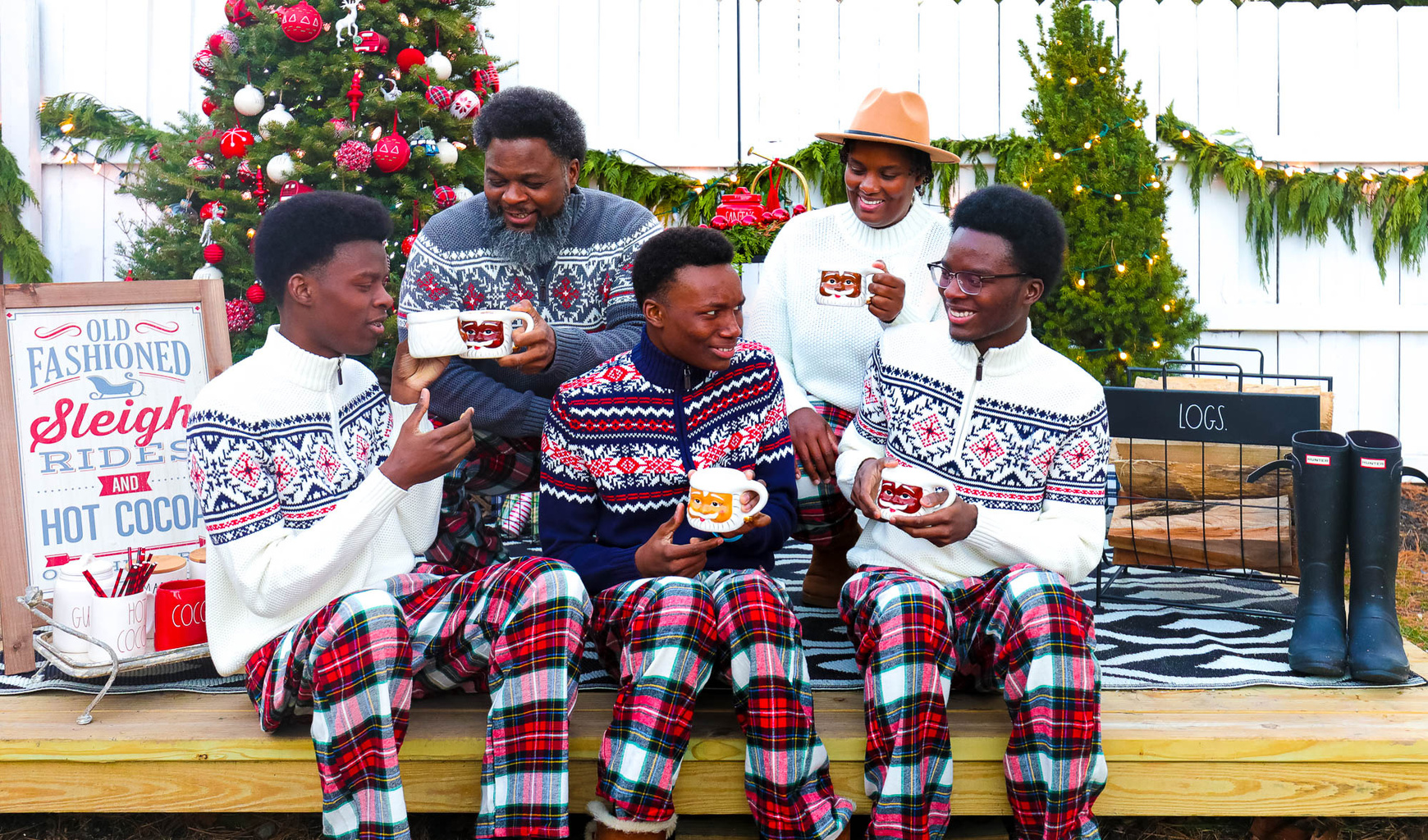 Not only can you find three shades of Santa mugs, but she carries plates and a variety of other Christmas items.
Sunny & Ted's Black Santa Hot Cocoa mugs sell out fast, so head to her site to get notified of the next mug drop.
You can also follow their IG page to get notifications of the next drop.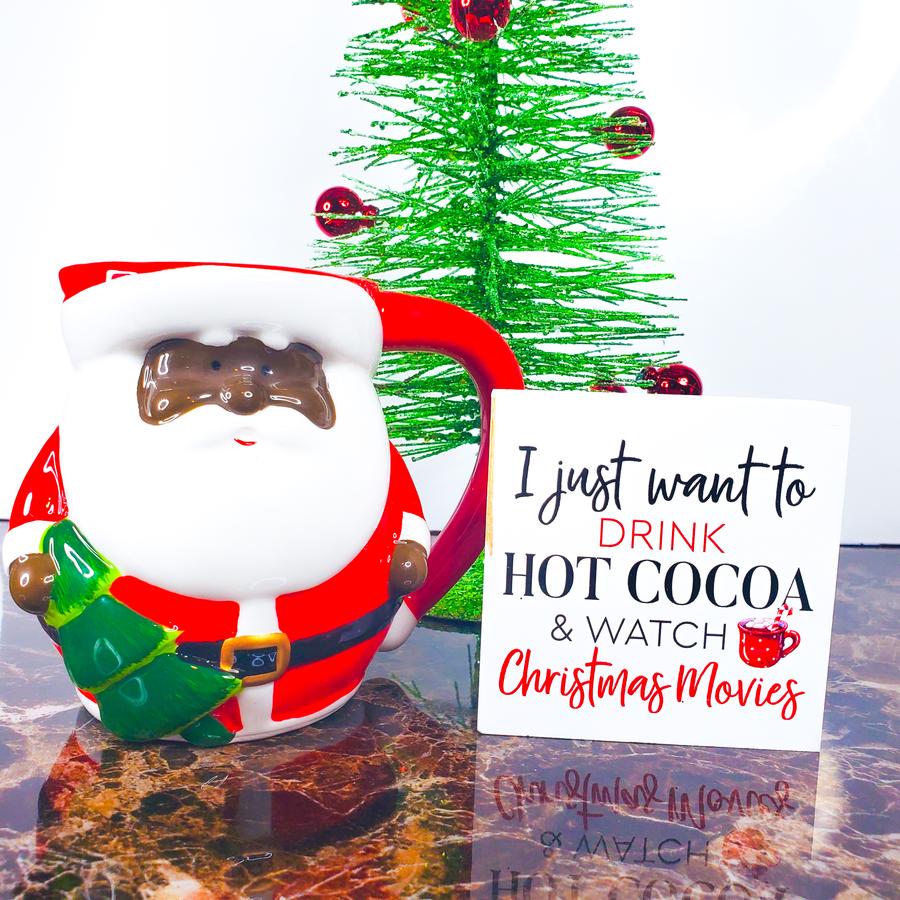 Another Black-Owned Business to find Black Santa mugs is BlackSantaMugs.com, run by two African-American sisters.
Not only can you find this Santa mug, but they also carry candles and a stackable Nutcracker mug.
Super cute!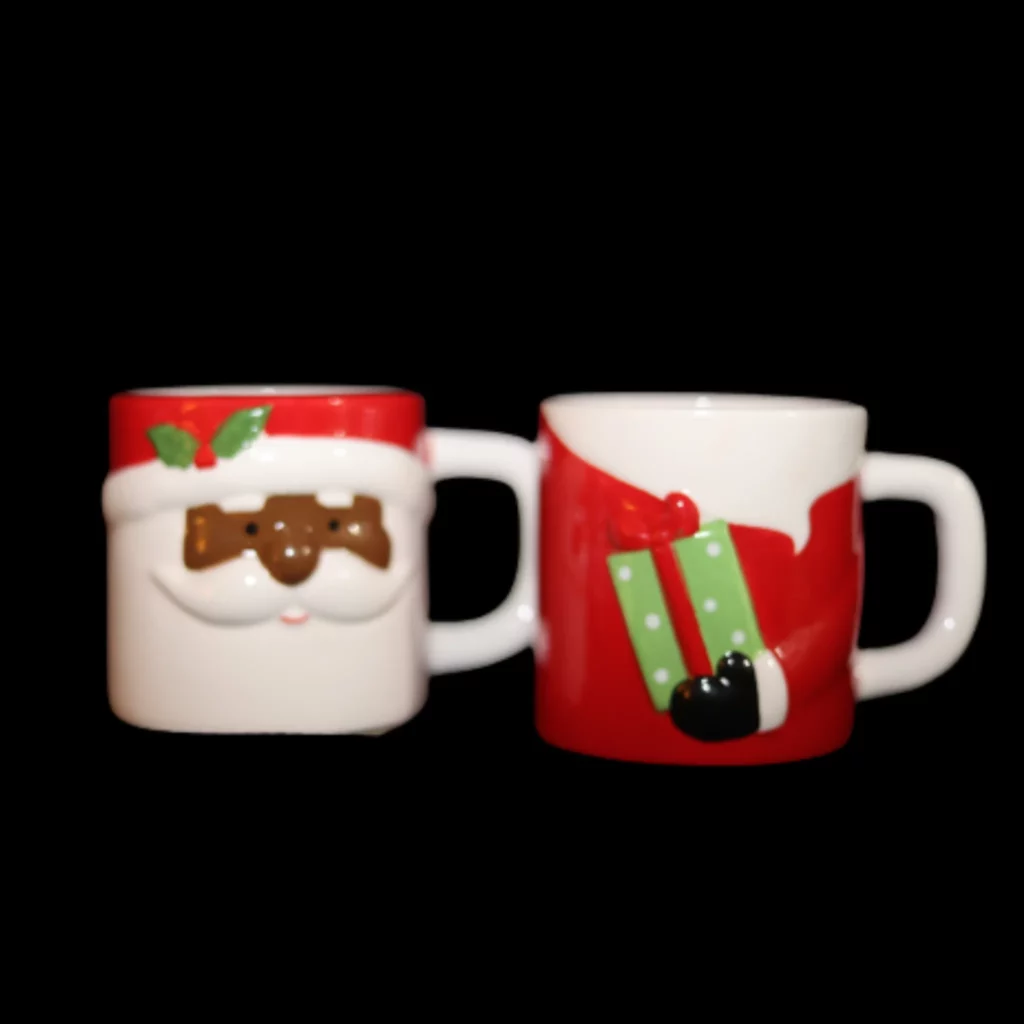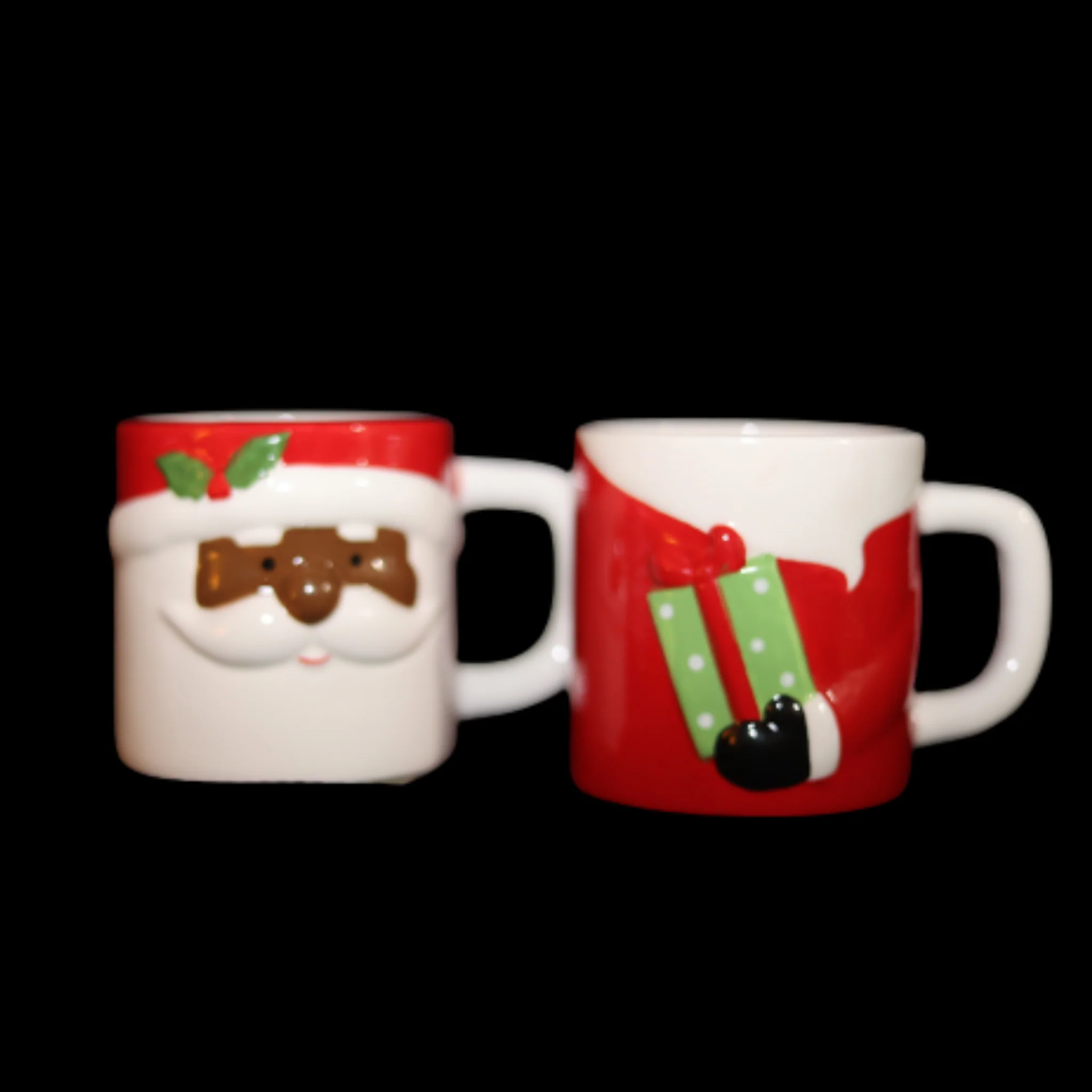 Another Black-Owned Business run by a Black Woman is, Sip Happens.
Not only will you find Black Santa mugs, but wine glasses with a Black Santa face, as well as ribbons, napkin rings, coffee mugs, and more!
Plus, this BOB gives 5% of her proceeds to help other families!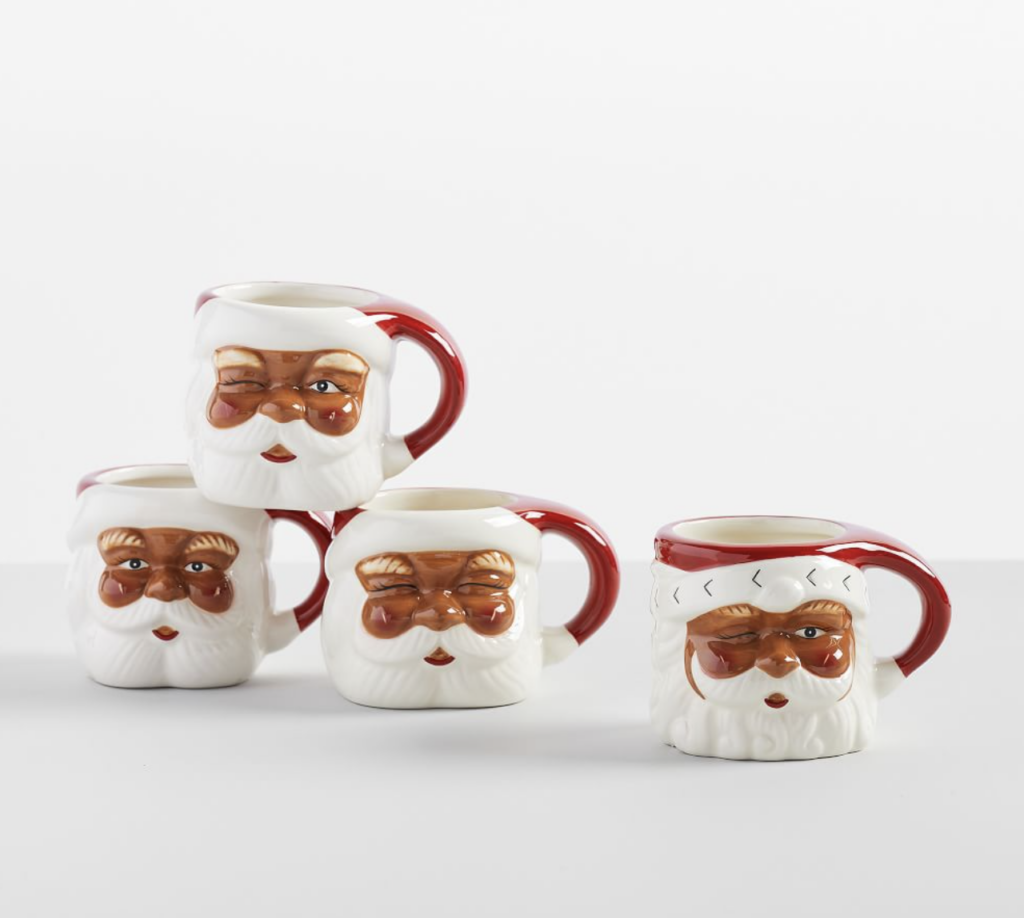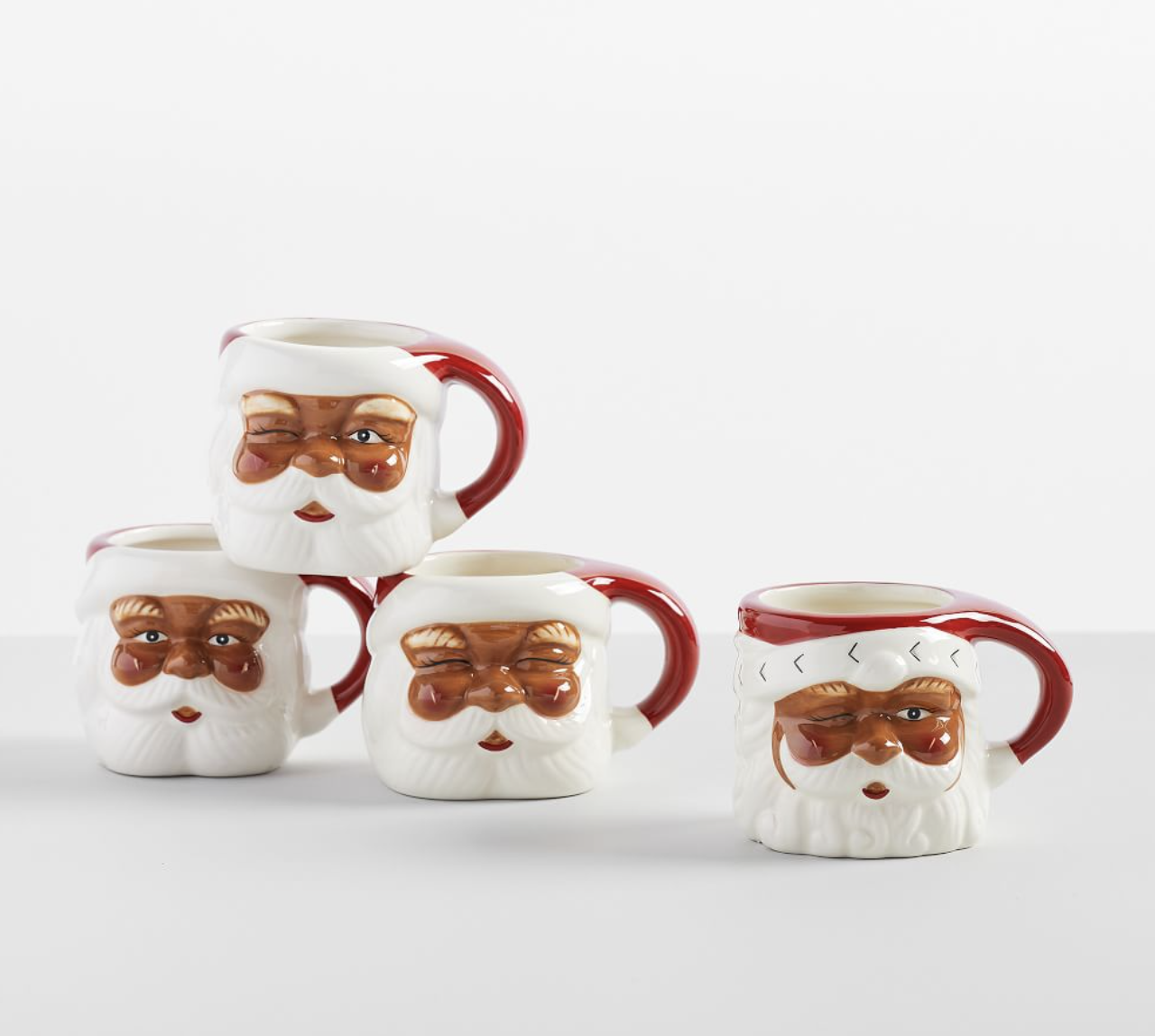 This Santa Claus Ceramic Mugs from Pottery Barn comes in a set of 4.
This set would be perfect for a family, or keep two and gift the others. This is a new item for Pottery Barn, so if you love this set, you may want to grab it before they sell out. If you are near a Pottery Barn, you can purchase these mugs individually.
Have a holly-jolly holiday season with our handcrafted Santa Claus mugs. Whimsical with a hint of nostalgia, the classic Christmas icon is here to keep your drinks warm and your spirits bright. Inspired by the vintage decor, his hat curves down to create the handle for these cute-as-a-cookie mugs.
Handmolded of earthenware.
Each mug features a different expression.
Sold as a set of 4 or individually for in-store pick-up.
Dishwasher and microwave are safe.
Phthalate, BPA, lead, and latex-free.
Imported.
While dishes are microwave-safe, they may become hot. Handle carefully.
DIMENSIONS
Overall: 4.25″ w x 3.25″ d x 2.75″ h
Capacity: 8 oz
Order this set online now, or look for individual mugs in a Pottery Barn near you.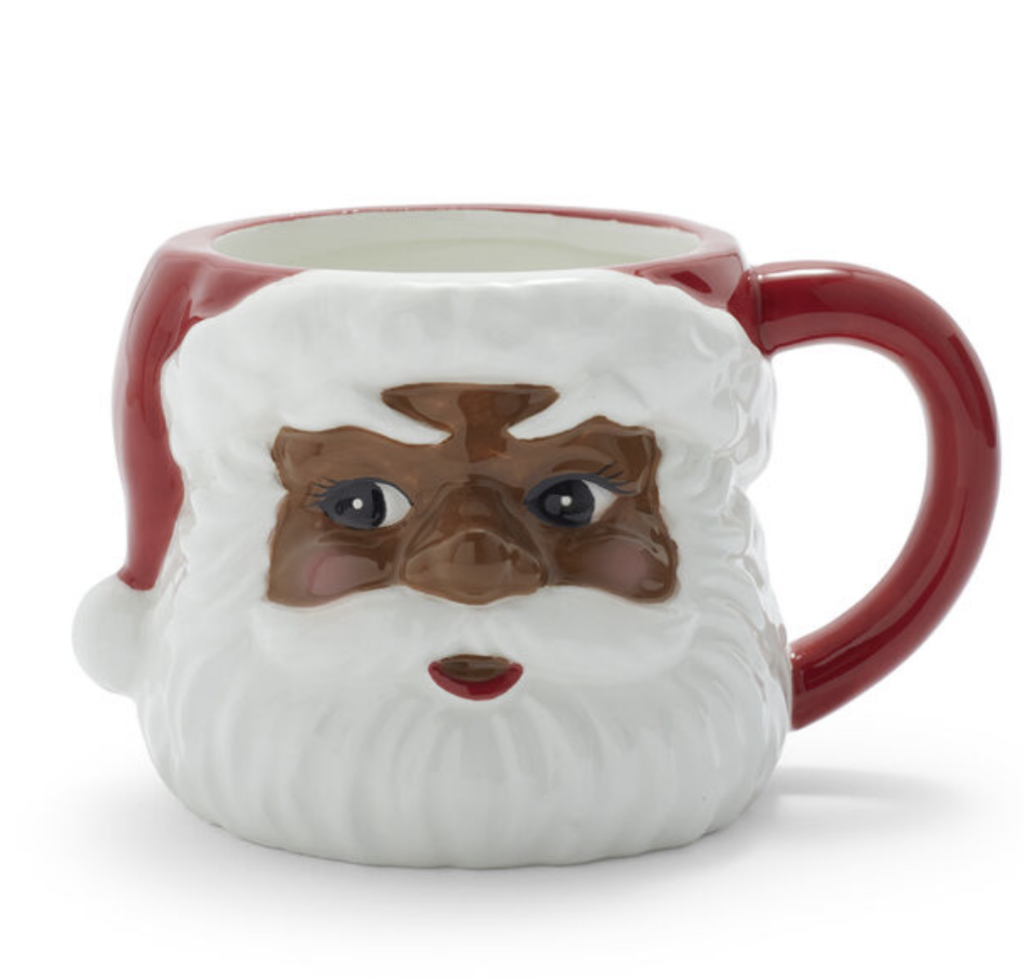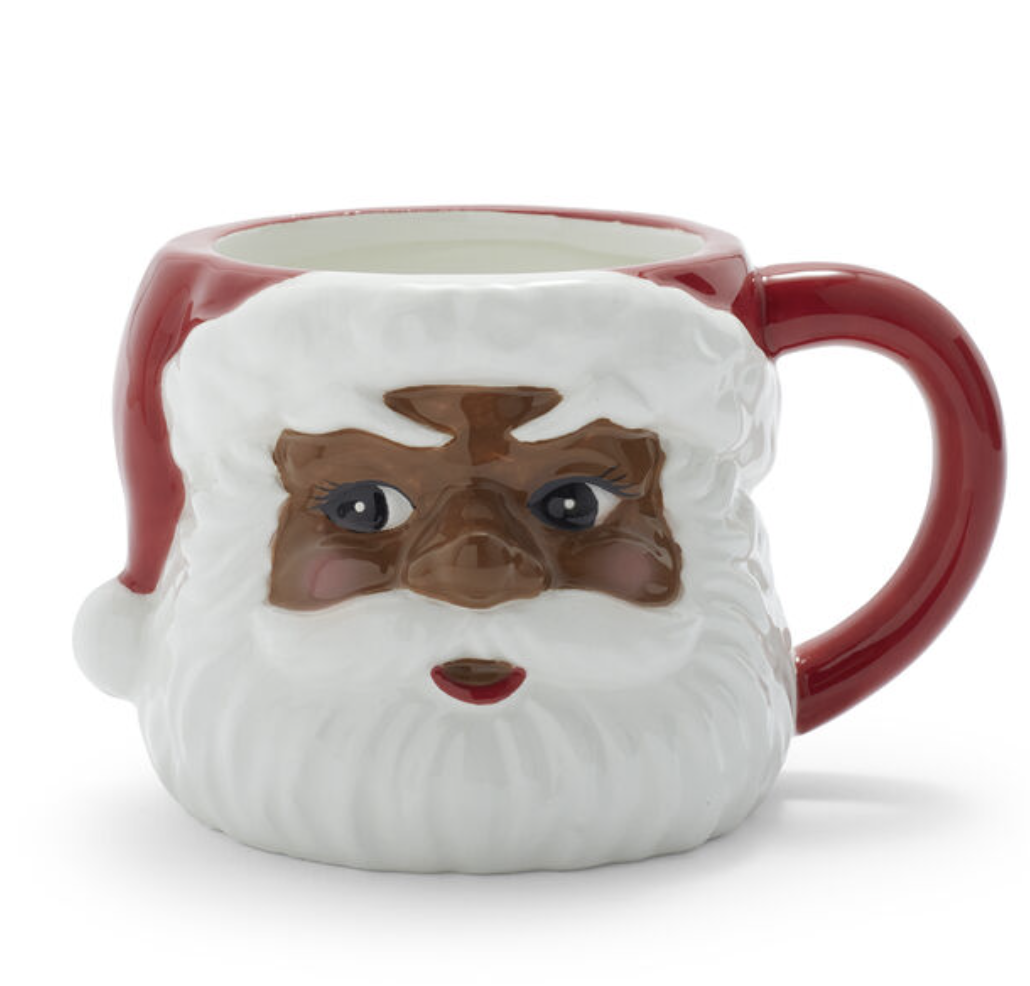 This cute Black Santa mug comes from Sur La Table, sold individually.
Make any drink festive with this cute figural mug featuring a fun Santa design. Made of durable earthenware that's dishwasher- and microwave-safe for easy use and cleaning. Available in adult and kid sizes so everyone can enjoy their drink in seasonal style.
Manufacturer: Sur La Table
Material: Earthenware
Dimensions and Capacity:

Kids mug: 4.92″ L x 3.54″ W x 2.76″ H; 8.62 oz.
Adult mug: 5.31″ L x 3.94″ W x 3.14″ H; 12.51 oz.

Dishwasher safe
Microwaveable but may get hot; use care when handling
Not for use in oven or freezer
32° F to 212° F in regular use
Shop here for this affordable Black Santa Mug while it's available.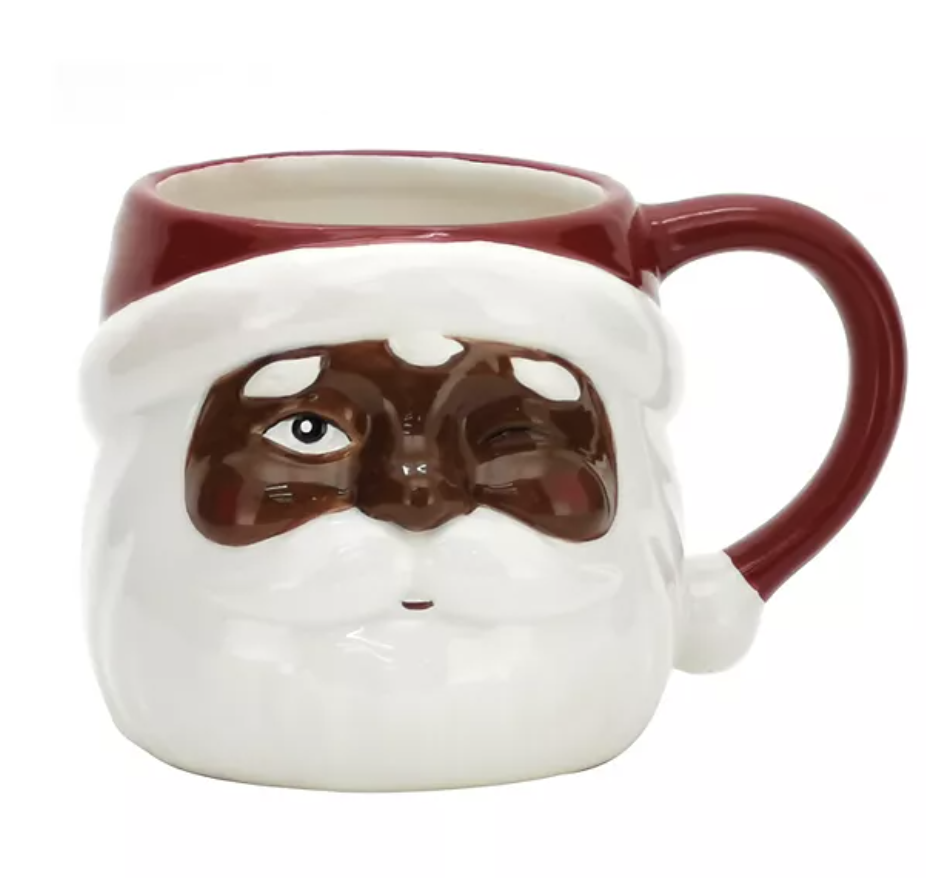 Kohl's also carries Black Santa Mugs, and you can grab this one currently on sale: St. Nicholas Square® Kringle's Cottage Santa Mug comes individually.
Let the holiday festivities begin when you set the table with this St. Nicholas Square Kringle's Cottage Santa mug.
PRODUCT FEATURES
Winking Santa head design
PRODUCT CONSTRUCTION & CARE
Earthenware
Dishwasher & microwave safe
Imported
PRODUCT DETAILS
Note: Out of all the Santa Mugs, this one (besides Target) is probably the lowest price I've seen for an African American Santa Claus mug. Shop here!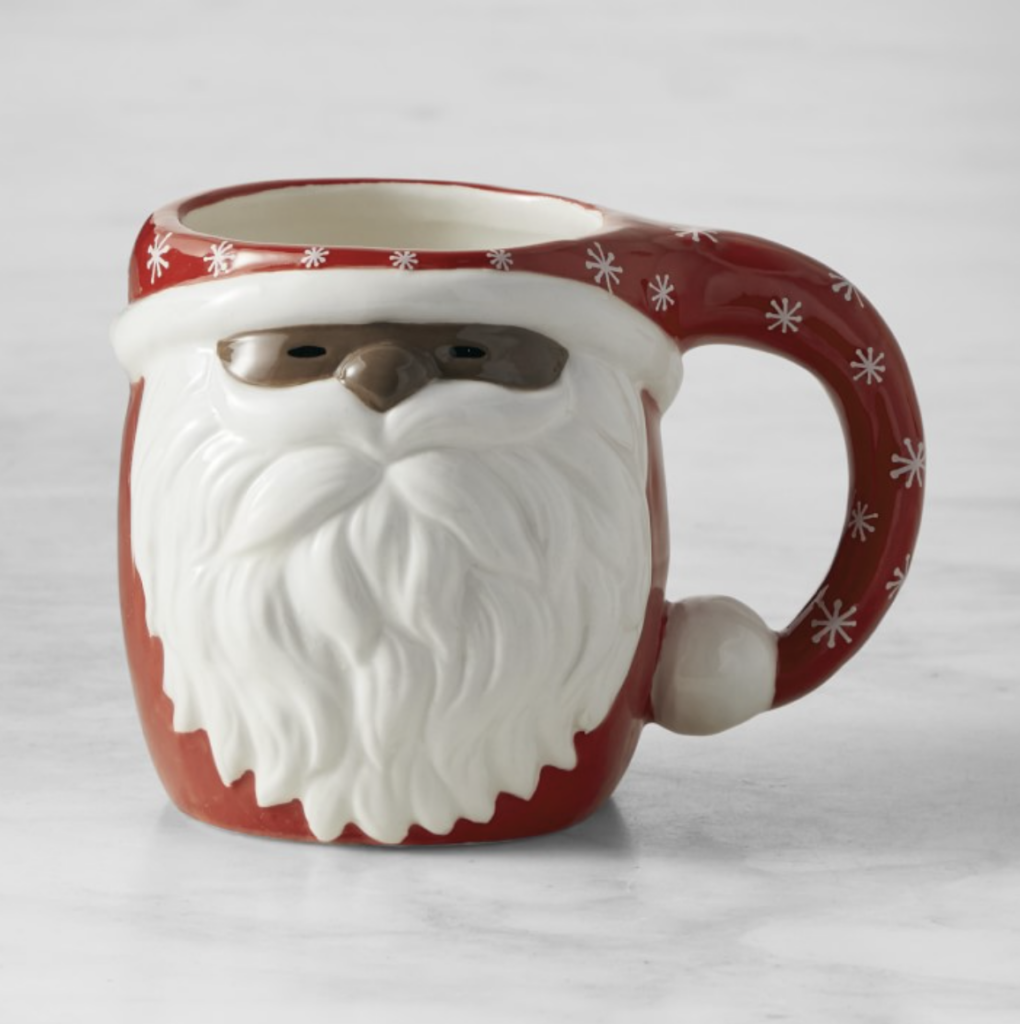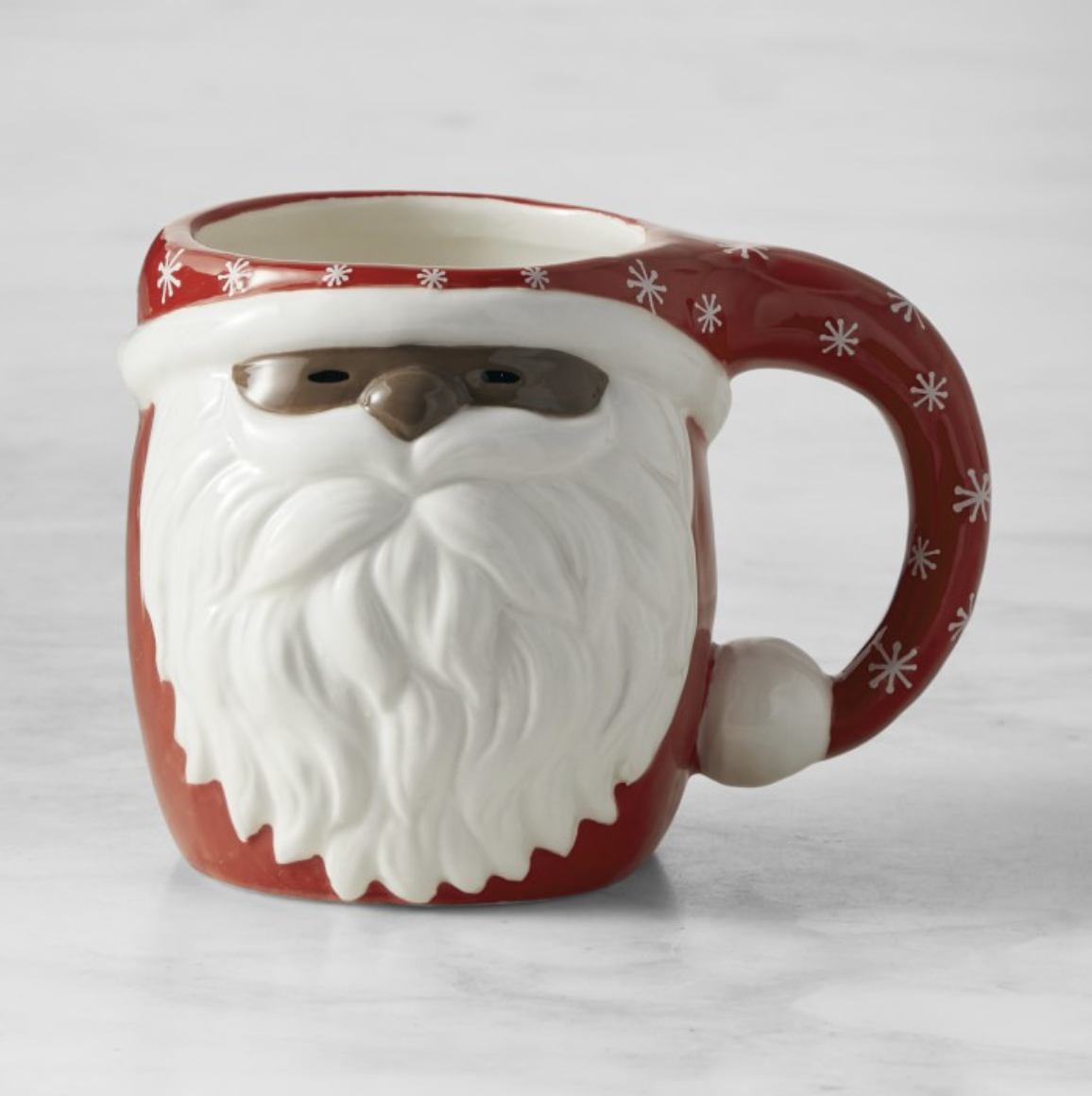 If you love Christmas boho items, this mug fits the boho look. I'm looking forward to the arrival of Figural Santa Mug, Black from Williams-Sonoma. This mug is super cute, and they also have the matching Black Mrs. Claus mug.
Everything tastes brighter, sweeter, and jollier when served in this charming Santa mug. Made of durable stoneware and painted by hand, he promises to be around for many holiday seasons.
Crafted of stoneware.
Entirely painted by hand.
It is sized to hold a generous serving of hot cocoa, cider, or coffee.
Pair with our Figural Mrs. Claus Mug for the perfect gift.
Microwavable and dishwasher safe.
4 1/4″ diam., 4 1/4″ high.
16-oz. cap.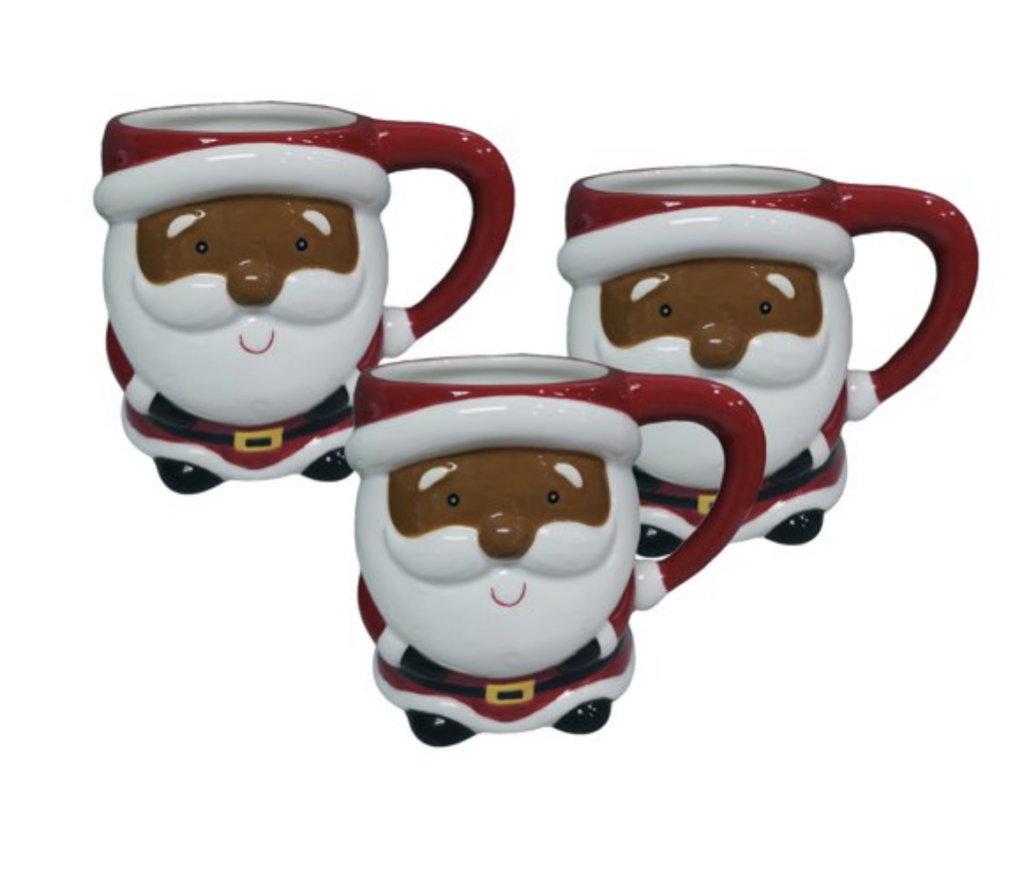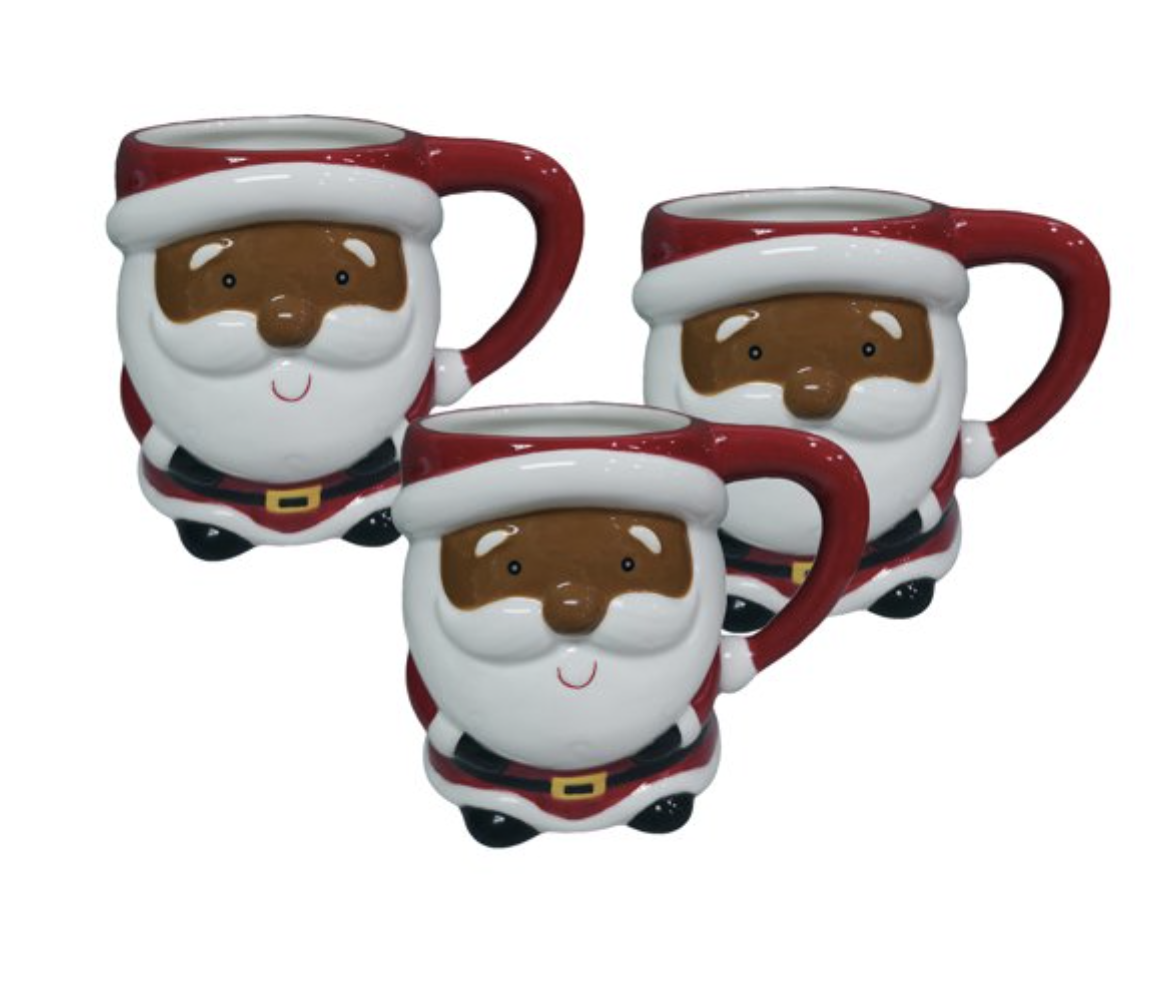 Walmart carries this affordable Santa Mug, but it is currently out of stock.
I'm listing it in this roundup because you may find it in-store or sign up to get notifications. This Holiday mug is a 3-pack.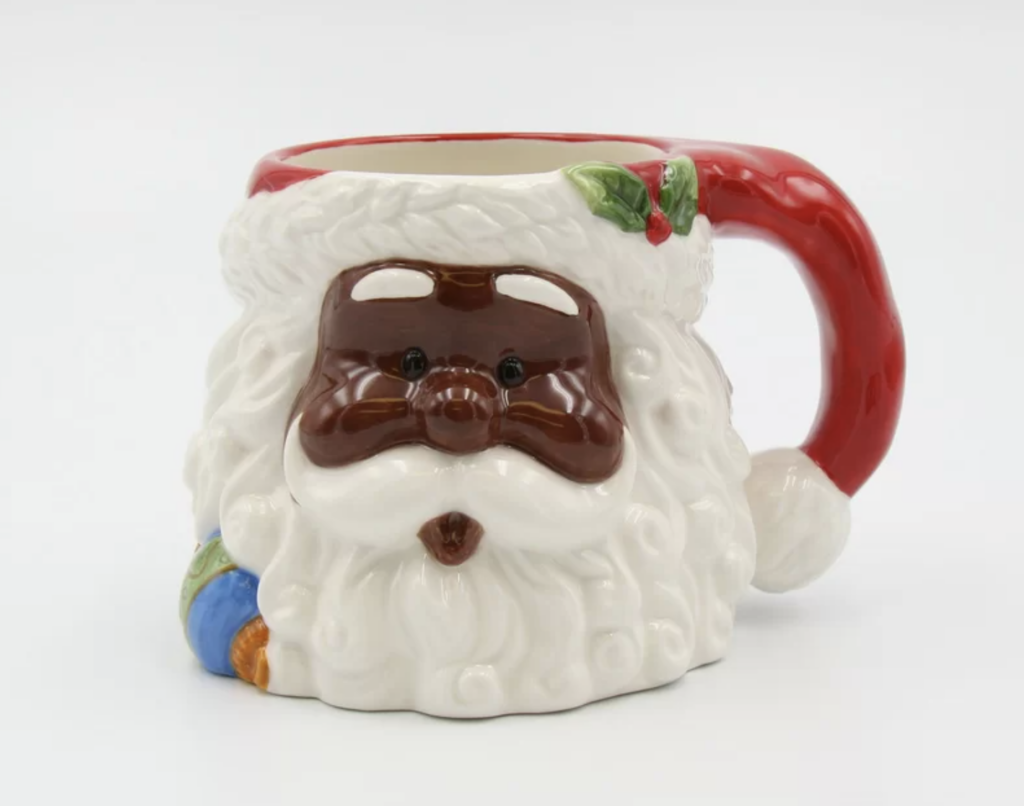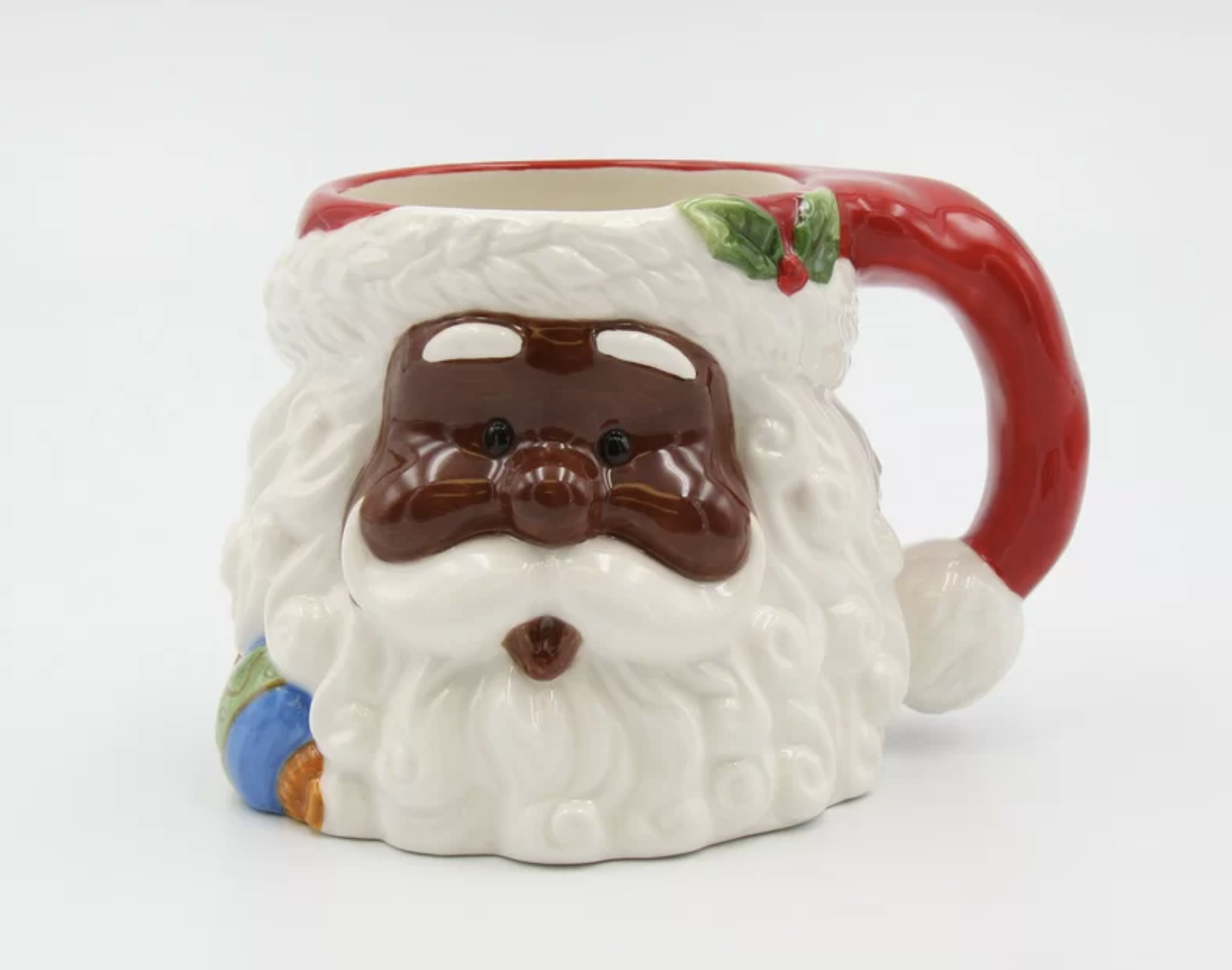 This Dillard African American Santa Coffee Mug is from Wayfair. I love his chubby cheeks- so cute!
Features
Christmas
African American Santa
Product Details
Capacity: 16oz.
Set Size: 1
Primary Material: Ceramic
Product Care: Hand Wash Recommended
Microwave Safe: No
BPA Free: Yes
Ceramic

Cup/Mug: 4" H x 4.5" W

Cup/Mug Weight: 0.75 lb
Place your order for this Black Santa mug here.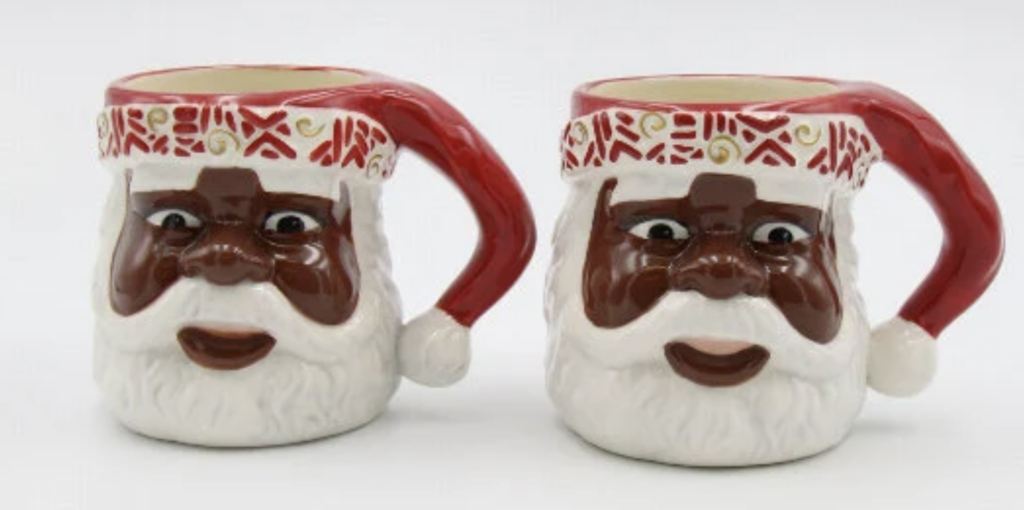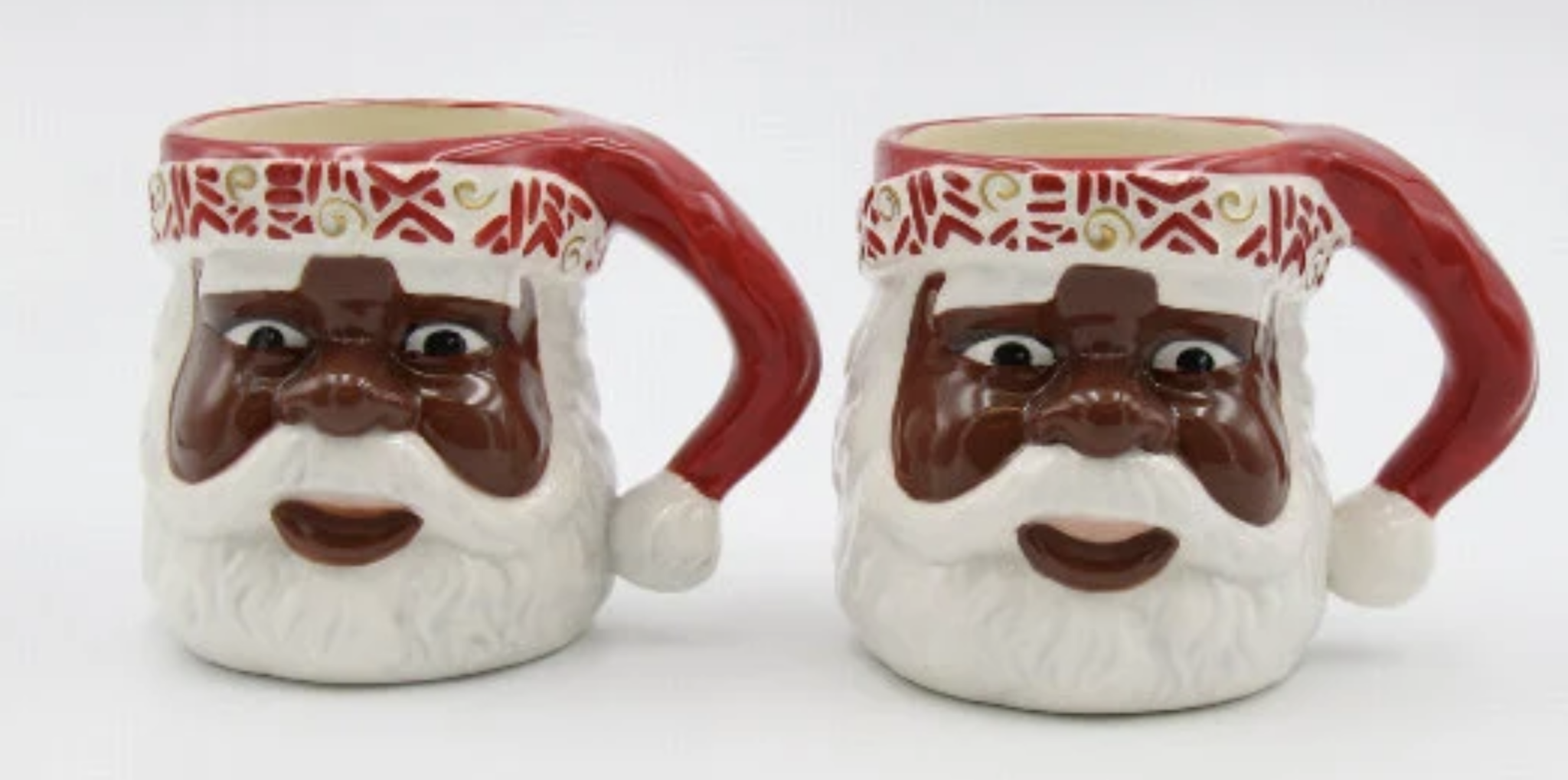 Another Black Santa Mug available to purchase on Wayfair is this set of 2 with an African print at the top of the mug.
The Brooksburg 2 Piece Coffee Mug Set (Set of 2) only has a few sets left to purchase, so if you love this one, I would recommend ordering ASAP!
This print carries over into a cookie jar and other kitchenware items, such as plates, sugar + creamer, and salt + pepper.
Features
Unique sculpted Santa mug set
Hand-painted by the skilled worker
Product Details
Capacity: 14oz.
Set Size: 2
Primary Material: Ceramic
Product Care: Hand Wash Recommended
Microwave Safe: No
Hurry and order while available! This set is also available on Etsy to purchase.
There is also a variety of African American holiday decor listed in this Etsy shop.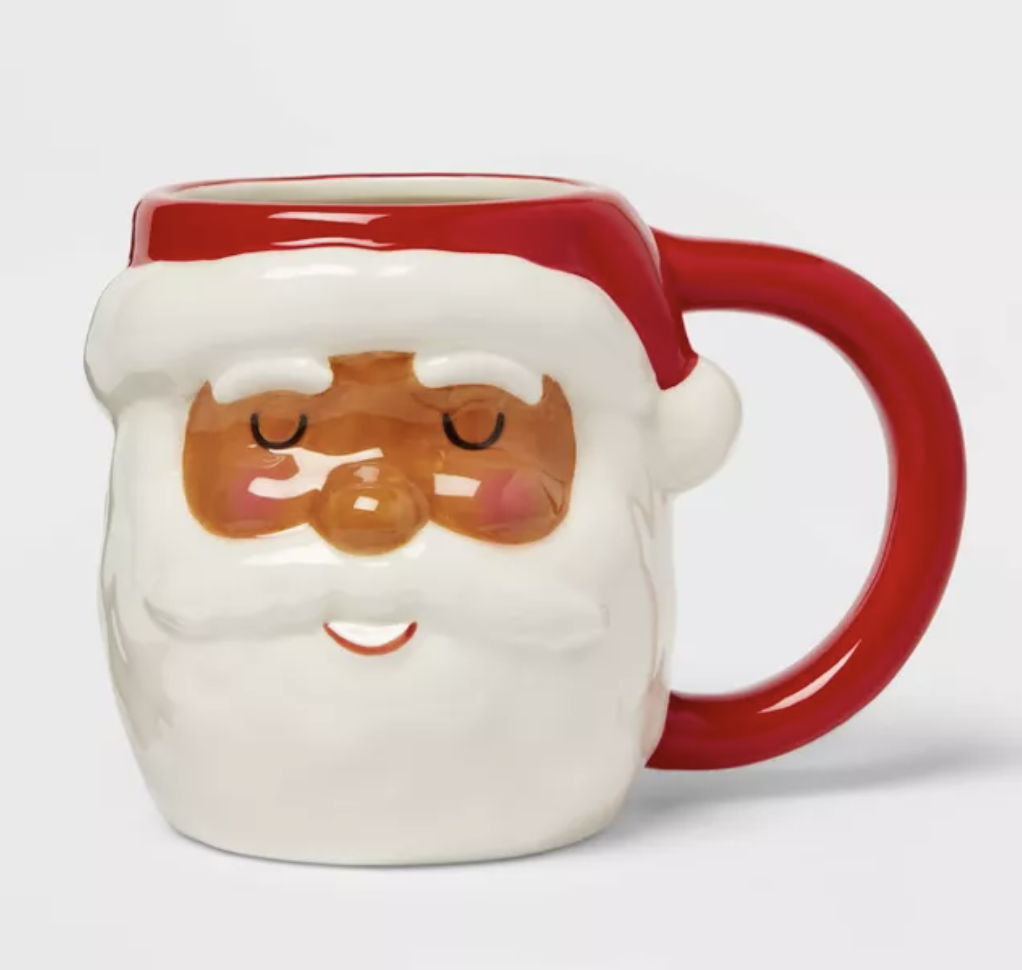 African American Santa mugs come in a variety of shades.
Target carries this 16oz Earthenware Figural Santa Mug – Threshold™ for $5.00.