Get into our Blueberry Cinnamon Rolls.
Imagine sinking your teeth into a cloud of pure delight generously studded with juicy blueberries.
These rolls are more than just a treat – they're a warm, cozy hug for your taste buds.
These rolls are made with North Bay Produce sweet blueberries, perfect for weekend breakfast or just because.
And if you're a cinnamon roll lover, try our Caramel Apple Cinnamon Rolls and Cinnamon Rolls With Lemon Glaze Icing.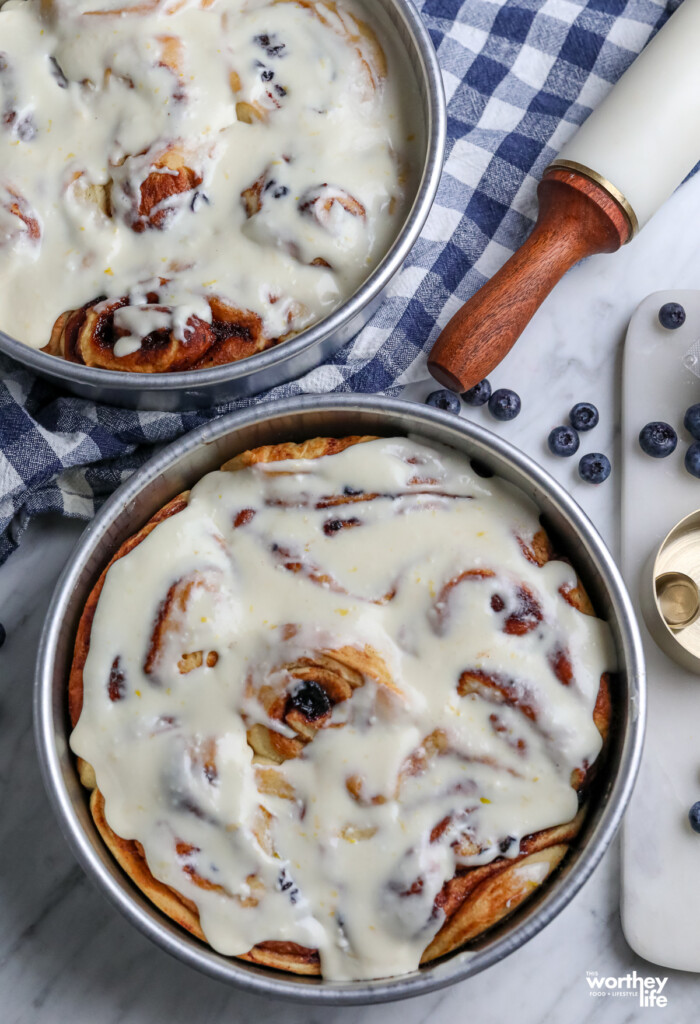 Blueberry Cinnamon Rolls
There is nothing like homemade cinnamon rolls.
And as fall and winter approach, what could be better than warm, delicious cinnamon rolls?
For our latest cinnamon roll recipe, we've added homemade blueberry compote to the filling.
Combined with melted butter, light brown sugar, plus cinnamon and cardamom.
They take a little work, but they're so worth it!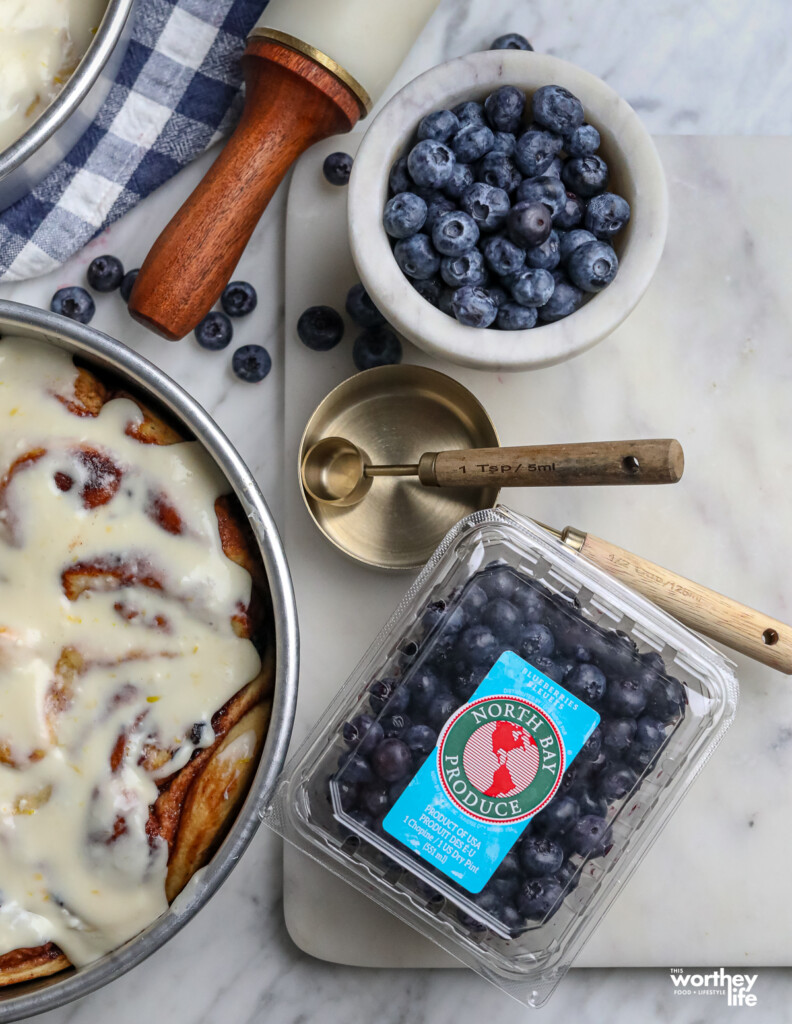 Here's What You Need
North Bay Produce Blueberries. For this recipe, we're turning to our favorite blueberry source, North Bay Produce. Bursting with sweetness and freshness, that's second to none.
Cake Flour and Whole Milk. We use a mixture of cake flour and whole milk heated over medium heat to make a water roux, which acts as a starter and produces bread and dough with a softer texture. As a plus, this method also increases the amount of time until bread and pastries get stale.
Heavy Whipping Cream, Whole Milk, Butter & Egg. These ingredients constitute the wet ingredients and contribute to the softness of the cinnamon rolls.
Cake Flour, Light Brown Sugar, and Salt. These are the dry ingredients. Cake flour makes for soft and tender cinnamon rolls, and I highly recommend using it for this recipe. If you don't have cake flour, use all-purpose flour or gluten-free flour. Of course, the role of sugar is two-fold. Sugar gives the dough its sweetness, and the sugar feeds the yeast, producing fermentation; as a result, when heated, the dough rises—and salt amplifies the taste and helps to regulate the yeast. Quick note: Don't roll the dough too tightly when making cinnamon rolls; the rolls must be loose enough to encourage the vapor to evaporate during baking.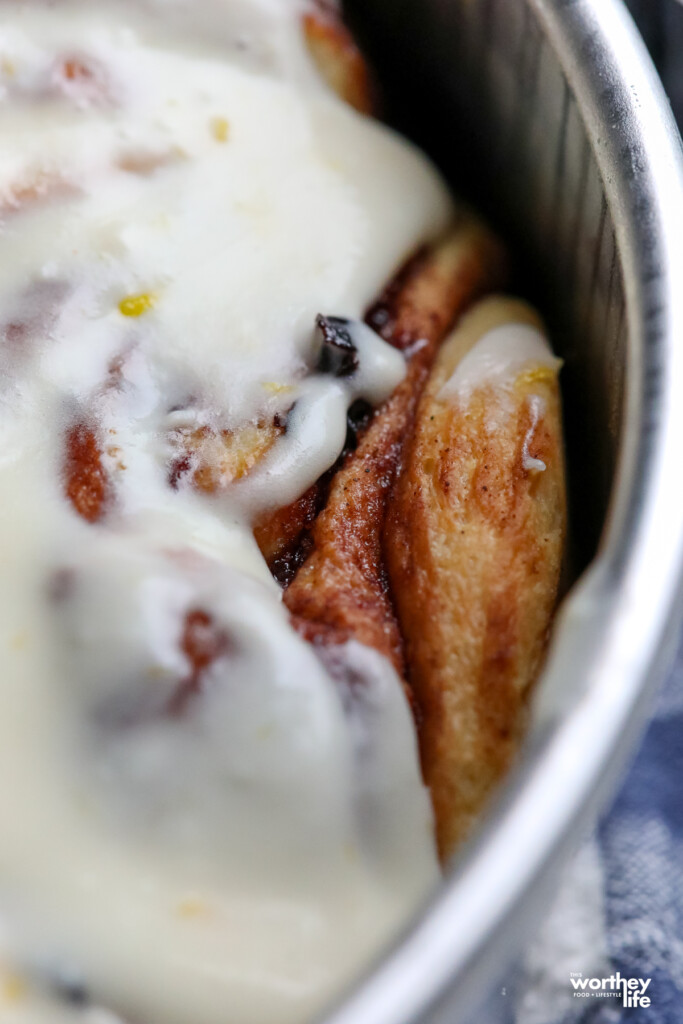 How To Make Blueberry Cinnamon Rolls
Serving 13-18
Ingredients for Starter Roux
3/4 cup whole milk
1/4 cup cake flour
Ingredients for Pastry Dough
1 cup heavy cream
1/2 cup whole milk
6 1/2 cups of cake flour
1 egg
1/2 cup light brown sugar
1 tbsp sea salt or kosher salt
1 1/2 sticks unsalted butter, room temperature, and cut into pieces, divided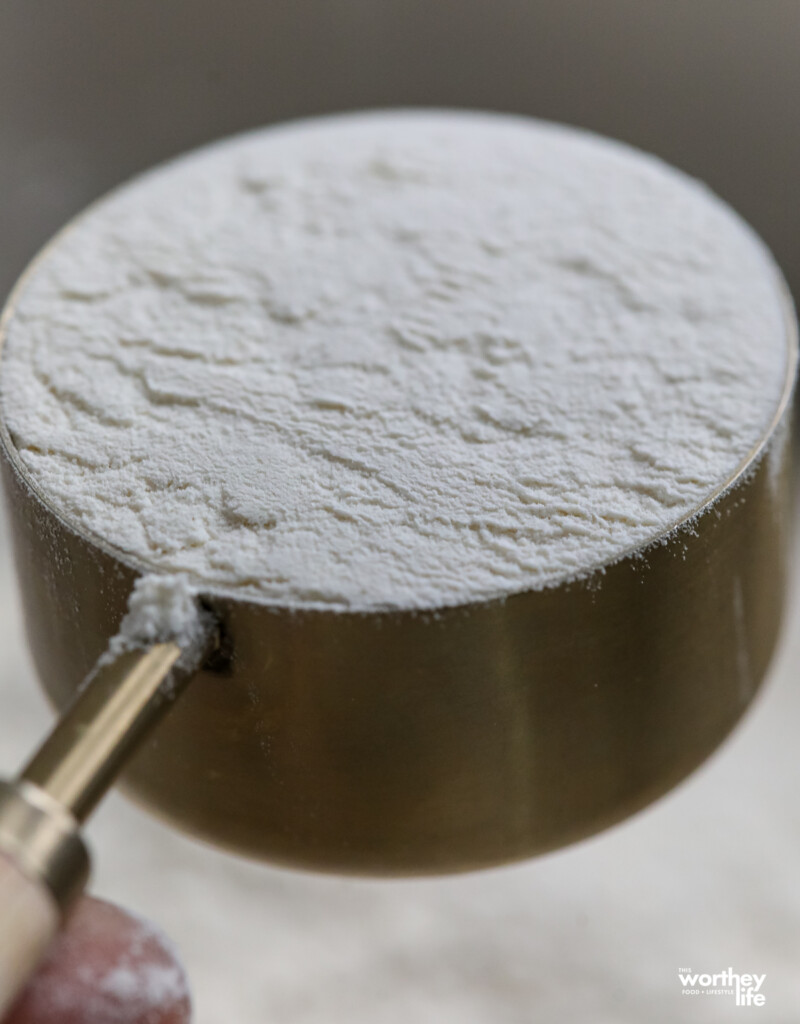 Ingredients for Blueberry Compote:
1 1/2 cups light brown sugar, packed and divided
1 cup ripe North Bay Produce blueberries
1 stick unsalted butter
1 tbsp ground cinnamon
1 tbsp cardamom
2 tbsp fresh squeezed lemon juice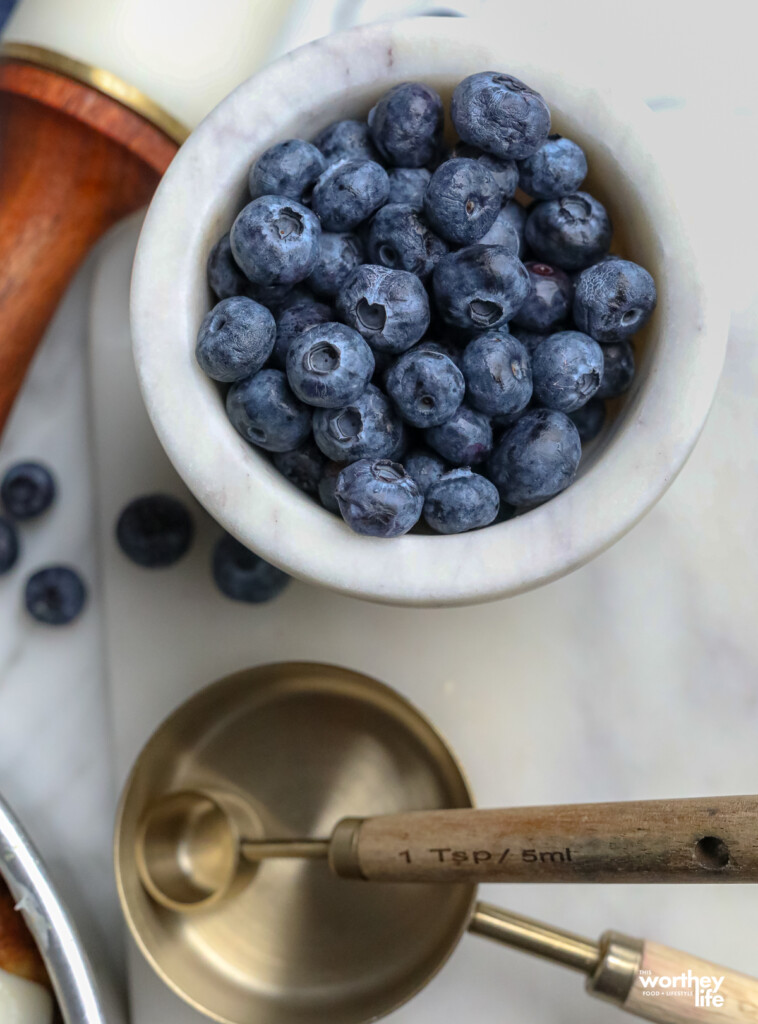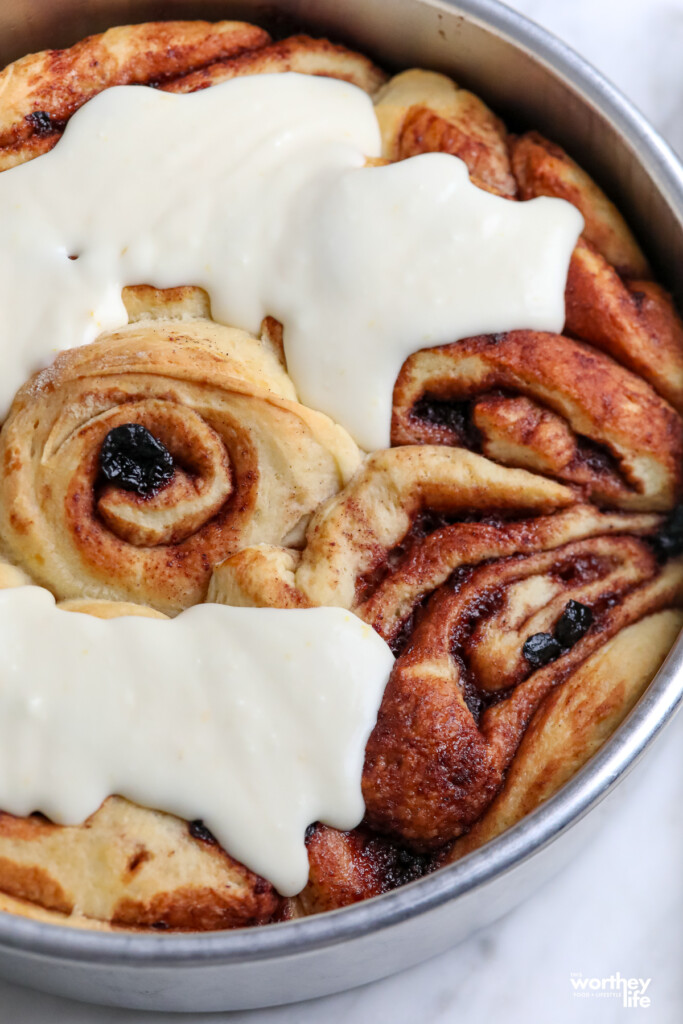 Directions on making Homemade Cinnamon Rolls:
To make the starter roux—also called water roux or tangzhong, add 3/4 cup of whole milk into a small pot over medium heat, stirring constantly.
Add the 1/4 cup of cake flour when the milk is warm and continue to whisk—keep whisking until you see thick, slow bubbles appear.
Remove the pot from heat and allow the mixture to cool; it will continue to thicken as it cools down; it should have the consistency of a loose paste.
When the mixture has cooled to room temperature, transfer it to the mixing bowl of a stand mixer fitted with a dough hook.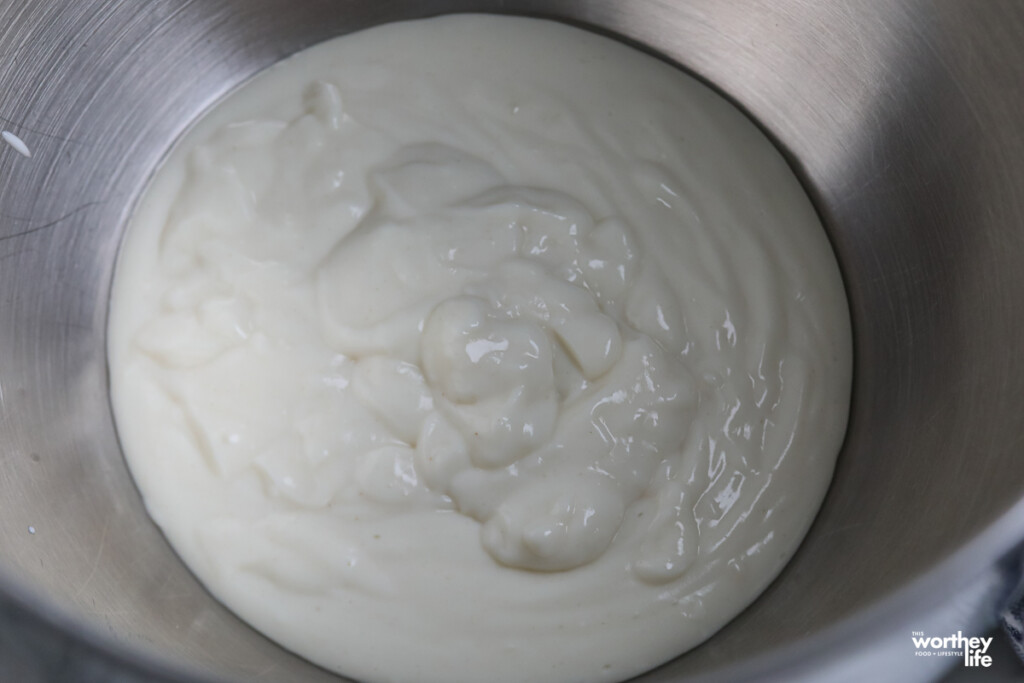 2. Add the light brown sugar, yeast, one egg, kosher salt, heavy cream (1 1/2 cups), and remaining cake flour (6 1/2 cups of cake flour).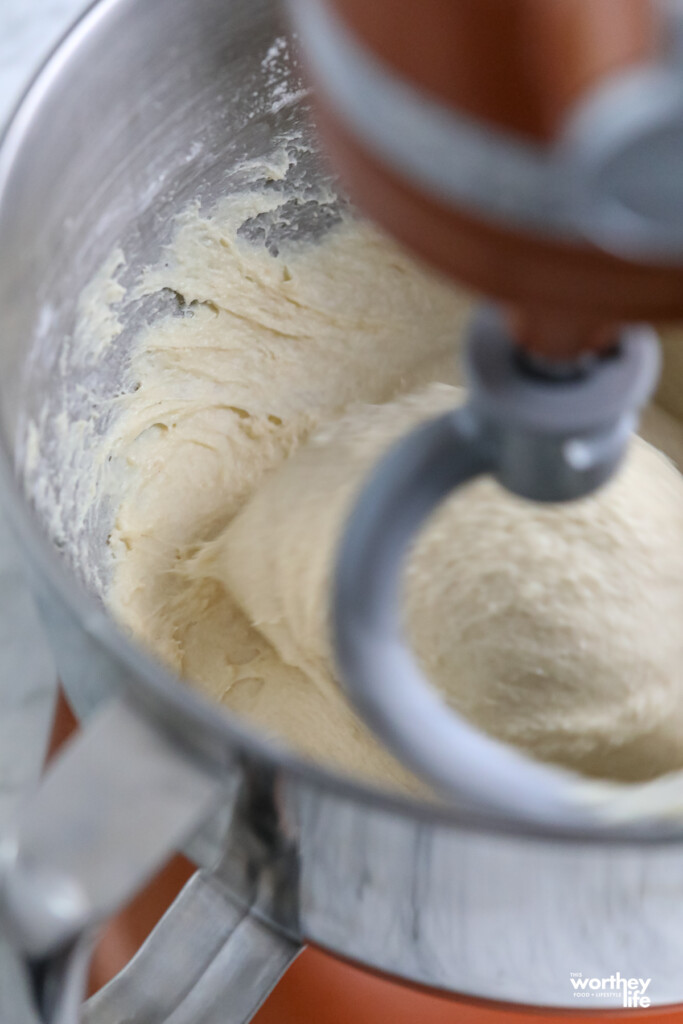 3. Mix for 17 to 25 minutes, scraping down the sides as necessary. When the dough passes the windowpane test, it's ready.
The windowpane test is done by pinching off a nice piece of dough (about the size of a ping-pong ball) and flattening it on a clean cutting board or countertop.
Then, hold the flattened dough between your fingers and slowly stretch it out; if it stretches without breaking and allows you to see light passing through it, it's ready.
If not, knead it a few minutes more and try again.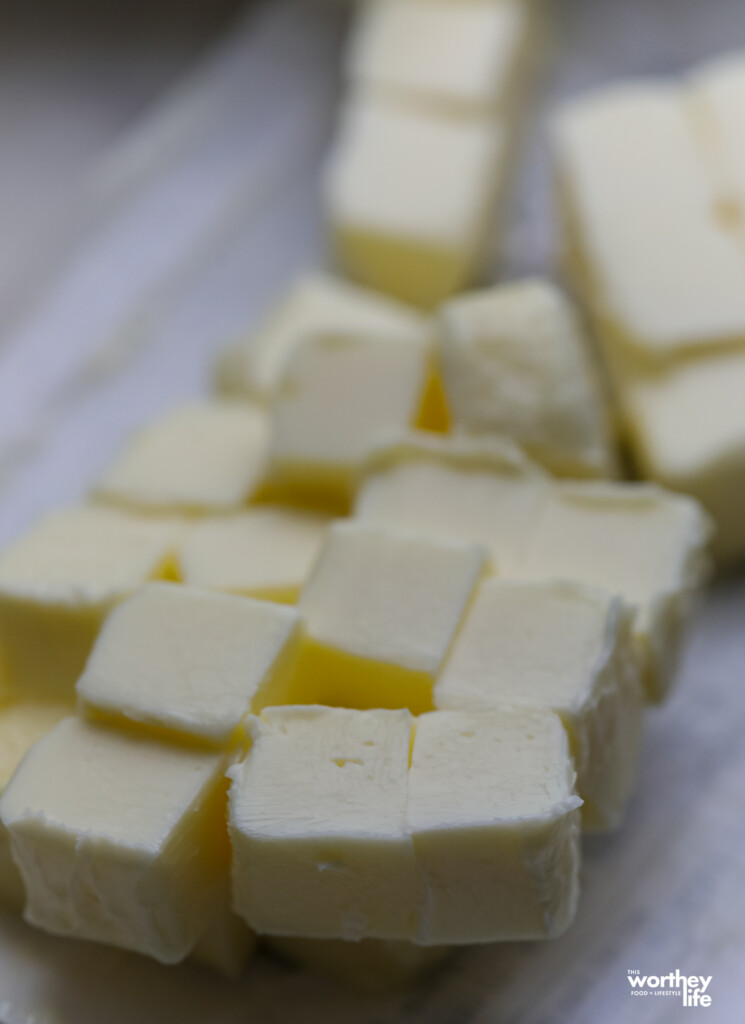 4. Now, adjust the mixer speed to medium and begin adding the cubed pieces of room-temperature butter a little at a time until it is fully incorporated.
Mix for about 5-8 minutes or until the dough pulls cleanly away from the sides.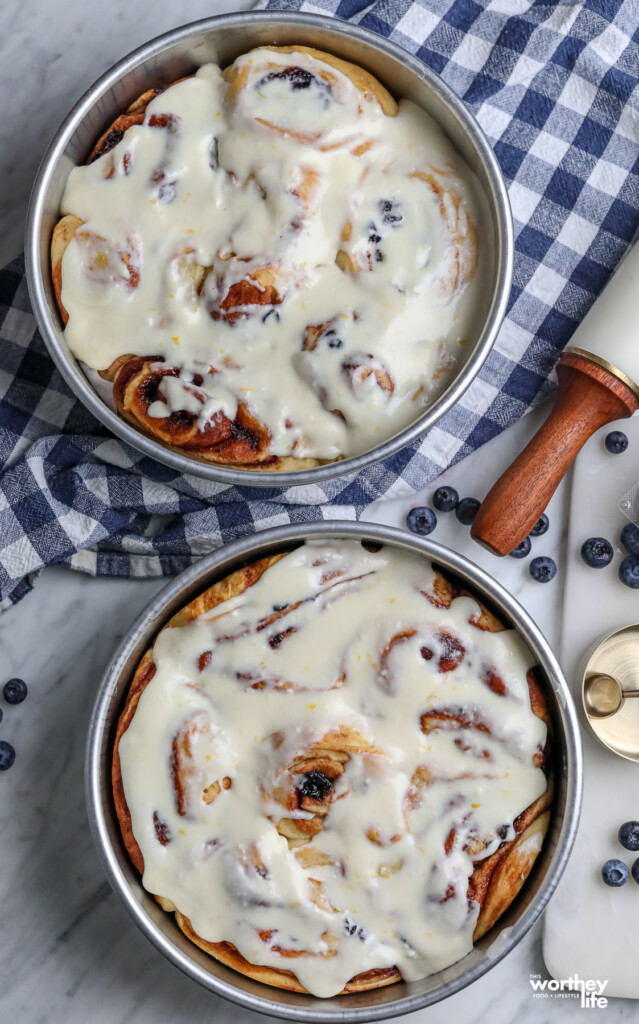 5. Remove the dough hook and place the mixing bowl on the countertop.
6. Next, drape a warm, damp kitchen towel over the mixing bowl and place the dough in a warm place until it has doubled in size; this may take up to 45 minutes to up to an hour and a half.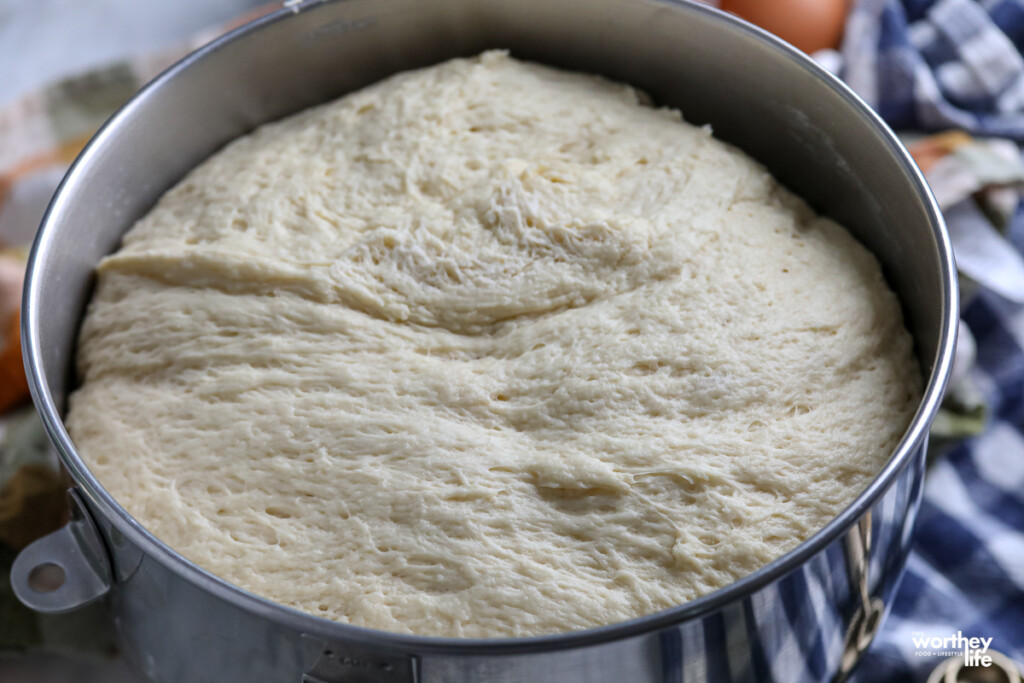 7. Punch the dough down and scatter a handful of all-purpose flour onto a clean surface. Roughly work the dough with your hands or a rolling pin into a large rectangle with the narrow end facing you.
8. Melt the remaining 1/2 stick of butter and brush the dough, leaving 1-inch of space around the edge of the dough.
9. Add the blueberry compote, use more of the blueberries, and brush on some of the compote syrup; you don't want to make the dough soggy.
10. Now, scatter on a cup of light brown sugar.
11. Start at the narrow edge of the dough away from you, and begin rolling the dough towards you.
12. Don't roll the dough too tightly because the cinnamon rolls may not rise properly if it's too tight. Using a very sharp knife, serrated bread knife, or non-flavored dental floss, cut the roll into 1″ to 1 1/2″ rolls.
13. Place the rolls cut-side down into a cake pan with parchment paper on the bottom and brushed with melted butter on top of the parchment paper and along the walls of the 9-inch pan or skillet.
14. Cover the rolls with a damp kitchen towel and allow them to double in size; this process can take up to 45 minutes, depending on conditions.
15. Bake in a 350-degree oven for 20 – 25 minutes until golden brown.
16. Remove the Blueberry Cinnamon Rolls from the oven and allow them to cool.
17. Glaze generously with Cream Cheese Lemon Icing.
18. Serve.
Note: This recipe makes 13 – 18 cinnamon rolls, depending on how thick you cut them.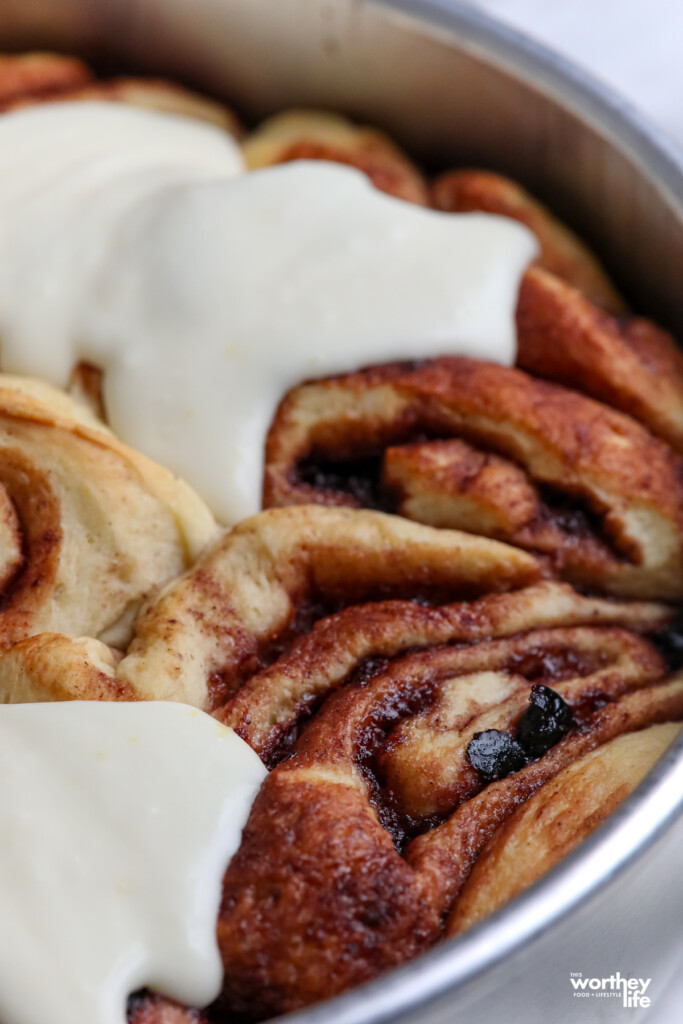 How To Make Cream Cheese Lemon Icing
Ingredients:
4 ounces of cream cheese

2 tablespoons melted unsalted Land O Lakes® butter

1 cup powdered sugar

1 teaspoon pure vanilla extract

3 tablespoons whole milk, half & half, or heavy cream

1/2 teaspoon lemon zest (optional)

2 tablespoons fresh lemon juice (optional)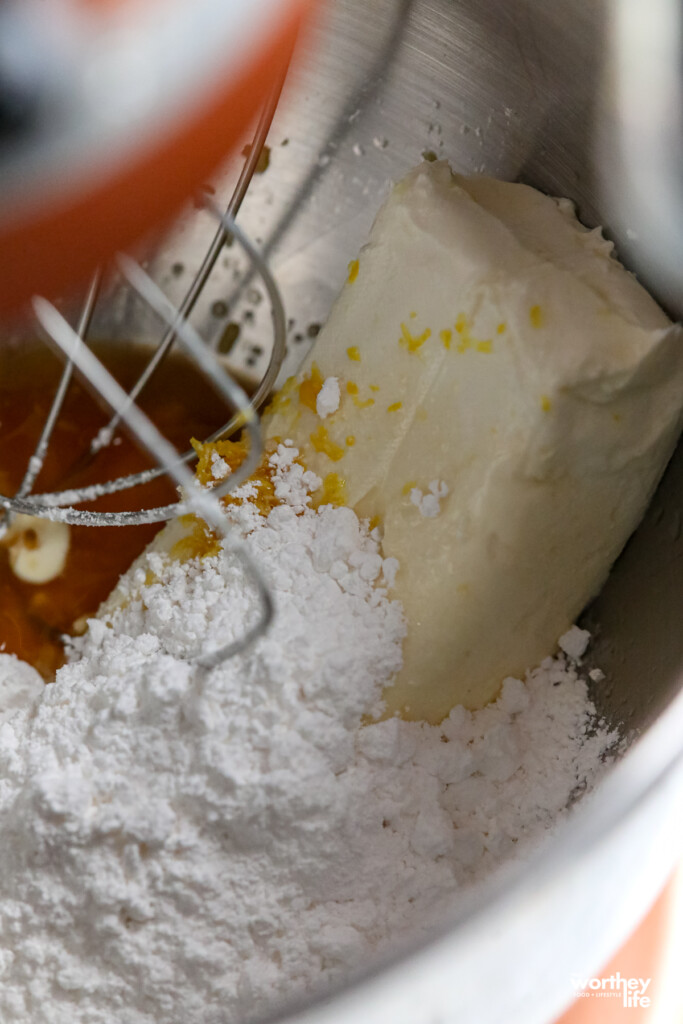 Directions:
Add the room temperature cream cheese, melted unsalted butter, powdered sugar, pure vanilla extract, milk or heavy cream, lemon zest, and lemon juice into a bowl of a stand mixer fitted with the whisk attachment, or use a hand mixer and a large mixing bowl.
Mix until the icing is smooth and lump-free.
Generously drizzle on the warm cinnamon rolls and serve.
Can I make cinnamon rolls ahead of time?
You can make the cinnamon rolls the day before, cover them with plastic wrap, and keep them in the fridge overnight.
Then, bake them off the next day. Easy peasy!
How long will cinnamon rolls keep in the fridge?
At room temperature, cinnamon rolls will keep for up to two days.
You can store them in the fridge for up to a week.
You can also freeze them for two months.
Can I use different fruit to make the compote?
Absolutely; in addition to blueberries, you can also use:
Apples
Apricots
Blackberries
Cherries
Cranberries
Peaches
Pears
Raspberries
Strawberries Cinnamon rolls are a great way to add variety to your morning routine.
Our boys love them because they can grab them on the way out without missing a beat.
So, grab the ingredients and enjoy one of our favorite fall and winter treats.
And if you have any questions or want to say hello, drop us a comment below.
*Recipe adapted from Bon Appetit Extra-Fluffy Cinnamon Rolls