Our Blueberry Dutch Baby recipe is a burst of blueberry flavor in every bite.
This oven-baked recipe is infused with juicy blueberries from North Bay Produce, and it's perfect for breakfast or brunch.
Plus, we topped it with homemade lemon whipped cream.
This will be a crowd-pleaser recipe, and it is easy to make and a visually stunning treat/dessert.

Blueberry Dutch Baby
It's blueberry season, and one thing we're going to do is share all things blueberry!
We love using fresh blueberries from North Bay Produce, and we have a few other blueberry recipes you should try if you're also a blueberry fan: Lemon Donuts w/ Blueberry Glaze Blueberry Lemonade.
Making a Dutch Baby is easy to whip up on short notice.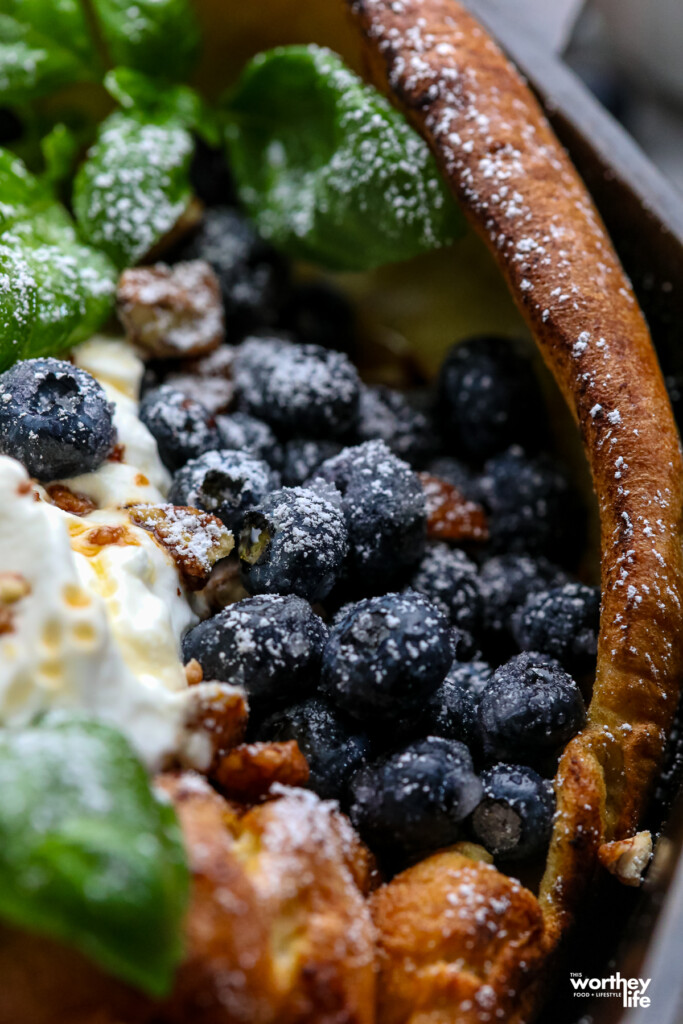 What Is A Dutch Baby?
A Dutch Baby, also known as a German pancake, is a type of pancake cooked in the oven rather than on the stovetop.
It's made from a simple batter of eggs, flour, milk, and a pinch of sugar, which is poured into a preheated skillet or baking dish and then baked until it puffs up and becomes golden and crispy around the edges.
The result is a pancake with a unique texture – crispy on the edges and soft and custardy in the center. Dutch Babies often have a slightly eggy flavor and can be sweet or savory, depending on the toppings and fillings used.
They're often served with toppings such as powdered sugar, fresh fruit, syrup, jam, or savory ingredients like cheese and vegetables.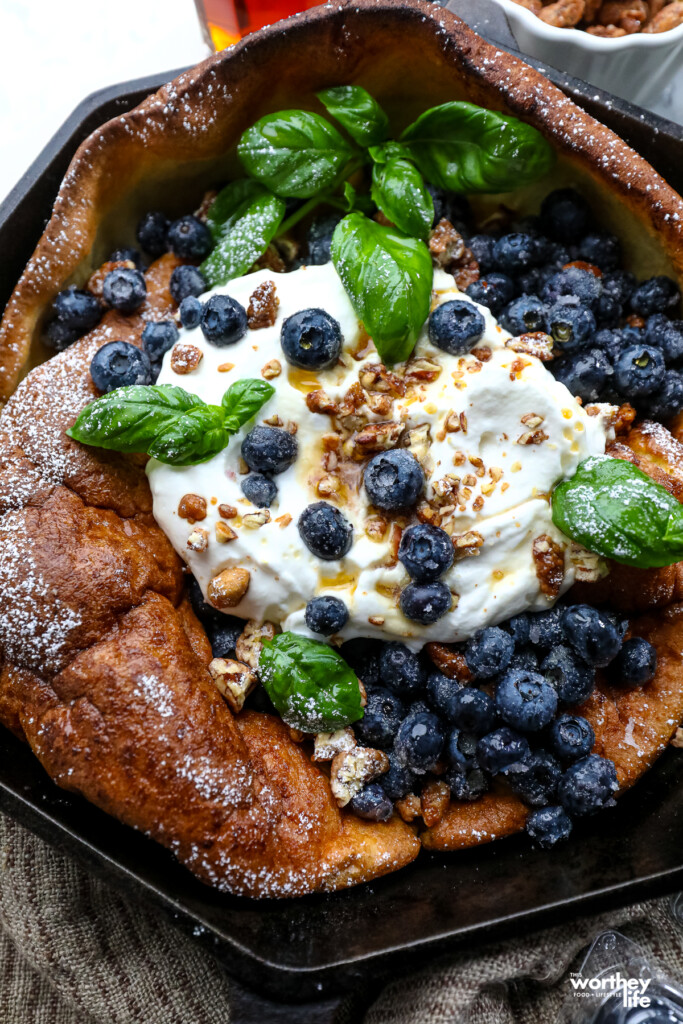 What You Will Need
North Bay Blueberries. Fresh fruit is always a good thing when it comes to making a delicious Dutch Baby, and for this Dutch Baby recipe, I used fresh, ripe, sweet North Bay Blueberries.
Sugar & Powered Sugar. I tossed a cup of fresh blueberries with two tablespoons of granulated sugar for this recipe, then topped the whole thing with a couple of tablespoons of powdered sugar (confectioner's sugar).
All-Purpose Flour, Milk & Eggs. The base ingredients for the Dutch Baby batter included all-purpose flour, milk, and eggs. You can also use cake flour or gluten-free flour too. When it comes to milk, feel free to use whole milk or half and half. And to get things to rise correctly, fresh eggs are perfect for the job.
Pure Vanilla Extract. You can use pure vanilla extract or vanilla bean paste; vanilla adds aromatic, sweet, and rich flavor to baked goods.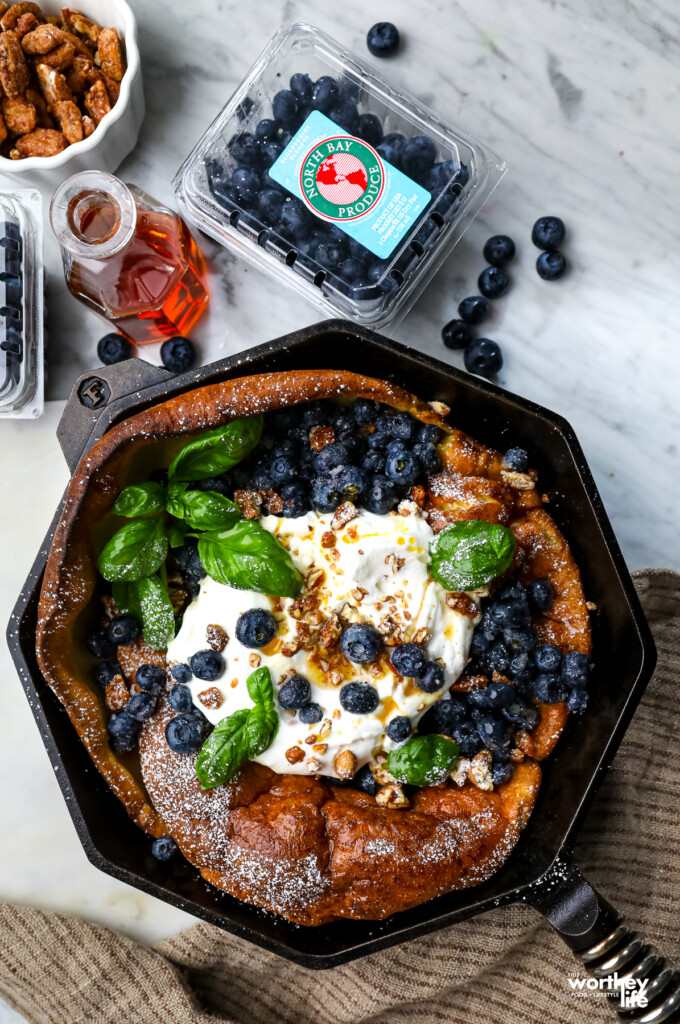 How To Make A Blueberry Dutch Baby
Ingredients:
1 cup North Bay Blueberries
1/3 cup granulated sugar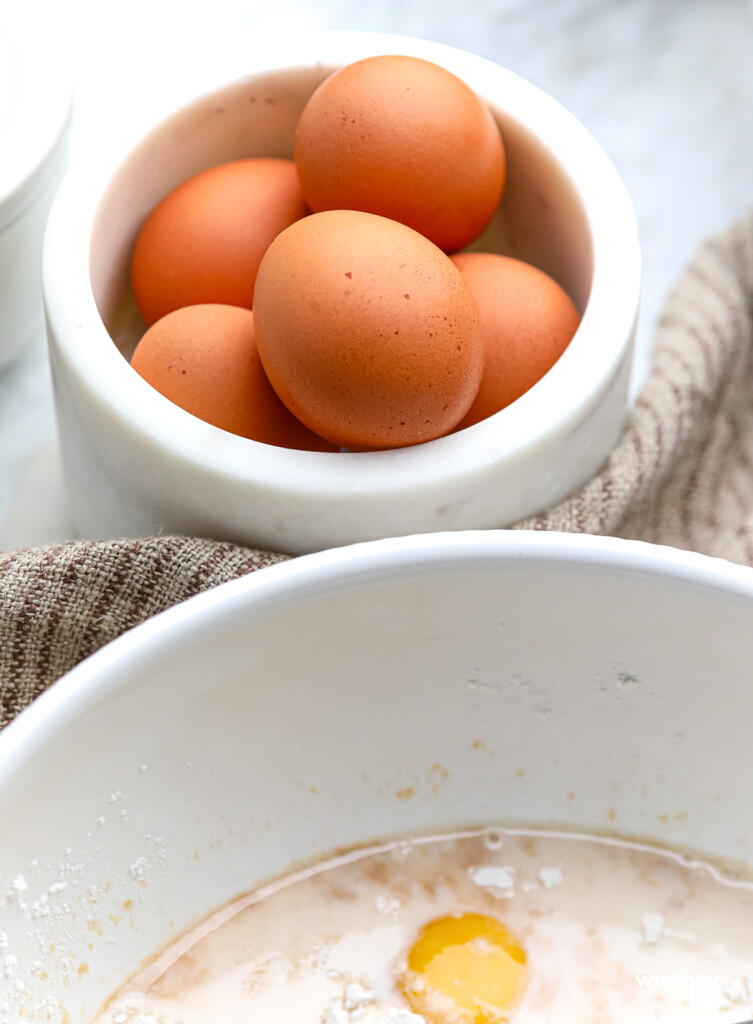 Ingredients for Dutch Baby Batter
2/3 cup all-purpose flour
2/3 cup half & half or whole milk
3 fresh eggs
1 tbsp pure vanilla extract
1 -2 tbsps granulated sugar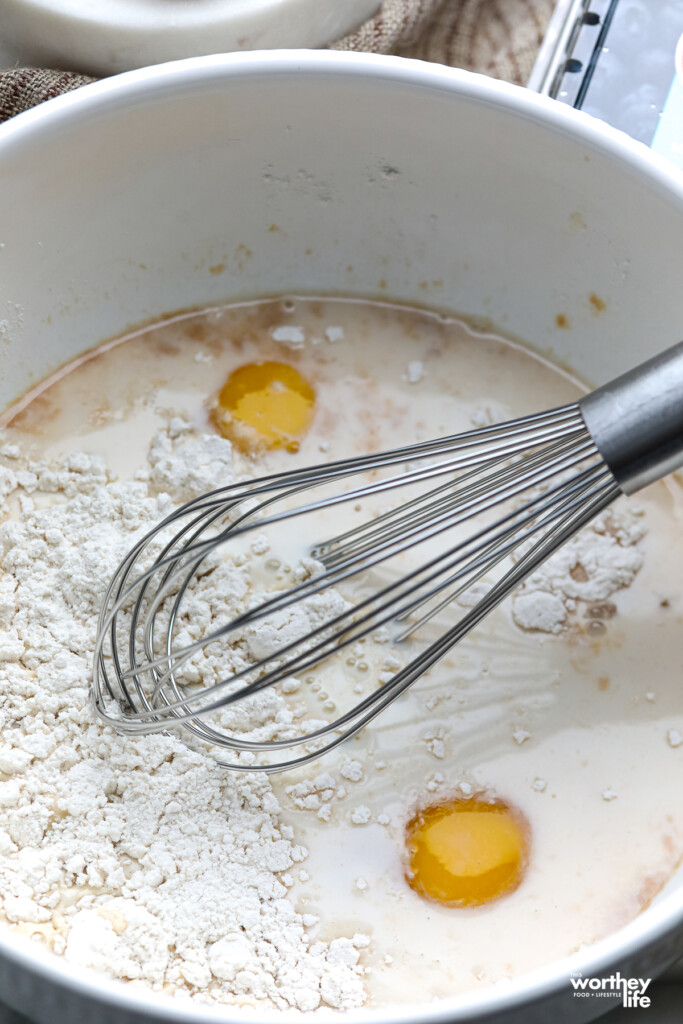 Toppings we used
Chopped Praline Pecans
Fresh Sweet Basil
Homemade Lemon Whipped Cream (recipe below)
Popular toppings for Dutch Baby pancakes
One of the things I love about making a Dutch Baby is piling on the toppings. Here are some of my favorites: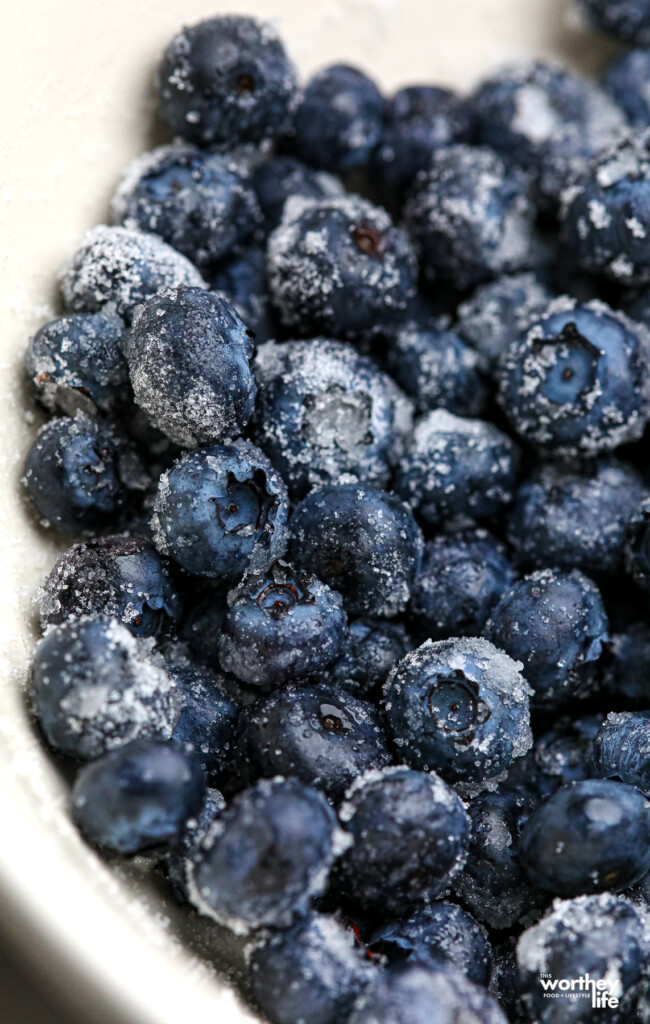 Strawberries, Raspberries, Blackberries, and Blueberries. Berries are super popular as toppings for Dutch Baby pancakes because they're delicious, plus you can find them year-round, but we all know summertime is the best time for berries. But we love cooked fruits like apples, apricots, cherries, pears and plums.

Here's an easy recipe for making a fruit sauce
2 tbsp unsalted butter
2 1/2 tbsps of light brown sugar
2 tbsps of pure maple syrup, honey, or blue agave syrup
4 fruits (select one of the following): apples, pears, apricots, or peaches cut into thin slices
2 -3 tsp freshly squeezed lemon juice
1/2 cup of semi-sweet white wine
1/8 tsp of ground cinnamon
1/8 tsp of ground cardamon
pinch of sea salt or kosher salt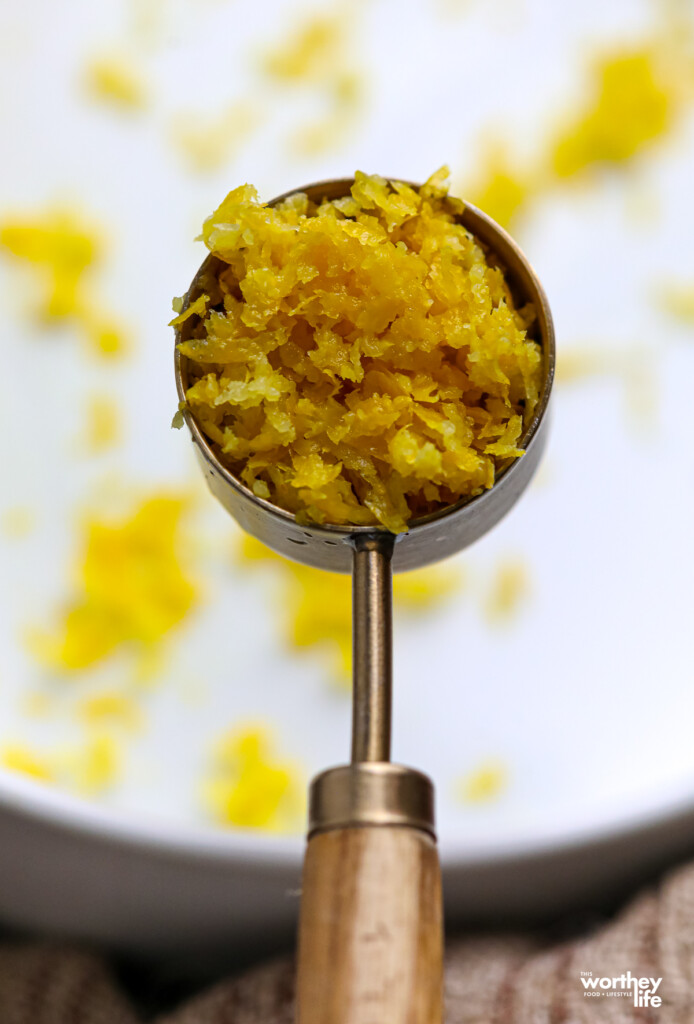 Directions for making a fruit sauce
Place a saucepan over medium heat; add the butter when the pan is warm.
After the butter has melted, stir in the light brown sugar maple syrup (honey or agave syrup).
Continue to stir until the sugar is melted and the mixture is boiling.
Add in your fruit of choice (apples, apricots, peaches, pears, or plums).
Make sure the fruit is lying down and continue to cook for about four minutes per side.
Turn the heat to low and continue to cook until the sauce thickens.
Taste and adjust accordingly by adding more maple syrup, cinnamon, cardamom, lemon juice, or salt.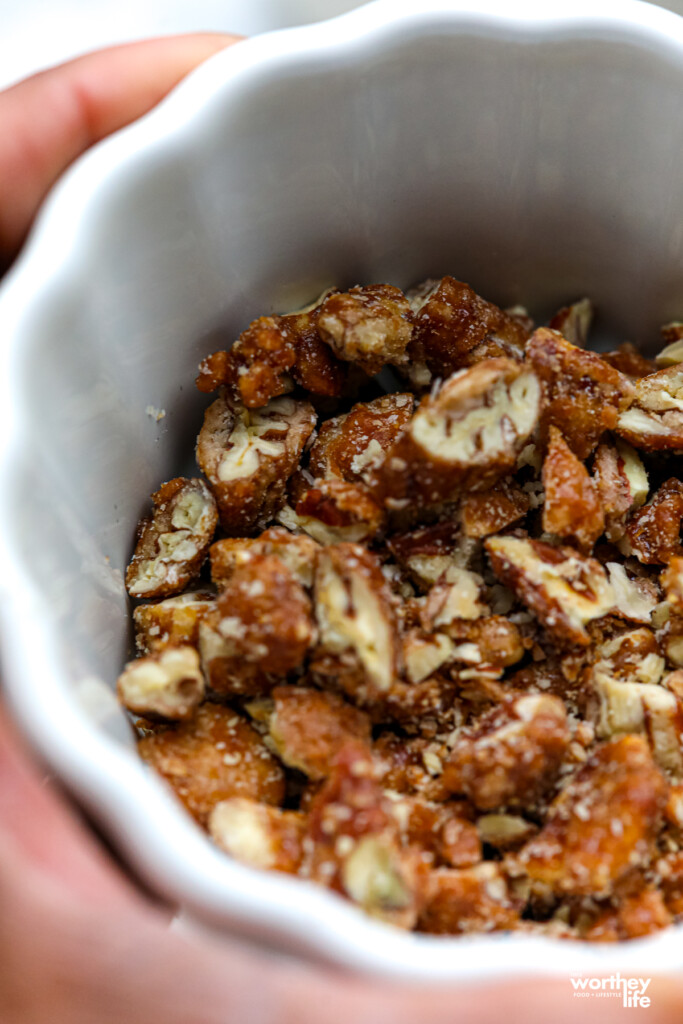 Directions:
In a large bowl, add 2/3 cup of all-purpose flour, 2/3 cup half & half or whole milk, three fresh eggs, 1 tbsp pure vanilla extract, and 1 to 2 tbsp granulated sugar.
Now, use a whisk and mix it all up until it is smooth and lump-free.
Preheat the oven to 425; place a large cast iron skillet on the center rack.
When the skillet is hot, take it out and brush the inside with 2 tbsps of melted butter.
Pour in the batter, and place the skillet back inside. Bake for 20 minutes.
Remove and top with sugar-dusted blueberries (1 c North Bay Produce blueberries + ⅓ c granulated sugar, mix well), homemade lemon whipped cream, chopped praline pecans, and fresh sweet basil.
Dust with a tablespoon of powdered sugar and maybe a drizzle of pure maple syrup.
Serve.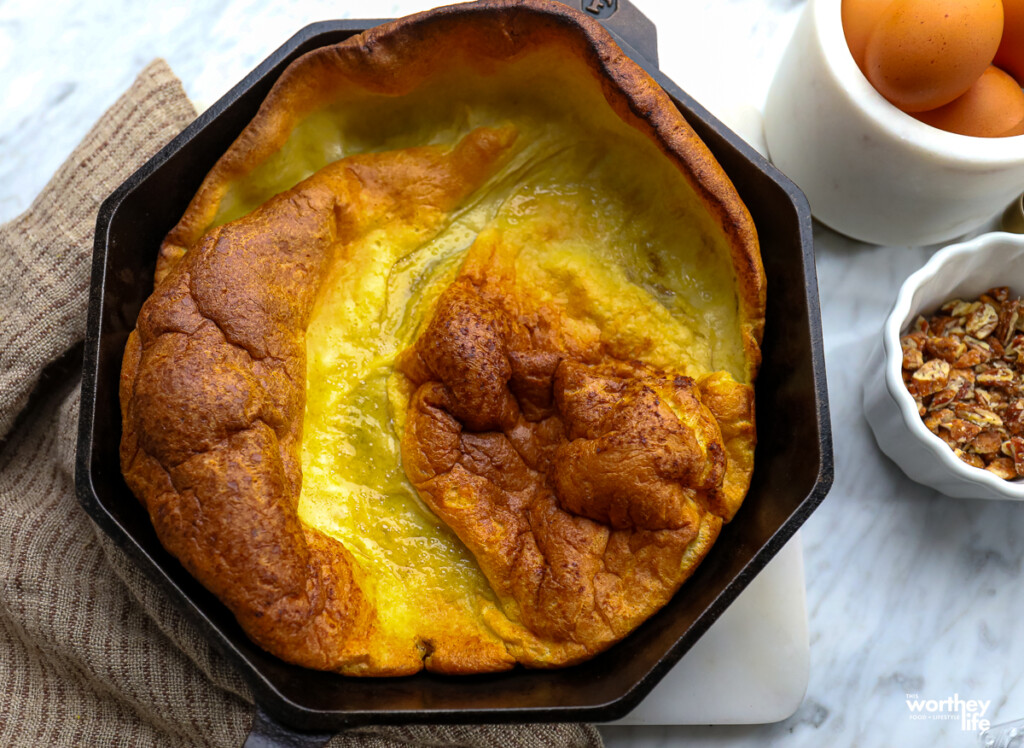 Homemade Lemon Whipped Cream Recipe
Ingredients:
2 c heavy whipping cream
4 tbsps powdered sugar
4 tbsps of freshly squeezed lemon juice
1 tbsp lemon zest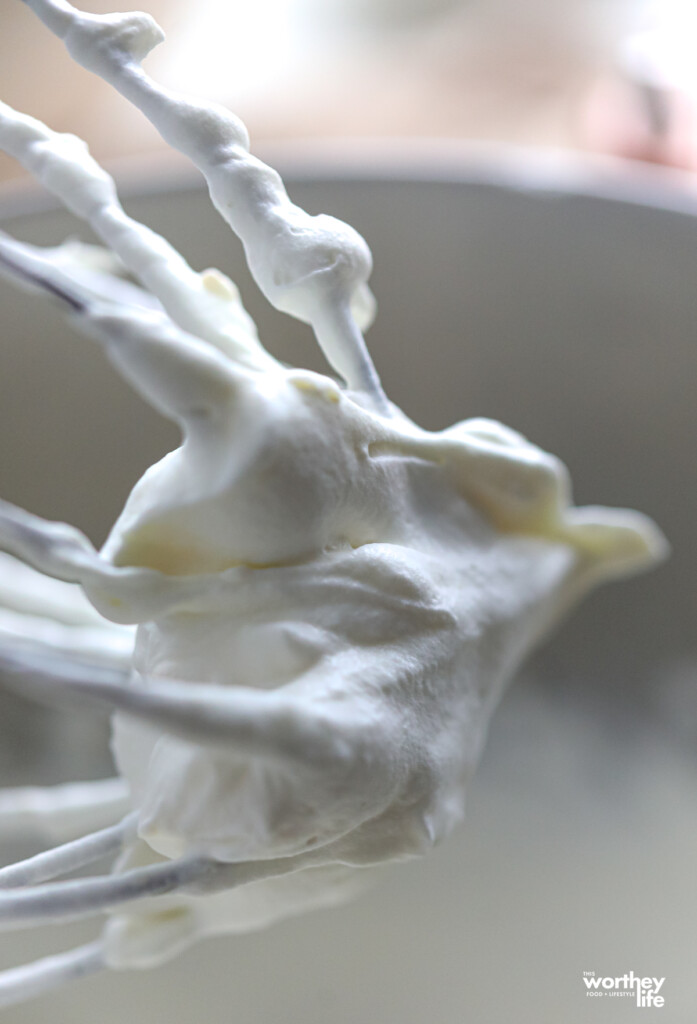 Directions:
Chill the mixing bowl and wire whisk attachment in the freezer for at least 15 min.
Add the whipping cream and sugar and mix on med-high until the whipped cream forms stiff peaks.
Add the lemon zest and juice, whip for 20 seconds, and voilà! There you have it!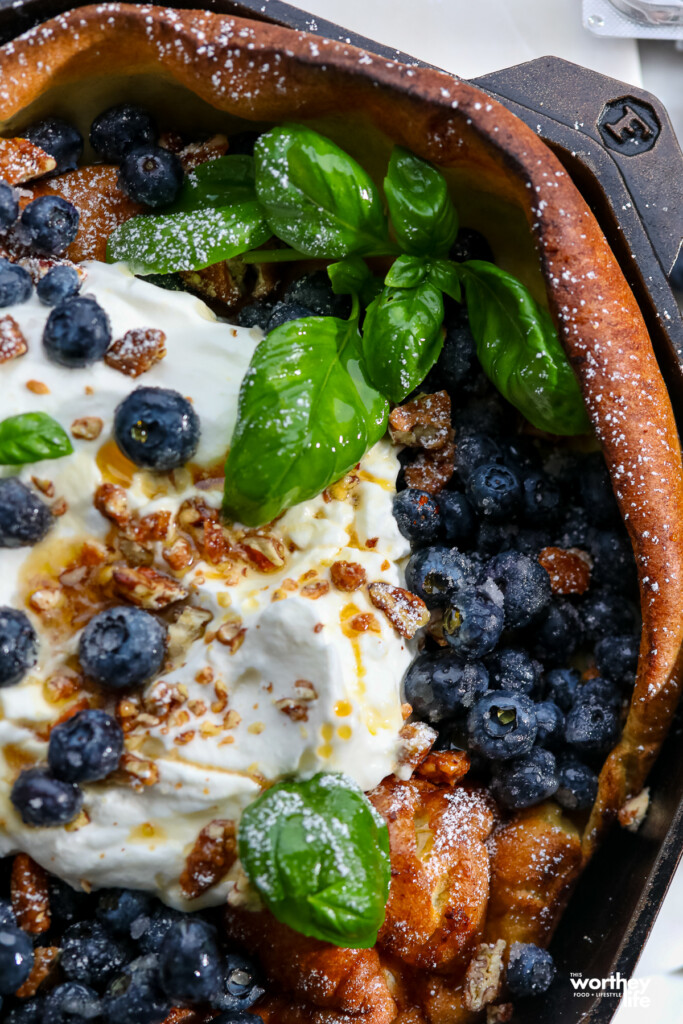 Can I make this a day ahead?
A Dutch Baby pancake is best when served immediately after baking.
However, you make the batter twenty-four hours ahead; after taking it out of the fridge, allow it to come to room temperature in about fifteen to twenty minutes.
You can also prep the berries and make a fruit topping.
Also, the whipped cream can be made a day before as well.
Can I store a Dutch Baby be kept in the fridge?
A Dutch Baby can be kept in the fridge and stored in an air-tight container for up to three to four days.
How do I reheat a Dutch Baby?
No worries, preheat the oven or air fryer to 300 degrees and heat through for three to four minutes.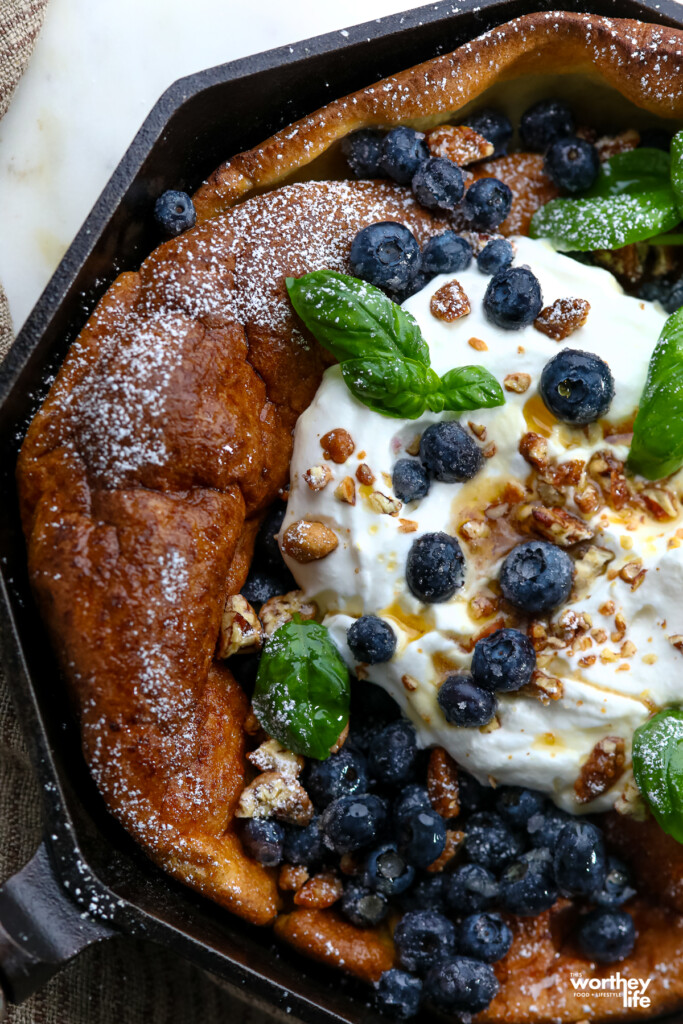 Making a Dutch Baby is an easy way to make a breakfast or brunch feel fancy variety.
We love them because they are versatile and can be topped with sweet or savory toppings.
So, grab the ingredients and enjoy making this yummy treat.
And if you have any questions or want to say hello, drop us a comment below.