Don't run out of breakfast ideas with the addition of our easy-to-put-together Breakfast Board for busy mornings.
It has all the breakfast goodies you crave, and we'll show you how to make your own with some planning.
If you're hosting a brunch or want something easy for those busy mornings, this board has a little bit of everything, and we're mainly using store-bought items to make this board.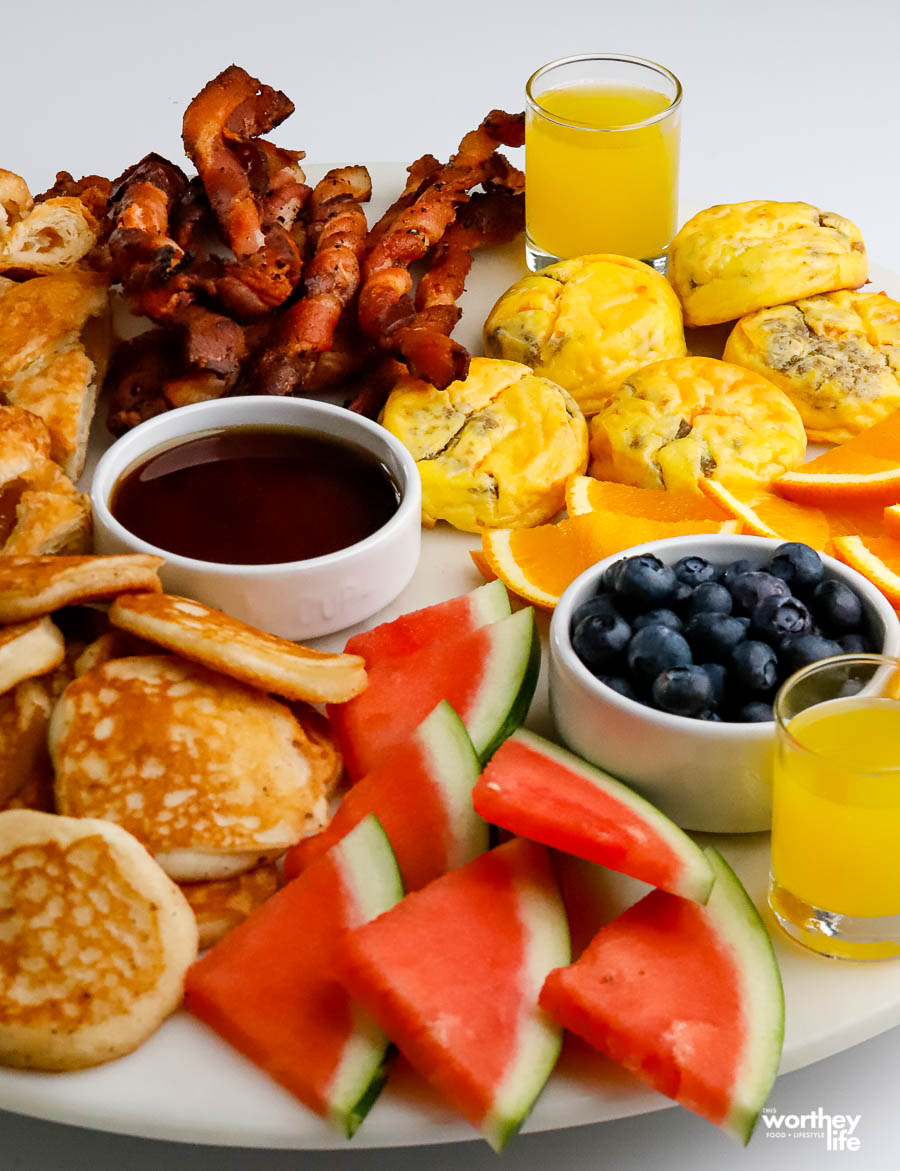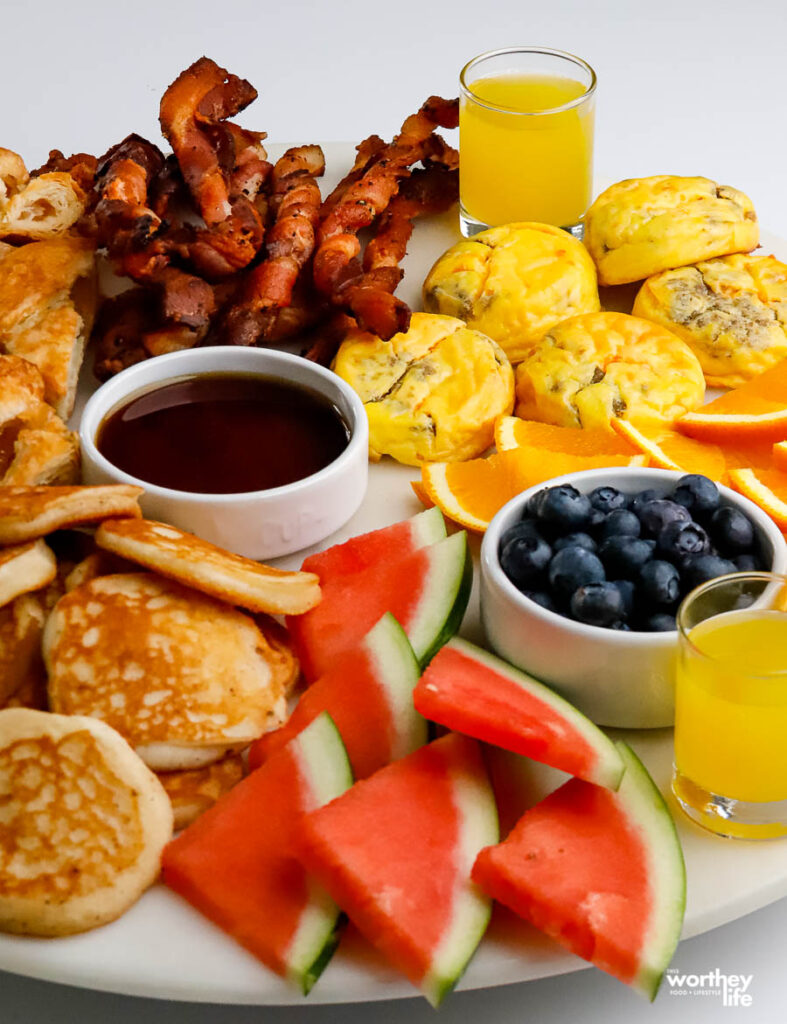 Easy Breakfast Board
We love a good weekend breakfast spread like the next family, but we think creating breakfast boards is at the top of our list!
From cheese boards to dessert boards, we love them all!
They are fun and perfect for a whatever-day-of-the-week brunch, special occasions, or whenever you feel like you want to take your breakfast game shenanigans to the next level.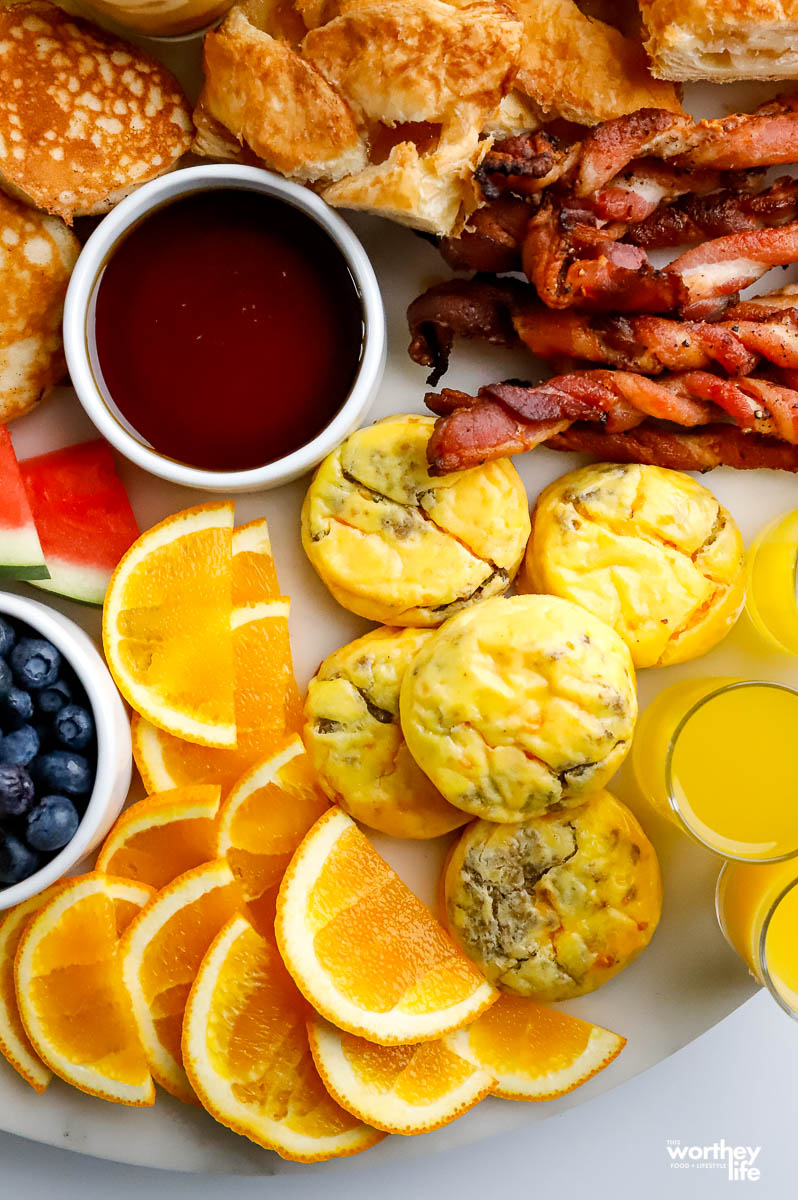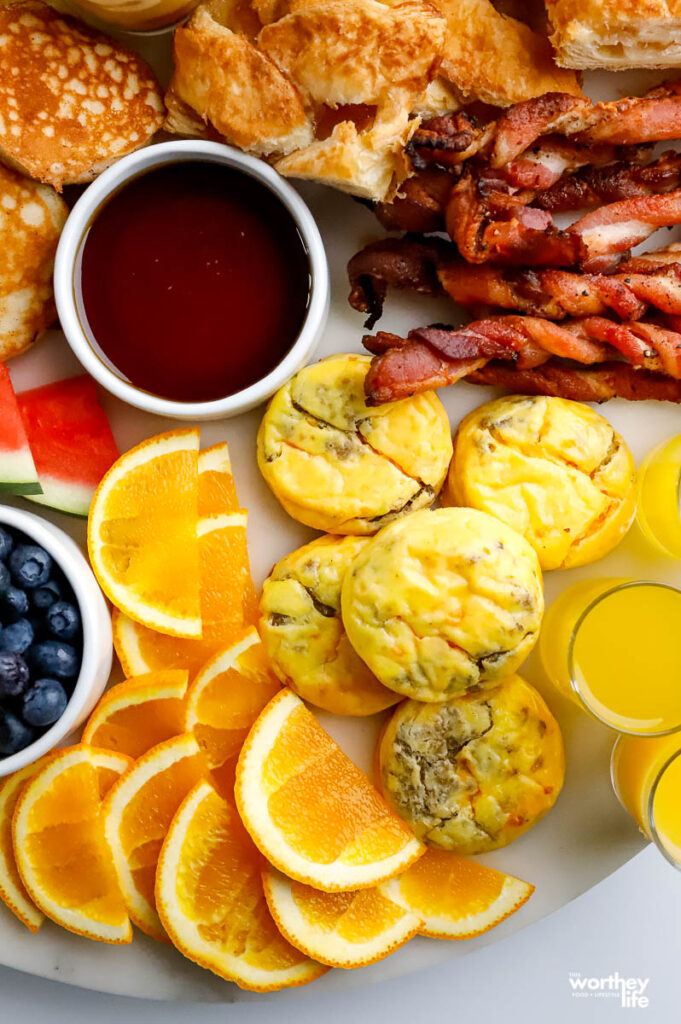 Why A Breakfast Board?
Why not! This type of board goes by several different names: breakfast platter, charcuterie board, breakfast charcuterie, grazing board, or brunch board.
But no matter what you call them, they're a fun way to serve the best foods breakfast offers.
Breakfast boards are ideal for making an occasion feel a bit fancy and sophisticated while still feeling super casual and chill. I like that!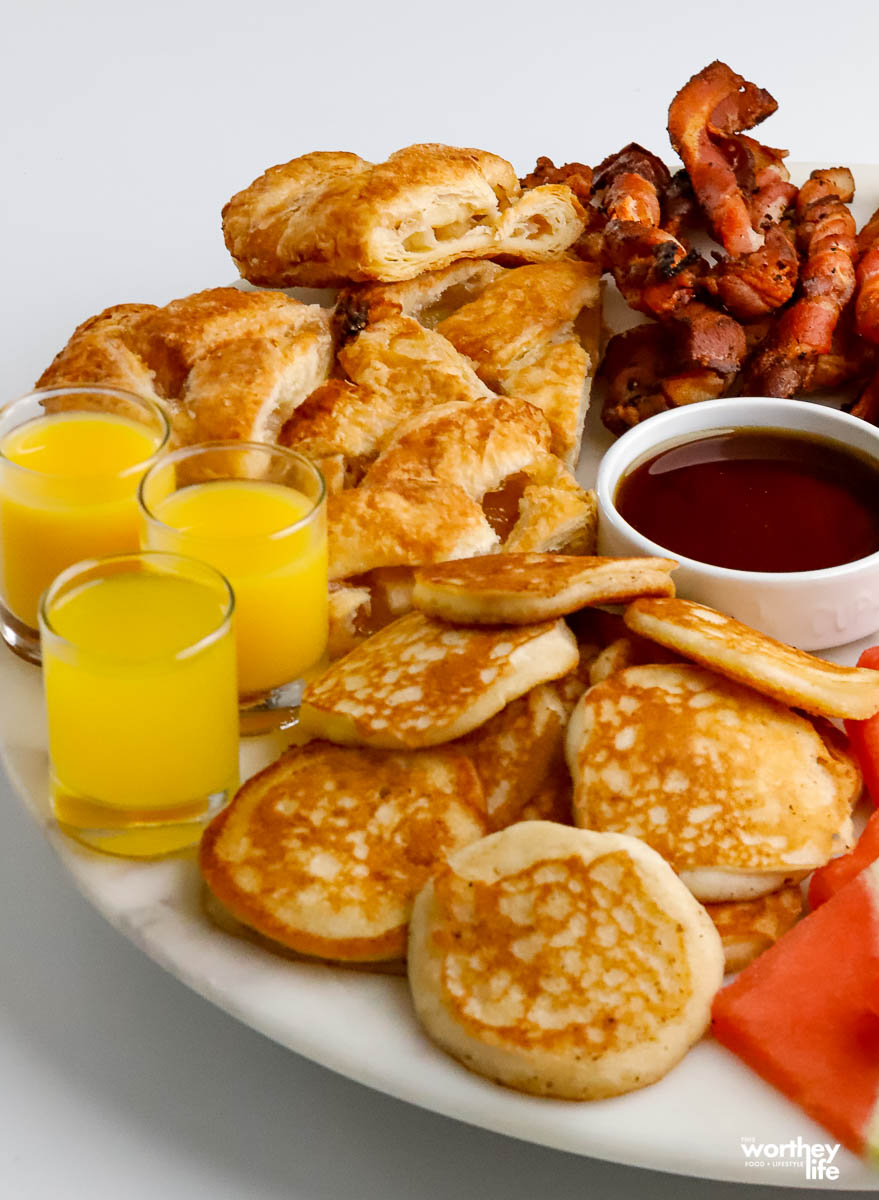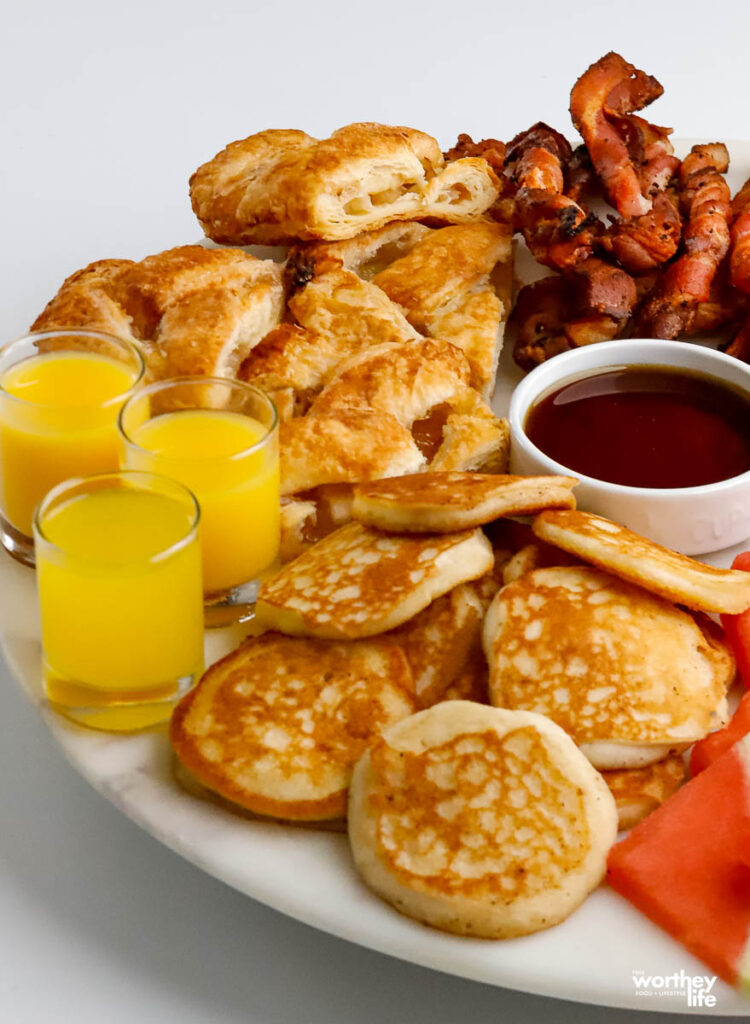 What size board should I use?
For us, the key to creating a delicious and no-fuss breakfast board is to plan it out.
It doesn't take long at all, and doing so will give you an easy blueprint for selecting what to serve your items on, as well as the kinds of foods you want to use.
We like first to decide whether we need a small, medium, or large serving surface.
A small cutting board or tray works perfectly if it's just The Mrs. and I.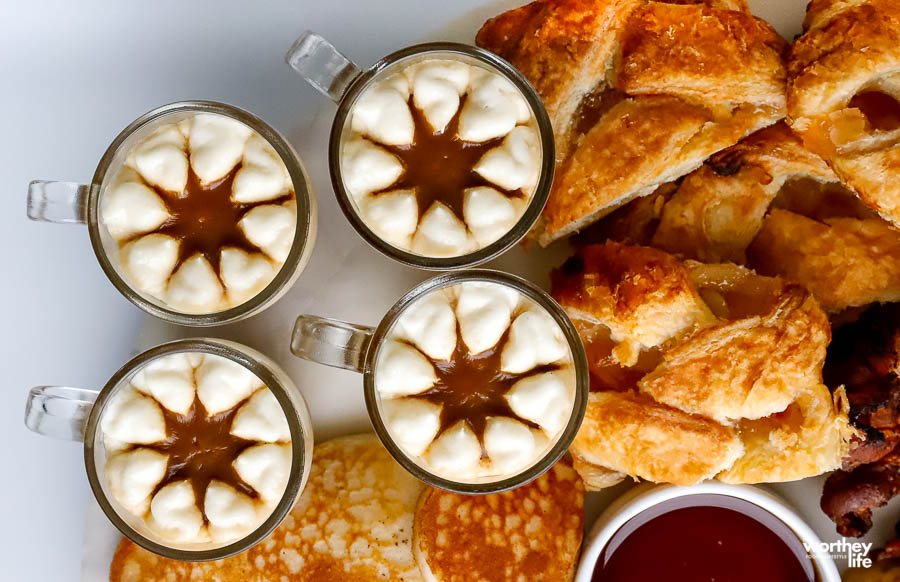 However, if I prepare something for the whole family to enjoy, I will grab something a bit bigger.
The same thing goes for when I prepare a breakfast grazing board for a larger group of friends and family.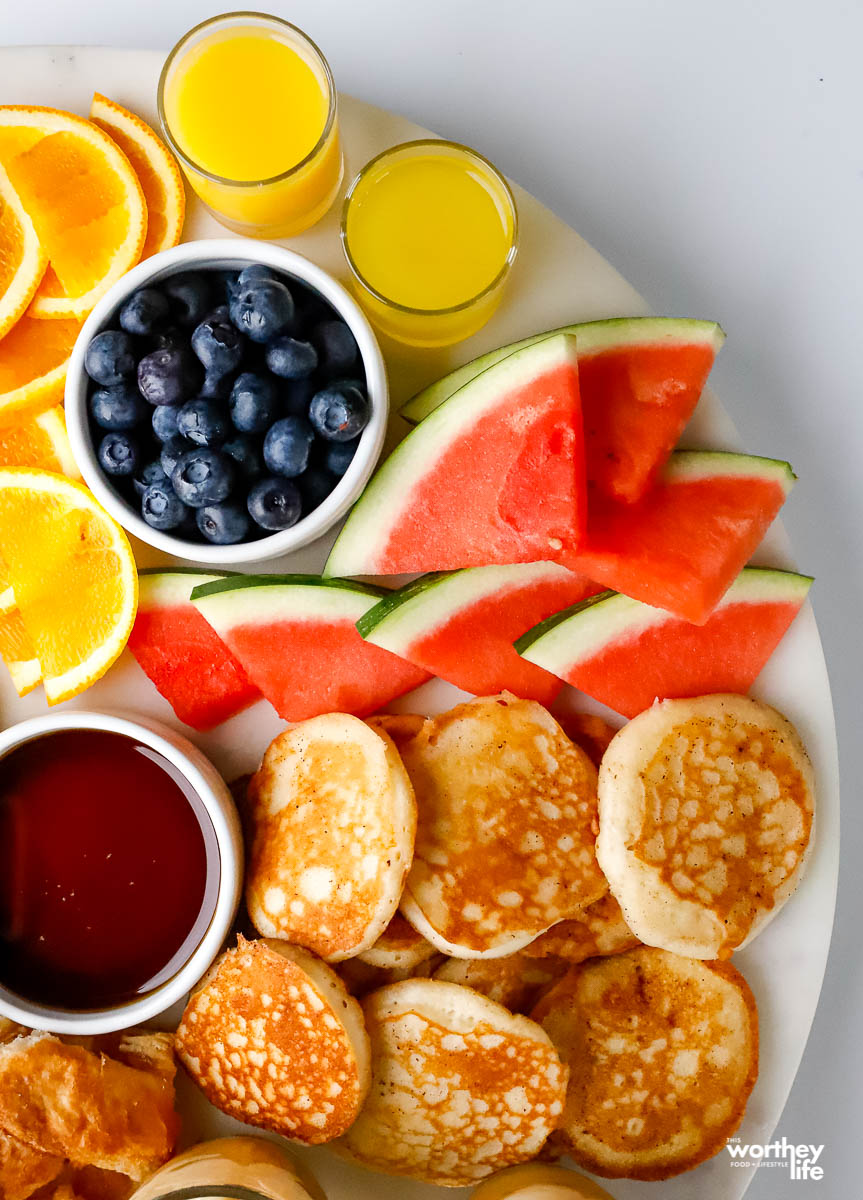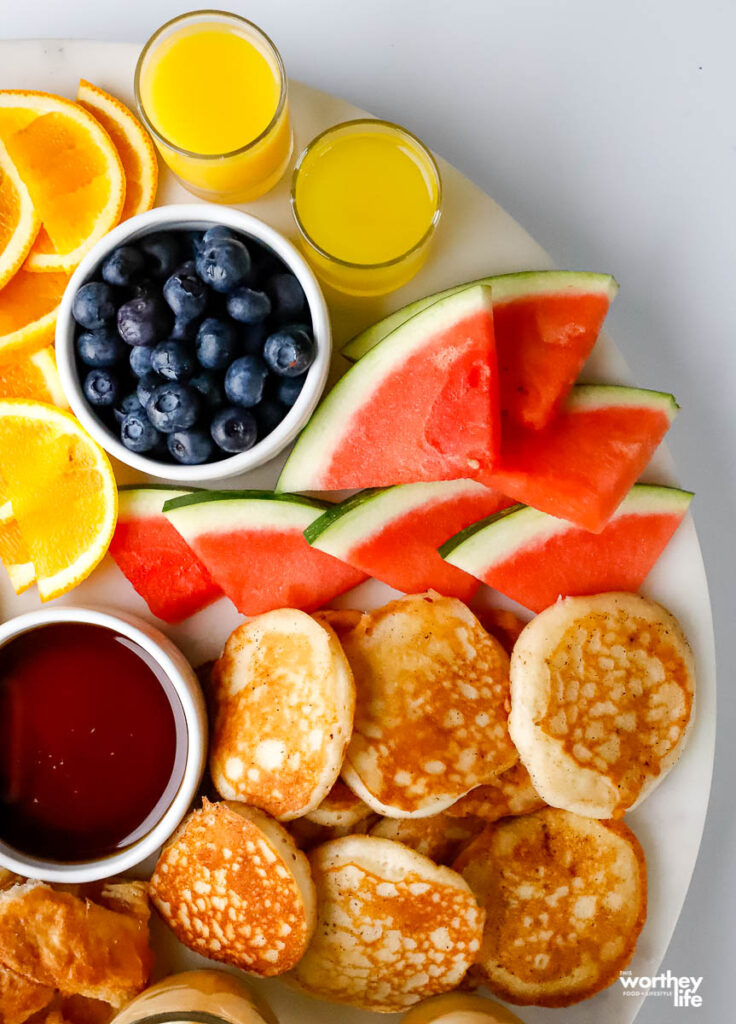 For one or two people, use a small cutting board or tray.
For a group of three to five, use something a bit larger.
And for even larger groups, you may need to purchase a board like the one we have here, or you can also use multiple surfaces to accommodate all of the delicious things you are serving!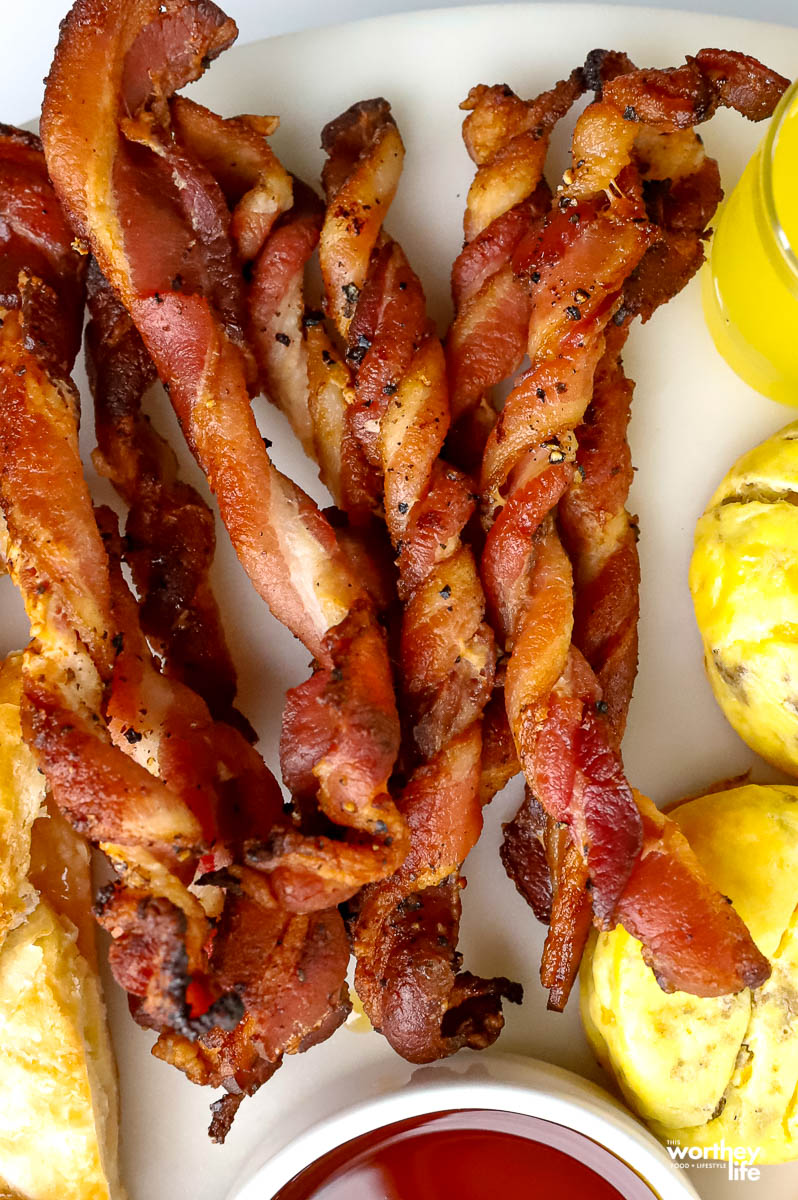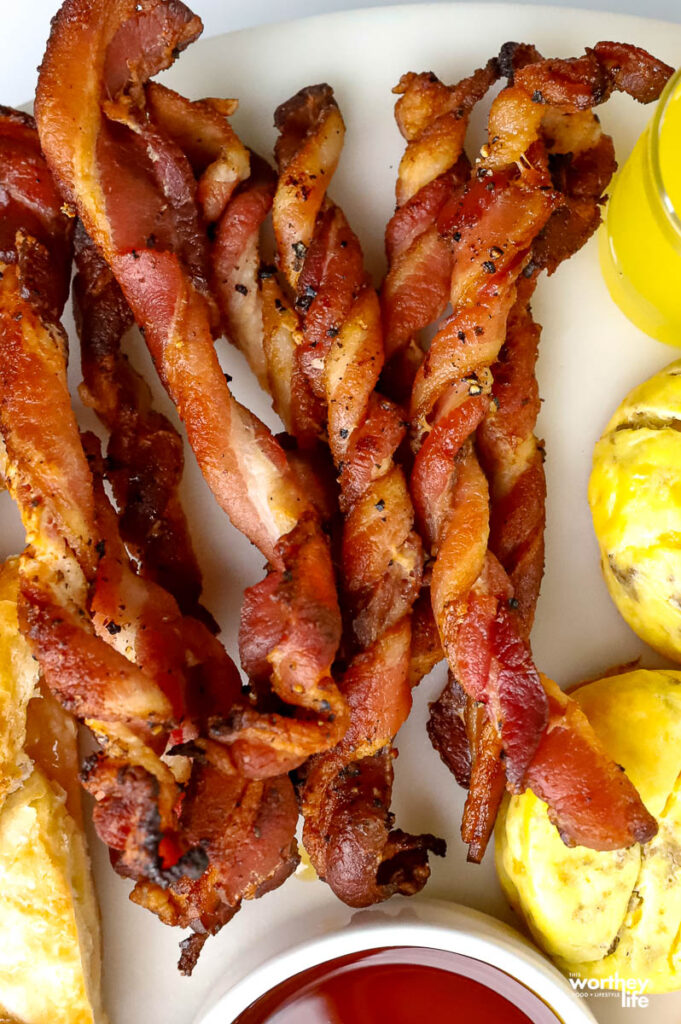 What To Put On A Breakfast Board
Deciding what to put on your board is the best part!
You also want to consider the specific needs of family members or guests.
For instance, one of our sons doesn't eat eggs, so we will typically omit eggs or make two separate boards to ensure everyone is happy with the available breakfast options.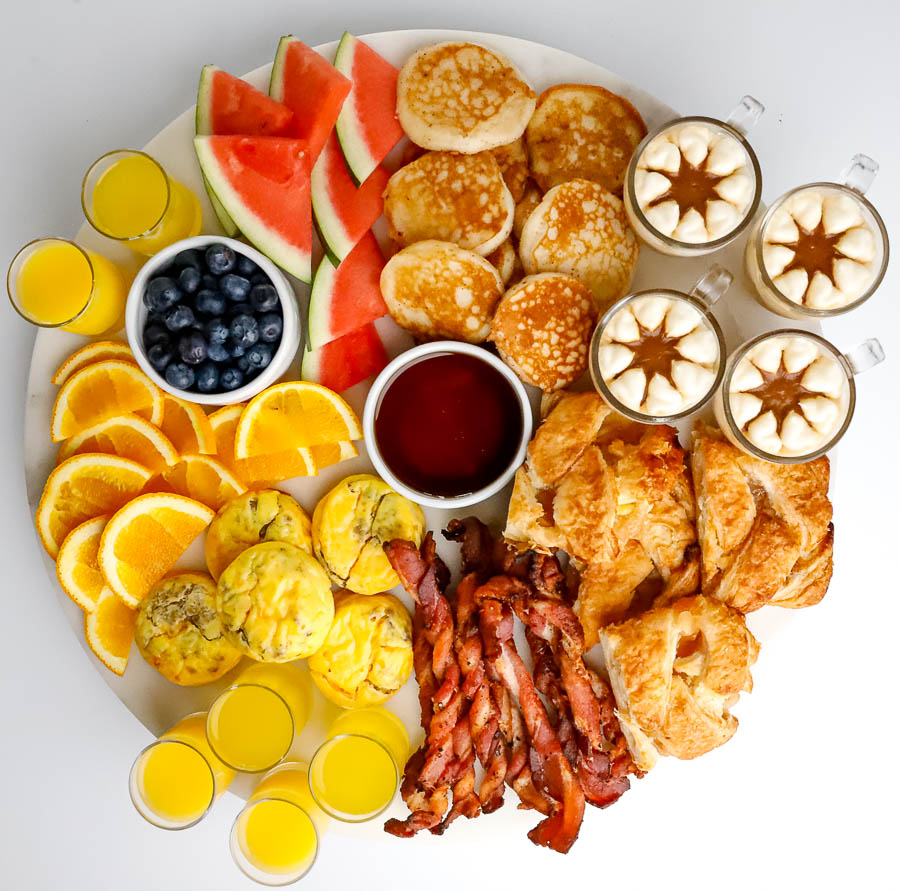 How To Serve
A brunch charcuterie board is best when you create them with 100% accessibility in mind.
The board should be located where guests can grab and go.
The unique thing about breakfast boards, like cheese or charcuterie boards, is everything is served on a large wooden board or platter that is easily accessible and is loaded with plenty of options.
No cutting board or platter? A large sheet pan, serving tray, cutting board, small bowls, small dishes, or a 2 or 3 tiered-cake stand are all great alternative options as well.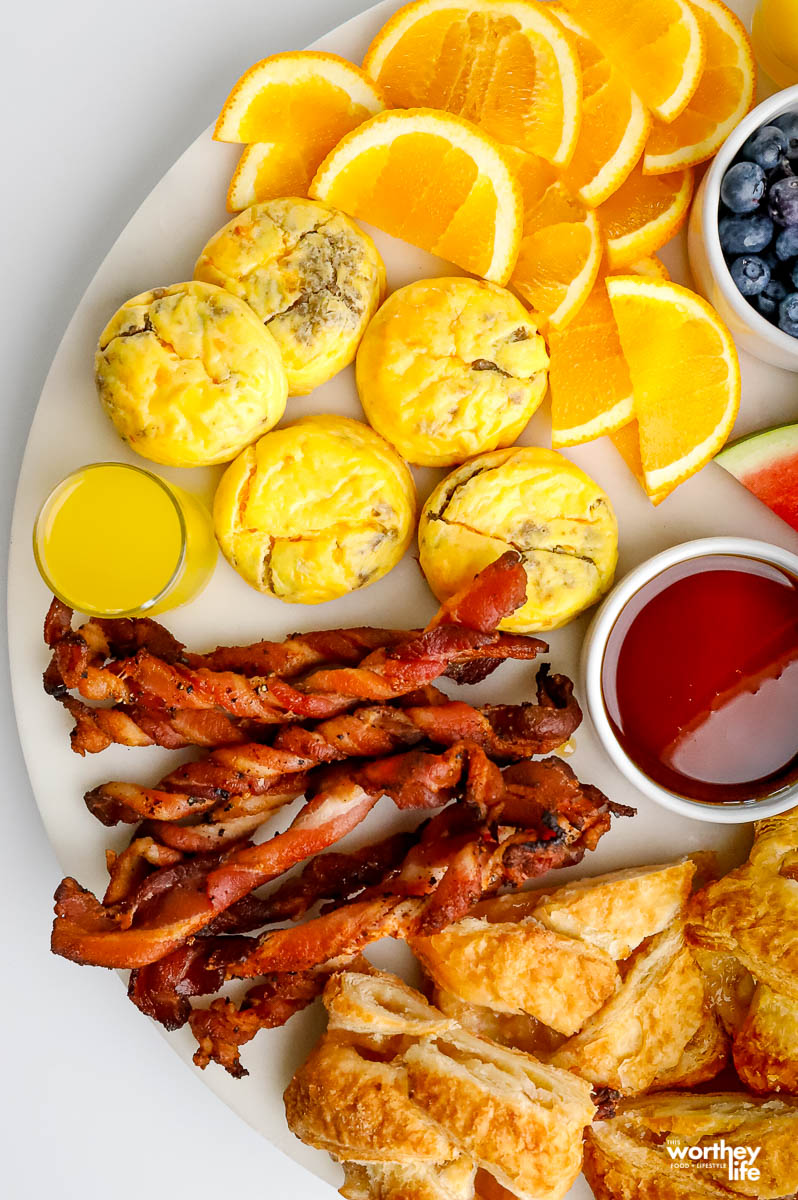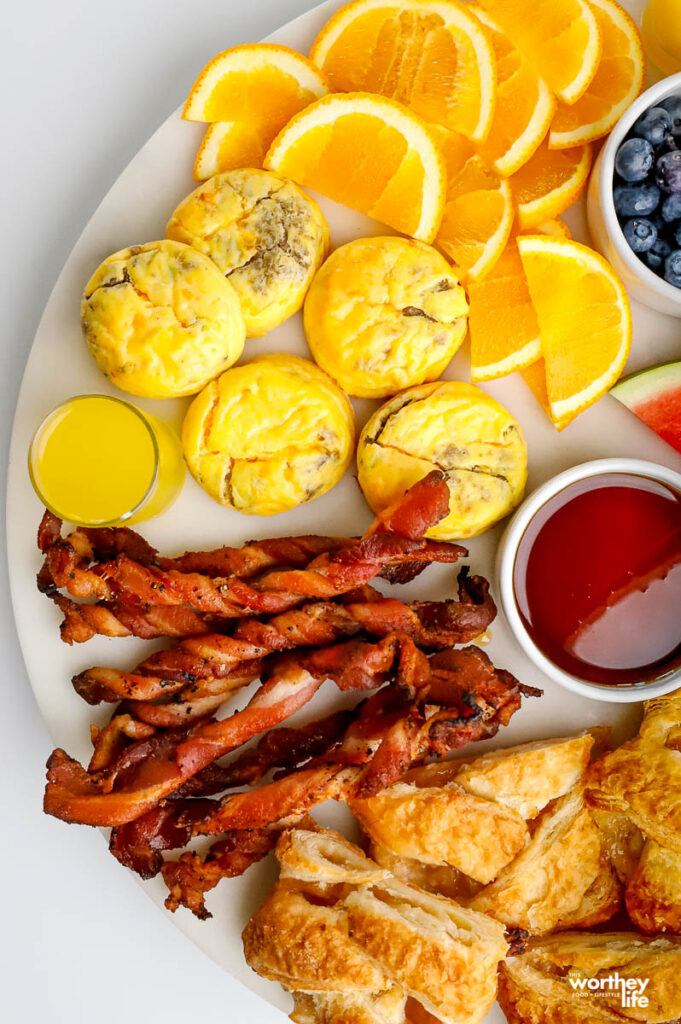 What You Will Need
Thick-Cut Bacon. Who doesn't like bacon? Because crispy bacon screams breakfast, we added a little twist to it.
Mini Pancakes + Syrup. Because when pancakes with maple syrup are on the breakfast menu, people will come running!
Egg Bites. I love these easy and tasty egg bites; we grabbed them at Costco, and they are a timesaver and delicious addition to any breakfast board.
Watermelon, Oranges & Blueberries. Adding fruit to any breakfast is a great way to add a healthier option. Fruit also adds pops of color that will make your breakfast not only stand out but adding fruit give guests a lighter option as well.
Apple Pastry. For this breakfast board, we added apple-filled pastry, but go ahead and your favorite variety of pastry. Donuts work too, and churros are perfect for this kind of breakfast set-up!
Caramel Macchiato Cups. I tried these Caramel Macchiato Cups from Costco, and they were some of the best coffee treats I have ever had! And they work so well for a breakfast board because they are so decadent. If breakfast had a dessert course, this would work!
Orange Juice. Who can imagine any breakfast scenario where there isn't any orange juice? That would be mad! Don't worry; we included shots of chilled o.j. on our breakfast board. Just grab and go! Cheers!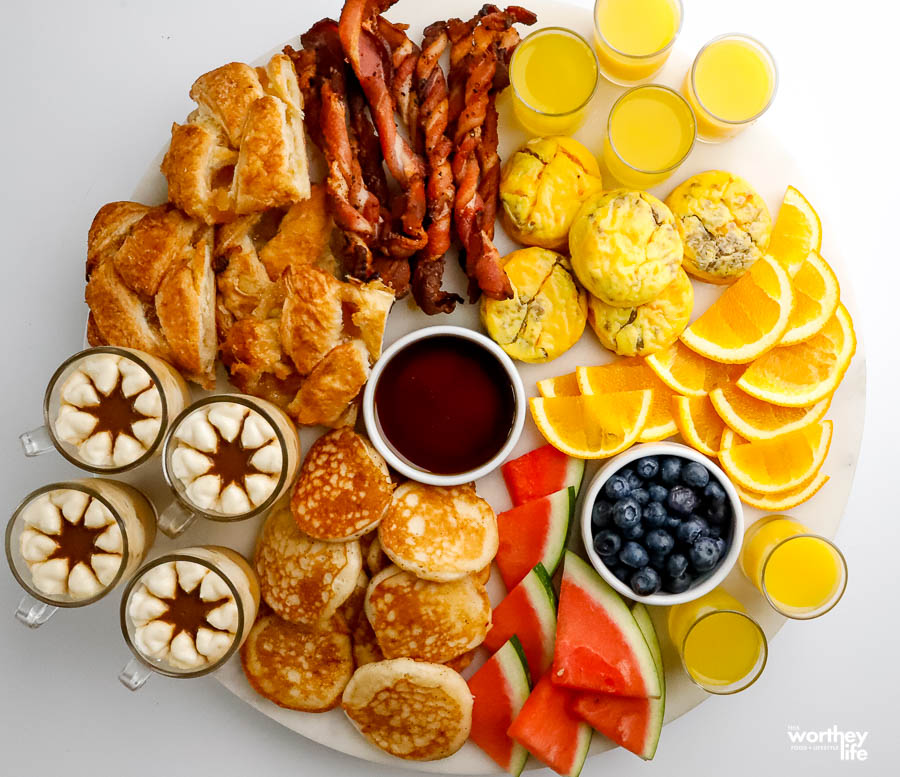 And there you have it!
Mind you, there is more than one way to make a breakfast board, and the first rule of thumb is to add the breakfast foods you, your family, and friends love to eat.
Waffles can be used in place of pancakes, or add both, and mini pancakes and mini waffles work too!
You can add and subtract as you see fit. Bagel and lox boards are a great option.
Breakfast sausage can replace or try meatless plant-based bacon, or breakfast sausages are an option too!
Here is a list of food items to add:
Pancakes & Waffles (add chocolate chips or blueberries to your pancakes to change things up)
Donuts & Muffins
French Toast or French Toast Sticks
Biscuits, Croissants & Toast
Hashbrowns
Breakfast Sausage, Canadian Bacon or Plant-Based Sausage, or Thick-Cut Bacon
Breakfast Bars
Omelets, Hard-Boiled Eggs & Fried Eggs
Pancake Syrup, Honey, Agave, & Nutella
Variety of Fresh Fruits with cream cheese or peanut butter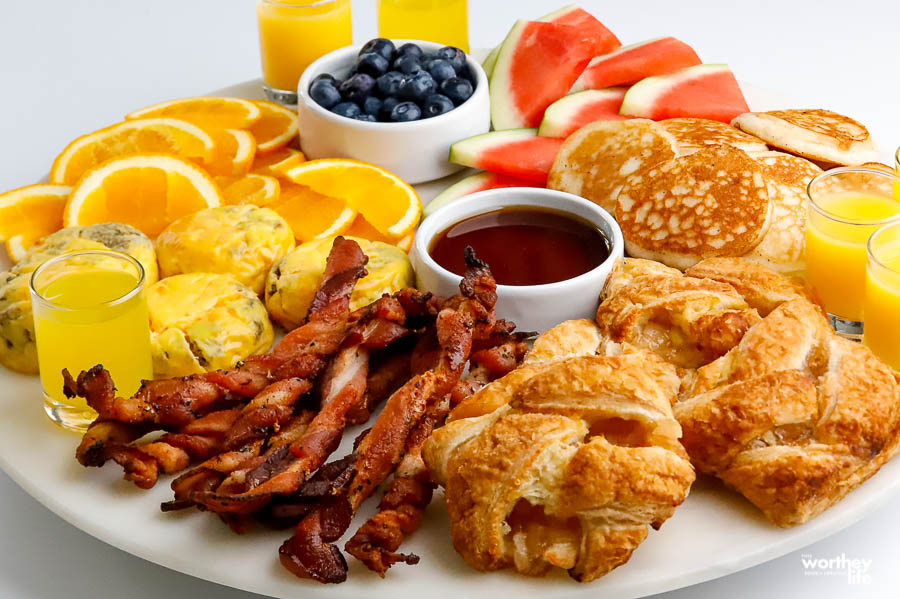 Okay, you have the easy breakfast board blueprint; now it's your turn to create your own waffle board or breakfast board.
There are so many great options for putting your board together.
The biggest thing about putting your board together is to fill it with your favorite things.
Find some of our favorite food boards below:
French Fries Board + Dip Ideas