It's the most wonderful time of the year. Basically, it's time for all the delicious baked goodies, and our brown butter white & chocolate chip + toffee cookies are just what you need this holiday baking season. These delicious chocolate chip cookies have toffee bits, brown sugar, and a ton of other goodies to pack a powerful sweet punch. P.S. Browned Butter is everything!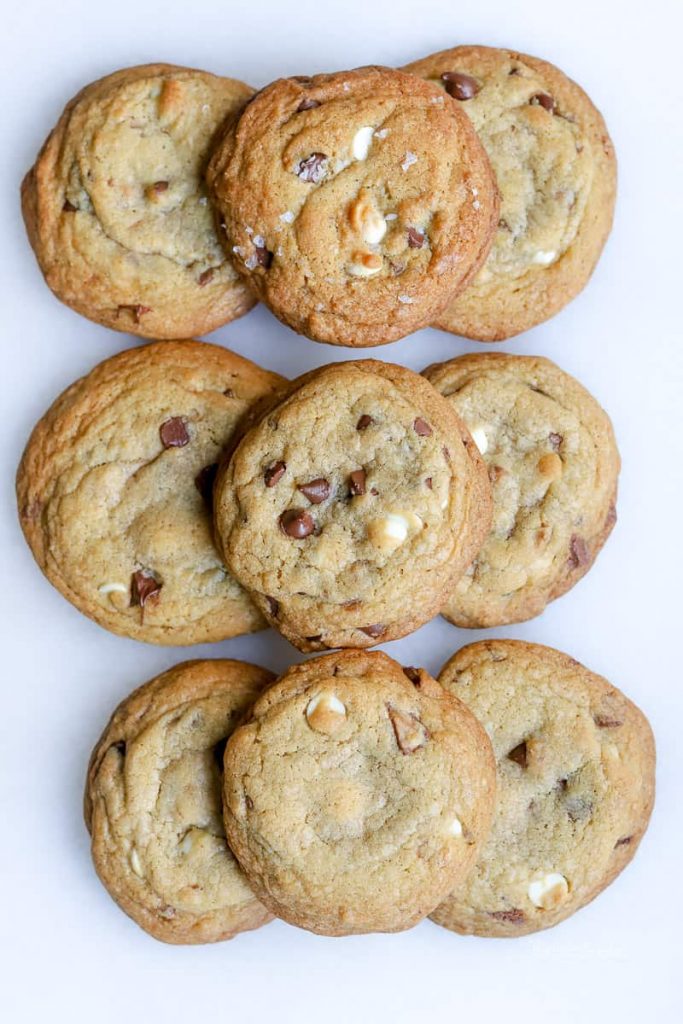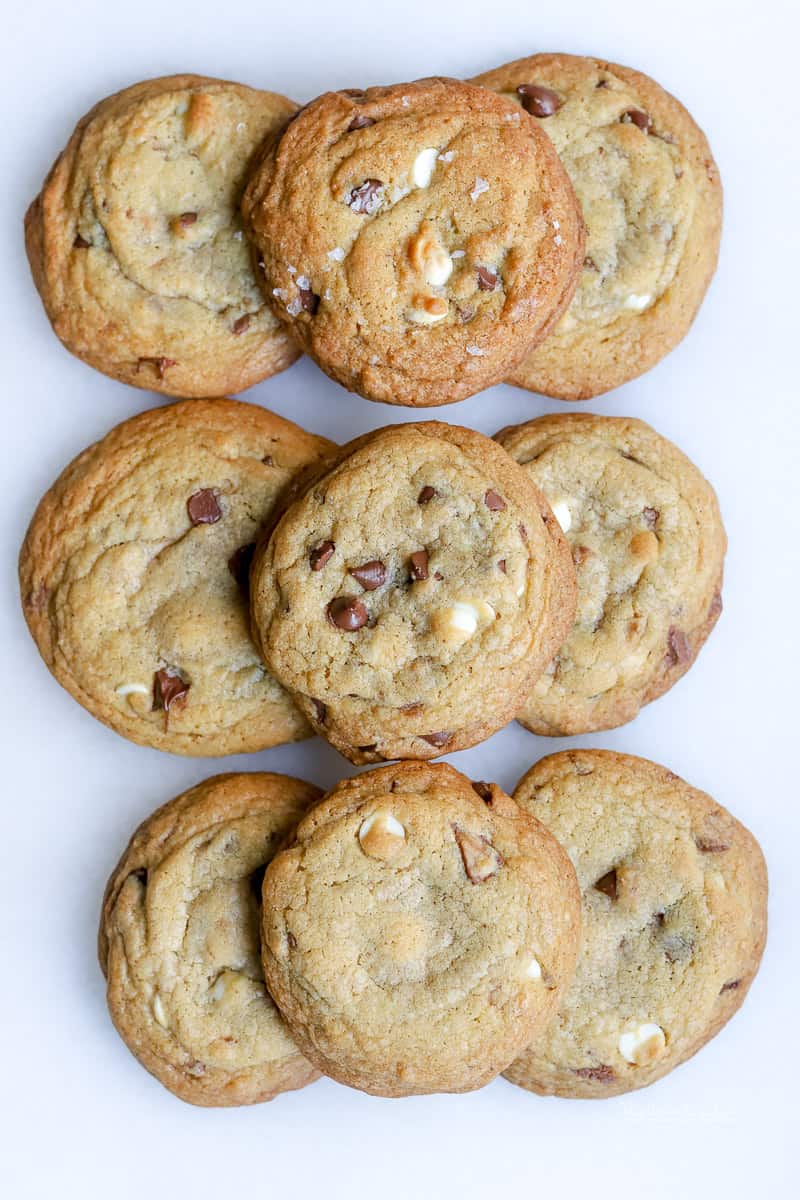 Brown Butter White & Chocolate Chip + Toffee Cookies
Is fall the time of the year you really shine? Me too! Of course, summer has its perks, but the cooler weather of autumn has my name written all over it! For me, fall means baking, and a warm kitchen with an ovenful of goodies, like homemade cakes, pies, cobblers, sweet rolls, and most of all cookies. Having a plateful of warm cookies makes me feel like a kid again, even if I am the one doing all of the baking.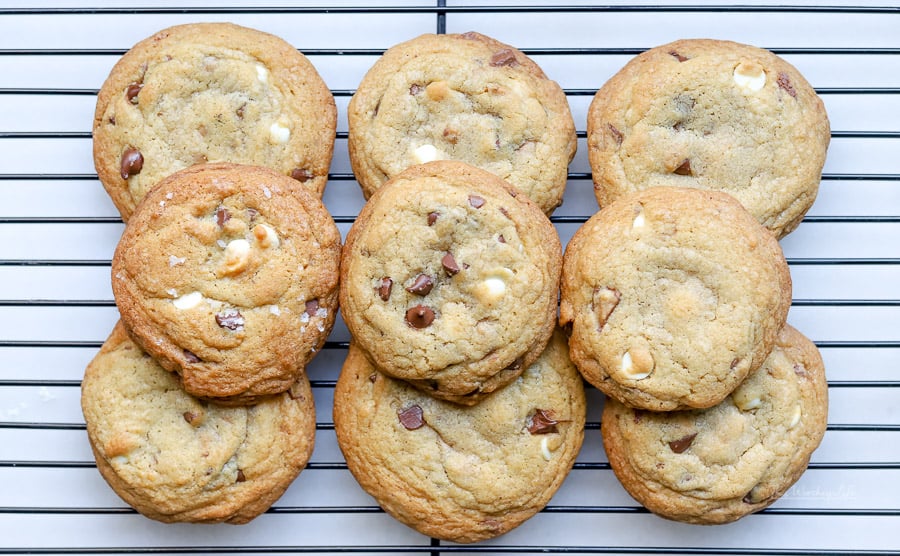 And if you enjoy baking cookies, I have a great recipe I think you're gonna love. I love cookies and the holidays are a prime time for baking up tasty batches of homemade cookies for friends, family, or just because you want something to munch on. We think we hit the jackpot with our super crazy delicious Brown Butter White & Chocolate Chip + Toffee Cookies! And if you're already a fan of "normal" chocolate chip cookies, you will go head over heels for these! They're soft where they need to be soft and slightly crunchy where they need to be crunchy. And the brown butter is just about the most heavenly thing I think I've ever made!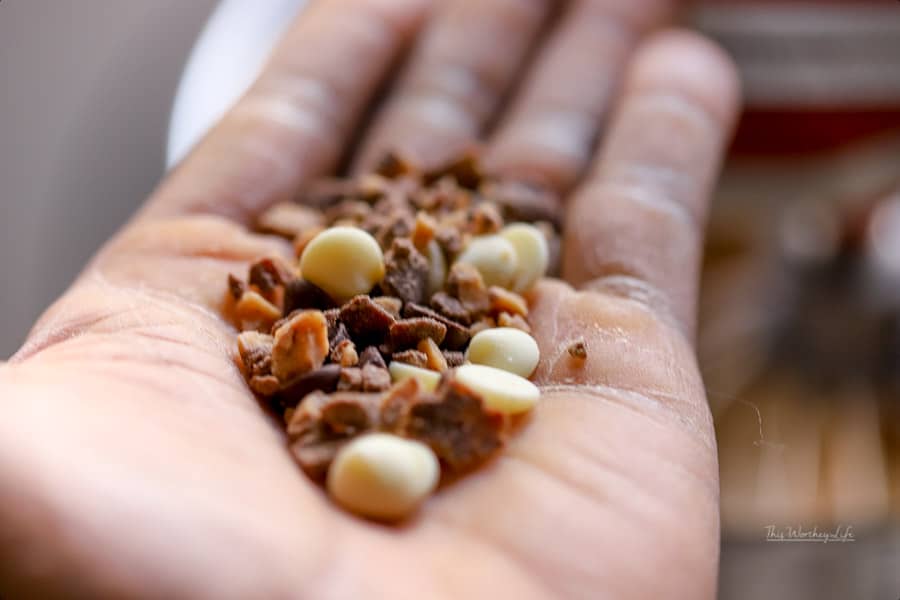 I tossed in both white and milk chocolate chips, but if you know me, I couldn't stop there, so I added milk chocolate toffee bits too! Please forgive my flour-dusted hands.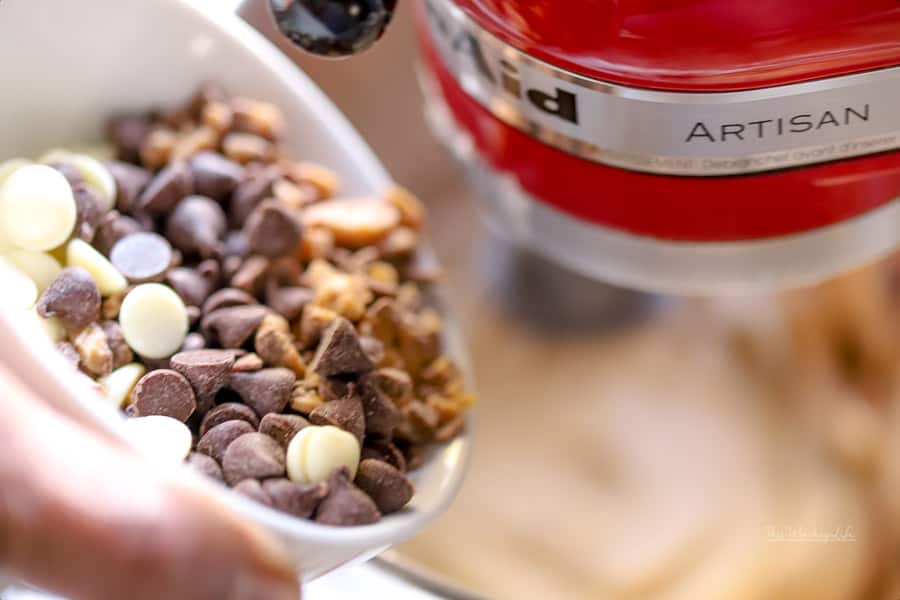 These cookies are seriously some the best cookies I've made in a long time. Well, maybe since last week! Hey, don't judge me I just love a good cookie. And besides, we are in the thick of cookie making season. That means cookies galore for friend, family, and Santa!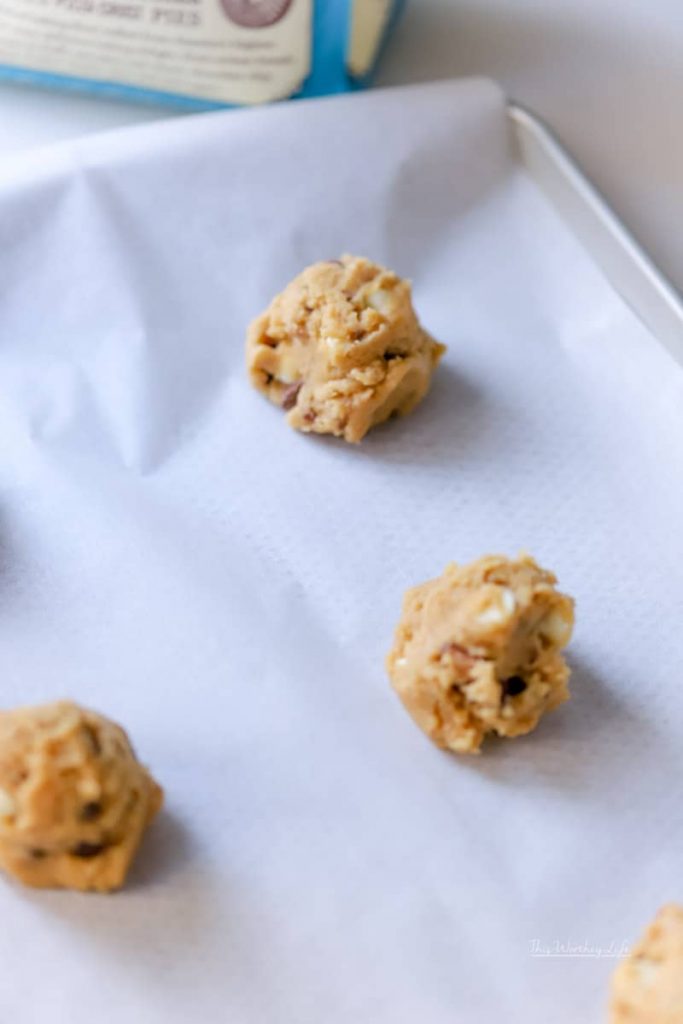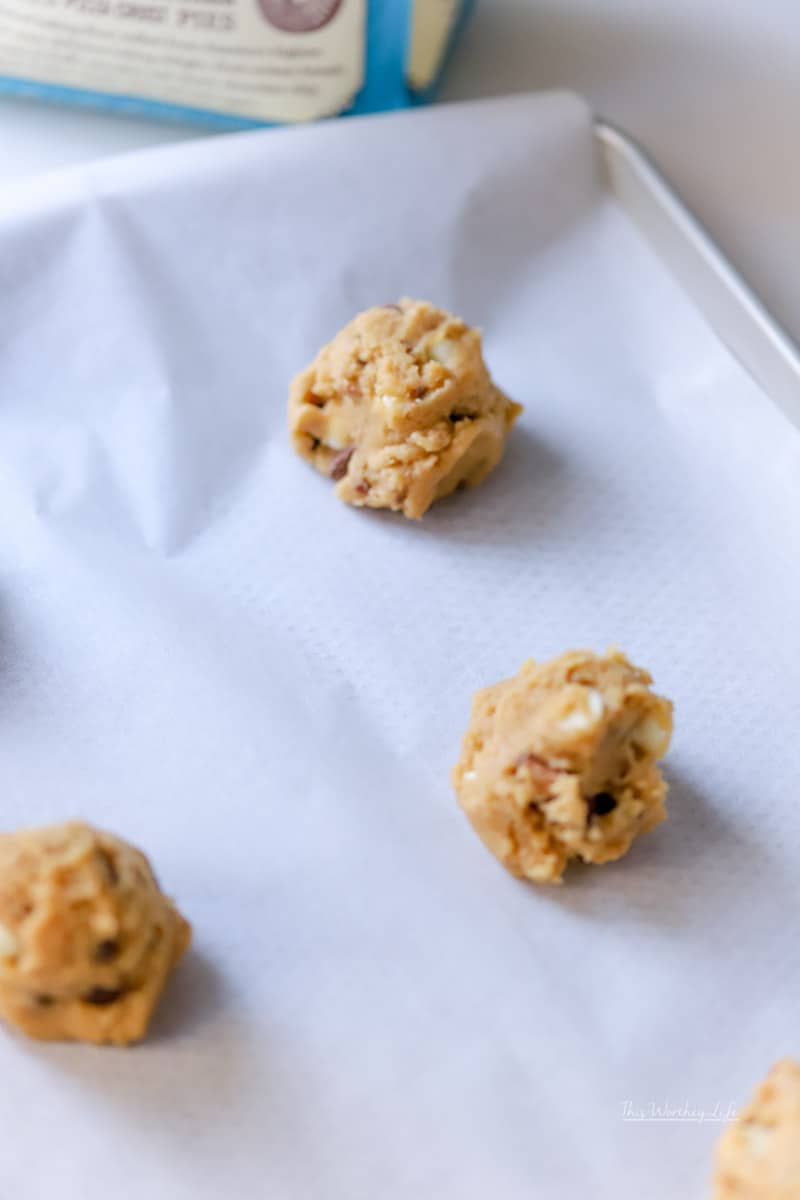 How to make Brown Butter White & Chocolate Chip + Toffee Cookies
Ingredients:
2 cups Bob Red Mill's all-purpose unbleached flour
2 sticks unsalted butter
1 cup light brown sugar
1/4 cup granulated sugar
3/4 teaspoon flaky sea salt
1 teaspoon baking soda
2 large farm fresh eggs, room temperature
1 tablespoon pure vanilla extract
1 tablespoon pecan liqueur
1/3 cup semi-sweet chocolate chips 72% cacao
1/3 cup white chocolate chips
1/3 milk chocolate toffee bits
Browned butter is cookie making gold! Use this technique versus creaming your butter with sugar together, and I guarantee you won't regret it one single bit. In 6 to 8 minutes the melted butter will begin to foam, and the butterfat will start to brown, and make sure to scrap the bottom of the pan as your stirring to get all of those brown bits. It ain't magic, but it tastes like it! After the butter is browned stir in the light brown sugar, granulated sugar, pure vanilla extract, and pecan liqueur. What you'll get is an intensity of flavor that is unmatched. After this step, I folded in a couple of room temperature farm fresh eggs and gently stirred them until all the ingredients were well combined. Add this to your dry ingredients and work together in the bowl of the stand mixer, toss in the milk chocolate, plus white chocolate chips, and don't forget the milk chocolate toffee bits. This is some next level cookie dough. Form the cookies on the cookie sheet lined with parchment paper and dust half of the cookies with flaky sea salt. Chill the cookies in the fridge for 30 minutes. Why? Doing so chills the butter in the cookie dough and also prevents the sugar from absorbing too much moisture, and chilled cookies don't spread as much in the oven when baking them off.
One of my secret most secret weapons in my baking arsenal is pecan liqueur, need I say more? Nah, I didn't think so!
Here's proof that my mama didn't raise any fools! In Mrs. Worthey's kitchen, you wouldn't find another pure vanilla extract, and I am passing along the knowledge to my little would be bakers. You know the drill, good stuff in, delicious stuff out. It's so easy! You can also make the cookie dough a day ahead or two ahead. I prefer doing this because the flavor is so much better the next day.
When it comes cookie making this is the holy trinity; browned butter, light brown sugar, and granulated sugar. Facts y'all!
Here's the finished browned butter mixture, see those little bits of brown? That's carmelized butterfat, and it's also how you get a hefty amount of intense flavor. Doing this will amplify the buttery taste. Adding the pure vanilla extract and the pecan liqueur gives your tongue a smidgen of spice on the palate, and you know what? Your tongue won't be mad at you one little bit. Promise.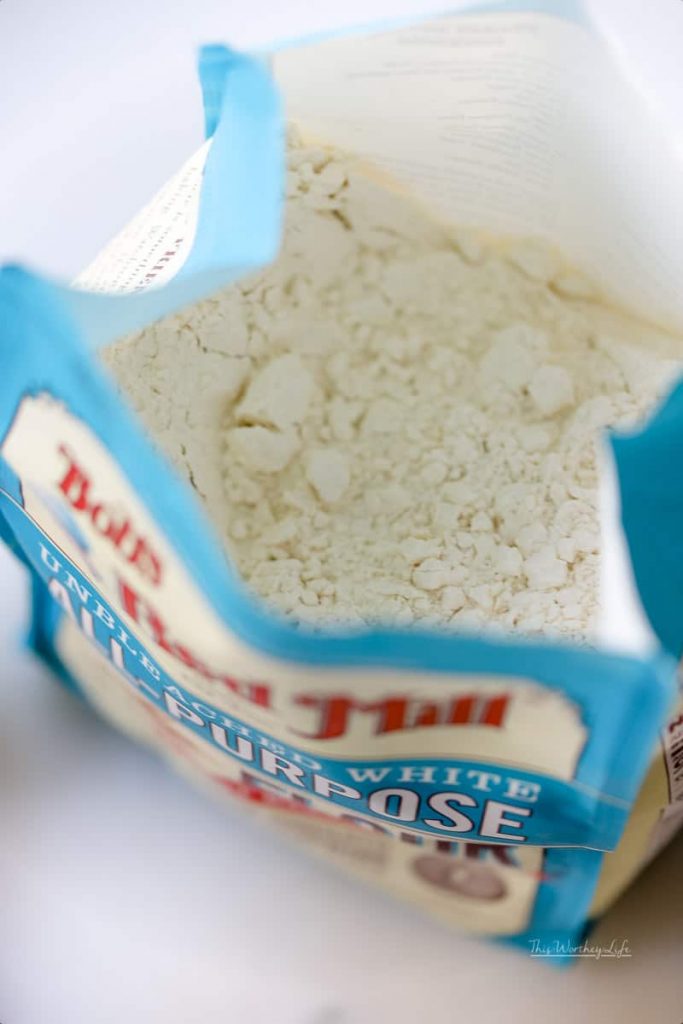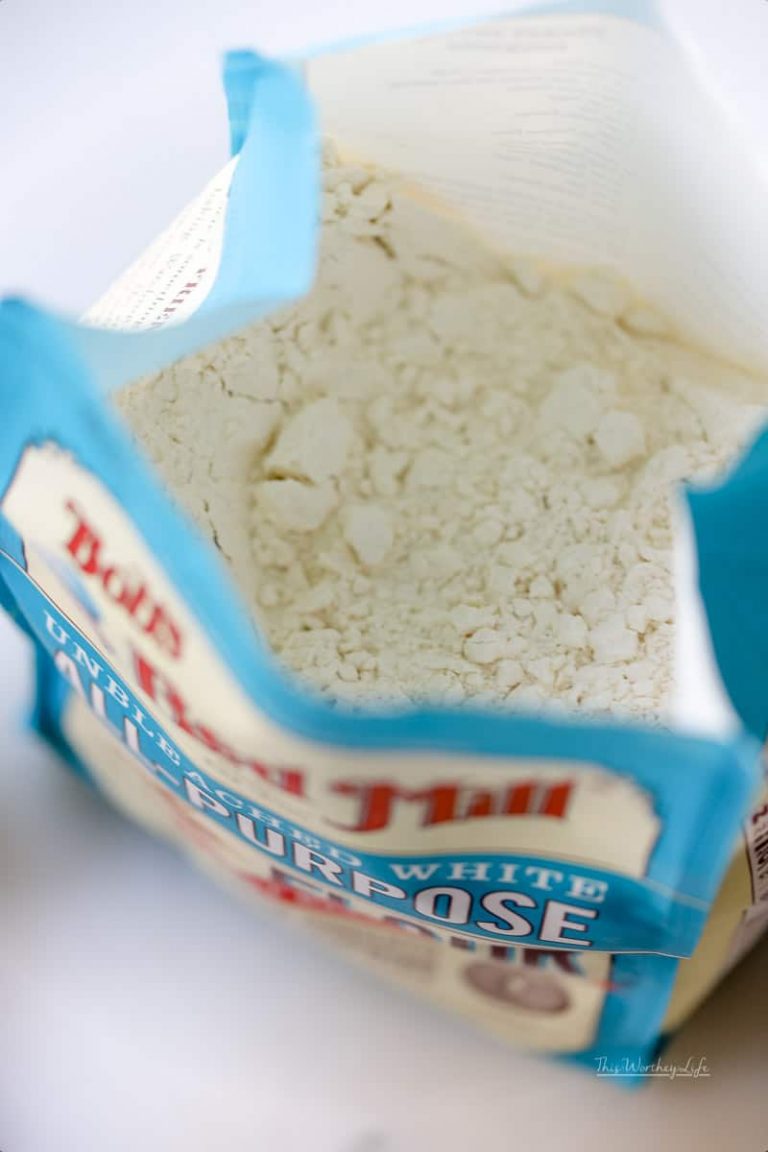 And everyone knows that making a good cookie requires a quality all-purpose flour and Bob's Red Mill is kinda our favorite!
Directions on making Brown Butter White & Chocolate Chip + Toffee Cookies
Preheat oven to 375 degrees.
Place a saucepan over medium-low heat and melt two sticks of room temperature unsalted butter. Continue to stir the butter until foamy and becomes browned about 5-8 minutes.
Add the light brown sugar, granulated sugar, pecan liqueur, and pure vanilla extract to the browned butter and stir until smooth.
Spoon the browned butter mixture into the bowl of a stand mixer, add two room temperature eggs and mix until the eggs are fully incorporated.
In a small bowl add the all-purpose flour, baking soda, and flaky Maldon sea salt. Mix well.
A spoonful at a time begin adding the flour mixture to the browned butter mixture until the ingredients are mixed.
Add the white chocolate chips, milk chocolate chips, and milk chocolate toffee bits.
Line a cookie sheet with parchment paper.
Using a medium ice cream scoop add two scoops of cookie dough per cookie 3 inches apart.
Chill the cookies on the cookie sheet in the fridge for 30 minutes.
Place the cookie sheet on the middle rack of the preheated oven.
Bake for 5 minutes, then turn the cookie sheet and continue baking for 6 minutes or until the edges of the cookies are light brown.
Remove the cookies from the oven, using a spatula transfer the warm cookies to a wire rack to finish cooling.
Enjoy!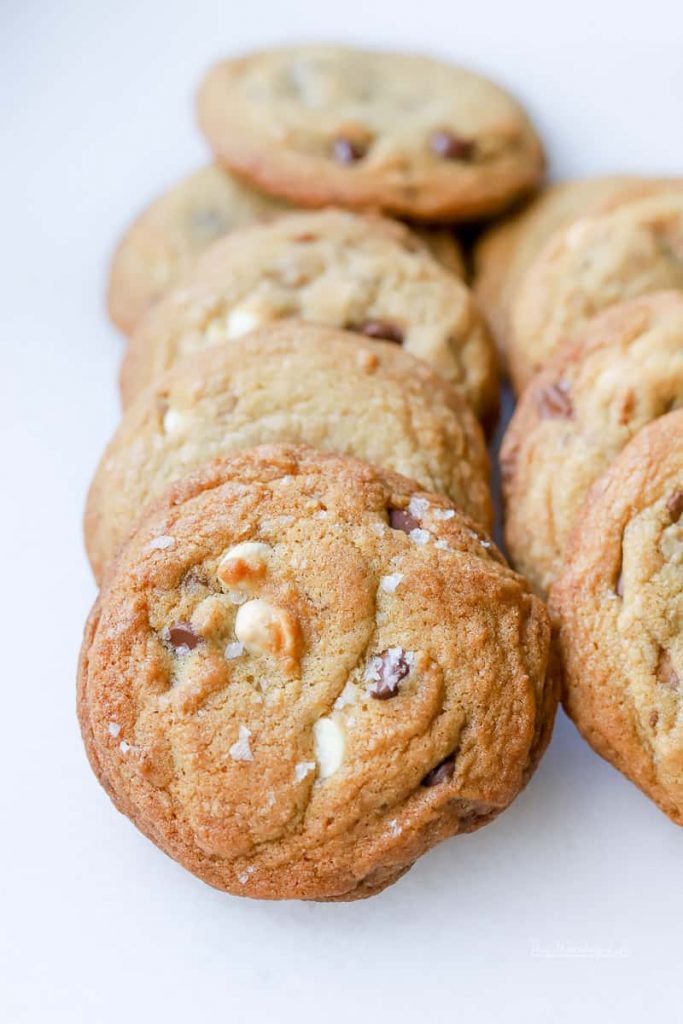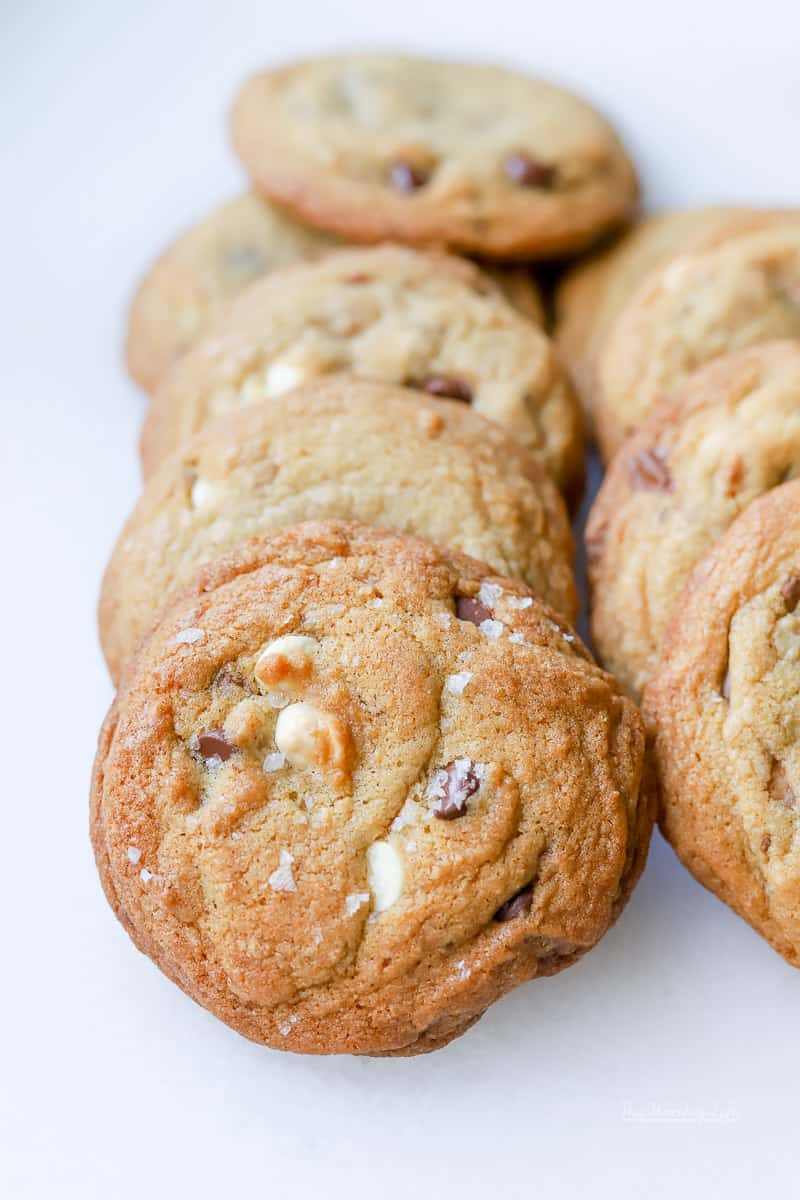 These cookies are so incredibly toothsome, and by that I mean they go perfectly well with an ice-cold glass of cold milk or a steaming cup of your favorite coffee blend or a big mug of hot cocoa topped with extra marshmallows. However you eat your cookies, you're gonna want to try this recipe like muy pronto. Oh, and just for fun, I sprinkled half of the cookies with flaky sea salt before baking.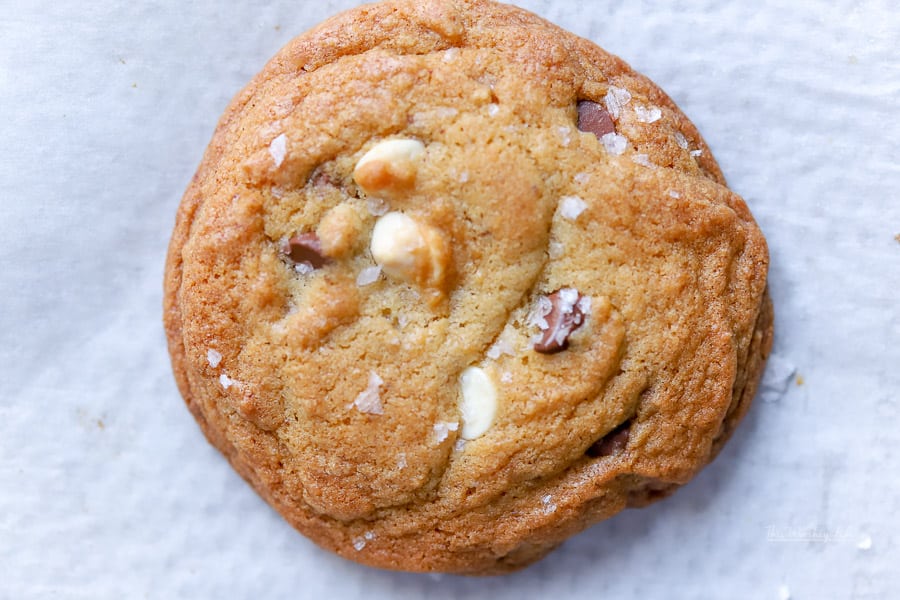 OH LAWD I SHOULD STAWP! BUT ASK YOURSELF, DO YOU REALLY WANT ME TO?