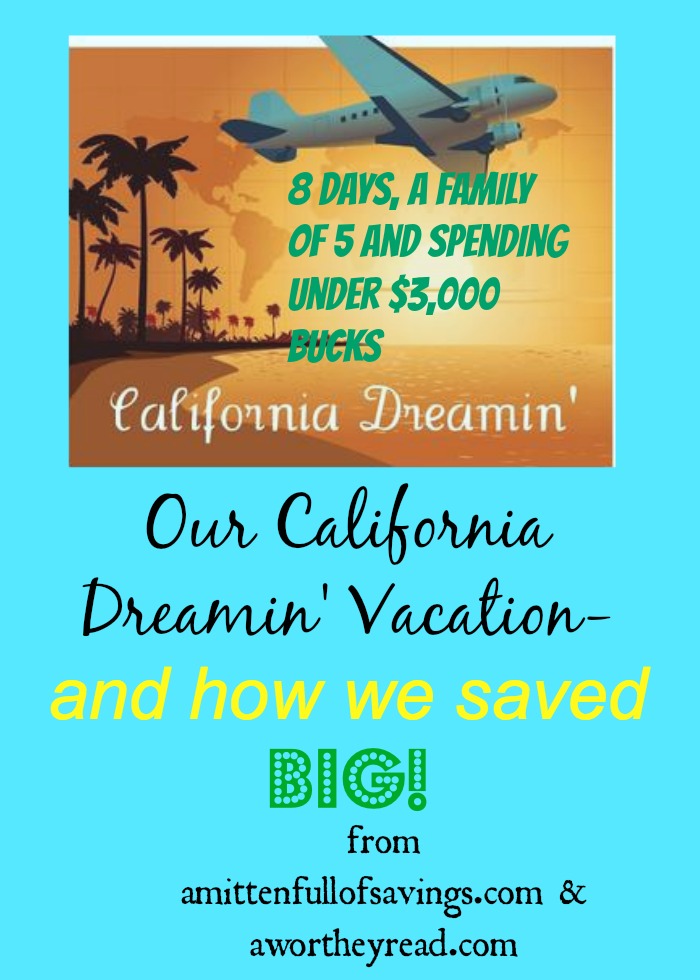 California Vacation: How We Saved BIG & Spent Under $3000
Last year for Spring Break we decided to pack up the whole family and head out West to Sunny California for eight days!
That can sound a little scary for a family of 5, thinking about the oodles of dollars that will be spent on entertainment, food, airline tickets, hotels, and transportation.
However, always being one that firmly believes in taking a vacation and working with whatever budget you have– I was determined to treat this trip a little differently. Many times we go on a vacation I set a budget, but then I get there and tend to overspend.
I decided for this trip I wanted to do it differently. So I gave myself a challenge. Go to California for eight days with a $4,000 budget that would include everything.
Here are things we had on our list to do:
Disney Land
Universal
Hollywood Sight-Seeing
San Diego Zoo
Sea World
Eat lots of fabulous Cali food (we are huge foodies)
Let the boys enjoy their vacation without having to pinch pennies and worry about money (but still be vacation modestly)
Visit with all of our friends/family in Southern Cali
Stay in California for at least 8-9 days.
Well, I'm happy to say that I was able to pull that off 🙂
The GRAND total of what we spent on our TOTAL 2013 California Dreamin' budget was
—–>>$2983.37
You can read about the breakdown for each area: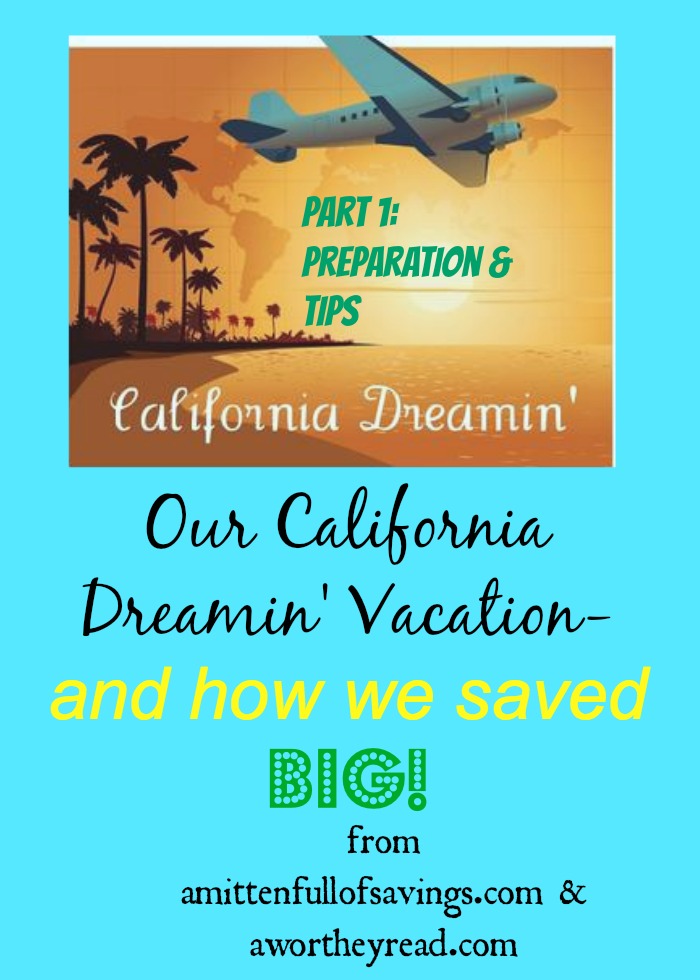 Many of you may know that my family and I recently took a vacation to Southern California. I have been vacationing in California every year since I was a teenager. I have many friends that have become like family, so I like to visit frequently. I can occasionally ALWAYS score a great deal on tickets to California. I hear people tell me that they pay $300-$500 dollars for tickets to California. If I ever had to pay $300 for a Round-Trip Ticket Cali, it would be because it was an emergency.
In the past I have scored tickets to California for as low as $75 for a R/T ticket thru Virgin America.
First things first, my overall budget for this trip was around $4,000. However, according to a recent American Express Survey, the average cost of a family vacation is $1,200 per person). So, based on the AMEX survey our 5-member family vacation cost would be a whopping total of $6000! But, with my savvy skills and tips I figured I could do it for less than that!
In order to maximize my savings and really save BIG on our vacation it takes a LOT of planning and preparation.
First, picking travel dates – try to plan your vacation at off-peak times.
Why? Often you can score great deals and cheap airfare because companies don't like vacant hotel rooms and empty airplane seats. However, with small children it can be hard to plan an 'off-peak' vacation during the school year.
Don't be inflexible! Remember the more flexible you are regarding accommodations and air travel the greater you chances of scoring great deals and unbelievable prices. As a general rule I usually let whatever good airfare deals I get decide my dates and then build my vacation around it.
For our 2013 vacation I started searching for airfare deals as early as last year 2012. However, I did not aggressively look until January 2013. Shopping and buying airfare deals in January/February will more often than not score you greater or lower than average airfare prices as well.
Initially I was just going to head to California for my birthday. I was able to find a deal for $189 RT on Southwest. Then after thinking about it and looking over our finances, it was decided that we would make it a family trip and look for deals around Spring Break. Since I had already purchased my ticket on Southwest, I continued to search for deals thru that airline. I was able to score 4 more tickets for $220!
There are 5 key things you should keep in mind when searching for the best air-deal:
Search for deals in the middle of the week- Tuesday/Wednesday
When/if possible, fly during the middle of the week. (We went from a Tuesday to a Tuesday)
Look for airlines that do not have baggage fees attached (fees range from $25-$50 each way) . Airlines like Spirit may have low fares all the time, but they will nickel and dime you in baggage fees, seat fees, a la carte fees and so on. Southwest does not charge you for the first 2 bags checked per person.
Always shop around before purchasing your ticket. Once I find a great deal, I will head over to bing.com and they have a price indicator that will say rather the ticket is predicated to go, stay the same or go down.
Use sites like Travelzoo, cheaptickets, expedia, travelocity, priceline, hotwire to get for deals as well. And be sure to sign up for their newsletters AND get on the email list that are sent directly from the Airlines. I receive emails as least once per week from my choice of Airlines so I can stay alert on the best deals.
Tips to help you prepare and save money in other areas:
Another important factor when looking to save on your upcoming vacation is to use Living Social, Groupon, Deal Chicken, and other related Daily Deal sites to help you score great deals on car rental, food, hotel and entertainment.
Go into the settings of each of your daily deal accounts and add those destinations to your alert notifications. Since I knew we would be in the San Diego and LA area, I added those and surrounding cities to my accounts. Each week I would browse Groupon and Living Social for California deals. When I found one that was of interest to our vacation, I would purchase it.
Also find local blogs that put out lists regarding free activities and deals in their town.
Be open- minded when it comes to trying out new hotels, restaurants, etc Sometimes this can be a gamble if you're not familiar with the area or restaurant of choice. You will not find a lot of chained restaurants or hotels through these daily deal sites, BUT if you're willing to take the chance you can reap great rewards in the way of saving money!
Also as part of the planning process, you also want to start looking for the best deals on car rental. I signed up for alerts from Hotwire. They would notify me when they would find a car rental that was in my budget and dates. Carrentals.com is another great site to check. You can also look at bundle packages when you book your airfare that will help you save when you book hotel, care, airfare together.
If you really want to save in the lodging area, and you're brave enough to try it- try swapping your house. House Exchange is a popular website where you can find other couples/families that maybe going on vacation the same time as you and you can swap houses. Making your lodging totally free. They also have ones specifically for Senior Citizens, Singles, Students and more! (Some do have a fee to join their websites). Find more:
Consider if it's worth it to purchase Travel Insurance. For me, if I was planning a cross-country trip or cruise then this would be something to highly consider. However, if you rent a vehicle, then this is one that you want to add. I don't purchase it from the Rental Agency since that is a piece added into my automobile insurance!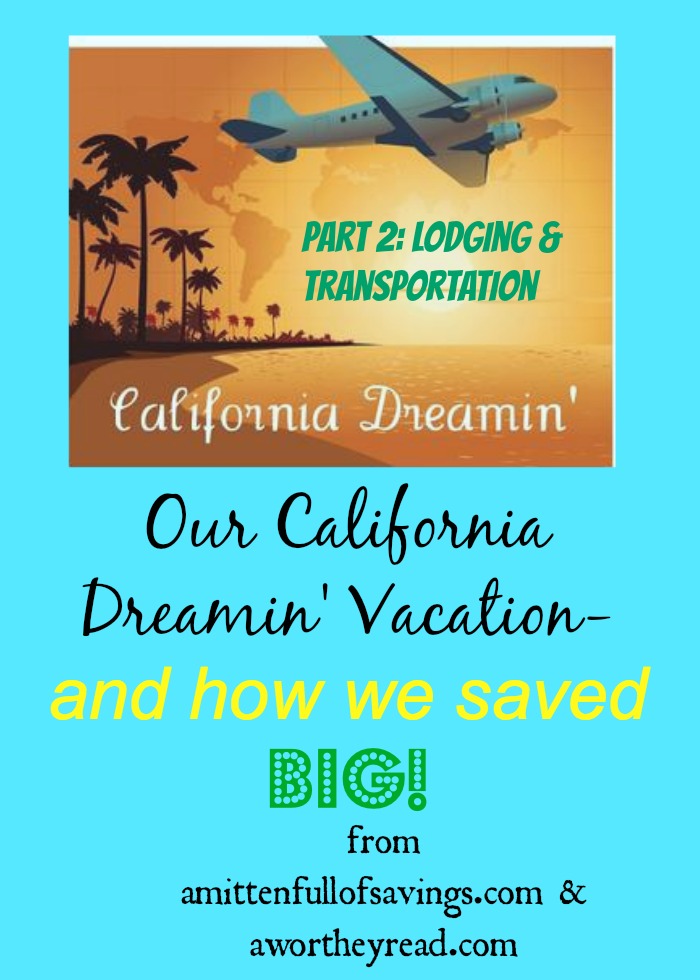 Our airfare- Round Trip tickets from Detroit to LAX totaled $1069 ( I was able to score one ticket for $189 and 4 tickets for $220- had I actually planned it a little better, I could have scored all 5 of them for $189). I was able to find great deals on Southwest Airlines! Average prices I hear people pay for tickets to California start around $300-$400. The KEY in scoring great deals on airfare is the right time, right place!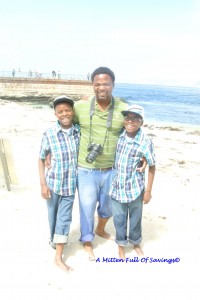 Transportation: Our plan was to fly into LAX and eventually make our way to San Diego. In between those two big cities making stops along the way to visit with friends, hang out at the beach, sight see and look for the best places to eat! Many of you may know that gas in California is not cheap. When we arrived we discovered that gas was around $4.60-$4.89 depending on the area. I knew gas would be expensive so I decided instead of renting a mini-van or an SUV, I would look for a car that would fit 5 people comfortably, but still save us on some money.
Early on I started scouring for car deals. My rule of thumb to grab a great car deal is to start early. However, I would not purchase the car rental until you know you have obtained the best deal. Sometimes, waiting until the last minute can give you a great car rental deal.
My two top places to go for car rental deals is hotwire.com and carrental.com.
What I like about these spots is that they will find the best and lowest car rates for you.
And if it's not a price that you feel is a deal then you can have them (hotwire/car rental) email you when the fare drops. So don't always buy the first car rental price you find (unless it's a last-minute deal you're trying to nab).
After I secured my airfare deals ( to me, this is always the first thing to put into place), I started searching for the best car deals. I set up email alerts on both hotwire.com and carrental.com. I received emails at least 3 times per week with different price deals for my selected times and car budget.
I finally settled on a car rental deal for $217.42:
Full Sized Car (Nissan Maxima- which was GREAT on gas!)
8 days
Alamo was the Car Rental Agency (sometimes you can get a lower rental rate if you let Hotwire pick your rental agency)
What I liked about Alamo is their easy and hassle-free rental process. I was able to check in at the kiosk to print my paperwork. Then walked out to the lot and picked any car (in my full sized car range of course 😉 ). This process took less than 5 minutes and we were out the door and ready to start our vacation!
Total amount of gasoline spent was $96.35
We spent a total amount of $34.99 on parking fees (parking garages, meters, parking at the amusement parks)
We also paid to park our car for 9 days thru Qwik Park (using a coupon, of course)- $59.00
So, total amount spent on transportation- $407.76.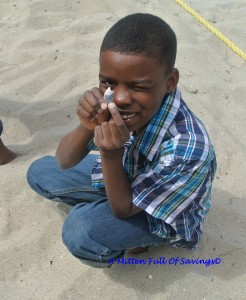 LODGING BREAKDOWN:
Lodging:
Here's what I did:
I signed up (or I already had) accounts for Living Social, Groupon, and Deal Chicken
I added my upcoming destination (San Diego, LA Area) to my profile so I would get alerts for deals in that area.
Then I just waited.
Every week I received deals about different hotel prices and packages in my vacation area.
The trick in all of this was….. staying at a hotel that I was not 100% familiar with!! To me, I wanted a great deal, but I also wanted a clean place to lay my head and not have to worry about bed bugs, dirty sheets and more. So once I found a hotel deal on Living Social and Groupon that I thought was a great deal, I went to tripadvisor and read the reviews. Reading the reviews helped me decide whether to decline or buy that deal.
Since we were moving around a lot during our 8-day stay I had to book several hotel deals.
First deal I found was on Groupon. I was able to score 2 nights at the Porto Vista Hotel (3-4 star)for $166 total. I was leery about staying here at first due to the mixed reviews. But I said.. hey, let's go for it! The boutique was in the midst of a remodel. So when we arrived I made sure to ask the Manager for one of the remodeled rooms. After reading the reviews, I was pleasantly surprised of the setup of our room! It turned out to be a great diamond in the rough.
Average price for a 1-night stay at the Porto Vista Hotel is $129 per night. I only paid $83 per night!!
****TIP****** Here's a tip to keep in mind when it comes to using the word best rate and lowest rate. They don't mean the same thing. When you ask for the "best rate," you're getting the best rate with the best room. So your final bottom line may not always be the lowest price.
I then found a fantastic deal on Living Social for a 5-star resort! This averages around $300 per night and I paid $134 (plus $24.73 in taxes). This 1 bedroom condo included a full sized Kitchen, Living room and tons of luxury and amenities. When possible, I love staying at resorts.
Resorts offer:
Full Luxury for half the cost
Full access to amenities and on-site entertainment
Full sized Kitchen/Living Room Suites
On-site Laundry (usually in the room)
On-site/nearby dining options
Multiple pools/spas
Activities specifically for kids (including access to daycare options)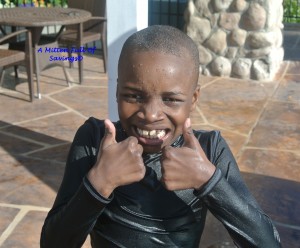 By staying at a Resort with the full amenities, we were able to save on a few meals by cooking in our Condo. I was also able to wash all of our laundry! (This definitely helps, especially when you get home… I was able to unpack and put everything away- clean 🙂 )
The boys enjoyed going to the pool, partaking in the on-site entertainment, and having access to the beach right across the street!
Here's a few pictures of our room:
So three nights down… 4 more to go!
Another KEY thing when trying to decide where to stay when it comes to hotels is this:
How long do you plan on staying?
Are you planning on using the hotel/resorts amenities?
Are you staying in one place or moving around during your vacation?
Are you looking to relax your whole time or sight-see, go to amusement parks, etc?
These are questions that I asked myself, and then once I answered them I was able to make my hotel arrangements based on what we were doing. I knew there were some nights where we just needed to sleep in clean beds and shower. Other days, we planned to relax and enjoy our hotels.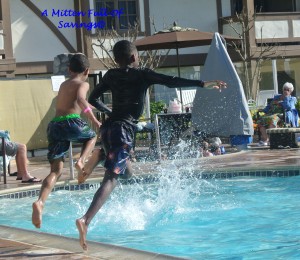 Our next hotel was just a 1-night stay before spending the day at Disney. I was able to find another Groupon deal for just $54 at a local Ramada Inn in the Disney area! This deal was initially $64, but I had a $10 promo code for Groupon, so that made it just $54 w/ FREE breakfast! I also had a tax fee of $9.67.
The next 2 nights we were able to save BIG by staying with some of our California friends. If you are vacationing in an area where you have family or friends that can comfortably keep you for a few days, this is a great way to save some hotel dollars. However, I do not recommend camping out there for your whole vacation 🙂
For our last night of our California Trip, I waited too late to grab a deal like I had previously received for our other nights. However, I went to hotwire and found a decent deal in downtown LA for $115.00. It was for a suite at Homesuites, which included a Kitchen. By staying here we saved on another meal by cooking in our room!
That brings our total for Lodging to $373.40. By using my strategy, I was able to save our family $851.00 in Lodging!
So our running total so far- Lodging & Transportation- 781.16
Airfare- $1069.00
Running Total- $1850.16
My overall budget is $4000…. how do you think I'm doing so far?
Have you taken a trip recently? What tips can you relate to or offer? What was your overall budget?
If you plan to travel soon, here are some of my top places to search for the BEST hotel rates:
Daily Deal Sites- Living Social, Groupon, Deal Chicken
Travelocity
Hotels.com (Deals going on right now to save for the 4th of July weekend)
Orbitz (Save up to $500 when you book your flight + hotel together PLUS extra $100 off (CODE: ORBITZTRIP100)
CheapOStay (right now they have some promotions going on to save up to 50% off the published rate, plus a $15 coupon code HOTEL15)
For Car Rentals- my top places to search and grab the best deals:
Travelocity
Carrentals.com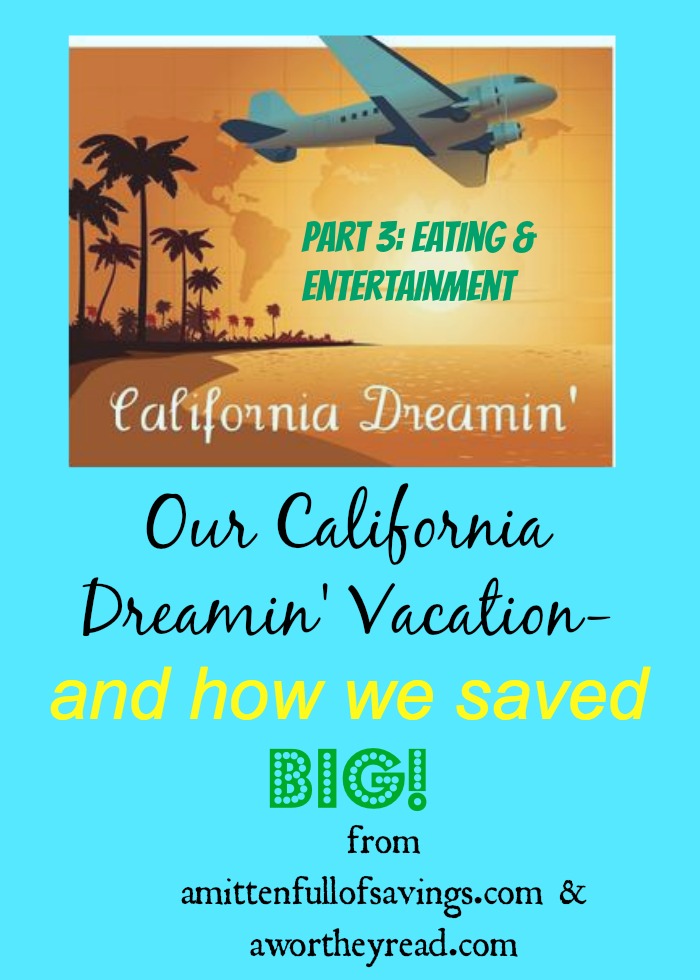 Our California Dreamin' Trip 2013- How We Saved BIG! Part 3- Eating & Entertainment
If you've been following along over the past few weeks, I've been sharing tips on how we saved really big while vacationing in Southern California this past April.
If you're just tuning into my California series, you can read part 1- planning and preparation over here, where I wrote about how to start the planning so you can save the big bucks on your upcoming travels!
In the second part of this series, I broke down details of our lodging and transportation.
So far we have spent $1850.16, with a budget of $4000.
Eating and Entertainment is ALWAYS the biggest expenses to me when vacationing. Just like at home, you have to eat. Entertainment will always vary depending on you're location, how much money you have to spend, and activities you and your family are interested in. Since we visited an area that I am very familiar, we have been a few times, and we have friends to help with the entertainment this was an easy decision for our family.
So here's how we blew spent the rest of our budget!
It was spring break, so we packed up the boys and took off to spend eight days in California sunshine.
When we touched down at LAX, got our luggage and were finally rolling out in our rental car, we made our first stop. It is my tradition to always make In-N-Out Burger joint my first stop, so naturally the rest of the Worthey Clan had to be schooled on my annual tradition.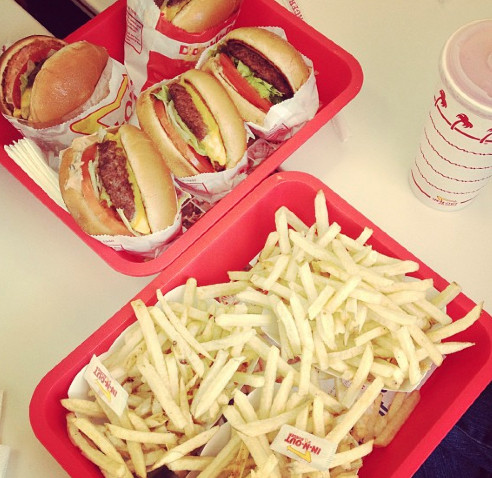 After our I-N-O fix we ventured out and enjoyed a day at Venice Beach walking the pier, and although it was fairly blustery the view from the pier of the distant mountains and ocean was amazing.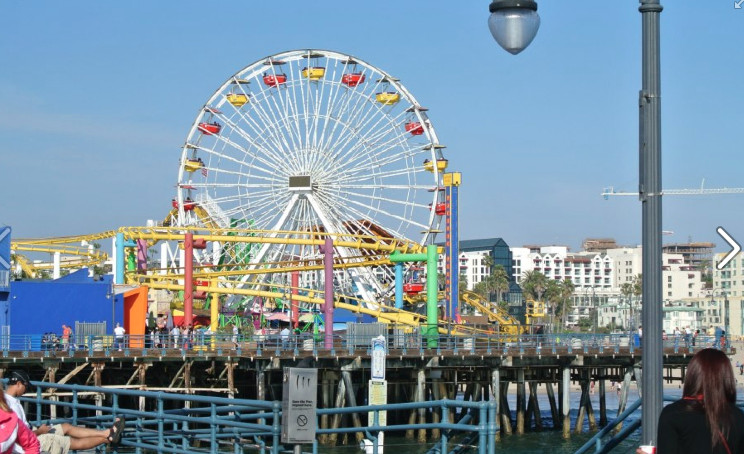 After Venice Beach, we cruised through Santa Barbara and snagged refreshments at Jamba Juice. We kept our itinerary fairly light the first day and headed towards San Diego.
We spent our night in San Diego at the stylish Porto Vista Hotel. I was able to score a great deal at this incredible boutique hotel, which is more suited for couples more so than families, but still it was comfortable enough and close enough to anywhere we wanted to get to in the San Diego area.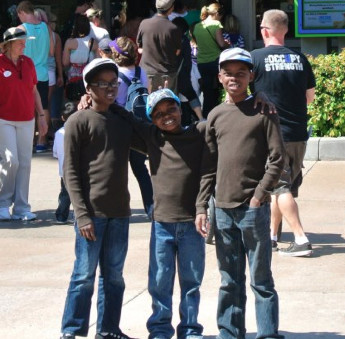 Our first full day was spent at the San Diego Zoo. Once there we enjoyed all the wonderful animals and shows. Some of the highlights included the Polar Bear exhibit, which was totally amazing!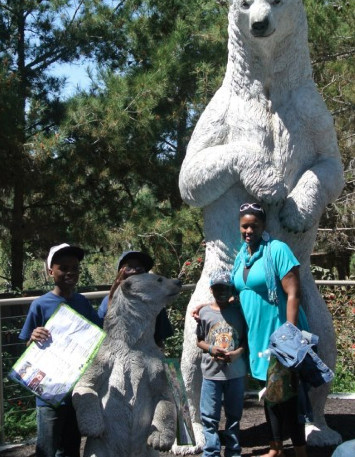 If you vacation in the San Diego area, be sure to stop by the Zoo! Great fun for the whole family!

Ziah really enjoyed the reptile room and as always the Giant Pandas are always a must see.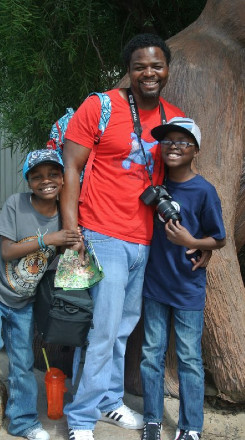 Our second night in SD we ventured to the incredible Extraordinary Desserts. This stop is a must for anyone who has a sweet tooth. The atmosphere is upscale but the staff helpful and very attendant and it's not too pricey and the desserts are absolutely delicious. #heavenonearth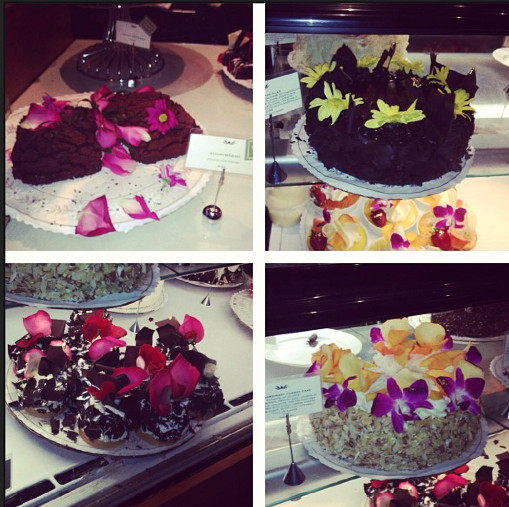 The next morning we stopped through La Jolla. It's a beautiful little quaint town. One day, I'm actually going to spend more than a day there. I come across Groupon and Living Social deals for hotels there all the time.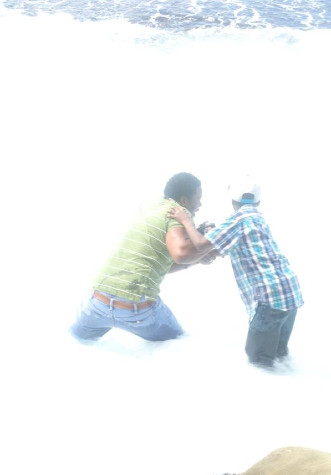 (Derrick and Ziah getting caught by a wave)
The Sea Lions that come up and lay on the beach. It's pretty neat to see. Plus it's just beautiful!
From there our travels took us to the Escondido area, where quite a few of my friends aka family reside. We stopped through for dinner and to visit for the evening. It's always good to visit with the Romeros! The boys had a great time playing on their campground and I was able to catch up with some of my dear Cali friends.
From there, we hopped back on the highway for a quick drive to Carlsbad. I found a great Living Social deal on a 5-star resort . Plus it was right by Legoland.
The next day we spent time relaxing at the Resort and all of its amenities. The boys mostly wanted to hang around the pool. And that's how we landed free tickets to Legoland.
From there we headed to LegoLand and had a ball! You can read about our day at Legoland HERE, plus find 5 great tips on things to do at Legoland!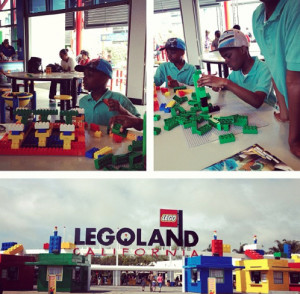 By that evening, we were exhausted but head to drive to Anaheim! I found a quick Groupon deal (last minute deal that I purposely waited to score) that saved us some change by waiting until the last minute.
The next morning we woke up early to spend the day at Disney!
Zayd'n loved being able to "meet" Mater and Lightening McQueen. We all enjoyed the Aladdin Show.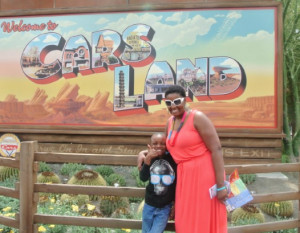 This is definitely a MUST if you plan to visit Disneyland. I loved how the Genie incorporated today's pop culture into his act. And it changes all the time to keep up with the latest news, which gives this show 2 thumbs up!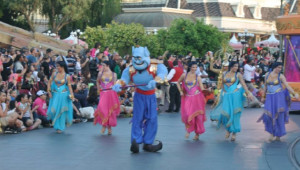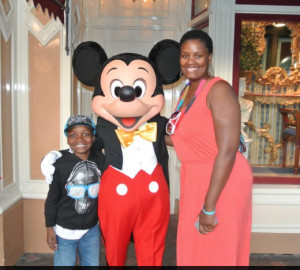 (visiting with Mickey)
The Disney Parade by the Cinderella Castle is always a great attraction of Disney. And of course, the many characters that we all know and have become to love over the years.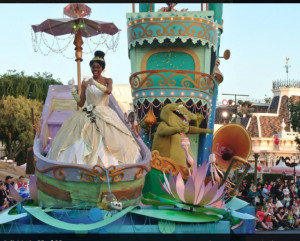 That evening we headed down to Downtown Disney to enjoy more Disney fun, eat and danced a little 🙂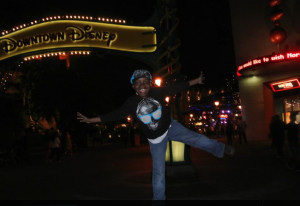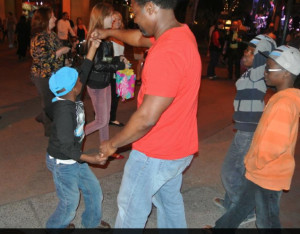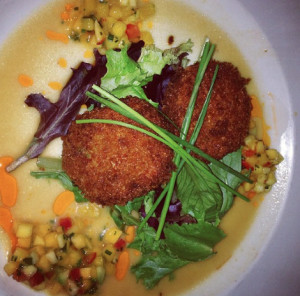 (scored some delicious crab cakes for dinner)
That evening we headed to another the casa de Millers (about an hour from LA). Another one of my California friends that I actually met online several years ago through a twin messaging board. We became friends and kept in touch over the years. I met her in person a few years ago for the dinner. The next year, I came and stayed with her for a few days. Then this year, we connected our families and we chilled out with them for a few days.
Being able to save on hotel and eating out for a few days was a nice bonus. We went grocery shopping with Debbie to help buy groceries during that time. Buying groceries was a little bit more in California, but overall a HUGE savings for our wallet.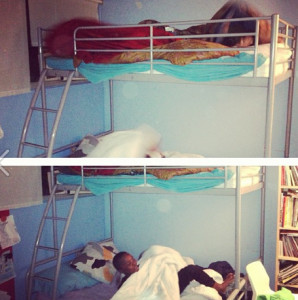 They have 3 boys around similar ages of my three boys, so that was fun too! They enjoyed playing video games and hanging out around the pool!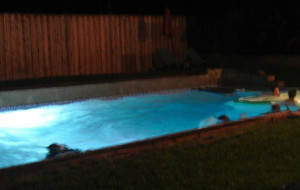 Zayd'n enjoyed laying out in the sun. As you can see he doesn't go many places without his iPad!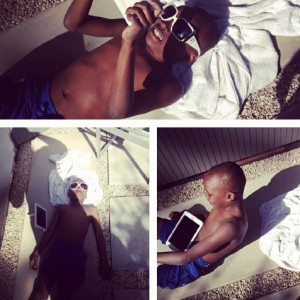 After spending a few days with the Millers our time was winding down quickly. We said our goodbyes and headed back to the LA area to spend the last two days doing some tourist stuff.
We also stopped by the Hollywood Farmer's Market which is supposed to be a pretty popular place for Celebrity Sightings 🙂 We grabbed some lunch and did a little shopping.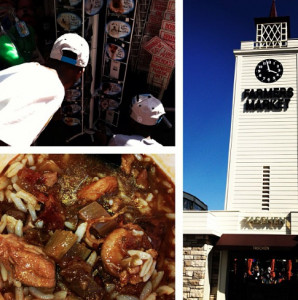 We also met up with one my long-time friends V. She met us down at the City Walk where we walked around, did some shopping, checked out the sights and had dinner.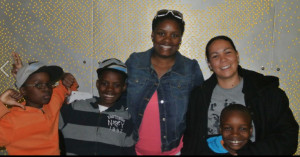 We had dinner at Wolfgang Puck- totally worth a good splurge!
I had Salmon which is not only healthy for you but, oh so delicious!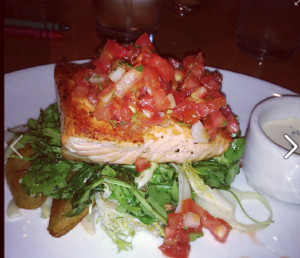 Derrick had braised short ribs with garlic mash potatoes. (the boys always eat the same thing- burgers and pizza!)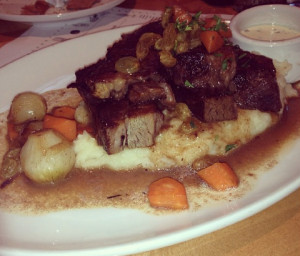 We also had a little celebrity sighting.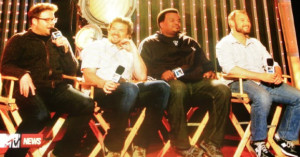 Seth Rogen, Danny McBride, Craig Robinson, Evan Goldberg were at City Walk promoting their new movie- This is the end. It was pretty cool to see a few celebrities in person, get to ask questions and see them in a natural environment vs on the big screen.
All in all, we had a great time and can't wait to do another vacation to Southern California soon!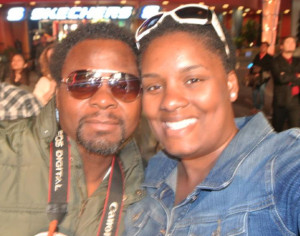 California has always been like a second home for me. I actually wanted to move there when right after high school, but plans didn't go in that direction. I haven't totally tossed the idea out about eventually moving there. I guess we'll have to see what is in our future 😉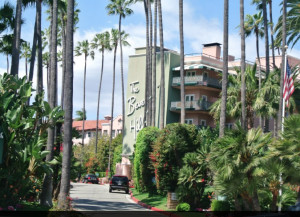 So how does all of that breakdown?
Entertainment:
4 Legoland Tickets at $15 each (savings of a $58 bucks each), 1 Lego Land ticket was free (Savings of $83.50)
Disney Tickets $119 & $125 (savings since they were free due to Media Passes)
San Diego Zoo Tickets for 5- $190.00
——————
total spent $250, saved $571
Eating out- $548.21 (normally a family of 5 would spend on an average of $150 per day) So we saved over $600 by taking advantage of Groupon deals, checking in with Four Square, buying groceries, and eating at restaurants that had specials going on that night (including kids eat free deals).
Also, $85 bucks we spent on groceries while staying with friends.
We also spent about another $250 in spending money on splurges for the kids, food at Disney/Lego Land and while out touring the town.
So total spent on dining, eating out and misc stuff- $1133.21
Add that to our hotel, transportation and parking running total of $1850.16
The GRAND total of what we spent on our TOTAL 2013 California Dreamin' budget was… (Drumroll please…)
—–>>$2983.37
WOW! I still can't believe we were able to pull that off. Again this trip to get THAT budget was definitely with a lot of planning and preparation ahead of time.
Your total may be a little higher than mine if you don't have friends to stay with or able to get free passes. However, this is still a reachable and affordable vacation.
But, even if I had to pay the full price for LegoLand/Disney Tickets and the other 2 nights in a hotel, I would have STILL been under the $4,000 budget of what I set for our family of 5 to spend. So yes… it is possible to do this.
Don't be afraid to stay home from a vacation because you think it is not affordable. It can be done. With the tips that I have given you in Part 1, Part 2 and other coupon tips that I share daily with you– you can do this too!
I want to hear from you! Have you went on a trip lately and was able to produce BIG savings? Or snagged a great travel deal that you want to brag about? Feel free to leave me a comment and let me know!
I would love to hear what you have to say 🙂