Sometimes you need to get dinner on the table in a jiffy, but what to make? I'm showing you how I take what I have in the fridge/freezer to make dinner in 30 minutes using pasta, sausage, chicken, and our Instant Pot. Get the recipe How To Make Campanelle Pasta + Sausage, Chicken & Spinach In The Instant Pot down below!

Campanelle Pasta + Sausage, Chicken & Spinach
It's Sunday evening, and we've had a very busy day. I got up at the break of dawn; my body knows it's Sunday and we're supposed to be taking it easy and sleeping in. But, as the old saying goes, "There's no rest for the weary." Zayd'n, our youngest, has a basketball game today. We are running late, that means a quick breakfast, and out of the door, we go. It was a good game, our boys won. Zayd'n scored a couple of baskets, his first points of the season, so he's geeked, and we are all very happy for him.
Sometimes the best meals are completely improvised…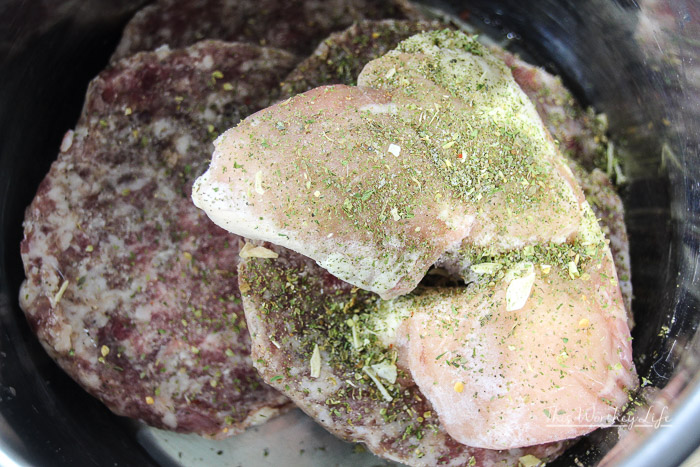 I open the freezer and see four sausage brat patties and two boneless and skinless chicken thighs. The meat is frozen solid, but with the Instant Pot, it's not an issue. Because that's the beauty of the Instant Pot, it's powerful enough to make short work of frozen foods, and the frozen meat is sitting on my kitchen counter right now is going to be child's play. The meat is completely frozen, but with our Instant Pot, it's done in 20 minutes. Related: Life-Changing Instant Pot Hacks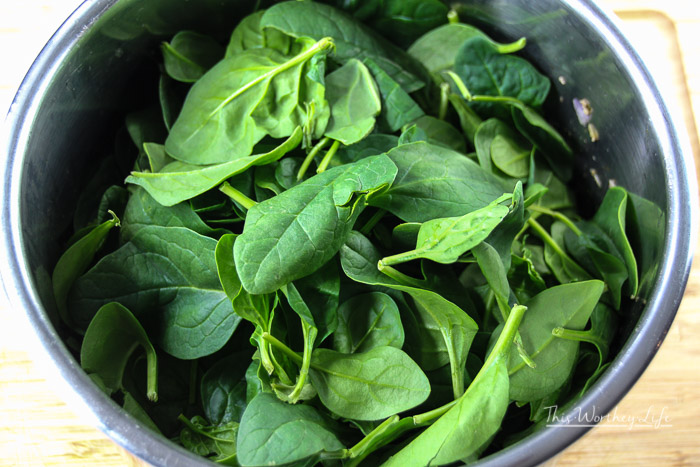 Okay, now that we got the protein situation handled let's see what else we got around here. From the fridge, I grab a big package of baby spinach we picked up at Sam's Club a few days ago. I originally planned on using it for juicing, but right now I got to get something on the table, so the spinach gets recruited to help out. I also grab a red onion and two jars of prepared Alfredo sauce. I peeped into the freezer again, and I saw a bag of frozen sweet corn. Yep, the sweet corn has now become whatever, good or bad; this winds up being! Beware, we got an entirely impromptu meal coming up.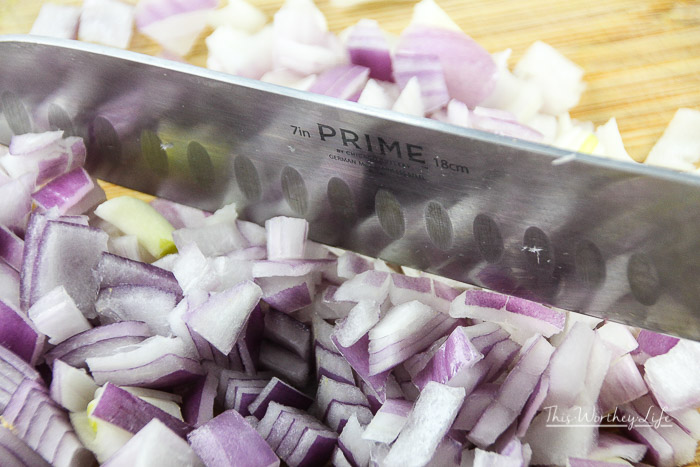 The red onion wasn't my first choice, I typically use red onions for Hispanic and Latin-influenced meals, but I'm out of yellow onions and sweet Vidalias. Beggars can't be choosers so I gotta' use what's available in our pantry and this little purple guy gets thrust into the limelight front and center! Peel, and cut into a small dice. I also tossed in a couple cloves of garlic which I then minced. One of things that make getting a meal on the table easier are my Chicago Cutlery knives, these are my kind of kitchen tools because Chicago Cutlery knives keep a remarkable sharp edge and I also love how my 7″ Prime fits in my hand. Perfect fit!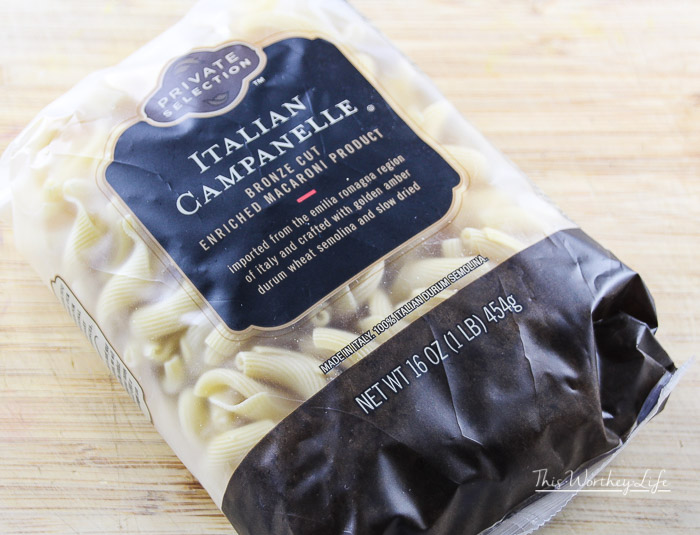 Tat, was able to stock up on pasta not too long ago and one sure fire to use it is to add some Campanelle pasta to our dinner tonight.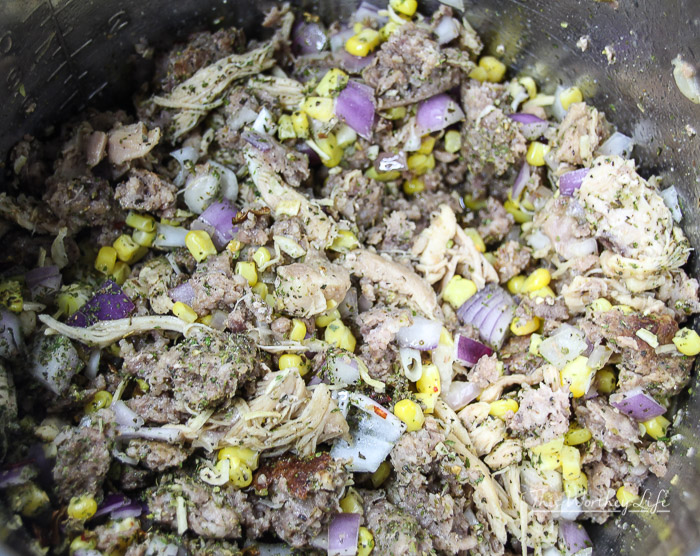 Everything is coming together. I got the sausage and chicken doing its thing in the Instant Pot. I got water boiling on the stovetop, and I am stirring in the pasta and adding a pinch of sea salt. I diced the red onion, chopped the cilantro, have the Alfredo sauce and French crispy fried onions set aside and ready to go.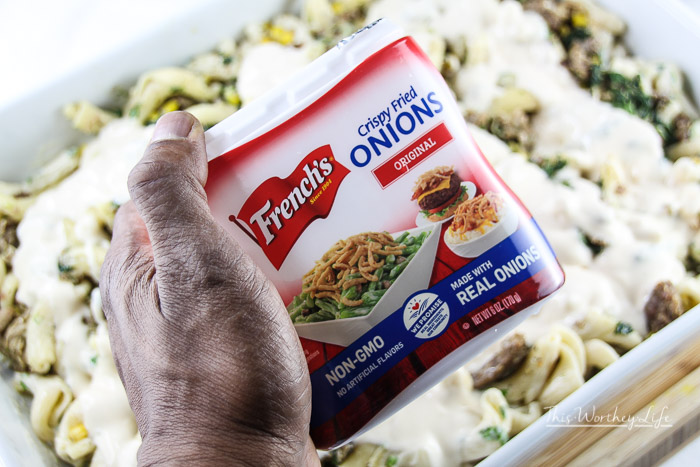 We typically keep French's fried onions on deck, and I grab a container of those too. Fried onions are perfect for a situation like this because by adding them you'll instantly elevate almost any dish when you're using pasta, savory spiced meat, cheese, and a white sauce. Plus, I keep them around to add to grilled burgers, or I sneak them into quesadillas to add a little extra sumpin' sumpin'!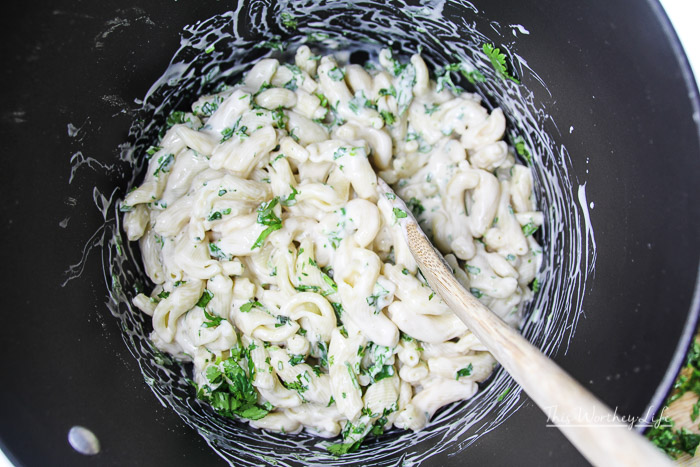 This is what for lack of a better term is called "a throw together meal;" I am just using the ingredients I have on hand and improvising. If you're a home cook, you have probably done the same thing. It doesn't always turn out right, but sometimes it does, and that's I believe how new recipes are more often than not developed. And isn't that the very basis of cooking?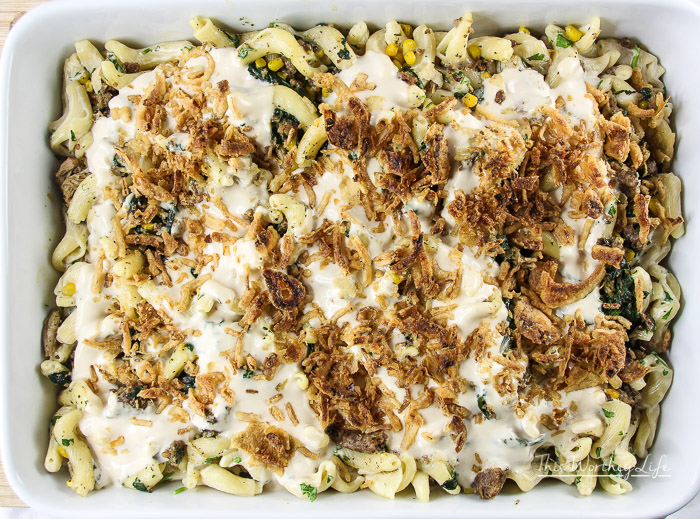 Taking what's available and making it work and today I came up with our Campanelle Pasta + Sausage, Chicken & Spinach dish. In the end, the boys were well fed, the wife was pleased, and all is well on the Worthey front.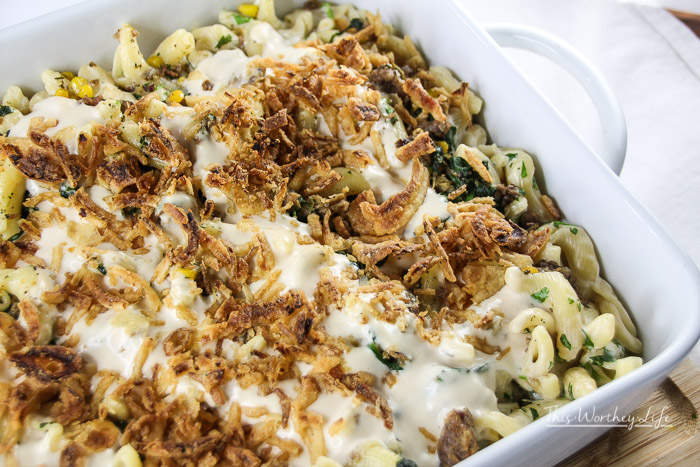 Here's what you'll need and how to pull it all together…
How to make Campanelle Pasta + Sausage, Chicken & Spinach in the Instant Pot
Ingredients:
1 pound Campanelle pasta
1 1/2 pounds sausage
2 boneless and skinless chicken thighs
1 cup frozen sweet corn
5 cups baby spinach
1 medium red onion
3/4 cup chopped cilantro
6 ounces French's fried onions
2 jars Alfredo sauce, divided
1 teaspoon freshly ground black peppercorns
3 tablespoons extra-virgin olive oil, divided
4 tablespoons McCormick Gourmet Italian Seasoning
3 tablespoons McCormick Chopped Onions, divided
Directions:
Place the frozen sausage into the instant pot. Brush the frozen boneless and skinless chicken thighs with a one (1) tablespoon of extra virgin olive oil, coat the chicken in chopped onions and Old Bay seasoning, place the chicken into the Instant Pot on top of the sausage, place the lid on and lock it into place.
Adjust the vent to the closed position.
Press the Meat| Stew option and adjust the timer to 20 minutes.
While the meat is cooking place a large pot of water over high heat, when the water comes to a boil add a pinch of sea salt, prepare the pasta following the package instructions.
When the pasta is al dente, drain off the water and return it to the pot, add one (1) jar of Alfredo sauce, four (4) tbsps of McCormick Gourmet Italian Seasoning and two (2) tbsp of McCormick Chopped Onions, and one (1) tbsp of extra virgin olive oil, toss to evenly coat the pasta, set aside.
Remove the lid from the Instant Pot and add the chopped red onions and select the Sauté option, using two forks break-apart the sausage and shred the chicken thighs.
After cooking the meat and onions and frozen sweet corn, let the meat continue to heat through for five (5) minutes add the spinach close the lid, allow the spinach to wilt (after 6 minutes).
While you wilt the spinach, spoon the pasta and Alfredo sauce mixture in a large casserole dish.
Remove the lid and using a large slotted spoon transfer the sausage, chicken, and spinach into the casserole dish with the pasta, gently stir the pasta and meat together until it is thoroughly mixed and spread in the dish.
Pour the remaining jar of Alfredo sauce on top, and add the French fried onions.
Set the oven on a high broil, when the oven is hot, place the casserole on the center rack and brown the top of the dish. Watch this step closely; it only takes a few minutes to toast the top of the casserole.
Remove from the oven and serve hot.
Owning an Instant Pot (or two) has made preparing dinner a breeze! Do you own an Instant Pot? What are some of your favorite go-to recipes? Definitely, try our casserole made in the Instant Pot, and come back and let us know how you liked it!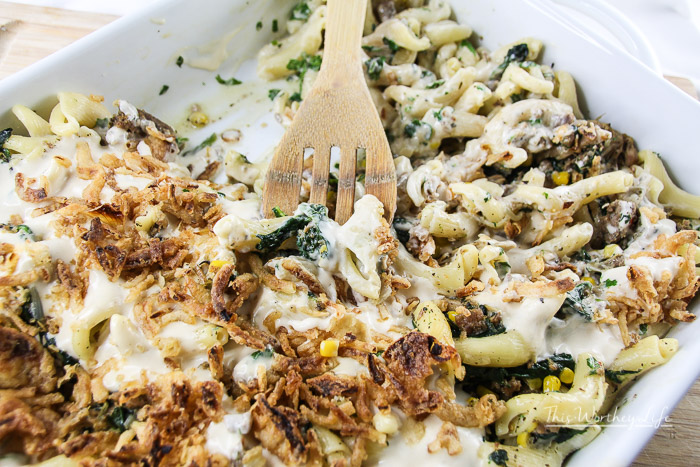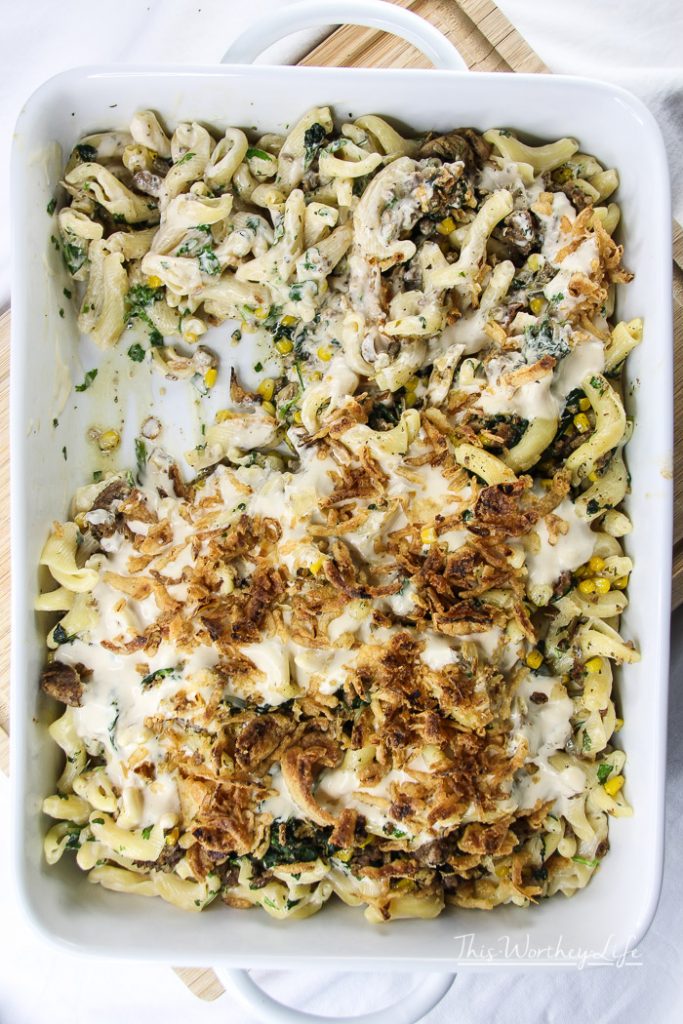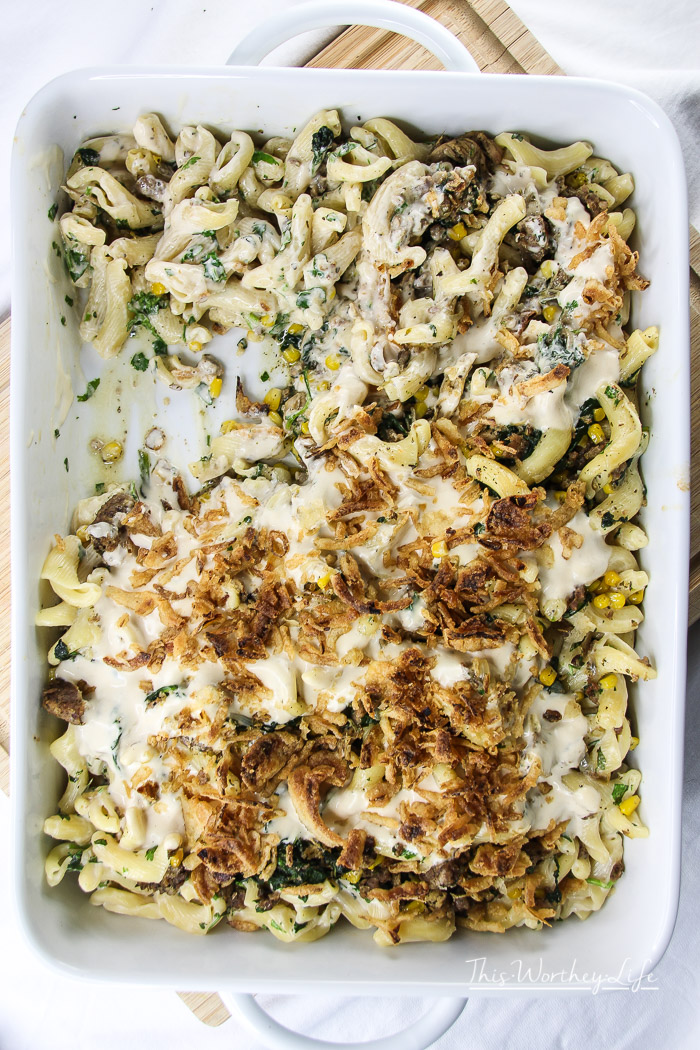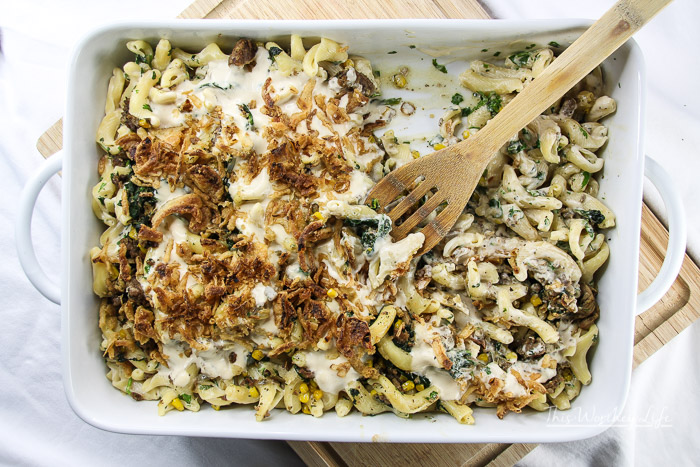 Campanelle Pasta + Sausage, Chicken & Spinach
Ingredients
1 pound Campanelle pasta
1 1/2 pounds sausage
2 boneless and skinless chicken thighs
1 cup frozen sweet corn
5 cups baby spinach
1 medium red onion
3/4 cup chopped cilantro
6 ounces French's fried onions
2 jars Alfredo sauce, divided
1 teaspoon freshly ground black peppercorns
3 tablespoons extra-virgin olive oil, divided
4 tablespoons McCormick Gourmet Italian Seasoning
3 tablespoons McCormick Chopped Onions, divided
Instructions
Place the frozen sausage into the instant pot. Brush the frozen boneless and skinless chicken thighs with a one (1) tablespoon of extra virgin olive oil, coat the chicken in chopped onions and Old Bay seasoning, place the chicken into the Instant Pot on top of the sausage, place the lid on and lock it into place.
Adjust the vent to the closed position.
Press the Meat| Stew option and adjust the timer to 20 minutes.
While the meat is cooking place a large pot of water over high heat, when the water comes to a boil add a pinch of sea salt, prepare the pasta following the package instructions.
When the pasta is al dente, drain off the water and return it to the pot, add one (1) jar of Alfredo sauce, four (4) tbsps of McCormick Gourmet Italian Seasoning and two (2) tbsp of McCormick Chopped Onions, and one (1) tbsp of extra virgin olive oil, toss to evenly coat the pasta, set aside.
Remove the lid from the Instant Pot and add the chopped red onions and select the Sauté option, using two forks break-apart the sausage and shred the chicken thighs.
After cooking the meat and onions and frozen sweet corn, let the meat continue to heat through for five (5) minutes add the spinach close the lid, allow the spinach to wilt (after 6 minutes).
While you wilt the spinach, spoon the pasta and Alfredo sauce mixture in a large casserole dish.
Remove the lid and using a large slotted spoon transfer the sausage, chicken, and spinach into the casserole dish with the pasta, gently stir the pasta and meat together until it is thoroughly mixed and spread in the dish.
Pour the remaining jar of Alfredo sauce on top, and add the French fried onions.
Set the oven on a high broil, when the oven is hot, place the casserole on the center rack and brown the top of the dish. Watch this step closely; it only takes a few minutes to toast the top of the casserole.
Remove from the oven and serve hot.


Be sure to Pin this to your board for later: