Cheese Boards are a great appetizer to serve at any party. It's essential to pair your cheese board with a good wine, and we're sharing details on how to select a good wine to go along with your cheese board idea.
Read below for all the notable details.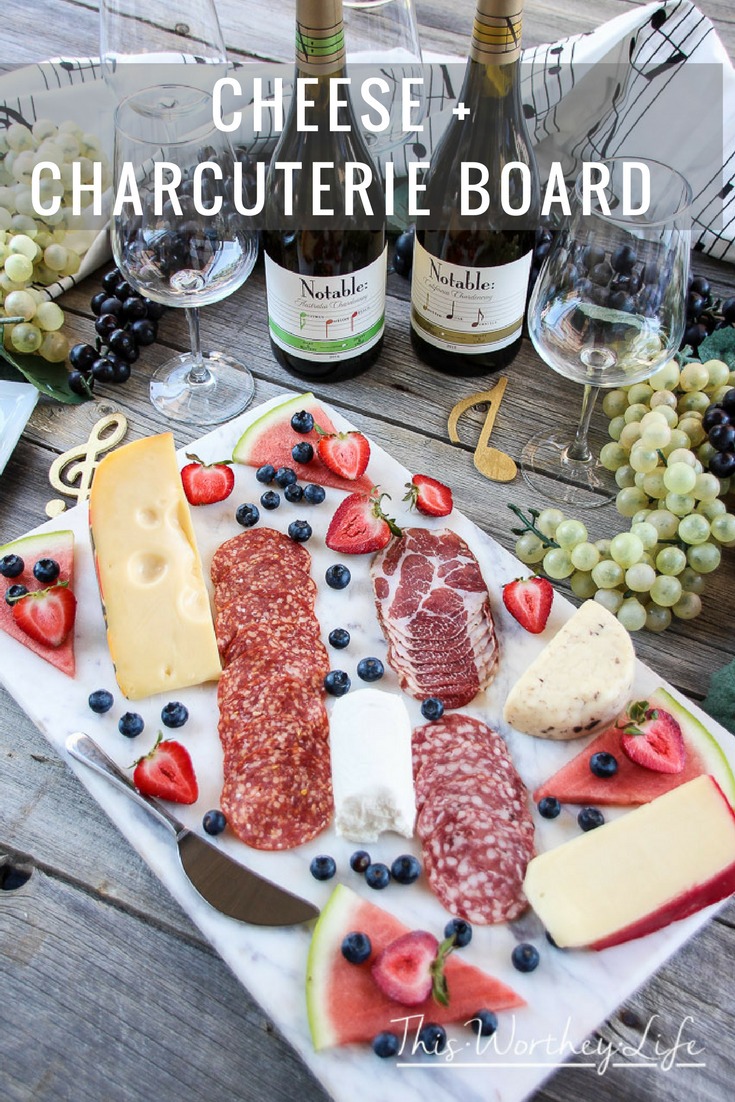 Cheese Board Idea | Cheese + Charcuterie Board
Summertime is the best time for outdoor parties.
Invite a few friends and gather around good food and even better wine.
For this outing, we put together a delicious Cheese + Charcuterie Board and served our guests the delightful flavor profiles of Notable Wines.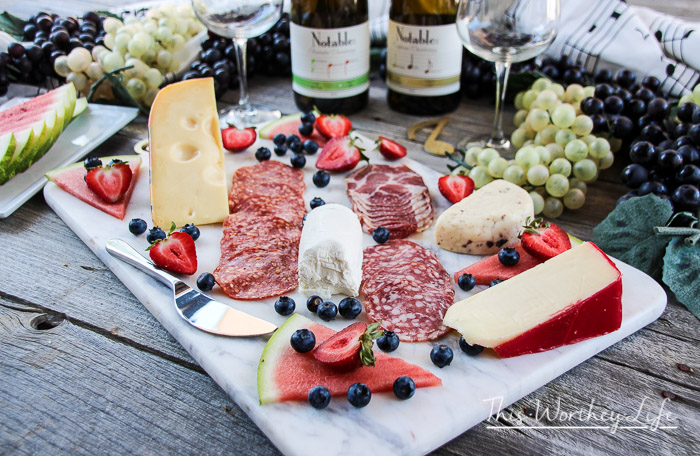 Notable Wines is the first vintner to display the flavor profiles on the front label of the bottle, so it's easy to determine the flavor profiles you enjoy best.
We served Notable's Oaky & Buttery Chardonnay with butter, oak, and vanilla notes.
No uncertainty or guessing with Notable Wines; follow the notes.
Read on to learn how we put together a cheese and charcuterie board to pair with our wine selection.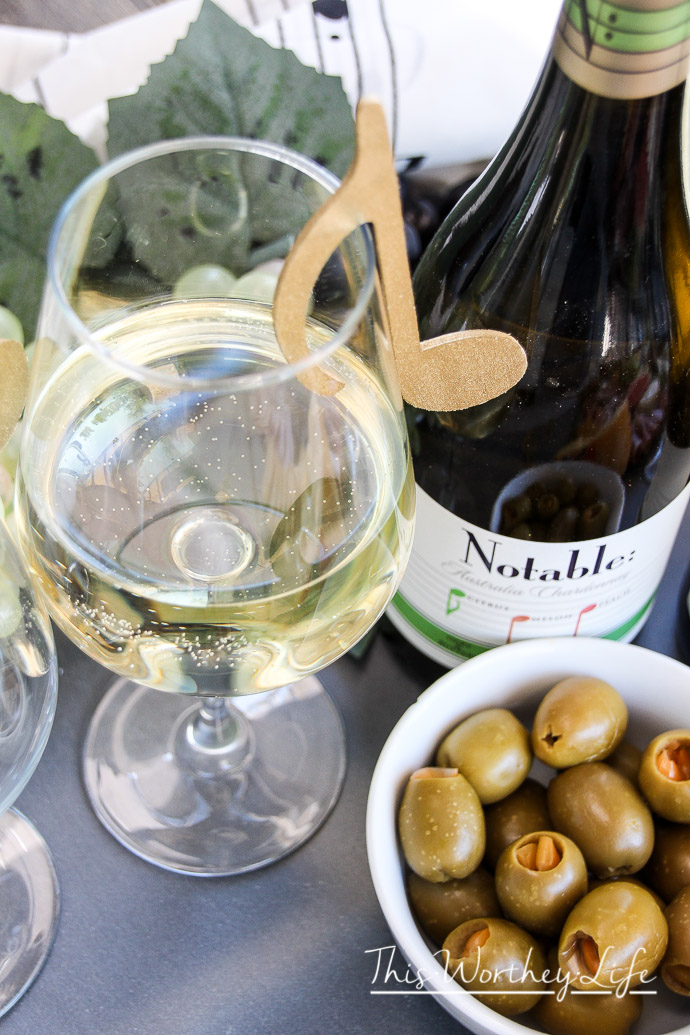 Also, we served Notable's Fruity & Crisp Chardonnay; both are excellent varietals.
We decanted both bottles briefly after chilling them down in buckets of ice.
The fruity and crisp Chardonnay was my favorite wine of the evening, and I made a mental note to pick up a few more bottles for our next get-together.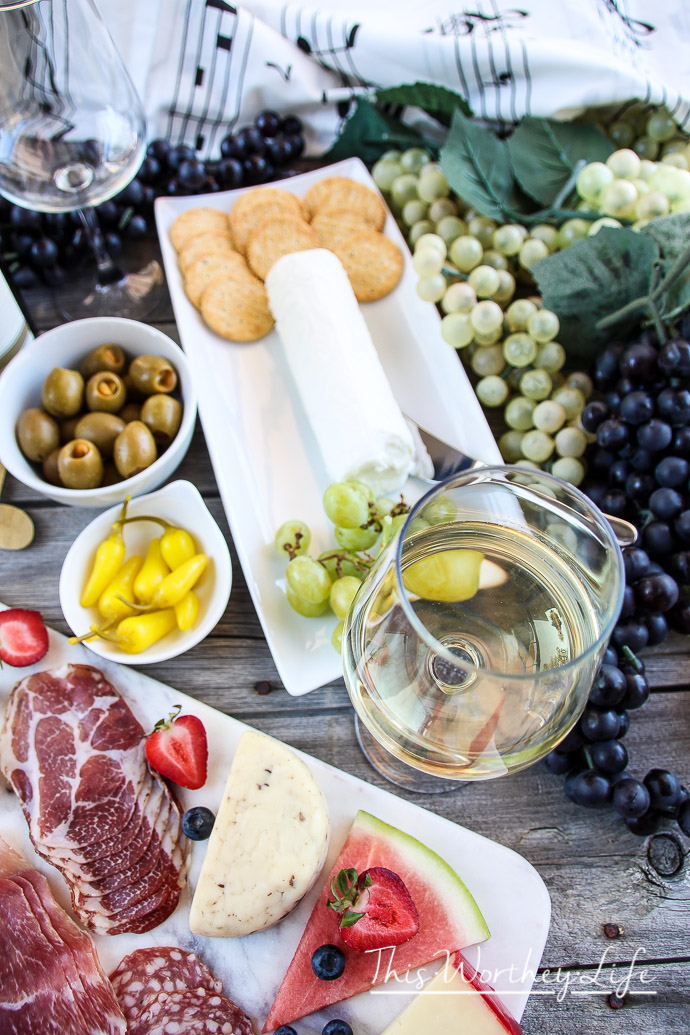 We chose cheeses most guests would be familiar with for our cheese selections, so Fontina, Goat, Jack, and Gouda cheeses fit the bill.
Ditto for our light meat choices; we plated Prosciutto, Sopressata, Capocollo, and Salame.
Cheese and meat were paired with fresh strawberries and blueberries, light and sweet watermelon, and chilled grapes.
We also set out olives, Hungarian yellow peppers, crackers, and honey to mellow out the intense flavor profile of the goat cheese.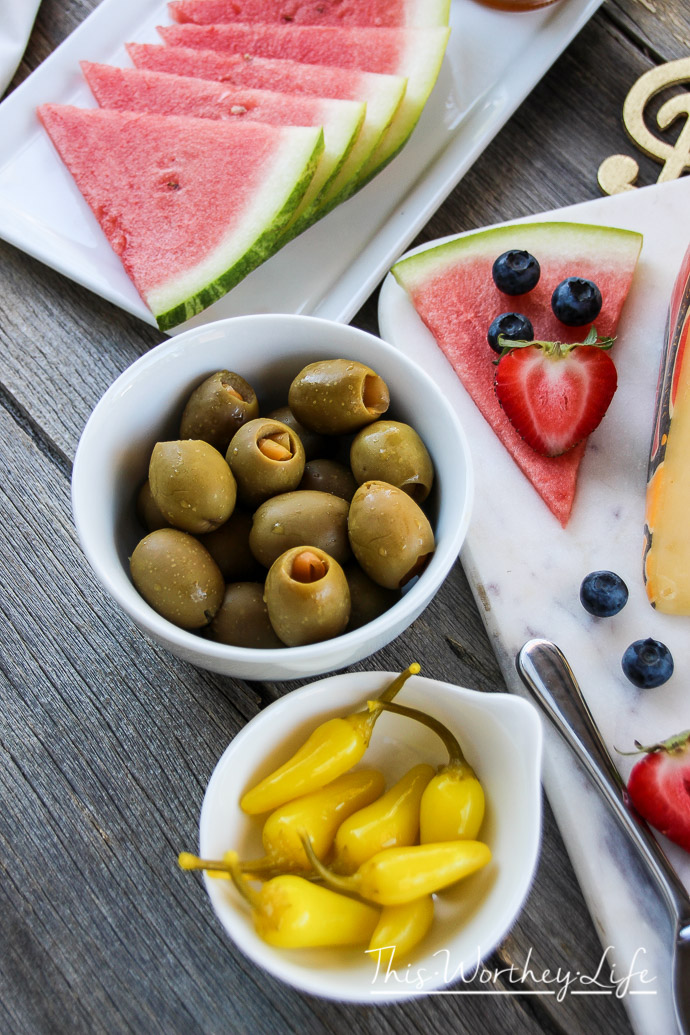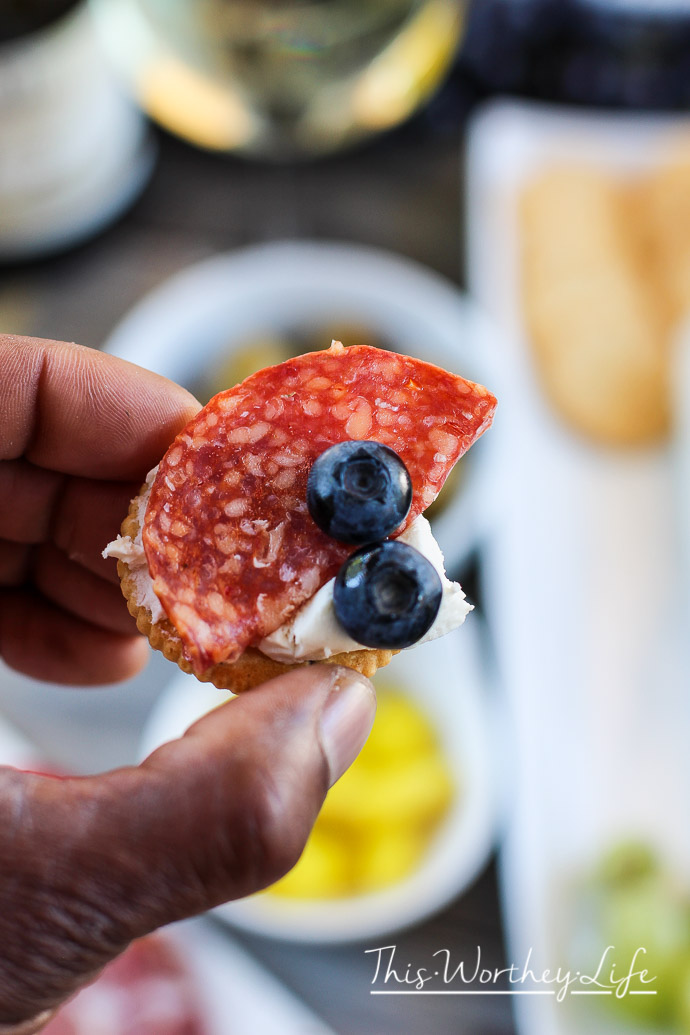 Cheese + Charcuterie Board
Ingredients:
Cheeses: Fontina, Goat, Jack, and Gouda
Meats: Prosciutto, Sopressata, Capocollo, and Salame
Fruits: Grapes, Blueberries, sliced Strawberries
Additional delicacies: Melon, Olives, Peppers, Crackers, and honey
Directions:
Arrange meats, cheeses, fruit, and crackers on a large single cheese board platter or various small plates.
For the goat cheese, plate it separately due to the need for the drizzle on the honey.
I also like displaying multiple items among several plates or platters because it allows multiple guests to pursue and serve themselves more easily without everyone crowding around a single serving area.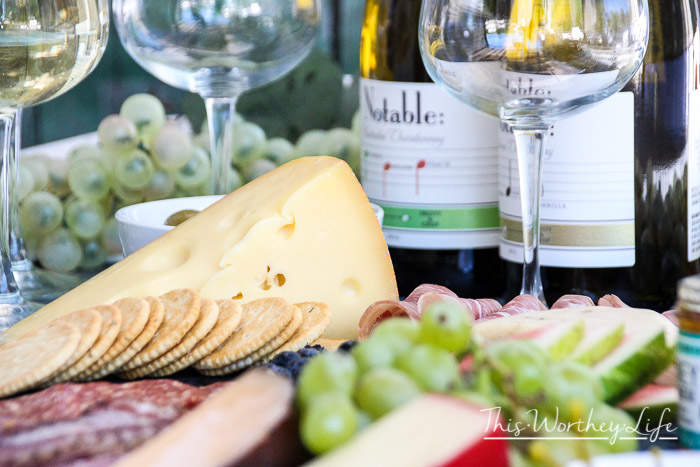 How to match wine and cheese
The best approach to making a respectable cheese and charcuterie board is to select the flavors that you love to eat.
To pair with Chardonnay, it is best to know the profile of the wine.
For unoaked Chardonnays, creamy and mild to semi-soft cheeses work best. Bries are an excellent choice.
When serving a mid-oaked Chardonnay, select cheese with a nutty and sharp flavor.
Finally, select cheeses that will stand up to the heavier notes and minerality for a heavily oaked Chardonnay. Think more pungent blue cheeses and aged cheddar.
The only rule to adhere to, without fail, is to select the cheeses and wines you love.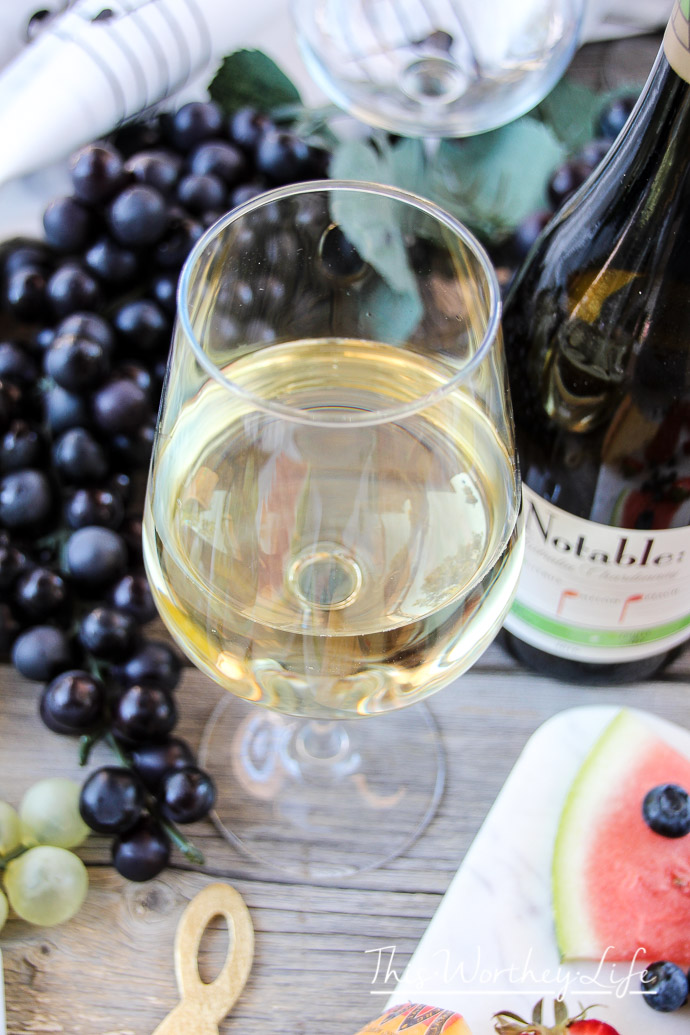 Remember, Notable Wines did the homework for you, and they have written down the best notes. Follow the notes and discover the right wine with the best flavor notes for you. Cheers!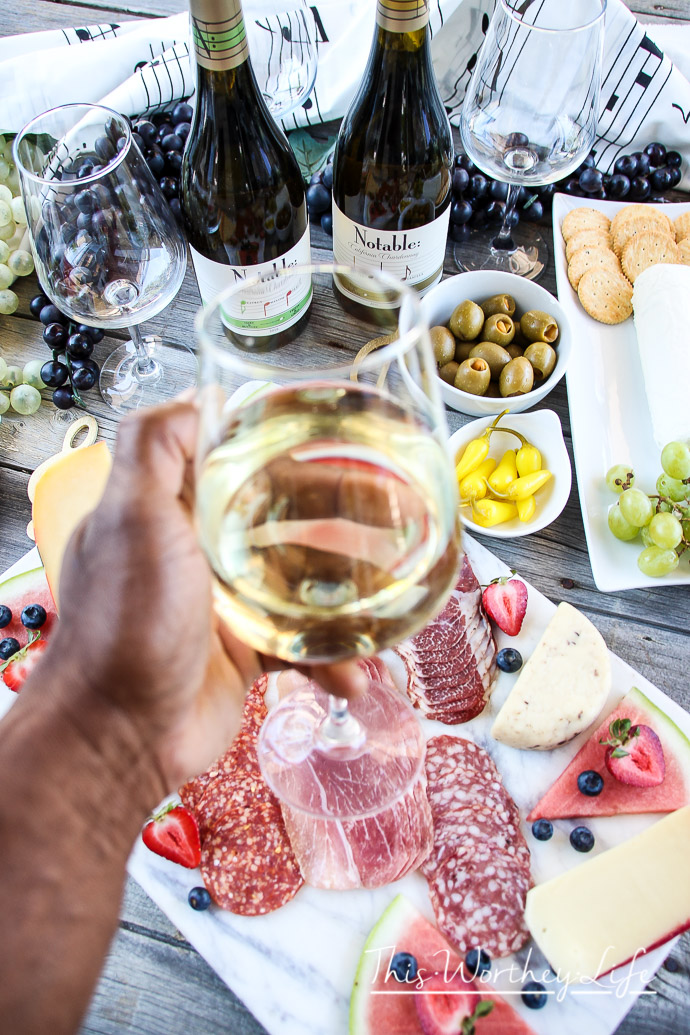 Raise a glass!
Entertainment Tips:
When throwing a summer party, the food and wine should be the focal point of your party. Ensure your cheese platters are set up for guests to easily access the variety of cheese, fruit, and dips. You don't want people overreaching to pick up a blueberry.
Keep the decor simple. I picked up plastic grape decorations from a craft store. I also grabbed a music pattern fabric and, wooden musical notes, and spray-painted gold.
We always keep a few cheese platters on hand. If you don't have one, you can easily use a chalkboard for a cheese plate or a clean cutting board. Even regular, clean white plates will work. Don't stress if you don't have time to purchase a cheese plate. Please keep it simple.
I also found the tic-tac board at a craft store. It's essential to have things to keep your guests entertained.
Soft jazz music is always nice for a classy summer party idea.
When styling the cheese plate, you can style it however you want! As you can see, we styled our cheese platter in two different ways.
If your guests can easily get to each type of food, have fun with the design!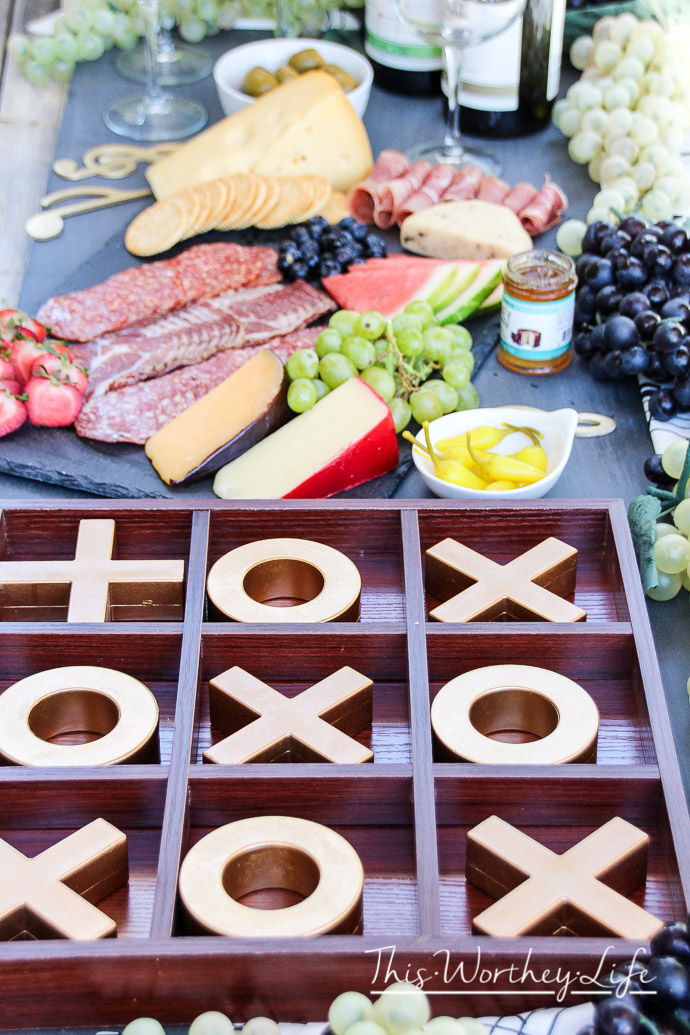 *This is a previously sponsored post.