Getting dinner on the table doesn't have to be too hard when you're using McCormick® ONE Dish Seasoning Mixes. I'm showing how to make a sheet pan dinner idea using the McCormick® Farmer's Market Chicken & Vegetables. This is a sponsored post.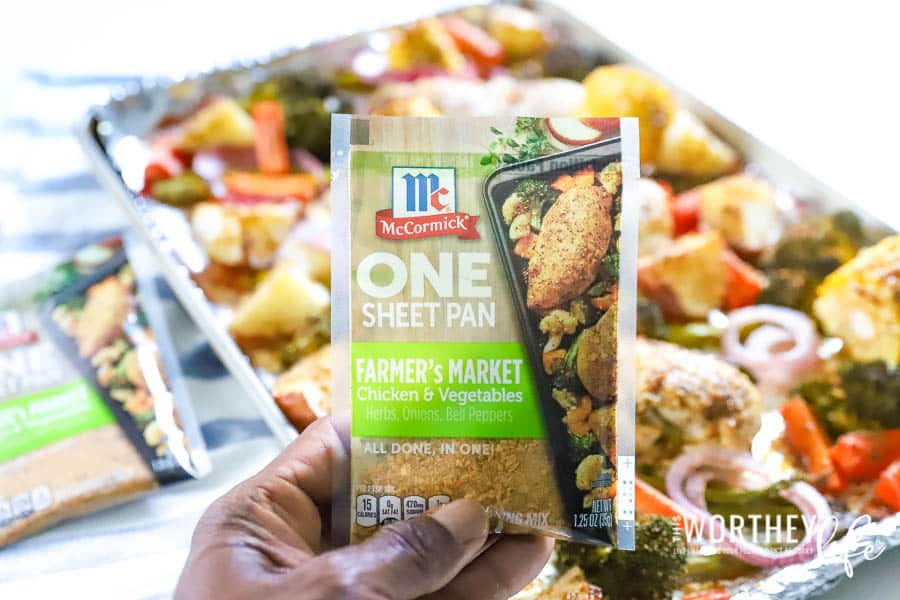 Chicken + Vegetables Sheet Pan Dinner Idea
There is something really special about the simplicity of sheet pan dinners. They're easy to put together; instead of using multiple pots and pans, everything is cooked right in a single pan. Genius. But wait, it gets even better because with McCormick® ONE Dish Seasoning Mixes mediocre isn't an option. Out of one small package comes big taste! It's the best kind of arrangement; you bring the fresh ingredients, and McCormick® ONE brings the BAM!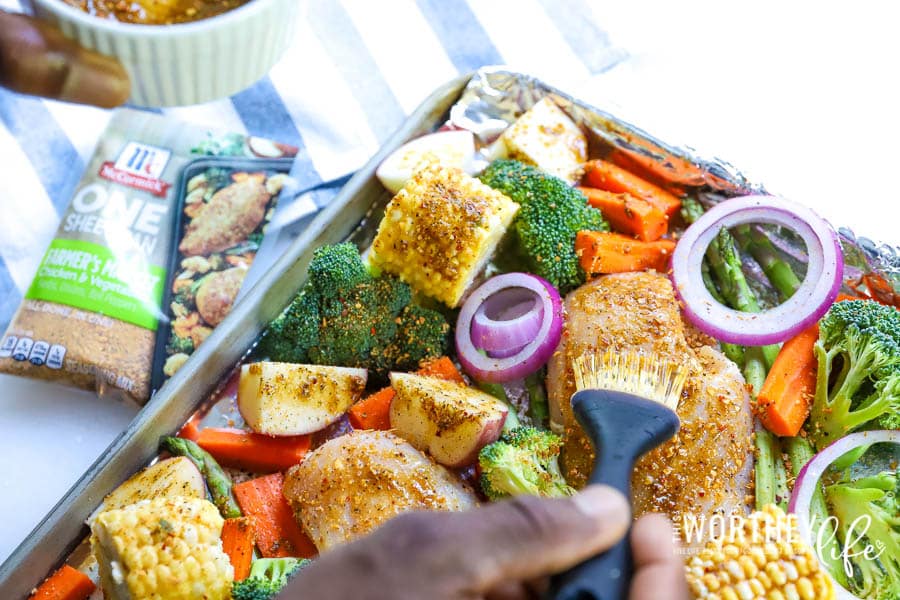 School is back in session and, as parents of school-age children, that can only mean one thing: the hustle is on! And why dirty every pot and pan in your kitchen to whip up a delicious dinner when one pan will do? Recently, I took a cue from McCormick® and used their savory Farmer's Market Chicken & Vegetables One Sheet Pan Seasoning Mix to make my everyday cooking a little easier, and the results were nothing short of amazing.
And it's so easy! I had dinner prepped and in the oven in less than five minutes. I'm not even kidding. I added everything I needed for my week of meal planning to my shopping cart at Walmart.com. That means I added fresh veggies, chicken breasts, and a packet of McCormick® Farmer's Market Chicken & Vegetables along with everything else I needed for the week, and pick up was easy. So when it's time to prepare dinner I grab a sheet pan, the vegetables, and chicken.
.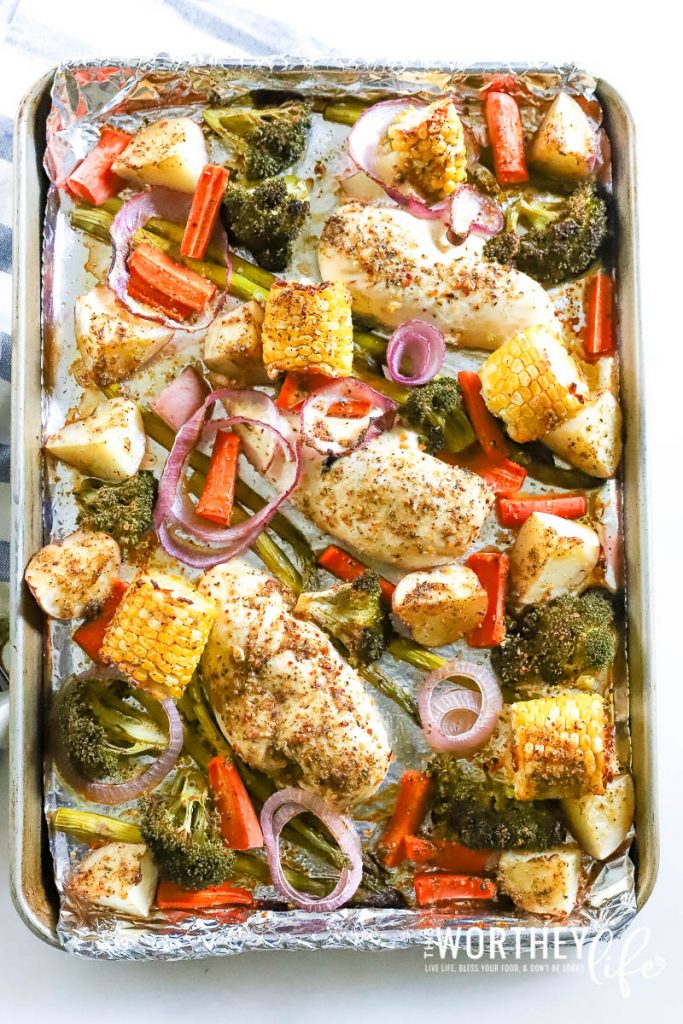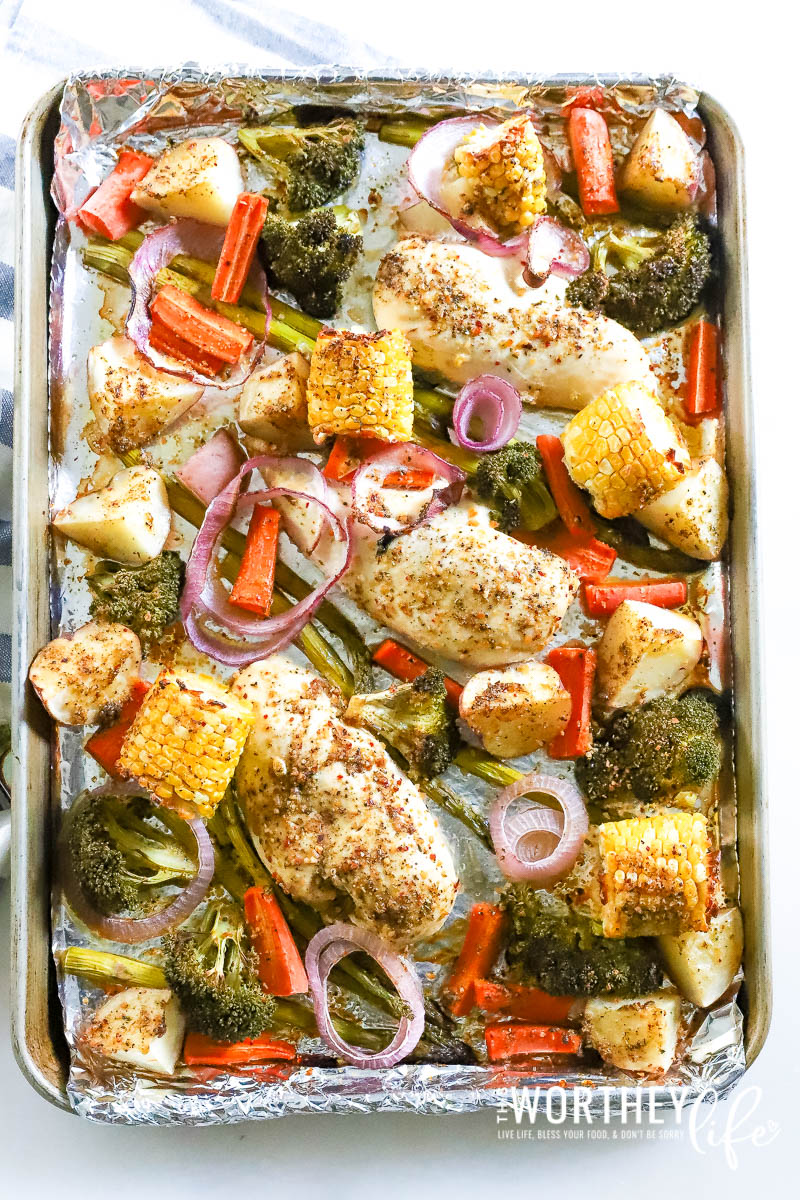 For this sheet pan recipe, I used the McCormick® ONE Sheet Pan Farmer's Market Chicken & Vegetables, but you can choose from the many flavors your family will like. Variety is the spice of life, so when you do your meal planning for the week, grab McCormick® ONE Sheet Pan or Skillet Seasoning Mixes to add a little ease and spice to your next family dinner.
How to make Chicken + Vegetables Sheet Pan Dinner
Ingredients:
1 package McCormick® One Sheet Pan Farmer's Market Chicken and Vegetables
3 skinless and boneless chicken breasts
2 cup broccoli tops
1 1/2 cup carrots, sliced
1 medium red onion, sliced
6 red potatoes, quartered
10 asparagus spears
aluminum foil
large sheet pan or skillet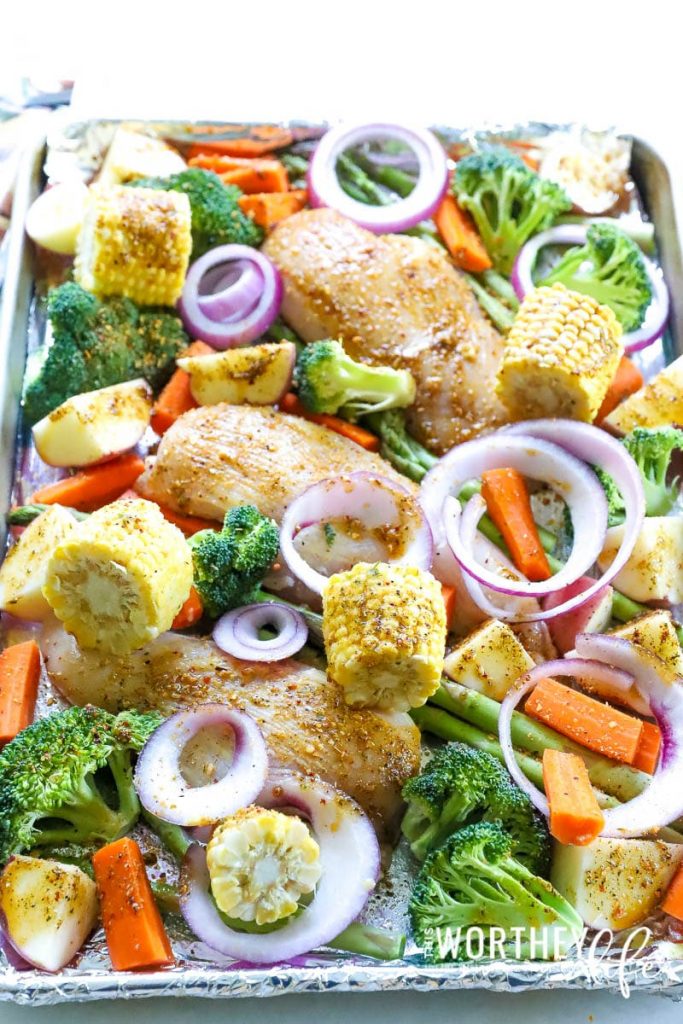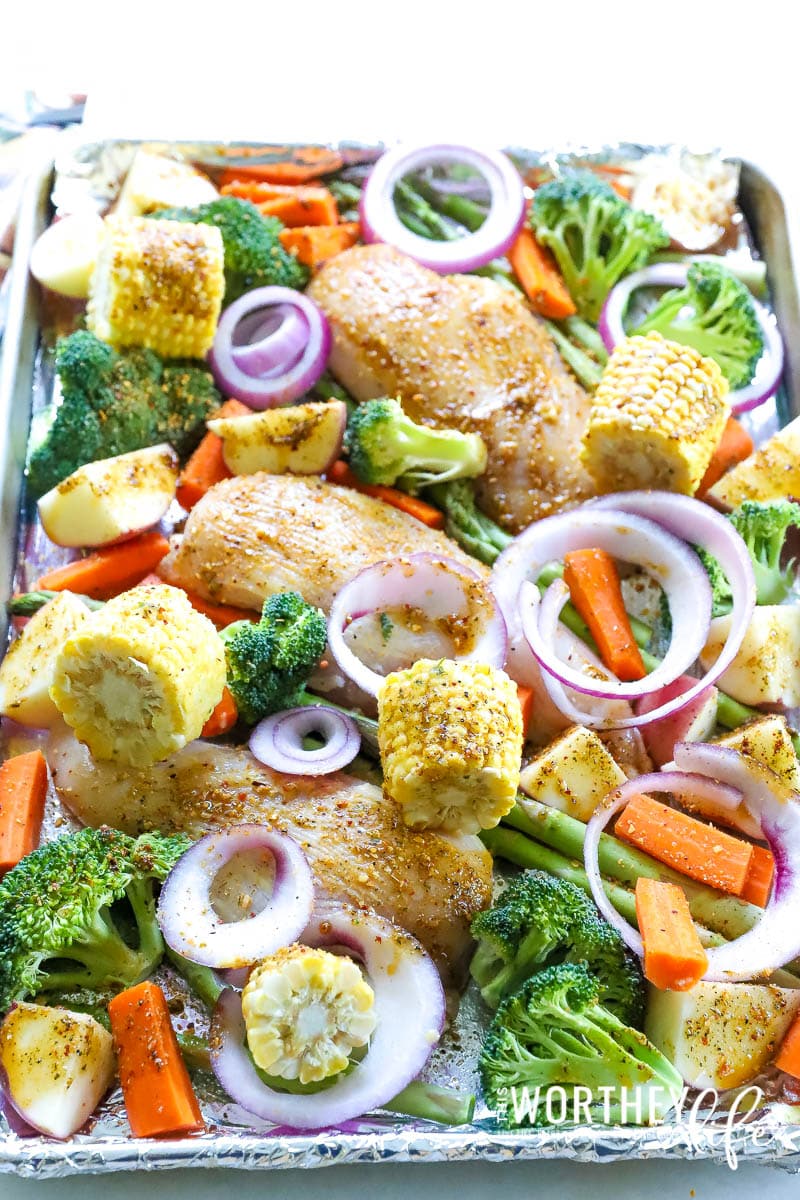 Directions:
Preheat oven to 400°F.
Line a sheet pan or skillet with aluminum foil.
Mix Seasoning Mix and oil in a large bowl.
Add chicken and vegetables; toss to coat.
Place in single layer on the foil-lined sheet pan sprayed with no-stick cooking spray.
Bake 30 minutes or until chicken is cooked through.
Serve.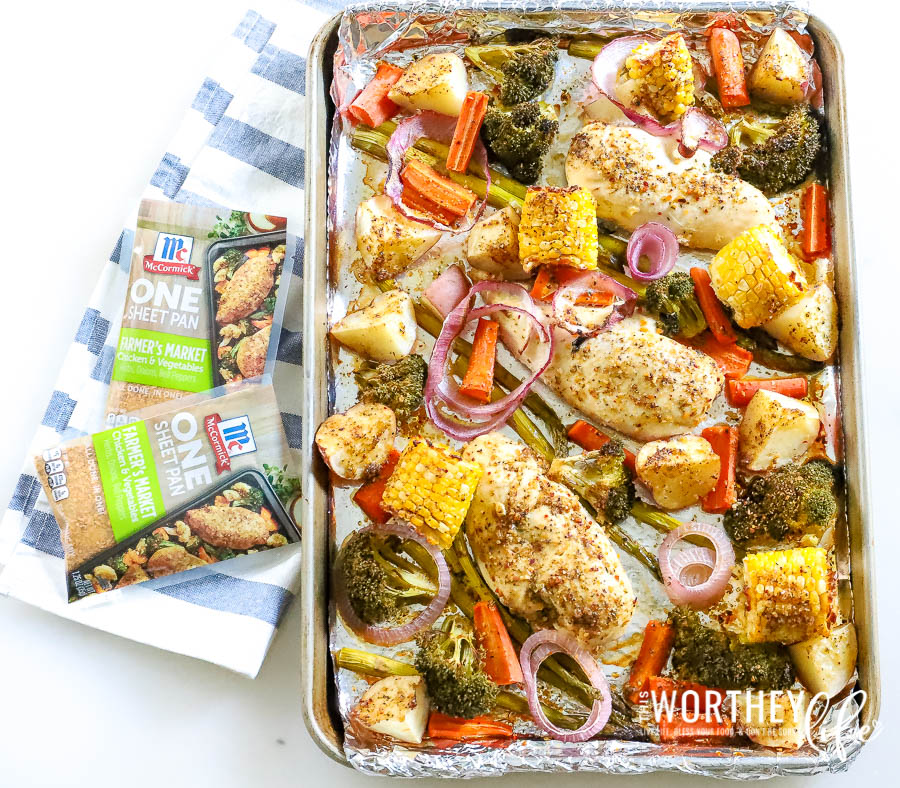 Here's another thing I am digging about this ONE Sheet Pan seasoning mix from McCormick®: the directions and everything else you need for the meal idea are listed on the back of the packet. Yes! And when you've run out of ideas for dinner, but need something quick and deliciously filling, having a recipe given to you is a life-saver. My wife also loves this idea because it has made her life easier when she has to decide what to make for dinner on the nights I am not home.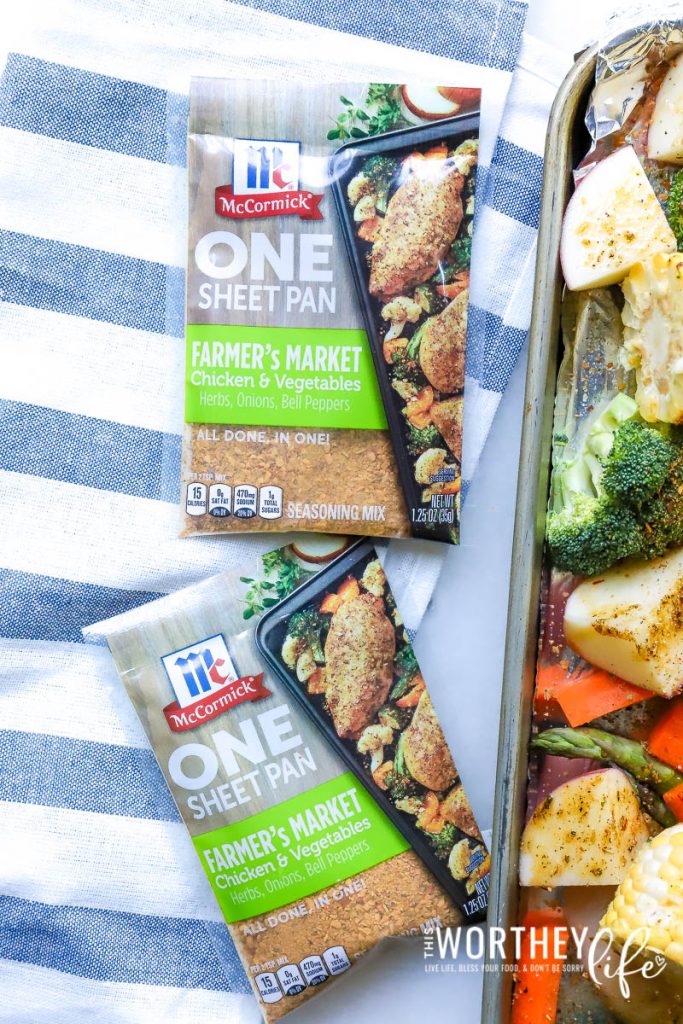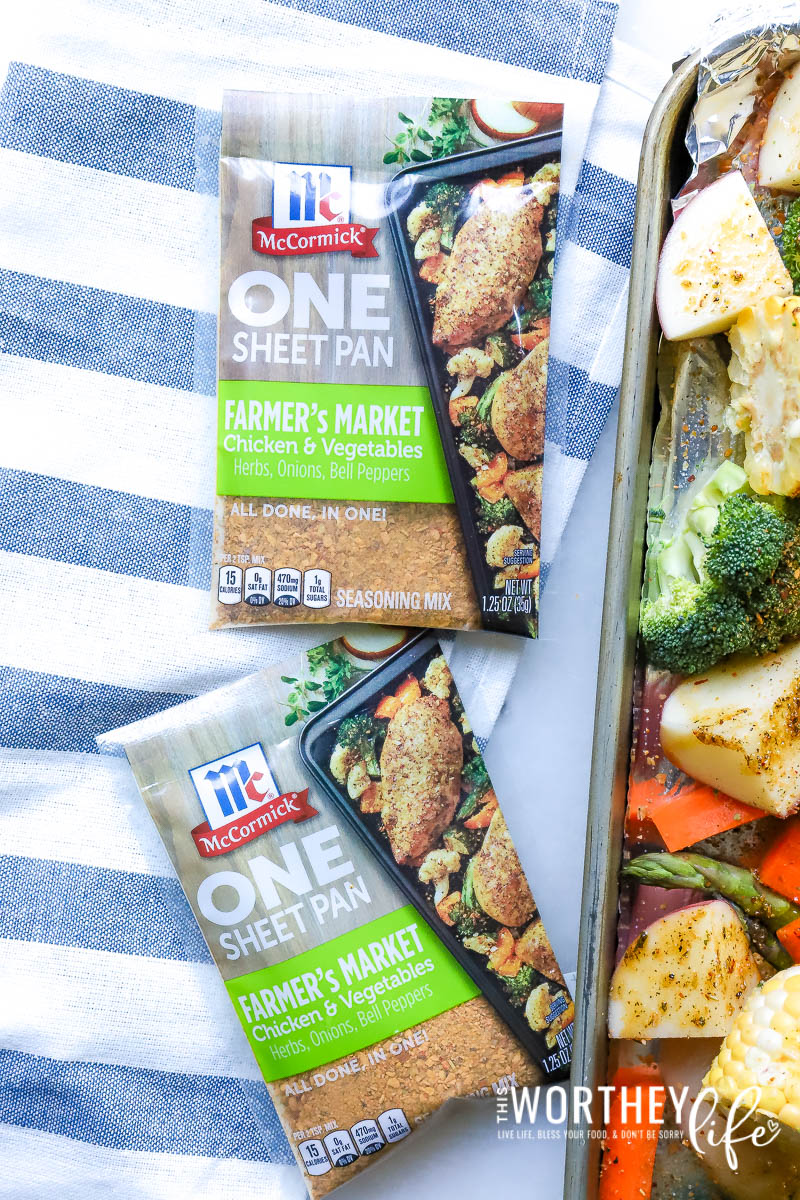 Be sure to add the new McCormick® ONE Dish Seasoning Mixes to your shopping cart on Walmart.com – CLICK HERE! The dinner rush just got easier, thanks to McCormick®!