With a ton of healthy chicken recipes floating around, here's a way to create a chicken wedge salad loaded with fresh veggies and creamy avocado. You haven't tried a wedge salad until you've tried our loaded rotisserie chicken wedge salad. Grab the recipe down below!
We partnered with Coca-Cola to pair their Coke Zero with our Chicken Wedge Salad recipe.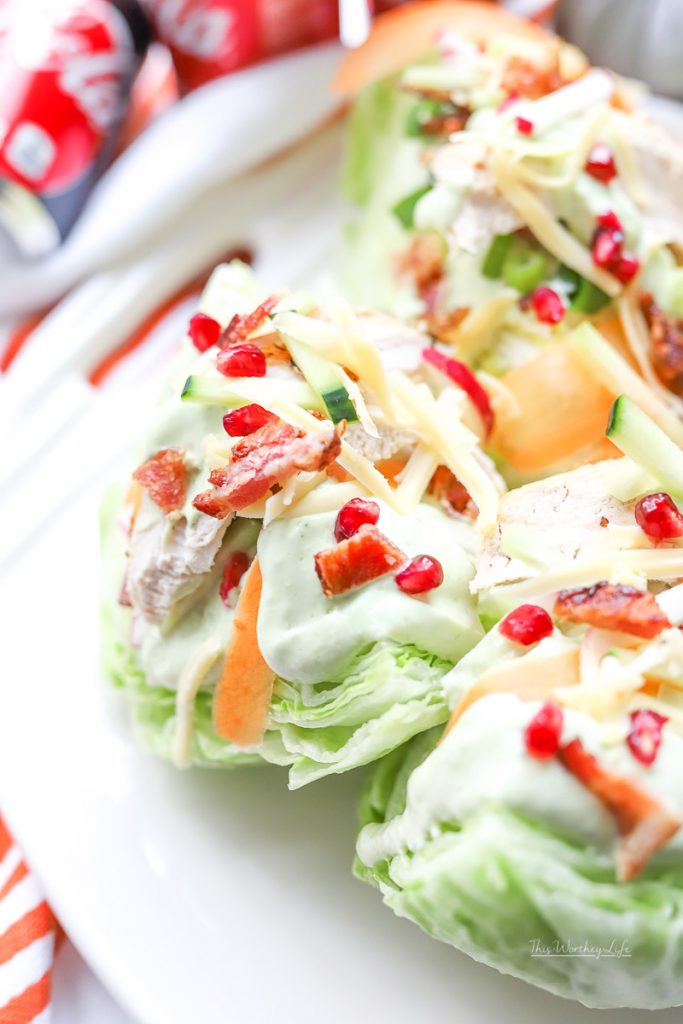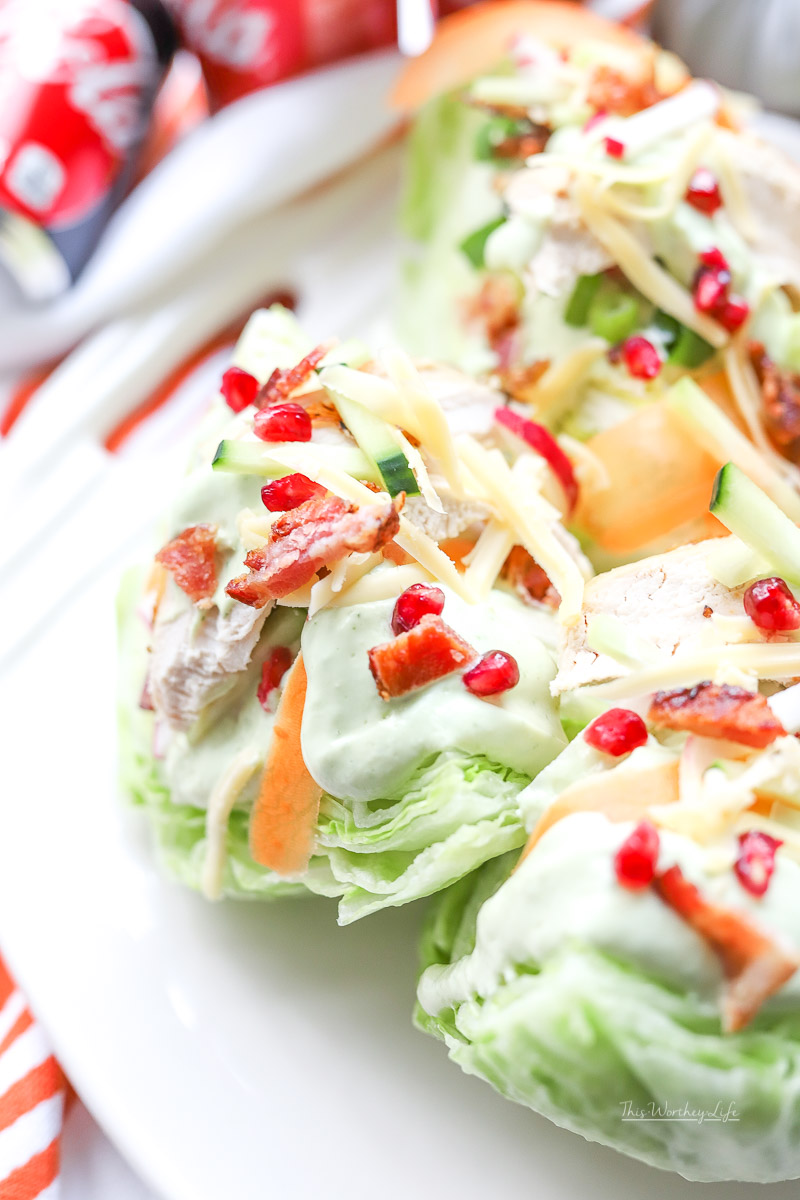 Healthy Chicken Recipe | Loaded Rotisserie Chicken Wedge Salad
Nothing could be easier than a making a salad course, but at times the simplest things to prepare can at times be difficult and exhausting. We have a solution, try our easy and appetizing Loaded Rotisserie Chicken Wedge Salad, and you will be in salad heaven in almost no time flat. With the big game coming up, this is a healthier type of appetizer to serve during your game day party, Oscar-watching party, or just because you are working on eating healthier in 2019.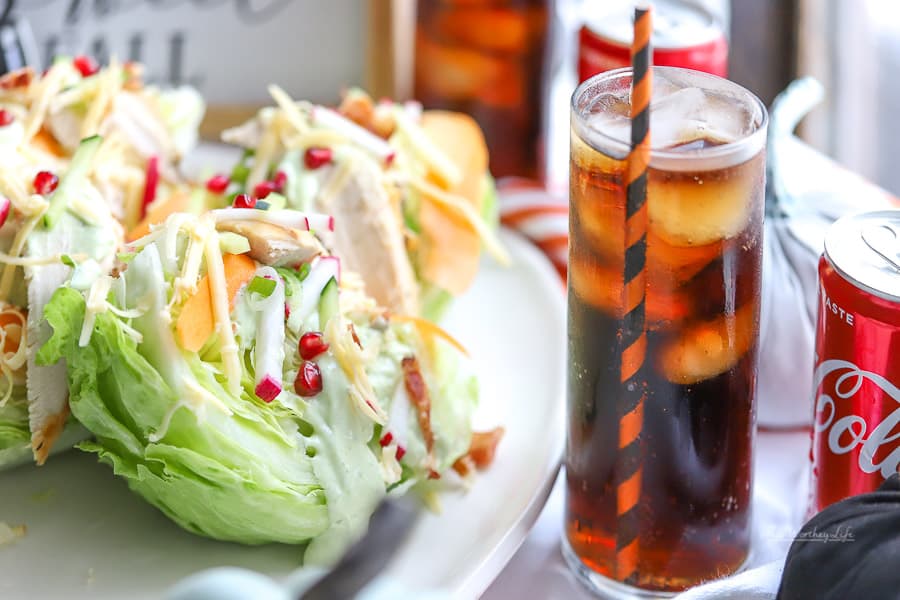 Loaded with avocado, chicken, pomegranate seeds, and fresh veggies, this is a delicious salad recipe. One way to cut down on time in the kitchen is using a Rotisserie Chicken picked up from your local grocer.
Healthy Chicken recipe | Loaded Rotisserie Chicken Wedge Salad
Ingredients:
1 head of fresh lettuce rinsed and cut in half
1 cup creamy avocado and lime salad dressing
1/2 cup rotisserie chicken chopped or sliced
1 small cucumber, julienne cut
1 small carrot, julienne cut
2-3 green onion, thinly sliced
2-3 radishes, Julienne cut
pomegranate seeds
1/4 cup shredded smoked Gouda cheese
1/3 cup crumbled thick-cut bacon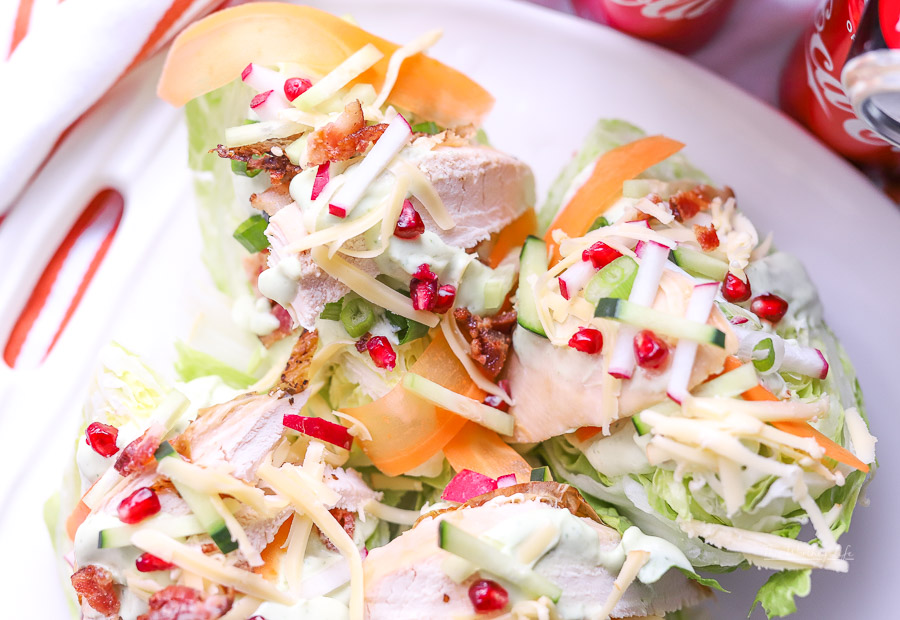 Directions:
Rinse and cut a fresh head of lettuce in half.
Drizzle on as much creamy avocado and lime salad dressing as you prefer.
Top with cucumber, carrots, radishes, pomegranate seeds, shredded smoked Gouda cheese, and crumbled thick-cut bacon.
Serve with an ice-cold Coke or Coke Zero.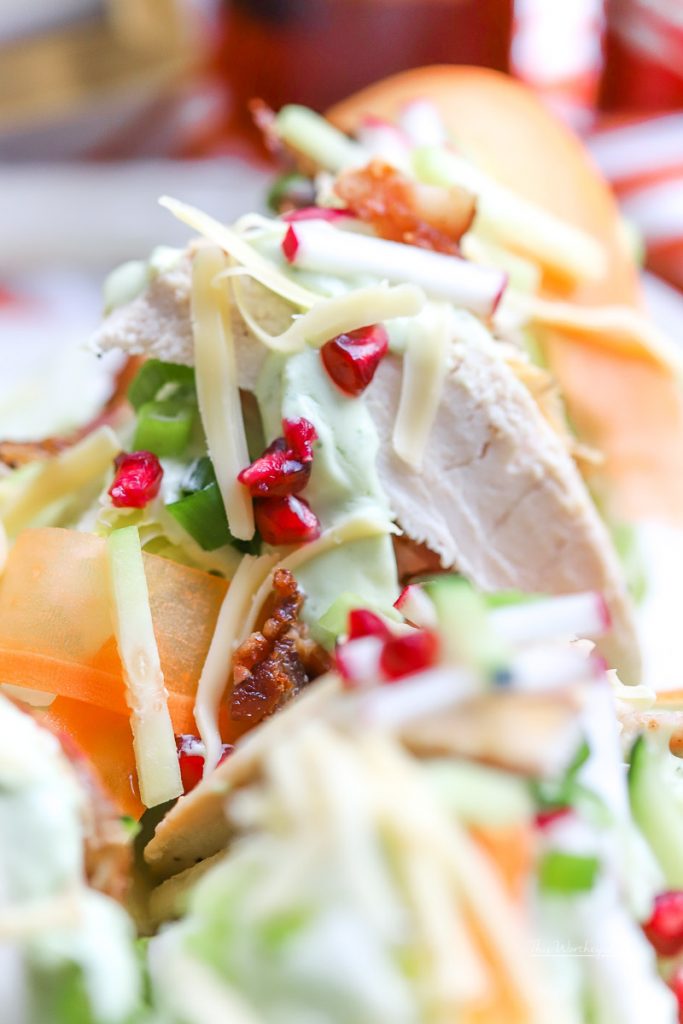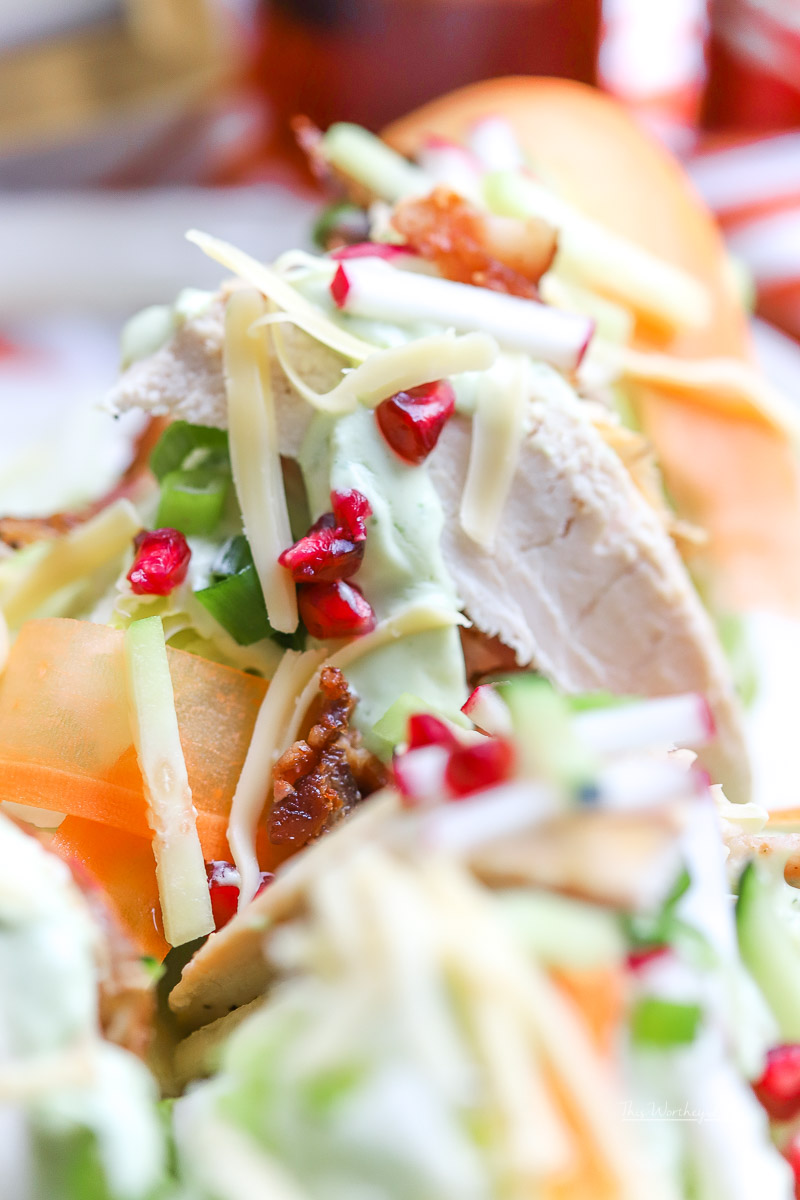 Creamy Avocado and Lime Salad Dressing
Ingredients:
1 ripe avocado
1 cup mayonnaise
1/4 cup whole milk, or more
1 1 /2 tablespoons extra virgin olive oil
2 tablespoons freshly squeezed lime juice
1/8 teaspoon sea salt
1/8 teaspoon freshly cracked black peppercorns
Directions:
Into the bowl of a food processor add the flesh of a ripe avocado, mayonnaise, extra virgin olive oil, freshly squeezed lime juice, sea salt, freshly cracked black peppercorns.
Continue to pulse on high as you add the whole milk through the top of the food processor lid until you get the consistency you prefer.
Use right away or store in the fridge for two days.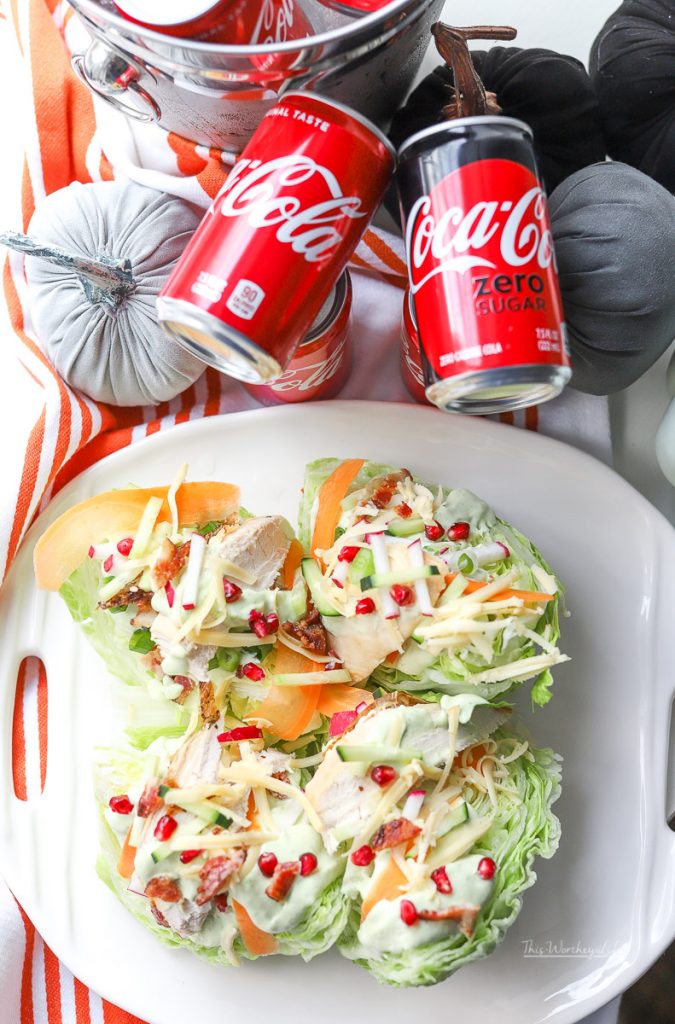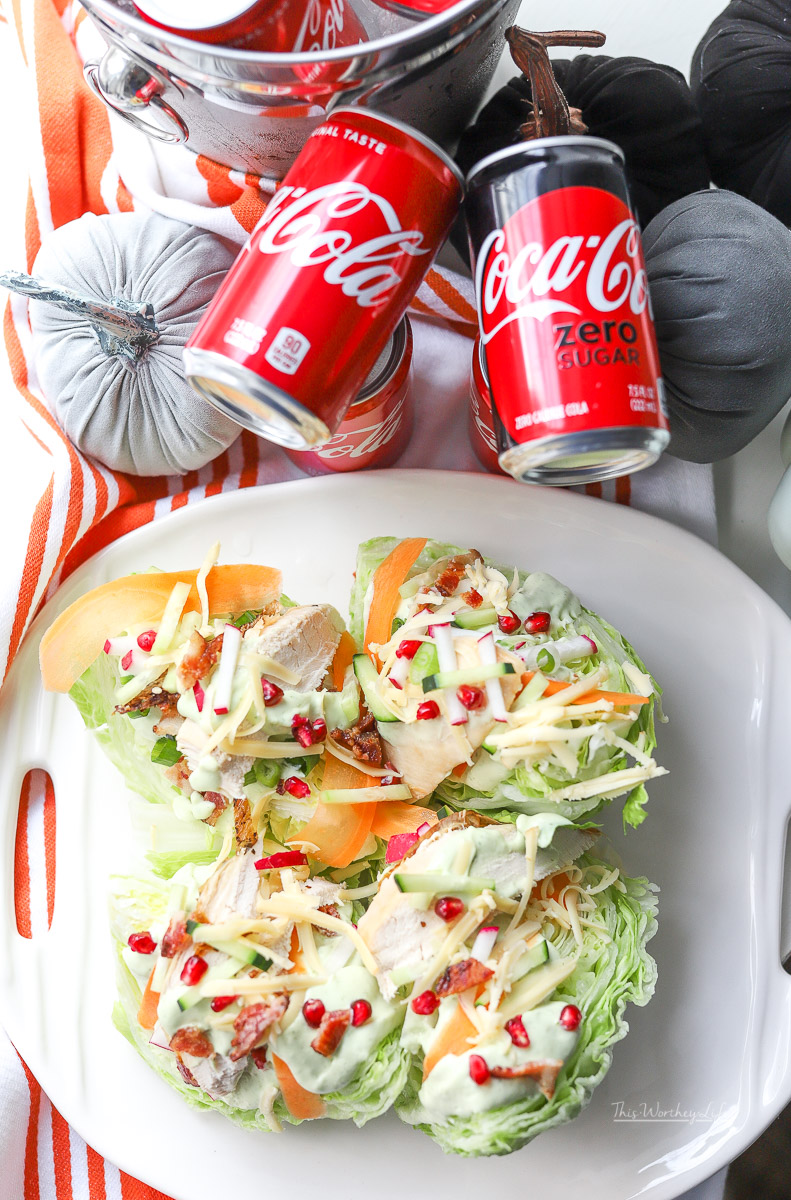 Paired with a cold Coca-Cola, this is chicken recipe is ready to go. If you're cutting back on calories, try a Coke Zero.