This shop has been compensated by Collective Bias, Inc. and its advertiser. All opinions are mine alone. #RotelHoliday #CollectiveBias
Comfort in a bowl is what we're calling our Cheesy Chili Bread Bowl with Garlicky Fried Tortillas. Take your best chili recipe and give it an upgrade with our recipe down below!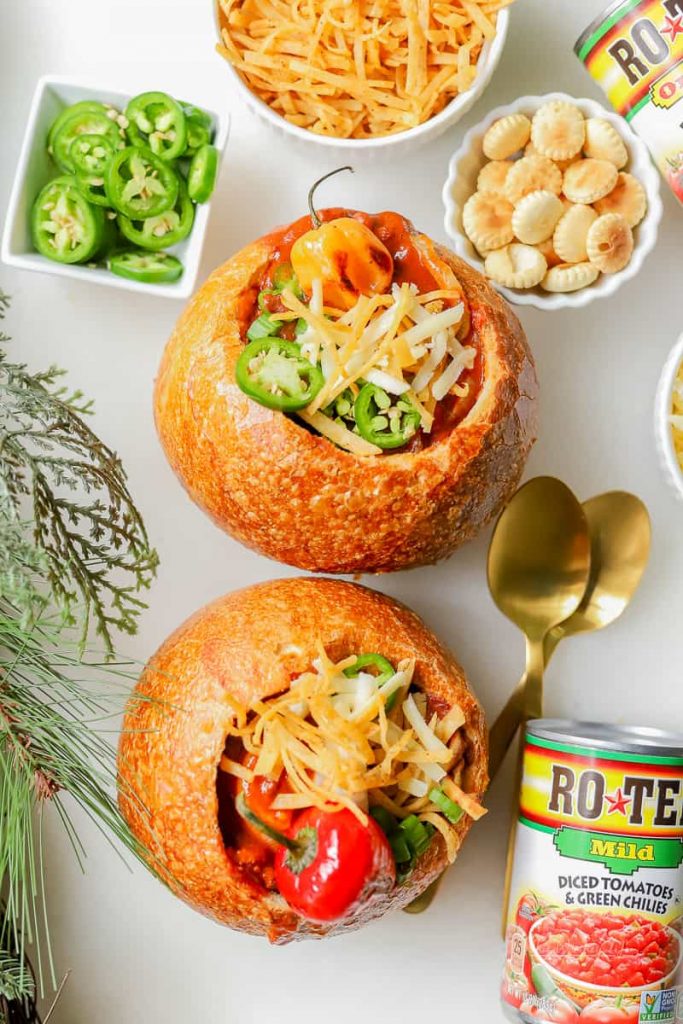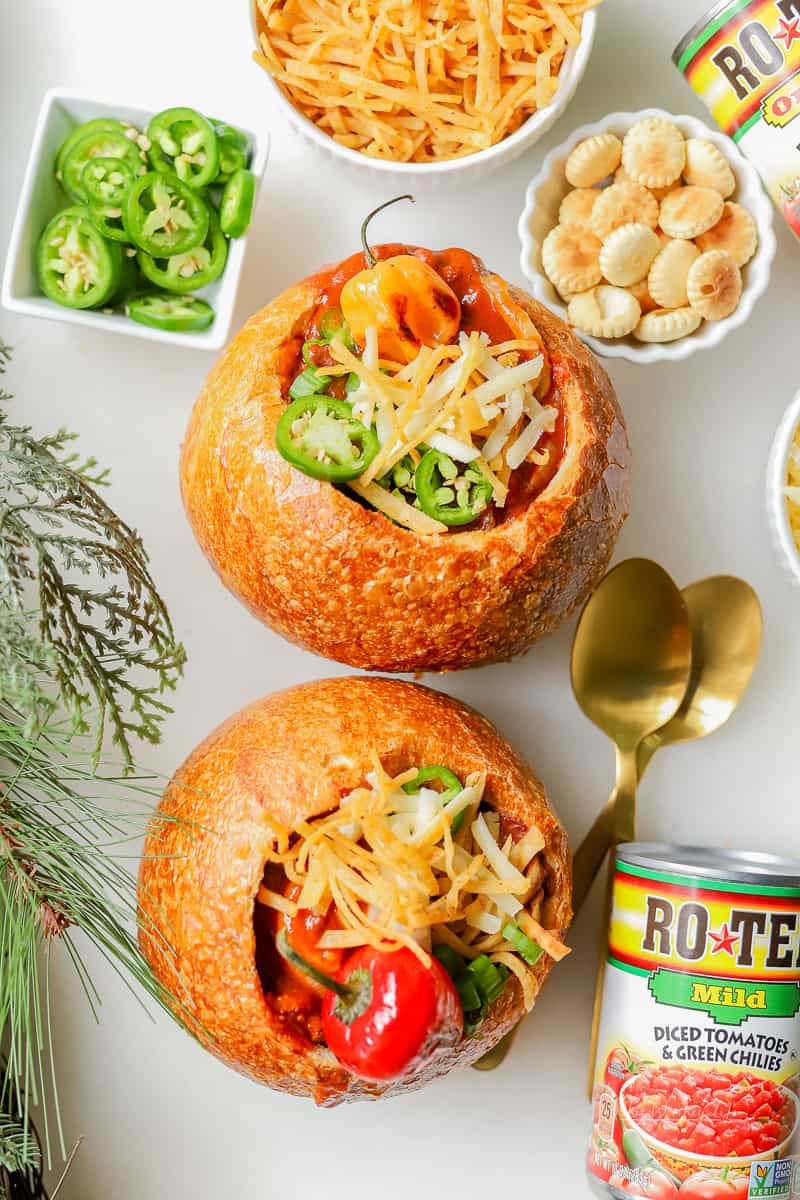 Cheesy Chili Bread Bowl + Garlicky Fried Tortillas
Have you noticed the falling temperature outside? Of course, you have, and I am sure you are taking all of the necessary precautions, right? And, I am almost certain you got a big hearty pot of chili doing its thing in your slow cooker, Instant Pot, or the ginormous stockpot you keep on deck for such chili making occasions. Yes, we're in the thick of snow falling season. The wind is howling its warning, and if you cock your ear just right, it sounds a lot like its singing, "Baby, It's Cold Outside." Lucky for me, and you, we have our favorite chili recipes filed away in our recipe box, and those recipes will keep us nice and warm when winter comes to a calling.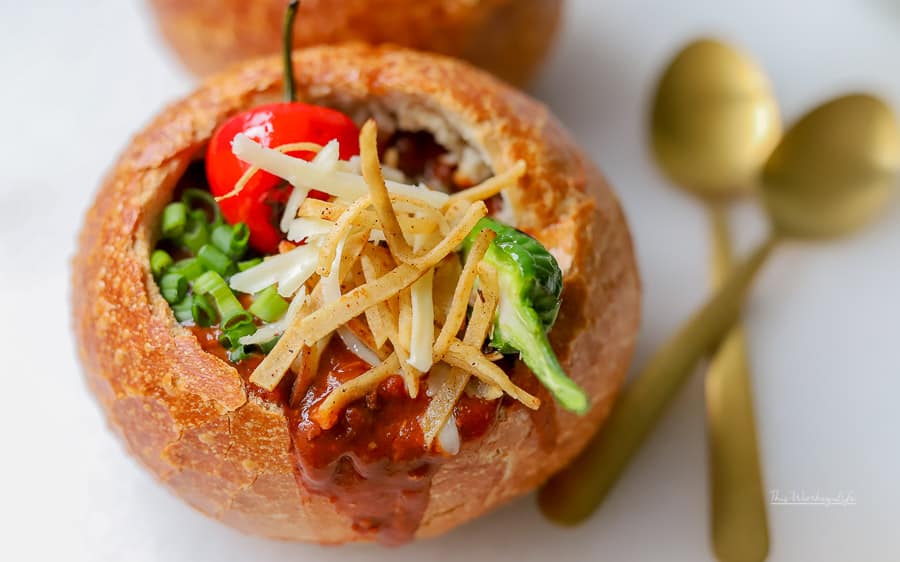 We all know chili is the reigning king (or queen) of the ultimate cold-weather comfort foods, and this holiday season we're going to need all the help, we can get. Because as we all know what makes the holiday special is all of the good food we get to eat and share.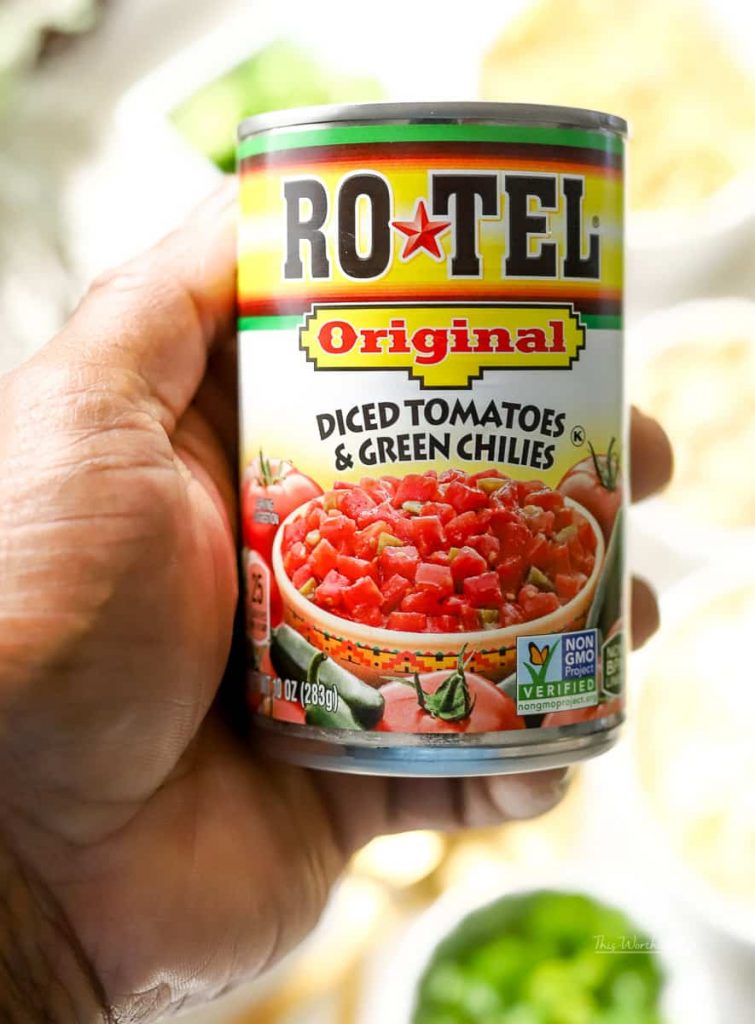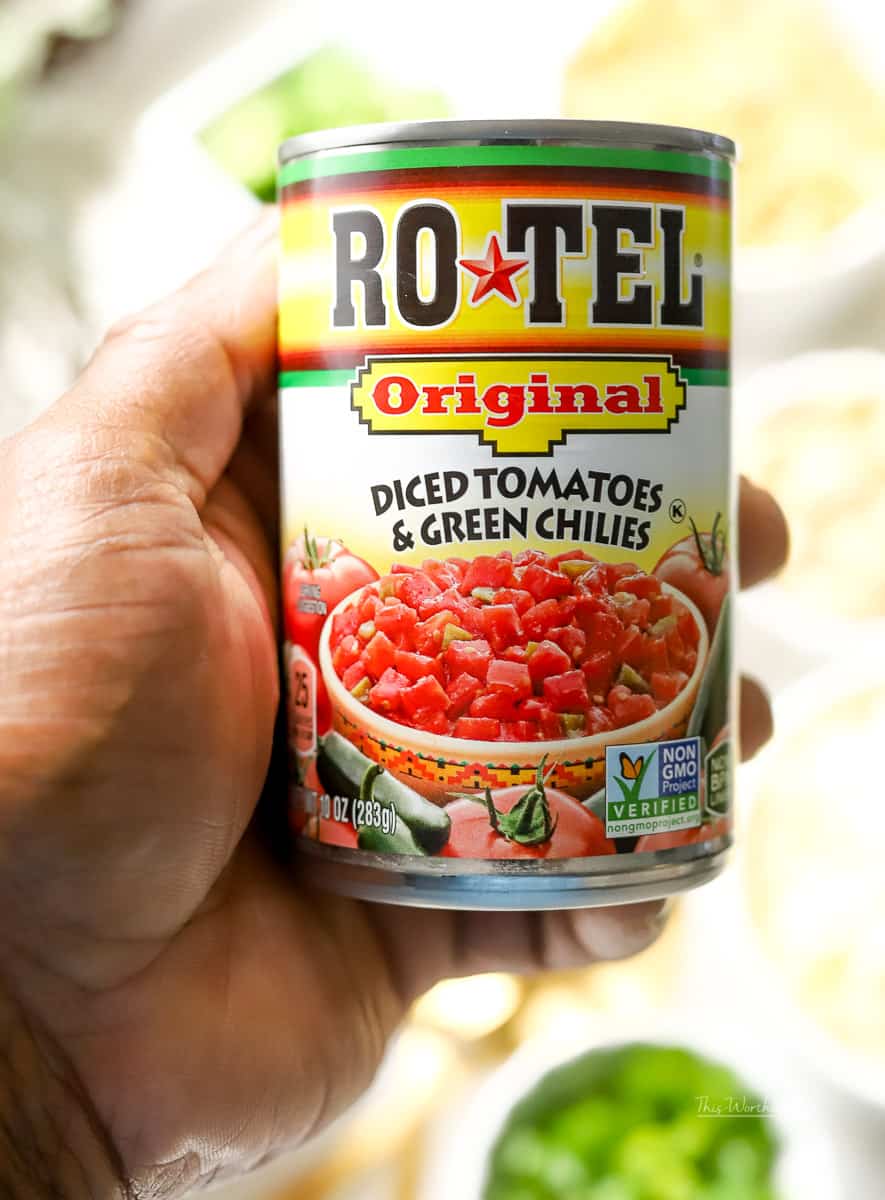 One of our secret chili making ingredients is RO*TEL® Orignal Diced Tomatoes & Green Chiles. Yep, it's in there, because when you put good stuff in it's no surprise you are gonna' get good food out! Everyone knows that, yaheardme!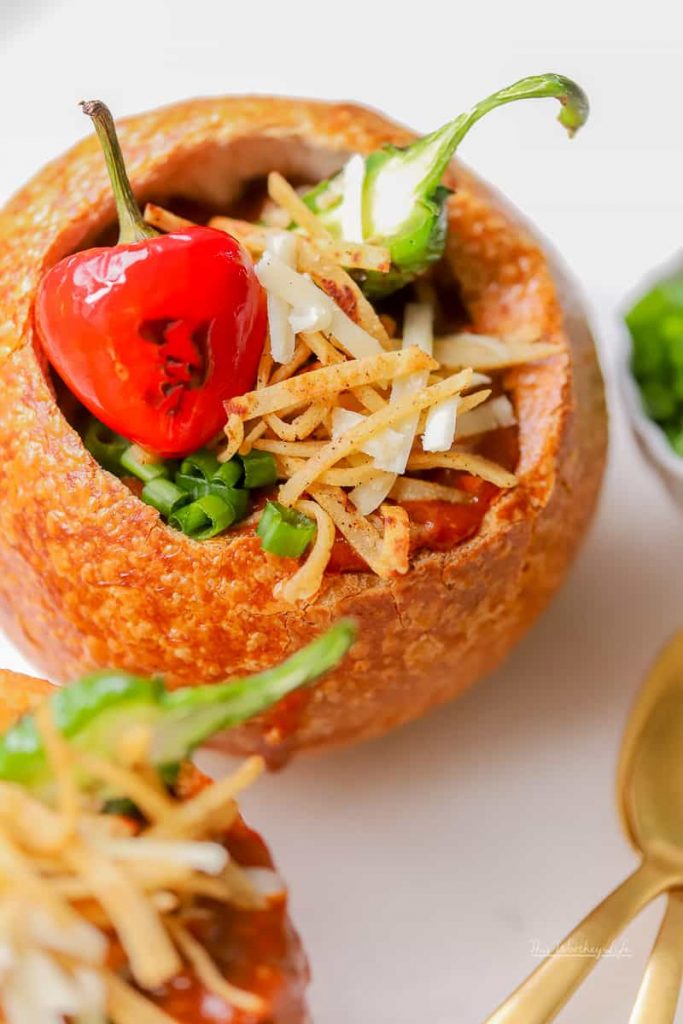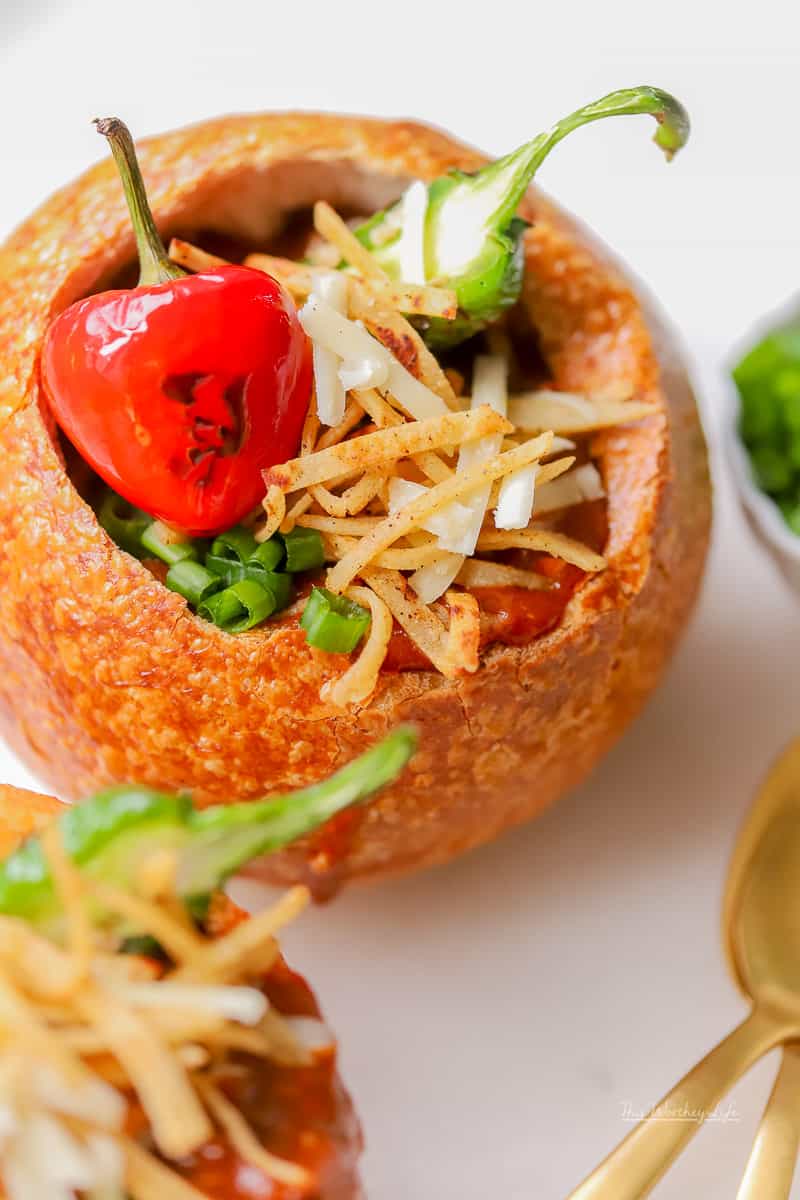 There will be lot's of cooking during the holidays and making chili for the requisite holiday company potluck or bringing along something good to eat during a gift wrapping party at your favorite aunt's house is guaranteed to be well received. A big pot of good chili is the one dish that will pretty much fit almost every occasion. Aren't one-pot meals the whip? They're easy to make, and they make clean up super easy.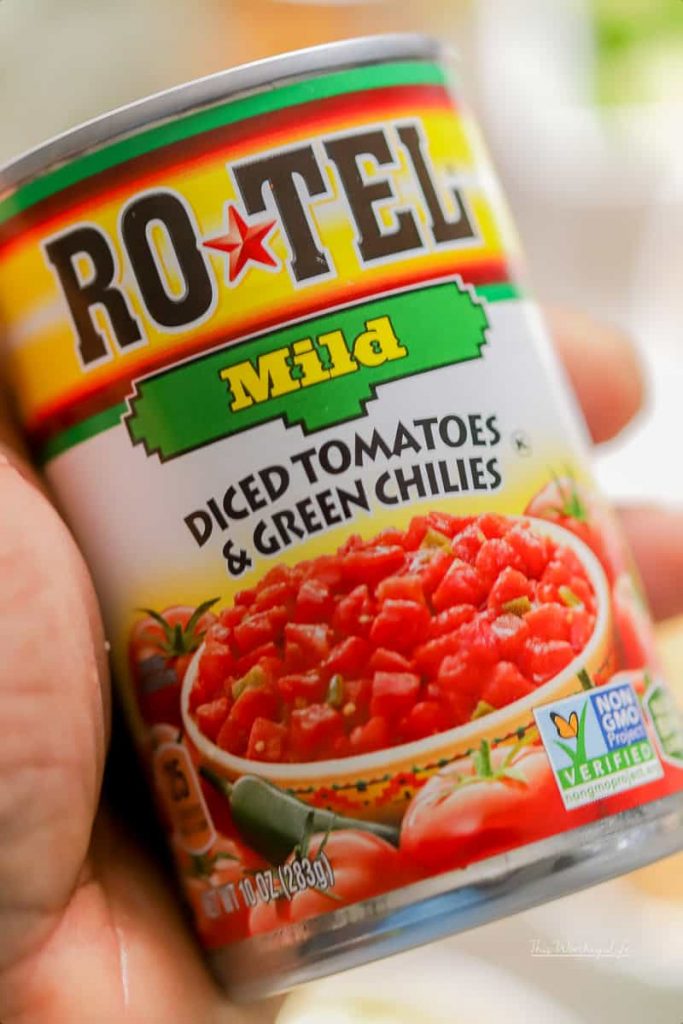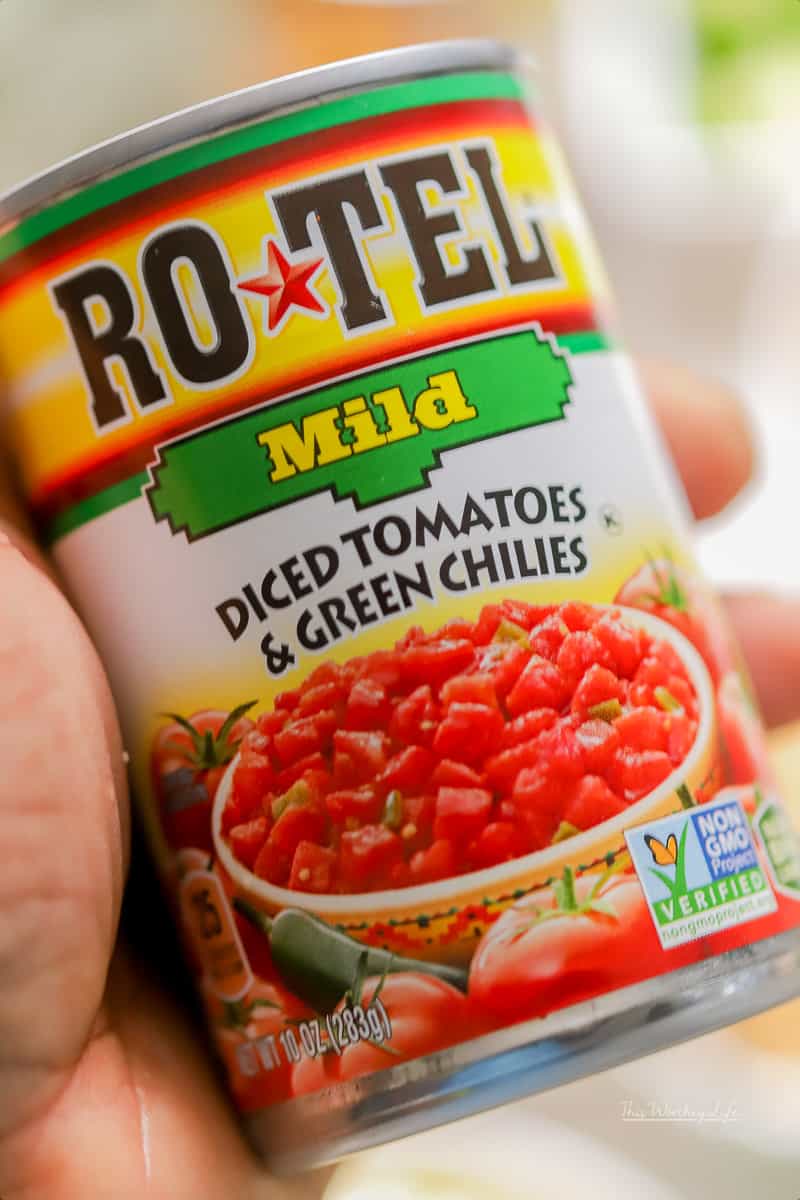 If RO*TEL® is in there, you know the good is about to happen.
Filled with lots of meat and beans, a chili that'll take on all of those extra toppings, and will deliver rich chili flavor that will warm your soul and make you want seconds and possibly even thirds. So we cooked up this fun and delicious Cheesy Chili Bread Bowl + Garlicky Fried Tortillas. I mean, who's going to resist a chili bowl you can actually, and very literally, eat? Plus, we made Garlicky Fried Tortilla strips, and they're adding both a bit of crunch and flavorful zing to this already amazing chili recipe.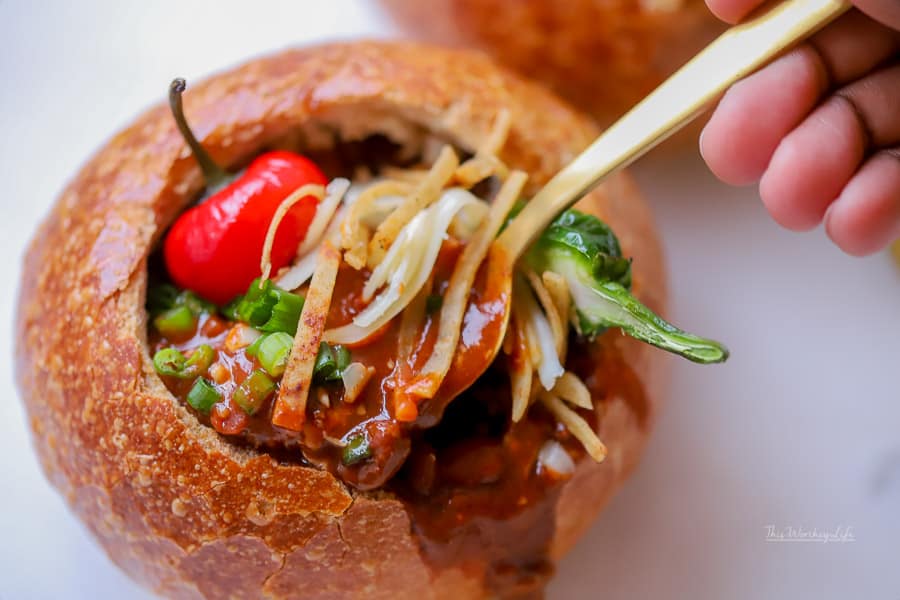 For this recipe, I used both the original and the RO*TEL® Mild Diced Tomatoes and Green Chilies. We are talking serious chili here with rich tomato flavor and just a bare breath of heat, all you will be thinking about of is how you, friends, and family can, "Gather Around the Fire"! with RO*TEL®.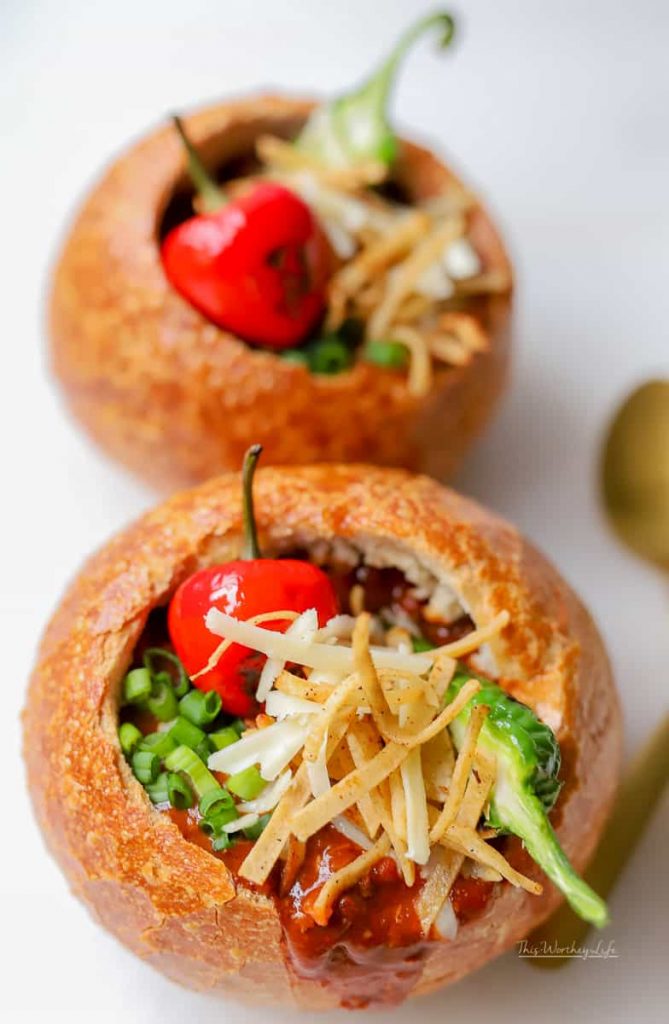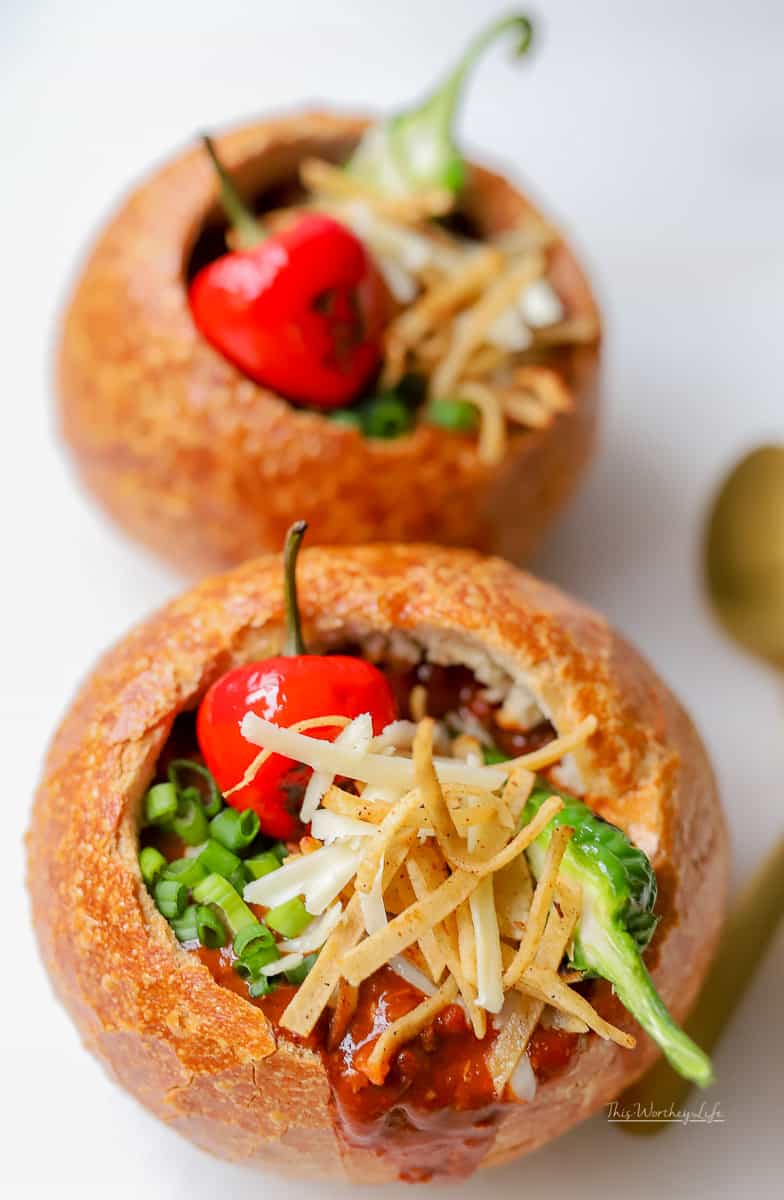 Be still my big steaming bowl of delicious chili loving heart!
Ingredients need for Cheesy Chili Bread Bowl
2 pounds ground spicy turkey sausage
2 pounds chili beans or red kidney beans
3 cups of vegetable or beef stock
28 ounce can of whole tomatoes
1 can 10 ounces can RO*TEL® Original Diced Tomatoes and Green Chilies
1 can 10-ounce can RO*TEL® Mild Diced Tomatoes and Green Chilies
1 large sweet onion, sliced thin
1 large green bell pepper
3 cloves of garlic, minced
1/2 cup of all-purpose flour
1/2 cup unsalted butter + two tablespoons
1 tablespoon of cornstarch
1 tablespoon of tomato paste
1/4 cup masa harina
2 cups corn tortillas cut into thin pieces
2 1/2 teaspoons Mexican style chili powder
2 tablespoon Cajun seasoning
1/2 tablespoon of Garlic Powder
1 teaspoon cumin
1 teaspoon Fresh cracked black pepper, to taste
1/4 teaspoon Kosher salt, to taste
Prep:
Slice the jalapeños, green onions, shred the extra sharp white cheddar, and caramelize the onions. Fill extra serving bowls with oyster cracker and the garlicky fried tortilla strips.

Make you own bread bowls or pick some up at your favorite local bakery, I did.
To caramelize the onions add two tablespoons of unsalted butter into a skillet over medium heat, when the butter has melted add one large sliced onion and continue to sauté until the onions begin to brown. Adjust the heat to its lowest setting and cook, and stir often until the onions have caramelized about, in about 15-20 minutes. Remove from heat, until you are ready to add them into the chili.
How to make Cheesy Chili Bowls
Remove the meat from the casings, place a skillet over medium heat and brown smoked turkey sausage, do not drain and set aside.
Prepare the roux by melting the unsalted butter in a saucepan over medium heat, when the butter is melted add the all-purpose flour a tablespoon at a time. Continue to stir with a wire whisk until the roux is a deep mahogany color.
Add the seasonings, the Mexican chili powder, Cajun seasoning, garlic powder, cumin, freshly cracked black peppercorns, to the roux and continued to stir until fully incorporated.
Stir in the three (3) cups of vegetable or beef stock.
Add 28-ounce can of whole tomatoes, 14.5 can of diced tomatoes and blistered tomatoes.
Add the kidney beans.
Add browned smoked turkey sausage and stir until all ingredients are combined.
Partly cover with a lid and cook on medium-low heat for one (1) hour then stir as you add masa harina.
Continue cooking for an additional 1 – 1 1/2 hours.
When finished the chili will thicken, taste and adjust sea salt and pepper.
Serve with toppings.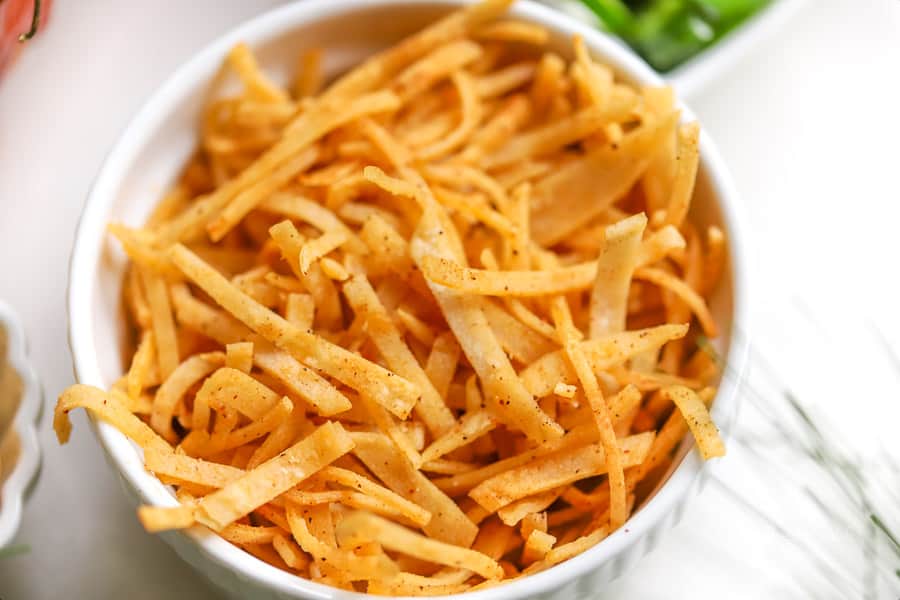 Our homemade pan-fried Garlicky Tortilla Strips are lit!
Garlicky Fried Tortillas Strips

Ingredients:
1 13.6 package street tacos corn tortillas (24 ct)
2-3 cloves of minced garlic
1 tablespoon chili lime seasoning
2 tablespoon unsalted butter
1 tablespoon extra virgin olive oil or bacon grease
Directions:
Using a sharp knife cut the tortillas into thin strips.
Place a skillet over medium heat, and melt the butter.
When the butter is melted add the extra virgin olive oil.
The oil and butter will begin to smoke when hot.
Add the thin strips of tortillas and minced garlic, stir them around until the tortilla strips are golden brown and crispy.
Sprinkle on the chili lime seasoning.
Using a slotted spoon transfer the tortilla strips into a bowl lined with paper towel.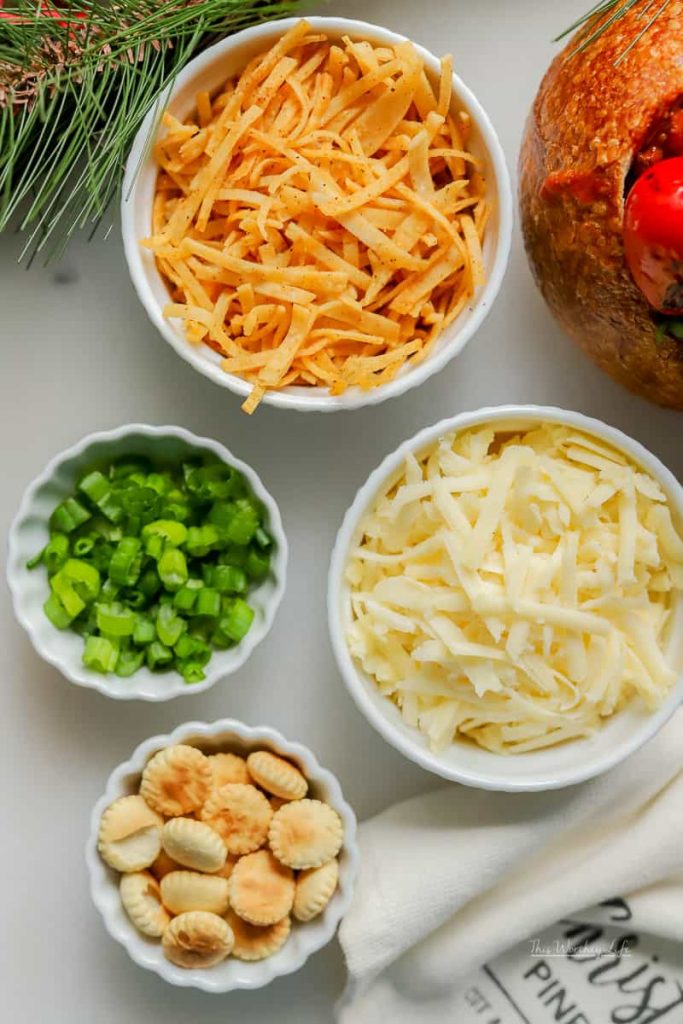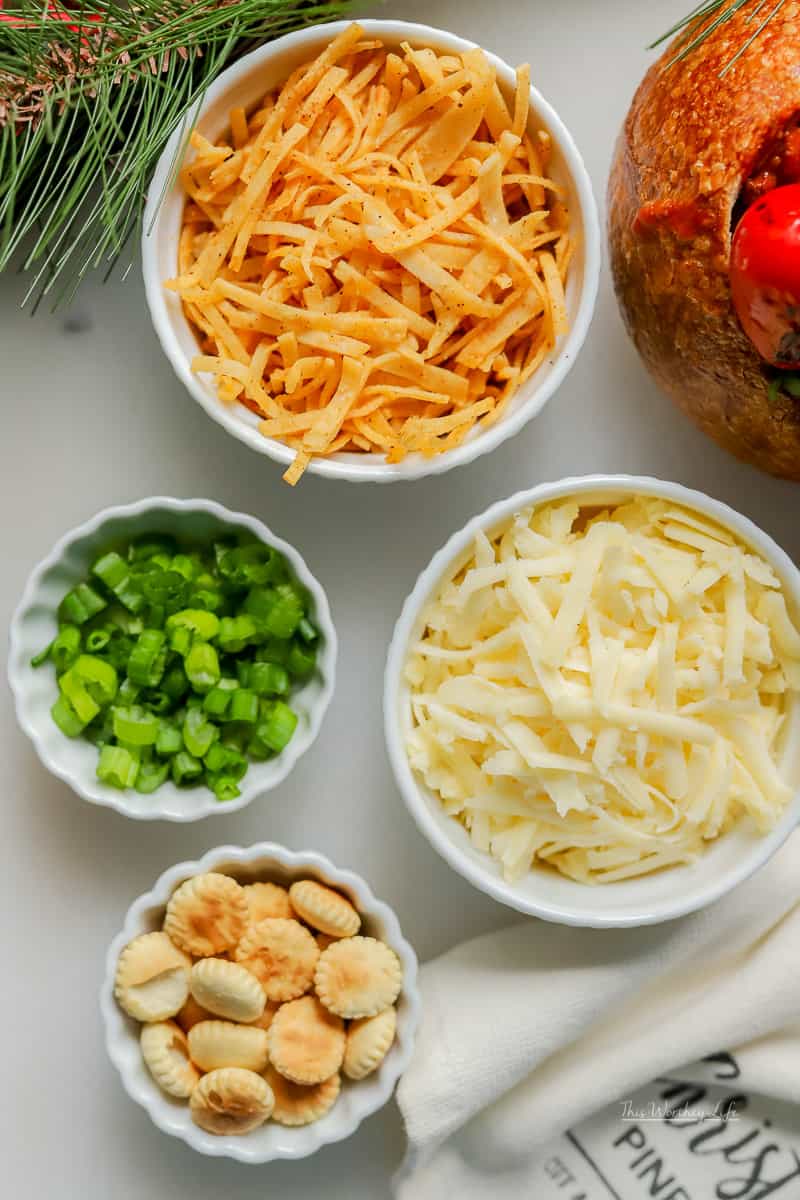 Toppings for Cheesy Chili Bowls
Garlicky Fried Tortillas
Shredded White Cheddar Cheese
Green Onions
Sliced J

alapeños

Oyster Crackers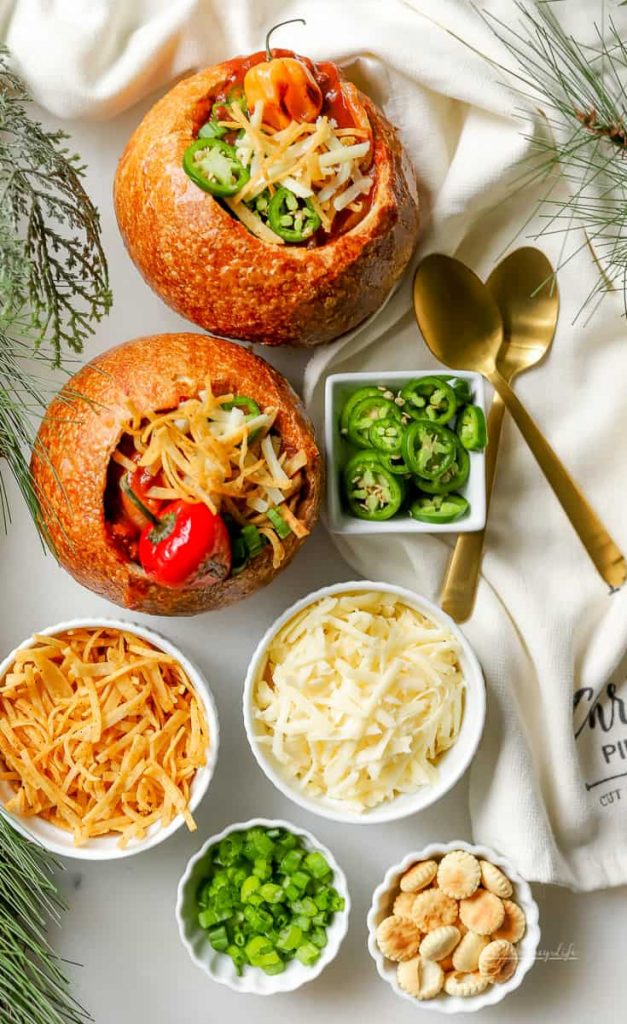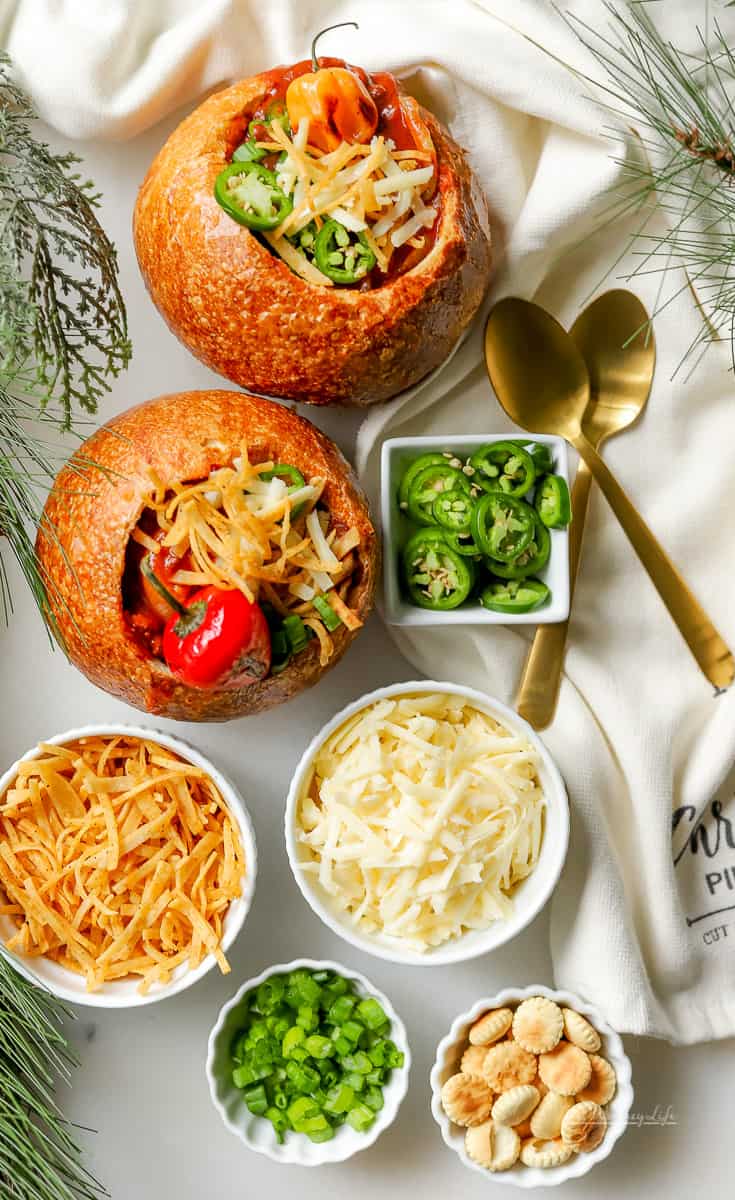 So, let's make this holiday season one for the books by preparing memorable meals and sharing those delicious meals with as many friends and family as we can fit around the table. What is good food minus the good peeps? Nobody wants that. The holidays are made for sharing and showing your love that you care, and a big pot of chili is made for a whole of sharing and caring!
Want more holiday inspiration? Make sure to visit RO*TEL® online for lots of recipe ideas for your family. So head out and visit your local Walmart and gather all of the ingredients to put together this outstanding and easy to prepare chili recipe. C'mon, don't worry you got this!