See what Fort Wayne, Indiana has to offer for families and teens. Read about all the cool things for teens to do in Fort Wayne below!
Cool Things For Teens To Do in Fort Wayne
When the boys were younger, it was easier to plan kid-friendly things to do on our vacations. However, as they get older, I struggle at times finding FUN teen-appropriate things to do. Our twins teens are down to try new things, but you better bring your A game. They are tottering between kids and adults, and finding a happy medium for everyone is always a challenge. However, my goal is to find FUN things to do that teens will love when we travel.
We recently visited Fort Wayne (a short drive from Lansing), with a focus to find cool things for teens (and a tween) to do. We were given a list of activities to check out, and with help from the boys, we picked out a few to explore.
I've driven through Fort Wayne quite a few times, but never stopped long enough to explore the cool things this city has to offer. I'm already planning a visit back with the hubs because Fort Wayne's brunch and foodie scenes are on point!
Here's a list of things we came up with for teens to do in Fort Wayne.
Baseball games. Take in a TinCaps Baseball with the kids during your vacation in Fort Wayne. Even if your kids have already been to baseball games before, going to a new stadium and seeing a different baseball team play is a fun experience. Plus, you can have some of your favorite baseball food, like funnel cakes, hot dogs, and more.
Segway Tours. The boys and I went on a Segway Tour for the first time, and we all loved it. In fact, this was #1 on the best things to do in Fort Wayne for teens. Fort Wayne Outfitters is located in the downtown area in an ideal location.
We were taken on a tour around the city, as well as stopping at important historical monuments (which included a stop by the historic Old Fort). While the boys may not have valued the history lesson, I loved it. Honestly, I think this is the best way to explore and learn about a new city. The boys quickly learned how to navigate the Segway, and because boys will be boys, racing each other soon became the highlight of the tour.
Entertainment Fun Center for families. Places like Crazy Pin is a great place to take the whole family for a day of fun. Plus, if it's raining while you're vacationing in Fort Wayne, you can duck into this entertainment center for cover and an afternoon fun. The boys enjoyed playing putt-putt golf, laser tag, and rope climbing. We didn't have time to go bowling, but that is also an option, plus a play area for younger kids.
Festivals. Fort Wayne offers quite a few fun, (and mostly free) festivals throughout the summer. You can check out Fort Wayne's calendar to find free festivals going on during your vacation. The Dragon Boat Race, Gearfest, Buskerfest, and an art fair were some of the festivals going on during our visit.
Fort Wayne Zoo. Of course, teens are not going to be excited about going to the zoo. Just ask my twins. However, their younger tween brother wanted to go to the zoo, and you may have younger kids who want to experience the fun at the Fort Wayne Zoo. While you may not spend all day at the zoo with teens, you can easily spend a few hours visiting some of their favorite animals. The boys loved the Crocodile Creek Adventure Ride and going on the Sky Safari Ride. You can check out some of their VIP experiences, which will allow kids to have close-up encounters with the penguins, giraffes, stingrays, and orangutans. NEW this year: Discover new baby animals and old favorites like going on a safari in search of lions, leopards, and zebras, then stop to hand-feed our herd of giraffes!
Science Central. This fun, hands-on museum is geared towards younger children (ideal audience 1-11), but of course, we had to stop and check it out. The boys quickly covered the museum within a few hours. They offer quite a few presentations and hands-on experiments throughout the day, as well as touring exhibits.
Other things worth checking out:
Fort Wayne Museum of Art
Botanical Conservatory
Skate Park (Downtown area)
Rent bikes for a nice Rivergreenway Trail ride or rent a kayak to experience Fort Wayne and our rivers. Visitors can also discover Fort Wayne's riverfront with a canal boat ride, and riverboat pub, and more!
Best places to eat in Fort Wayne
Whenever we travel, we're always on the lookout for great places to eat. The boys know the rule, we don't eat at places we have at home (unless we're desperate with limited options).
Fort Wayne offers foodies and families quite the variety of choices. It was hard to narrow down on WHERE to eat because of all the abundance of choices. Plus, when we travel with kids, we do our best to stick to kid-friendly, budget-friendly restaurants.
I headed to Instagram, and using some of the hashtags in the Fort Wayne, came across quite a few great spots (according to the photos and reviews).
For breakfast, we tried Cindy's Diner and Cosmo's House of Pancakes. Cindy's Diner is small, and depending on the size of your family, may not work. They do have a set of tables outside. Overall, the food and customer service experience was sub par, even for a diner. The boys loved Cosmo's so much we had breakfast there two days in a row. I mean, you can't go wrong with Chunky Monkey French Toast and Apple French Toast!
Tip: If you plan on having breakfast anywhere in Fort Wayne on the weekends, be sure to get there early!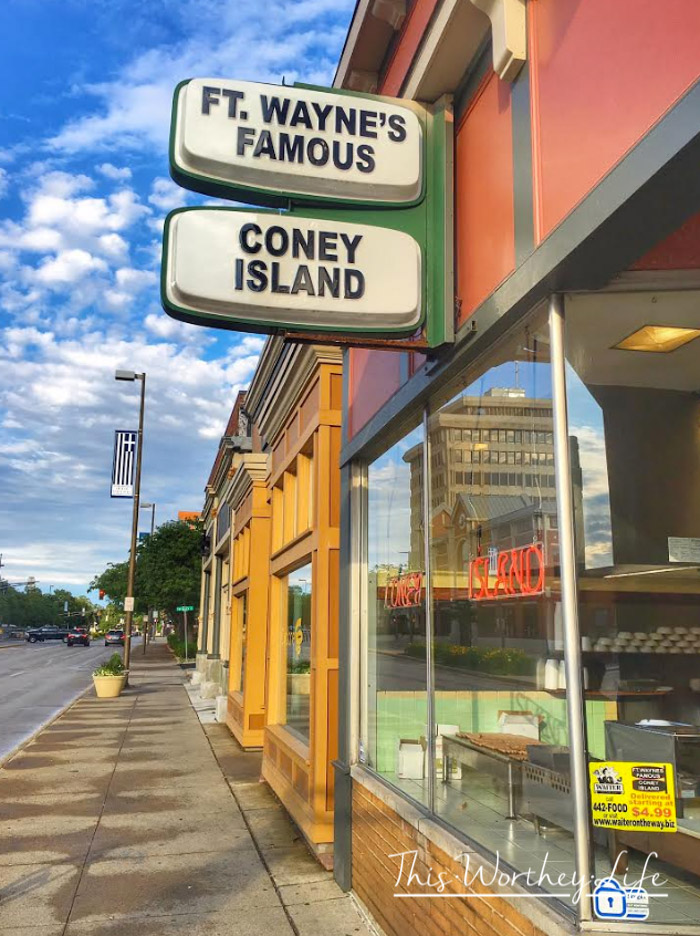 I highly recommend skipping the chain restaurants, and see why the locals love some of their favorite mom and pop restaurants. Another favorite spot for a quick, budget-friendly lunch or dinner is Ft. Wayne's Famous Coney Island.
Right next door to the Coney Island is a seriously sweet and unique foodie adventure. The Yummi Bunni is new to the Fort Wayne area, with the concept of eating ice-cream between two donuts. Seriously, if you don't stop at this spot to try this unique experience, you are missing out! And they even carry dairy-free options (yay!).
Tolon's is a great spot for lunch or dinner, and Fort Wayne's first farm-to-fork restaurant. The food and customer service was top-notch. I had the salmon "blt" | tomato jam | bacon jam | shaved brussels sprouts | smoked garlic aioli.
And for dessert, I tried the fun side up rhubarb cake | brown butter icing | lavender streusel | rhubarb coulis. I could have eaten a few bowls of that warm rhubarb cake with the brown butter icing!
During our stay, we were hunkered down at the Holiday Inn Ft. Wayne-IPFW & Coliseum Hotel by IHG. They offer an on-site restaurant, and the boys enjoyed swimming in the indoor pool. We were put up in a kid-friendly suite, which I LOVED! I'm a huge fan of staying in suites so our kids can stretch out, plus it offers some privacy.
Overall, we had a fun time exploring Fort Wayne. If you're looking for a quick, weekend getaway, consider checking out Fort Wayne. I know this is a hot spot for people who love Vera Bradley products and come to the annual sale each year. If you bring the kids, hopefully, our ideas of things to do with teens in Fort Wayne will help.
Here are some new updates happening in Fort Wayne:
By summer 2019, Fort Wayne's riverfront will be completely re-imagined, with a tree-top trail, riverfront park and water features, concert shell, and more!
Big thanks to Visit Fort Wayne CVB for hosting us, while we explored the Fort Wayne area. You can find more family-friendly activities, plus events and foodie spots by visiting their website.