Get ready for game day with our Corned Beef nachos recipe! Create a unique nacho dish with peppers, corned beef, and a delish cheesy spinach sauce! Get ready for The Big Game with Mezzetta and our totally delicious out of this world Corned Beef + Cheesy Spinach Sauce. Oh, and this is a sponsored post however all opinions are my very own. Now, that the formalities have been addressed let's make something good to eat!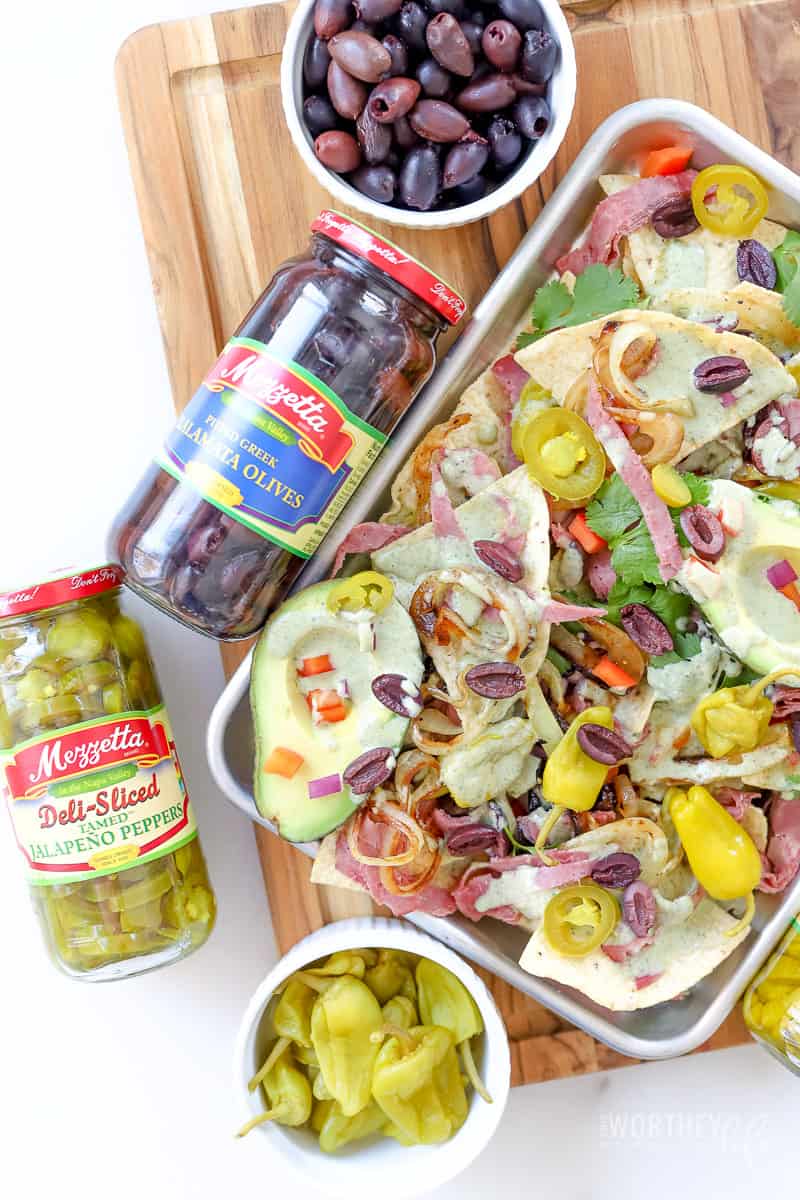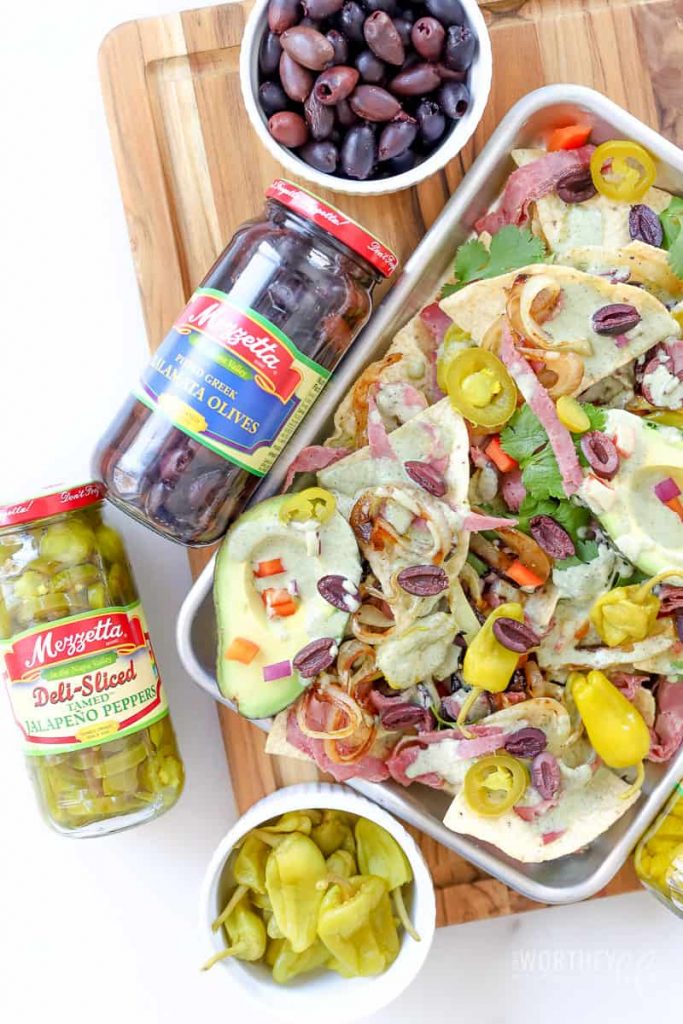 Corned Beef Nachos with Cheesy Spinach Sauce
It's The Big Game Day! With a ton of game day appetizers, it's easy to get overwhelmed with a ton of ideas. Like most folks, the food served up on game day is just as important as the Big Game. Amiright? I have put together this incredibly delicious Corned Beef Nachos + Cheesy Spinach Sauce, and I must say it made me smack my lips and wiggle my hips! Sorry. I didn't mean to put that image in your head. My apologies.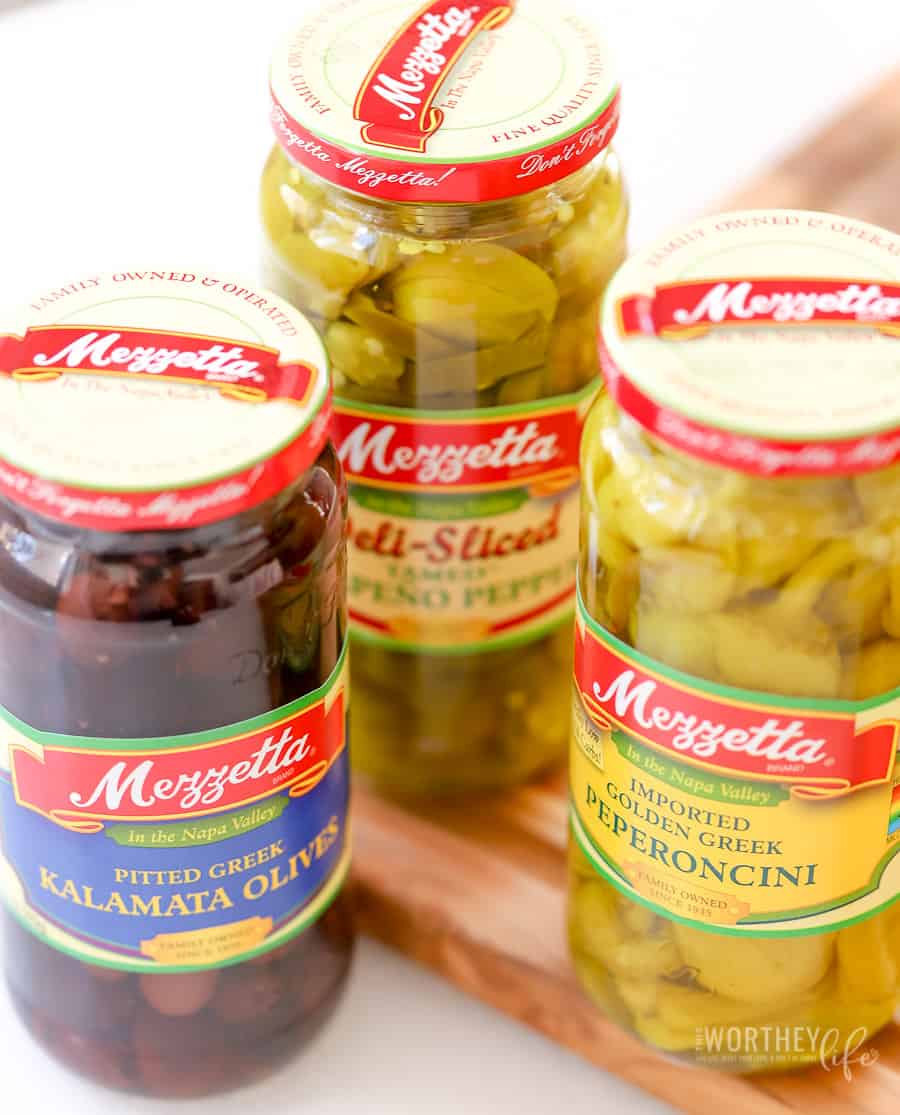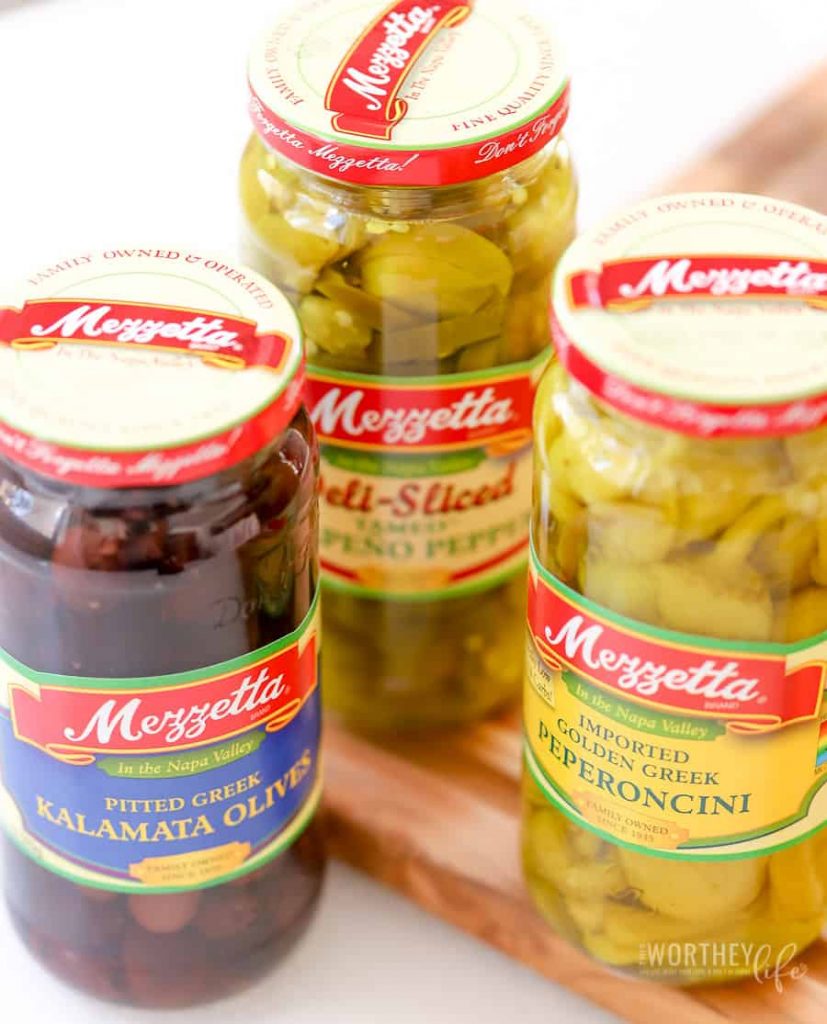 Here is what you are going to need. When it comes to nachos the bigger the tortilla chips the better, so grab a big bag of premium white corn tortilla chips. I also used lots of veggies like fresh red onions, bell peppers, and caramelized sweet onions, but the bell of this nacho ball is the Mezzetta Deli-Sliced Tamed Jalapeño Peppers, Mezzetta Imported Greek Golden Peperoncini, and Mezzetta Pitted Greek Kalamata Olives!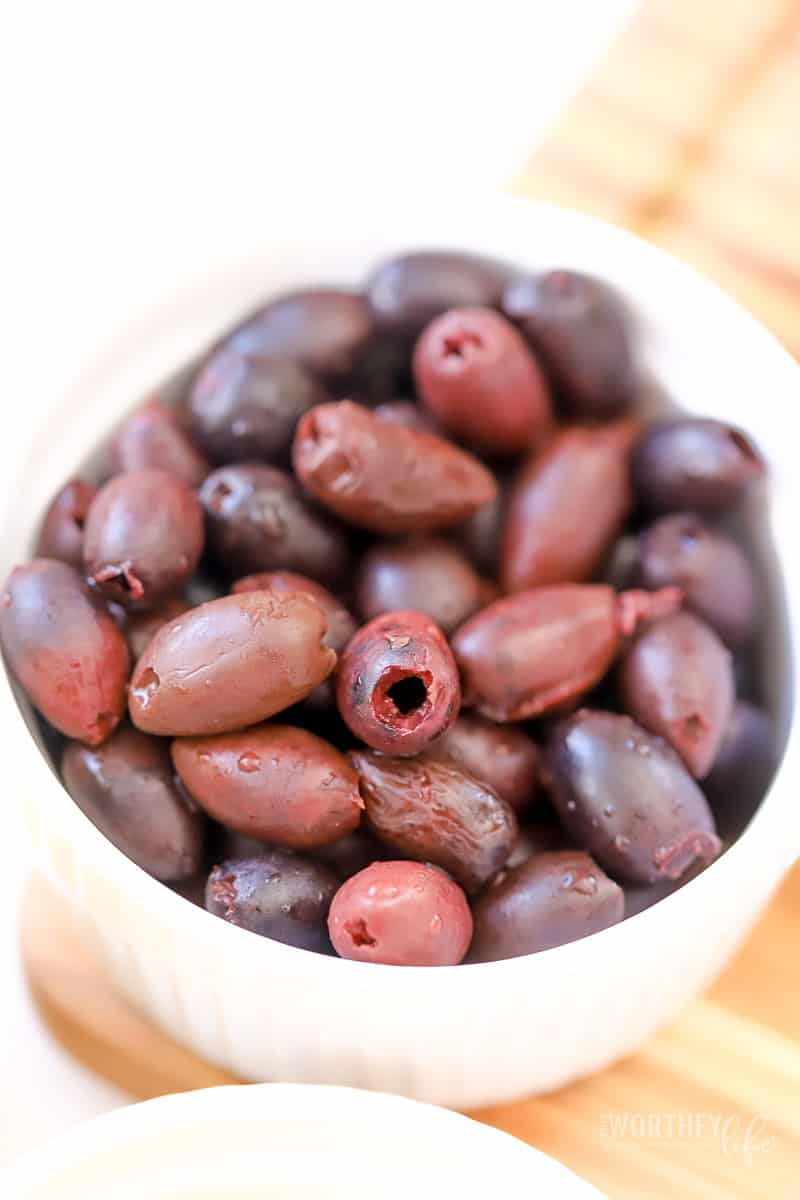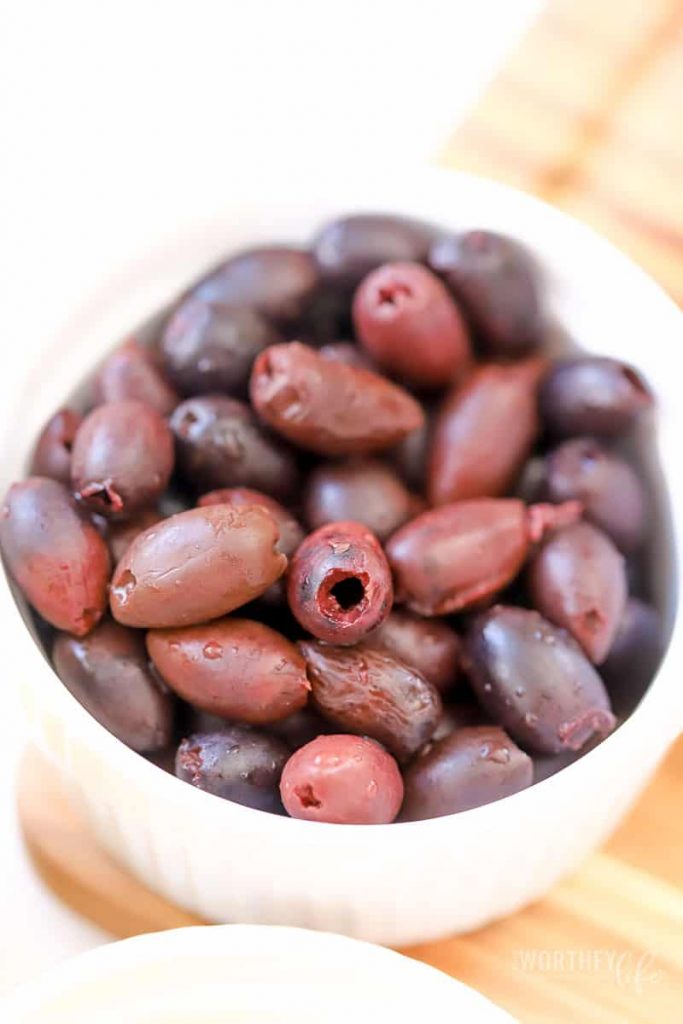 Yes, what do you know about putting olives on nachos? You better ask somebody! The Mezzetta Pitted Greek Kalamata Olives are not just visually stunning, but they have a fresh, delicious taste.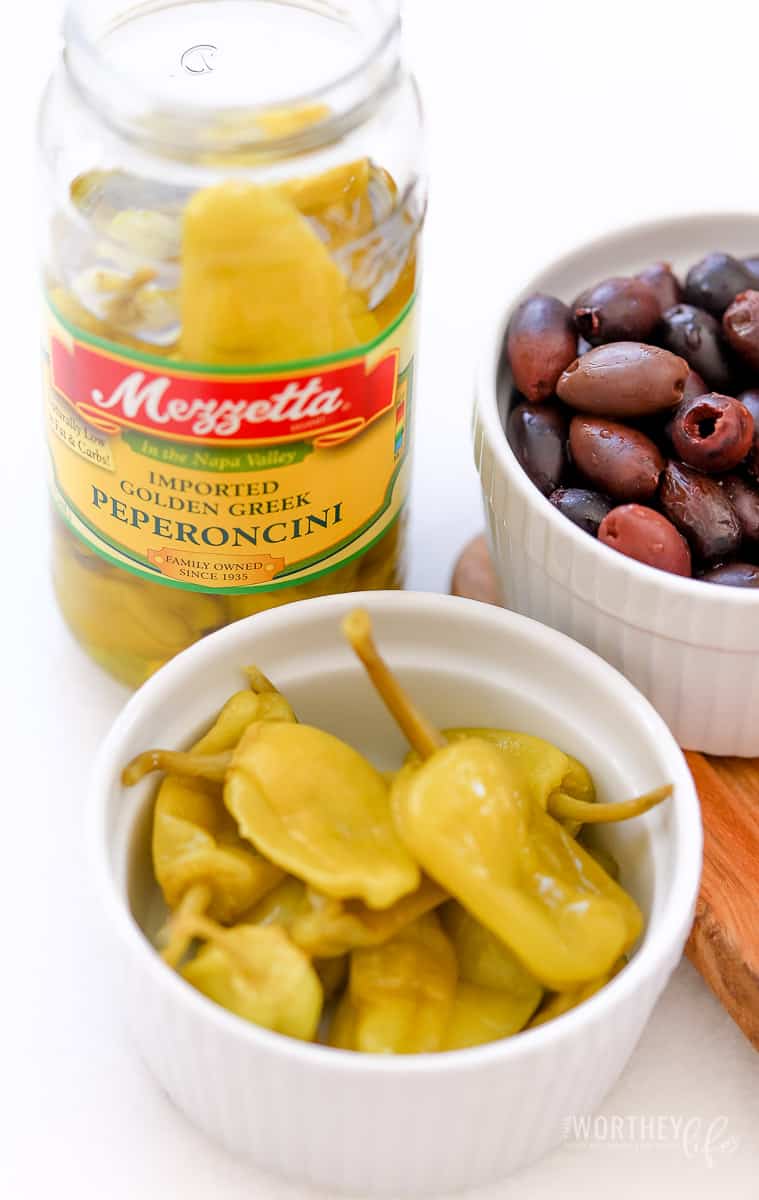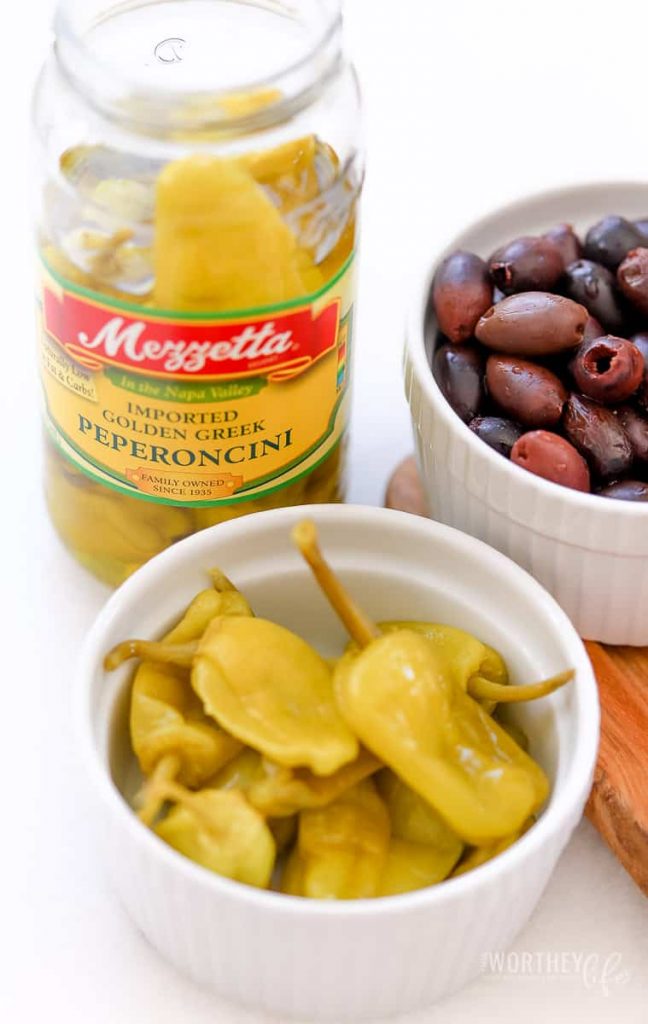 We love Mezzetta products because of their quality. Each jar is packed with care and when you open a Mezzetta jar you can see the freshness of the ingredients, the peppers and olives have great flavor, the texture is firm and not mushy. Mezzetta offers products fit for any table, and when you start with great hand selected products it's easy to create something delicious no matter what your cooking.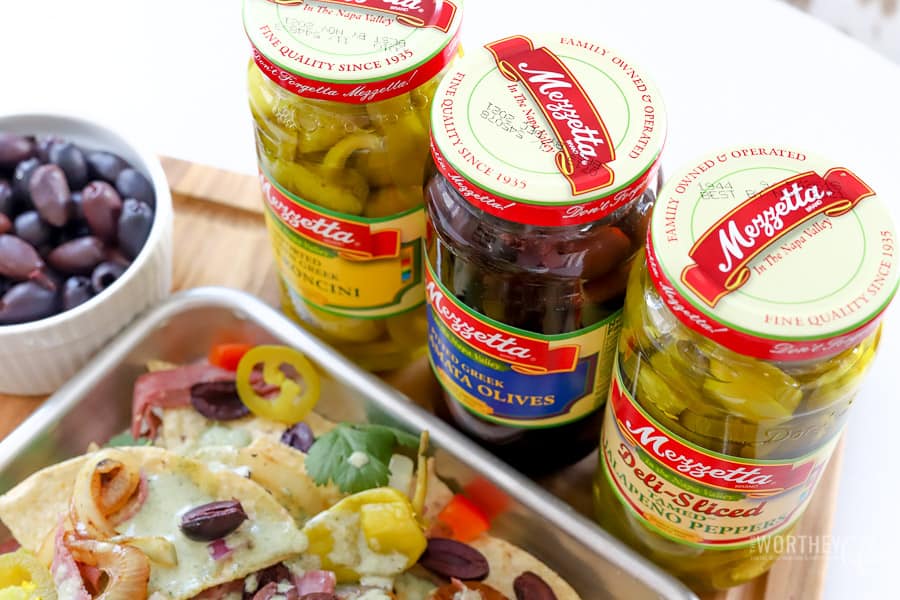 These nachos are also unique because I used tons of warm corned beef, along with a variety of peppers, stepping the game WAY up on your average nacho dish.
Okay, stop licking the screen and scroll down below for the deets and full recipe!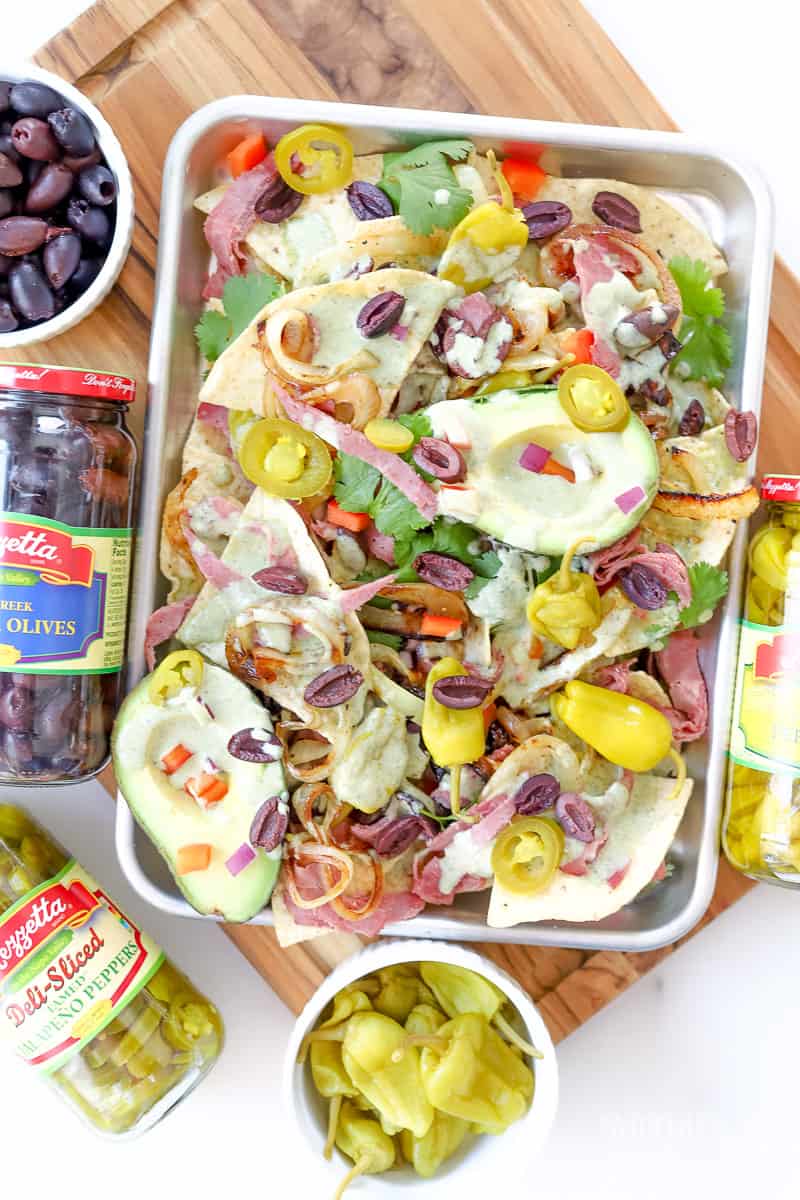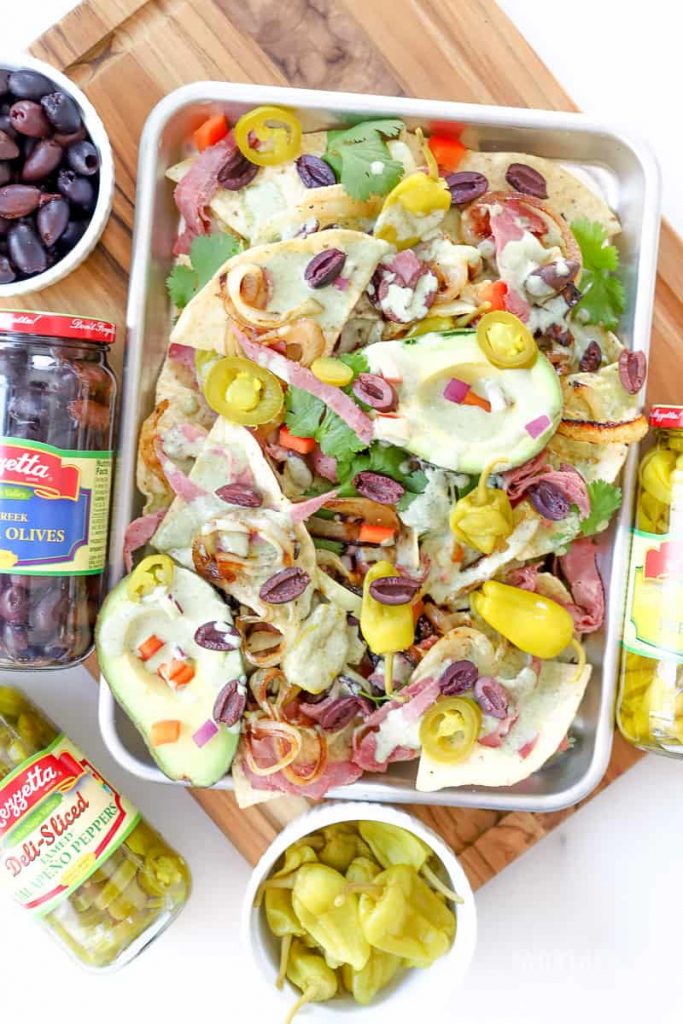 How to make Corned Beef Nachos + Cheesy Spinach Sauce
Ingredients:
2-3 tablespoons Mezzetta Deli-Sliced Tamed Jalapeño Peppers
1/4 cup Mezzetta Pitted Greek Kalamata Olives, cut in half
1/4 Mezzetta Imported Greek Golden Peperoncini
1 large bag white corn tortilla chips
1 large sweet onion, sliced and caramelized
1 medium red onion, diced
2 avocados, pits removed and cut in half
1 cup cilantro picked apart
1 1/2 cups corned beef, chopped and warmed
2 cups cheesy spinach sauce
Directions:
Prep one large sweet onion, slice, and place into a large skillet. Add one tablespoon of extra virgin olive oil, and one tablespoon of unsalted butter, cook until the onion begins to brown then turn the heat to its lowest setting and cook until the onions are caramelized in about 30-40 minutes. Set aside.
Cut one medium red onion into a small dice and set aside.
Prepare two avocados, remove the pits and drizzle with EVOO, sprinkle with flaky sea salt, and freshly cracked black peppercorns.
Chop corned beef and warm in the finished caramelized onions.
Spread nachos onto a sheet pan. Add the onions, veggies, warm corned beef, and cheese sauce.
Top with Mezzetta Deli-Sliced Tamed Jalapeño Peppers, Mezzetta Imported Greek Golden Peperoncini, and Mezzetta Pitted Greek Kalamata Olives.
Serve.
Equipment:
Wire Whisk
Sheet Pan
Instant Pot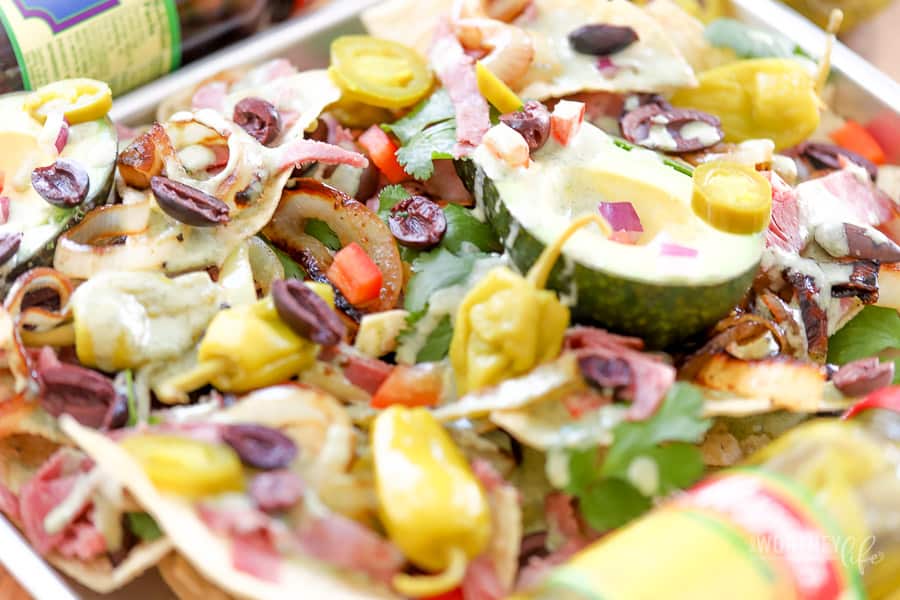 Directions for the Creamy Spinach Cheese Sauce
Ingredients:
2 cups sharp white cheddar cheese, grated
2 cups smoked gouda cheese, grated
1 stick unsalted butter
2 cups whole milk
1 1/2 cups heavy cream
1/3 cup all-purpose flour
2 cups frozen chopped spinach cooked and drained
Directions:
In the Instant Pot add butter and select the Sauté setting.
When the butter is melted whisk in the flour, keep stirring until fully incorporated.
Little by little add the milk and heavy cream.
Continue to whisk until the mixture is well-mixed.
Add the grated cheeses a half-cup at a time and whisk until the mixture is smooth.
Fold in the drained, chopped spinach and mix well.
Select the Warm setting to keep the cheese sauce warm until ready to use.
Serve.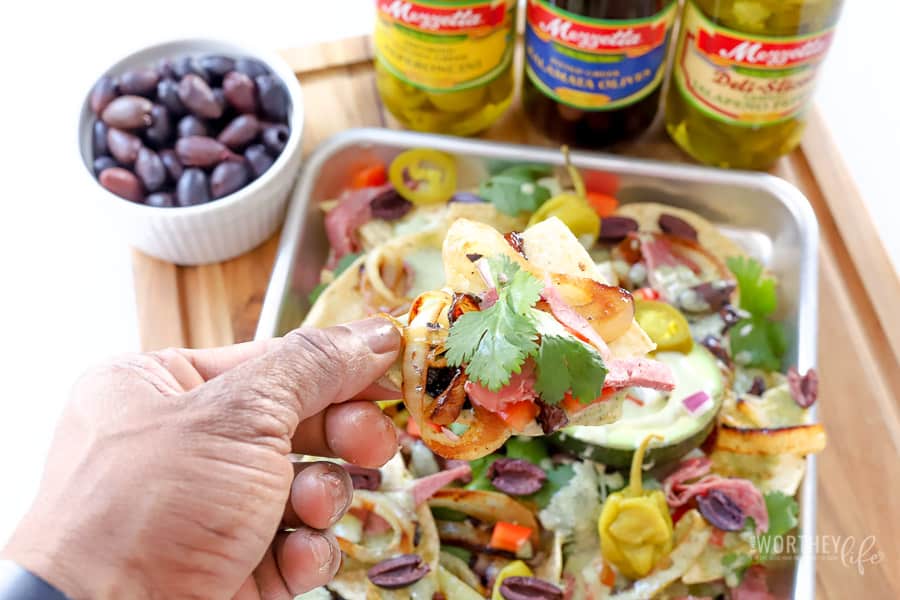 So step up your snack game with our corned beef nachos! These game day nachos will be perfect for the BIG Game! But they will also work for any game day party, as well as the upcoming award season, or just because you love nachos and want to try something different. You can also find tons of great recipes featuring Mezzetta products by visiting their recipe category.
Next time you're out at the grocery store, look for Mezzetta products and give them a try! {Not sure where to find them? Use the store locator here}