Have a Cricut or another cutting machine? Here's an easy project you can make using your Cricut. Make your own DIY Coffee Mug using Vinyl and a Cricut!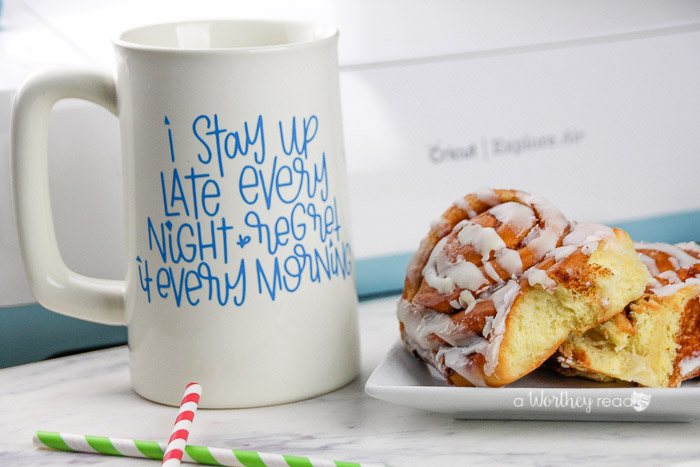 DIY Coffee Mug With Vinyl Statement Using A Cricut
I'm a huge fan of coffee mugs with sayings on them. I love coffee mugs because I love coffee. I also will go for a hot cup of tea or a delicious latte. I'm into sayings. Like right now I have a t-shirt on that says, "I'm allergic to mornings!" Every t-shirt or mug with a saying on it describes me to a T.
However, buying a new coffee mug every week, I mean month, can get expensive. Since I'm learning how to use my Cricut, I decided my first project would be how to make a coffee mug with a statement on it using vinyl.
I'm going easy on using this Cricut right now because it's still a new thing to me. I've shared before on how I've had several cutting machines and never used them because they intimated me. However, I refuse to give up.
I have my Cricut Explore Machine synced to my iPad. I love using the software on the tablet vs. a desktop. I can create a design in the living room while hanging out the boys, or while waiting in the carpool lane.
I opened up the Cricut app and started browsing through the designs in their database. And then I saw it!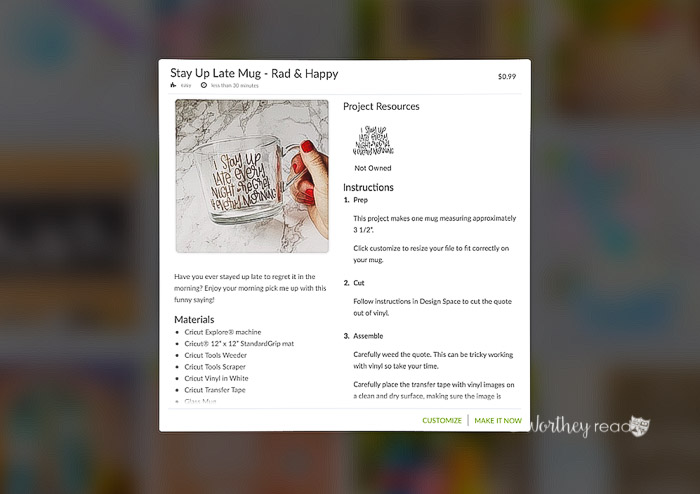 The Stay Up Late Mug by Rad & Happy. As soon as I saw it, I knew this was the mug for me. After a quick run to Target to find a big and beautiful blank mug, I came home and got to work.
Thankfully, this design was seriously EASY. This project cost me .99 cents to make. And now I own it. This means I can make more mugs with this saying on it, and give it to people as a Christmas gift.
This design (and all of the designs you will find in their library) come with the instructions and the materials you need to complete your project.
So, here's what you will need to make the DIY Coffee Mug with the "I Stay Up Late Every Night & Regret It Every Morning" statement.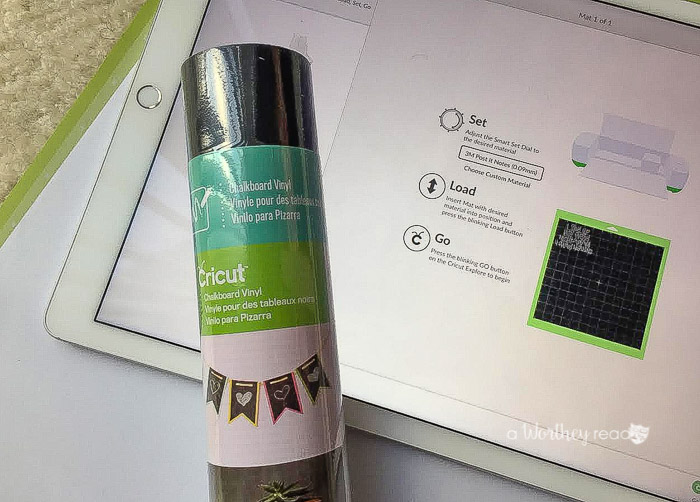 Materials needed:
*this project makes one mug measuring approx. 3 1/2. * You can customize it to add additional graphics and change the size.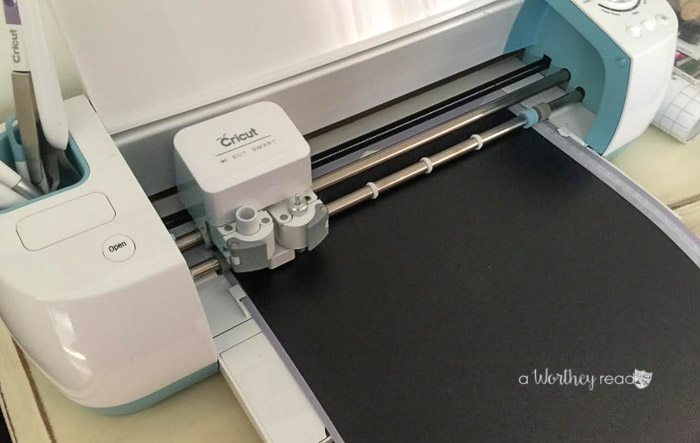 Directions:
First, open up the software and look for the Stay Up Late Mug by Rad & Happy.
Hit the Make it Now option (unless you want to customize it).
Follow the instructions in the Design Space to cut the quote out of vinyl.
Next, peel the vinyl off (keep it all intact) the mat.
Using the Weeder tool, carefully weed the quote. This is where you need to be very careful, so take your time. The first time I did this I rushed and messed it up. I had to recut the quote out.
Once you have completed this, carefully pull the front of vinyl off. You want to make sure the letters stay on the back of the vinyl.
After this step, take a piece of transfer tape and peel off the back of the tape. Take the front of the tape (the sticky part), and place it across the quote. *tip- I cut the pieces of vinyl and tape down and took off excess paper. This helped make it easier to work the transfer tape and vinyl.
Press the vinyl onto the coffee mug, starting in the center and move outward.
Peel the transfer tape away from the vinyl at a 45-degree angle.
Line up the quote on the mug and use a scraper (or credit card) to make sure the vinyl is stuck on.
Remove the transfer tape.
Fill it up with coffee and drink up!
Be sure to stay up late 😉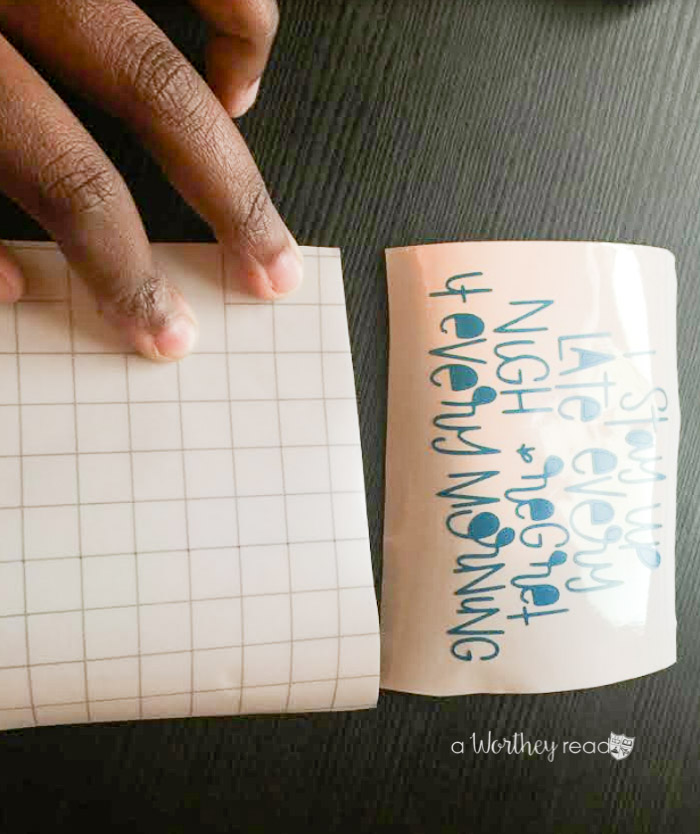 And you're done! I'm so excited about how this mug came out, and now I'm ready to tackle some more projects using my Cricut!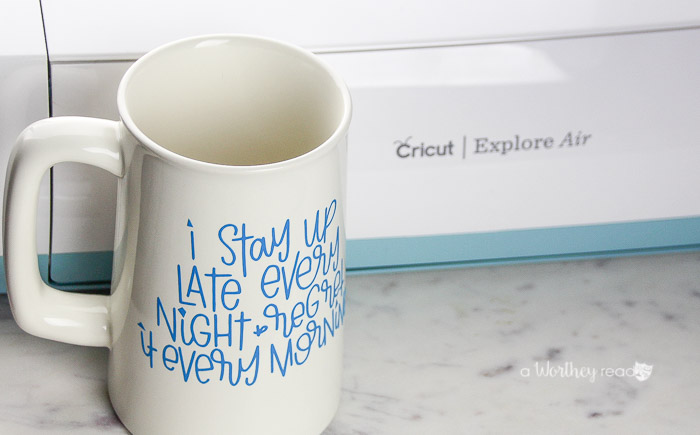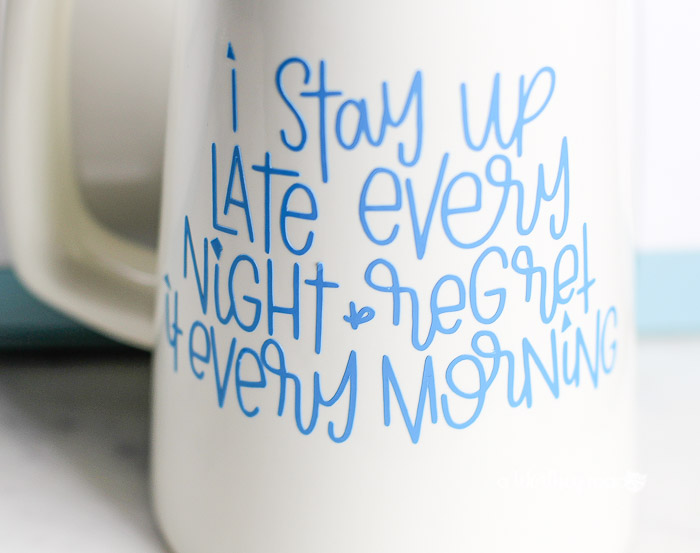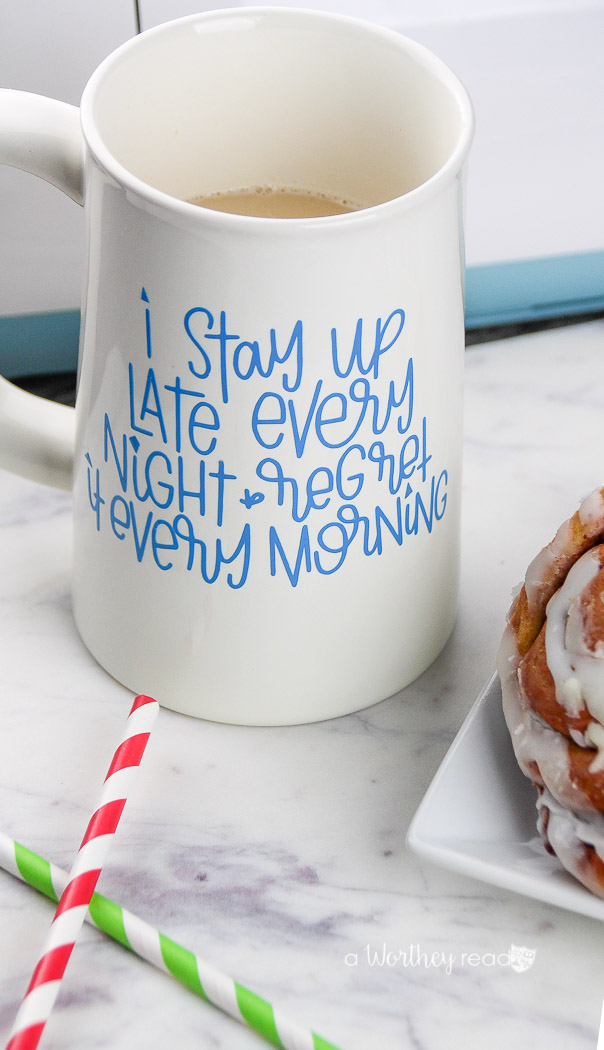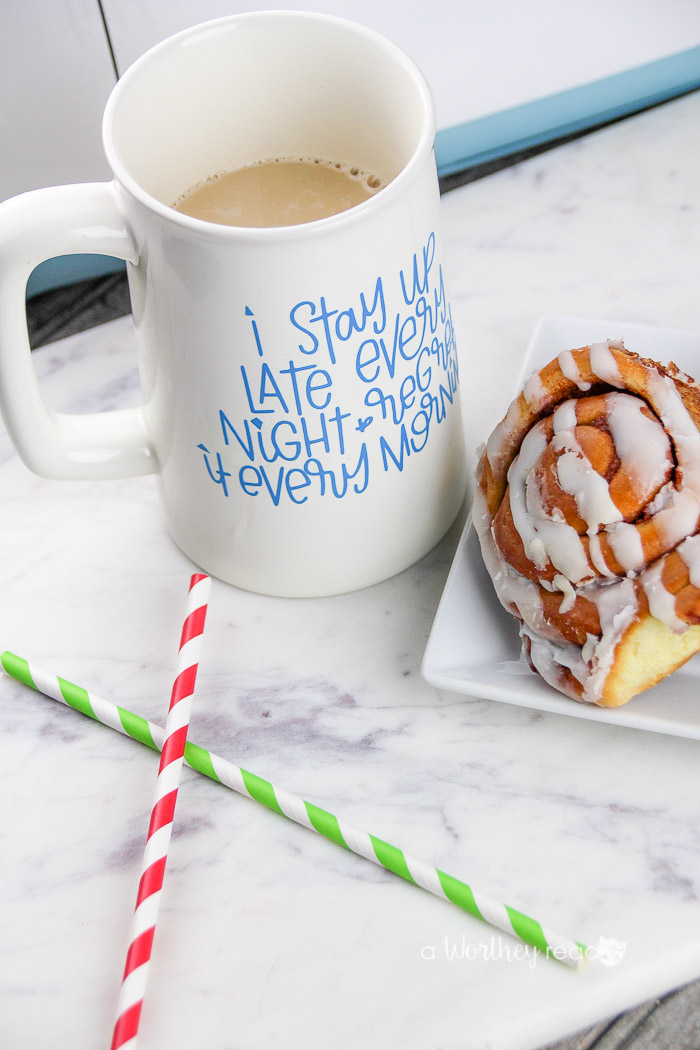 Be sure to pin this easy Cricut tutorial to your Pinterest board! And if you love this, make sure you check out our Cricut Easy Press project for making the perfect DIY grill apron for Father's Day.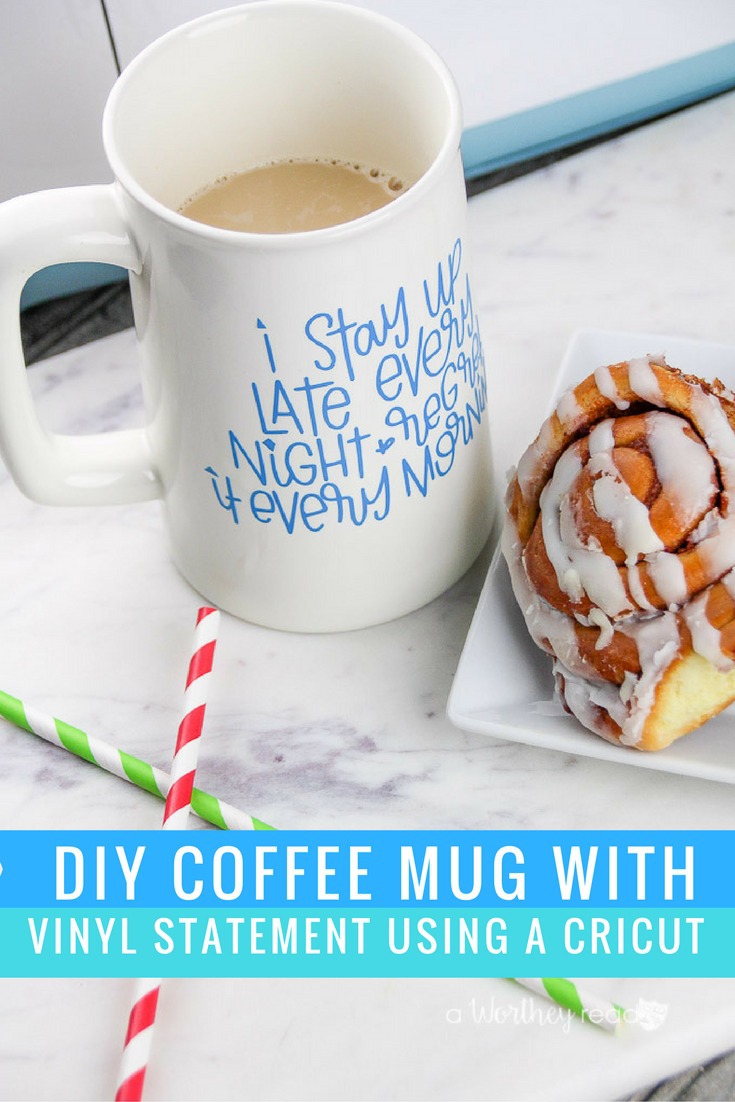 This is a sponsored conversation written by me on behalf of Cricut. The opinions and text are all mine.