Our Apple Cidertini Cocktail screams Fall! And with flavors that remind you of falling leaves and apple orchards, who wouldn't want a sip?
But the surprise is the addition of the buttershots liqueur.
This unexpected flavor is as pleasant a surprise as it is a flavor bomb!
Mixed with your choice of vodka or gin, this drink is a shoo-in for all things Autumn.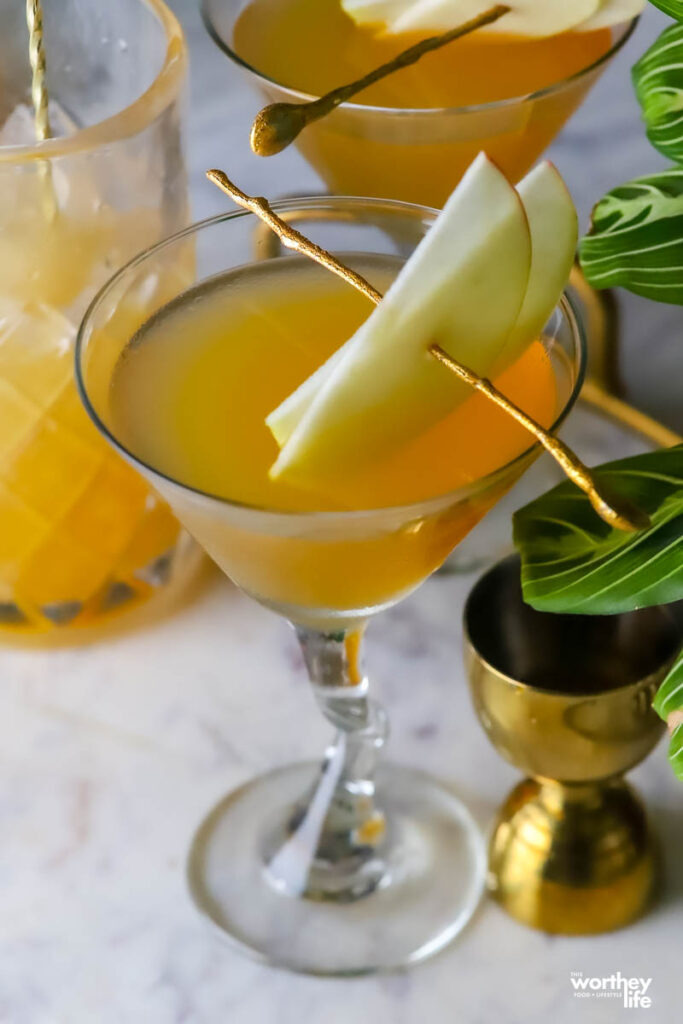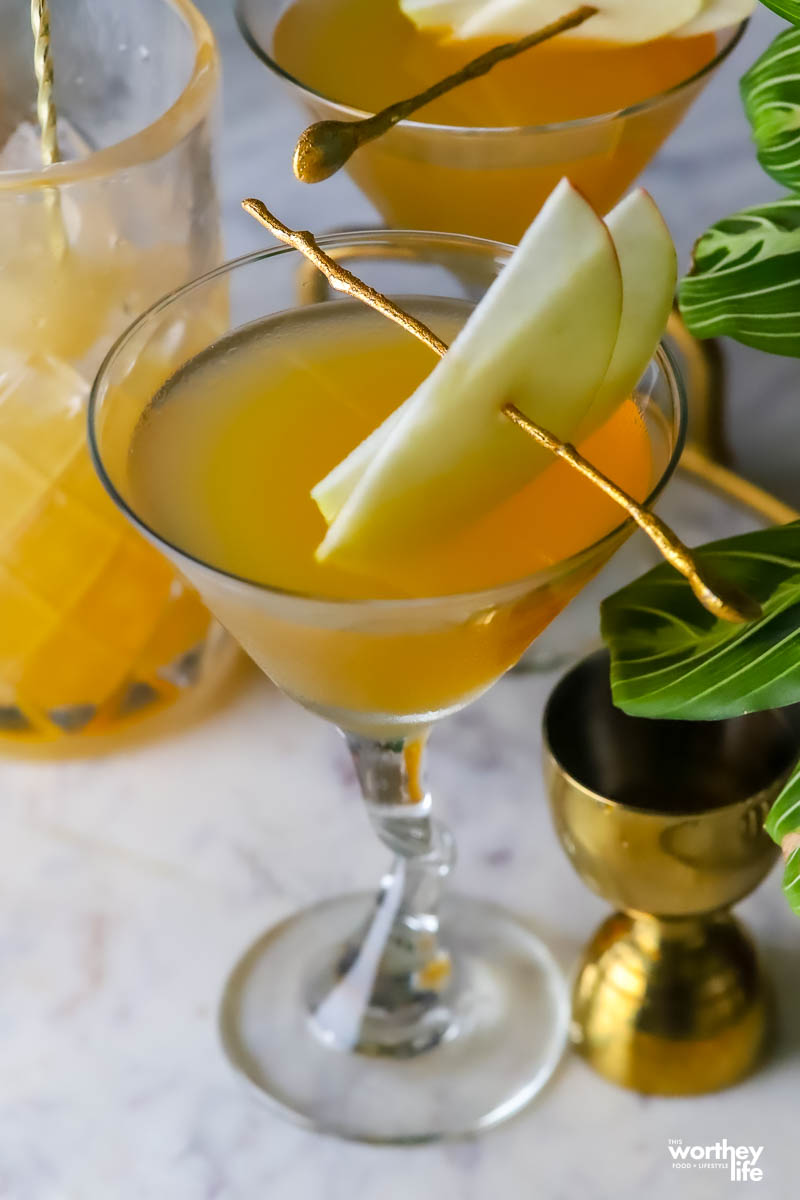 Apple Cidertini – Fall Cocktail Idea
Who doesn't love a little Apple and Cider mixed with a bit of vodka or gin?!
This Apple Cidertini is perfect for Fall.
And did I mention it's EASY and only requires a few ingredients?
Also, this cocktail will be a hit if you plan to host adult Halloween parties.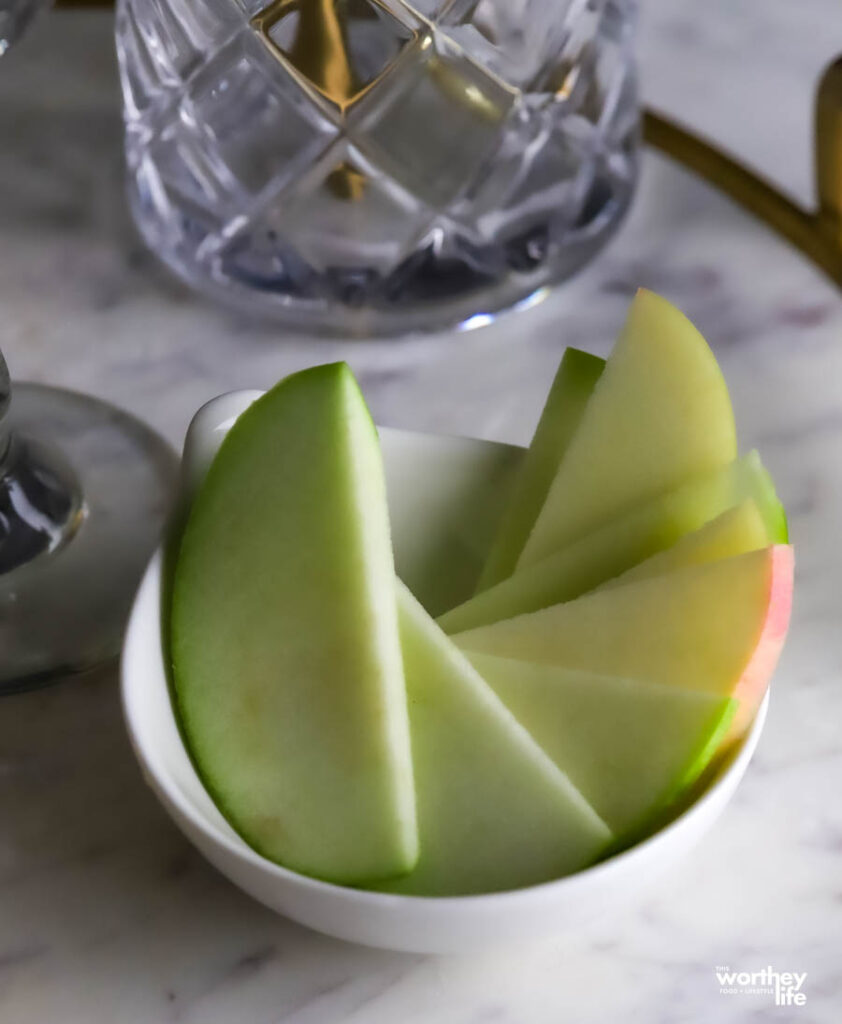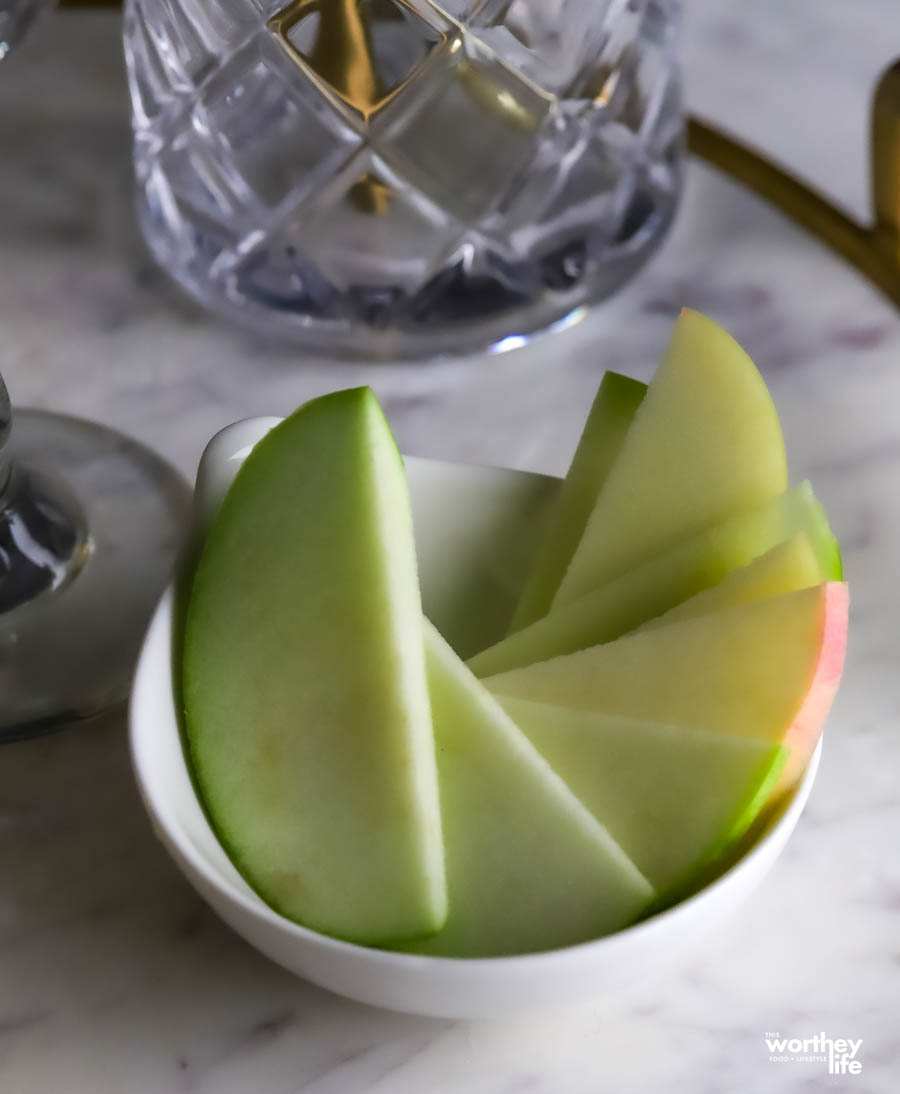 What You Will Need
Ice. We start with ice, and I like to use larger party ice pieces or ice cubes for this cocktail. Pebble ice, when stirred or shaken, creates too much water and over-dilutes the drink, so larger pieces are ideal.
Vodka or Gin. When mixing spirits, read booze—you do not need to reach for the pricey stuff, keep the liquor mid-grade, and you will be fine.
Apple Liqueur. Adding a bit of apple liqueur does two things: it adds more alcohol and infuses our Apple Cidertini with more apple flavor.
Apple Cider. Adding local apple cider is the best! And I love a good Fall apple cider in this mixed drink. It gives the cocktail lots of apple flavor, and the taste reminds me of everything I love about harvest season.
Apple Slices. Garnishing this one with thin slices of your favorite variety of apples is the cherry on top. I used thin slices of Granny Smith and Pink Lady. The tart of Granny Smith and the sweetness of the Pink Lady apple slices works very well together.
Here are a few additional choices:
*Note Typically, any baking apple is a good choice
Honeycrisp
Gala
McIntosh
Jonagold
Braeburn

Our Apple Cidertini is perfect for:
a chill evening drink at home
how about a girl's or guys' night in
weekend brunch
an easy tailgating refreshment
make it alcohol-free for an elevated baby shower or just because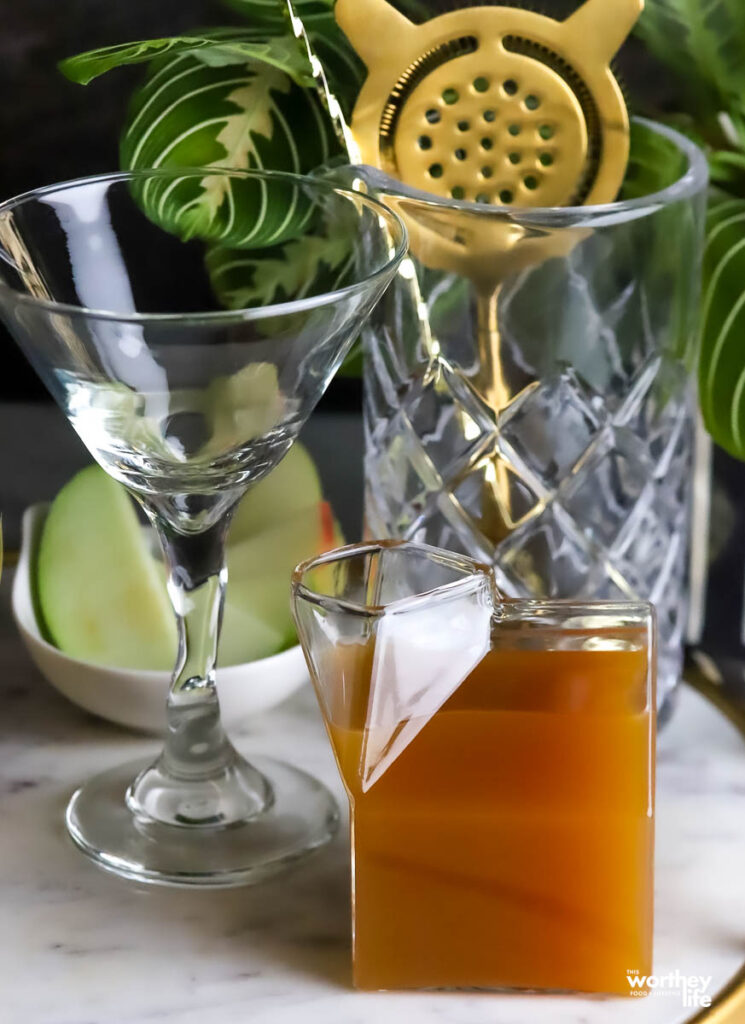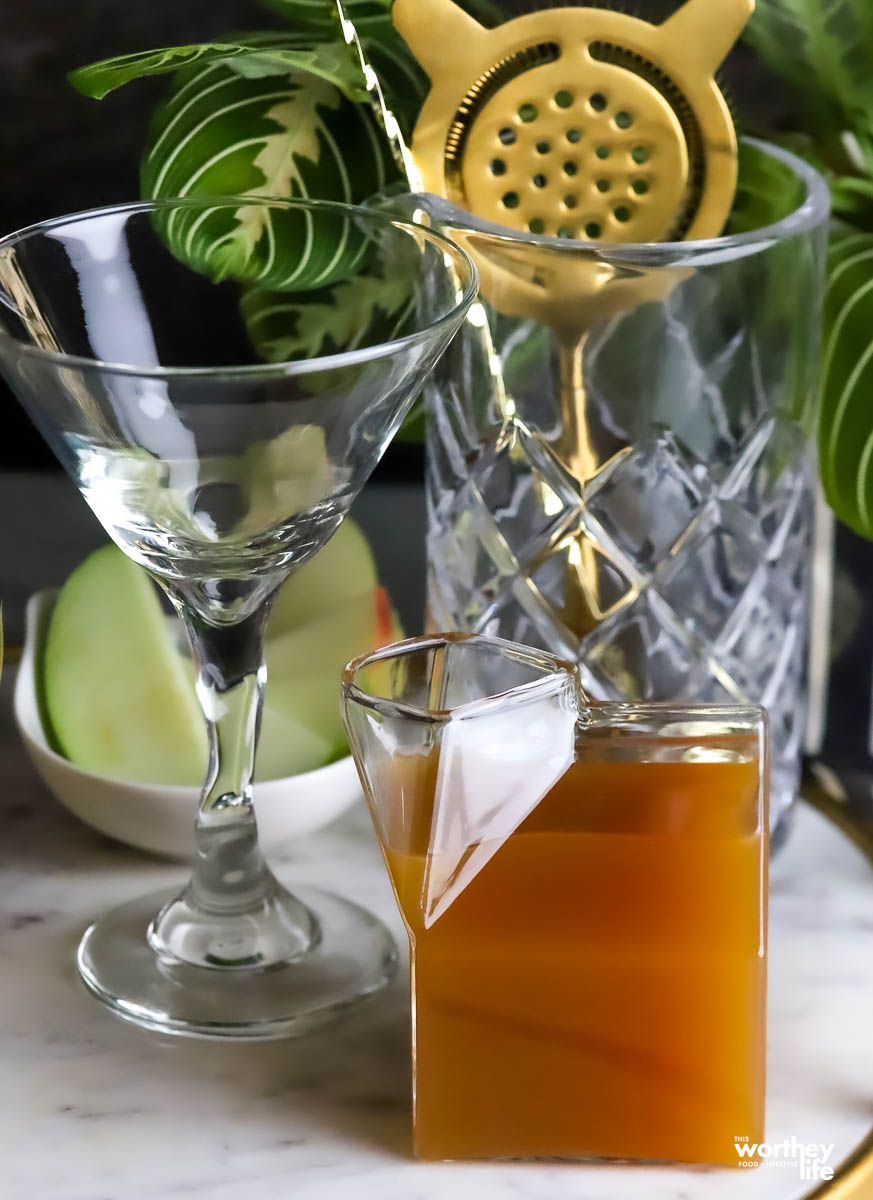 How to make this Apple Cocktail
Makes 2 Servings
Ingredients;
ice
2 1/2 ounces vodka or gin
2 ounces buttershots
6 ounces of apple cider
apple slices for garnish (optional)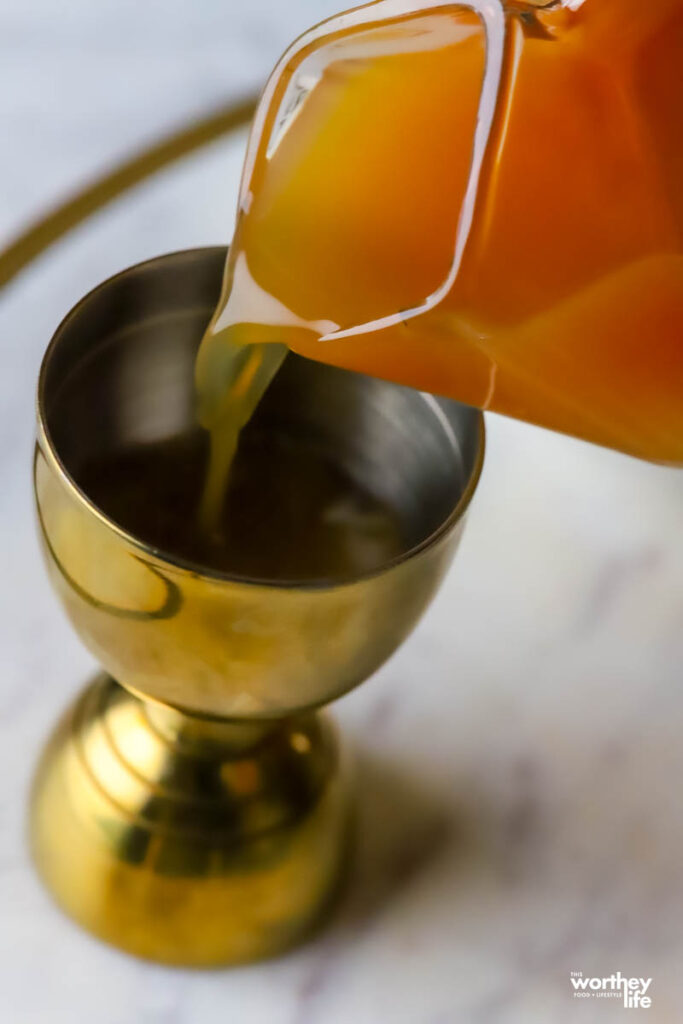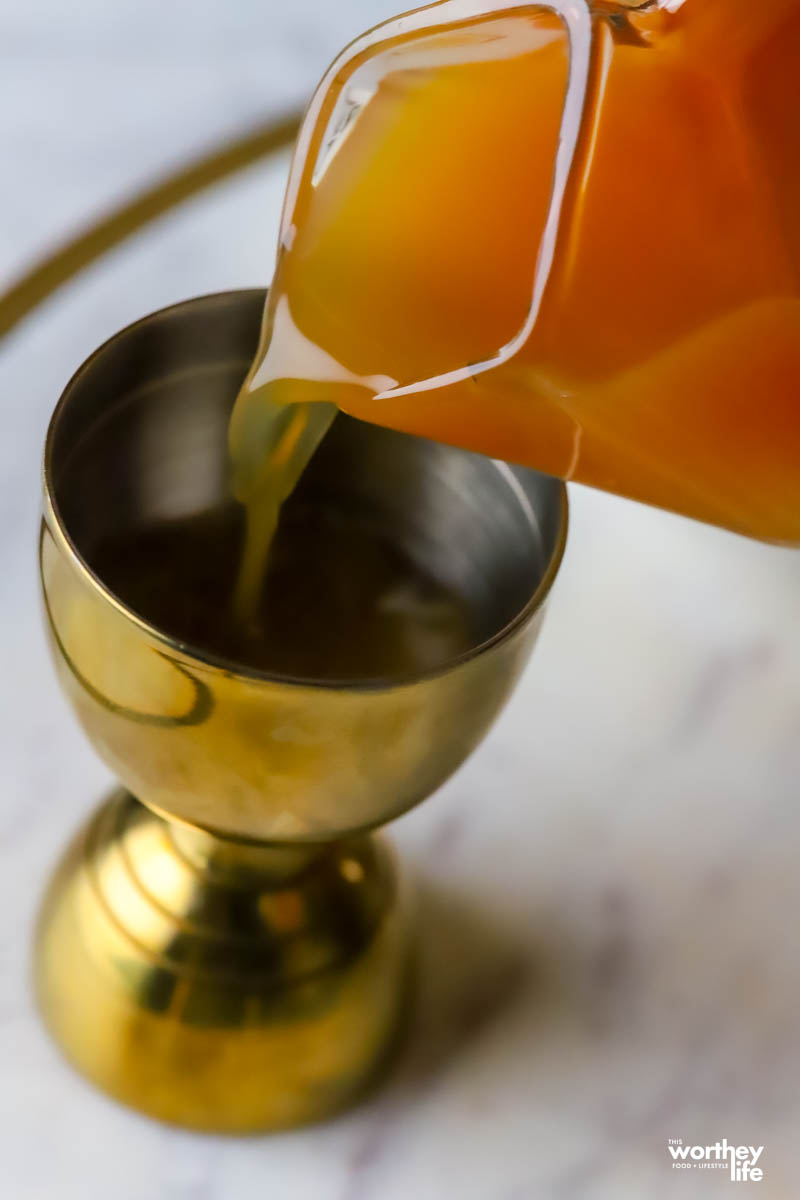 Directions
Add ice to a mixing glass or a cocktail shaker.
Vodka or gin, go in next.
Pour in the buttershots,
Next, add the apple cider.
Using a long-handled bar spoon, stir vigorously for 30 seconds. Or, if using a cocktail shaker, secure the lid, and shake until the drink is well-combined, in about 20 to 30 seconds.
Strain and divide the cocktail into two chilled martini glasses.
Home Bar Equipment:
I love this mixing glass.
Gold long-handed bar spoons are a home bar staple.
This is one of our favorite Cocktail Shakers.
I grabbed this dope ice bucket and tong set from Target.

Can I make this drink ahead of time?
Of course, multiply the recipe to accommodate a small or a bigger crowd.
However, do not add ice if you make this recipe one or two days ahead because adding ice will water down the drink.
Make it in a larger pitcher or punch bowl, cover it with plastic wrap, and store it overnight in the refrigerator.
Add ice to serving glasses and pour or ladle the drink over the ice.
Garnish with apple slices and serve.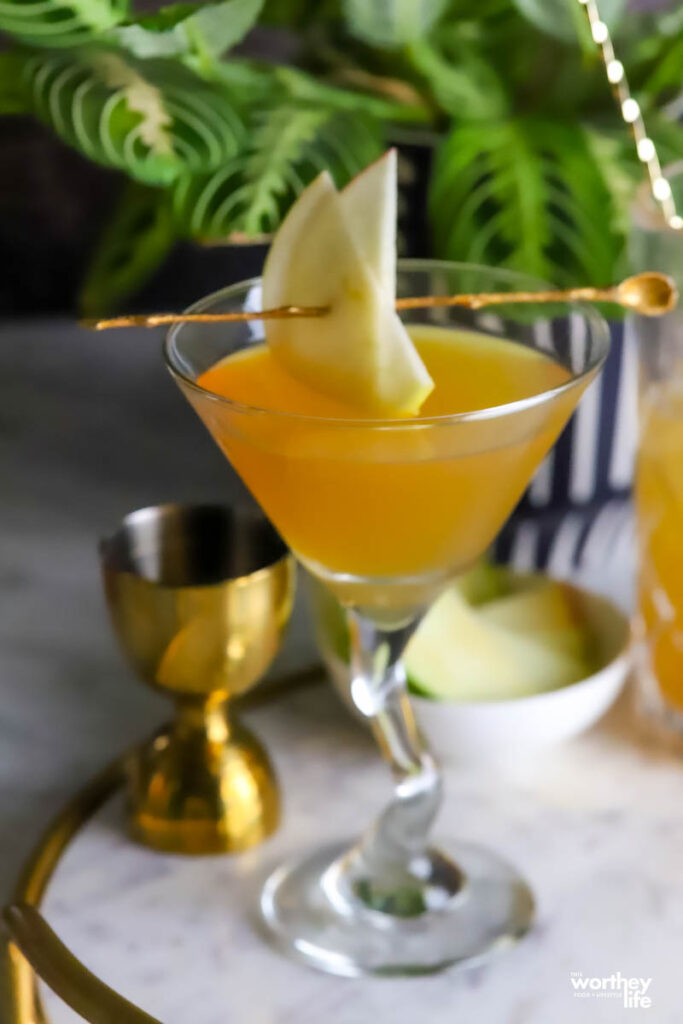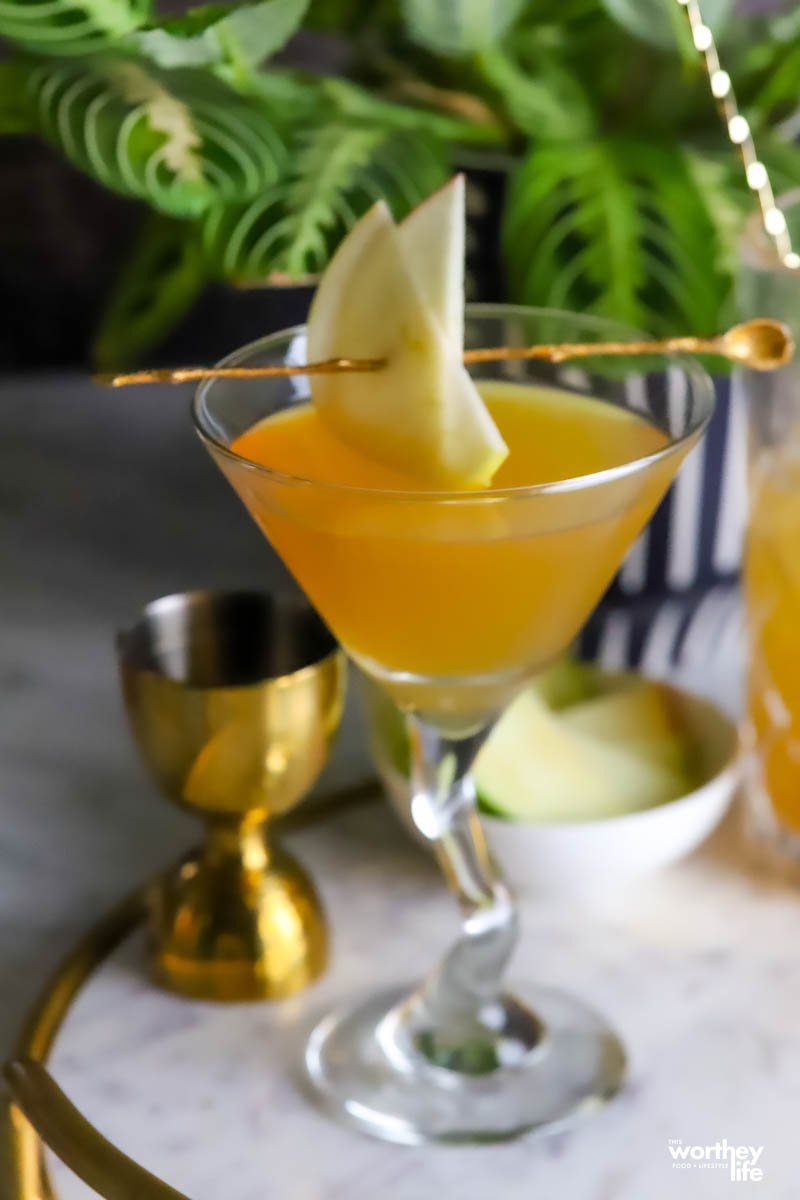 Can I rim the serving glasses?
You sure can; I recommend a raw sugar rim for this recipe.
Hold the glass upside down with your caramel sauce onto a saucer, and dip the edge into the gooey caramel.
So good!
I want to make this, but I do not care for booze; how can I make it non-alcoholic?
No worries, replace the vodka with Seedlip Spice 94 or the gin with Ritual Gin Alternative; both come highly recommended by little old me!
What are some of your favorite drink recipes for Fall??
Leave a comment below. I would love to check them out!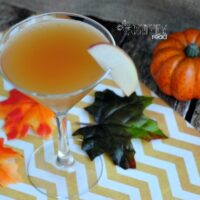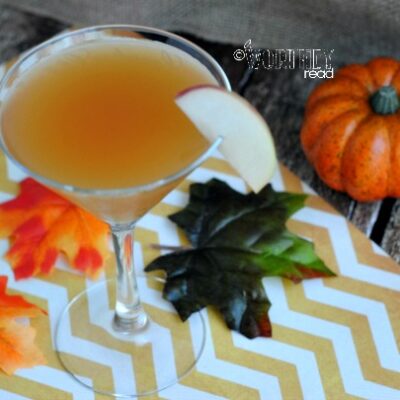 Apple Cidertini
Our Apple Cidertini Cocktail screams Fall! And with flavors that remind you of falling leaves and apple orchards, who wouldn't want a sip?
Print
Pin
Rate
Ingredients
Apple Cidertini Ingredients ­

6

oz.

apple cider

2

oz.

butterscotch schnapps

2

oz.

vodka

hand full of ice

apple slices for garnish

optional
Instructions
Directions ­

Throw all your ingredients into a shaker with ice, give a few good shakes and pour into glasses.

*Makes approximately 2 servings