One of the biggest money drains when you travel to Disneyland or Walt Disney World comes with the great souvenirs found in the park. While some things are truly unique to the parks, here are Easy Disney Souvenir Hacks that are going to save you a ton of money while keeping your kids happy. Since we have gone to both parks on several occasions, we have learned these tricks to keep our budget in tact while not sacrificing the full fun expected from a theme park.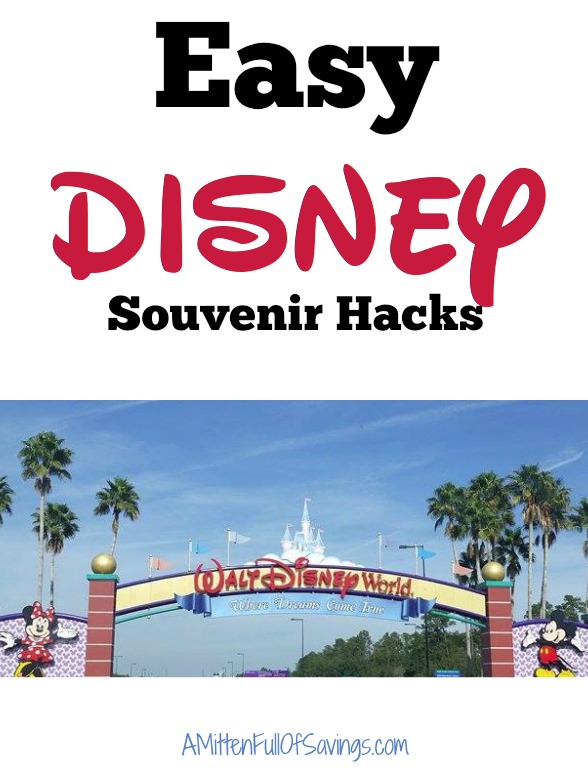 Easy Disney Souvenir Hacks
Shop the Dollar Tree: We have looked at Walmart, Target and even our local grocery stores, but the best finds come from the local Dollar Tree. For the younger kids, the Dollar Tree carries a multitude of toys with Disney themes. They even carry party items that double as souvenirs for your kids. We have purchased the collapsible water bottles with Disney themes to carry into the park for water throughout the day at our local Dollar Tree. That was the best deal we found! Next in line are the cute Disney Princess party favors that include things like necklaces, rings and tiaras. For just $1 each, they are great for tucking into your suitcase to give to your daughter to dress up with for her princess tea party in park.
Shop the Disney Store Online: Check the sale and clearance section of the Disney Store online for seriously great deals on items you might normally find in park. This is great for grabbing park themed t-shirts for your family to wear to the park during your trip. You can also pick up pins, collectible posters, clothing, toys and even lunch boxes at up to 70% off in park prices when they run sales. We signed up for their email list so we get notices year round. When there is a great deal, we couple it with free shipping offers and end up with deals that are far less than what you pay in park, but exactly what the kids want.
I know in Orlando, they have a Disney clearance store where you can go and rack up on some cheap Disney souvenirs.
Make Your Own: If you are great with crafting, this is a time you can excel by making your own fun items. There are tons of ideas on blogs and craft sites for everything you can imagine finding in park. T-shirts that are customized for your family using a vinyl cutter like a Cricut or Silhouette are really popular. Mickey ears are one of the biggest sellers in the park, but they can be up to $30 a pair depending on the theme. You can make you own custom Mickey ears using headbands, felt, flowers and beads. If you are great with crafts, this is the time to let that skill shine and save you money in the process.
We love our trips to Disneyland and Walt Disney World, and these easy Disney souvenir hacks help make it much more affordable. With kids and adults all buying only one average souvenir in park each day, you can easily spend $200-$300 on these splurges. That is equivalent to 3 day pass tickets for your family to most parks. Disneyland and Walt Disney World are both great vacations, and can be frugal. You simply have to use these souvenir hacks to help make that happen!
Heading to Disney soon? Be sure to read 5 Money savings tips for Disney!
And how to budget with kids when going on a Disney Vacation is another great post to read before heading off to your Disney vacation!
Have you been to Disney before? What are some of your favorite Disney tips! Post them below and we can add them to this list!