Putting together a bracket is one story but putting together a tasty spread to enjoy during the basketball games these next few weeks can be super easy. With just a few quick apps and decor essentials, this game day spread can be scaled up to serve a crowd or down for just your family and a few friends. We're sharing two ways to serve your game day snacks, allowing for easy access for any and all your guests. This post is sponsored by Farm Rich.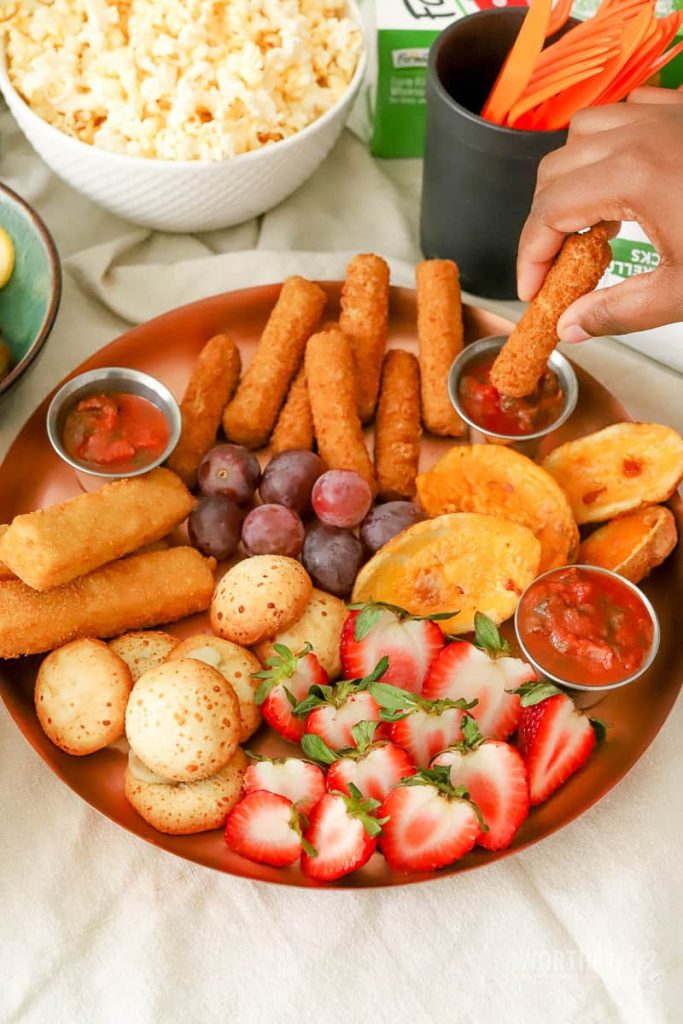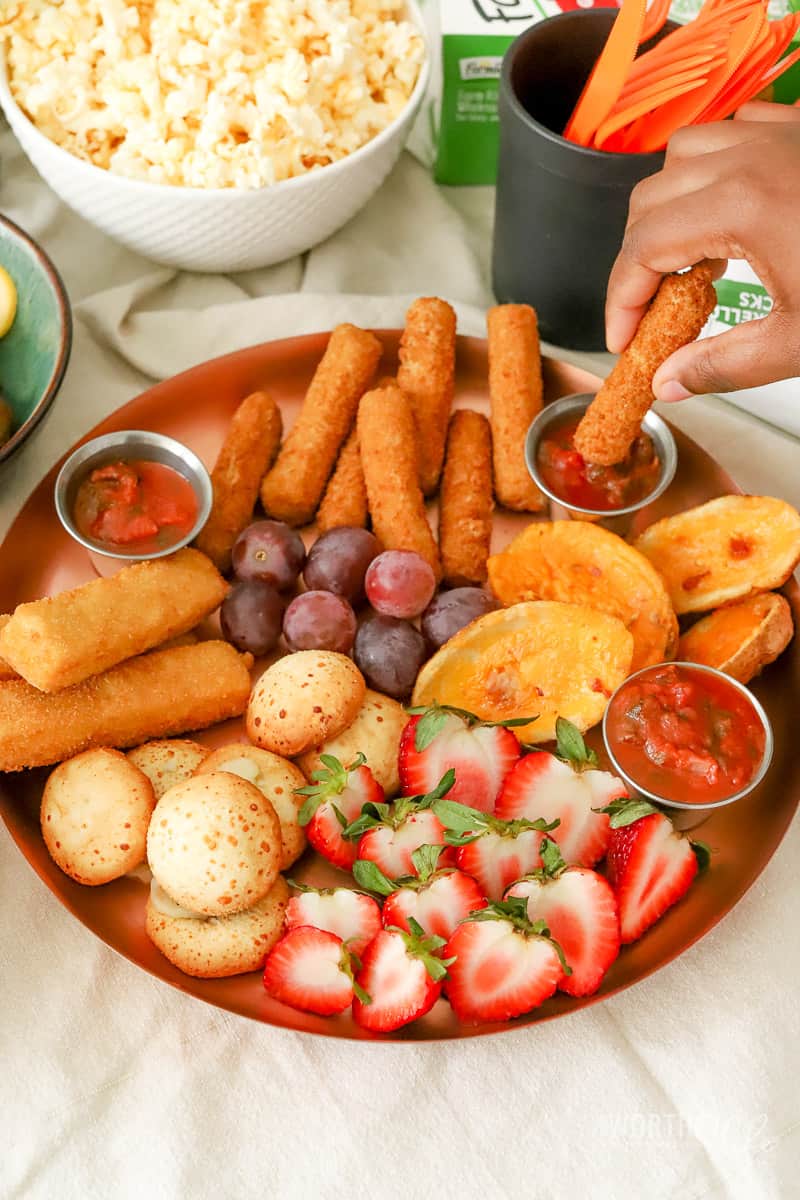 Easy Game Day Spread | Snack Concession Stand
With another college basketball tournament just around the corner, we're getting our brackets ready as well as lots of good food ideas to serve up. It's safe to say we get just as excited about the food as we are about the basketball games. Partnering with Farm Rich, we're sharing some of our favorite freezer to table appetizers and let me tell you; they are so super easy to pull together for game day.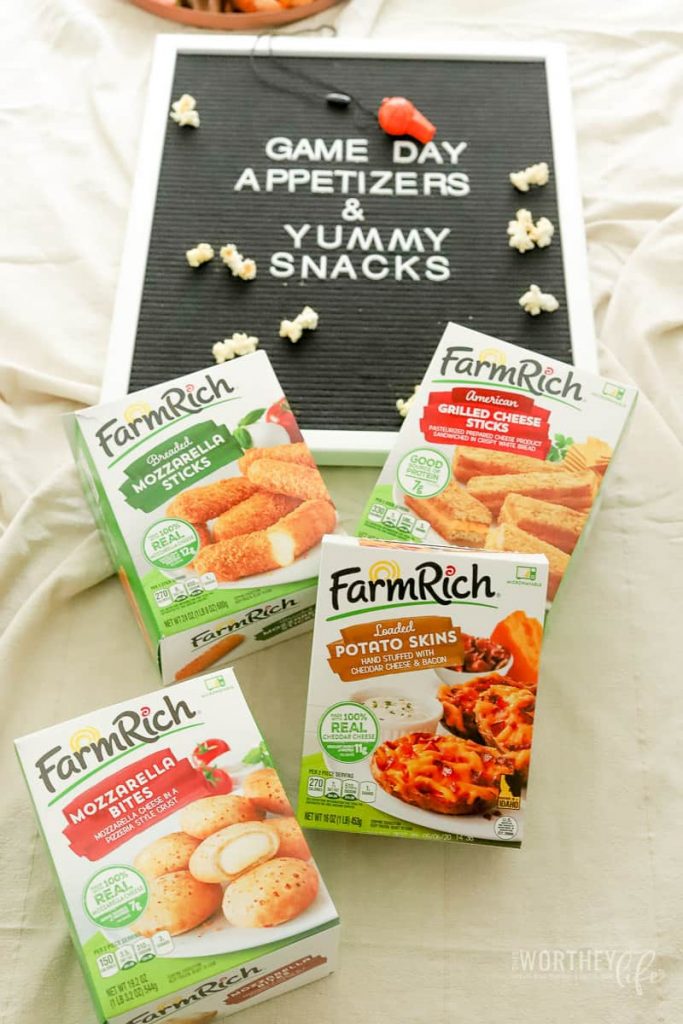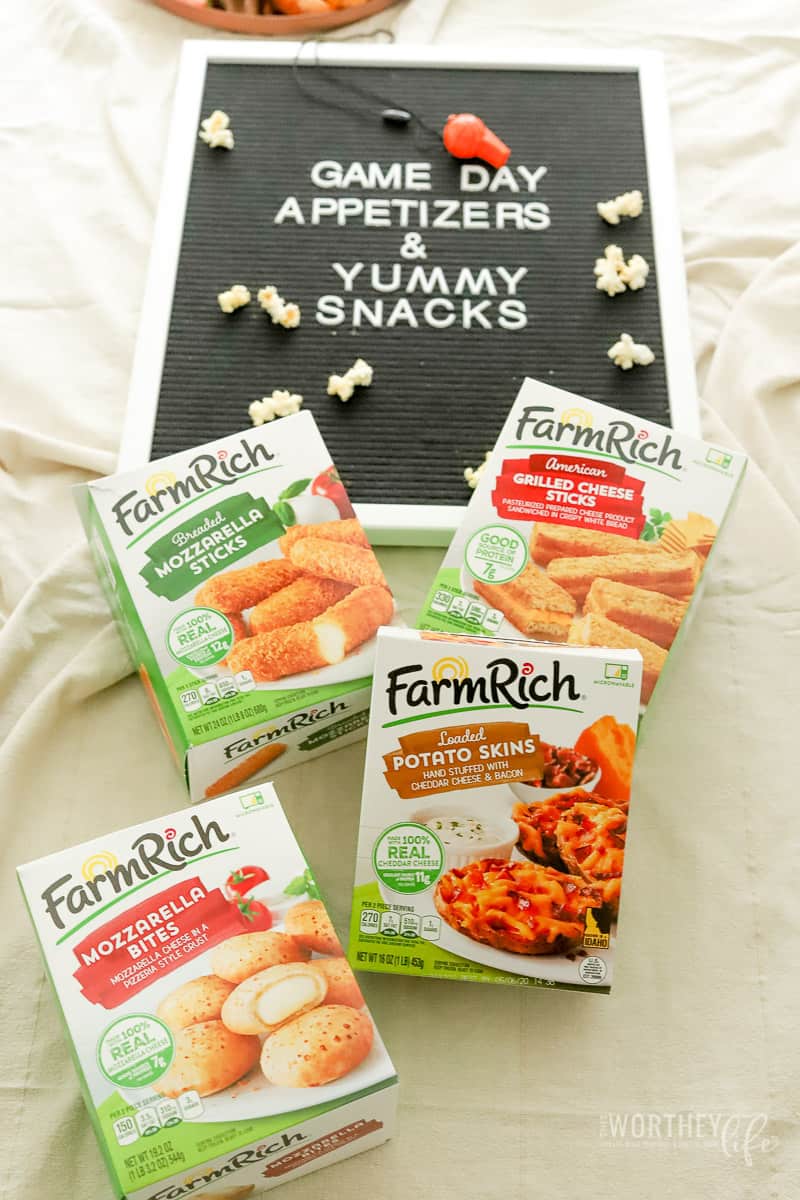 From Mozzarella Sticks, Grilled Cheese Sticks, Loaded Potato Skins, Jalapeño Peppers, and Meatballs, Farm Rich has something delicious for everyone at your next game day soiree! You can find Farm Rich appetizers in the frozen food section of your favorite grocery store. Check out their full lineup of snacks here.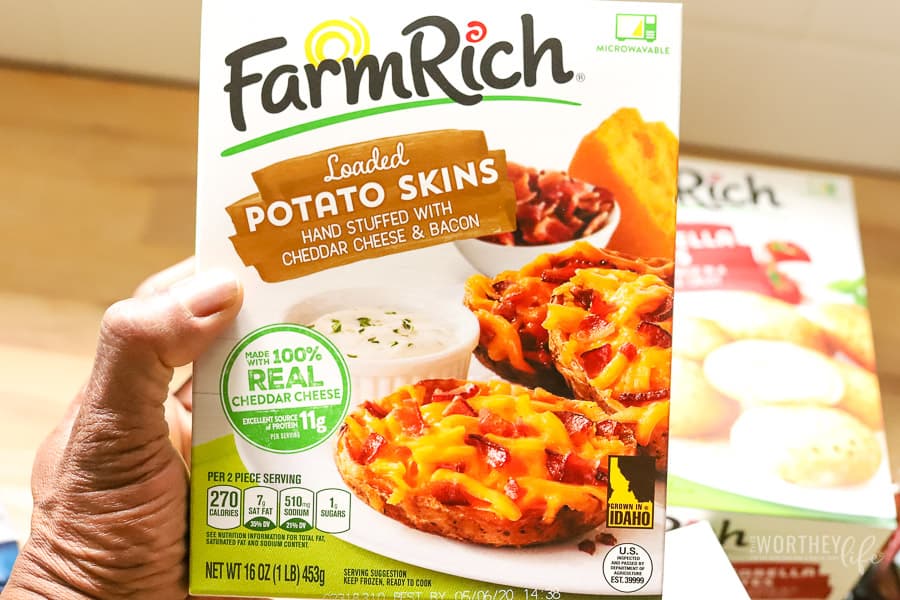 I visited our local Walmart and picked up all of the Farm Rich appetizers and supplies I needed to put together this game day spread. They are so easy to prepare, just follow the package instructions, preheat the oven, and pop them in. (Many of the items are microwavable too!) And, did you know Farm Rich appetizers and snacks are an ideal fit for the Air Fryer? Air Fryer's are quick, easy to use, and will have all of your favorite Farm Rich snacks ready in no time flat!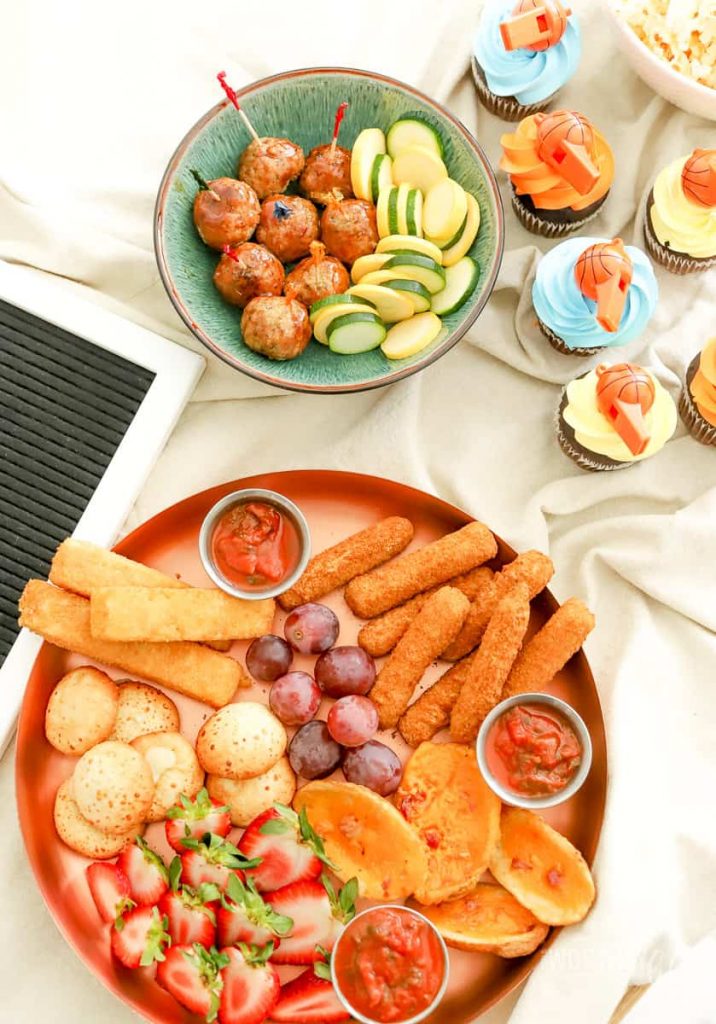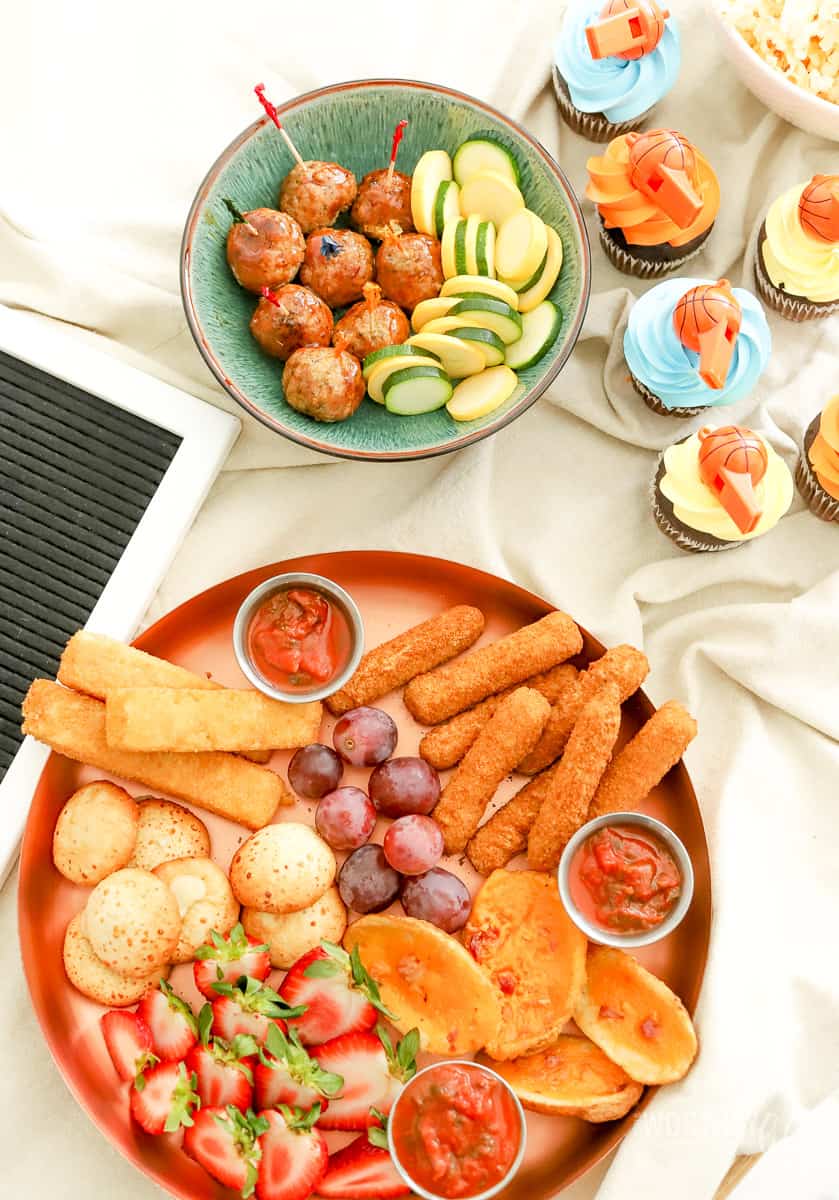 How To Put Together A Game Day Spread
When it comes to serving your game day snacks and appetizers, we recommend creating a space where the food is easily accessible for all guests. We put together two great game day snack setups to showcase your game day food.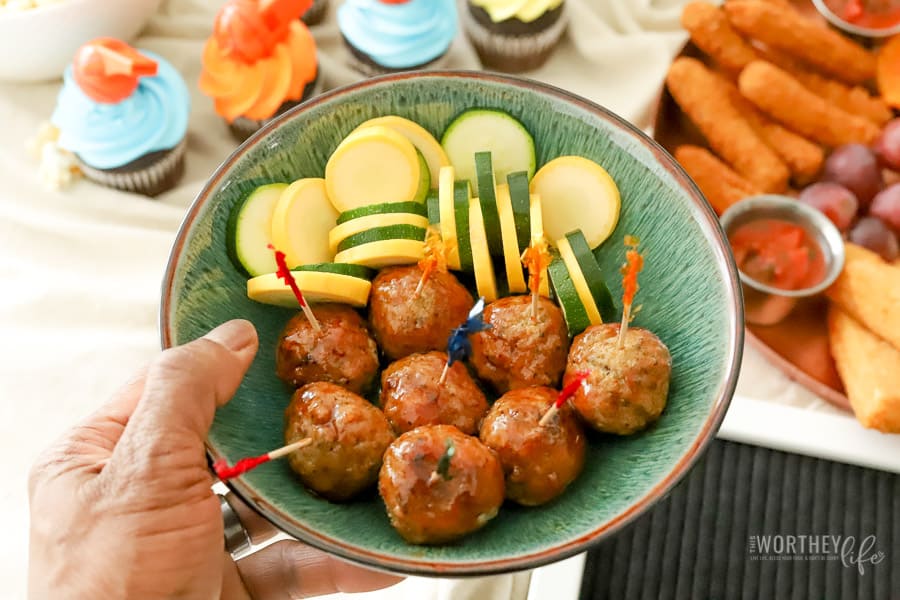 First, you can create a spread across a table; place food all around the table so guests (or kids) can access it from all sides. With Farm Rich products, you don't need to add a lot of additional ingredient items, since they offer a variety of amazingly delicious premade appetizer ideas. I love that they are the perfect finger foods suited for both adults and kids, and are easy to grab and pop in your mouth. For the Farm Rich Homestyle Meatballs, I brushed them with a little honey and spicy barbecue sauce as soon as they came out of the oven. And I served the Mozzarella Sticks with marinara sauce. You can add your favorite dipping sauces and pair the delicious Farm Rich appetizers and snacks anyway you want to create your own custom-made game day spread. Be warned, TBH you may just forget about the game.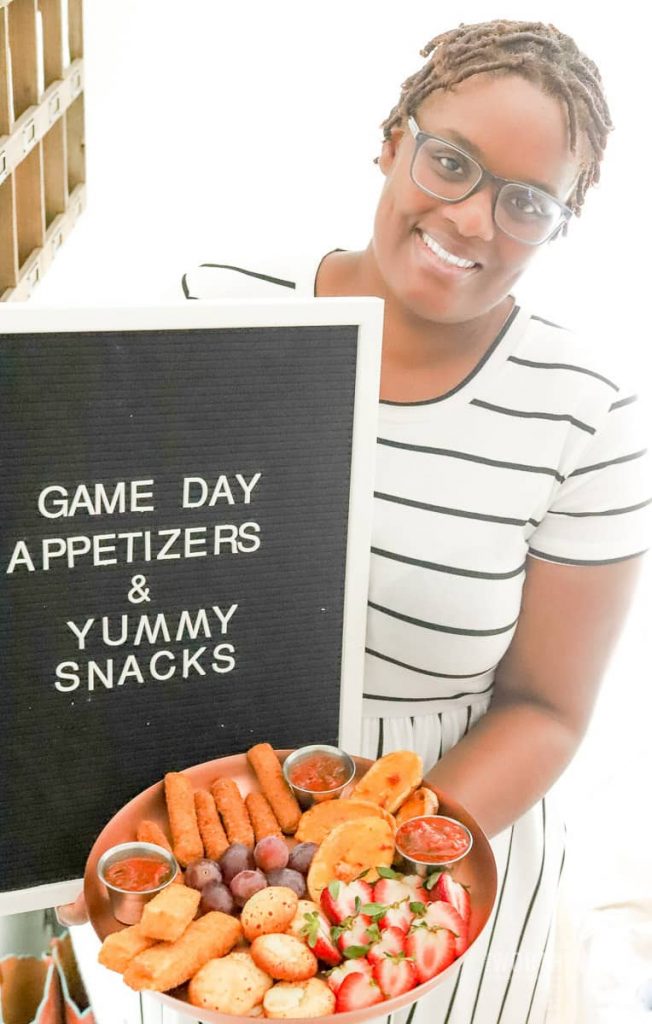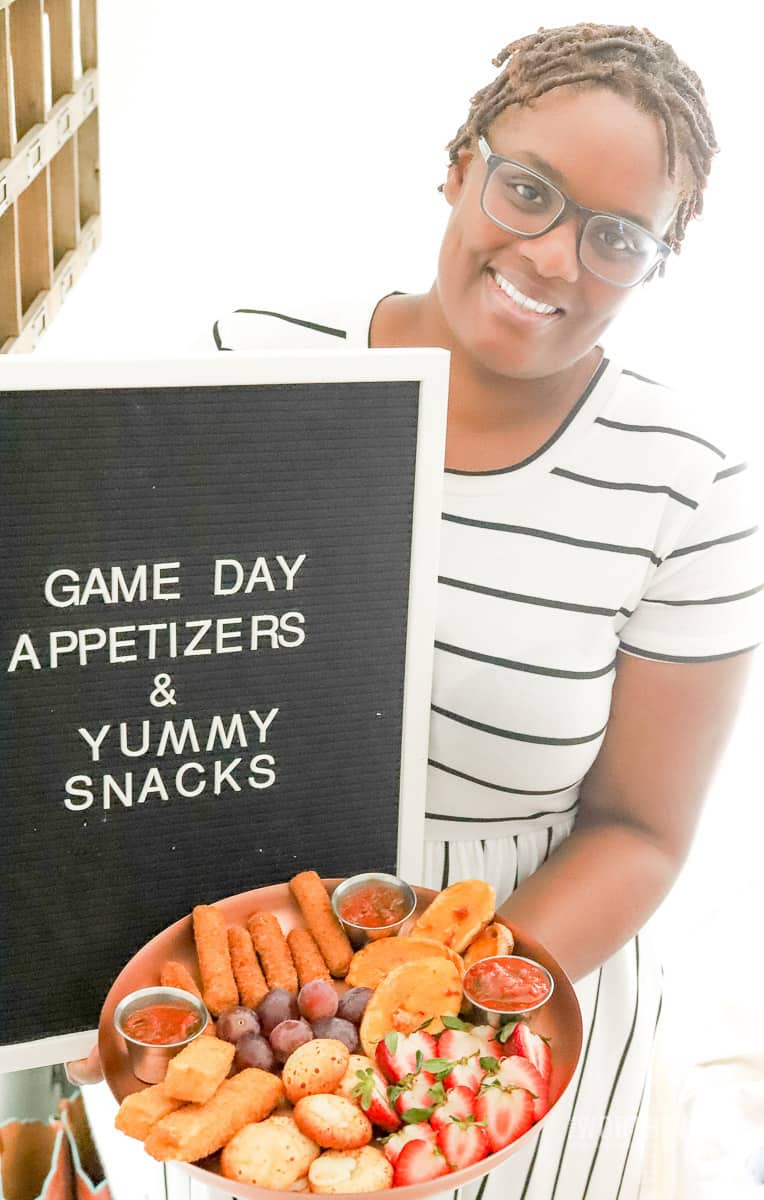 I'm also serving Loaded Potato Skins, made from real Idaho potatoes stuffed with cheddar cheese and bacon, along with Mozzarella Bites from Farm Rich. You'll want these new Farm Rich Grilled Cheese Sticks on your food table too; they are made with melty American cheese sandwiched between toasty white bread and are a good source of protein. We can't get enough of them!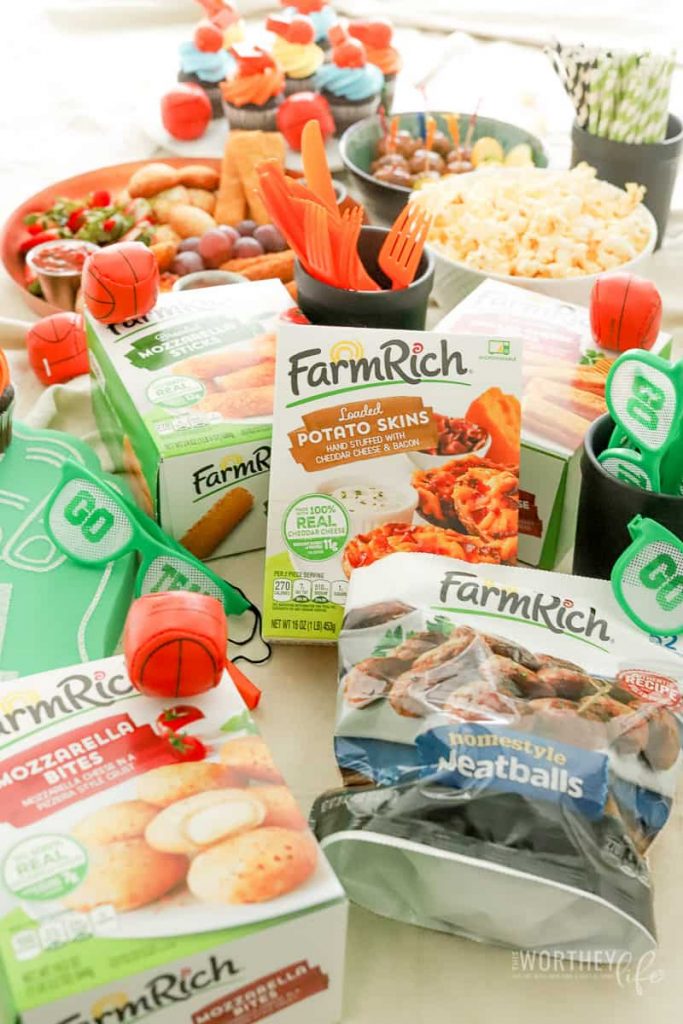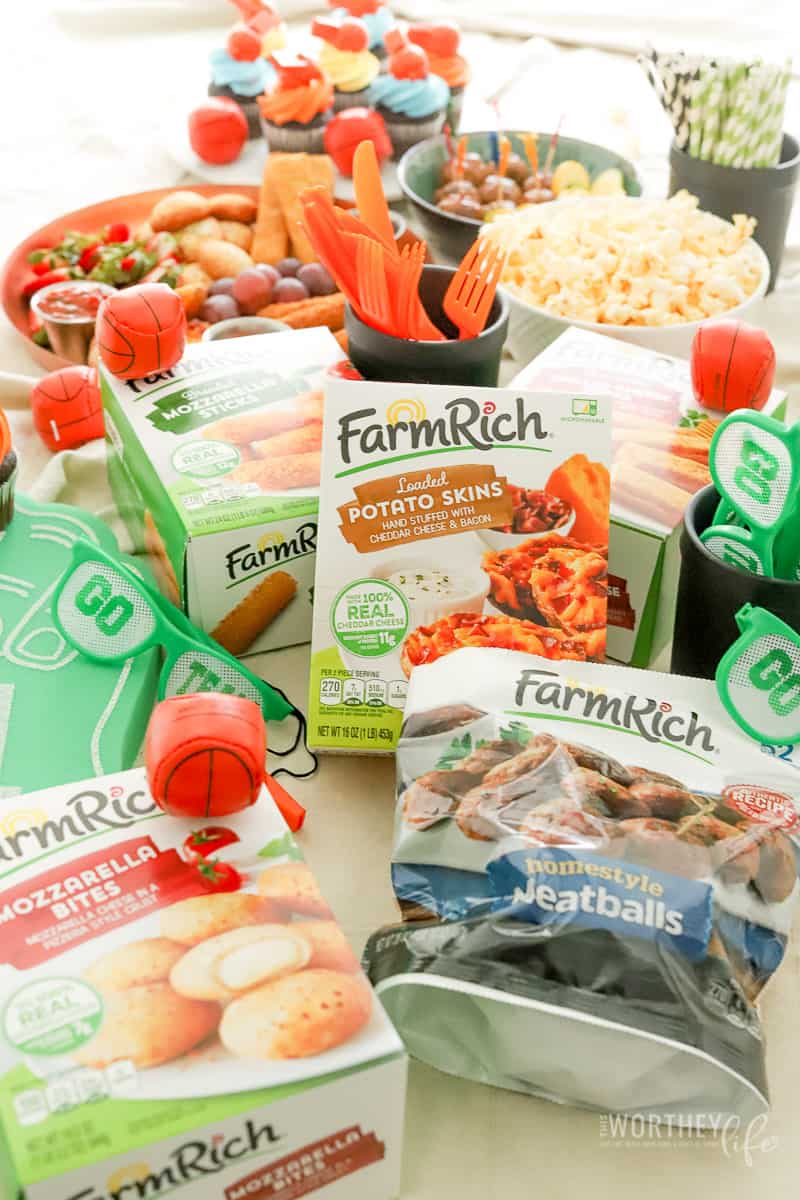 Farm Rich makes snacking fun, easy and super simple for a game day (and all the other times when you're in need of something easy and good to eat). These products are great to have stocked in the freezer for those spur of the moment get-togethers when family and friends drop by hungry or after-school snacking.

Game Day Concession Stand Idea
Another way to serve your game day appetizers is by setting up a game day buffet or game day concession stand up against a wall. For this idea, I pulled out a variety of stands to use for the food, treats, and game day accessories. I stopped by a party store to pick up game day decor and a few items to decorate the wall with. You don't need a lot of items to pull this idea together since the focus is on the game and the food. We served the food on serving platters at varying heights, which allows the boys to quickly see and grab the items they want.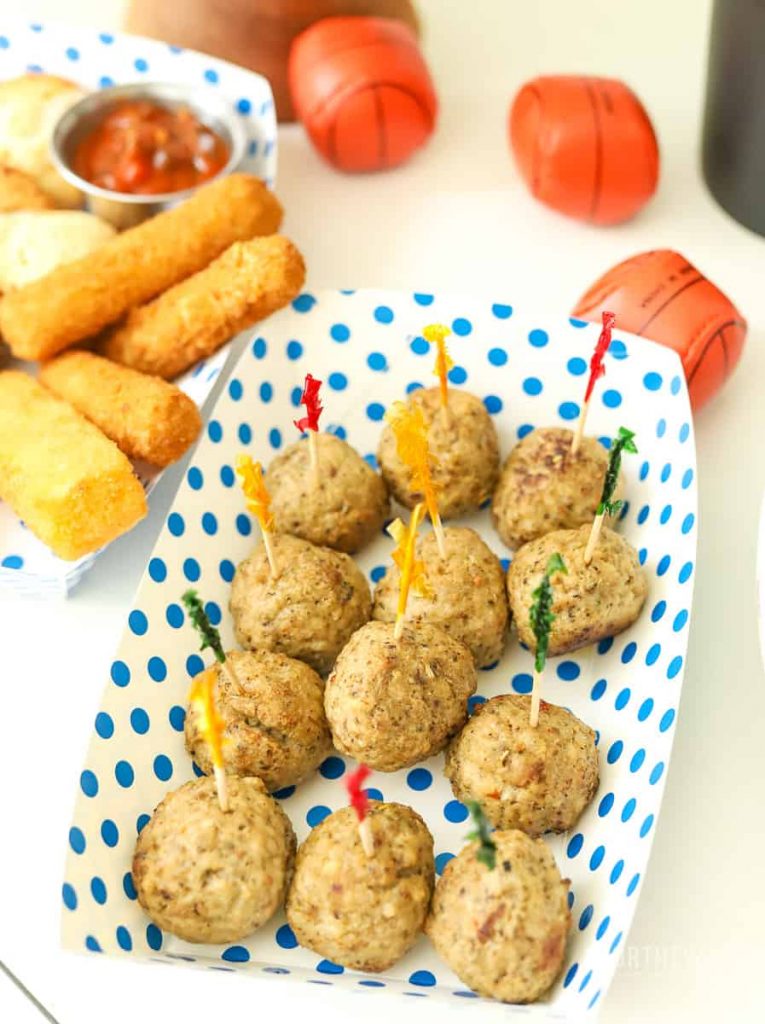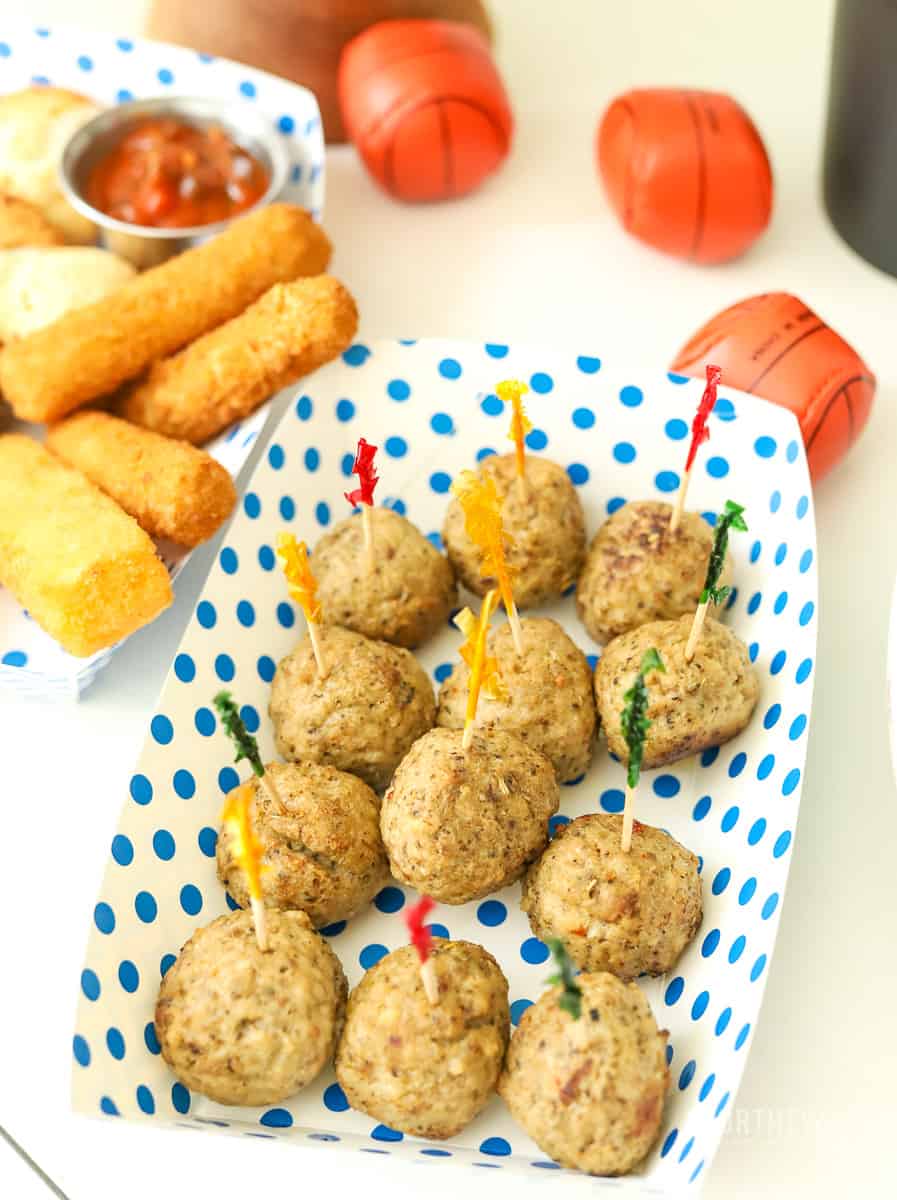 Serve your appetizers on paper food trays, which will make for an easy clean-up.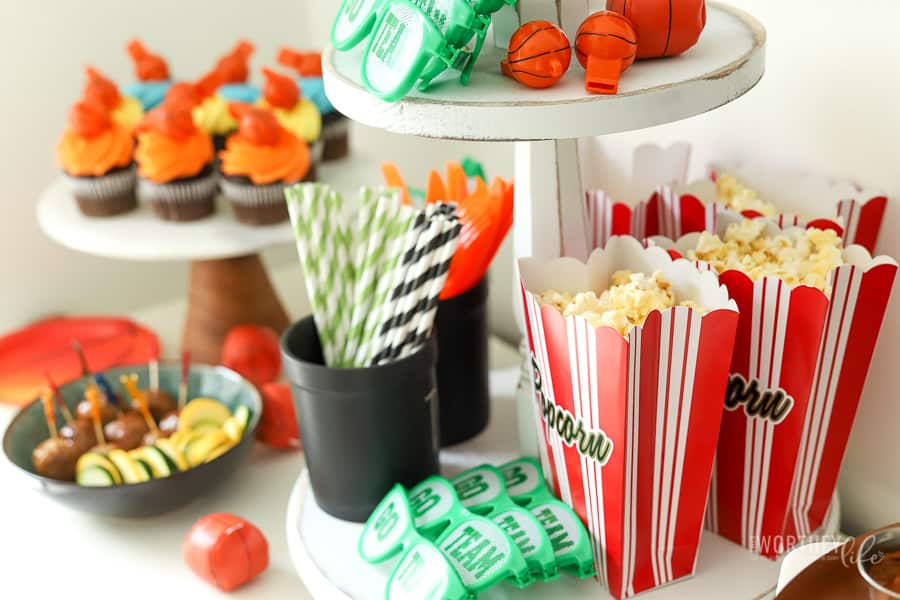 Add popcorn, fun straws, and basketball mementos for your guests.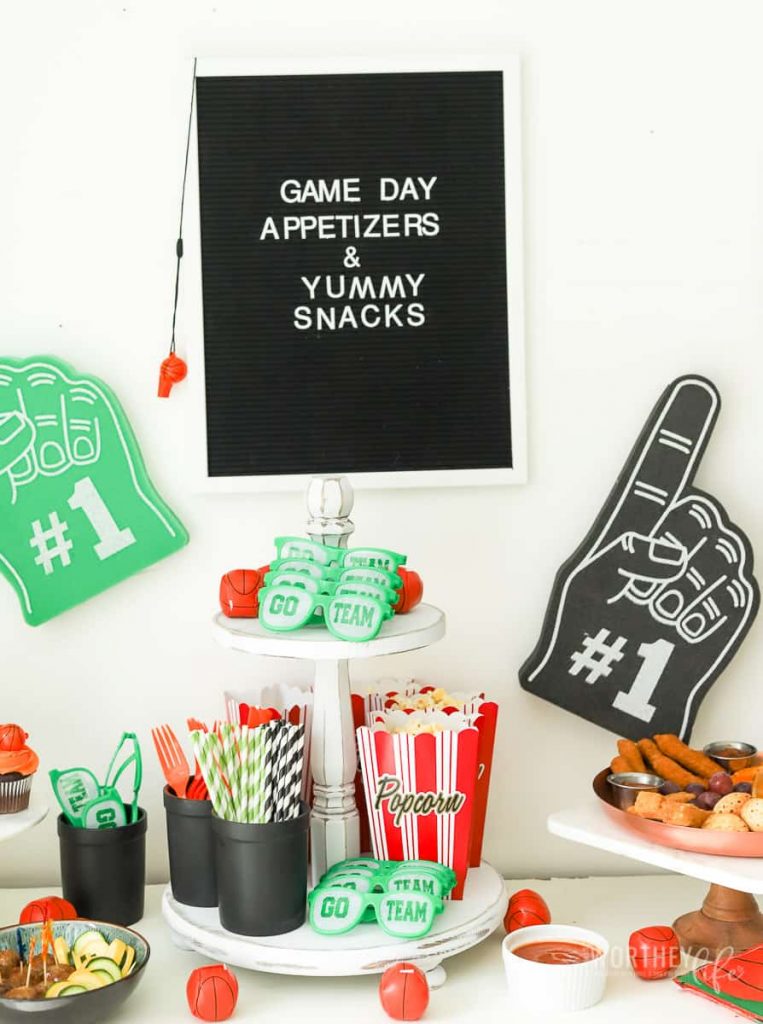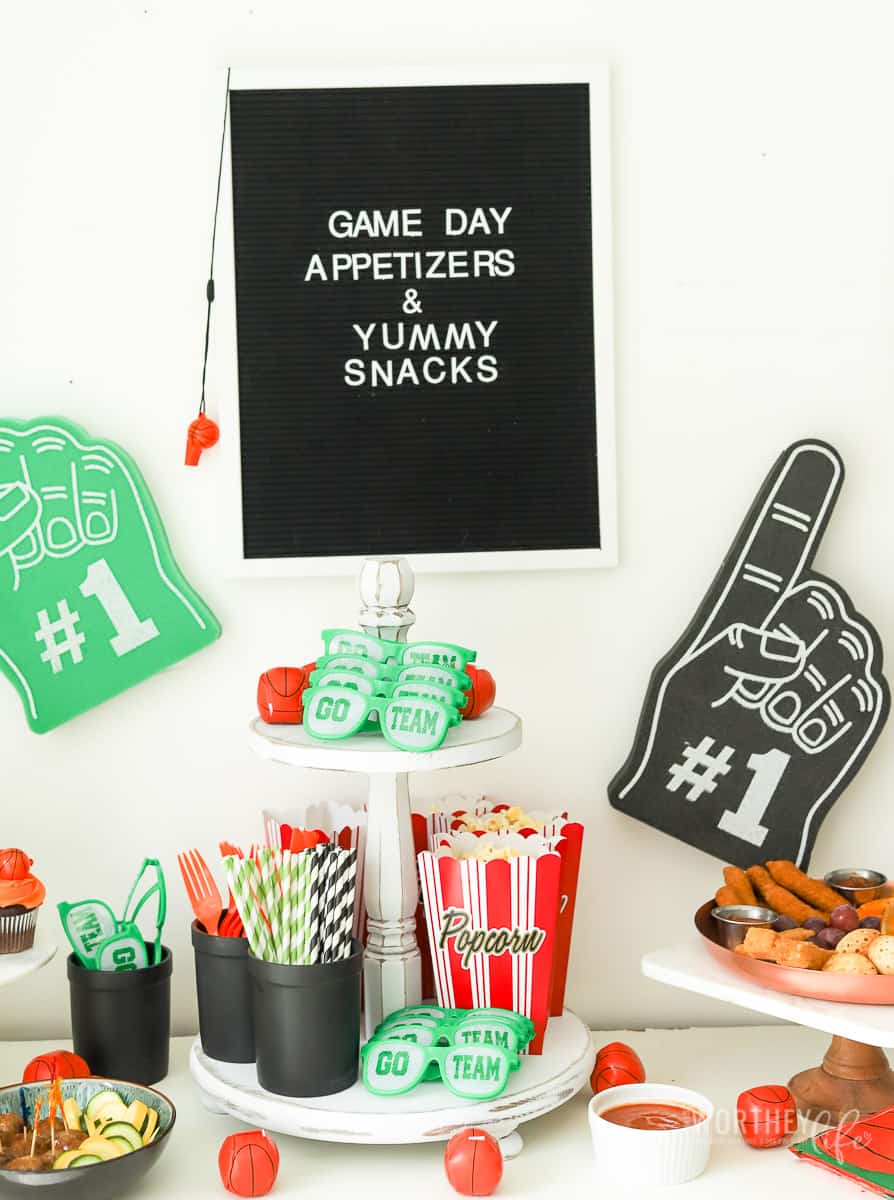 Watching the games together as a family is something we enjoy doing, along with gathering around good food. Take the stress off of thinking you need fancy appetizers and a ton of supplies to put together your game day spread. With a few game day accessories and your favorite (or try a few new ones) Farm Rich products, you'll be ready to watch some hoops in no time. You can learn more about their products and use the snack finder for stores near you at FarmRich.com.