This Easter step-up your home decor with an elegant tablescape idea. I'll show you how to put together an Elegant Easter Tablescape idea.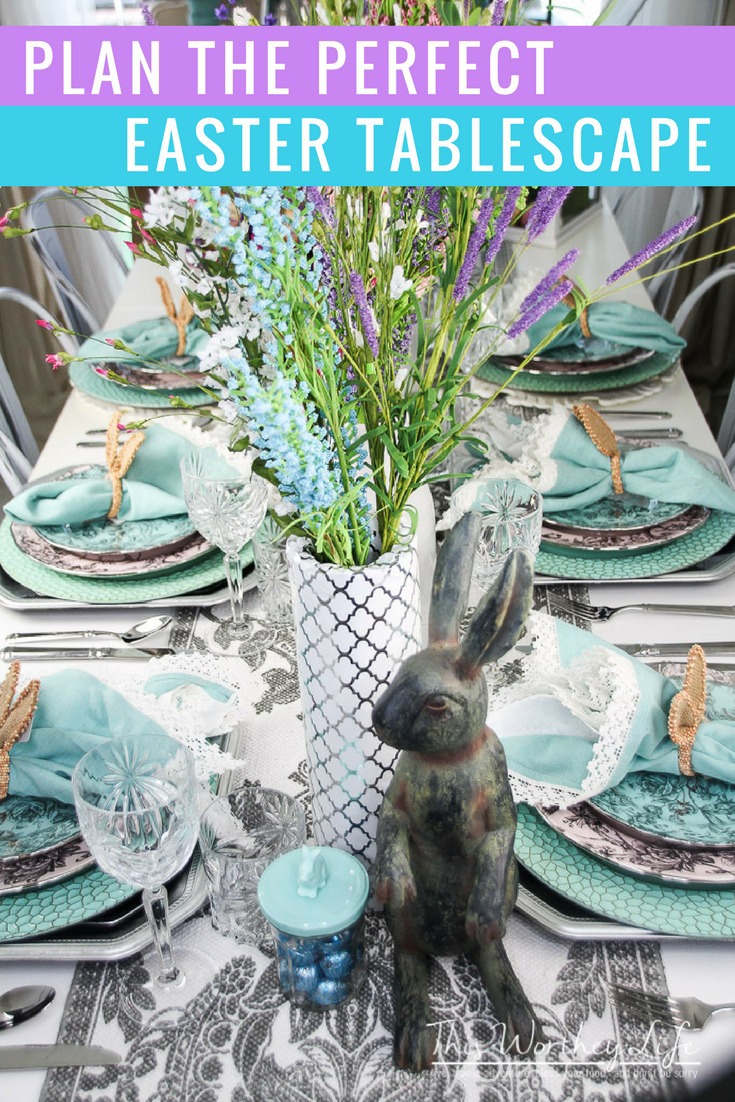 Elegant Easter Tablescape
Happy Easter! Easter reminds me summer is just around the corner. In our house, Easter is a time to spend with family and close friends. Last Easter we celebrated with my Dad. We knew his time here on earth was coming to an end, so every moment spent with him was priceless. A month later he was gone. As I sit here and reflect on our last Easter with him, I'm reminded of a few things. One, we never know how much time we may have with our loved ones, so make each moment count. Two, the little things in life we stress and worry about really don't mean much when we think about the bigger picture.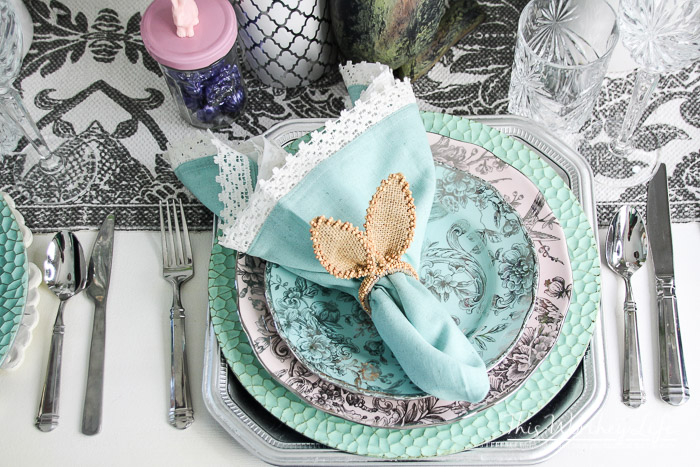 This Easter morning we are going to church, then to dinner with my girlfriend and her family.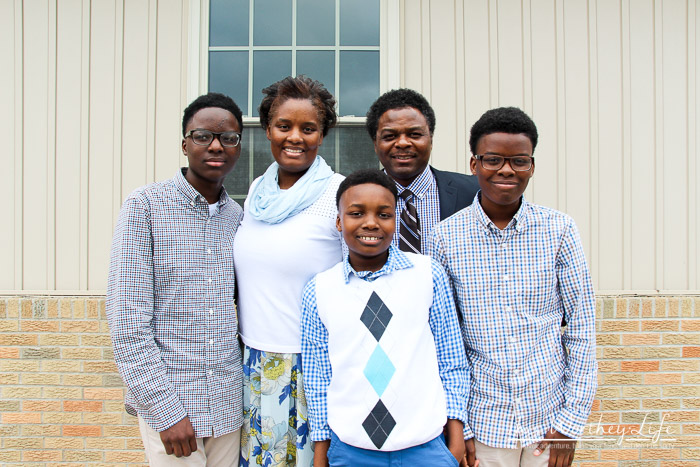 Before I go, I have to share my Easter (or Spring) Tablescape. I decided to go with a different design versus covering the table with bunnies and other Easter accessories. This type of design is one you can use again and again. It's also a great tablescape idea for a wedding, Mother's Day brunch or a Spring get together.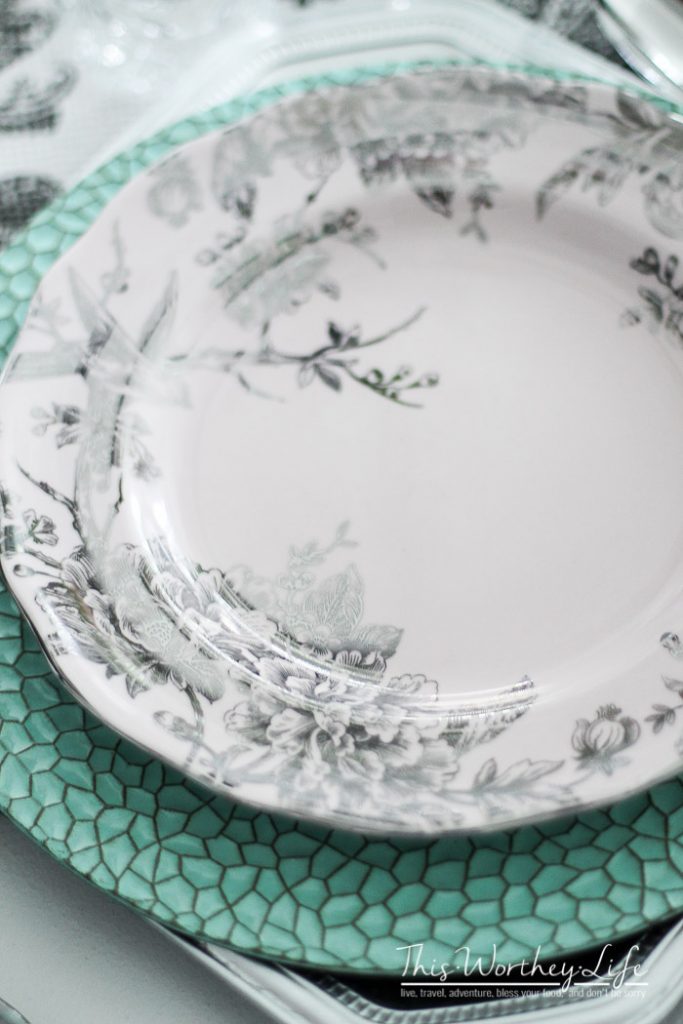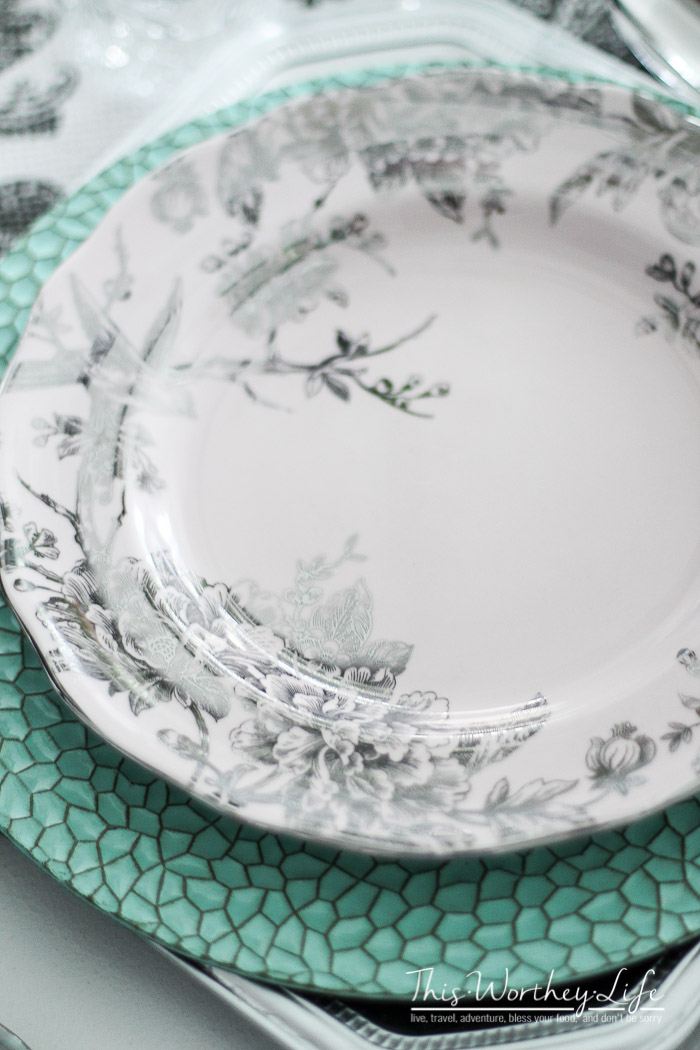 I was at Home Goods last week trying to find the perfect plates to go with the idea I had in my head. As soon as I saw these plates designed by one of my favorite designers, 222 Fifth, I knew they would be perfect! I decided to go with both the turquoise and pink plates with the silver trim (they also had plates with a gold trim); Adelaide Pink and Silver dinner plates, and Silver and Turquoise salad plates.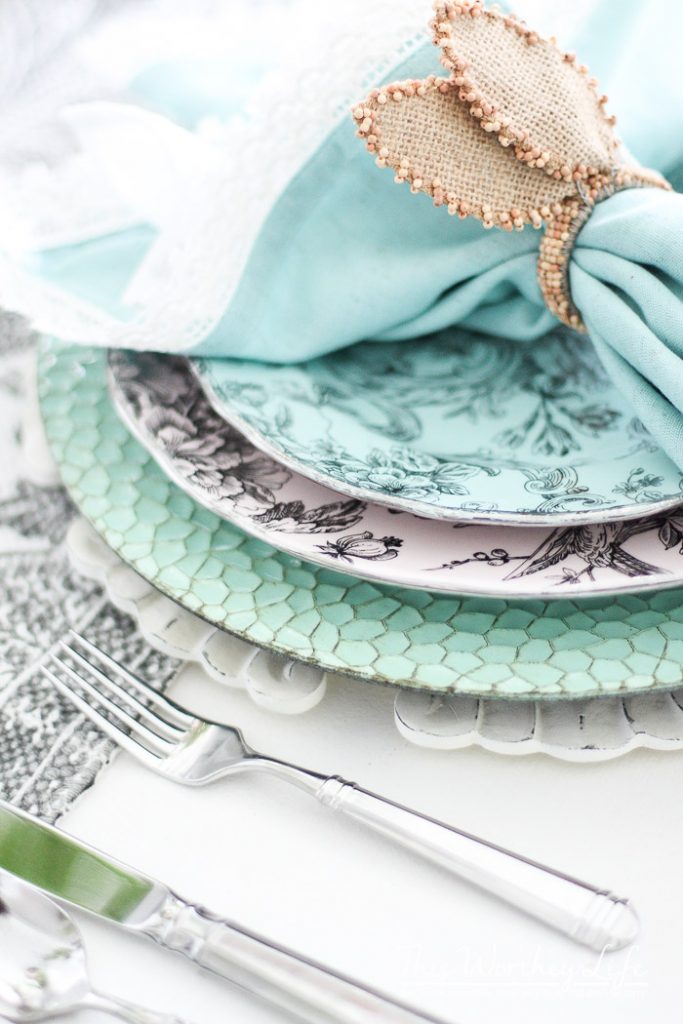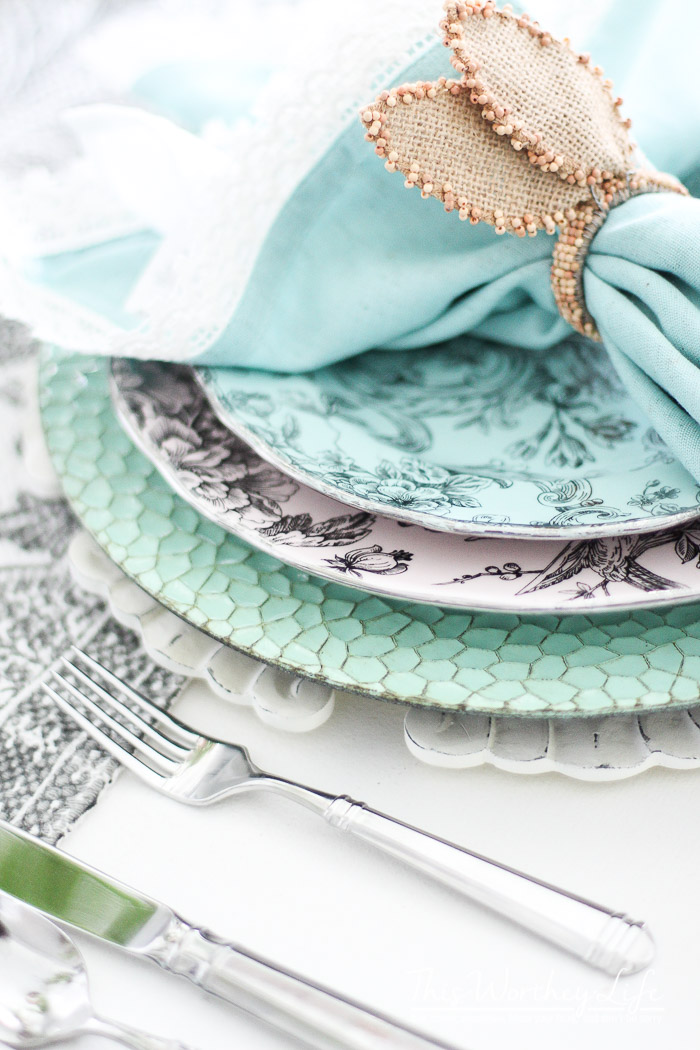 Aren't they just GORGEOUS?!!!!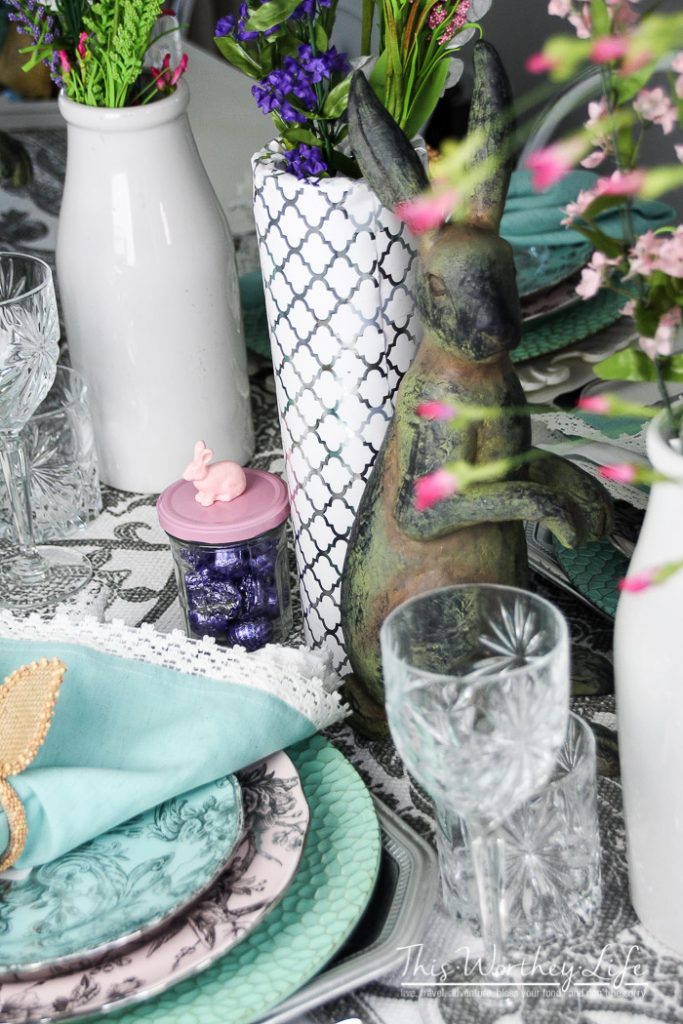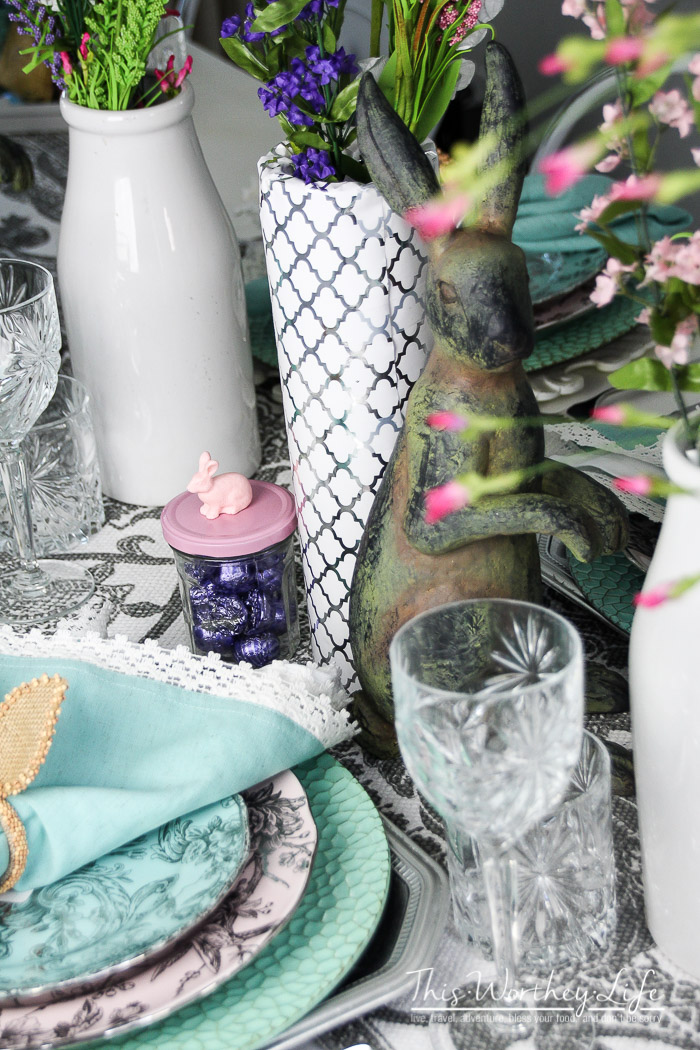 I also made a quick trip to Pier 1 where I picked up the linen bunny napkin rings, blue & cream napkins, and the green bunny statues. Another trip to Hobby Lobby for floral decor, then I hurried home to put it all together.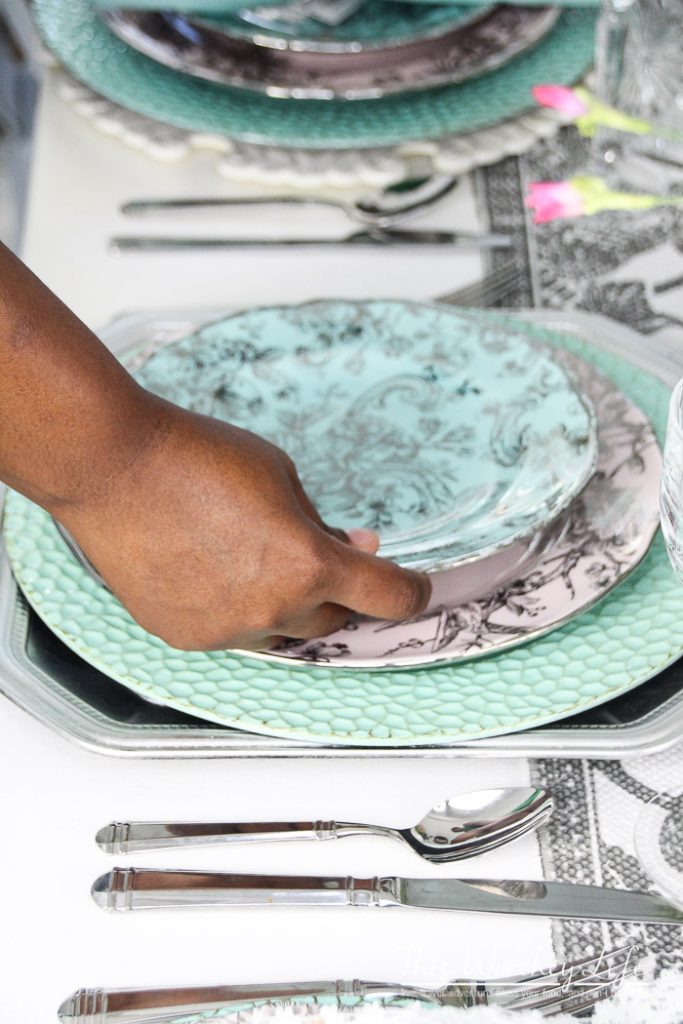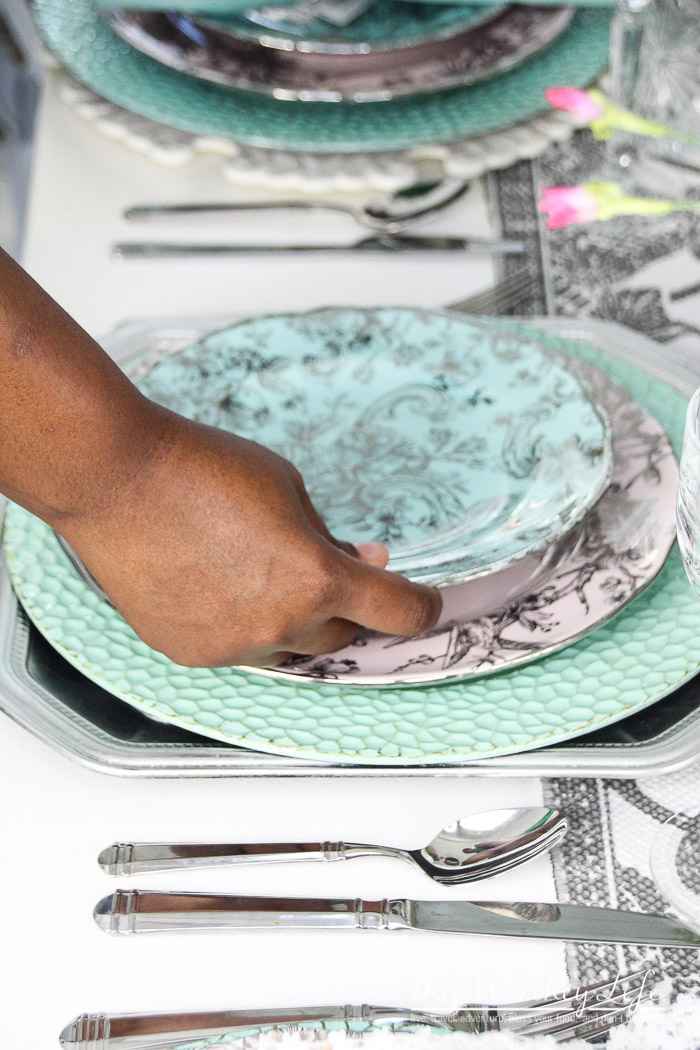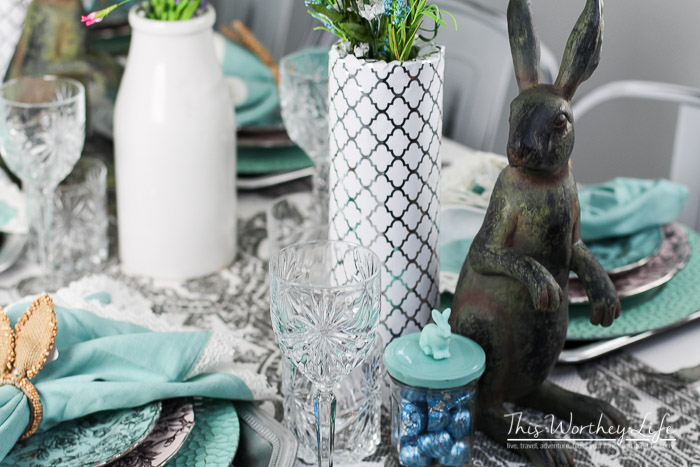 One thing I like to do to save space and money is finding ways to reuse decor items. For the vases, I used wrapping paper to cover up their yellow design. I love using pretty wrapping paper in my designs. It's a great way to come up with a new look, wrap a vase, use as a table runner, etc. And, you're only out-of-pocket the price of the wrapping paper, vs buying a vase or other decor item to match your design.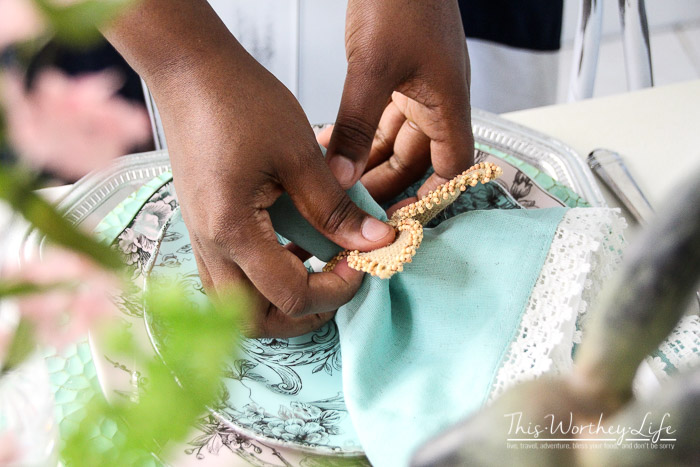 I started setting the table by laying down the grey and white runner (also from Home Goods). I placed three of the vases filled with a variety of floral arrangement on the table, spreading them out and adding a smaller white vase in-between. For the Easter effect, I added one green bunny statue by each vase.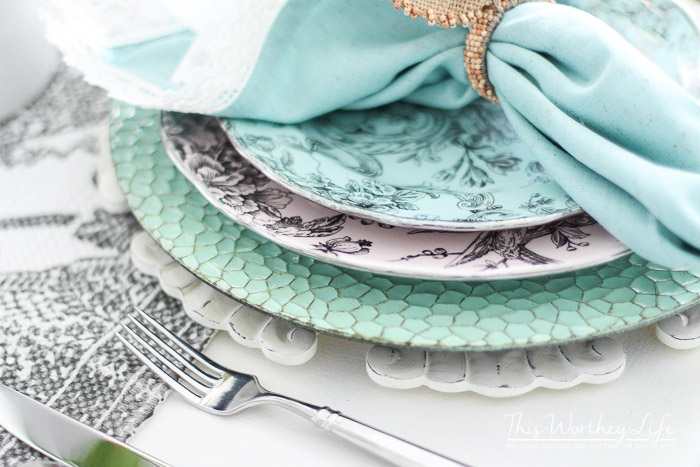 Now, let's set the table. I started with a square silver charger (for two of the place settings, I used a white charger), then a turquoise designed charger, followed by an Adelaide Pink and Silver dinner plate and then a Silver and Turquoise salad plate. I took the blue and cream napkins and opened each one of them up. I placed a white napkin on top, then folded the napkins and slid each one through a bunny napkin ring. I placed those on top of each plate setting; Adding the silverware (forks on the left, knives and spoons on the right), followed by the glassware.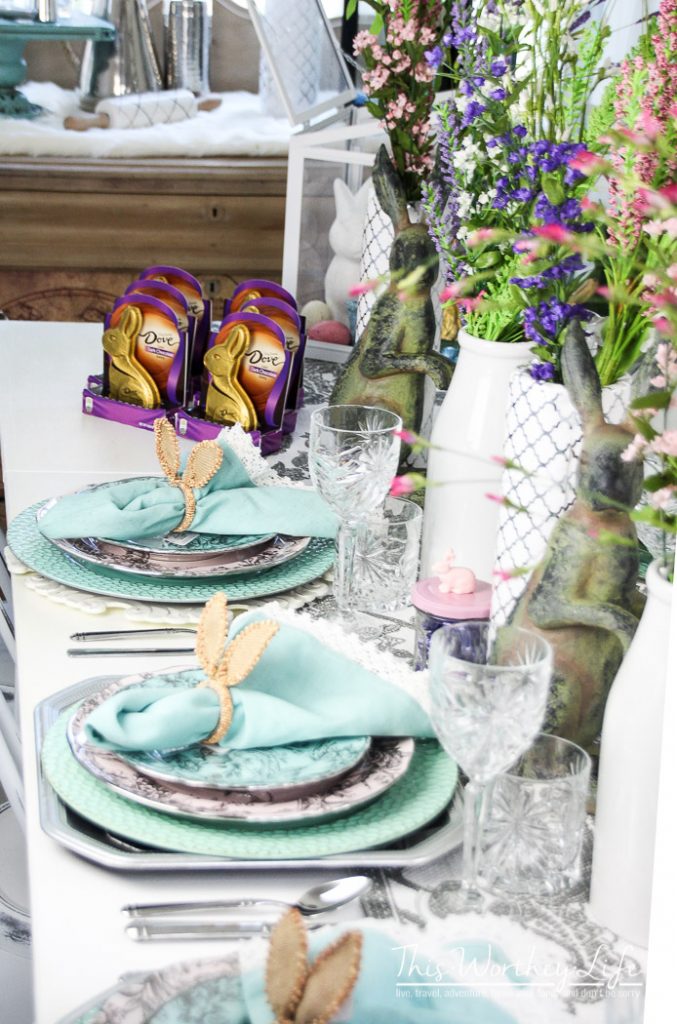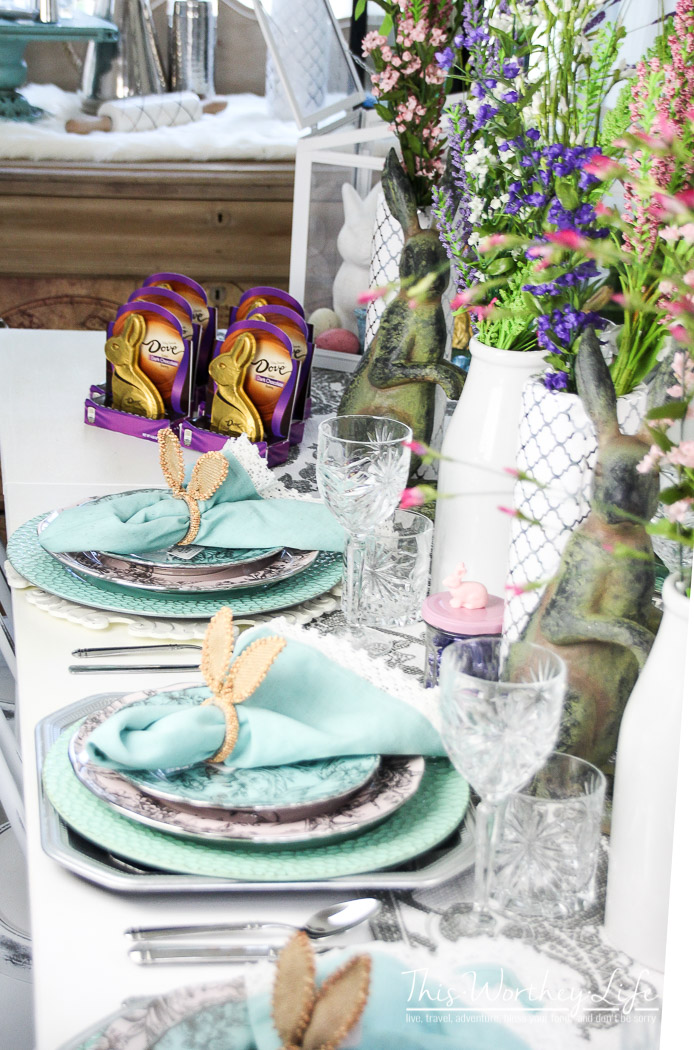 Towards the end of the table, I added a few fun Easter treats. We all have to have our Easter chocolate, and these Dove chocolate bunnies and chocolate candies were a must-have for our Easter table idea!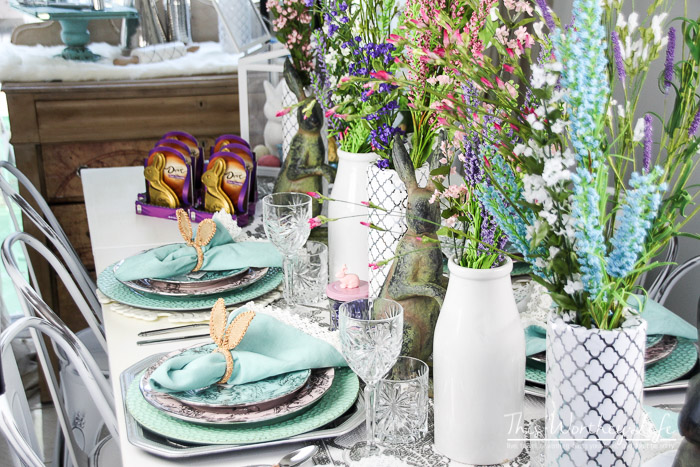 I tried to keep the Easter decor to a minimum. Sometimes you don't need every single item on your table to be a themed item. Sparingly using the Easter decor throughout this tablescape gives it a classy look, versus Easter everything! Plus, I can use these dinner plates throughout the year for other dinner parties and events, instead of just once.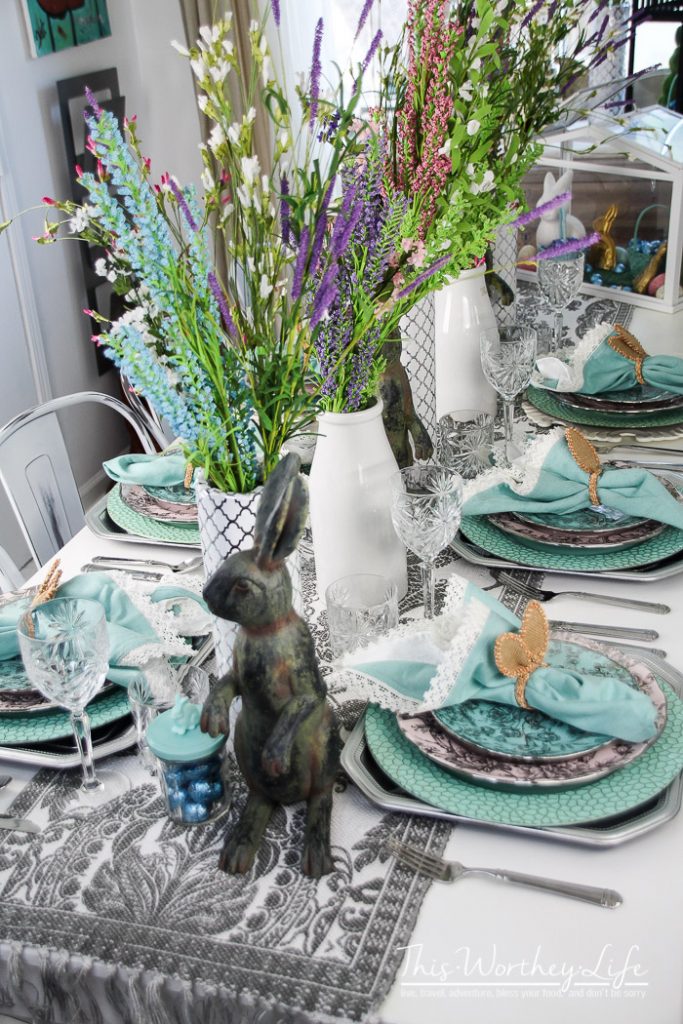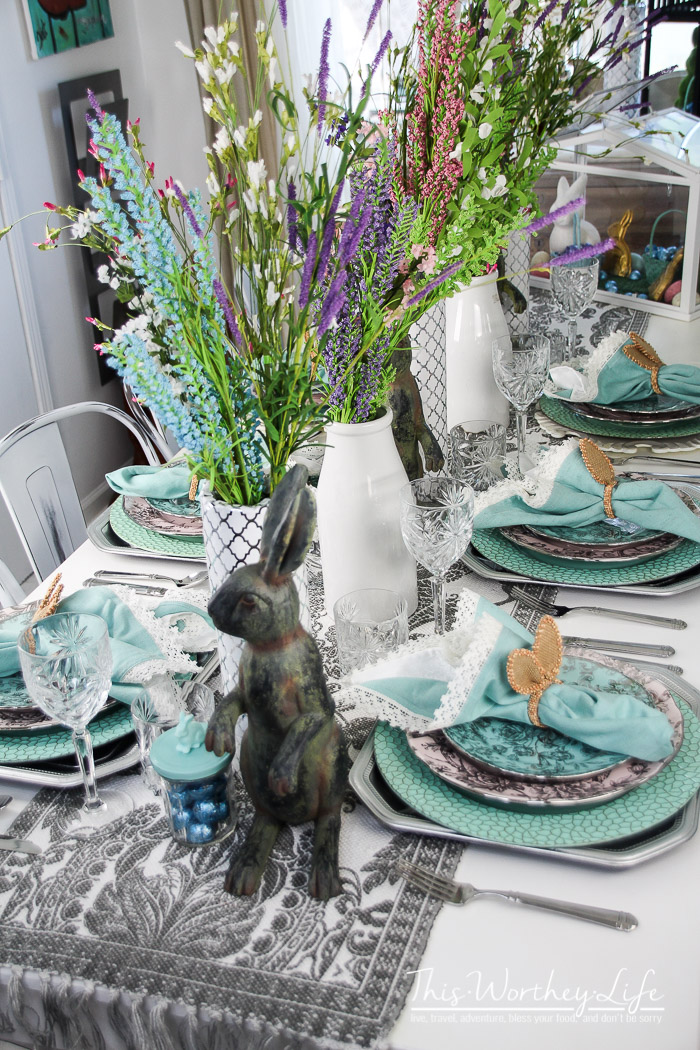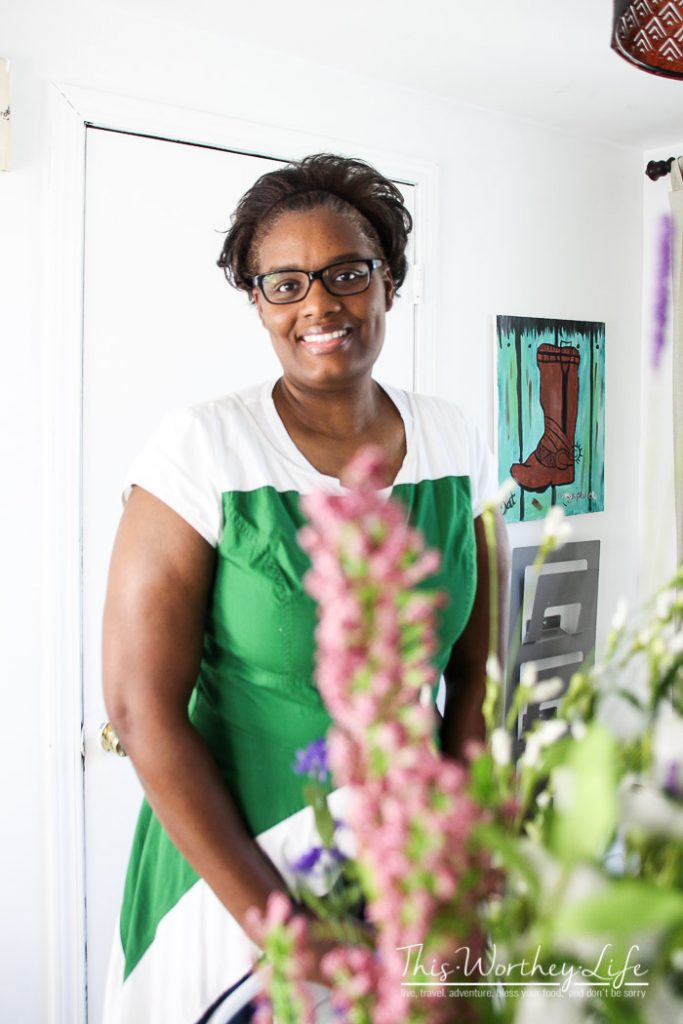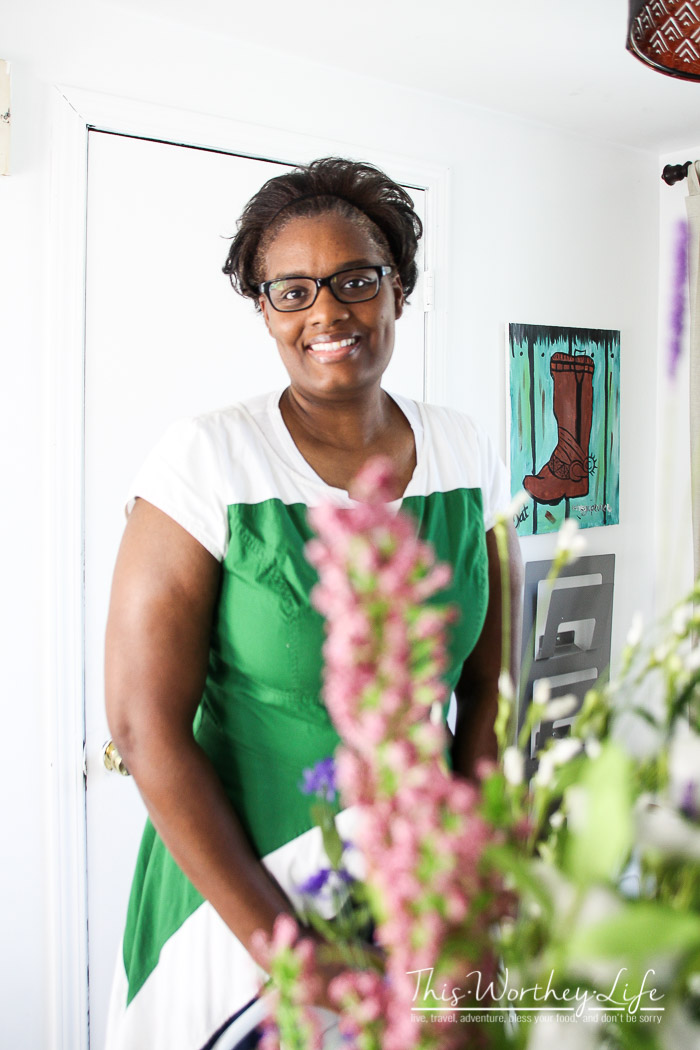 What are your plans for Easter? Do you go all out and do a tablescape or big dinner? I would love to hear about your Easter! However, you decide to spend it, be sure it's with people you love. Remember, we never know how much time our loved ones have (or us) here on Earth. So call your parents, that Aunt, a friend, brother, sister, etc. Don't put off what you can do today. You never know when it may be the last time you see or speak to them! I hope you all have a beautiful Easter!