We're sharing a few summer recipes using Florida Orange Juice and ways to stay cool this summer with 100% orange juice.
Like our Orange Ice Pops. This easy recipe is a crowd pleaser—both kids and adults love them.
And do you crave something cold, delicious, and a breeze to mix up exclusively for the grown-ups?
Try our Orange Mojito cocktail; it's easy on the eyes and refreshing.
When it comes to Florida OJ, the possibilities are as endless as the warm summer days are long.
This post is sponsored by the Florida Department of Citrus; however, all opinions are my own.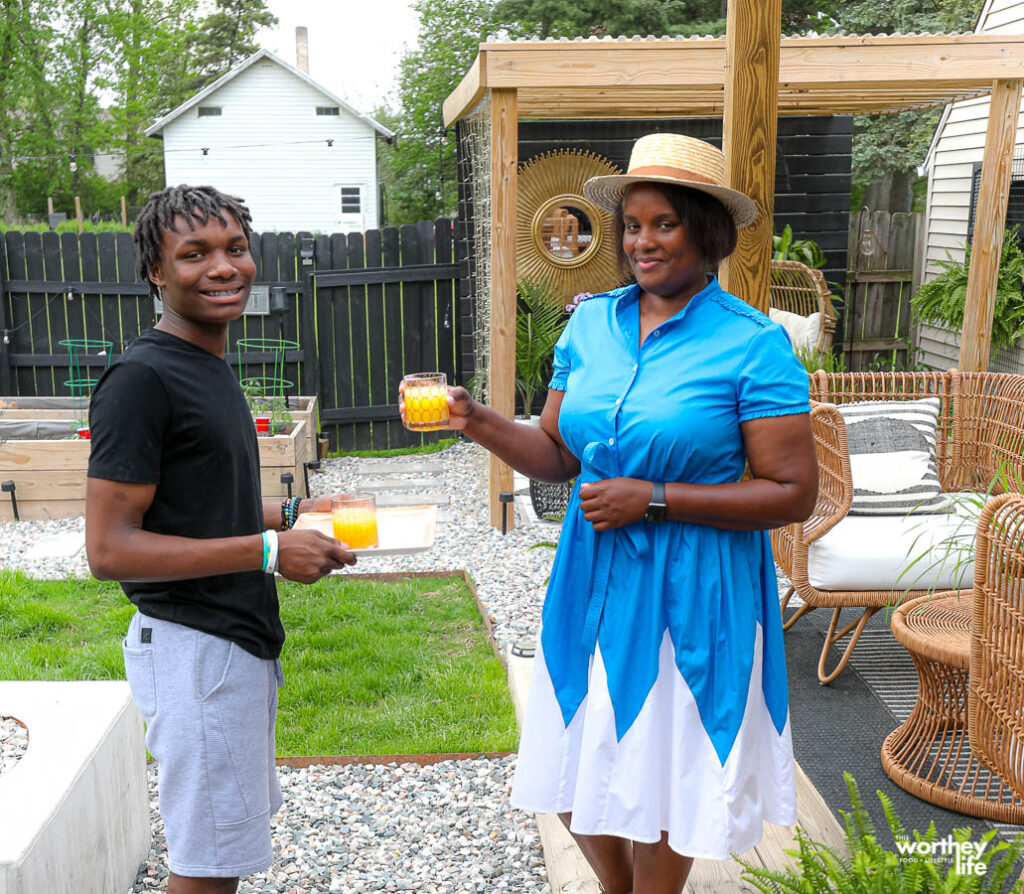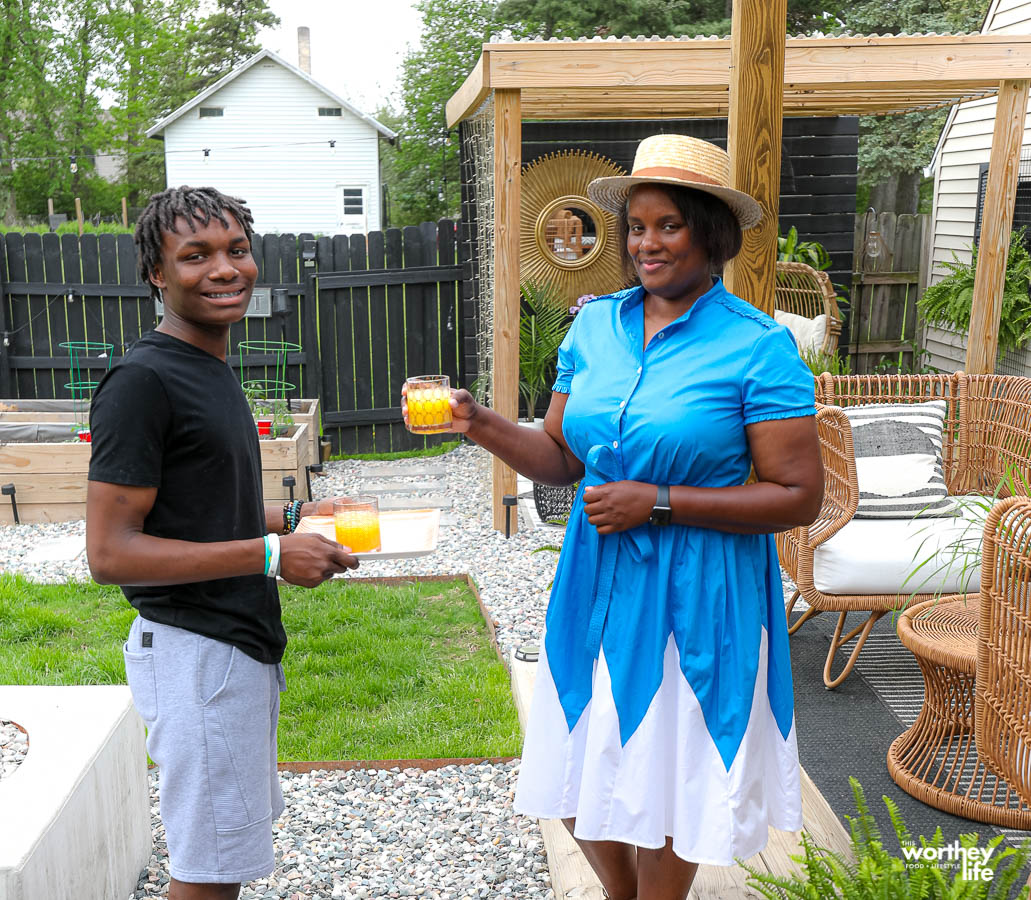 Summer Recipes + Entertainment Tips With Florida Orange Juice
There's nothing better than spending time outdoors with our family and friends during the summer months.
Summer means hanging out in the backyard, family cookouts, backyard games, and chill time.
It also means finding ways to stay cool and hydrated.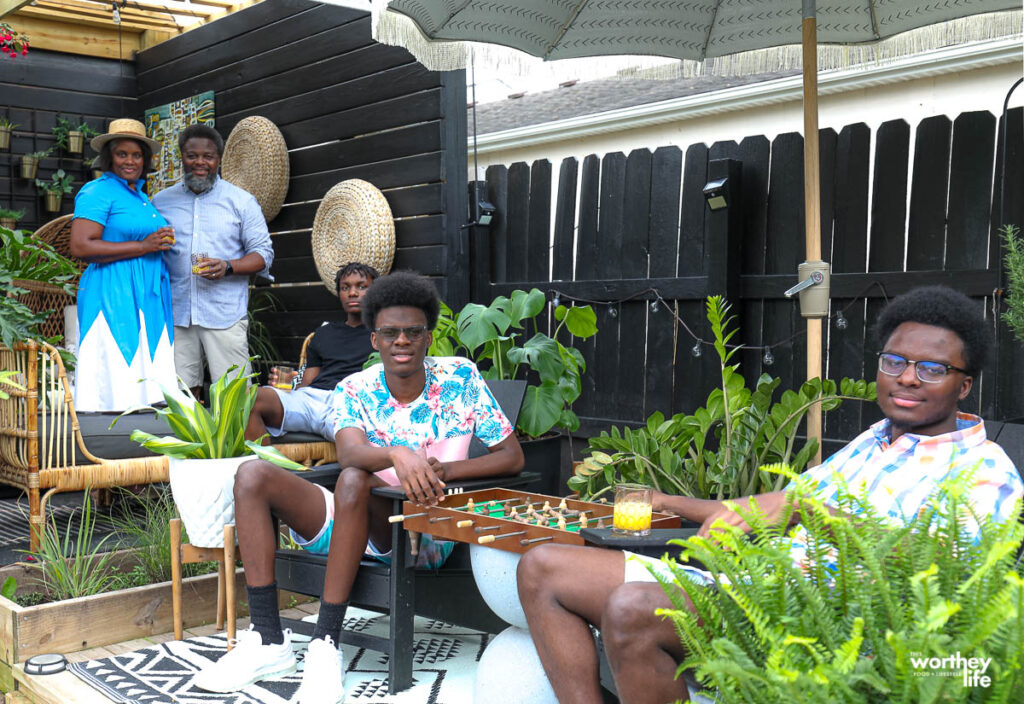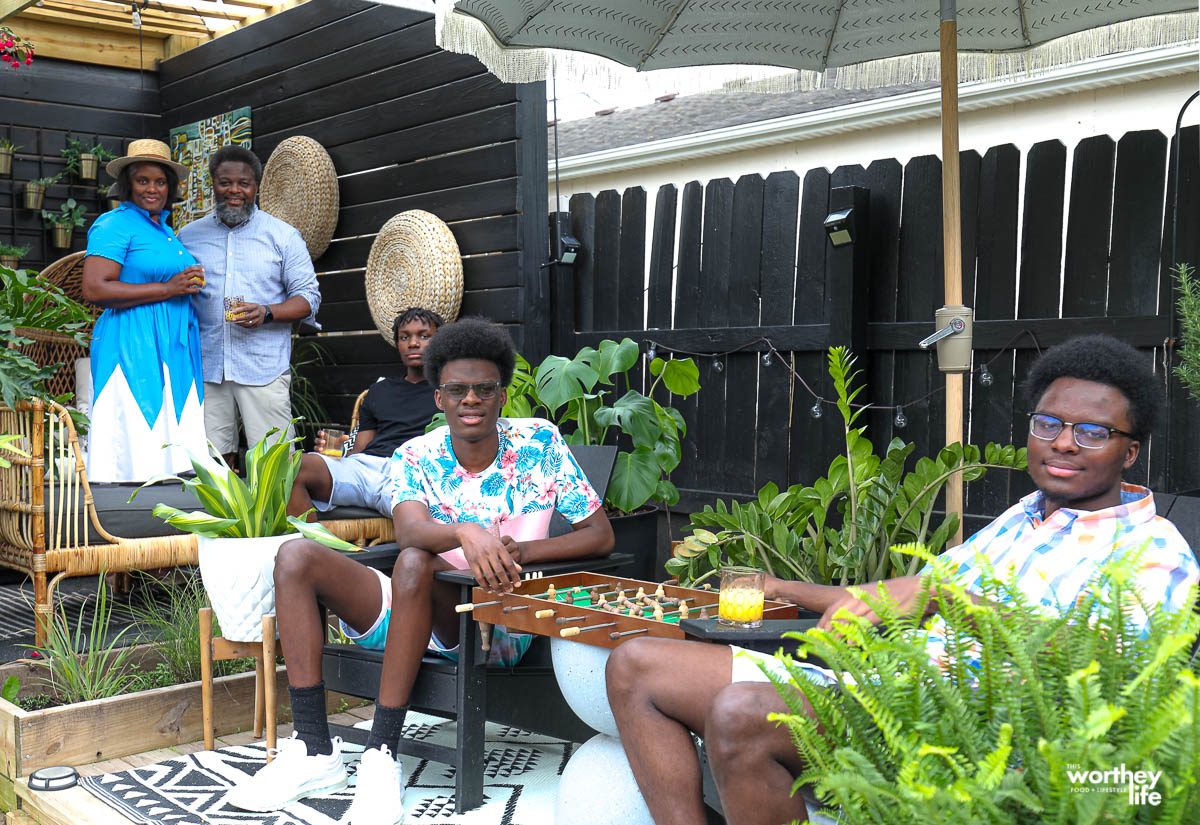 Keeping Cool This Summer
When we think of staying hydrated, we typically think about drinking water.
But what if I told you Florida Orange Juice can also help you stay hydrated.
It's naturally comprised of 90% water and includes several electrolytes like potassium and calcium (in fortified juices) and a small amount of magnesium.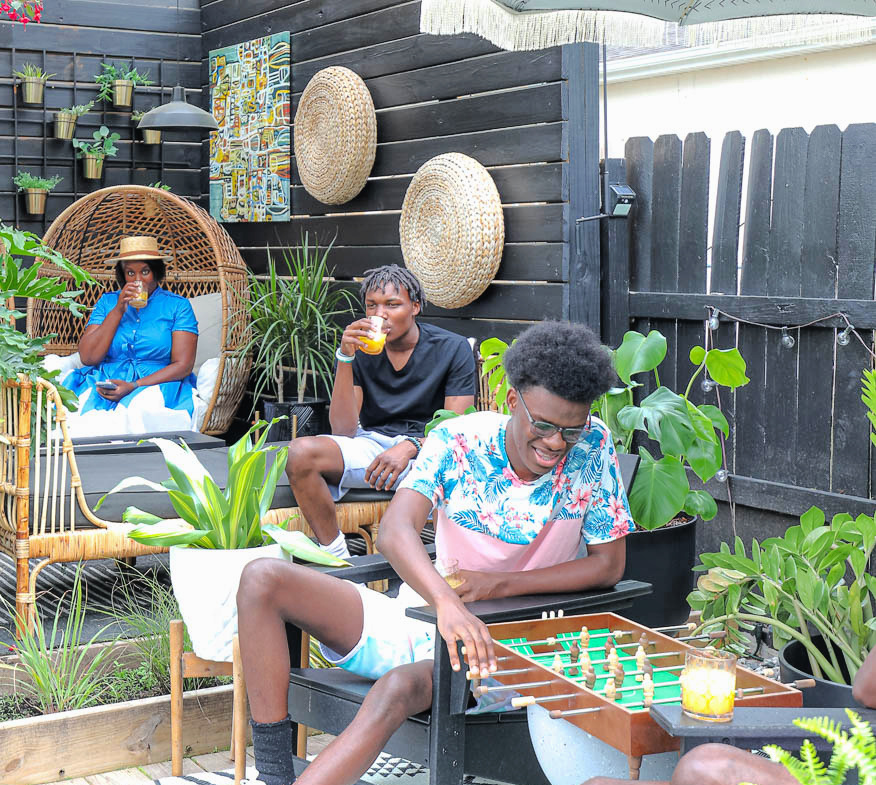 Florida OJ is the Original Wellness Drink, and when served chilled, it's an easy way to feel like you got it made in the shade.
Florida Orange Juice offers many ways to stay cool this summer because it isn't just for breakfast.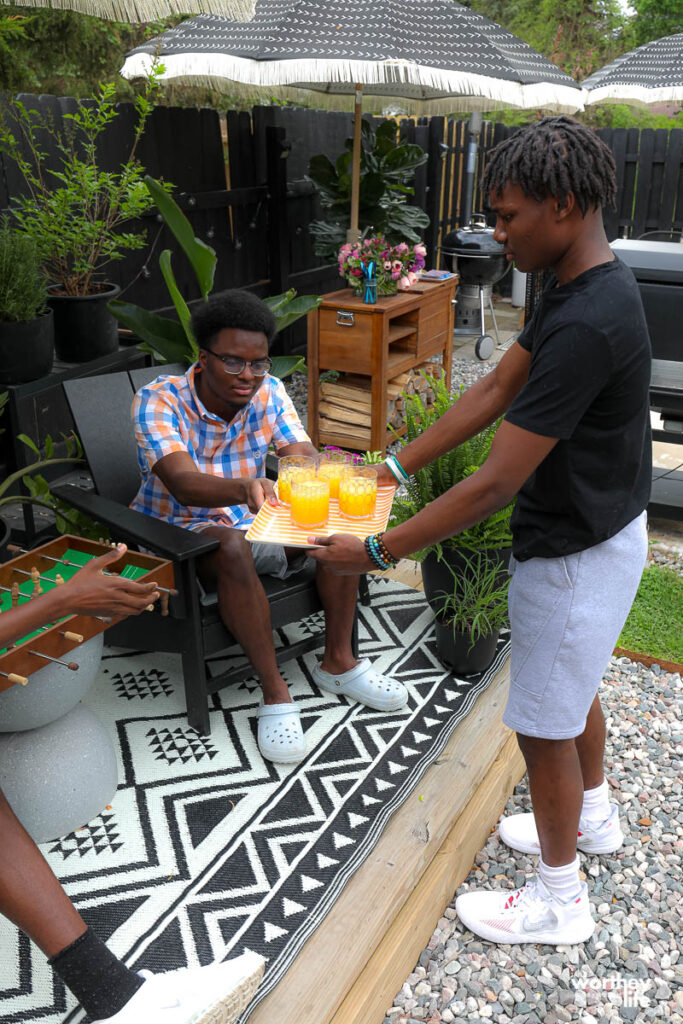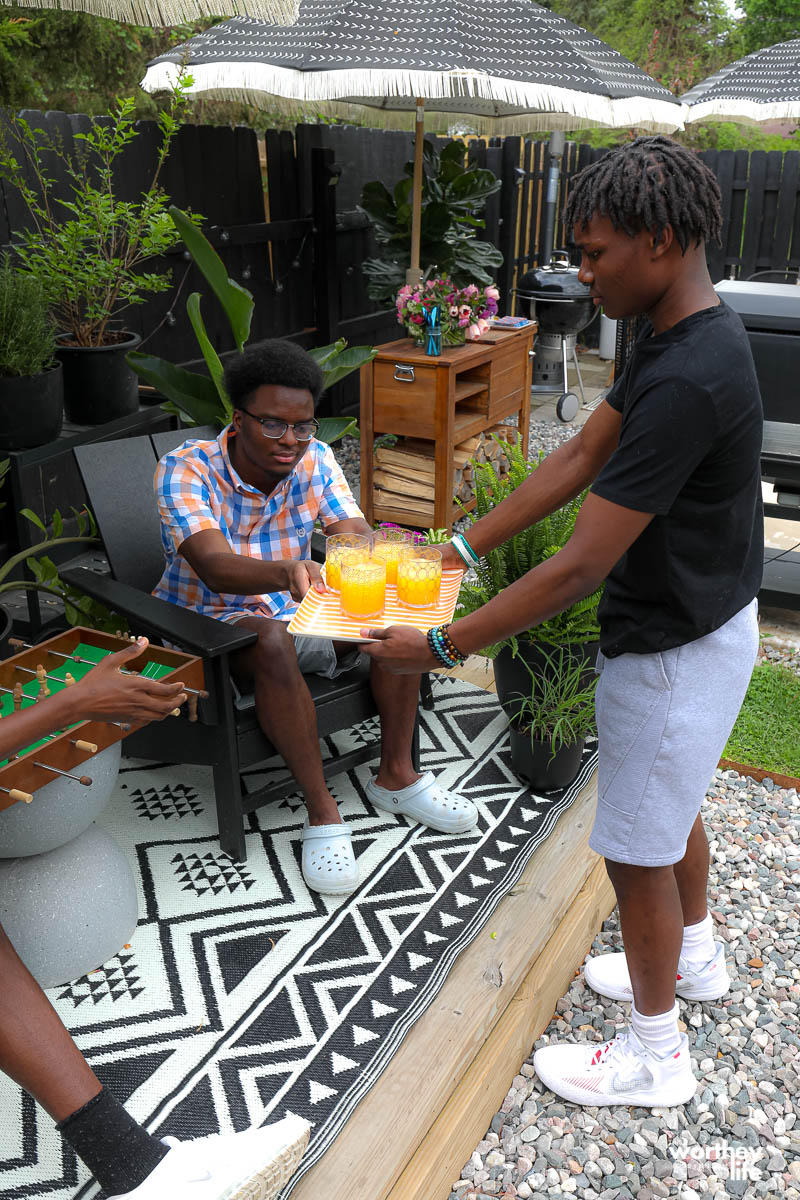 There are many ways to use Florida OJ to make the cool treats your friends and family crave.
From freezing Florida Orange Juice into ice cubes to adding it to sun tea or using it to make your favorite smoothies, Florida OJ is there when you need to rehydrate and cool down.
Learn more about the benefits of drinking Florida Orange Juice and staying hydrated by visiting their website.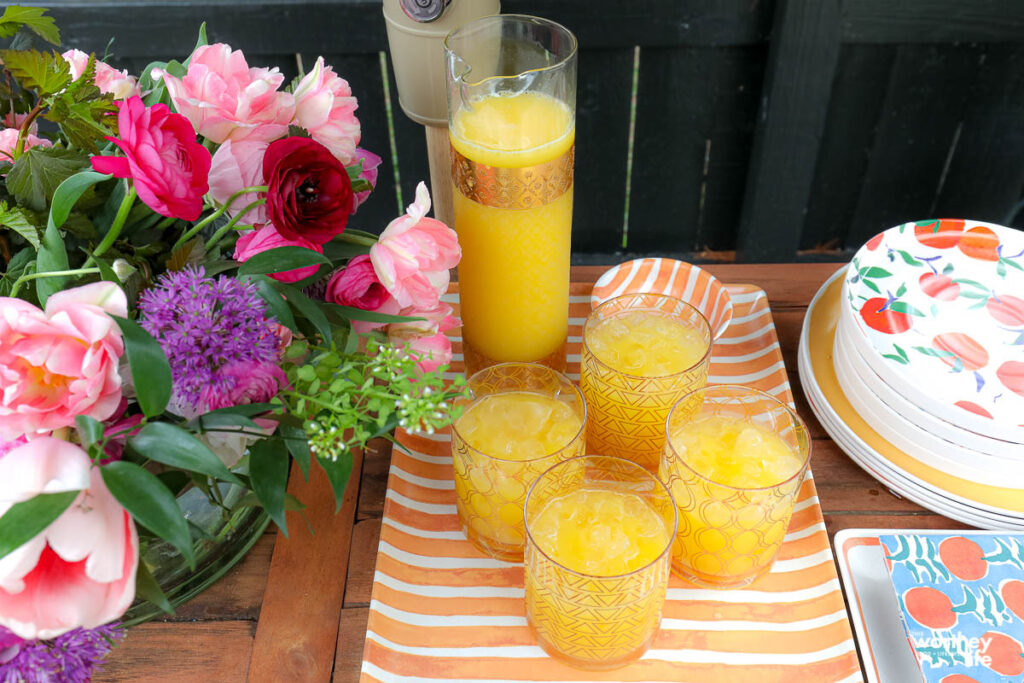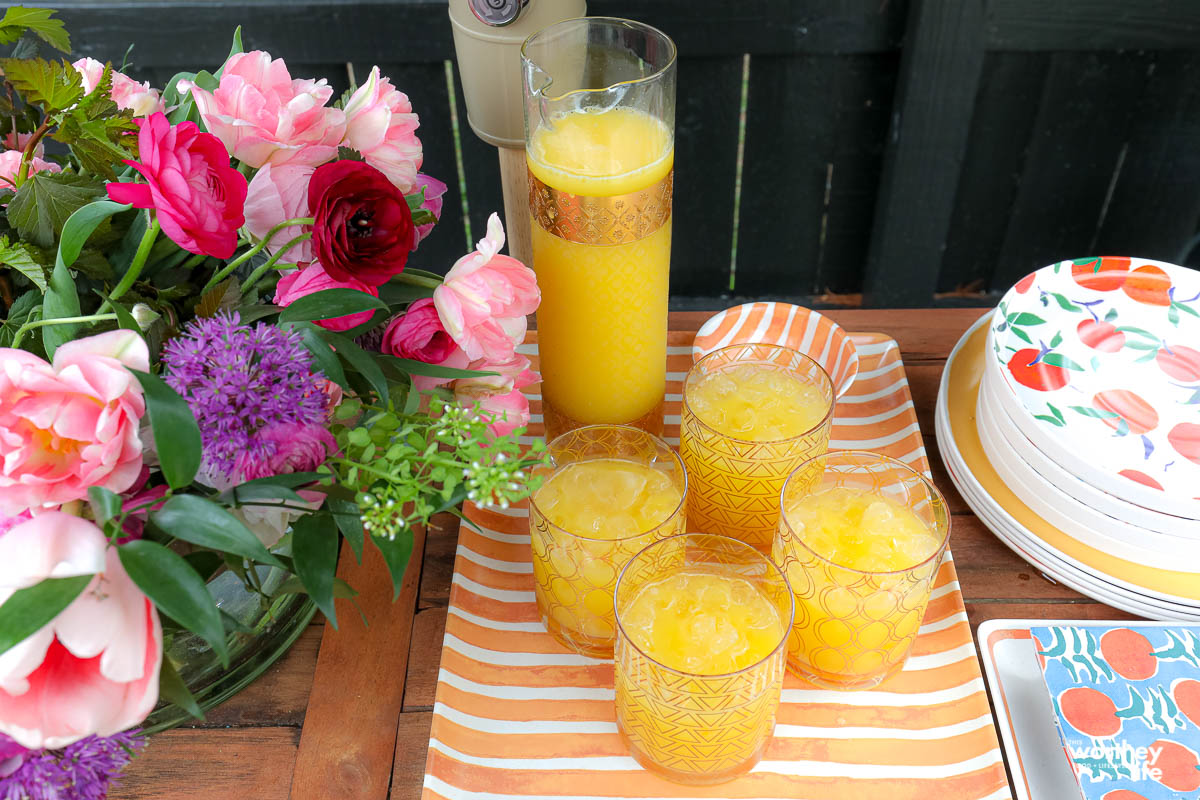 Why Florida Orange Juice for summer entertainment
The easy answer is Florida Orange Juice is a powerhouse!
True story. 100% OJ is packed with good stuff like anti-inflammatory properties and provides vitamin C, potassium, folate, and thiamin.
All of these essential orange juice goodies help support a healthy immune system.
So much good stuff in each eight-ounce serving (for adults and kids 7+). Who doesn't want that?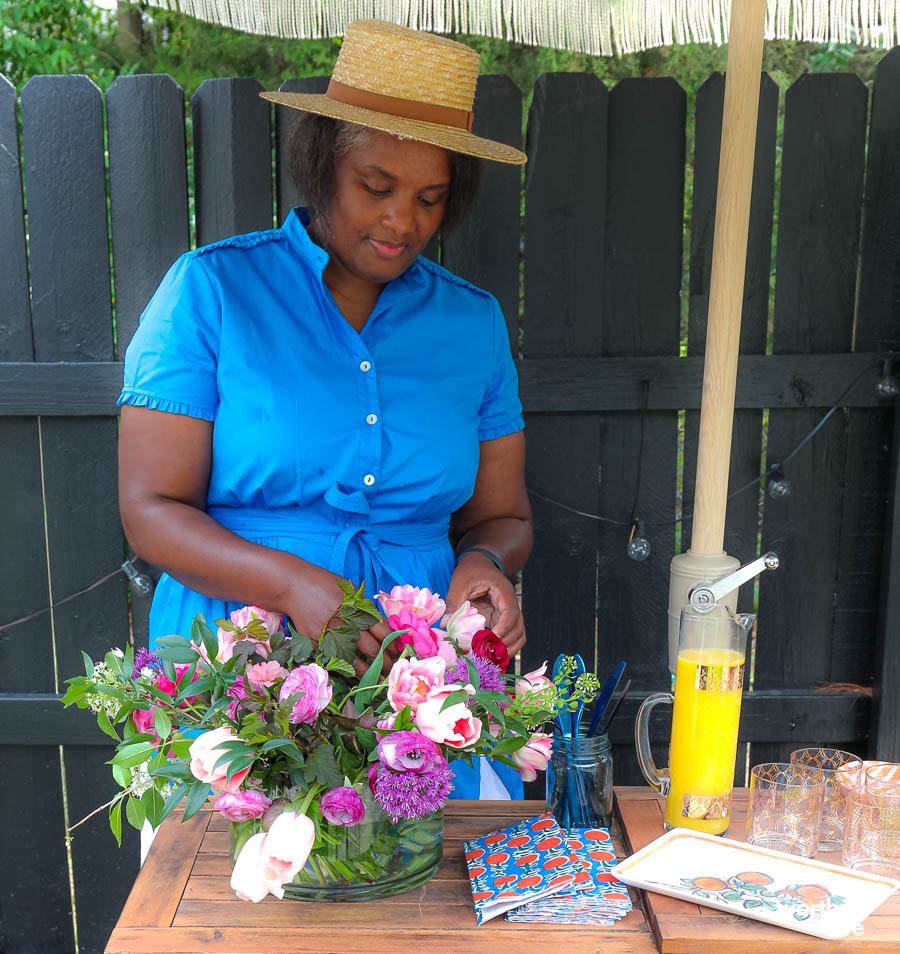 Florida OJ is also a versatile ingredient when it comes to summer entertaining.
From orange juice-based ice pops and smoothies to a variety of delicious mocktails and cocktails, Florida Orange Juice is the way to help you and your family stay hydrated and healthy in the spring, summer, and throughout the rest of the year (in combination with plenty of water, of course!).
I showed my youngest how to take Florida Orange Juice and make orange ice pops with fresh mint, mint syrup, and vanilla low-fat yogurt.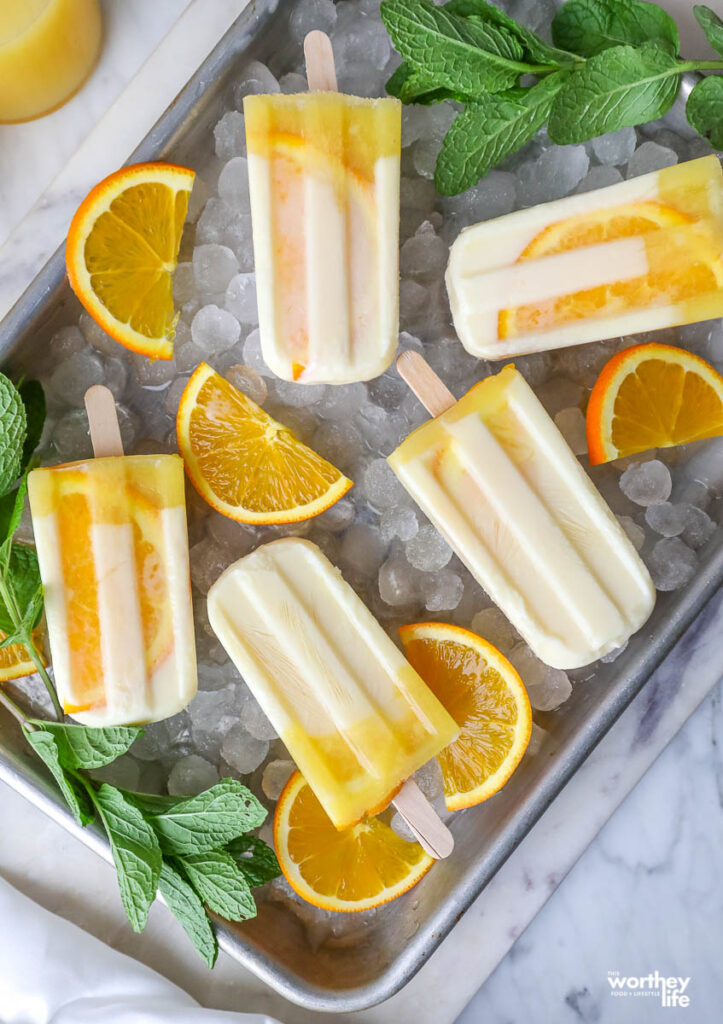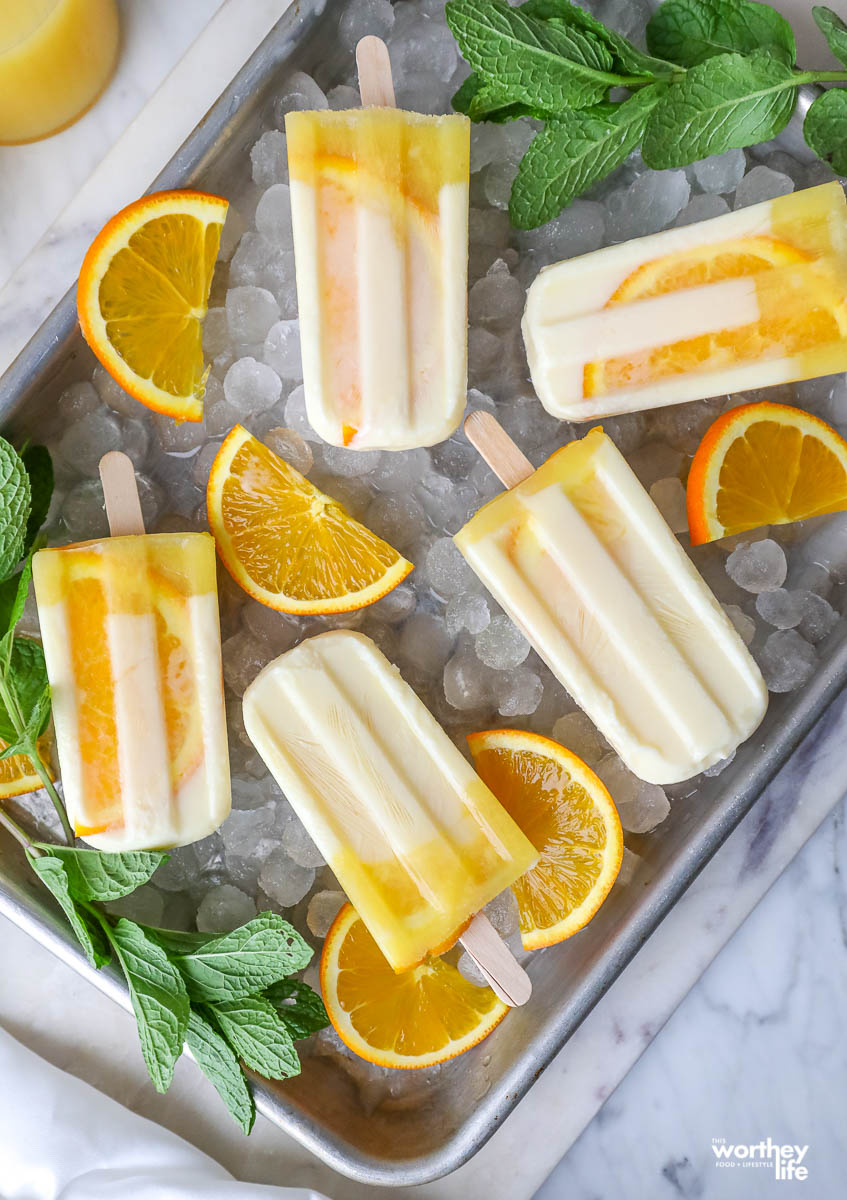 Make Our Mint + Orange Ice Pops
We love to host friends and family over during the summer months. Offering a frozen treat is one way to help your guests stay cool.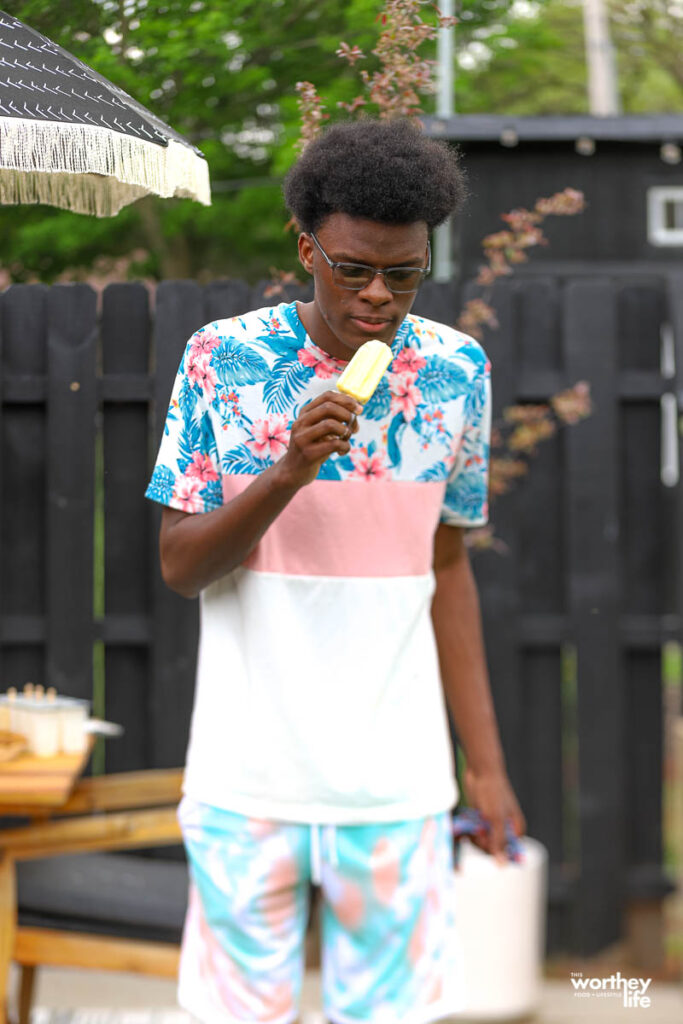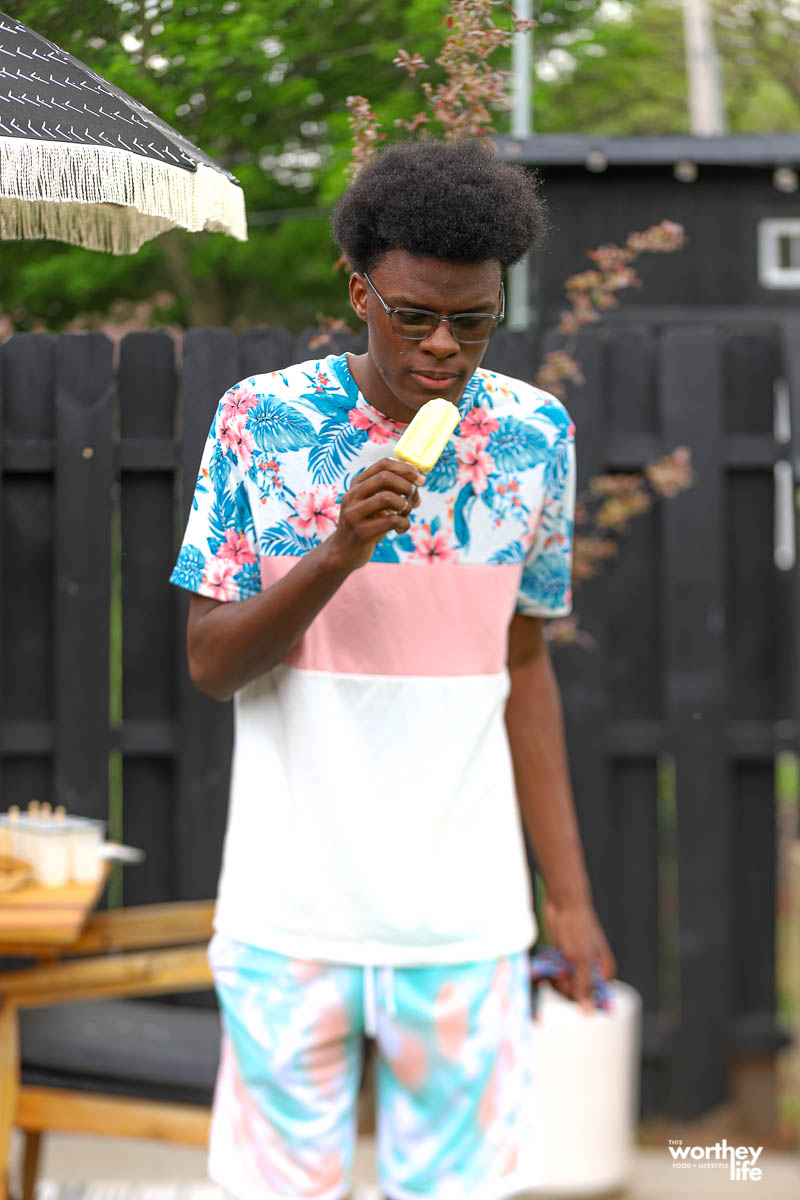 Our Mint + Orange Ice Pops come together fast, and after a couple of hours in the freezer, you got the perfect snack to beat back the heat of summer!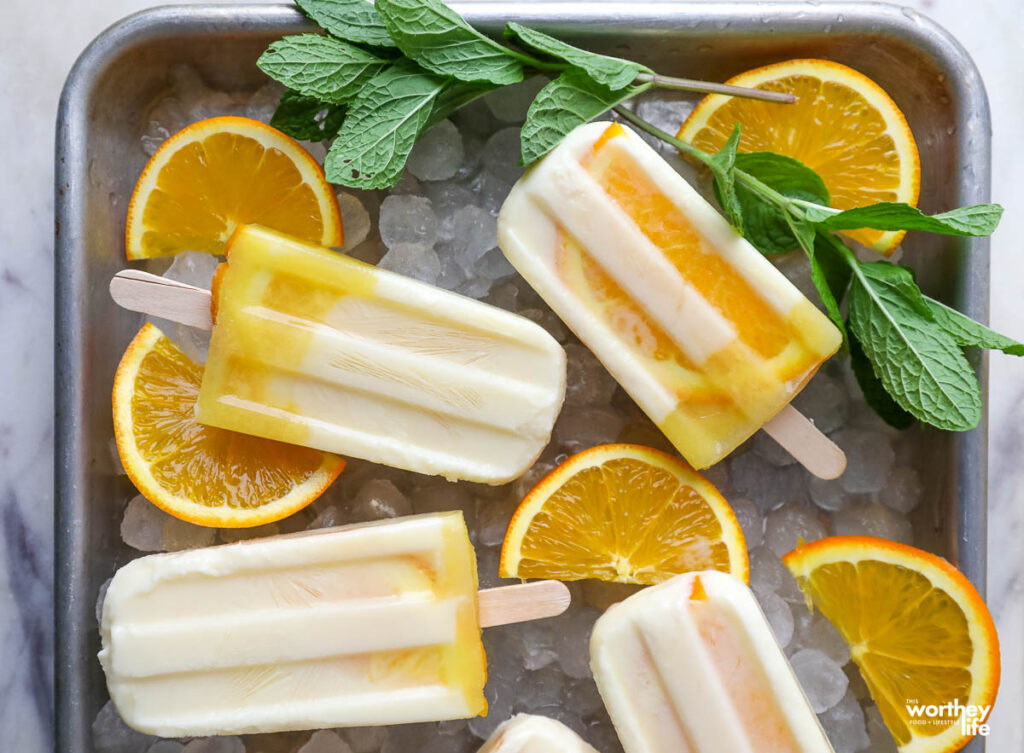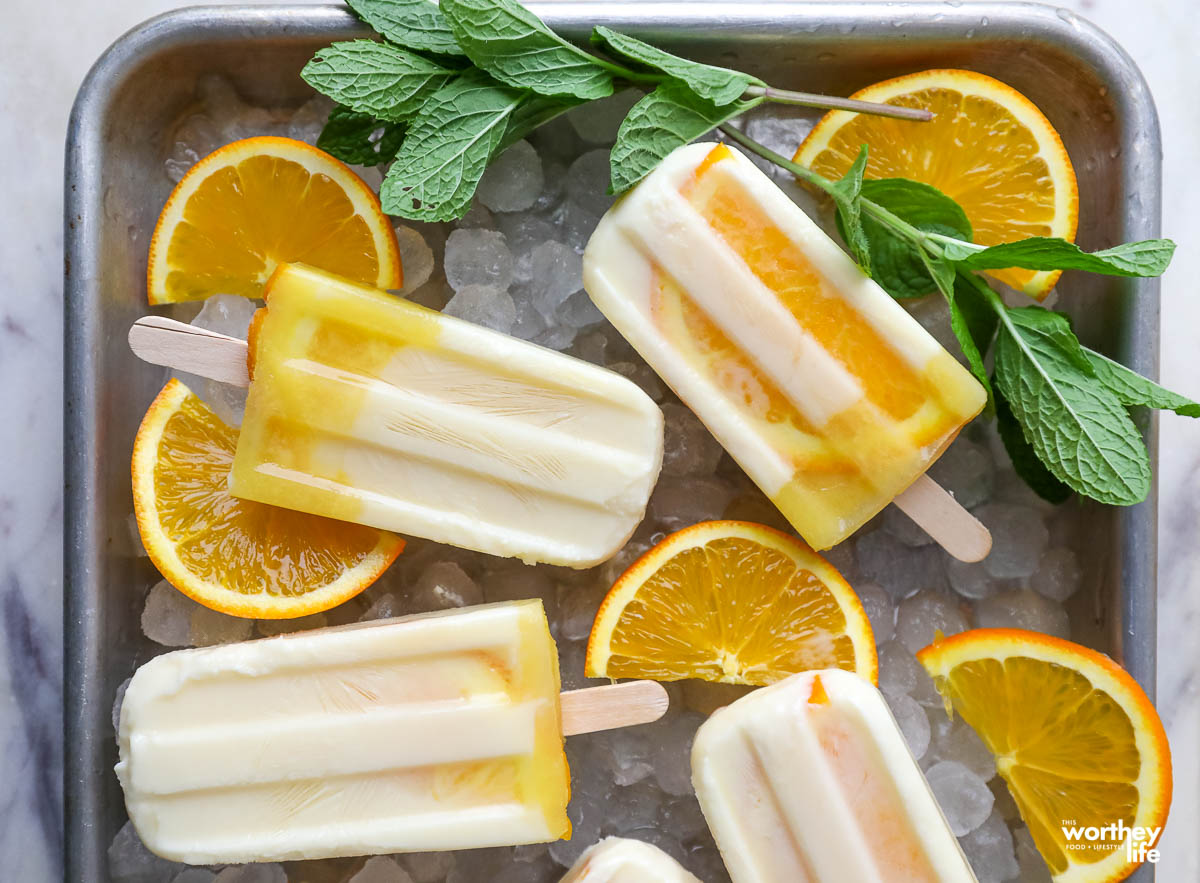 How to make orange ice pops
Makes 10-12 servings
Ingredients:
2 cups of Florida Orange Juice
2 cups of low-fat or non-dairy yogurt
2 tbsps of mint syrup or to your desired taste
8 fresh mint leaves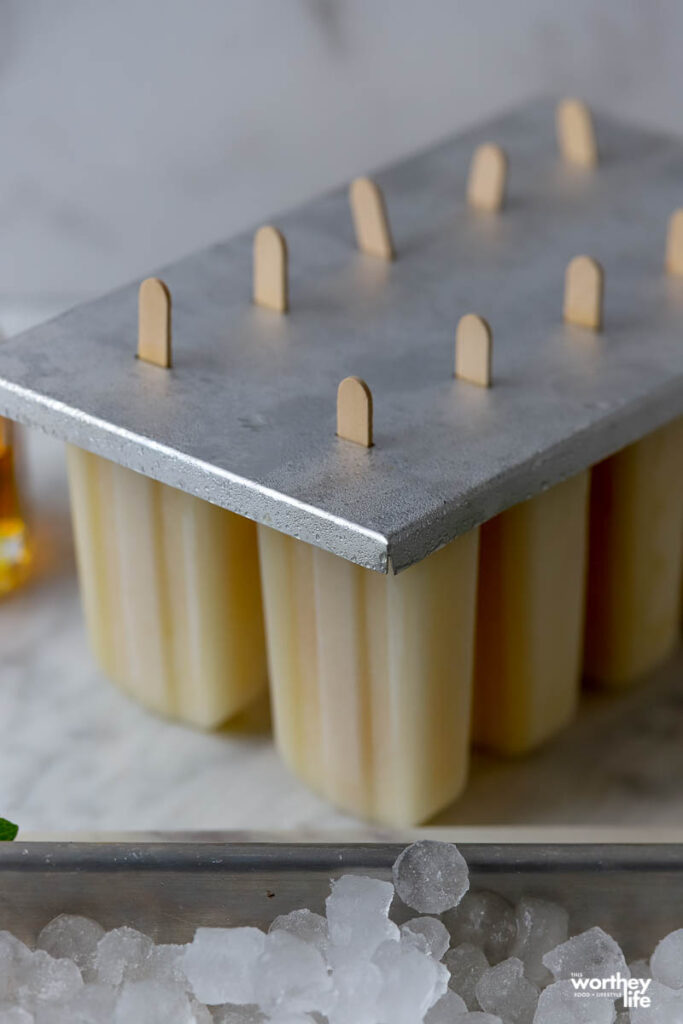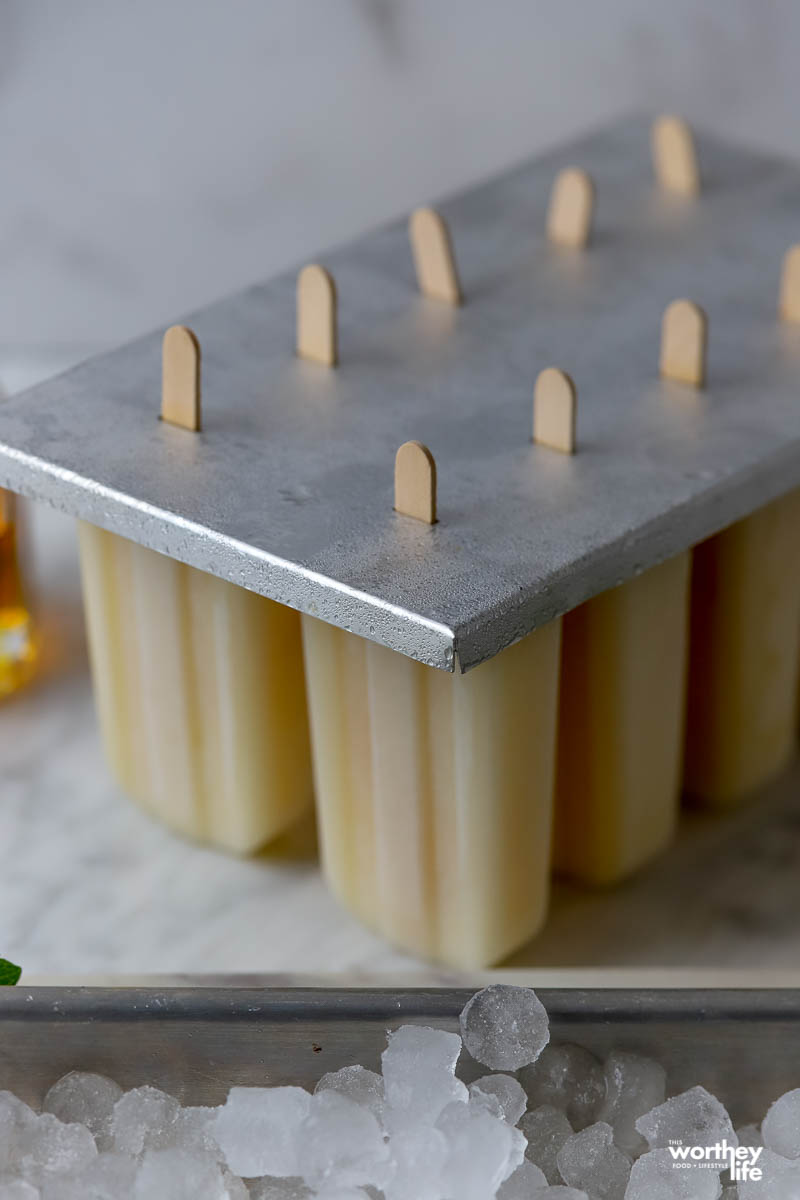 Directions:
Add Florida Orange Juice, low-fat yogurt, mint syrup, and chopped mint into a large mixing bowl.

Use a large spoon or whisk to combine until the mixture is well incorporated.
Pour the mixture into popsicle molds, place the lid on top and insert the popsicle sticks.
Place the popsicle mold into the freezer for at least 2-3 hours or freeze overnight.
Run warm water over the bottom half of the popsicle mold to loosen the popsicles.
Serve.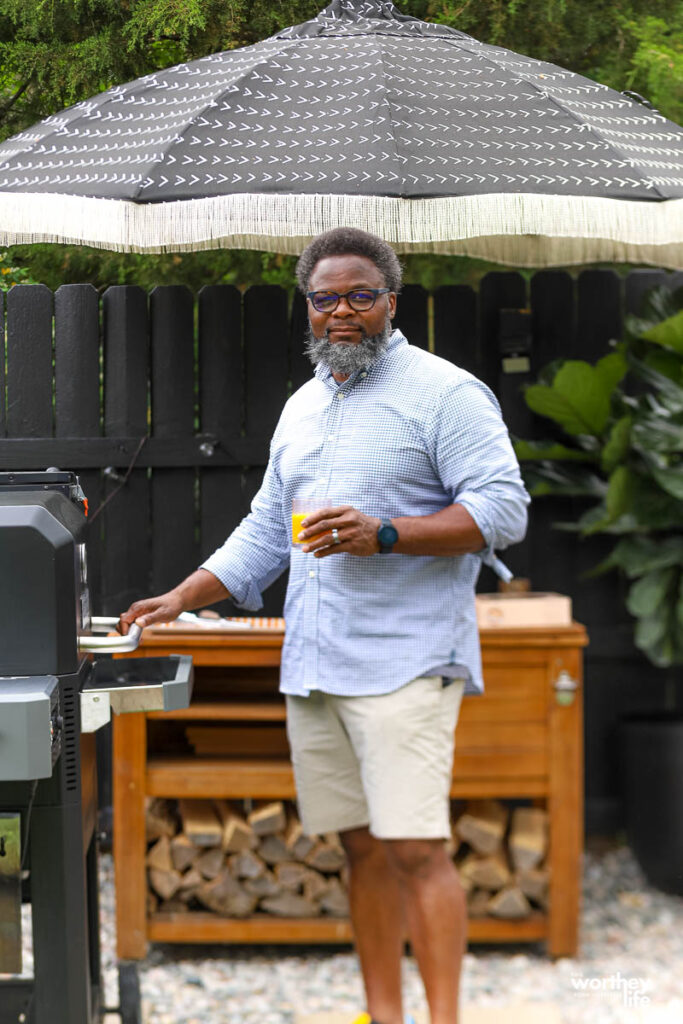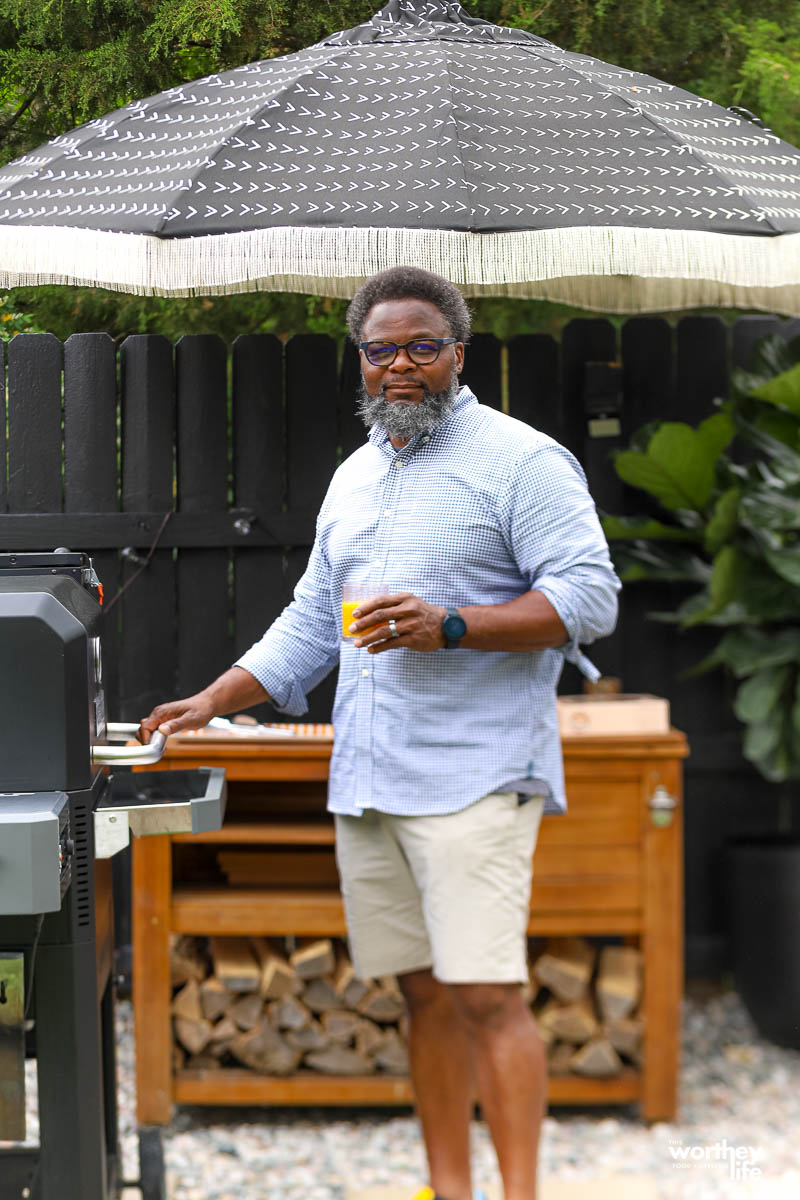 While it's perfectly fine to enjoy an 8 oz. glass of Florida Orange Juice by itself, we tried mixing it up by making an adult beverage.
Our Orange Mojito recipe shared below shows you how to take Florida OJ to make a non-alcoholic version and a cocktail.
This drink is not only refreshing but so pretty too!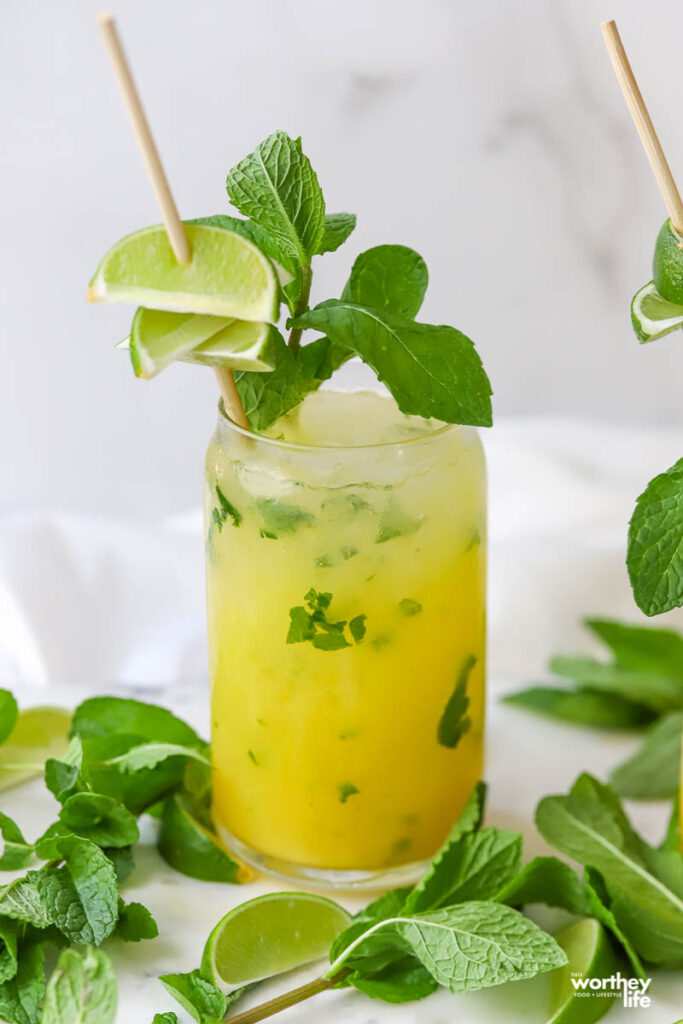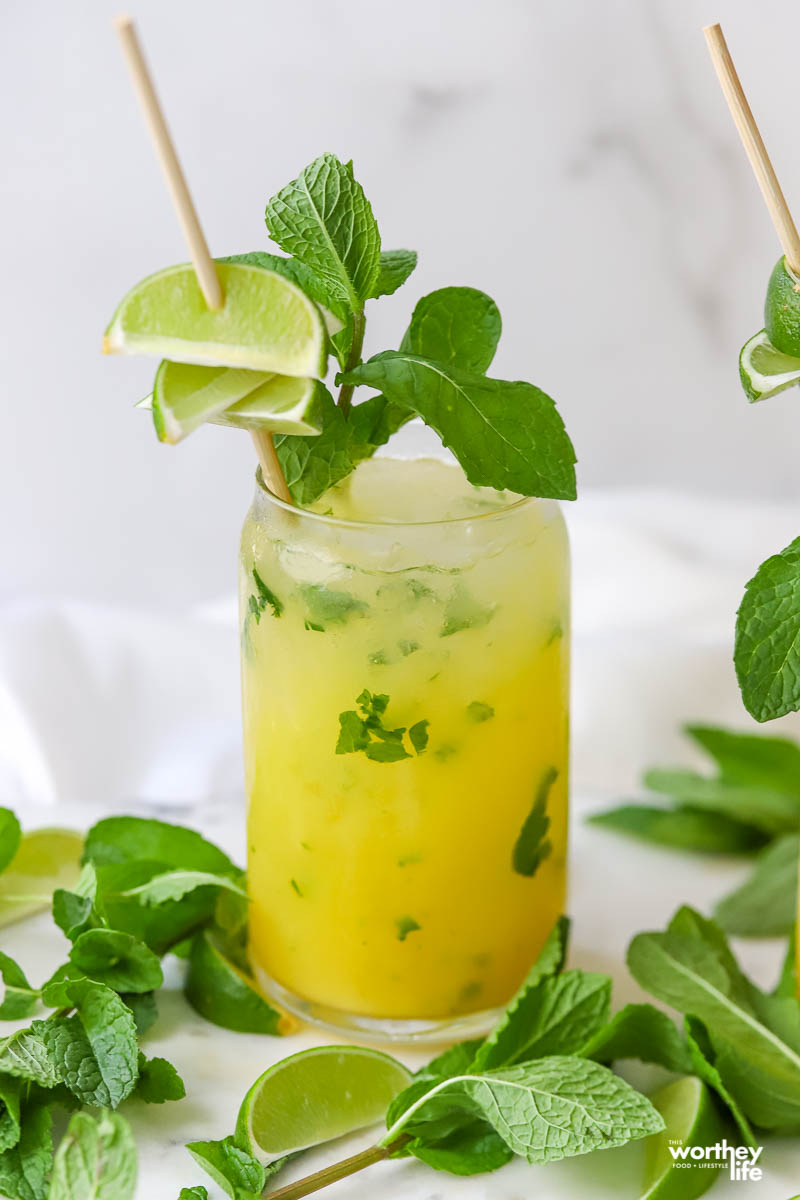 What You Will Need To Make Our Orange Mojito
Florida Orange Juice. A traditional mojito uses fresh mint, lime juice, simple syrup, and rum.
We took all of that and rearranged and few things, subtracted and added to it to create our Florida OJ-based glass of sunshine.
Mint Leaves. I couldn't, with a good conscience, not add fresh mint leaves. I mean, could I call it a mojito without mint leaves?
Freshly Squeezed Lime Juice. Lime juice is an essential ingredient for making a classic mojito, and we saw no good reason to omit it.
Blanco Tequila. When it comes to making a respectable mojito, most folks stick to adding white rum.
We're switching things up a bit because that's what we do, and we are adding Blanco tequila, and after one sip, we are glad to report we have no regrets.
Mint Syrup. Adding mint syrup is how we got the maximum mint flavor infused in this incredibly refreshing cocktail, and if you love mint like we love mint, you will be making this little number all summer long.
Ice. Wedge of Lime. Sprig of Fresh Mint. Ice is another essential ingredient. When it comes to adding garnish to a cocktail, a couple of things are going on. First, the garnishment is a great way to dress up a cocktail and make it look like something you want to drink.
Secondly, the right garnish imparts flavor, too and here, the wedge of lime and sprig of fresh mint do just that.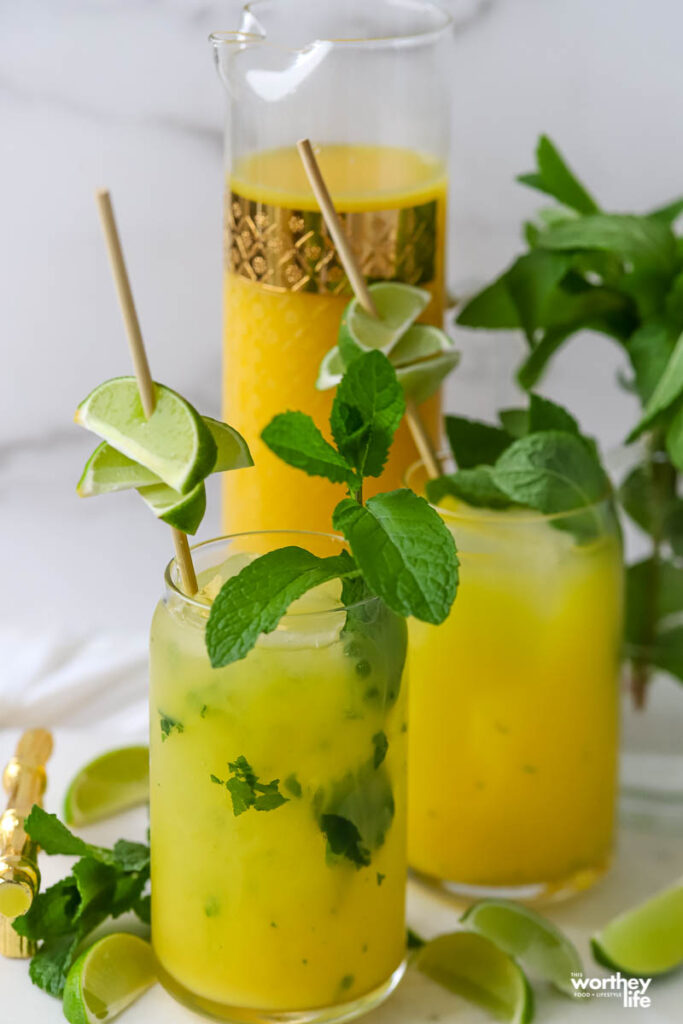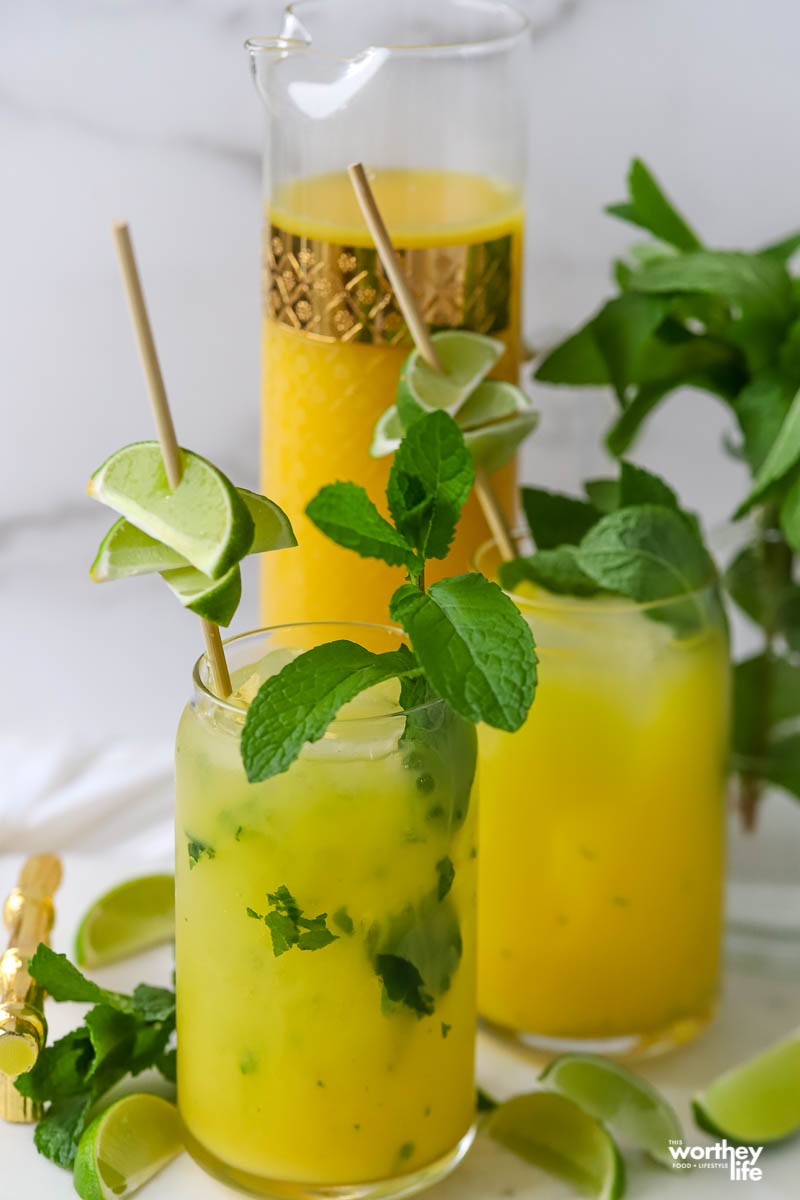 How to make an Orange Mojito
Ingredients:
Florida Orange Juice, chilled
6-8 mint leaves
1/2 ounce of freshly squeezed lime juice
1 ounce of mint syrup
2 ounces of Blanco tequila
ice
garnish with a wedge of lime
garnish with sprigs of fresh mint
*to make this cocktail non-alcoholic, omit the tequila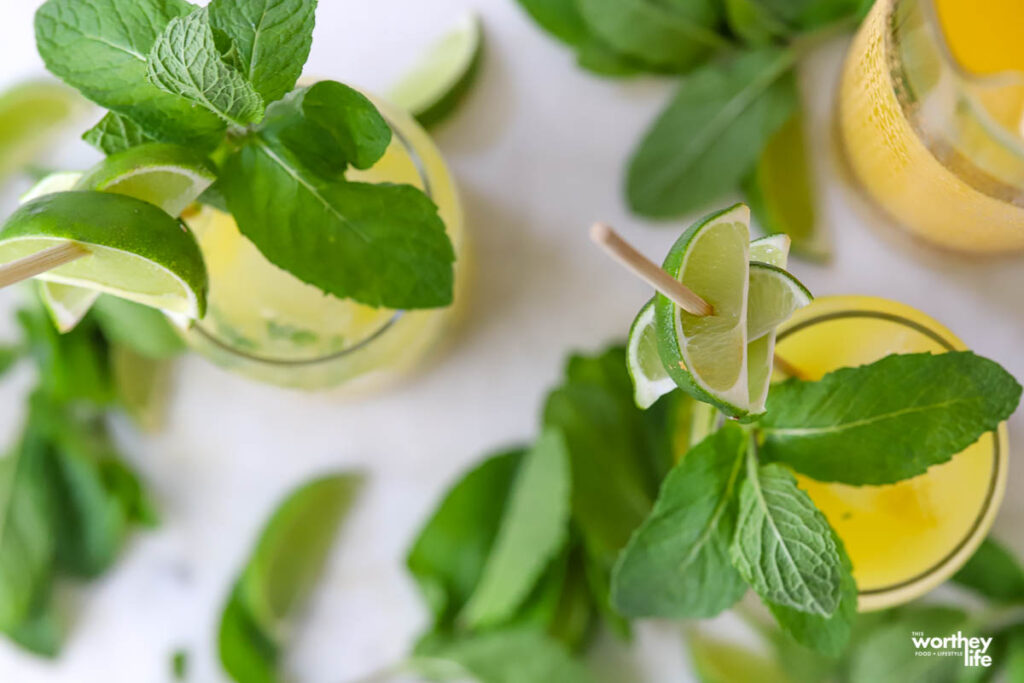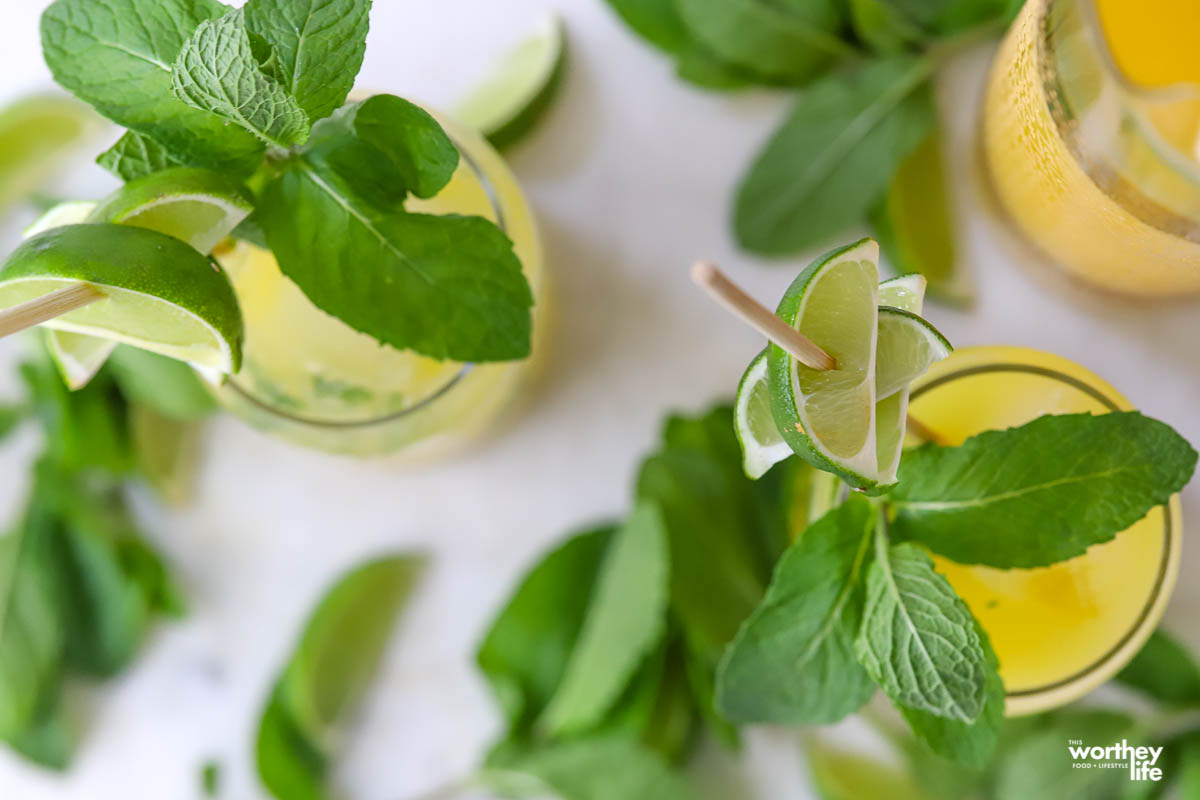 Directions:
Muddle the mint leaves in a mixing glass or cocktail shaker.
Add the mint syrup, freshly squeezed lime juice, and ice.
Next, add the ice and Blanco tequila, and using a bar spoon, stir vigorously.
Strain into a serving glass over ice and top with

chilled Florida Orange Juice

.
Garnish with a lime wedge and a sprig of fresh mint.
Serve.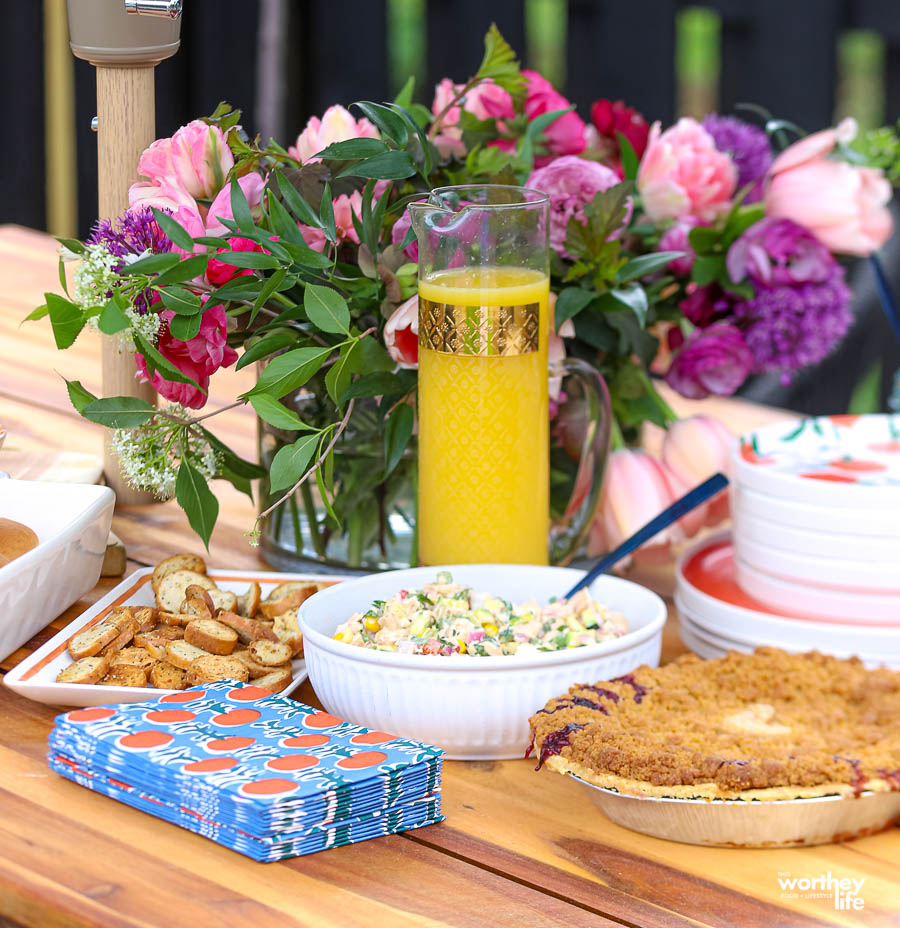 Here are a few additional tips to keep in mind when playing a backyard summer party:
Food. Come up with easy appetizers, such as our summer chicken salad or summer charcuterie board works too. You can also keep it super simple with hot dogs and hamburgers.
Keep it casual. It's a backyard party; there's no need for a lot of fuss. We use melamine plates + silverware.
Set up self-serve stations for your guests.
Music. Having a good backyard playlist is super important. Music will set the mood. When people come over, they always ask, what playlist is this? Check out our favorite backyard + chill playlist if you need some recommendations.
Seating areas + shade. Be sure to have comfortable seating, preferably in shaded areas, for your guests to stay cool and comfortable.
Keep your guests hydrated with 100% orange juice. Read these summer safety tips for more ways to stay safe and hydrated.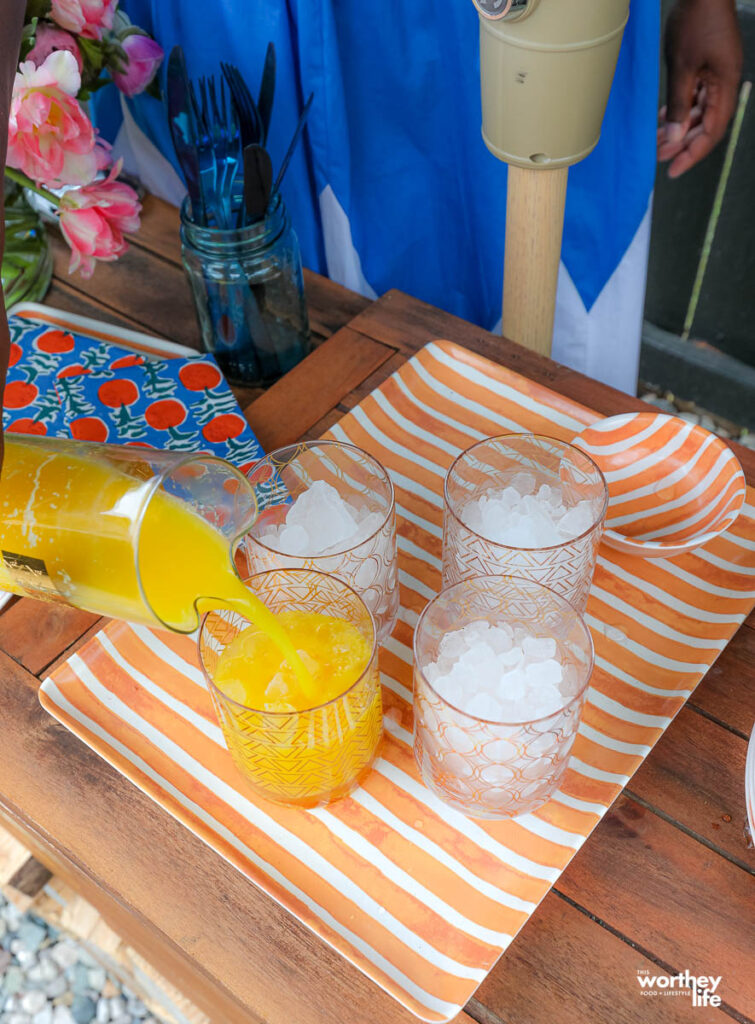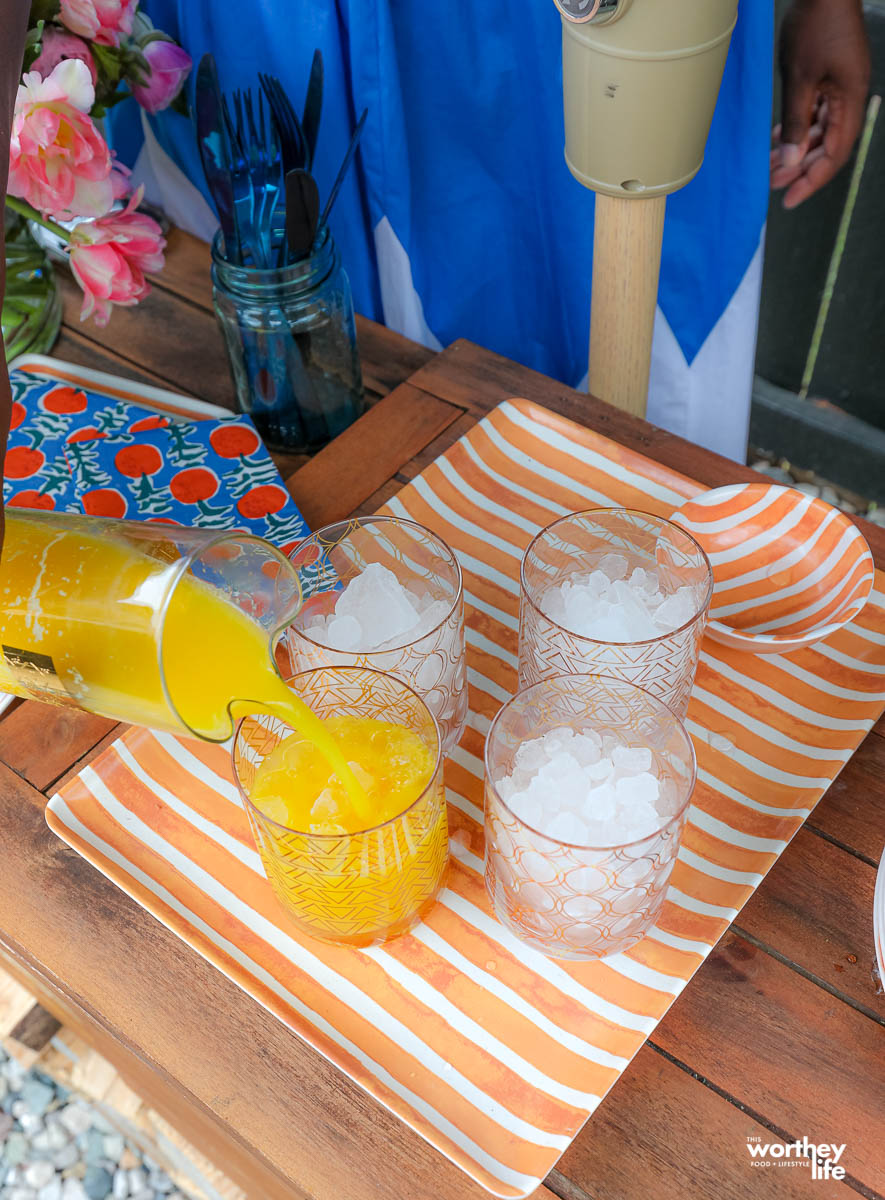 No matter your plans this summer, keep your body fueled with the proper nutrients.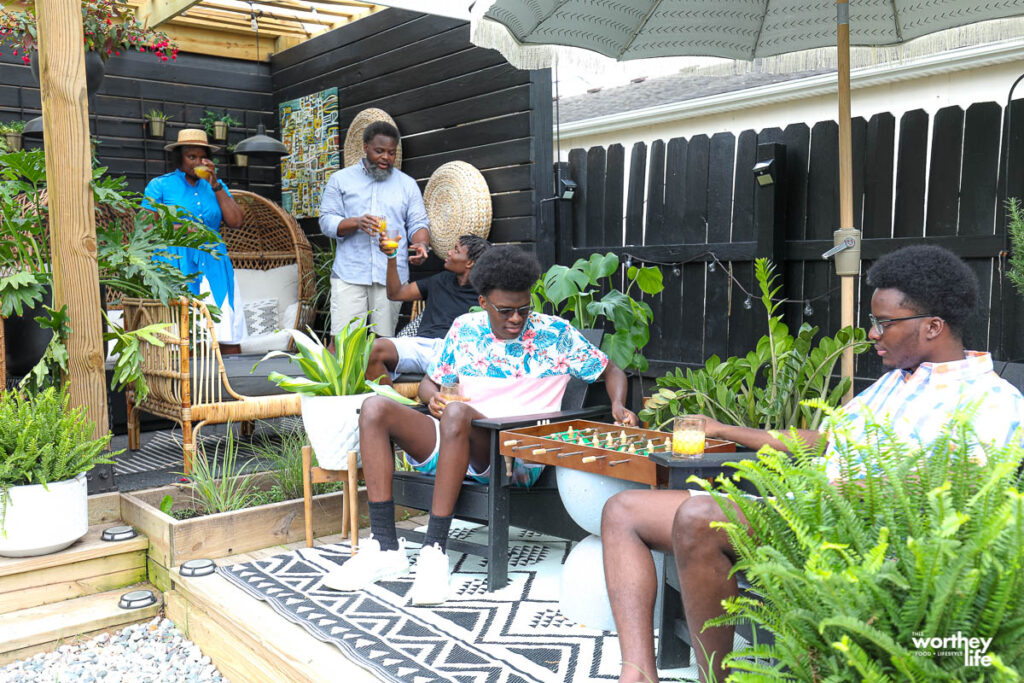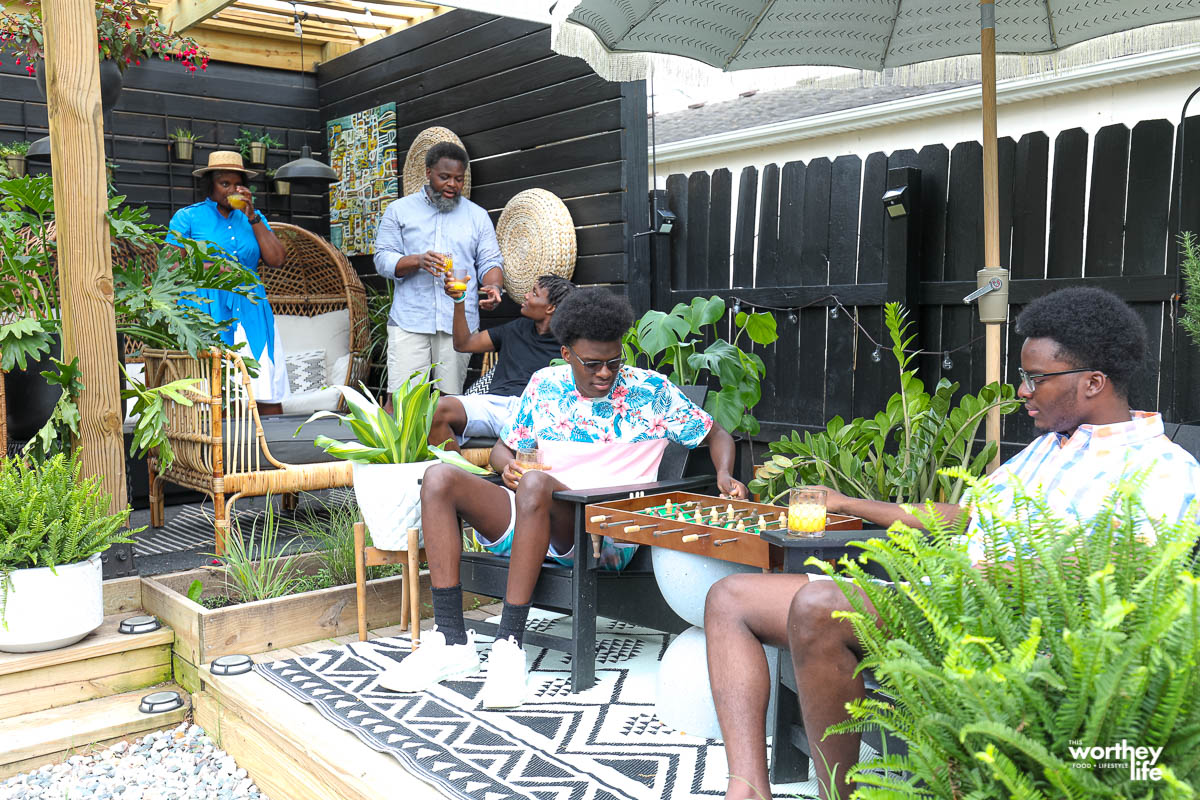 Health and wellness are still the top priority for our family; whether we're spending time at home or traveling, we plan to stay hydrated with the help of Florida Orange Juice.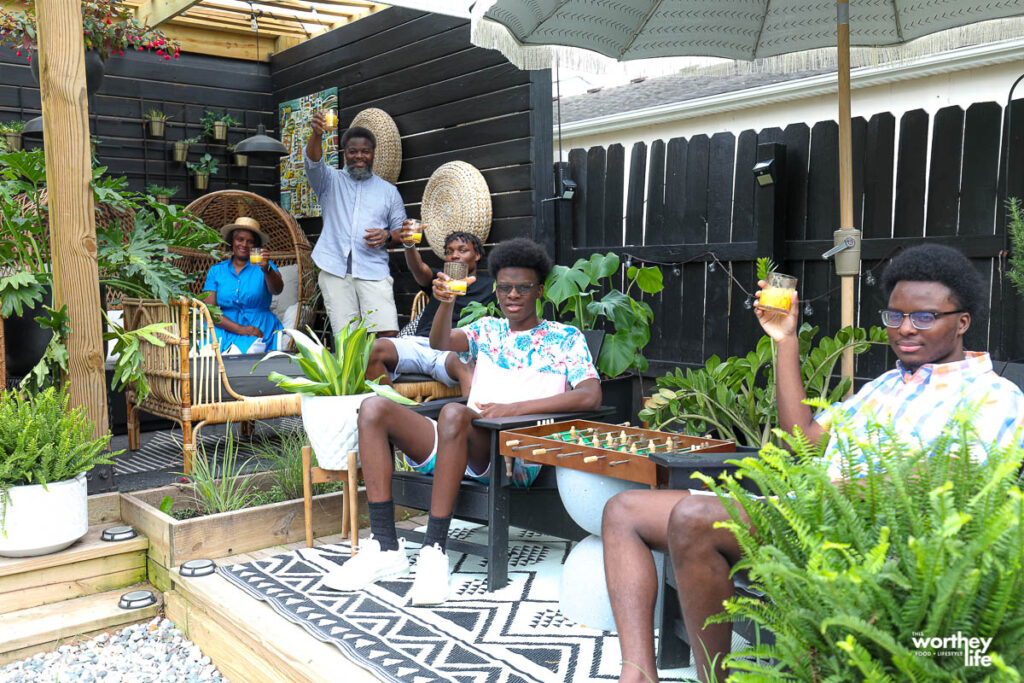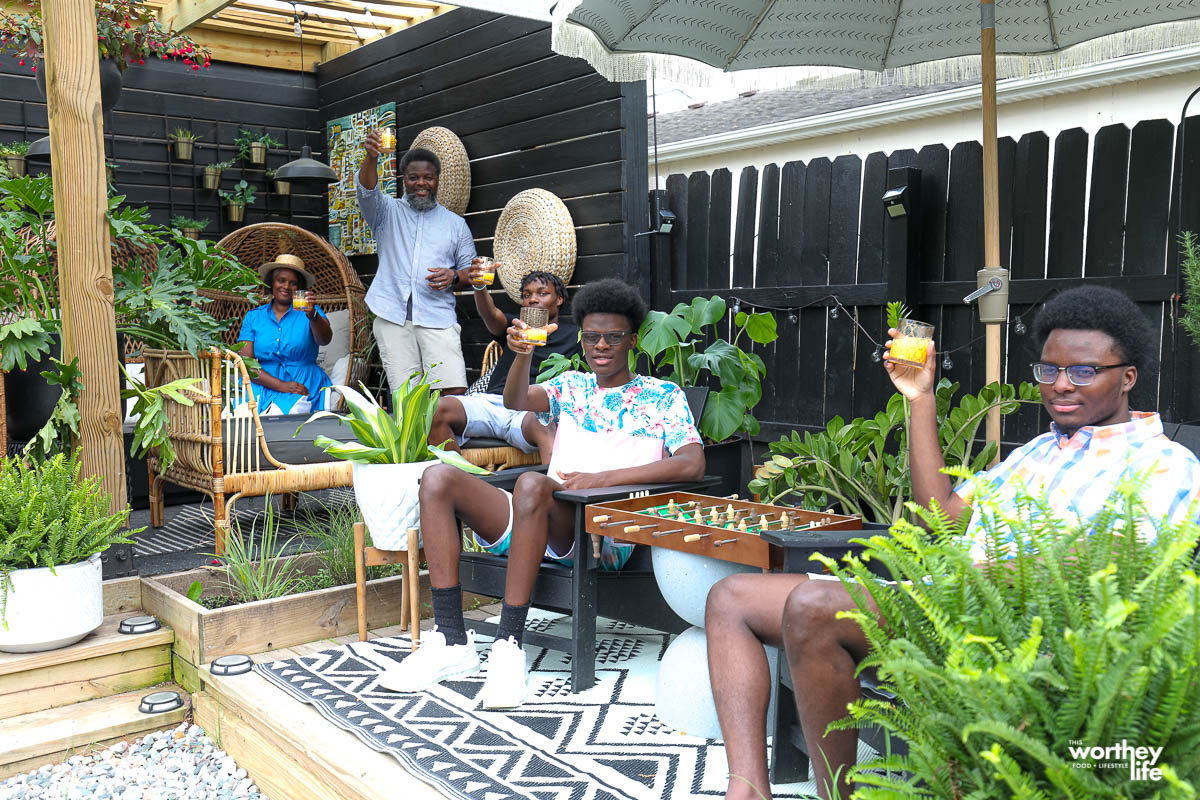 Find out where to buy Florida Orange Juice near you.
Now that you have our tips on summer entertainment and hydration, it's time to go out and have some fun.
Happy Summer!